"Every day I walk one and a half kilometres to the well outside our village to fetch water. I do this four times a day. There is no water in our village. The summer will be harder. The water in the well is already falling…" said an anguished Bhimabai Dambale, who was participating in the Nashik-Mumbai farmers' march this week, just as she did last year.
"I lost my paddy crop last year due to poor rain. Every year I used to get 8-10 quintals of paddy on our five acres. But this season it was not even two quintals. We can't even get compensation for the loss because the land is not in our name. It belongs to the forest department," added 62-year-old Bhimabai, who lives in Nirgude Karanjali village in Peint taluka of Nashik district.
After the paddy harvest, Bhimabai would cultivate ragi , urad and tur . All that has stopped this agricultural season. So Bhimabai has started going every day to villages like Deolali and Songiri, 30-40 kilometres away, to pluck grapes, tomatoes and onions. "I earn Rs. 150 a day and spend Rs. 40 on travel by shared autos. I earn every day, I spend every day," she sighs.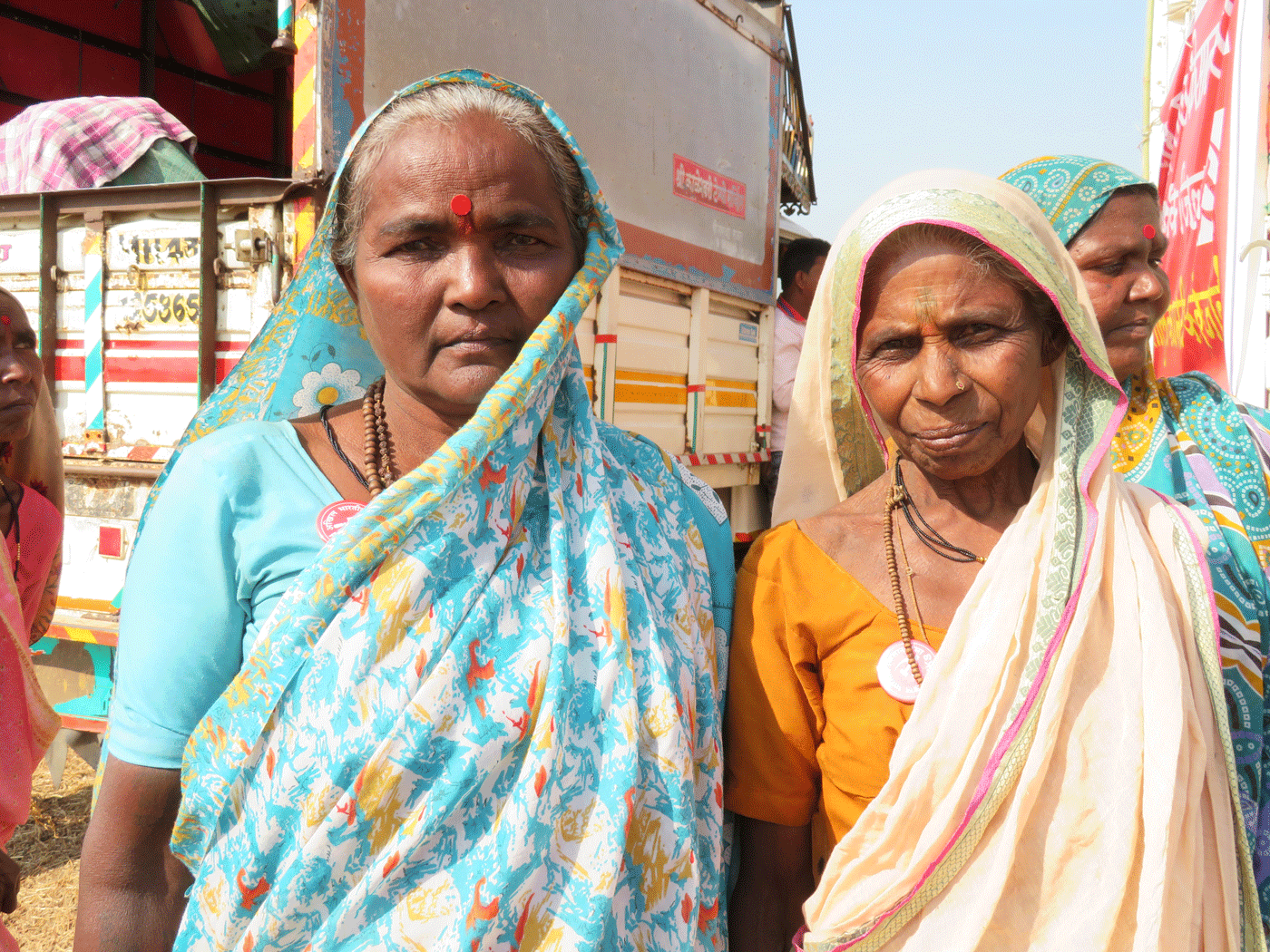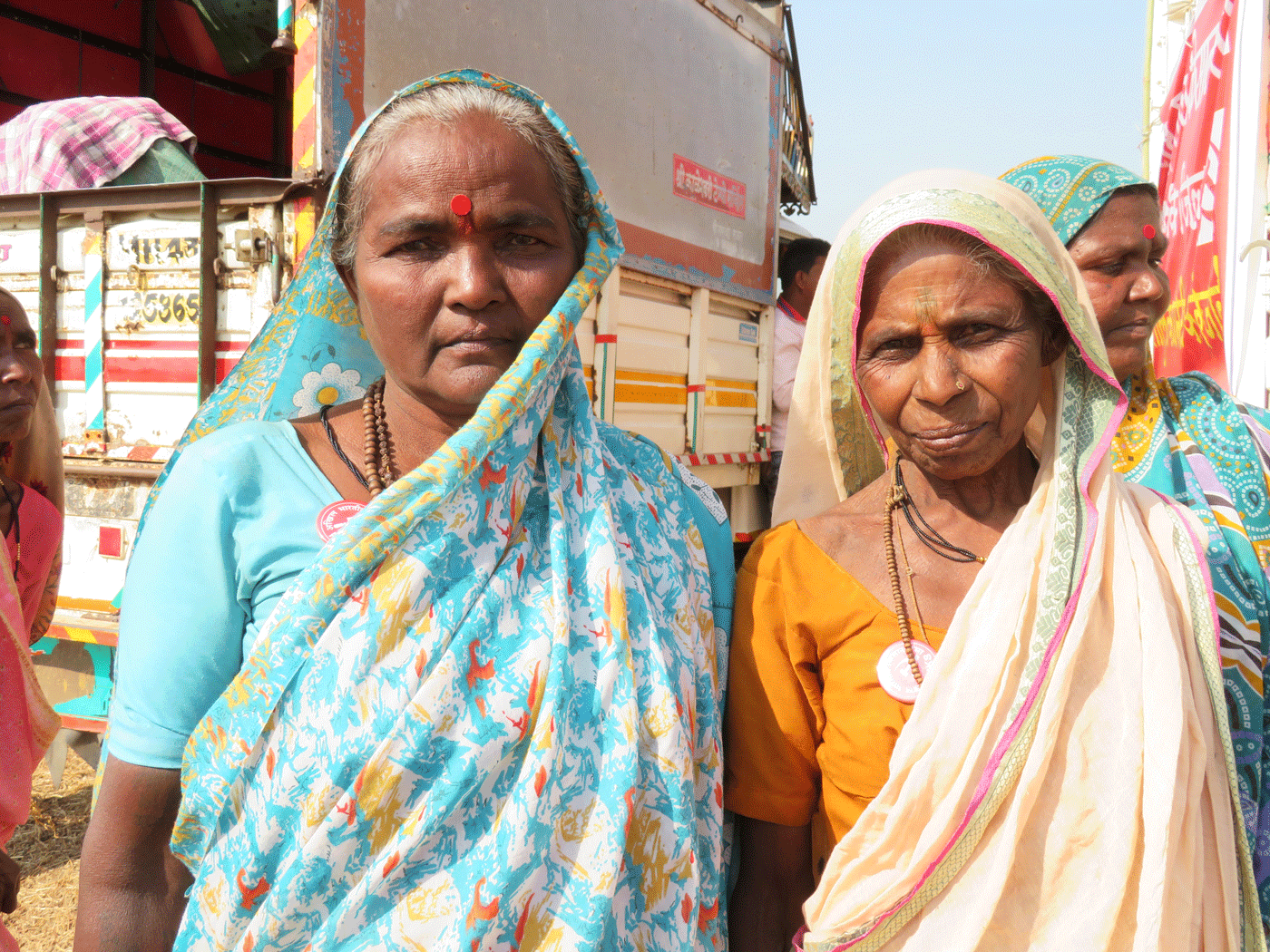 PHOTO • Jyoti Shinoli
Indubai Pawar, 55, also came to participate in the farmers' march this year, as she did last year too. "We have to walk 2-3 kilometres in search of water. I lost my ragi crop last year because of poor rain," she said. "Now farm labour is the only way to earn. How will we go to work and earn if we will have to keep wandering for water? Can't this government see our pain?"

Around 200 farmers from Peint taluka were participating in the (now-terminated) march earlier this week. Like Bhimabai and Indubai, most of them are from the Mahadev Koli community, a Scheduled Tribe. All of them spoke of the poor rain and the water crisis in their villages.
In October, the government of Maharashtra declared drought in 151 blocks of 26 districts in Maharashtra; of these, 112 blocks are facing a severe drought.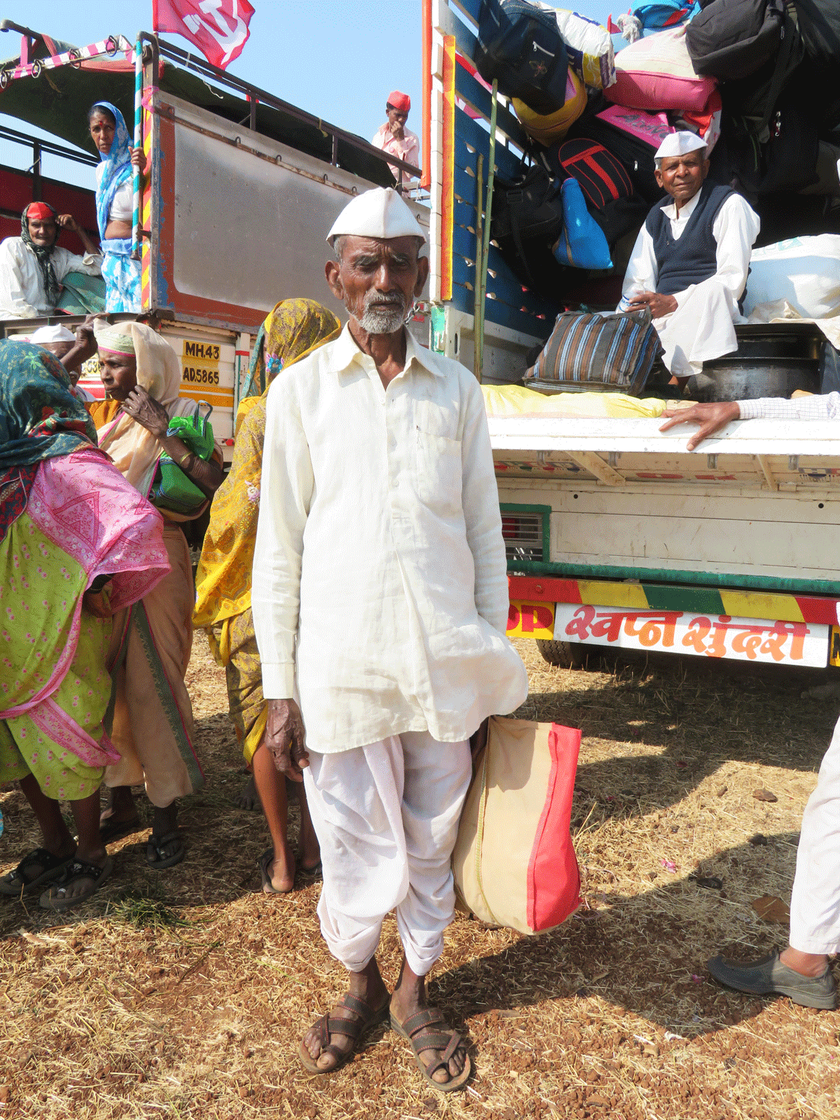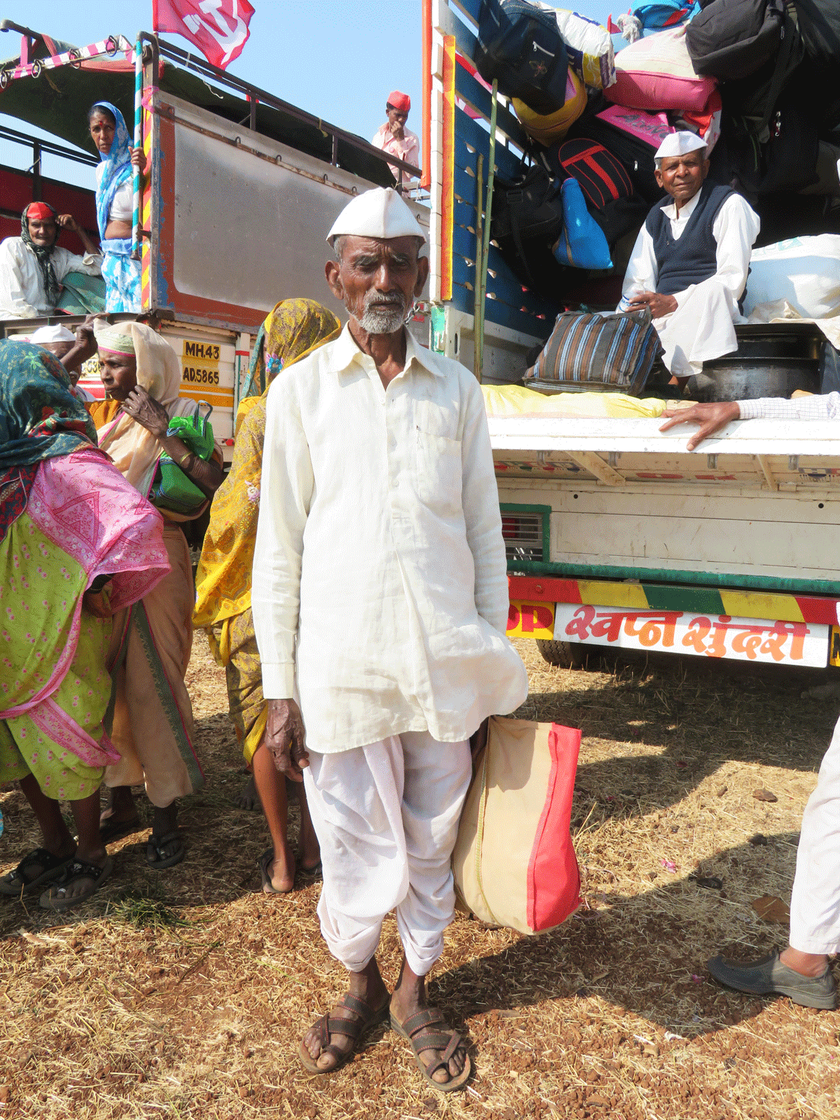 PHOTO • Jyoti Shinoli
Sahadu Jogare, 62, from Bhedamal village, said, "Our village has not yet been announced as drought-hit, though the situation is worse than last year. It's very hard to get water. We walk kilometres for water. Still, the government is not even paying attention to us."
The farmers in his village, he said, are also struggling for fodder and water for their animals. "Animals cannot talk. They can't fight for their rights. There is no  fodder camp near our village. Cows, buffaloes, goats all need water. Where do we get it from?"
Vitthal Chaudhary, 70, from Tilbhat  village,  also spoke of the drought: "Nothing is left. All the crops have died. Now there is not even water to drink." In better years, Vitthal has grown  paddy, urad dal and kulith (horse gram) on his five acres.
"I came last here year too. The government promised our demands will be met in six months," he said. "A year is over. What have we got? And now there is drought ahead."
Vitthal left home in Tilbhat on February 20, ready to walk till Mumbai, over 200 kilometres away.  At the ground in Nashik where the farmers halted for the night, he lost his spectacles. "I can see a little in daylight without the chashma , though in the dark I need someone with me to walk around. But can the government also not see like me? Are they blind to not see how we are struggling?"
Postscript: Late at night on February 21, the All India Kisan Sabha, the organiser of the march,  called off the protest after talks with government representatives that lasted for five hours, and after the government gave a  written commitment that it will meet all the demands of the farmers. "We will resolve every single issue in a time-bound manner and we will do a follow-up meeting every two months," Girish Mahajan, state minister for water resources, announced to the gathering. "You [farmers and farm labourers] should not bear the hardship of walking all the way to Mumbai. This is a government that listens. Now we will implement these assurances so that you don't have to take out another march."