"When the politicians come to our town, they don't even stop. They just wave at us and fly off in their cars. We are not allowed within 50 feet of them," says Puttana.
In the 11 years that Puttana has worked as a manual scavenger in Madhugiri town of Karnataka's Tumkur district, two national elections have come and gone, and a third one is just around the corner. Tumkur will go to the polls this week on April 18, when the first phase of voting for the Lok Sabha elections begins in the state.
The battle in this constituency is between two heavyweights: Bharatiya Janata Party (BJP) candidate and four-time Member of Parliament G. S. Basavaraj, 77, and the Congress-Janata Dal (Secular) ruling alliance's candidate and former prime minister, 86-year-old H.D. Deve Gowda.

But ask Madhugiri's sanitation workers who is the better bet, and you get tepid responses. Many of them, like 45-year-old Puttana, belong to the Madiga Dalit community, an exploited sub-caste, whose work options are often limited to manual scavenging. (All the workers interviewed for this story only wanted their first names to be used.) Tumkur has the highest number of manual scavengers in Karnataka, according to a study commissioned in August 2017 by the Karnataka State Commission for Safai Karamcharis. Dehumanising jobs, poor pay and a lack of access to housing for years are just some of the reasons why they don't have much faith in their political leaders.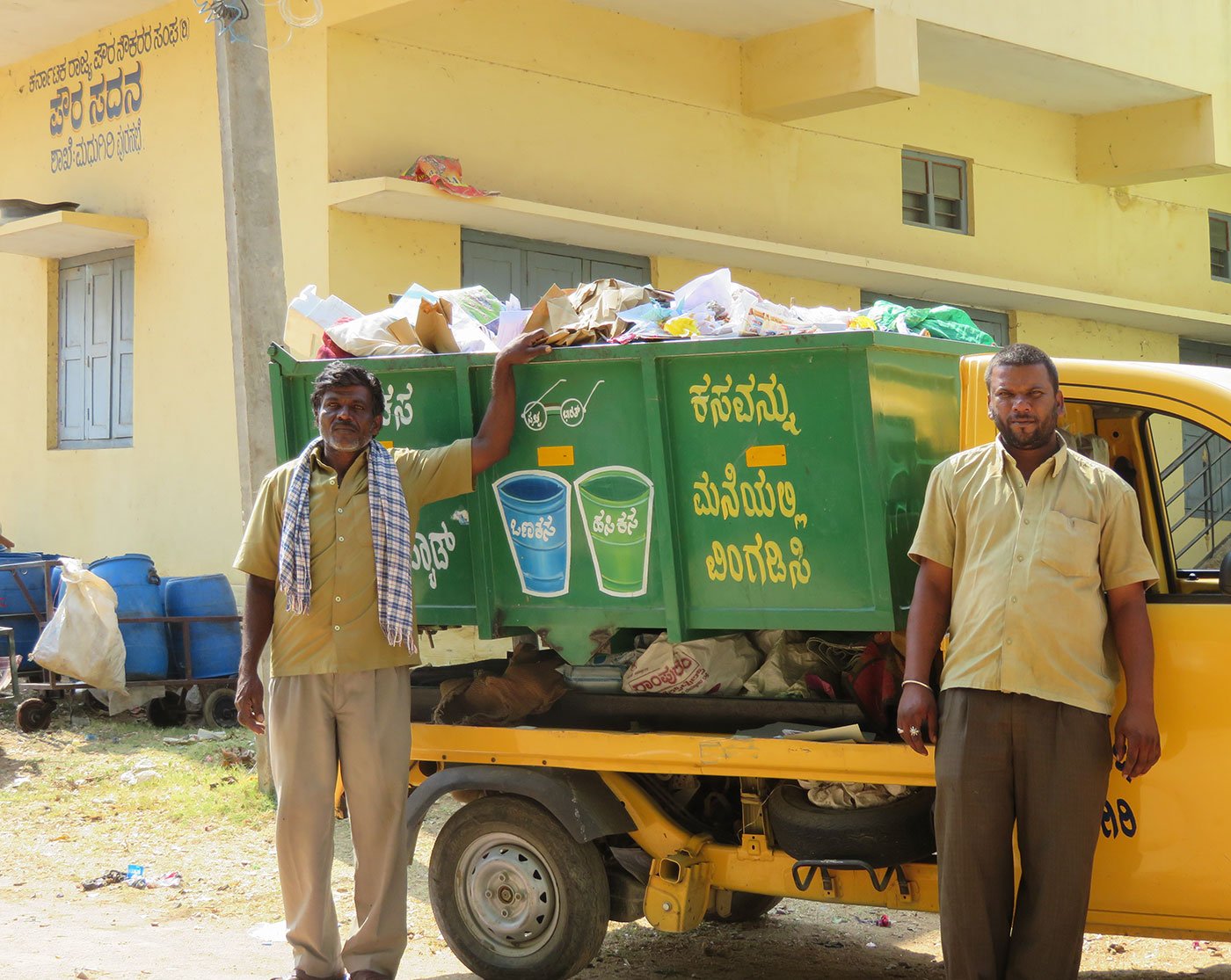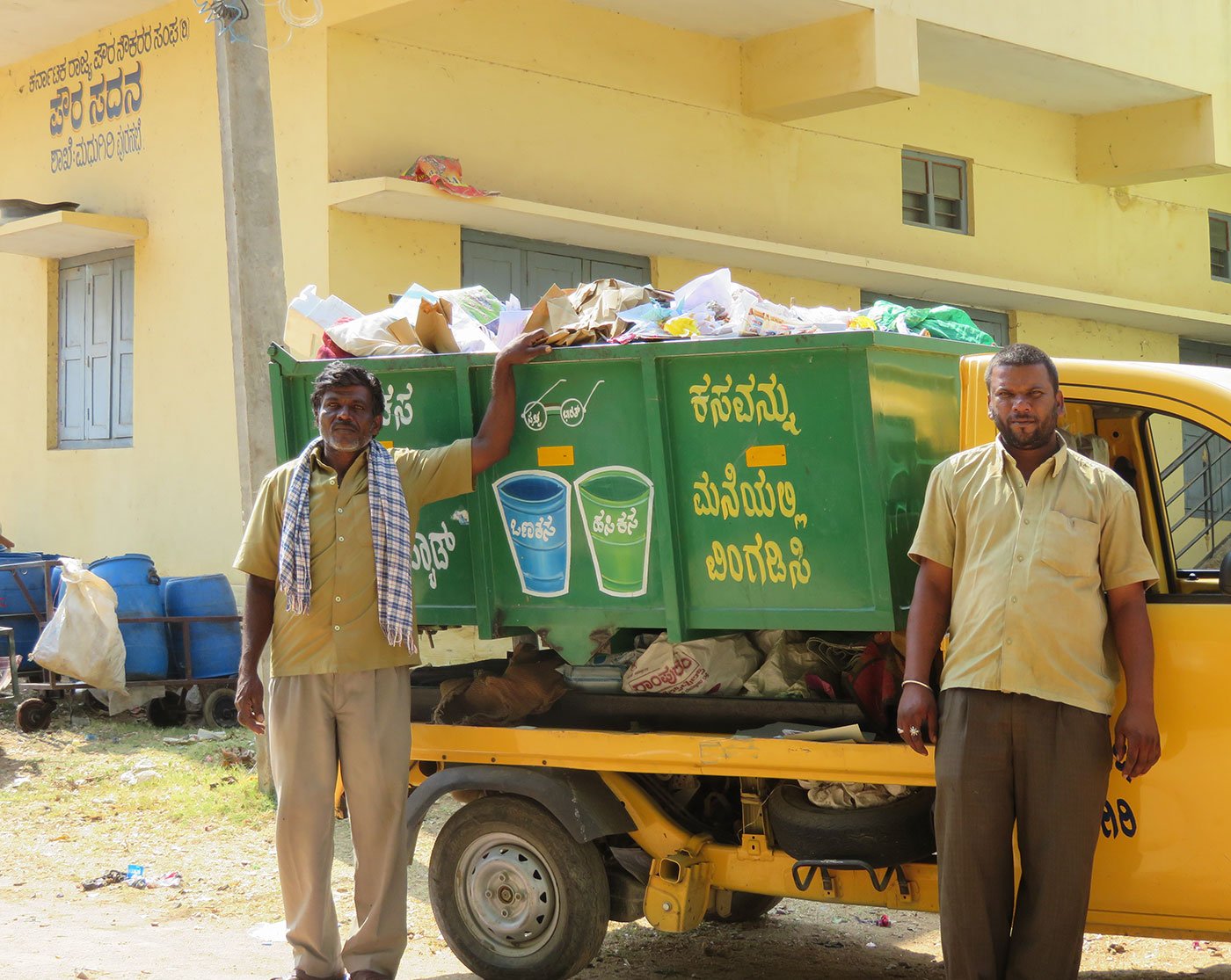 PHOTO • Priti David
"Manual scavenging is not a pertinent issue for national election candidates," says K. B. Oblesh, the founder of Thamate: Centre for Rural Empowerment, a Tumkur-based  organisation that works for the rights of Dalit communities. "The number of [sanitation] workers – 3,373 in Tumkur, according to the Socio Economic and Caste Census 2011 – isn't large enough to affect their votes." Oblesh also says that since manual scavengers are less 1 per cent of the constituency's total population of 26.78 lakhs, none of the MPs focus on their concerns, adding to the workers' frustration.
Despite voting diligently all these years, life hasn't changed for people like Puttana. He and other sanitation workers say there was some change in the district about seven years ago, but it didn't last. "In 2012, we received protective gear to do such work – not from the government, but from Thamate," says Manjunath, also a manual scavenger. Thamate tried to ensure that the government provided workers with safety equipment like masks, gloves and gumboots, but that eventually stopped. "How long can an NGO keep providing this kind of gear for thousands of workers?" asks Puttana.
On April 4, the Safai Karmachari Andolan, a nationwide movement for the elimination of manual scavenging, released its first-ever election manifesto in New Delhi. The demand listed include a Right to Life card for all sanitation workers and their families to ensure direct and free access to education, healthcare, dignified employment and livelihoods, and all other benefits and schemes in accordance with the fundamental rights given to all citizens under Article 21 of the Indian Constitution. It also demands that 1 per cent of the Union budget be allotted only for the welfare of manual scavengers, and a separate ministry for their release and rehabilitation headed by the prime minister.
The Prohibition of Employment as Manual Scavengers and their Rehabilitation Act, 2013 says it is illegal to employ manual scavengers, and those who do can be imprisoned for up to two years. It also says that workers are forbidden from cleaning septic tanks and drains with their bare hands. Yet, the Socio Economic and Caste Census, 2011, says there were over 1.82 lakh manual scavengers in rural areas across the country and Karnataka had the highest number of such workers in south India.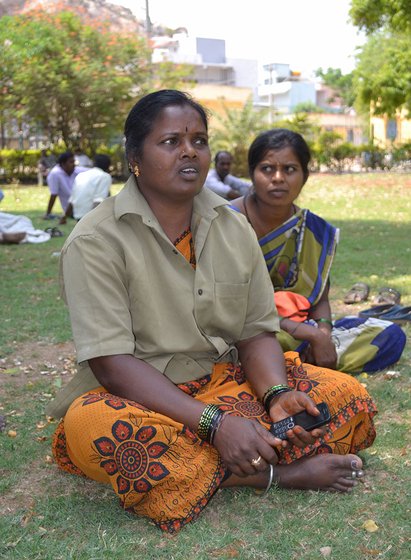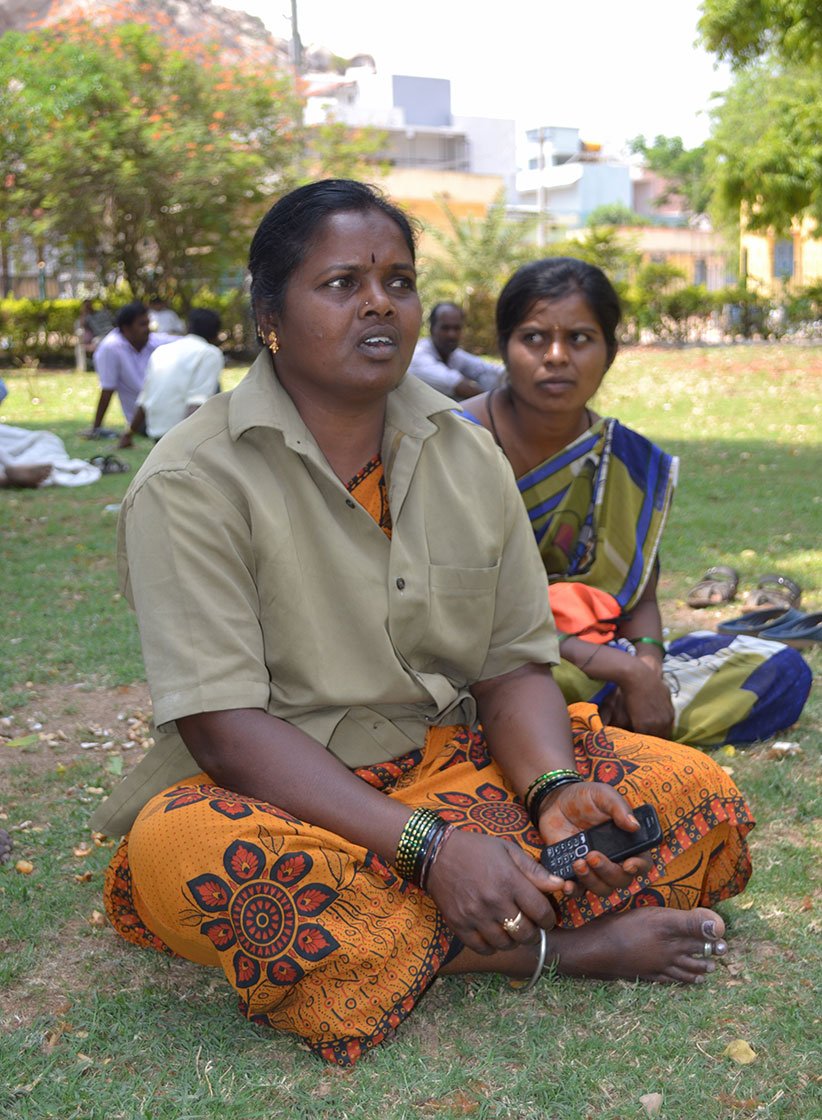 PHOTO • Vishaka George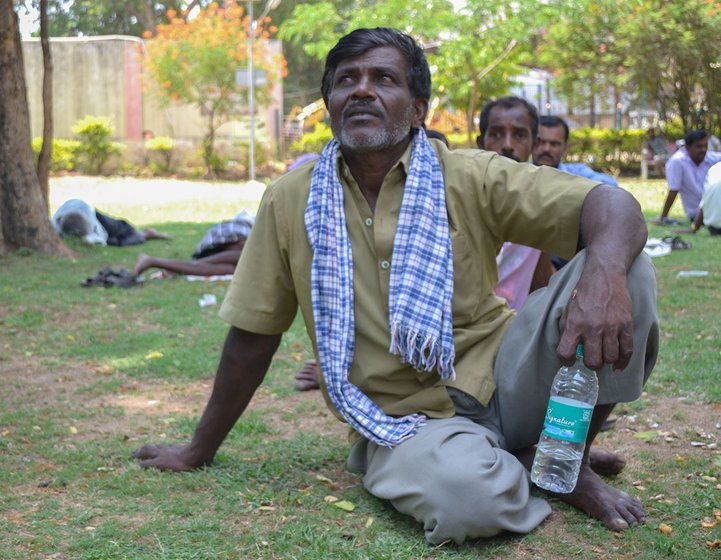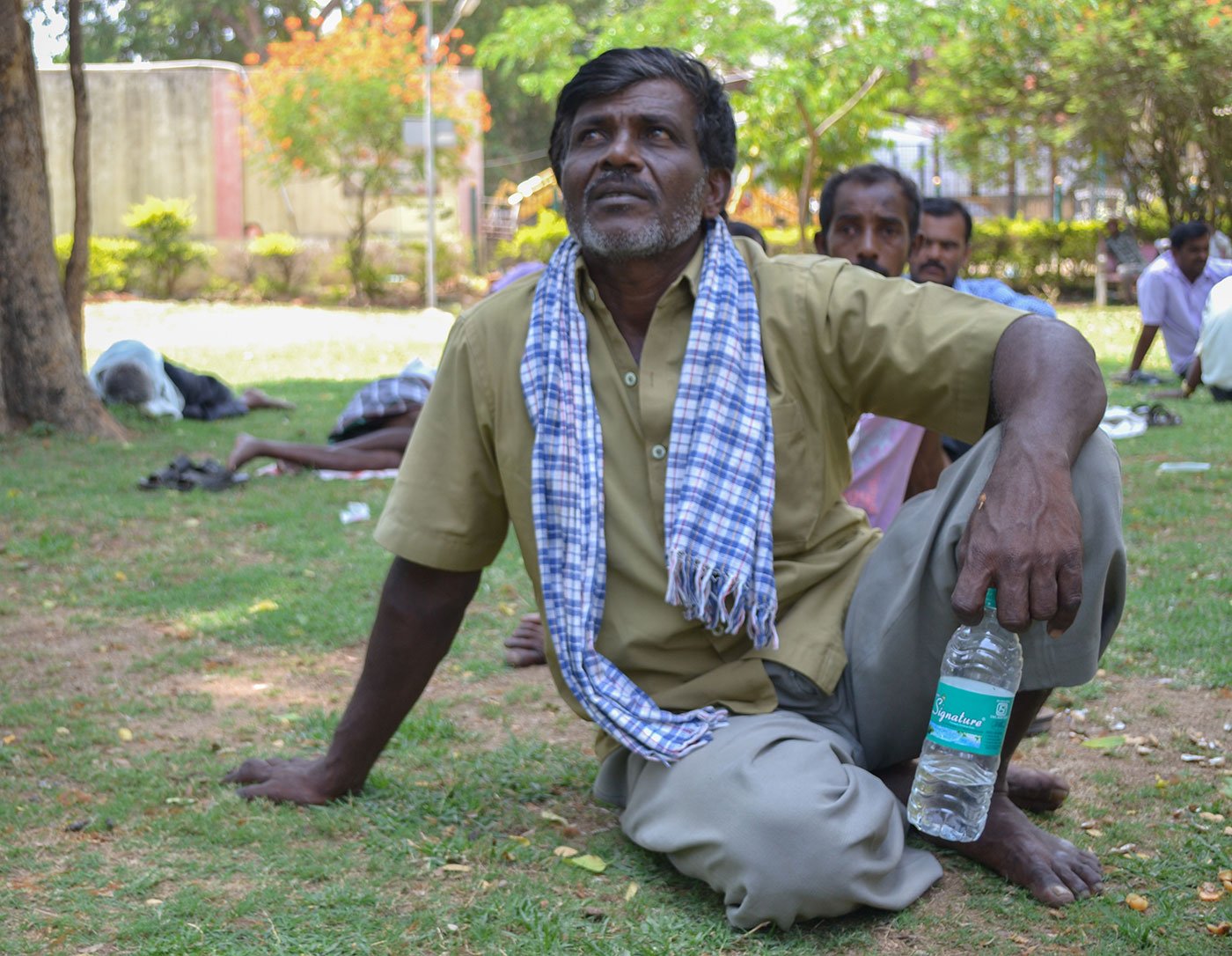 PHOTO • Vishaka George
"At election time, everyone comes with a bribe, trying to buy votes. Politicians will go to the extent of touching our feet before the elections, but they disappear soon after," says Sarojamma, 39, a pourakarmika (sanitation worker). Puttana adds, "Party workers and local leaders pay us a visit and hand out some money, about 100 rupees for each household. Women get a saree each and men receive a quarter bottle of liquor."
The liquor comes in handy though, especially when Puttana goes to work. "There are days when I must have a drink in the morning before I descend into the drain," he says. As many as 400 houses in Madhugiri depend on him for their garbage disposal. In municipal records, his job is to collect waste, but on the ground, his work goes beyond what's legal.
He is also required to operate a sewer 'jetting' machine that helps to unclog open drains and septic tanks. Often, the machine's pipe cannot suck out semi-solid matter, so Puttana must step into the pit and use his body as a human stirrer so that the waste becomes more soluble and can be pumped out with the machine. Before Puttana and Manjunath begin, the liquor helps. "I started drinking at 6 a.m. today," Puttana says. "Once I am high, I can tolerate anything."
So has the Swachh Bharat Mission helped workers like him in any way in the last five years? "Swachh Bharat has improved the general cleanliness of our town," says Manjunath, and the other workers gathered around agree. "After vigorous campaigning five years ago, today people are more aware. They segregate their garbage, which makes our job easier."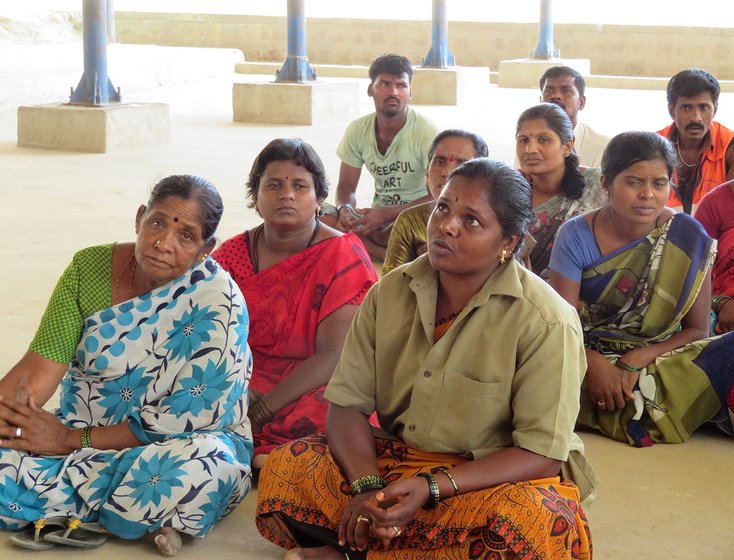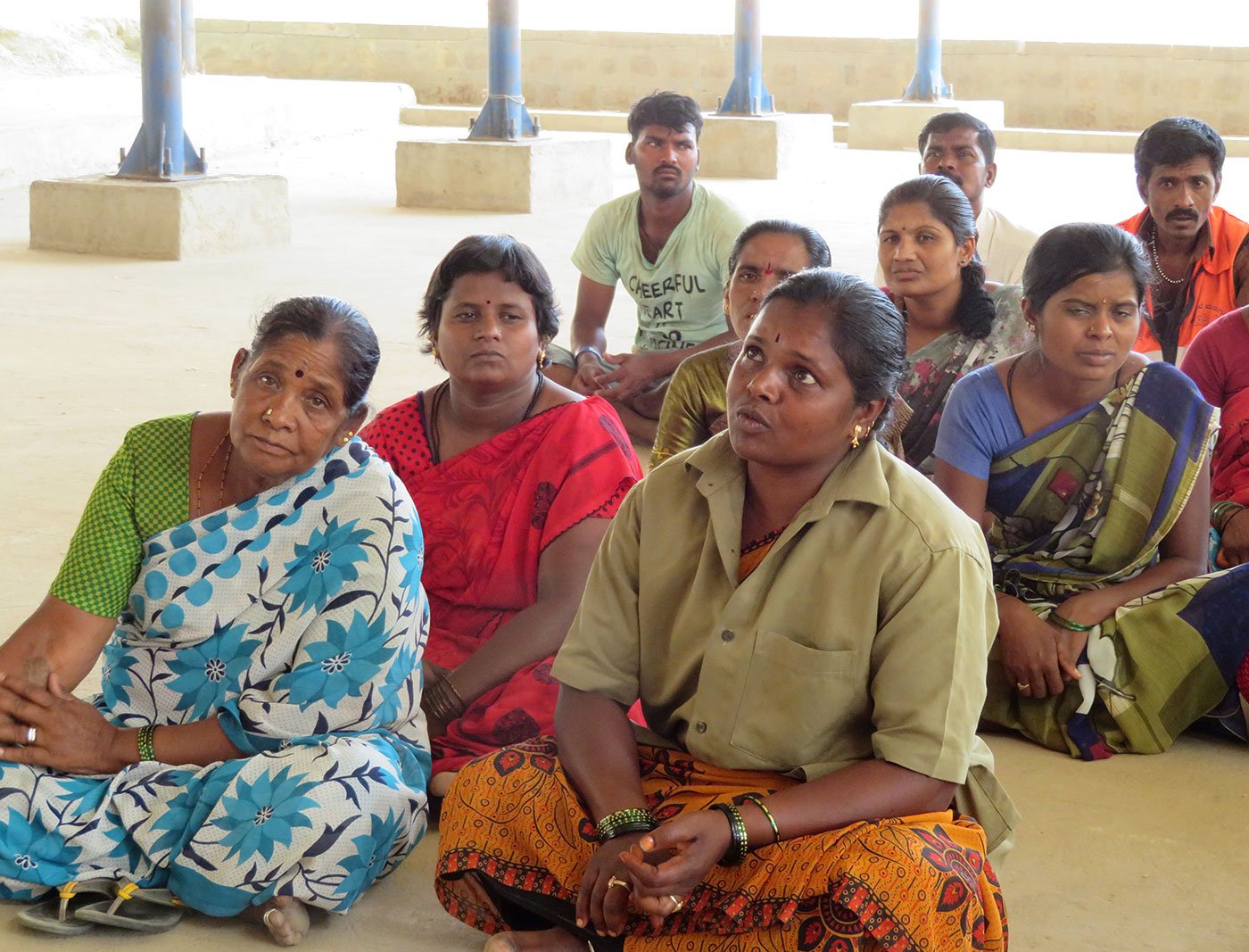 PHOTO • Priti David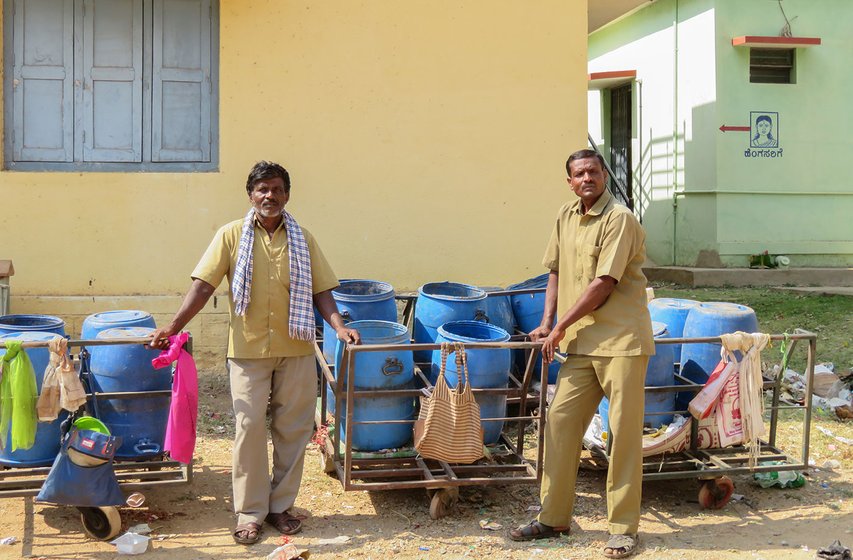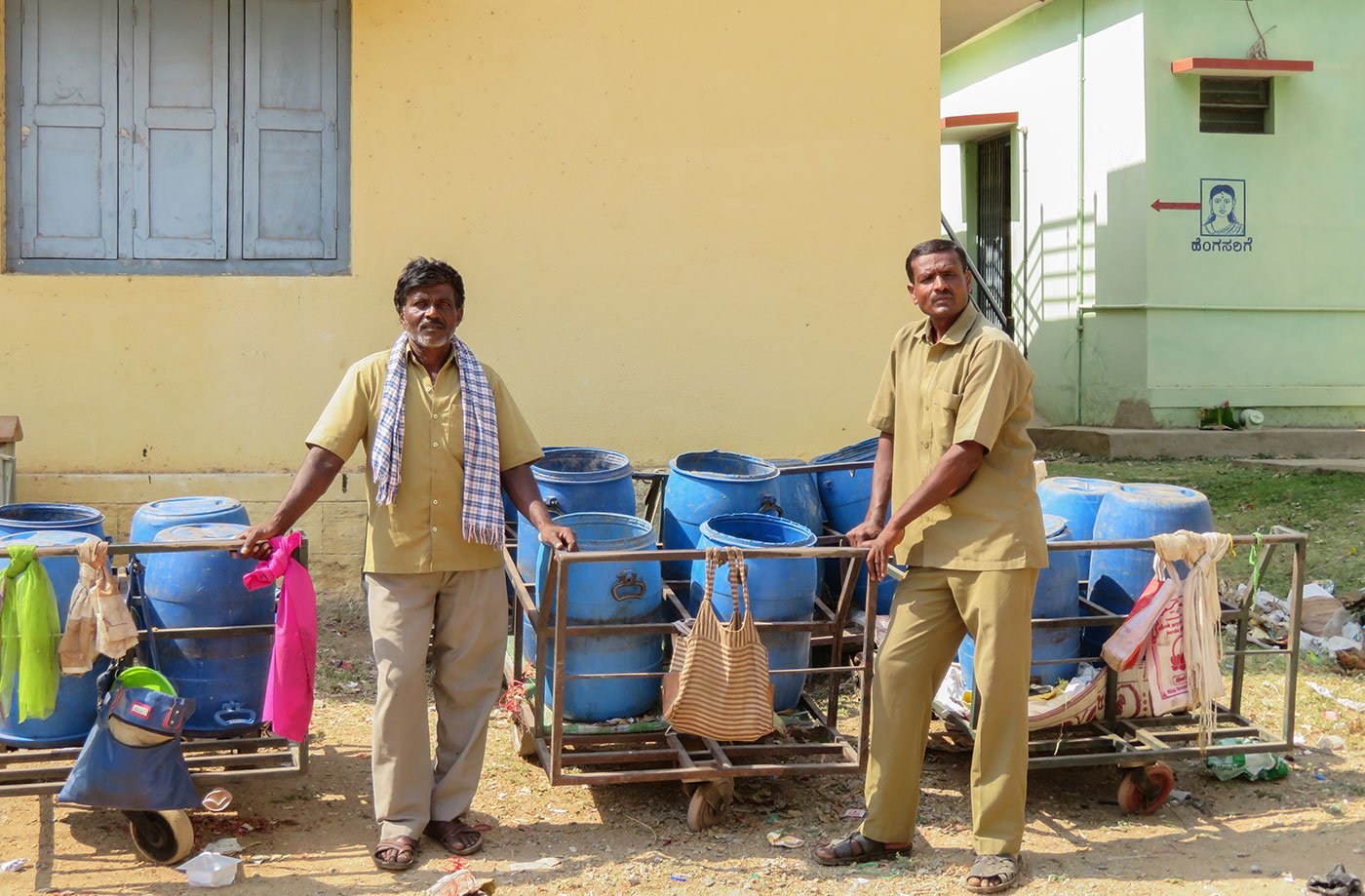 PHOTO • Priti David
They credit the success of the scheme to one man. "Modi is the best. He is India's number one prime minister who should remain in power forever," Manjunath says "The fact is Modi works tirelessly for us, but the problem is many Indians don't seem to understand this."
Even though the lives of Tumkur's sanitation workers haven't changed significantly in the last five years, they still have faith in the prime minister. "If Modi looks into safai karamchari s a little more, he would be ideal. But we are still happy with him," says Sarojamma.
In February this year, Prime Minister Narendra Modi's Twitter account posted a video of him washing the feet of safai karamchari s in Prayagraj, Uttar Pradesh, with this caption: "Moments I'll cherish for my entire life!" and "I salute every person making a contribution towards a Swachh Bharat."
But the data contradicts the theatrics. In March 2018, the Ministry of Social Justice and Empowerment released data that shows a decline in the funds allocated for the Self Employment Scheme for Rehabilitation of Manual Scavengers. The scheme received Rs. 448 crores in 2014-15 and Rs. 470 crores in 2015-16, but only Rs. 10 crores in 2016-17 and Rs. 5 crores in 2017-18. This reduction in budget, according to the ministry, was attributed to "the corpus of funds [already] available" with the National Safai Karamcharis Finance and Development Corporation, which runs the scheme. The Corporation is a non-profit company under the same ministry.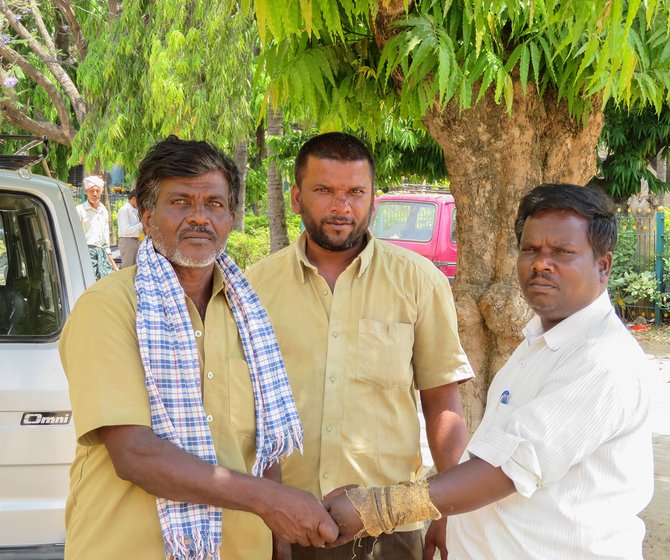 PHOTO • Priti David
This election battle in Tumkur between the BJP's G. S. Basavaraj and the Congress-JDS's Deve Gowda does not mention sanitation workers. It is centred on the dispute over the Hemavathy, a tributary of the Cauvery river...Still, the sanitation workers are hoping for a shot at a better life

"In the last five years, there have been a lot of central government schemes to create awareness [like the Swachh Bharat Mission]," says Chetan Singhai, assistant director at the Ramaiah Public Policy Center, Bengaluru.  "More than there were during the UPA's [United Progressive Alliance's] tenure. But they don't cost as much as the actual disbursement of funds to rehabilitate lives. In terms of the outlay or the actual amount spent on manual scavengers, the NDA [National Democratic Alliance] has spent substantially less."
This election battle in Tumkur between the BJP's Basavaraj and the Congress-JDS's Deve Gowda does not mention sanitation workers. It is centred on the dispute over the Hemavathy, a tributary of the Cauvery river. (The sanitation workers feel that Deve Gowda was responsible for denying Tumkur water when he was the MP from Hassan, a neighbouring constituency that also depends on the tributary.) Additionally, it's a tussle for political representation between two rival communities – the Lingayats, which Basavaraju belongs to, and the Vokkaligas, which is Gowda's community.
Despite being nowhere in the election polemics of Basavaraj and Gowda, the sanitation workers are hoping for a shot at a better life – permanent jobs with dignity, increased wages, houses of their own, and better access to education for their children. They hope the government will fulfill these demands one day. And it's their abiding faith in Narendra Modi's promises that is likely to influence how they vote on April 18.
"It may seem like nothing has changed, but it could, so we must vote," says Puttana. "It's my right to exercise that vote. Why should I waste it?"
The author would like to thank Priti David for her assistance and Naveen Tejaswi for his help with translation.