"Only two of them work," says Badri Kharat of his borewells in Roshangaon. That's hard – when you've sunk 36 of them spending millions of rupees, as he has. Kharat, a big landowner and local political personage, has been generous to his neighbours in this village of Jalna district. He pipes in drinking water from a well he's sunk quite a distance away. Twice a day, for two hours, the people of Roshangaon can draw water free from this source.
Meanwhile, the failure of most of his wells spells disaster for him. Borewells cost money. "This could be the biggest growth industry in the water-crisis districts," says one administrator. "For the rig-makers, rig-owners and drillers, this is boom-time. The farmer pays up, whether the wells yield water or not." The borewell industry is a key sector of the Thirst Economy and is worth billions.
The unchecked guzzling of groundwater in Maharashtra has even seen a few, but worrying instances, of striking what are called "paleo-historic storages," as the wells go deeper. That is, water which is many millennia old.
The current failure rate is extremely high. Perhaps 90 per cent or worse in some villages. "Normally, I have 35-40 labourers working for me," says Kharat. "Now, zero. My fields are quiet. Almost all the new borewells in our village have failed." Many older ones have run dry.
But despair has drilled thousands of new borewells across the water-crisis districts. As the wells go down deeper, their debt goes up higher. "No irrigation borewell is now less than 500 feet," says Bharat Raut in Takwiki in Osmanabad district. Of his village's 1,500 borewells, "over half have been drilled in the past two years. Perhaps 300 new points were sunk between January and March this year. Almost all the new points have failed. But people were desperate, with the crop dying in the fields."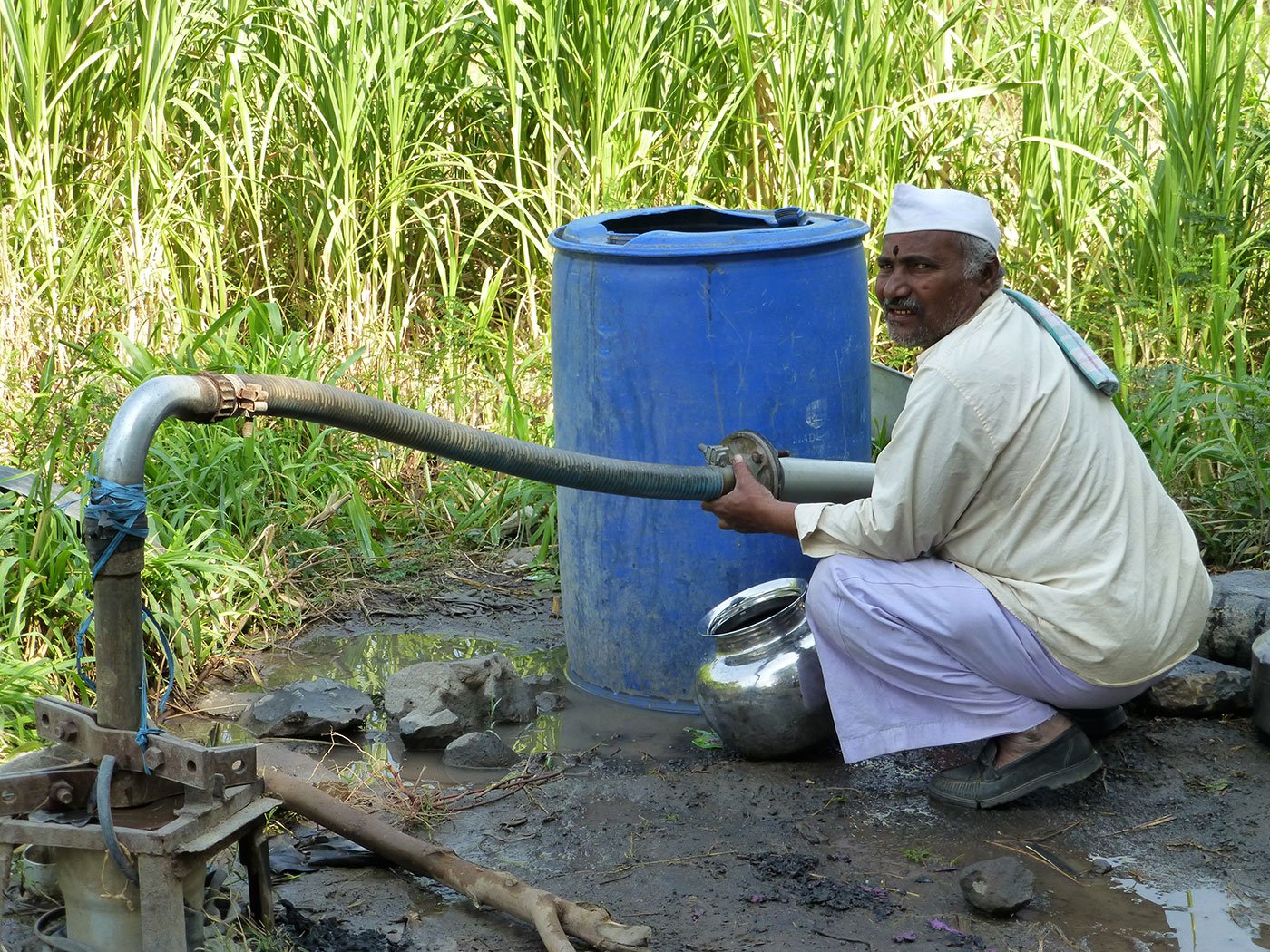 PHOTO • P. Sainath
If the most visible vehicle on the roads is the water-tanker, in the fields it is the borewell rig. These may be operated, sometimes even owned, by a local in the district. But the rigs themselves are mostly from Tamil Nadu, Karnataka and Andhra Pradesh. Of the Rs.1,50,000 a farmer spends on a 500-foot borewell, a little over 70 per cent goes on the steel pipe, submersible pump, cable, setting and transpiration costs. The rig operator collects the remaining Rs. 40,000. That's for the drilling: Rs.60 per foot for the first 300 feet. Then, Rs.10 more per foot for every 100 feet thereafter. And Rs. 200 per foot for the casing pipe protecting the bore. That can go down to 60 feet.
In one estimate, the state has seen at least 20,000 borewells drilled in the first three months of this year. Some officials fear the figure could be higher. "A hundred villages like Takwiki would themselves account for close to 30,000," they point out. Even if pumps and steel pipes were purchased for only a third of Takwiki's new bores, it means this single village spent at least Rs.25 million in 90 days from January to March . Even if all the 30,000 in the crisis districts went no deeper than 500 feet, that would have been business worth Rs. 2.5 billion.
"An operator can sink up to three in a day," says Raut in Takwiki. "Two at least," says Kharat in Roshangaon. "He can manage three if they're in the same village." On the road, we meet Sanjay Shankar Shelke, proud owner of a brand new borewell rig for which, he tells us, "I paid Rs.1.4 crores." Not a small sum. But one he can recover in six months – if he drills just two a day. And there is no dearth of demand. His phone is ringing as we speak.
Only the mounting debt has now begun to slow down the orgy a bit. How are people going to repay the loans they've run up on these? Moneylenders here charge interest rates between 60 and 120 per cent per annum. "On the farming side," says Raut, "bank notices for repayment on our regular loans will begin this month. And with the borewells, the loans are from private lenders who we can only repay when there is a crop." That crop being mainly sugarcane – needing 18 million litres of water per acre – and a major cause of the crisis in the first place, this completes the tragic cycle. It's what villagers refer to as "double nuksaan " (double loss).
There's more. Consider that over 90 per cent of Maharashtra is hard rock, say officials in the state's Groundwater Surveys and Development Agency (GSDA). The average depth of a traditional dugwell in such rock is 32-40 feet. The maximum, around 80 feet. "The geological reality," says Madhav Chitale, former water resources secretary, Government of India, "is such that you are unlikely to find water below 200 feet. And have hardly any chance of finding it between 200 and 650 feet below the surface." Yet the new borewells are mostly at the deep end of that range. Sometimes a lot deeper.
So how many irrigation borewells does Maharashtra have? No one knows. A 2008-09 GSDA report places the number that year at 1,91,396. "There are probably more in my district," jokes one senior administrator. How did we end up with such insane figures? "There is no obligation," explains a GSDA official, "on any owner to report or register a new borewell. Oddly enough, the owner of a traditional dugwell is obliged to do so and pay the water cess. But not a borewell owner." A new state law setting that right is stuck pending the president's approval for some time now.
"From 1974 to 1985," says Chitale, "the talathi (revenue official) often lumped all kinds of wells in the same category. So it's hard to know how many in that period were actually borewells. From 1985 onwards, there was a clearer separation. However, there was and is no compulsion on the owner of a borewell to report it." In 2000, a commission headed by Chitale found there were almost as many irrigation borewells as there were dugwells. Which would have meant there were around 1.4 million that year. But since then, their spread has been stunning – with no way of counting them.
The 2008-09 GSDA report notes the danger of its own 1,91,396 number. Since the drawings on groundwater are assessed on such low figures, we get a wrong picture of the state's groundwater balance. There are really large numbers of borewells, it says. Which are "the main source of irrigation across the State and a large number of these are not even on record for electricity connections ." If we counted these: "then the balance position would have certainly emerged as alarming."
The state badly needs to know how many borewells it has, to even begin tackling the problem. "We can start when rashtrapatiji clears that law," says a state government official.
Meanwhile, Sanjay Shelke's rig is tanking up at the petrol pump. Tomorrow is another day – and maybe three more borewells.
This article was originally published in The Hindu on April 19, 2013.
Also read: The deep water crisis
This article is part of a series for which P. Sainath got the World Media Summit Global Award for Excellence, 2014.