More than two years after he was forced to move from Pydipaka village, Uppala Praveen Kumar is still waiting for the house he was promised. Meanwhile, he has had to shift repeatedly – from a school, to a rented house, to his parents' place, and then to a tent.
"We spent the first two months – May and June – in the zilla parishad high school in Hukumpeta. The school reopened and we were forced to move out to make way for the classes," he says.
His is one of 30 families, all Dalits from the Mala community, who were promised a house in Hukumpeta in Gopalapuram mandal , around 20 kilometres from Pydipaka. Twenty four families did get houses – small and of poor quality – while six are still waiting. They are among the 420 families evicted from Pydipaka in Polavaram mandal of West Godavari district in the summer of 2016.
The six families still waiting are of newly-married persons, who lived with their parents in Pydipaka. According to the Land Acquisition, Rehabilitation and Resettlement (LARR) Act, 2013, every married adult (still living in the same project-impacted village),  must be considered as a separate family unit and given a house and a one-time monetary settlement as part of a resettlement and rehabilitation (R&R) package.  Praveen, 23 years old, is married to Anitha, 22, and they have two sons, aged three years and one year.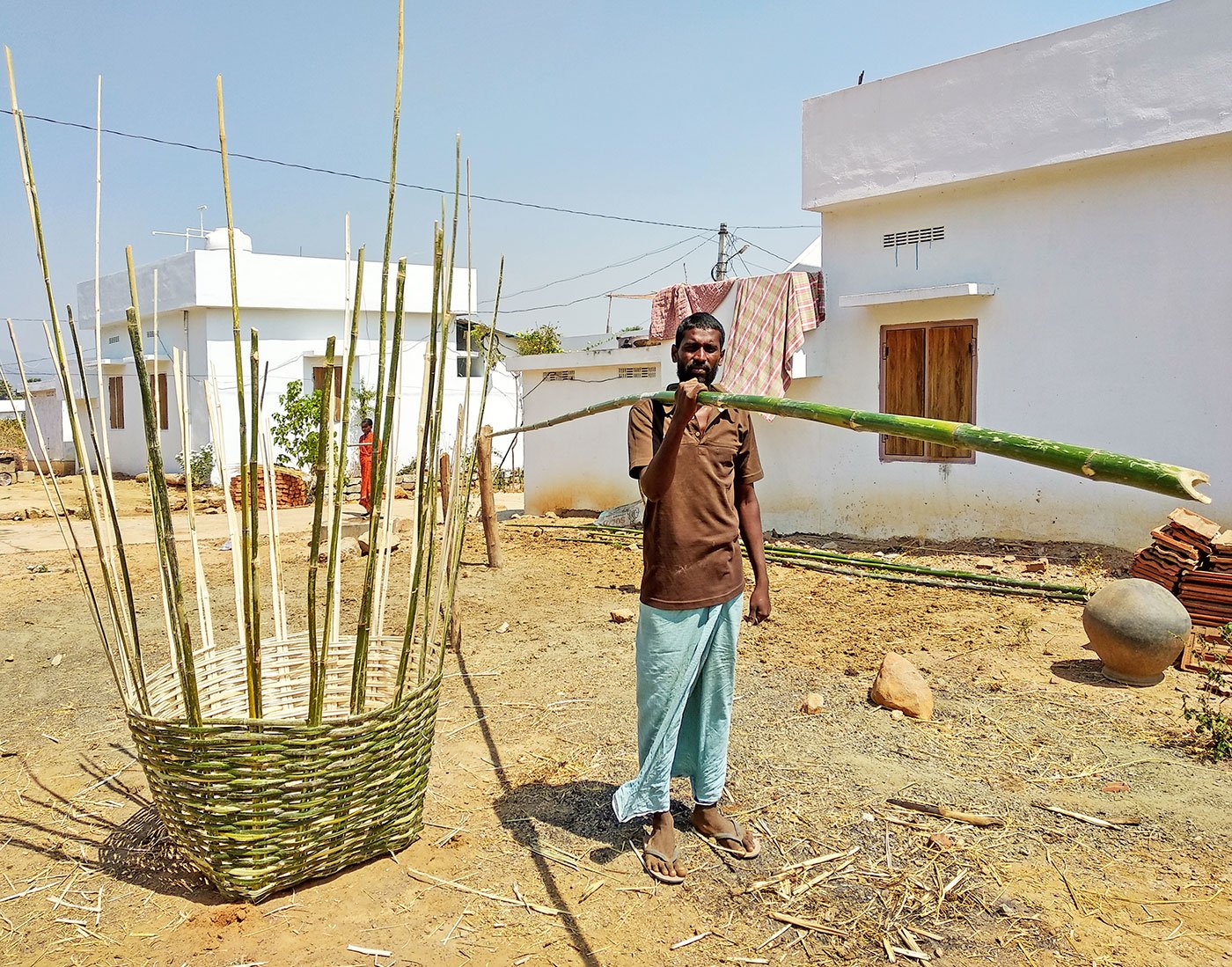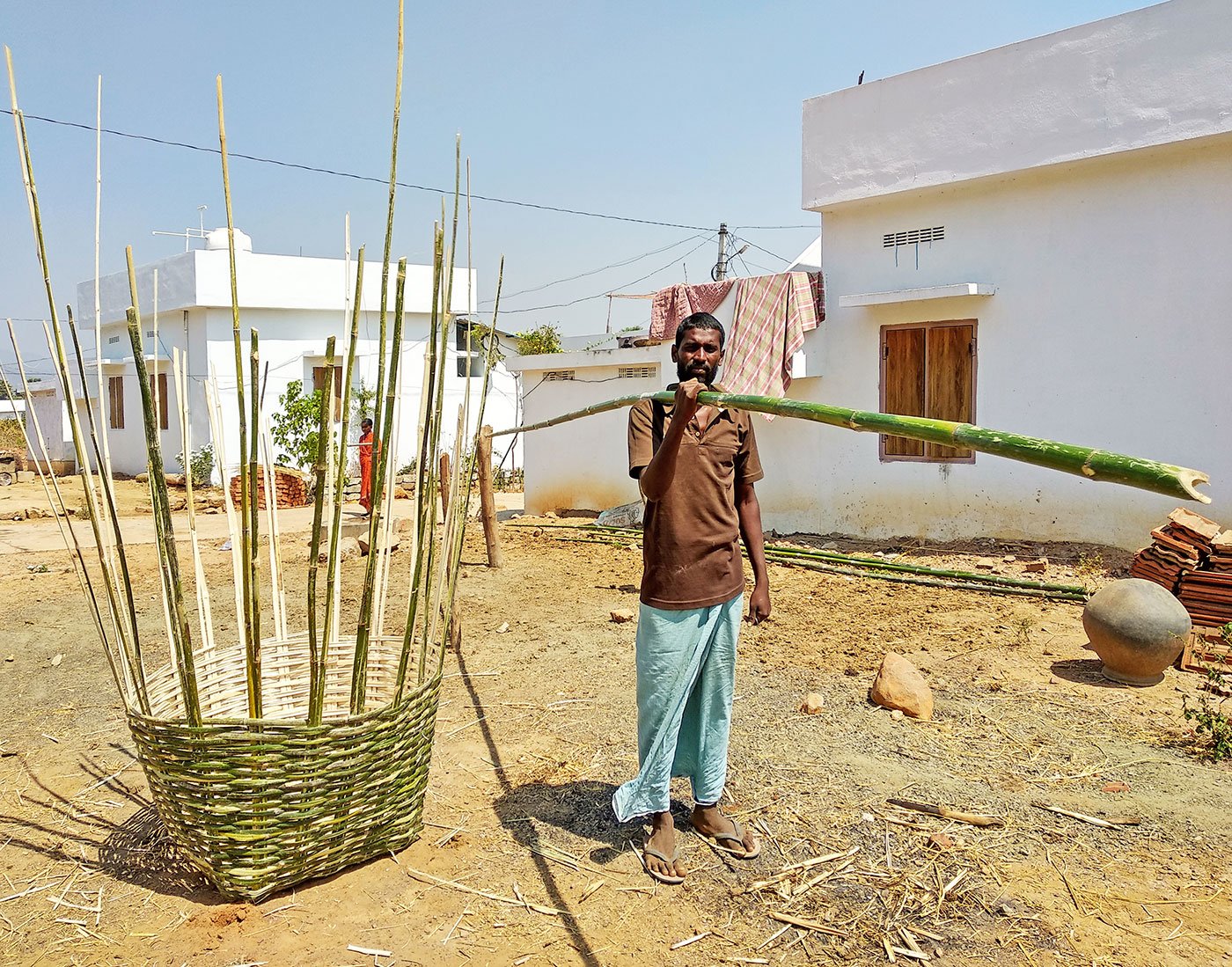 PHOTO • Rahul Maganti
For a while, Praveen rented a two-room house for Rs. 3,000 a month in Polavaram town, around 8-10 kilometres from Hukumpeta, hoping to find work.  "But I could no longer afford the rent as I lost my livelihood too after the displacement," he says. In Pydipaka, Praveen worked as an agricultural labourer and collected honey, wood and other forest produce for sale.
For some time, he and his family tried to stay in the house allotted to his parents in the R&R colony. But the small rooms could not accommodate them all. He then put up a tarpaulin tent in Hukumpeta, where he now lives.
"There is no work here," he says. So he goes looking for agricultural labour in nearby hamlets 15-20 kilometres away. Of the Rs. 200 he earns as daily wages 2-3 times a week, Rs. 70-80 is spent on travelling to the fields in a shared auto or tractor. When this work is not available, Praveen makes baskets. "It takes a day to get the bamboo [from the nearby forests], two days to make the basket. And I earn just 200 rupees for three days of work [by selling the baskets in Polavaram town]," he explains.
Before the displacement, all the families were promised a furnished house, land close to the R&R colony, work opportunities, and Rs. 6.8 lakhs (as part of the resettlement package; this amount depends on what people from a village can negotiate with the government). However, two years later, many of these promises have not been realised for the 420 displaced families. And, villagers estimate, at least 50 families have still not got houses and are either living in rented houses or, like Praveen, have put up tarpaulin tents.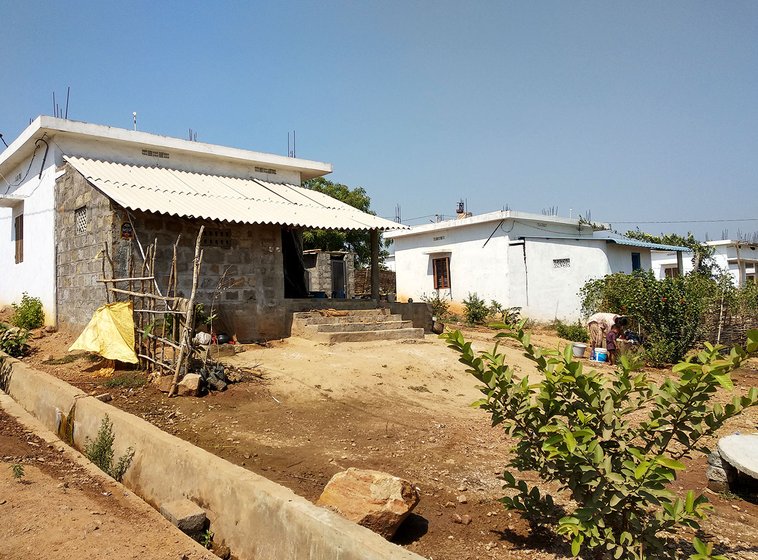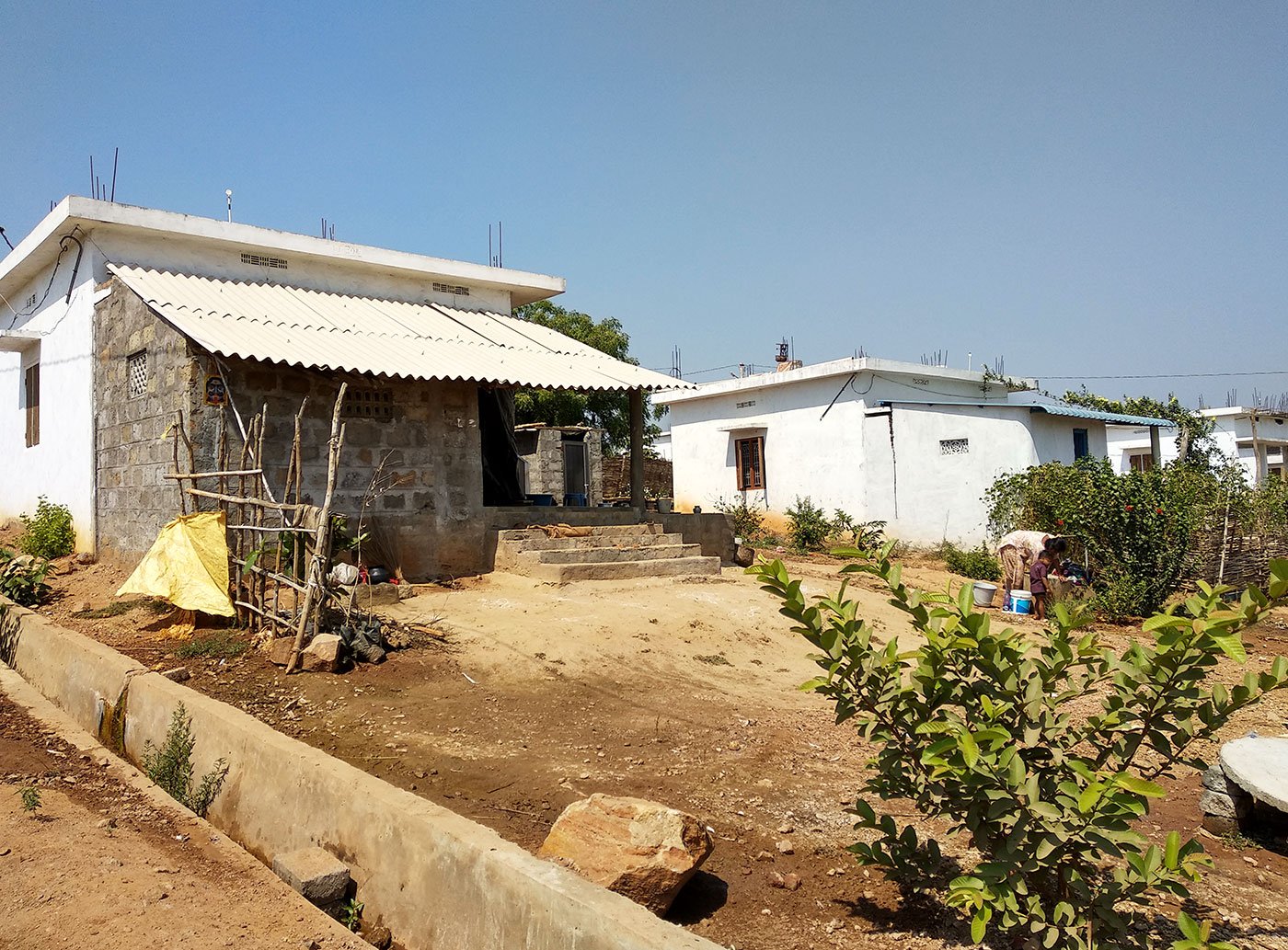 PHOTO • Rahul Maganti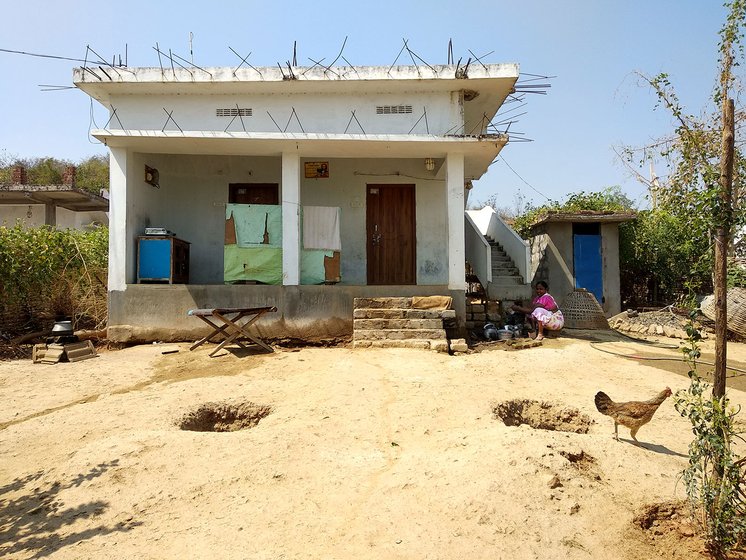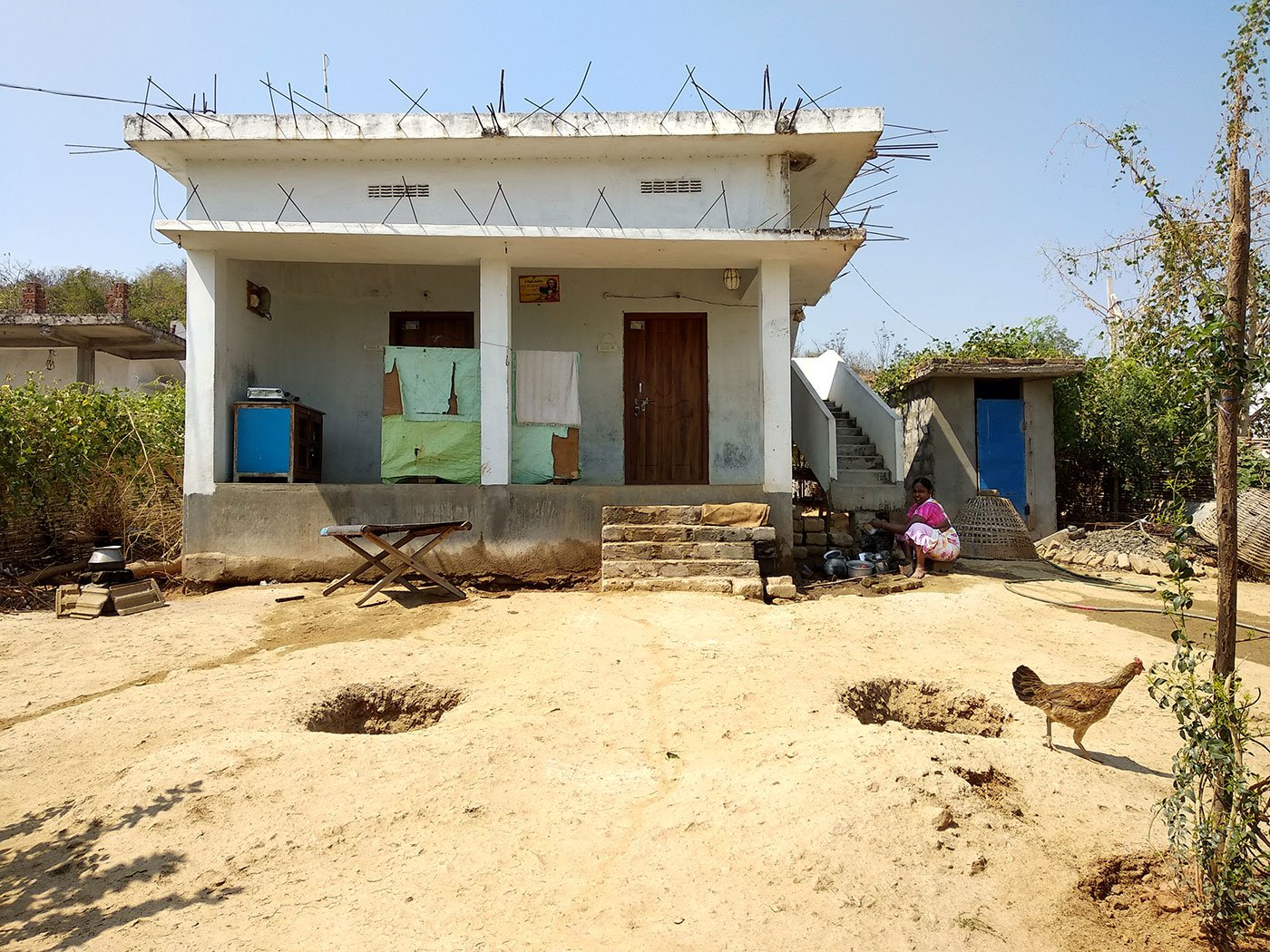 PHOTO • Rahul Maganti
Pydipaka is one of seven villages – with a total population of around 5,500 – located right next to the Polavaram project – officially, the Indira Sagar Multipurpose Project – from where residents were forced to move in 2016. Once the full Polavaram project is constructed, at least 462 villages on the banks of the Godavari, spread across nine mandal s in Andhra Pradesh, will vanish.  More than 80,000 families will be displaced. But the government has so far built only around 1,000 houses in all the R&R colonies put together, says Venkata Rao, Polavaram mandal secretary of the Communist Party of India, Marxist.
The now nearly-deserted village of Pydipaka (see Pydipaka families: and then there were ten ) was divided into four R&R colonies – one each in Polavaram and Hukumpeta villages and two in Jangareddigudem mandal . All the Dalits were given houses in Hukumpeta, one colony in Jangareddigudem was given to backward castes and another to upper castes. The R&R colony in Polavaram was named after Andhra Pradesh chief minister Chandrababu Naidu and given to activists and villagers associated with the ruling Telugu Desam Party. "This is clearly segregation on the basis of caste," says Rapaka Venkatesh, 24, an agricultural labourer who too moved to Hukumpeta.
In Pydipaka, Praveen's father Veeraswamy owned two acres of revenue land and cultivated another acre of podu (forest) land. According to the LARR, Dalits and Adivasis should be given the same amount of land which is taken away from them, while other castes can be compensated with money. And the Forest Rights Act of 2006 gives rights to convert to title pattas or leases on forest land to "forest dwelling Scheduled Tribes (... who primarily reside in and who depend on the forests or forest lands for bona fide livelihood needs...)"  and to "other traditional forest dwellers" who have for at least three generations (75 years) prior to 2005 "primarily resided in and depend on the forest or forest land..."
But, says Veeraswamy, "They didn't give me a patta [title] for the podu land to avoid compensating for it. The two-acre revenue land [for which he got another plot] has sand and rocks, no irrigation, and is hardly suitable for agriculture. When we took this problem to the Mandal Revenue Officer, he told us to earn our livelihood by selling sand."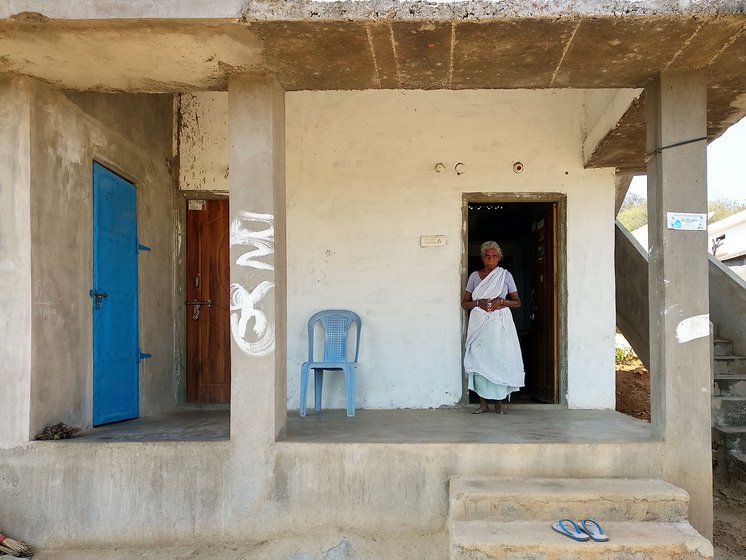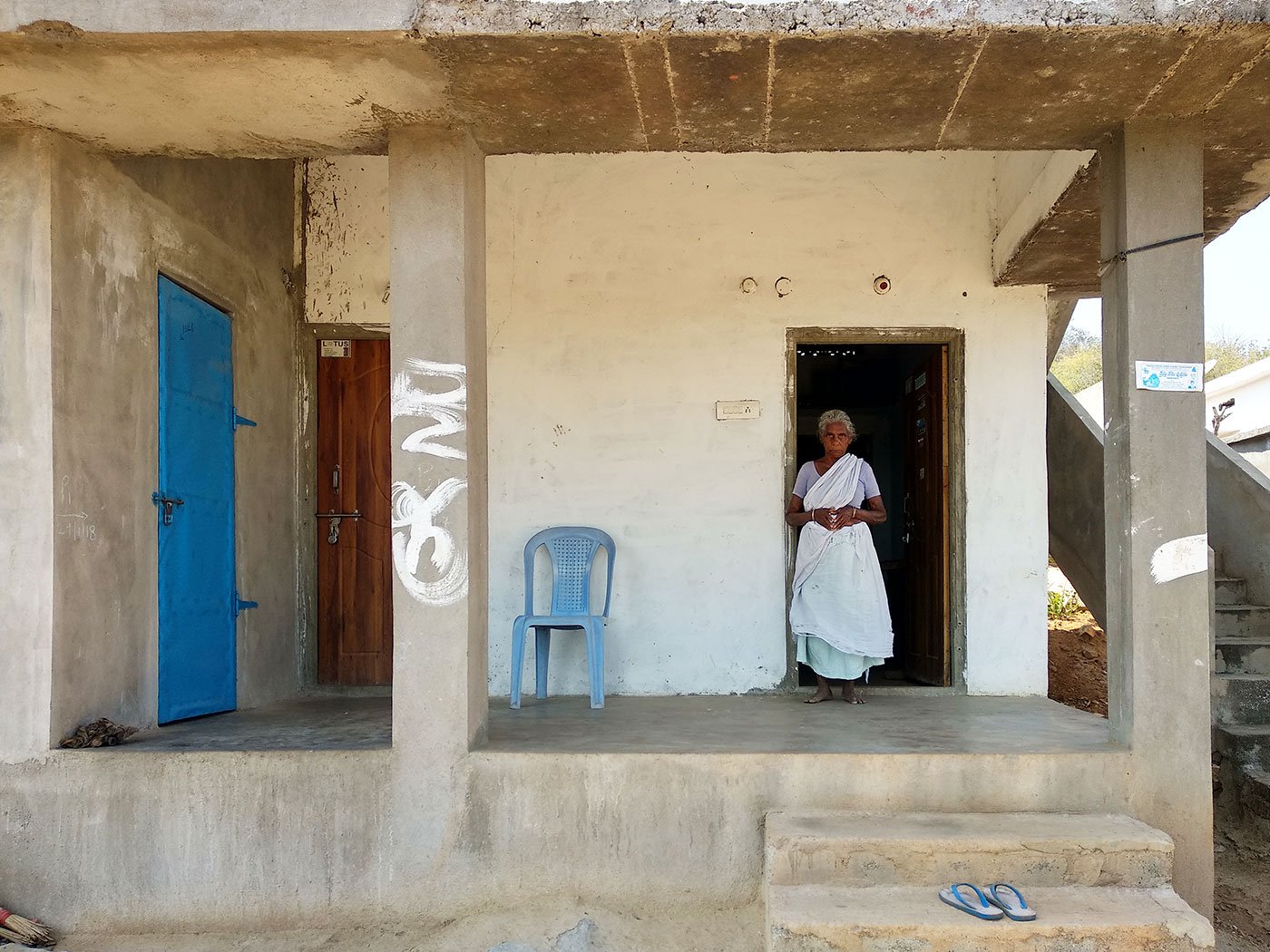 PHOTO • Rahul Maganti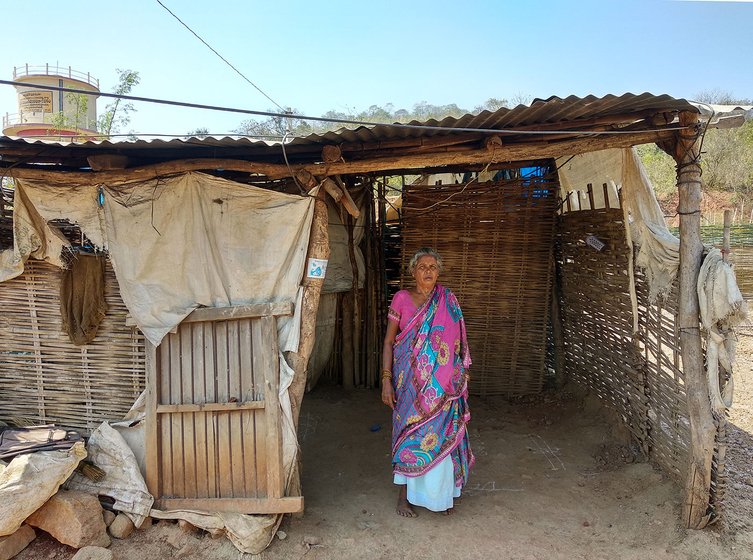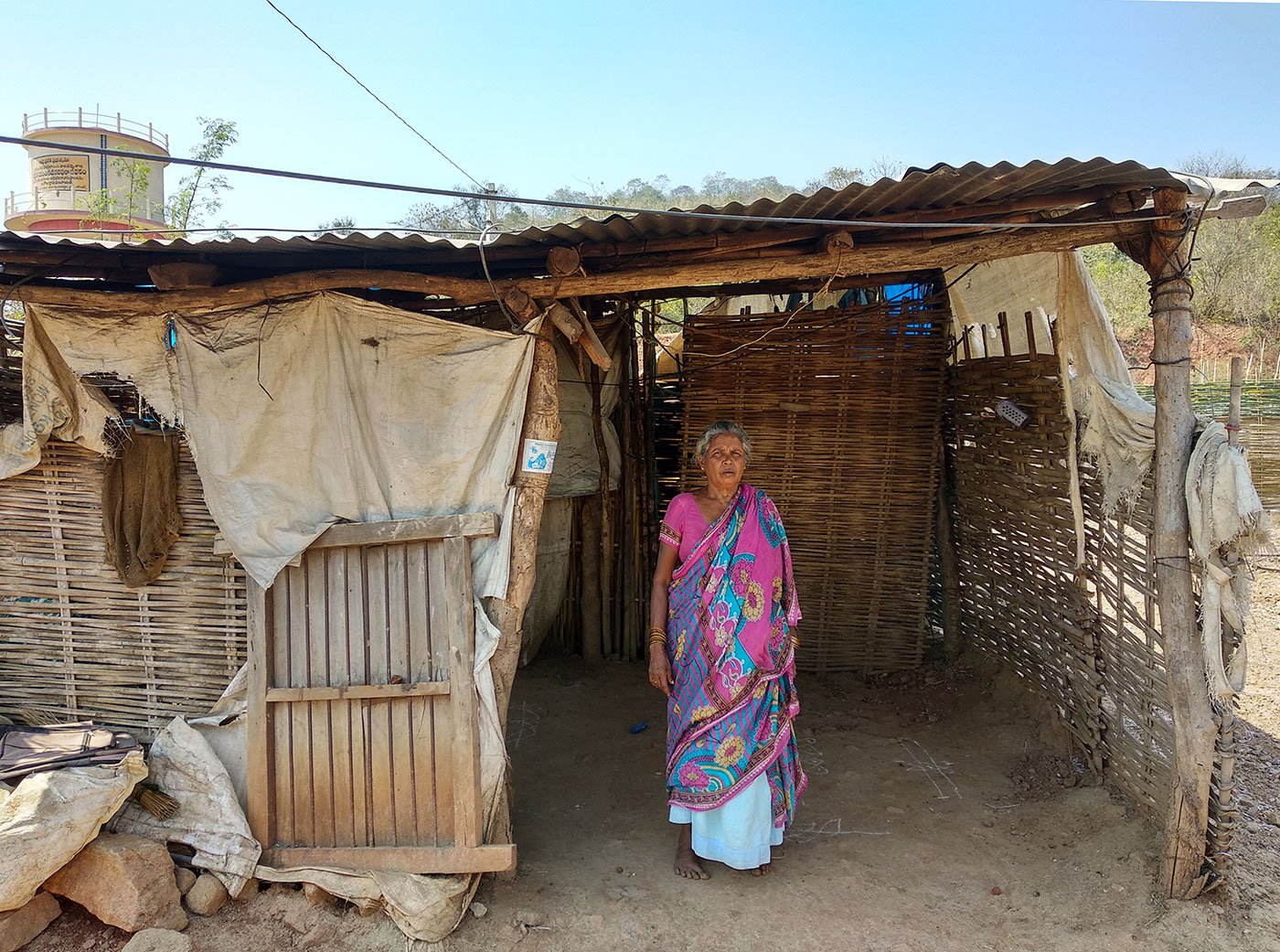 PHOTO • Rahul Maganti
Even the houses which were constructed in the R&R colony are inadequate. "They are of the size of a matchbox and poor quality. Just our verandah [in Pydipaka] was double the size of the houses the government has given us. During the rainy season, we have to sit inside with bowls to catch the leaking drops," says Veeraswamy.
"We are being considered second class citizens because we are Dalits. This is why our houses are [already] falling apart and our [new plots of] land are filled with sand," adds Rapaka Venkatesh.
The story of broken promises and dried up employment echoes in all the R&R colonies. But Devaragondi, one of the seven villages located upstream of Pydipaka, faces another set of problems as well. An Adivasi hamlet of around 130 Koya families, Devaragondi was part of Andhra Pradesh's Fifth Schedule Areas – these are predominantly tribal regions where the Constitution of India grants special attention and rights to address historical and economic imbalances. However, Devaragondi's residents were resettled in a non-Schedule Five area, which will rob them of loans and funds from the Integrated Tribal Development Agency and other benefits meant for Fifth Schedule Areas.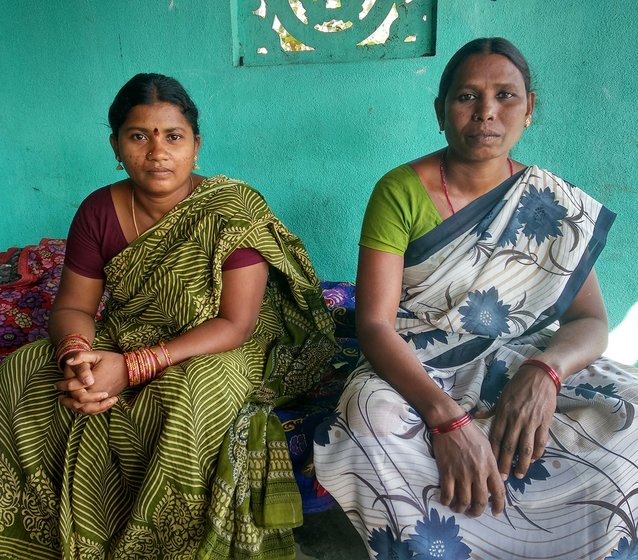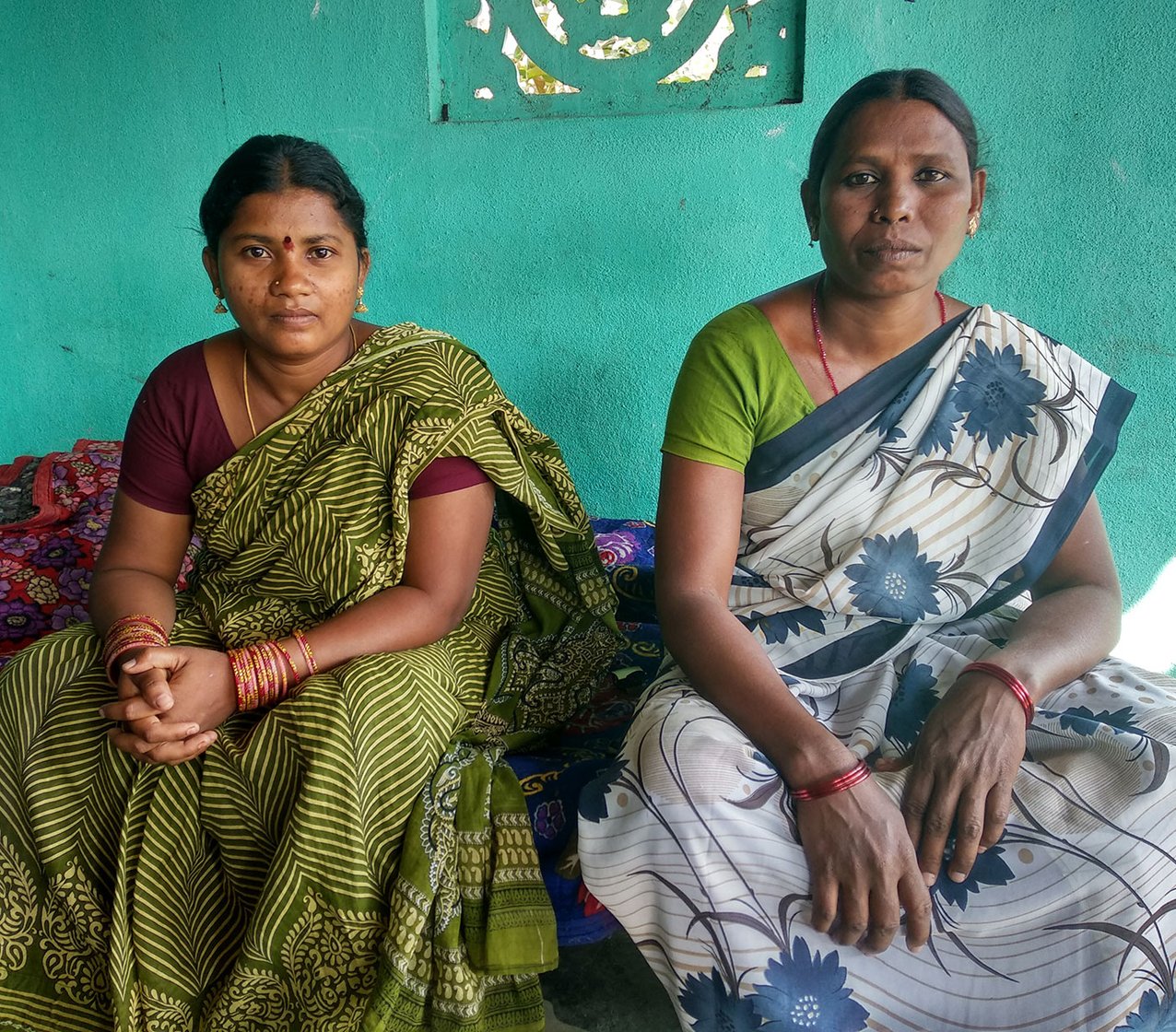 PHOTO • Rahul Maganti
Karam Chellayamma moved in May-June 2016 with her husband, son and daughter, from Devaragondi to the village's resettlement colony around 15 kilometres away. Not happy with the size and quality of the house they were allotted, the family built another house at a cost of more than Rs. 5 lakhs. Some of the money came from their savings, some from the partial amount they received in the R&R package.  "But I had to take a loan of 2 lakh rupees [from money lenders in Polavaram] at an interest rate of 36 per cent to build the house," says 30-year-old Chellayamma, who cultivates forest land and collects forest produce. She is yet to receive land-to-land compensation as well as the full amount of Rs. 3.5 lakhs per family specified in their resettlement package.
"The village [Deveragondi] has total forest land of 500 acres and hardly 10 acres have got pattas. The officials say the rest of the claims are pending. Even those 10 acres were not compensated with land-to-land," says Boragam Jagga Rao, 60, who was also forced to shift to Devaragondi's R&R colony. Jagga Rao owns three acres of revenue land and cultivates  four acres of forest land. He was given an alternative plot only for the three acres in Gunjavaram, 20 kilometres from the R&R colony. That land is filled with stones and sand, and not suitable for cultivation.
The government of Andhra Pradesh obtained the forest clearance for the transfer of more than 10,000 acres in the (then) Khammam, West Godavari and East Krishna districts in 2009 after misrepresenting the numbers to the Ministry of Environment, Forests and Climate Change, according to several gram sabha (village meeting) resolutions and letters written to the ministry.
"We used to get tamarind, honey, glue and other forest produce which we no longer have here," says Jagga Rao. "We also lost our tribal gods and cultural deities in the form of hills and stones," says Chellayamma; she, along with her neighbours, now travels to her old village to pray to the deities during festivals and special occasions.
The Polavaram project meanwhile is making its way across the lives and livelihoods of tens of thousands of other families.