When the train approaches Dadar station, Tulshi Bhagat gets ready with two huge bundles of leaves draped in old sarees – she throws them, one at a time, each lot weighing around 35 kilos, on to the platform, while the train is still in motion. "If we don't throw the bojha [load] before the train halts, it is impossible for us to get down with so much weight because many people are waiting to get into the train," she says.
Then Tulshi alights, walks back to where her bundles fell on the platform, places one on her head, and presses through the crushing crowds towards the flower market on the street just outside the station. There, she keeps the bundle at her regular spot. Then goes back to the platform and repeats the walk with her second bundle. "At a time I can carry only one load on my head," she says. Bringing both bundles to the flower market from the station takes her around 30 minutes.
But that's only a fraction of Tulshi's work day, which stretches across 32 continuous hours. During this time, she travels a total of nearly 200 kilometres, carrying at least 70 kilos. And earns Rs. 400 at the end of the 32-hour stretch.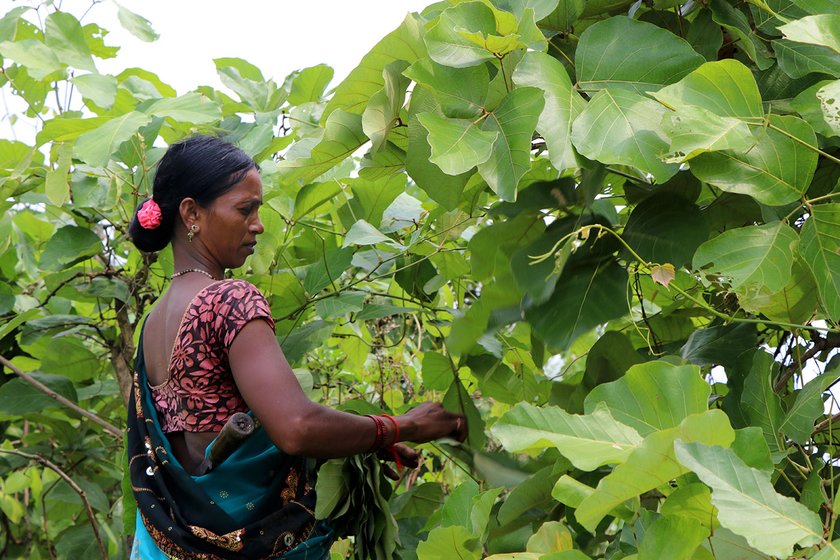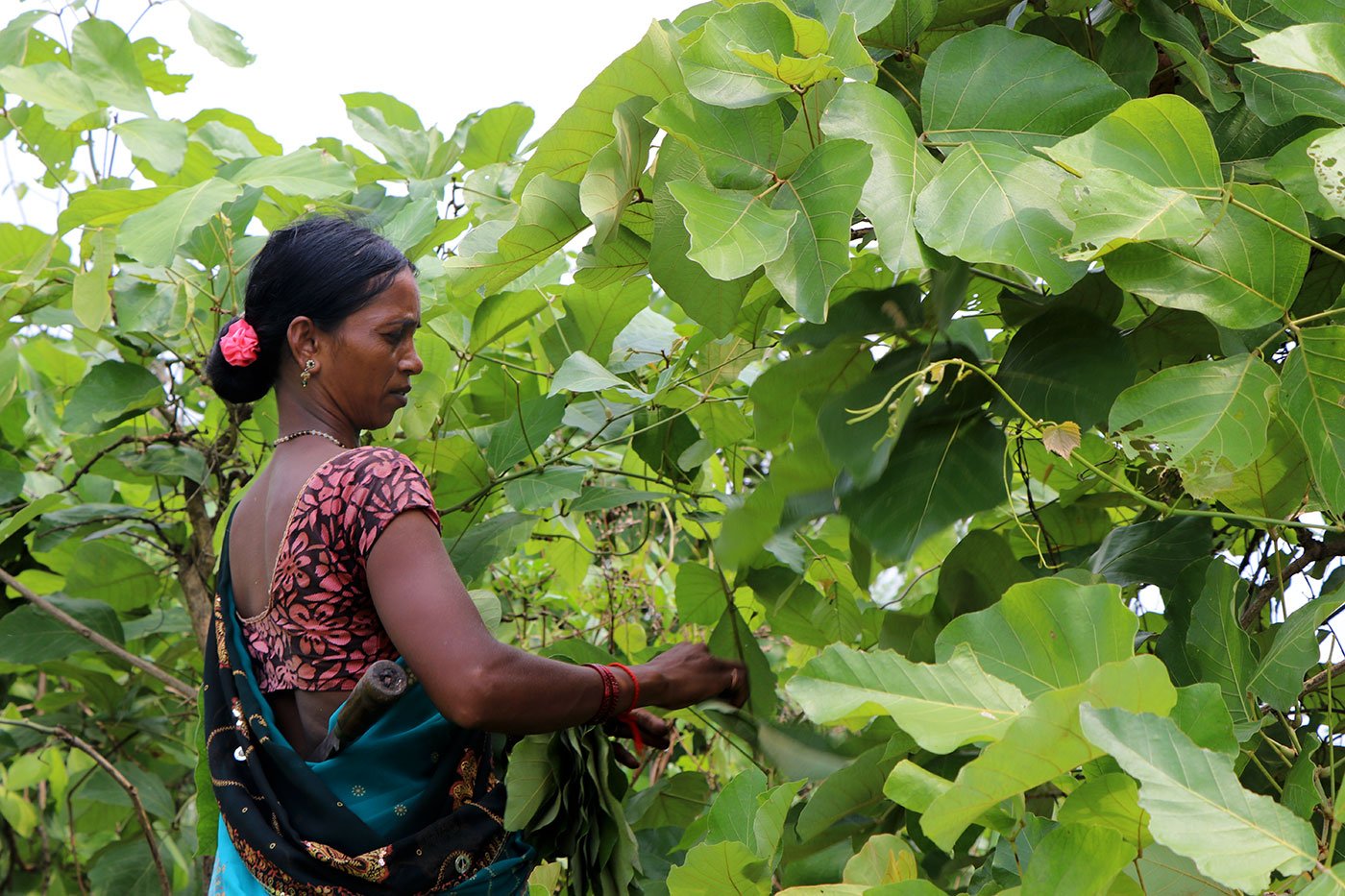 PHOTO • Paresh Bhujbal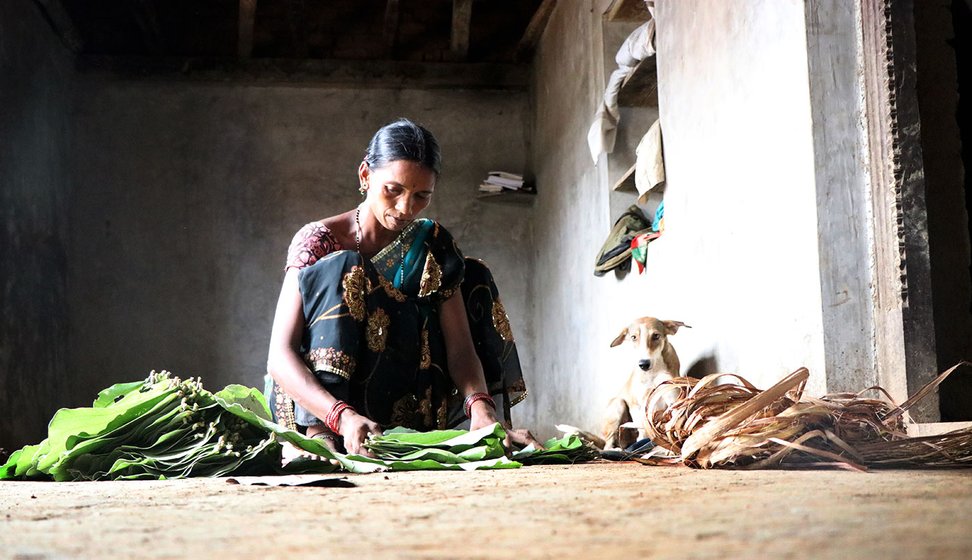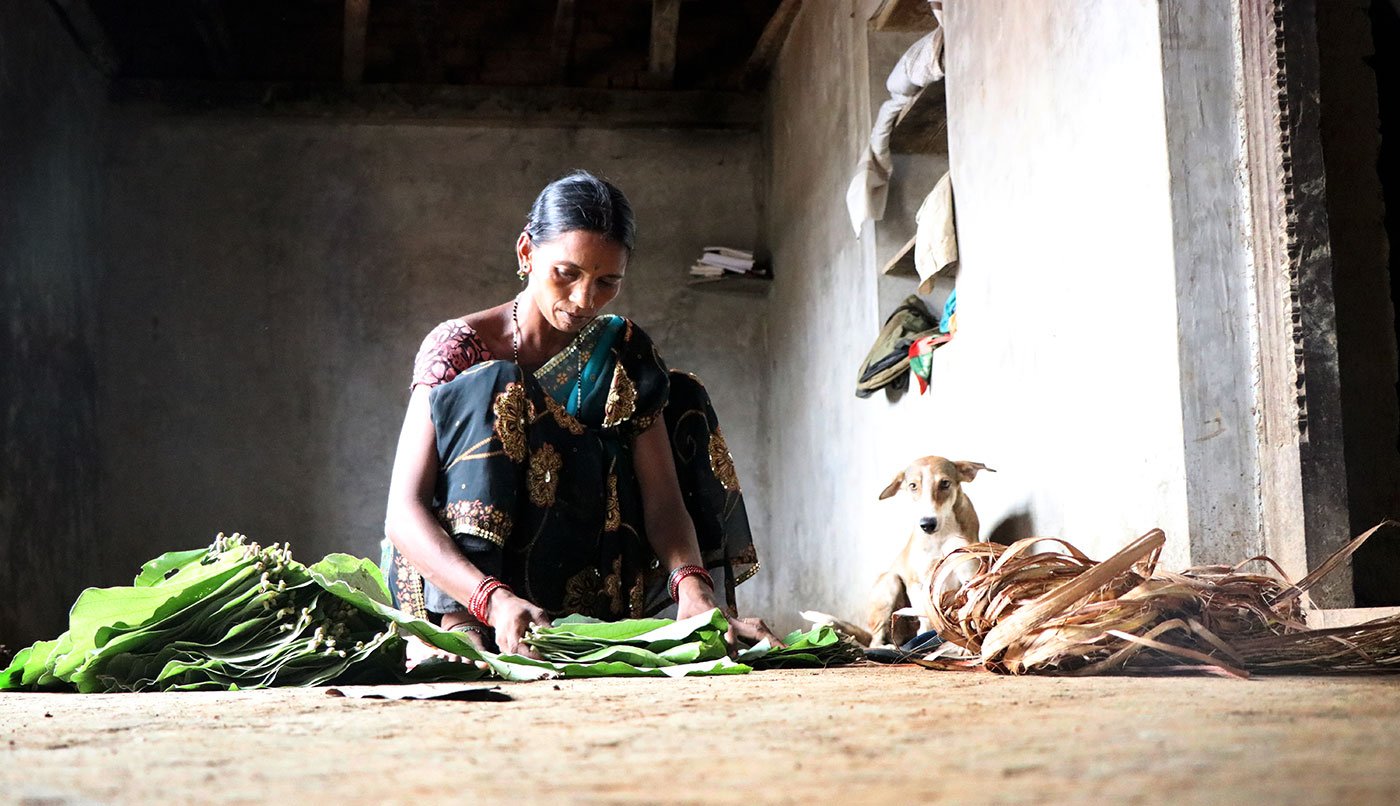 PHOTO • Paresh Bhujbal
That long work day begins at 7 a.m., when she goes to the forested areas near her house in Murbichapada in Thane district, north of Mumbai city, to collect palash leaves. She returns home around 3 p.m., prepares dinner for her children ("I eat if I get time, I can't miss the bus"), starts arranging the leaves in neat bunches, then takes a bus (or a shared tempo if she does miss the bus) from her hamlet to Asangaon station around 19 kilometres away, then a central line train at around 8:30 p.m.
Two hours later, she is at Dadar station in south-central Mumbai, around 75 kilometres from Asangaon. It's 11 p.m. by the time she is seated at her spot on the street, next to several other women, most of them from remote hamlets in Thane and Palghar districts.
There, Tulshi puts together some more clusters of leaves, rests for a while, waits. By 4 a.m., the customers start coming – mainly vendors who sells flowers, kulfi , bhel – and who use the leaves as wrappers or bowls. Each bunch of 80 leaves is sold for Rs. 5, sometimes a bit less. Tulshi sells 80 bundles – a total of 6,400 leaves. Once the last of the buyers has gone by 11 a.m., Tulshi takes the train back to Murbichapada. She is home by 3 p.m.
By working in these 32-hour cycles roughly 15 times a month, Tulshi earns a total around Rs. 6,000 – of this, Rs. 60 is spent every time on travelling by bus, tempo and train.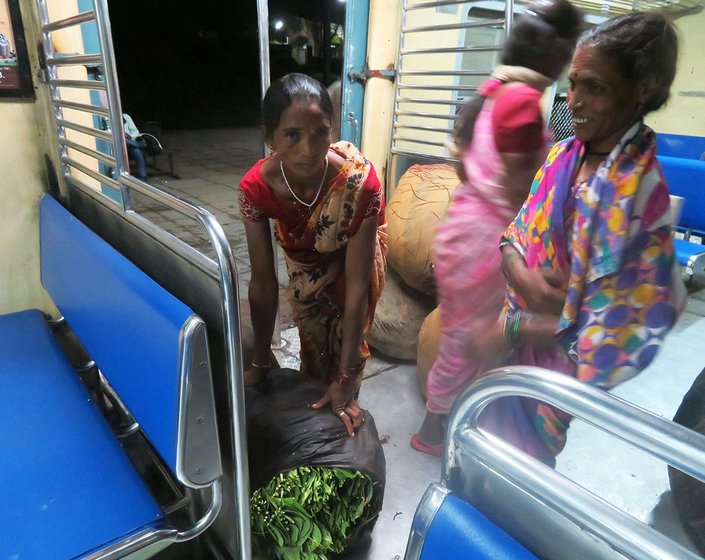 PHOTO • Jyoti Shinoli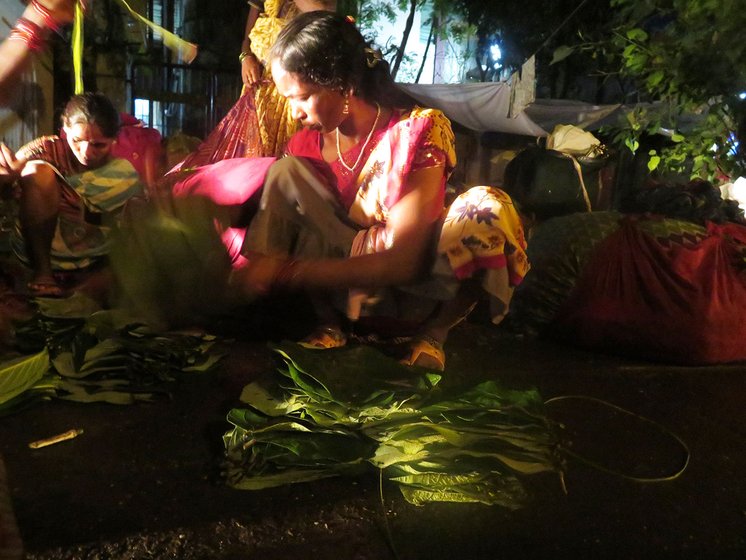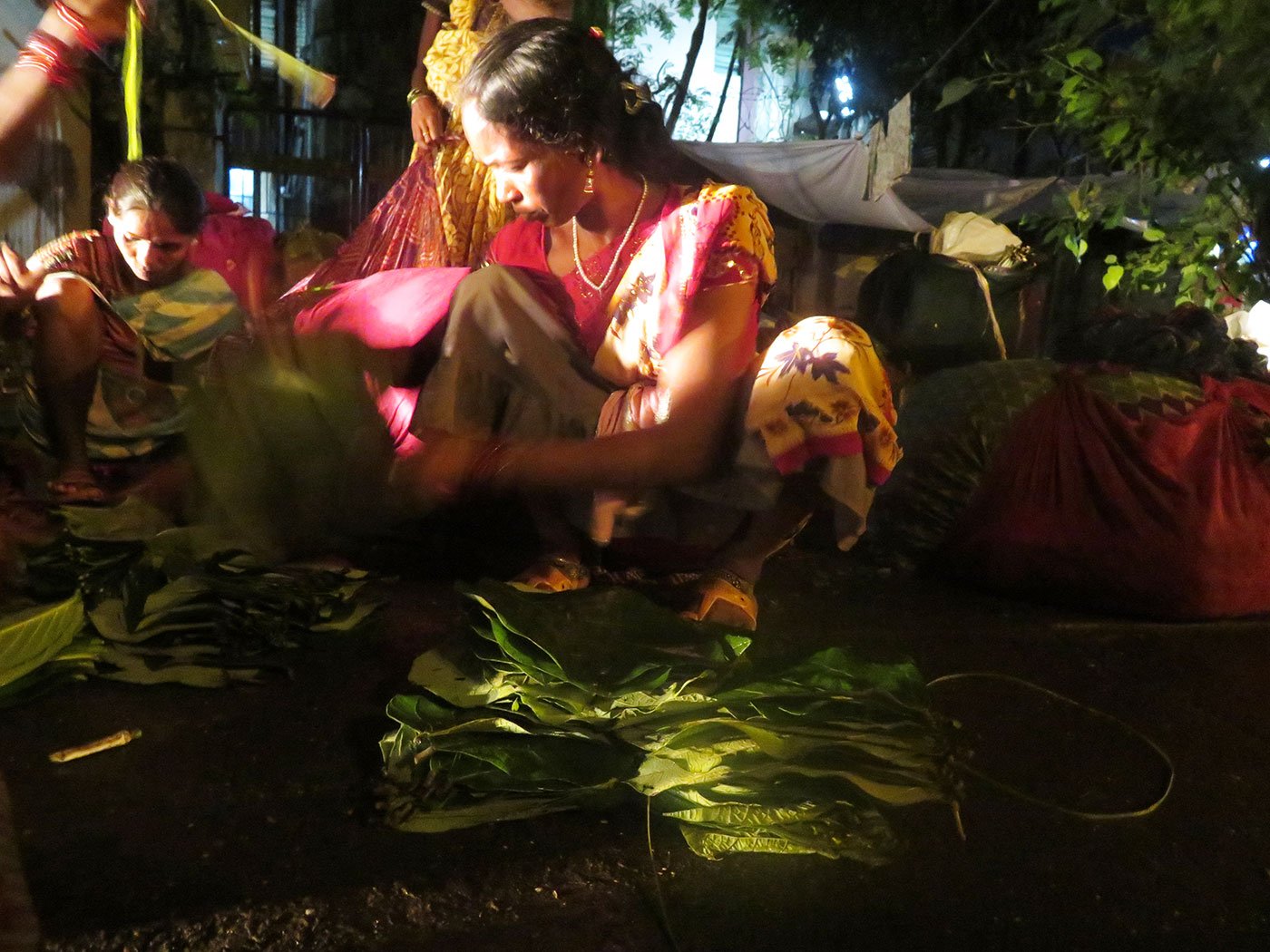 PHOTO • Jyoti Shinoli
Sometimes, if it has rained, she takes the leaves to the market in Dhasai village, 44 kilometres from her hamlet, but the buyers there are few. At the end of some 32-hour work stretches, she takes a 'break' and does housework, and goes to work on the farms near her pada , to pluck chillis, brinjals and other vegetables.
During the monsoon months, she works more often on the farms – averaging, across the year, 10 farm work days a month, for a daily wage of Rs. 300. "We can't sit during the rainy season [in Dadar market]. It's all wet," she says. "So from June to September, I rarely go there."
Around 30 other women from Murbichapada – a hamlet of 200 families — and nearby villages collect and sell palash leaves. They sell various other kinds of forest produce too, including neem leaves, berries and tamarind, at the markets in Shahapur or Dadar. Many in these villages are also farm labourers, masons or fish workers.
Tulshi, now 36, started collecting palash leaves when she was 15.  She had watched her mother, and then her elder sister, do the same work, and would help make the bundles. "I never went to school, this is my education, this is my learning, watching my mother do the same work all her life," she says.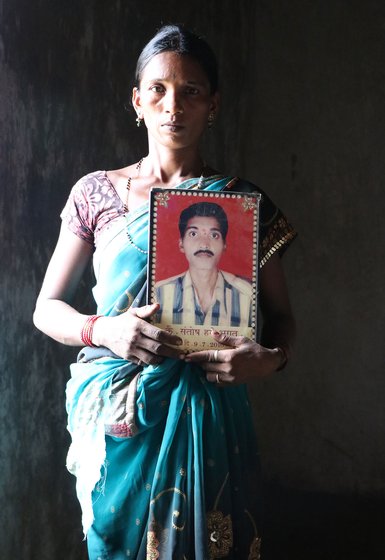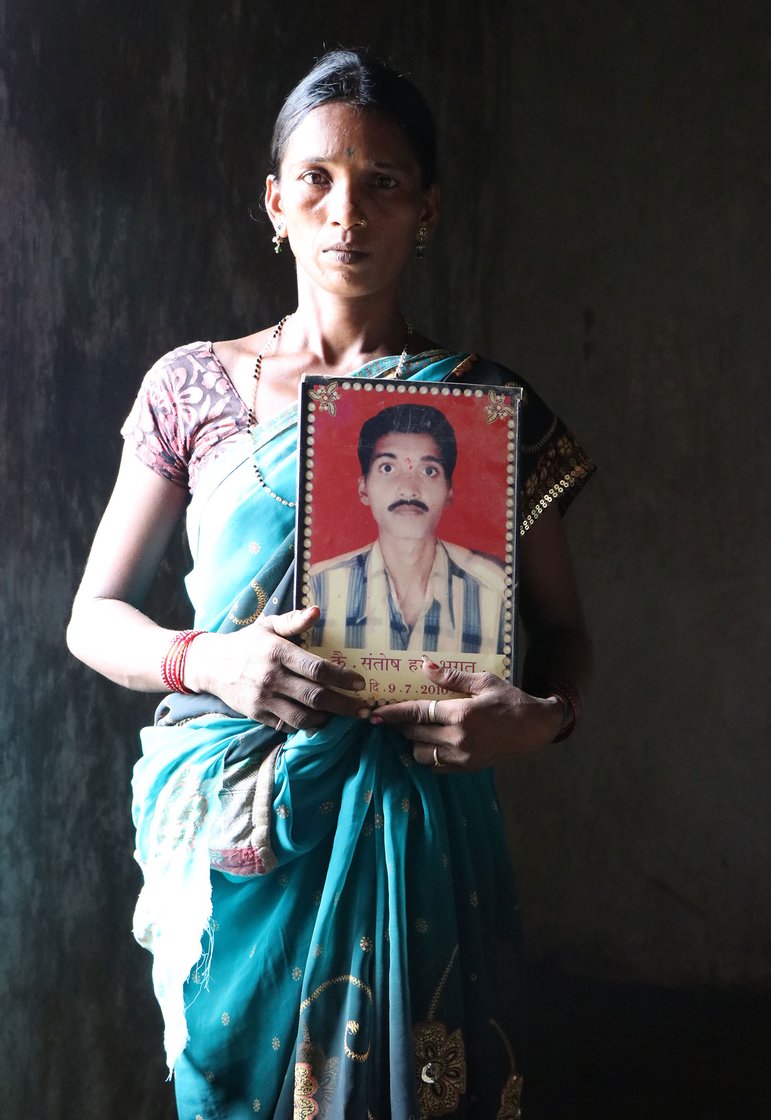 PHOTO • Paresh Bhujbal
Around 20 years ago, Tulshi made her first long journey to Dadar. "I don't remember how old I was, I went with my mother. I could not carry the heavy bundles of leaves, so I carried a bag containing food and a sickle," she recalls. "Before that, I had only travelled by bus. The women in the train were different from us. I wondered what kind of world this is… At Dadar station, everywhere there were people. I was scared, I felt suffocated. I walked holding my mother's saree pallu , I just could not walk through the crowds. Eventually though, I got habituated to this."
Tulshi moved to Murbichapada after getting married at the age of 17; her parents, both farm labourers, live in Awakalwadi village, around a kilometre away. Her in-laws were among the 97 Ma Thakur tribal families displaced by the nearby Bhatsa irrigation project in 1971-72. (See
'Many families just vanished
')
In 2010, when Tulshi was around 28, her husband Santosh died due to an illness – she says it was piles. There is no primary healthcare centre in Murbichapada, the nearest government hospital in Shahapur is 21 kilometres away. And he was reluctant to take any treatment. "He was a big support, both financially and emotionally," she says. "Nobody was there to take care of us after him. But even after his death, I didn't allow myself to feel helpless or weak. A lone woman should be strong. Otherwise what will happen?"
Tulshi had to bring up their four children alone – leaving them with her reluctant brother-in-law in the pada (her husband's parents died when he was a child) when she went to work.
Tulshi's elder daughter Munni, now 16, says, "We see her at home very rarely. She never takes a single day off or gets tired. We too wonder how she does that." Munni is in Class 10. "I want to become a nurse," she says. Geeta, the younger daughter is in Class 8; the youngest son, Mahendra, is in Class 6.
The oldest son, Kashinath, 18, is in Class 11 at the New English High School in Dolkhamb village, Shahapur. He stays at the hostel there. "I want to complete my studies and find a job with a good salary," he says. The annual fee for his schooling is Rs. 2,000 and an additional Rs.300 has to be paid during exams twice a year. "I have to pay only Kashinath's fees. The other kids are in the Zilla Parishad school [in Sarangpuri village, two kilometres from Murbichapada],"  Tulshi says. "I worry about their education expenses. But I want my children to get a good education. That's the only way out of our condition."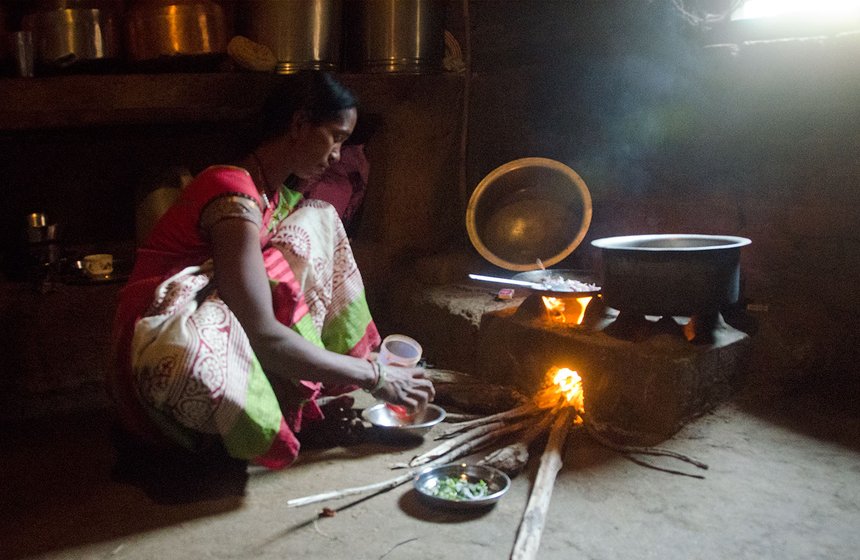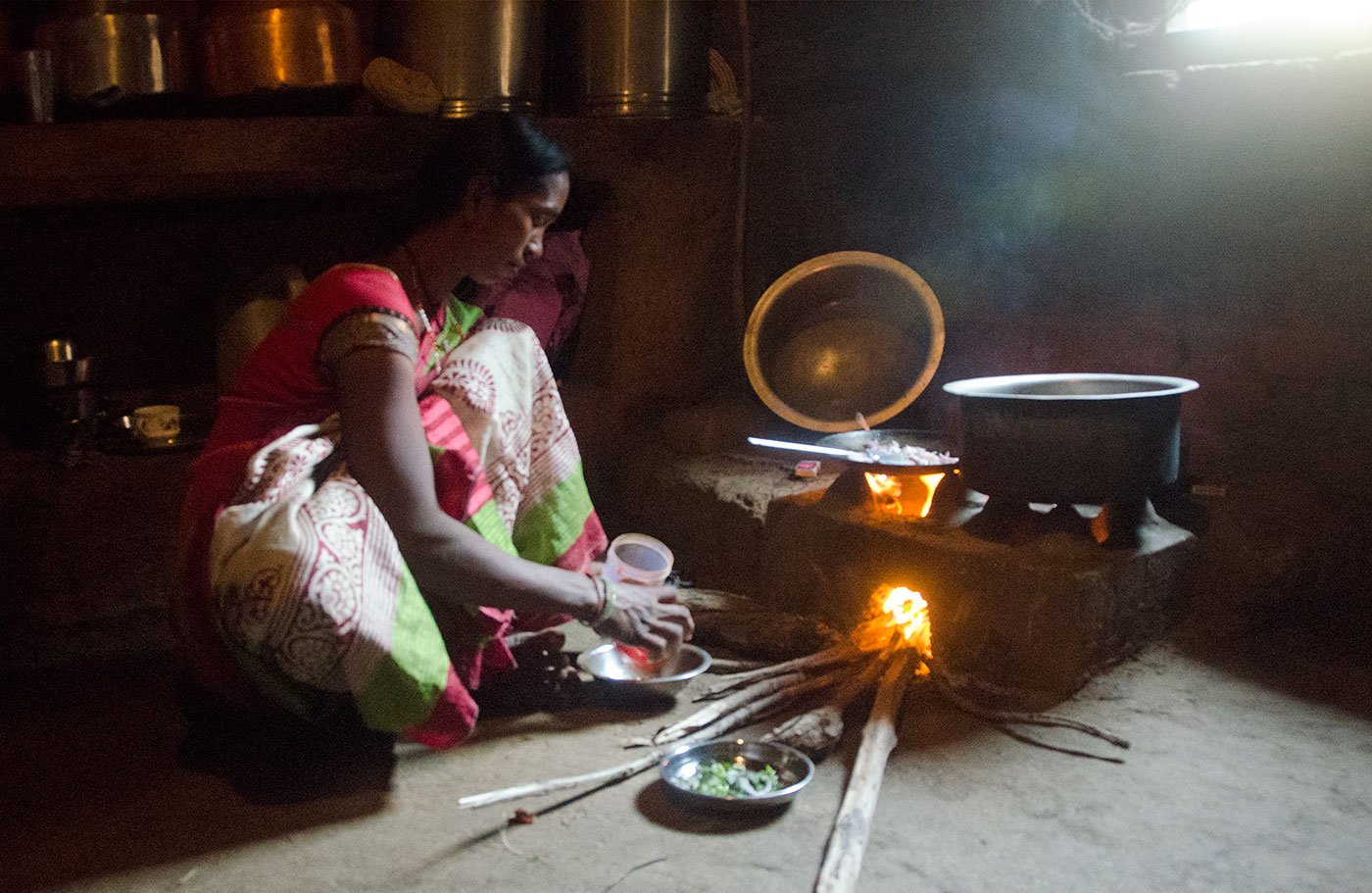 PHOTO • Jyoti Shinoli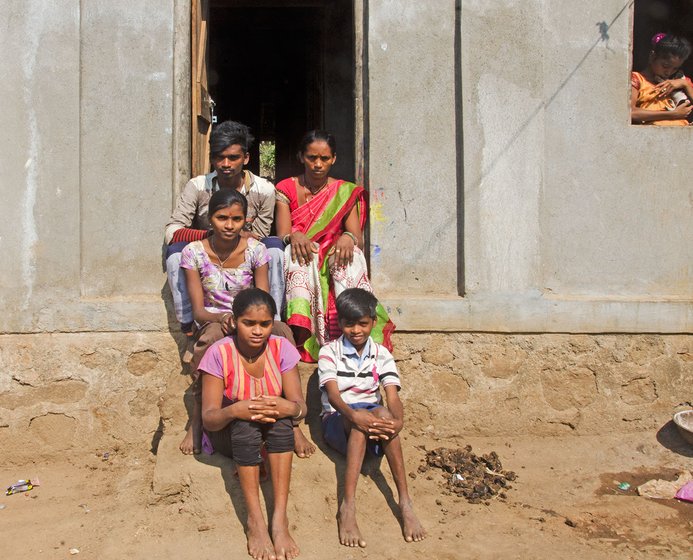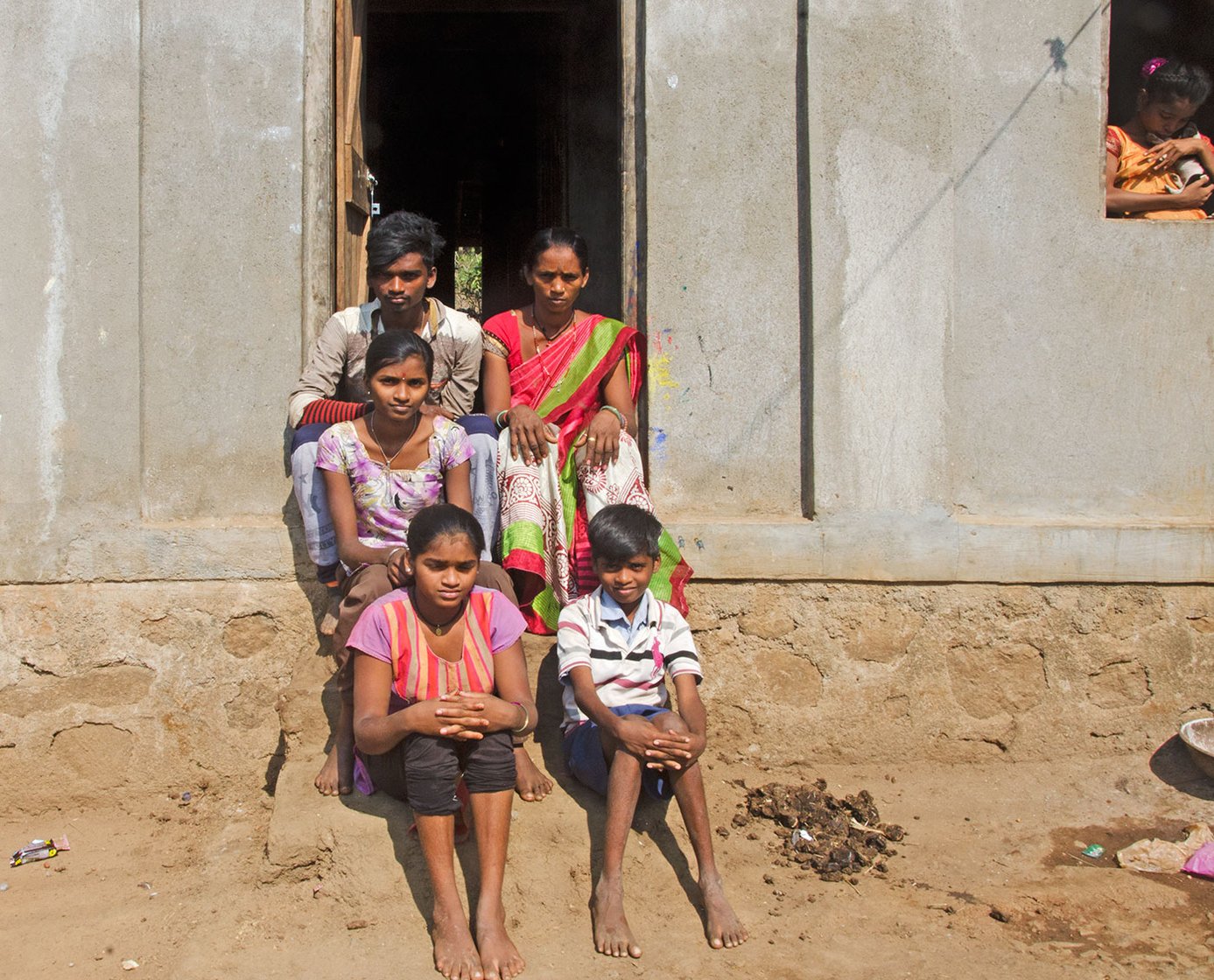 PHOTO • Jyoti Shinoli
As we talk in her house – allotted to the family under the Indira Awas Yojana in 2011 – Tulshi gets ready to go leaves-picking again, with a cloth handbag that contains a sickle and old sarees to bundle the leaves in.
By 8:30 that evening, she is on the two-hour train journey to Dadar again. Then, sitting at the flower market on the street, she starts putting together bunches of the leaves in the dark. The road doesn't have adequate street lights, so the headlights of constantly passing vehicles help. "We [women] sit outside [and away from the main market], we don't feel safe inside the [enclosed] market at night," she says. "But I don't feel comfortable amid all this congestion either – the cars, the crowds, the smells, the smoke. Though our pada has little, it feels open, it feels like home. But without money how can we manage there? So we have to trudge to this city."
During the night that Tulshi spends in Dadar market with her co-workers, she has one glass of tea, bought for Rs. 7, at times the bhakri and bhaji she carries from home, and sometimes a bite from a friend's tiffin. The next morning, she waits till all the leaves are sold. "I can't carry the load back home," she says.
Then it's back on the train to Asangaon for another two hours. "We are a group of four women [who work and travel together]. During the journey we share our feelings, what is happening in our homes, discuss future plans," Tulshi says. "But this doesn't last long. We usually just sleep because we are so tired."