It was a group almost entirely of women – most of them in their 60s, holding axes and spades. Not a sight we had expected to run into. We were in Keelathirupanthuruthi village in Thiruvaiyaru block of Tamil Nadu's Thanjavur district
On a hot and humid May day, as we drove along the slender alleys of the village, around 40 kilometres from Thanjavur city, we encountered a different picture of India's growth story: all the women were working on an MNREGA (Mahatma Gandhi National Rural Employment Guarantee Act) site. Most of them were frail and fatigued. All were from landless or marginal farm households, and belonged to economically backward castes or were Dalits. There were a few old men too.
"There are about 100 women in this group," J. Ananthi, 42, the team leader and a member of the village panchayat, told us.
I have no photographs of them working – they stopped when they saw us. As they crowded around me and my companion, I realised they had mistaken us for government officials. And they wanted their money.
Their dues had not been paid by the state government for 2-3 three months. A few told me the amounts owed to them ranged from Rs. 10,000 to Rs 15,000. This was because, we were told, the central government had delayed releasing MNREGA funds to the states, and also due to the political instability that Tamil Nadu plunged into after the death of chief minister J. Jayalalitha in December 2016.
Keelathirupanthuruthi  is one of several hundred villages in the heart of the once-fertile Cauvery delta – a region that today stands ravaged amid a biting drought. The July-September southwest monsoon in the Cauvery delta is still to fully arrive this year. In 2016, it registered a shortfall, as did the northwest monsoon from October to December. Crop yields dropped sharply, so did incomes and work.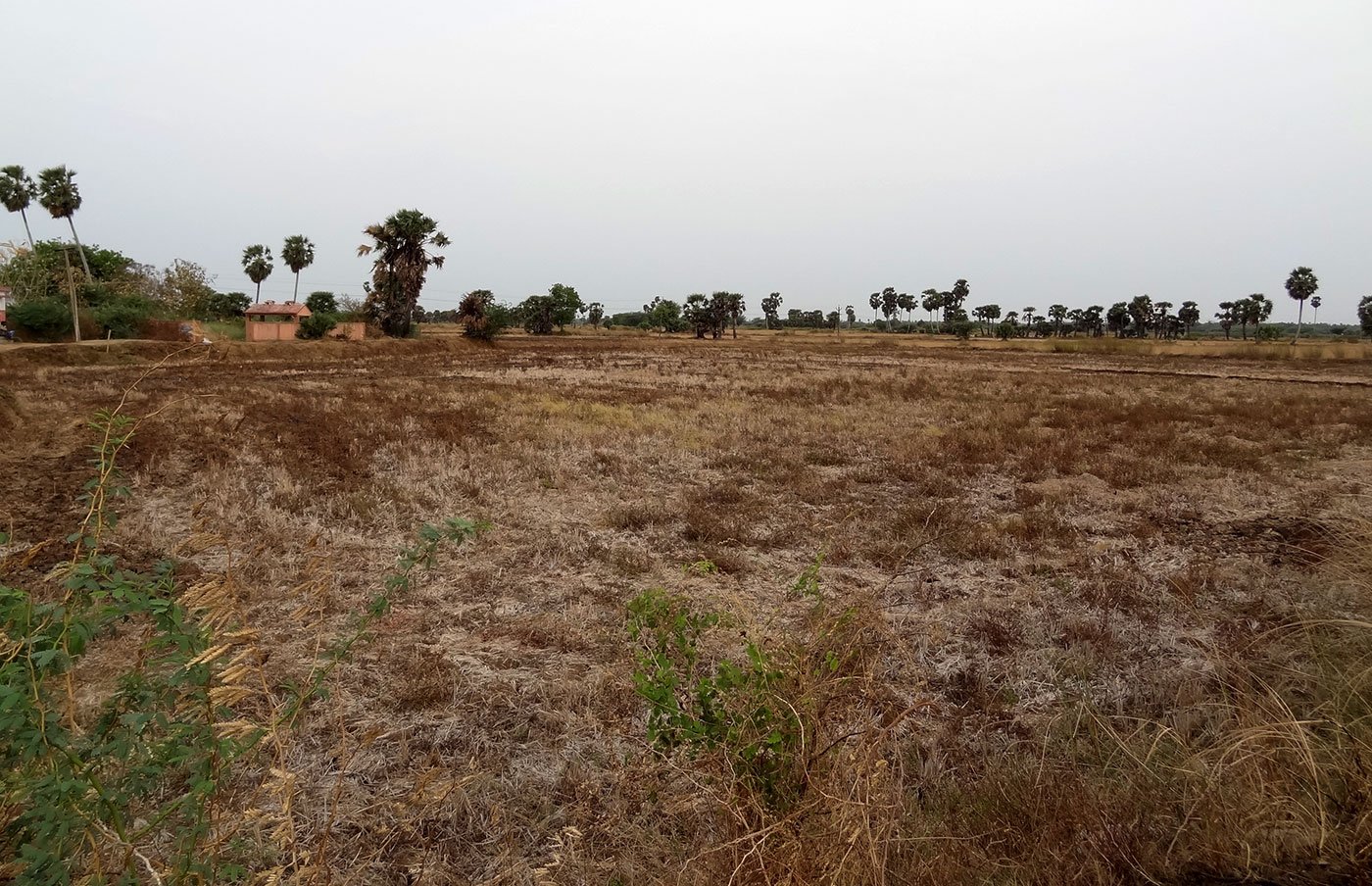 PHOTO • Parth M.N.
Most of the young men and women of this village have gone either to Thanjavur town or Coimbatore, Thiruppur or Chennai in search of higher wages, Ananthi said. They won't come back unless and until it rains. "There has been no income from agriculture this year [2016-17]; old women must work for their livelihood," she said. Tough times these, she added.
What work are you doing, we asked. Clearing and widening the village road and making it ready before a local festival, Ananthi told us. Why are old women working? "Everyone's working in this drought," she said.
The last two years, the women told us, have been bad for farming. Canals and rivers did not bring in water, the monsoon failed, borewells ran dry – and the agrarian system collapsed.
"The only support is this 100-day work," said one woman. "There is no cash in our hands." The Tamil Nadu government has hiked the MGNREGA workdays to 150 – in these  parts though people still call it  '100-day work'.
"My children have gone out, I am here," Manikkavalli, who said she is 62 but looked older, said. There were a handful of young women too, those with small kids to look after.
Each member at the worksite will earn Rs. 120-150 a day for 150 days, said Ananthi. But payments are being delayed. "People haven't received wages in two months," she complained.
From village to villages, across the delta and all along the Cauvery river, we saw old women and men battling the drought by doing MGNREGA  work – wherever they could find it.
"This is not going to be enough, but when there's nothing around we have to make do with whatever is available," said Pushpavalli, another elderly woman from a landless household.
When the landowners are in such distress, she asked, can you imagine the condition of the landless?
Related stories:

A long drought in the Cauvery delta in Tamil Nadu has triggered a series of farmers' deaths due to heart attack. The state denies agrarian distress is the cause, but many families have a different story to tell
The farmers of Thayanur village, Tamil Nadu, are facing a huge crisis that transcends the drought – and as the crisis deepens across the Cauvery delta, some have died due to shock, many have committed suicide