It is a warm afternoon in early August in Sera Badoli. The road is nearly deserted. Around a kilometre beyond the bridge over the Sarayu river that forms the border between Almora and Pithoragarh districts of Uttarakhand, we spot a red post box gleaming in the sunlight.
That red post box – the only one in the area – might be unremarkable anywhere else, but here it is a big step forward. A new branch post office, the first in this part of Kumaon, was inaugurated in Sera Badoli on June 23, 2016. It now serves six villages – Bhanoli Sera Gunth, Sera (Urf) Badoli, Chaunapatal, Naili, Badoli Sera Gunth, and Sartola. Most of the people in these villages are farmers.

This happened two days after PARI carried my story ' The last post – and a bridge too far' on the problems faced by residents in the absence of a local post office. Sera Badoli now proudly bears the pin code 262532.
These six villages are in Gangolihaat block of Pithoragarh, but their post office was on the other side of the bridge, five kilometres away in Bhasiyacchana block of Almora district. "Such an irony," Madan Singh of Bhanoli Gunth village had said when I first visited, "They still don't accept us as a part of Pithoragarh district. It's like we stay in Pithoragarh, but our address is in Almora."
A few weeks after the PARI report appeared, I was back to check out the new post office. How much has changed for the villagers who, until now, have had to wait 10 days for mail to arrive from the nearest post office in Bhasiyacchana, and up to a month for a letter or money order from the headquarters – Pithoragah town – of their own district? They would often miss crucial interviews and landmark events as a result of the delays. Sometimes, they would travel 70 kilometres to Almora to pick up important mail from the post office in person.
Residents of the six villages that will be served by the new post office tell me that they celebrated its inauguration by distributing sweets. "In other places, people celebrate the arrival of new posts and appointments. In our case, we celebrated the arrival of a post box!" says a smiling Mohan Chandra Joshi of Sera Badoli. "Our lives won't be the same anymore."
A small room with a table, four chairs and a steel cupboard make up the new post office. Kailash Chandra Upadhyay is the lone staffer, doubling as postman and postmaster. He was posted at the Ganai post office, which is around 12 kilometres from Sera Badoli, and has been asked to look after this new branch until someone is appointed. "The department said a postmaster and a postman will be recruited in a month or two," Upadhyay says. He collects the mail every morning from Ganai and  delivers it on the way to the Sera Badoli post office.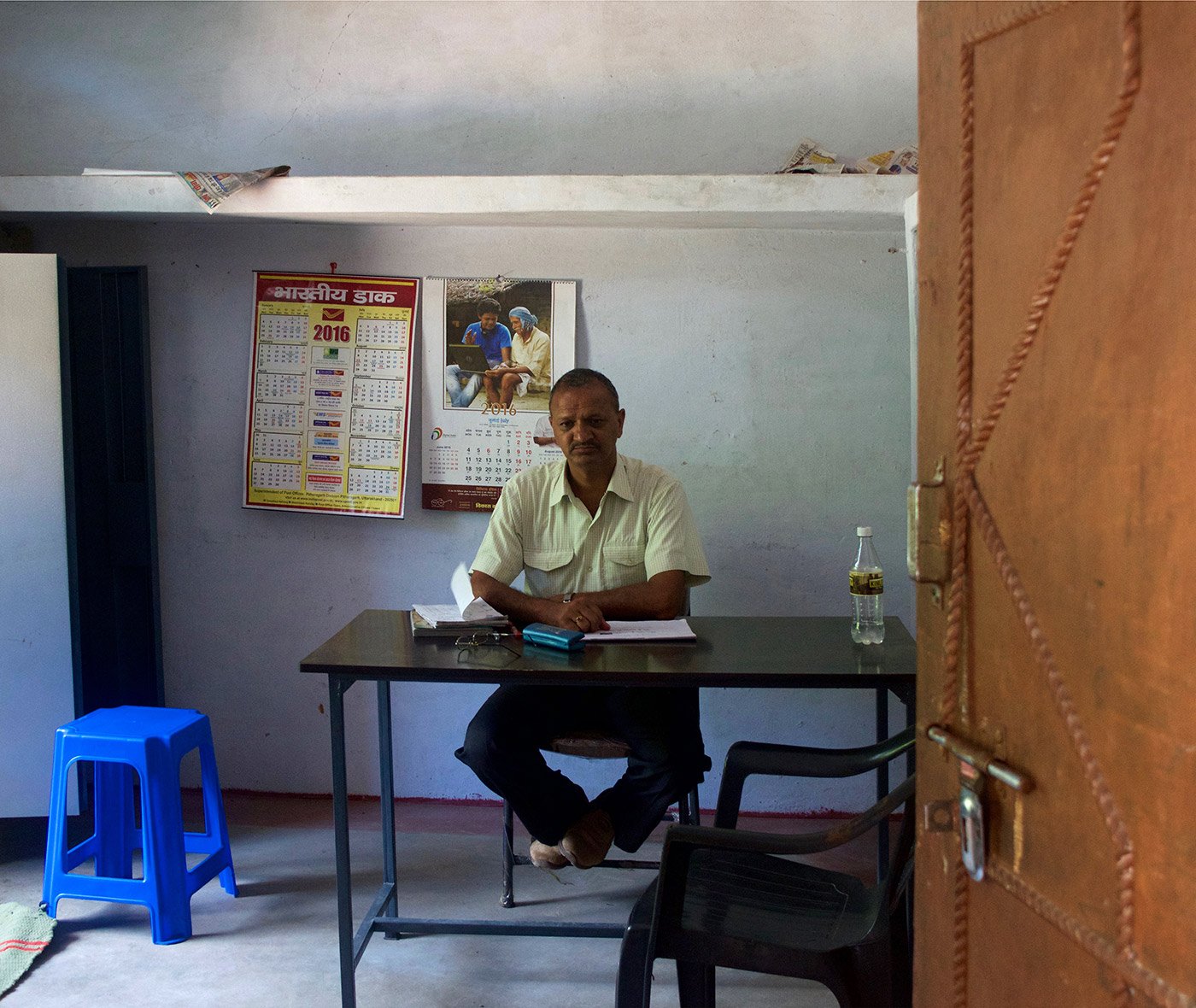 PHOTO • Arpita Chakrabarty
The biggest change after the post office opened,  villagers say, is that Aadhar cards are now delivered with the correct address. Earlier,the cards were delivered bearing the address of post office Bhasiyacchana, district Almora. "But we don't live in Almora district, we live in Pithoragarh," says Suresh Chandra of Badoli Sera Gunth.  "When we requested rectification of the address on Aadhar cards, the cards went to Ganai post office. Since no postmen came from Ganai, we had to collect them personally. But now all Adhaar cards are sent with the correct address and delivered to our homes."
The new office has also started offering savings bank and recurring deposit services. Twenty-five savings accounts and five recurring deposit accounts have been opened at Sera Badoli. "I have no safe here to keep cash deposited by the account holders, however," says Kailash Chandra, "so I keep it with me."
The provision of pensions by post is also on the cards, Kailash Chandra tells us. Until then, senior citizens like Parvati Devi will have to travel to Ganai to collect their pension.
Clearly, it's going to be a while before the post office becomes fully functional.
People still miss their interview dates because their job letters reach too late. "Our neighbour's son missed out on a job in a government-aided school; the interview for the job was on June 29, and the letter was delivered on July 3," says Padma Dutta Niyulia of Badoli Sera Gunth. "Many people don't know that our address has changed. They write the old address with the PO Bhasiyacchana  pin code, so those letters still take nearly a month to arrive. The villagers presume that the postal department will forward the letters to the new post office. But that does not happen. The department never made us aware of the change [of pin code]. We have to inform the villagers on our own."
Meanwhile, the postman of Bhasiyacchana, Meherbaan Singh, grumbles: "Every day we receive around five to six letters for those six villages. Even though a new post office has opened at Sera Badoli, people send mail to post office Bhasiyacchana. Whether the number of letters is five or 15, I have to walk from village to village, delivering the mail. We are the donkeys of the hills."
Still, so much has changed. A letter from Pithoragarh to Sera Badoli now takes only four days, instead of 20 as it did earlier. The story on PARI on June 21 generated a lot of interest, with many readers tweeting it. Minister of communications and information technology Ravi Shankar Prasad also promised to attend to communication services in these villages. And the younger generation, including Mohan, is hoping that the branch office will soon be linked with Ganai and other post offices through the internet.
Photos: Arpita Chakrabarty