The 'tak-tak' sounds of maggalu (hand-operated looms) can be clearly heard as we approach the Ramalakshmi weavers' colony in Pedana on a Saturday afternoon.  Around 140 families live and work here, the residents estimate. Most of the weavers are over 60. Some of them mistake me for a government official who has come with their monthly pension of Rs. 1,000. They are disappointed to learn that I am a reporter.
"The young people have gone out in search of livelihood and work," says Vidumatla Kota Pailayya, 73, while working on his maggam (single loom), when I ask why so many of the weavers are elderly. Most of the youth, he says, are agricultural or construction labourers in and around Pedana and Machilipatnam, the district headquarters.
Pailayya's old age pension, though meagre, helps him run their house along with his wife's pension. His income from weaving is insufficient – around Rs. 100 a day.  "I earn Rs. 300-400 if I work for 10-12 hours for three days to complete one saree. I sell it to the shops owned by master-weavers [in Pedana], who earn a profit by selling each saree for Rs. 600- 700. Weaving alone can no longer sustain us…"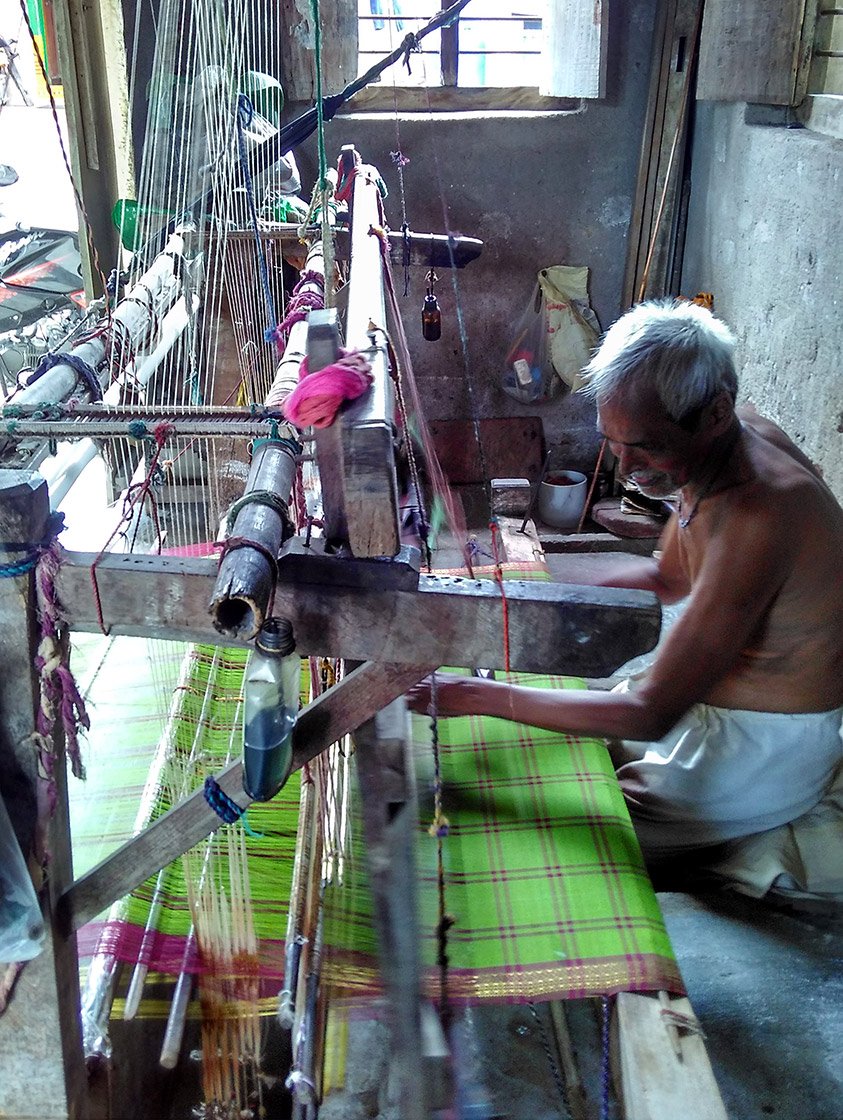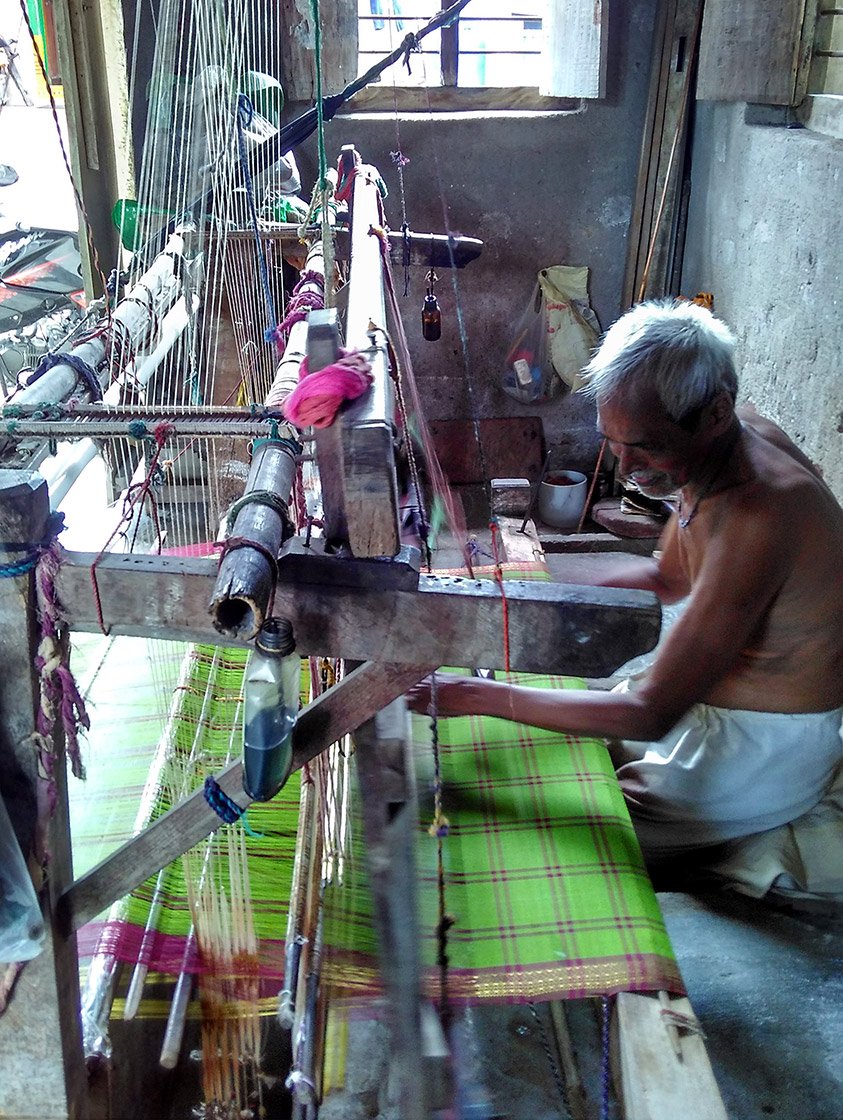 PHOTO • Rahul Maganti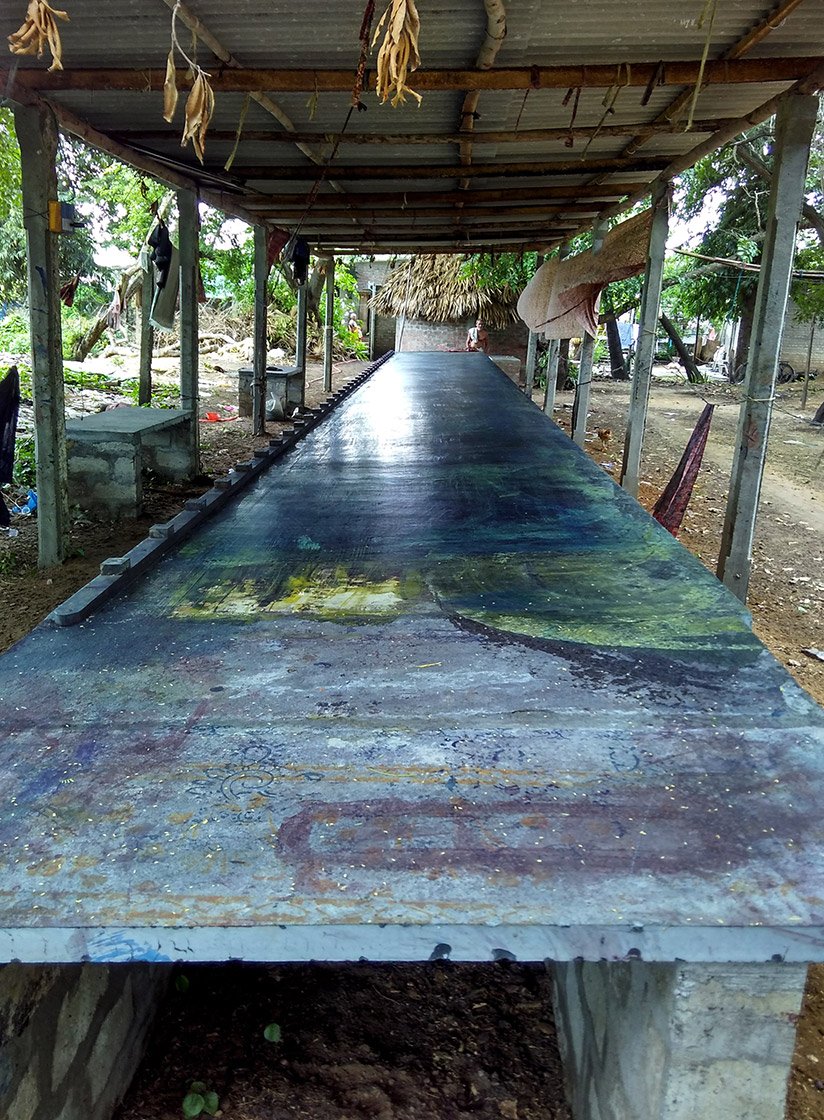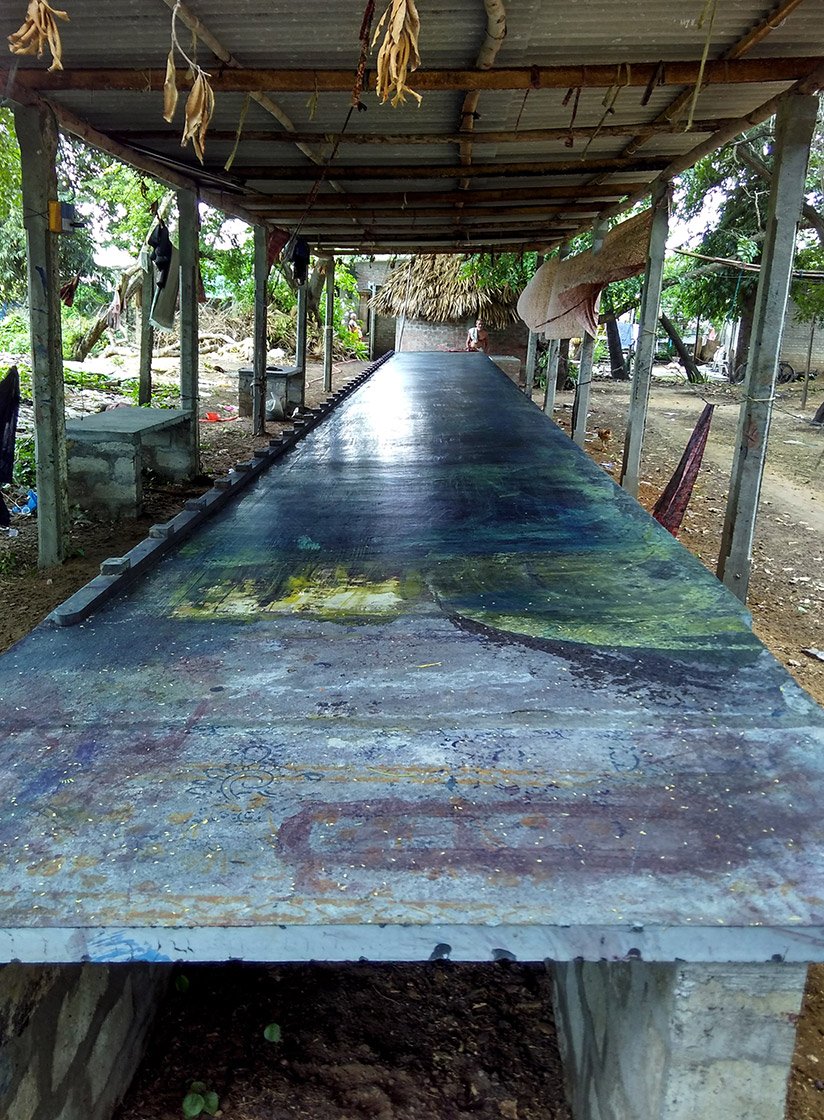 PHOTO • Rahul Maganti
The demand for hand-woven cloth has significantly dropped due to powerloom products, Pailayya says. "So the young are forced to take up jobs which pay them enough to help run their homes. If age was by our side, even we would have gone out in search of work. But I don't know any other work…."
Pedana town is around 10 kilometres from the port town of Machilipatnam in Andhra Pradesh's Krishna district. It is home to two industries – handloom weaving and Kalamkari block printing. The handloom cotton sarees made here are reputed for their longevity and texture, while the Kalamkari prints on powerloom-made cotton sarees are known for their distinctive colours and designs.
Around 5,000-10,000 – of the 3,60,000 handloom weavers in Andhra Pradesh (according to the state's Department of Handlooms and Textiles) – live in Pedana. Kothapalli Yella Rao, 85, is among them, one of very few still working on 'acchu '. Acchu is a process by which threads are combined together, one-by-one, to make a fabric. This later passes through the maggam to produce cloth. Like many here, Yella Rao migrated to Pedana from East Godavari district in the 1960s with his wife and two children. He is the last person in the family using his artistic skills to earn a livelihood. His sons are construction workers, his grandsons are electricians.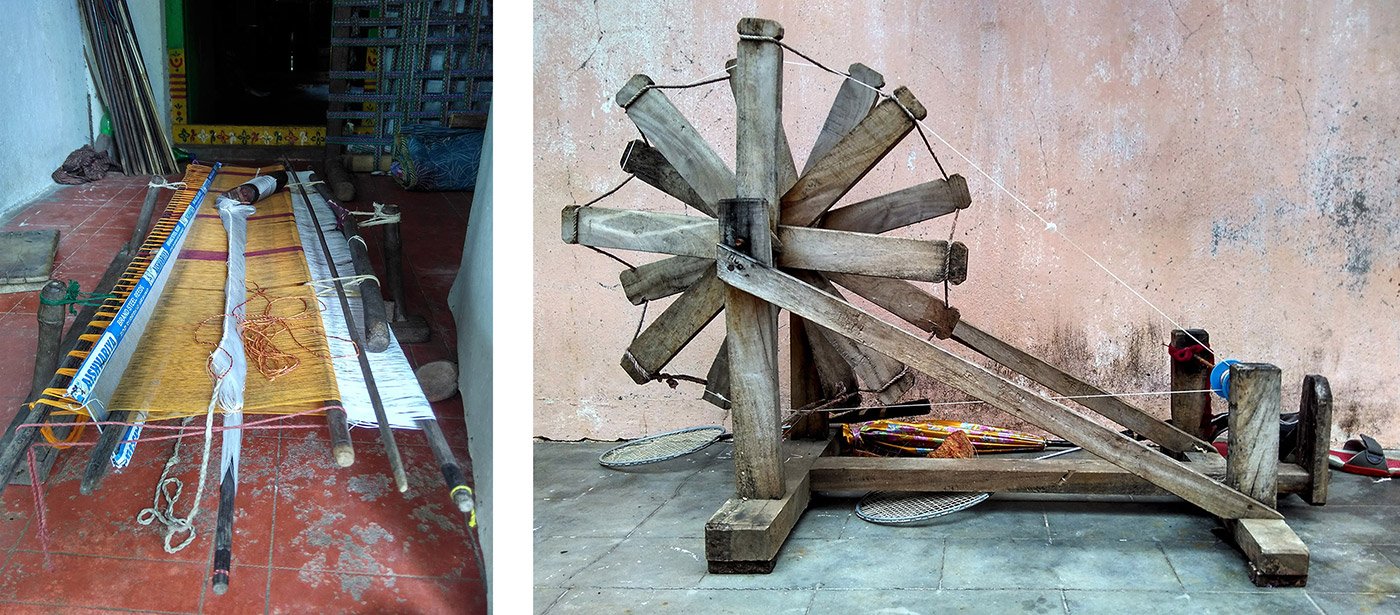 PHOTO • Rahul Maganti
His responses to my questions are erudite, most of them beginning with verses by Vemana, a 17th century Telugu poet. "I bought this small piece of land for 300 rupees  in 1970. I used to pay a house tax of Re. 1 in those days," he says. "Now, I pay Rs. 840. I earned a little less than a rupee per day in 1970. I now earn less than 100 rupees per day. Do your calculations…"
With the handloom industry in decline, Kalamkari has become the preferred option for workers giving up weaving. Most of the older Kalamkari workers in Pedana are former weavers – many say they prefer Kalamkari to farming and construction because of their collective pride in the art and labour of weaving as well as Kalamkari.
Pedana is one of only two nerve centres of this form of printing in Andhra Pradesh; the other is at Srikalahasti in Chittoor district. Around 15,000-20,000 Kalamkari workers, the people here estimate, live in Pedana. It is difficult to ascertain these numbers because the town's weavers and printers still don't have artist identity cards given by the state government. These cards will also help them form unions, get loans, and ease access to government schemes and funds.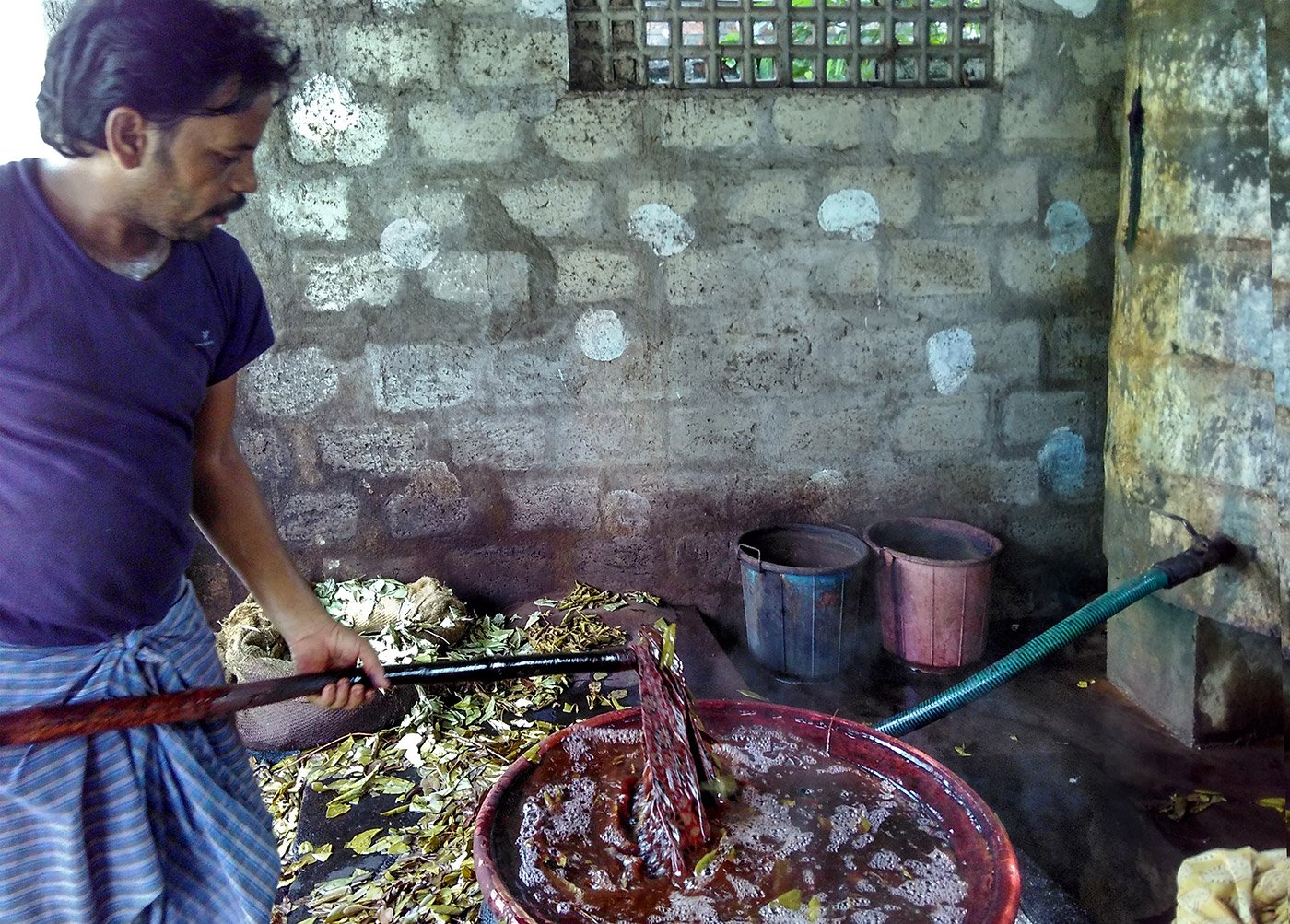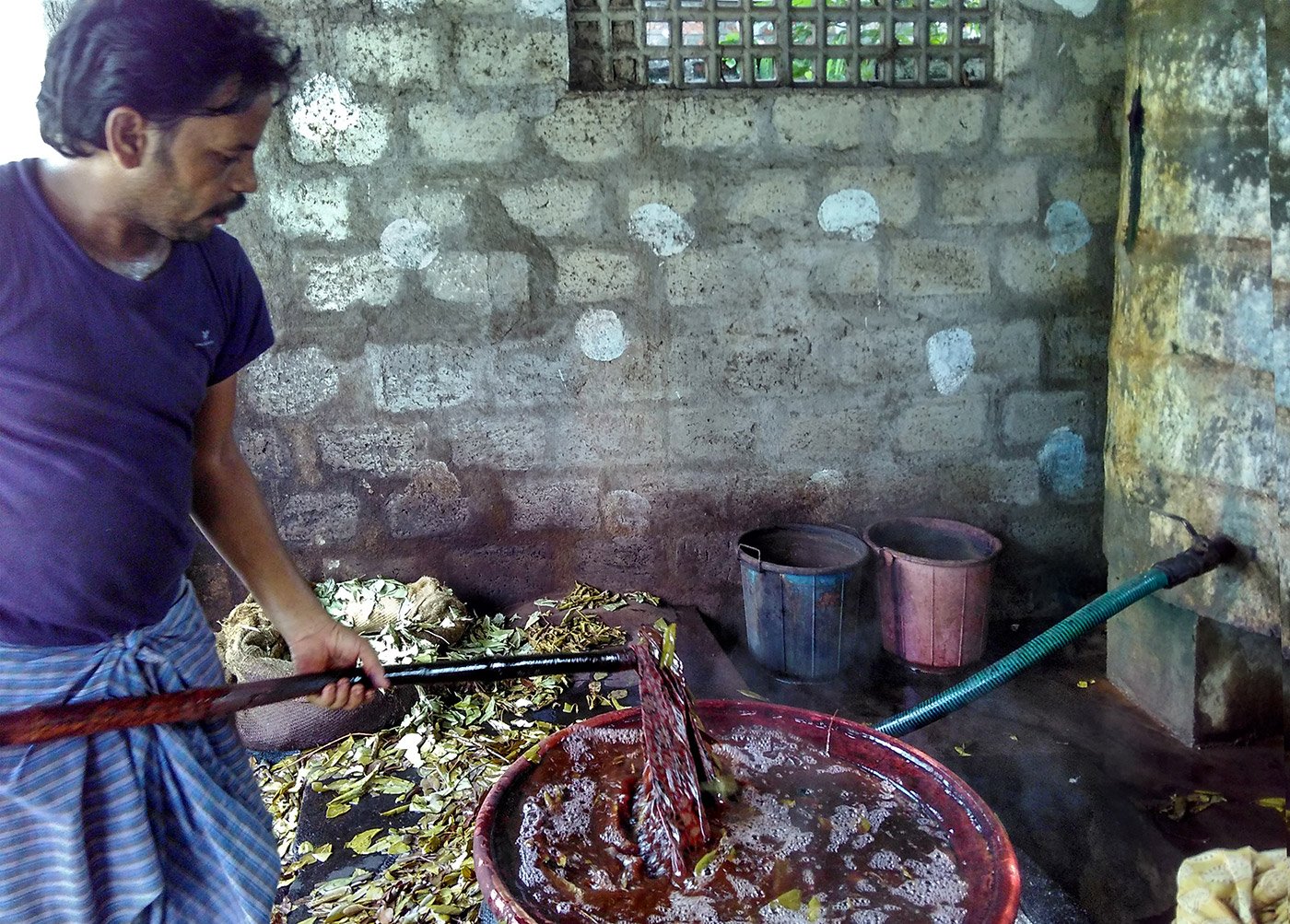 PHOTO • Rahul Maganti
The Kalamkari and handloom industries in Pedana date back to before Independence, the workers here say.  In 2013, Kalamkari was even conferred a 'Geographical Indication' by the government ­– a GI sign on a product indicates it has a specific origin and possess qualities or a reputation that are due to that origin. (The GI though has also spawned fake Kalamkari sarees, and this has adversely impacted the reputation of the authentic ones).

The owners of the Kalamkari sheds in Pedana bring huge volumes of powerloom-made sarees from wholesalers in nearby Machilipatnam. The workers they employ use wooden blocks and bright natural dyes to create a wide variety of prints, from floral to mythological. These distinctive powerloom-printed sarees are cheaper than the more labour-intensive handloom sarees of Pedana. Each is sold for around Rs. 500 in the local shops owned by master weavers.
Daivapu Koteswara Rao, 53, a Devangi – the dominant caste here – migrated to Pedana from West Godavari district. He has been weaving since 1974, but wasn't able to provide for his wife and two daughters with the money he earned. He gave up weaving in 1988 and joined a Kalamkari shed owned by another Devangi, for a daily wage of Rs. 10. That wage now is Rs. 300.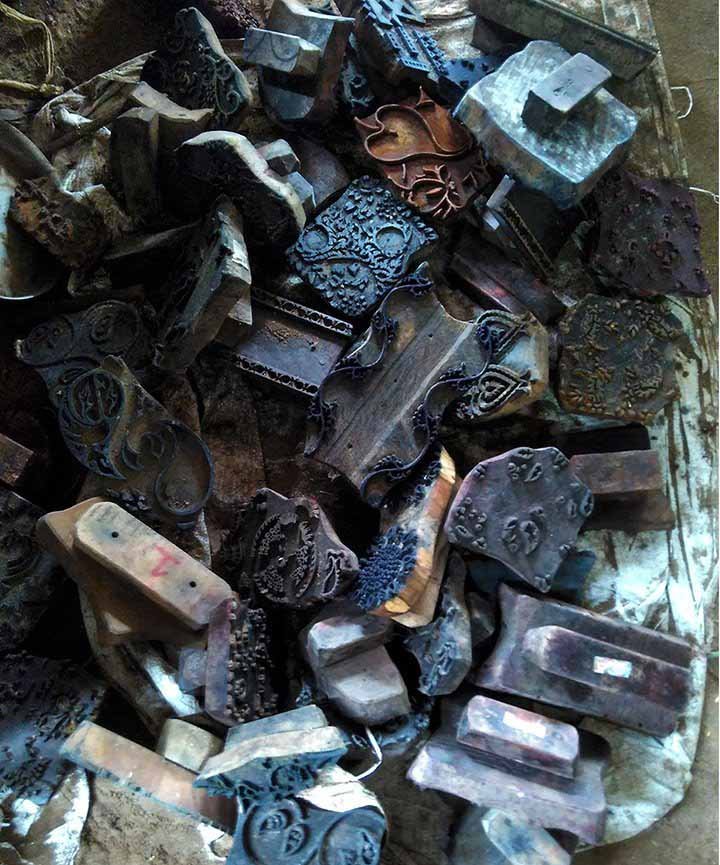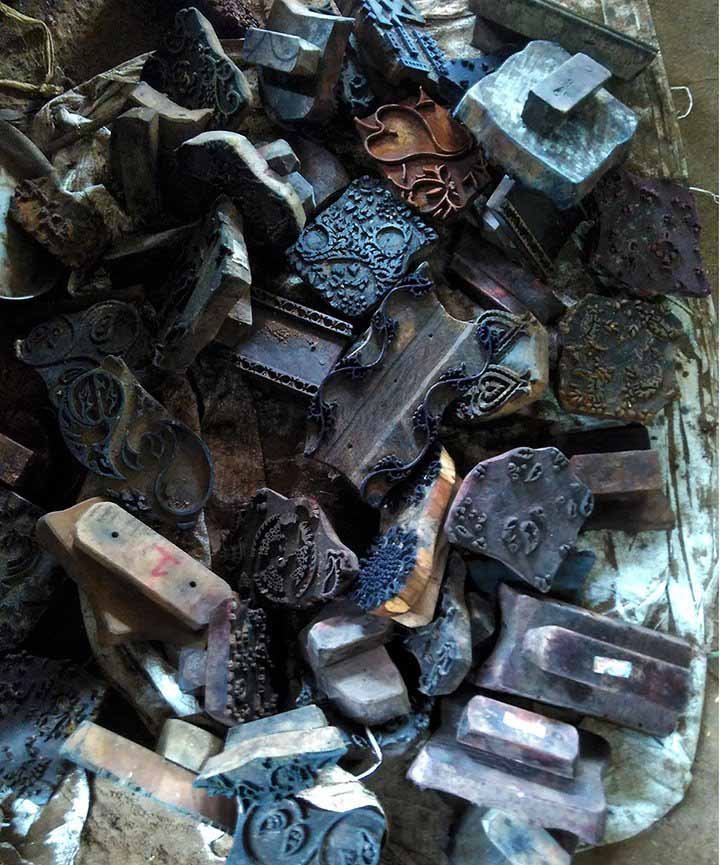 PHOTO • Rahul Maganti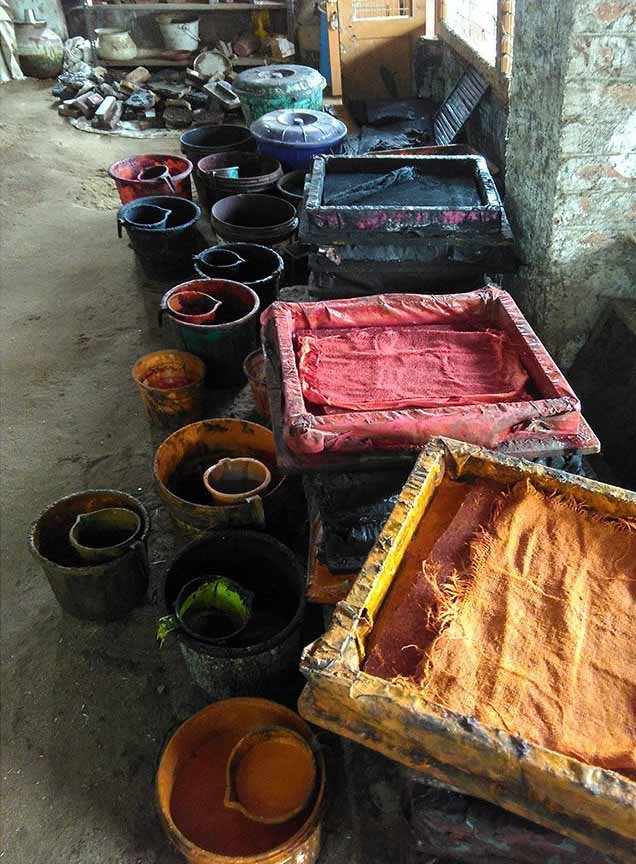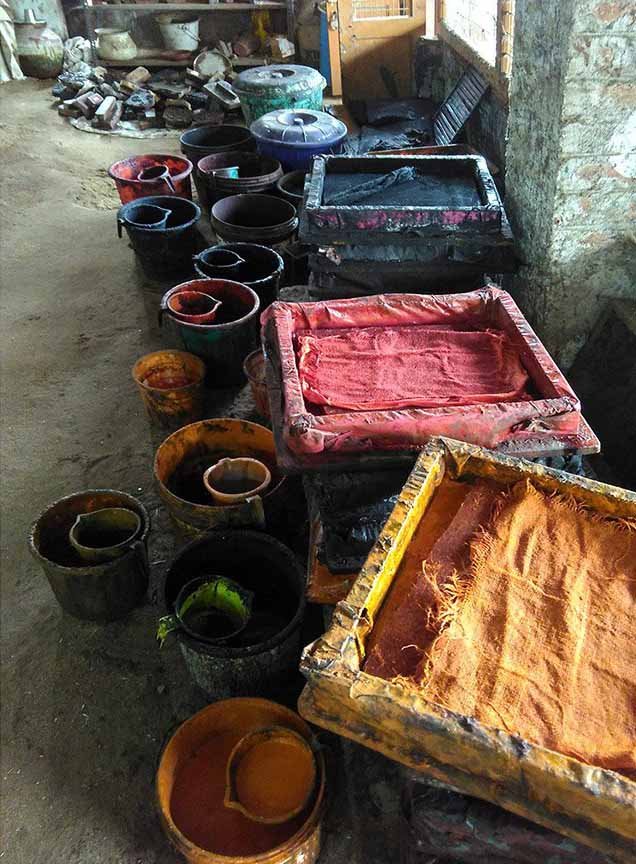 PHOTO • Rahul Maganti
Because many of the men here migrate to other towns and cities for work, women outnumber men in the Kalamkari workshops. Padma Lakshmi, 30, is a recently widowed mother of two school-going daughters, aged five and six. She now stays with her widowed mother, who runs a baddi kottu , a small shop that sells sweets, cigarettes, paan and other items.

Lakshmi's parents migrated from East Godavari district some 50 years ago and she has been working on Kalamkari since the age of 12. "The daily wage rate was 40 rupees back then. I earn only 200 rupees now, even after 18 years," she says. "Men who have less experience than me get paid 300 rupees or more. When we confront the owners, they say that women do less work than men. But we work equally hard if not more. I don't earn more than 3500-4000 rupees a month. Most of us are forced to take loans from moneylenders at very high interest rates."
The Kalamkari workers in Pedana don't have a labour union.  (The handloom weavers have one, but with scattered membership). Their attempts to form unions were opposed by the owners of the Kalamkari sheds, they say, at times by using violence and money. "The government should at least give artist identity cards to all the Kalamkari workers and handloom weavers," says Rudrakshula Kanakaraju, 40, a Kalamkari worker who occasionally weaves to supplement his income. "That will help us organise ourselves and fight for our rights."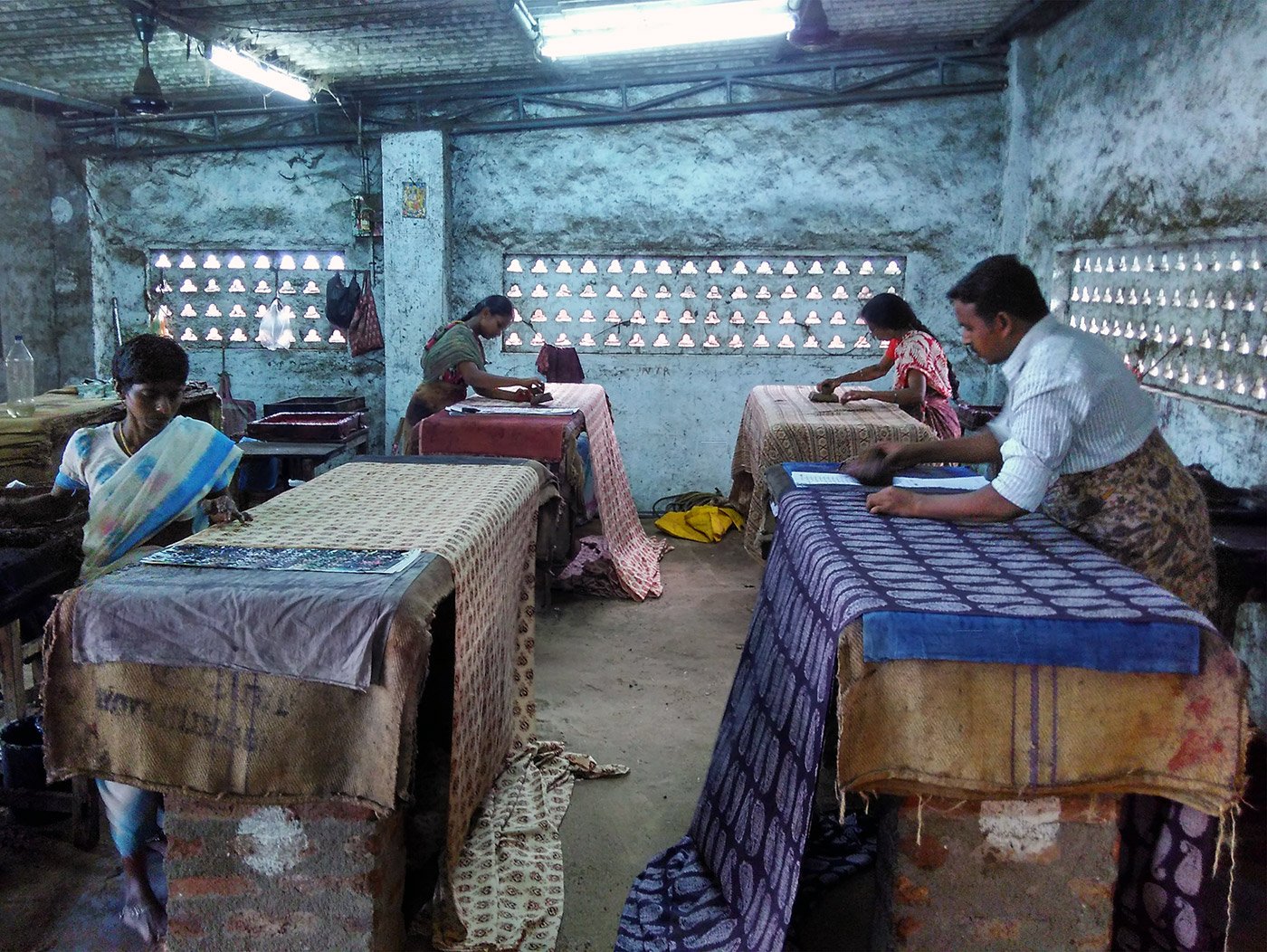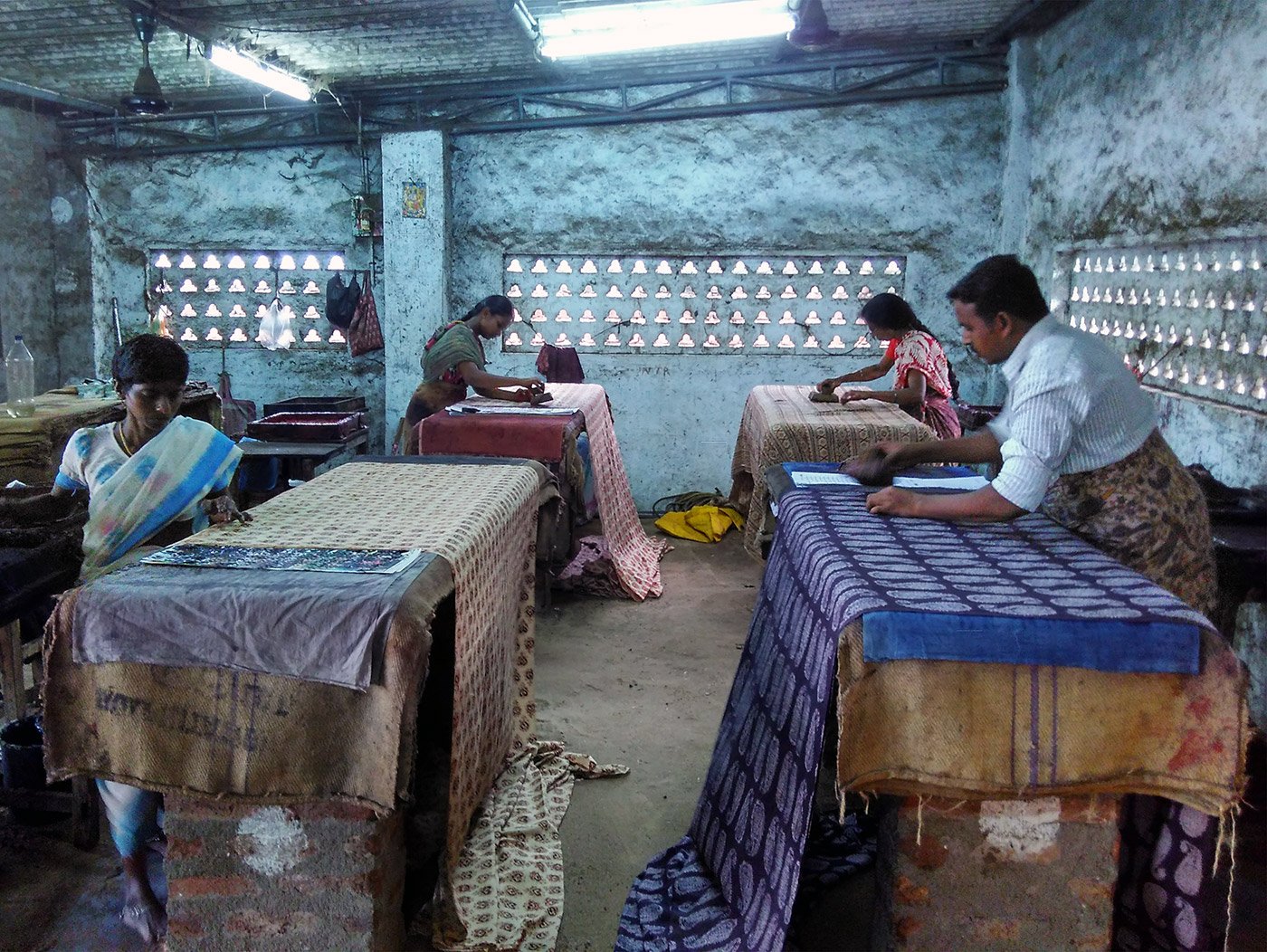 PHOTO • Rahul Maganti
The state government has, over time, made promises to weavers about reviving their traditional art. One such promise, in the run-up to the May 2014 state elections, was a handloom loan waiver. But the weavers in Pedana have received a waiver of only Rs. 2.5 crores from a total of Rs. 111 crores sanctioned by the Andhra Pradesh government.
In 2014, the Bharatiya Janata Party government stared SFURTI (Scheme of Fund for Regeneration of Traditional Industries) for the handloom industry in Pedana (two clusters per district were selected) to develop infrastructure and technology to preserve these traditional arts. The scheme remains stuck in bureaucratic procedures.
Pitchuka Bhimalingam, 73, a master-weaver and an ex-office bearer of the Pedana Handloom Weavers and Kalamkari Artists Welfare Association, says, "The master-weavers are well-settled now. It is the artisans and workers who the state is supposed to look after. The government should act on all its promises – by setting up a handloom institute and releasing all the funds required. It can start by issuing identity cards to all the workers, which will give them better bargaining power with their employers."
Until then, the maggam in Pedana continues to strike a fading note, while the Kalamkari artists struggle to stay afloat with their wooden printing blocks.