Gajan or Charak is a special kind of Shiva worship in West Bengal, traditionally held on Chaitra Sankranti, the last day of the month of Chaitra. By a happy coincidence, this day, April 14, is also the birthday of Babasaheb Ambedkar.
In Raghudihi village of Purulia district, where I observed this ritual, almost four-fifths of the worshippers were Bauris, an oppressed caste of Hindus, who also live in Bankura and Birbhum districts. The remainder of the bhaktyas, or devotees, were Sunrhi (brewer), Goyala (milkman), and Kumor (potter) by caste. All of these are lower-caste Hindus, although Mahishyas, the dominant peasant caste in the district of Midnapore, also observe the ritual.
As we shall see, this form of worship provides those of low castes, who are normally deprived, despised and discriminated against, with a rare opportunity to temporarily earn the respect of society by displaying their devotion to Shiva and their astounding capacity to bear pain.
All the devotees were young, mostly in their teens or 20s. The bhaktyas practice celibacy and fast for 15 consecutive days, not ingesting even a drop of water from the early morning to the evening. But at night they usually have some vegetarian food, in particular fruits and milk.
The Gajan was observed at about 3 p.m. on the afternoon on the last day of fasting, Chaitra Sankranti. From a secluded location outside the village, devotees walked in a procession or were carried on bamboo poles along a circuitous route to a field in front of the Shiva temple. There the Gajan climaxed with a demonstration of the powers that the worshippers had gained through their devotion to Shiva.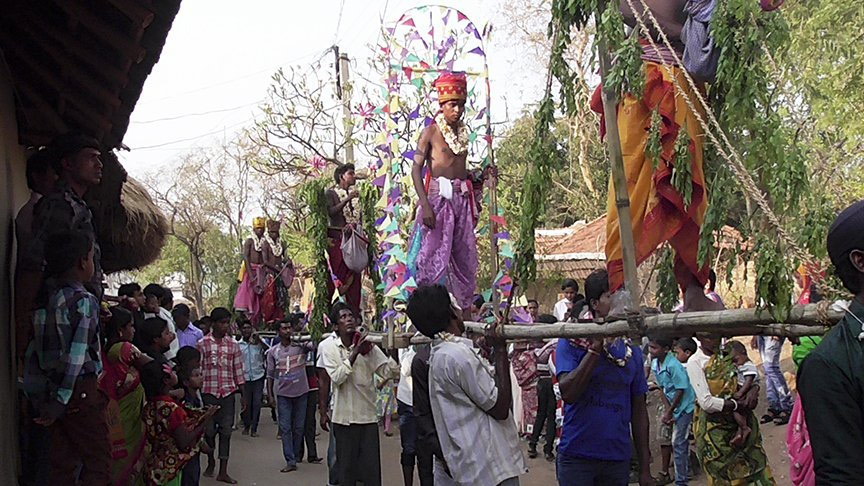 The procession, which is decorated with neem leaves. Some of the devotees are carried aloft as a symbol of their spiritual elevation

Among the devotees were a special group, mostly Bauris, who subjected themselves to extreme pain. These 'performers' had been celibate and had fasted for four days. Not only had they abstained from all food and water from the very early morning until evening, they had not even swallowed their own saliva. On that auspicious day they were looked upon as saints, and once they appeared in the arena, there was silence; no one spoke. I saw respect and astonishment in everyone's eyes. The performers themselves bore expressions of deep concentration, and did not speak. They were fully focused on Lord Shiva.
Several of the performers had been perforated before arriving at the field. Others were pierced in front of the Shiva temple. Women are not allowed to watch the act of perforation and are strictly prohibited from touching the performers. I did get to watch the perforations that took place in front of the temple, but from a distance. Most of the performers observed complete silence and showed no change in their expressions. Others, however, were clearly distressed.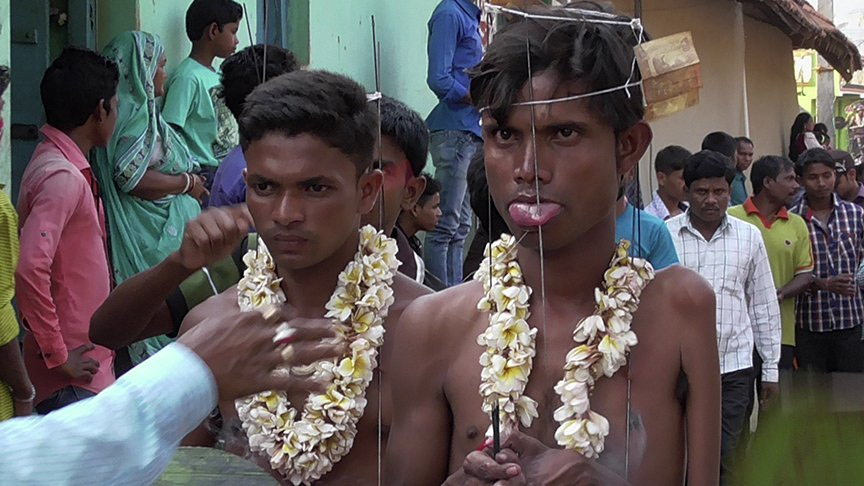 One performer bears metal stakes through his tongue. Both have thin rods piercing the skin of their chests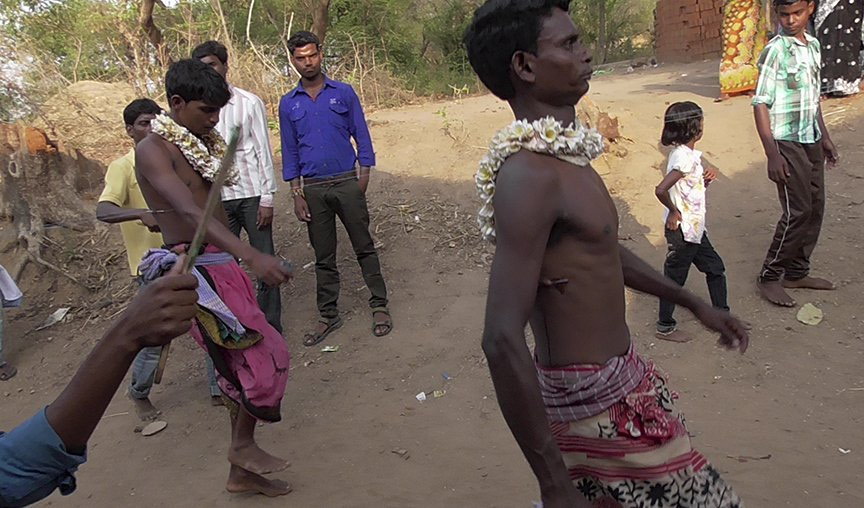 These two bhaktyas had been perforated with metal strings under their arms, and blood trickles from the man in front. Others walking behind them in the procession continually pulled on the strings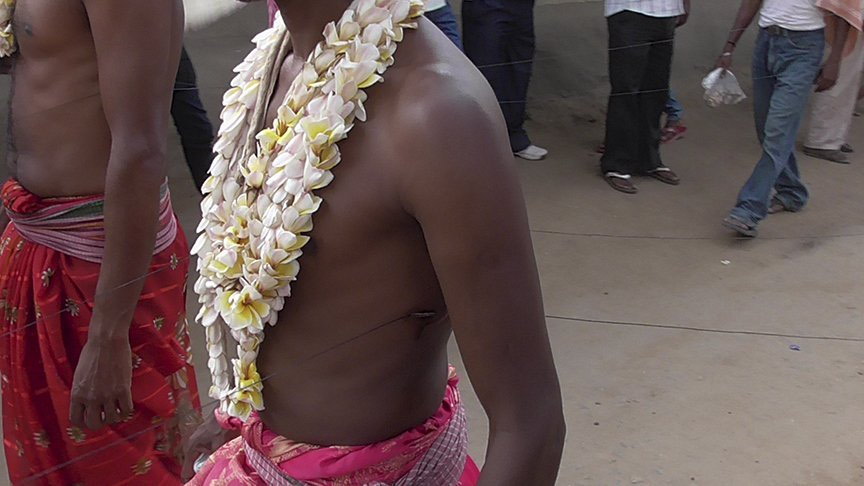 The metal strings attached to this devotee are also being pulled from the front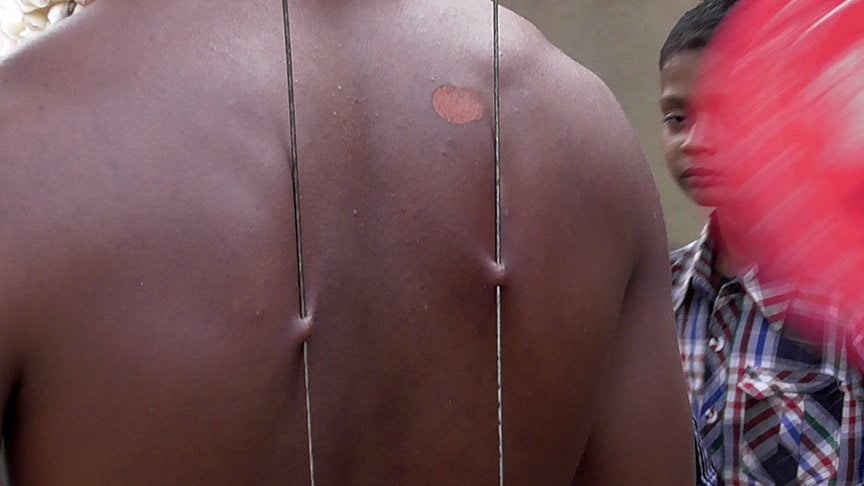 A devotee with metal rods through the skin of his back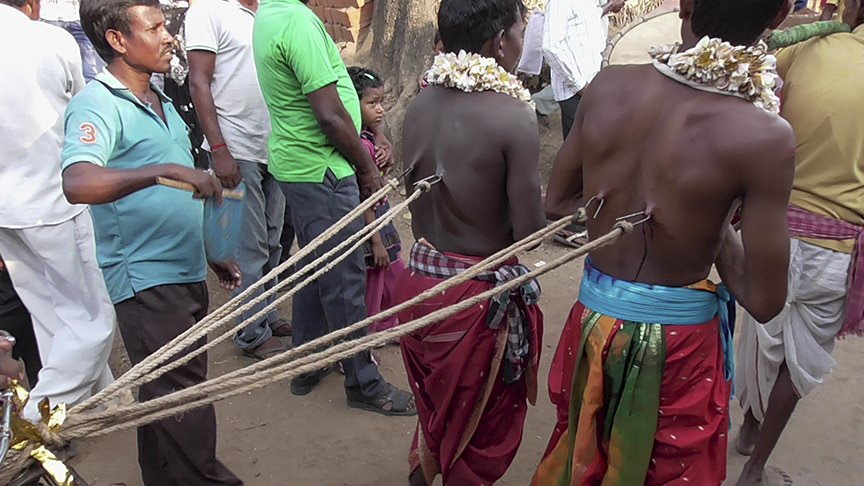 Devotees perforated by massive fishing hooks made especially for this purpose. They pulled a rickshaw by the ropes tied to the hooks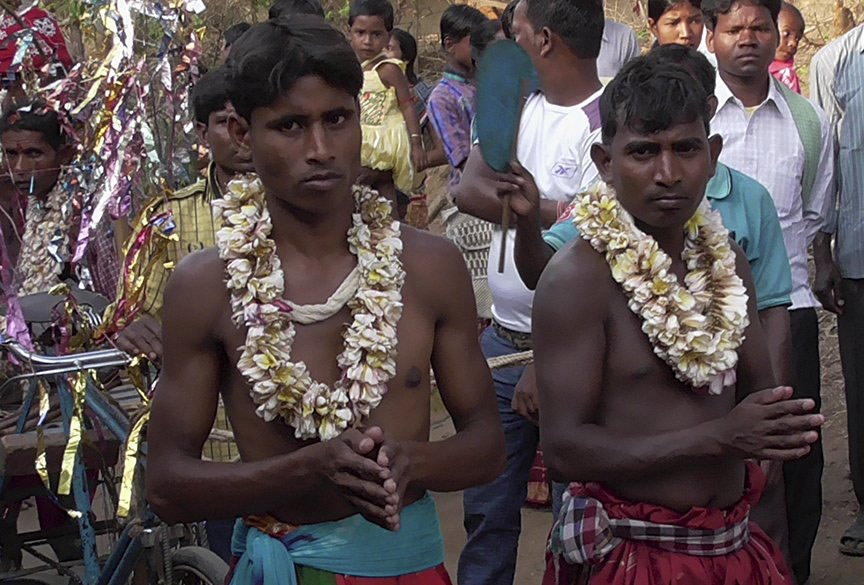 Another view of the devotees perforated with fishing hooks, showing the rickshaw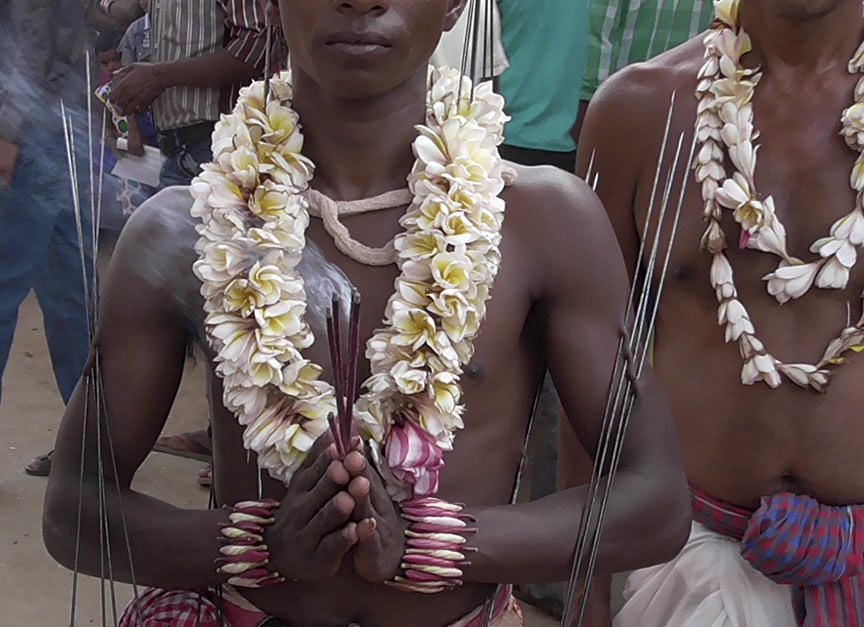 A devotee with his arms perforated by iron rods, carrying incense sticks and wearing a garland of gulancha flowers

At the climax of the festival, some men tied a devotee-performer to the end of a long wooden pole called a Gajan. The Gajan is specially made for this ritual and carefully kept by the villagers, because it is sacred to them. The helpers then tied a bicycle to the devotee using perforations in his chest and thighs, raised him into the air, and swung him around three or four times.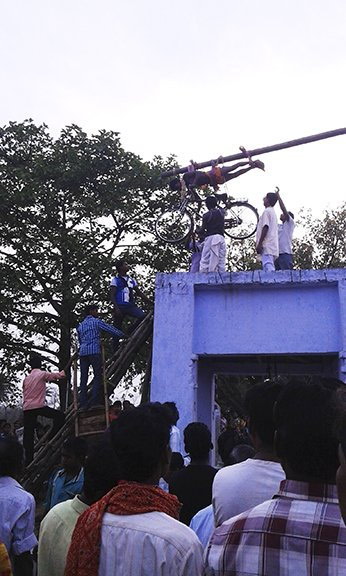 A devotee with a bicycle hanging from his perforations
being tied to a pole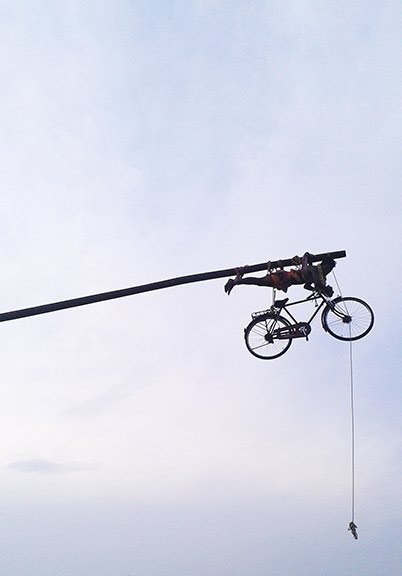 Hoisted aloft, the bhaktya supports the weight of a bicycle
by means of piercings through his chest and thighs. An excess
length of rope, tied into a bundle, hangs down
After the celebration I asked some of the performers if they felt pain. They smiled and replied that it is painful to those who watch, but not for those who experience it. They believe their freedom from pain arises from the divine grace of Lord Shiva, and that they are blessed by this grace. They conduct this form of worship year after year.
Goutam Bauri and Ashis Bauri, both 22 years old, have performed the ritual for eight years and five years, respectively. Eighteen-year-old Satyajit Bauri, a student of Sarbori College in Purulia, was also a performer and similarly believes that his absence of suffering derives from Shiva's blessing. The young men felt that their feat was not painful or harmful, they had surrendered themselves to Lord Shiva and earned virtue.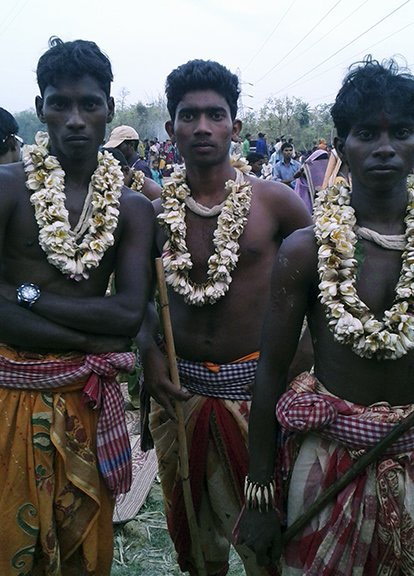 Performers Goutam, Satyajit and Ashis Bauri

The perforated performers are not vaccinated, nor do they take any standard medicines, before or after the festival. They use only a paste of neem leaves and turmeric with home-made ghee (clarified butter) to treat their wounds. I noticed that the procession was also decorated only with neem leaves. And the garlands they used were made only with gulancha (menispermum glabrum) flowers. Neem, turmeric and gulancha are medicinal plants valued by the villagers, and the plants have great therapeutic value.
As people who are exploited and segregated, the performers are used to suffering, but it is only during such rituals that their capacity for suffering is acknowledged and respected by society. It is the only time when Bauris can get respect from upper-caste Hindus, who normally do not allow them to enter their temples – including the Shiva temple where this performance took place. During the Gajan festival, however, they are pure, touchable and revered by village society irrespective of their caste or creed. All the devotees wore the sacred thread around their neck, which society normally allows only to Brahmins. It is the symbol of the power of the priest. Interestingly, however, Brahmins are not permitted to be devotees: this status is reserved for the lowest castes.
Thus the oppressed celebrate their power over their own bodies – the last thing that remains truly theirs – and revel in the fleeting freedom that they thereby earn.
Madhabi Maity is an associate professor in Bengali at Midnapore College in West Bengal; her interests include women's studies, and the dialects and languages of Bengal.