Vijaya Phartade became a grandmother four years ago. She is only 34 years old. "I got married at 14," she says, sitting on the stone platform outside her tin-roofed hut in Arvi village in Maharashtra's Beed district. Her groom, Bandu, was not much older at 18. "I asked my parents to wait for a couple of years," she says. "But they said this is the right age. Most of my friends got married at the same age. So I thought, 'maybe they are right'."
Within a year of getting married, Vijaya became a mother. In five years, when still in her teens, she had three children – two daughters and a son. Six years ago, her older daughter Swati, then 13, got married; and four years later, it was the turn of the younger daughter Sheetal, then 15. Swati now has a four-year-old daughter, and Sheetal has a year-old son.
Child marriages like those in the Phartade family remain common in rural Maharashtra. The National Family Health Survey's (NFHS) 2015-16 data show that nearly one-third of all girls in the 20-24 age group in the state's villages got married before they turned 18. And 10.4 per cent women in rural Maharashtra in the 15-19 age range were mothers or pregnant at the time of the survey.
Though it is widely known that child marriage is illegal in India – for girls below 18 and boys less than 21 years old – such unions remain even higher in Beed district's villages, where farming incomes are low and migration is the norm. In Beed, 51.3 per cent women aged 20-24 were married before turning 18, the 2015-16 NFHS says, and 18.2 per cent of girls in the 15-19 age group were mothers or pregnant at the time of the survey.
Migration often forces early marriages in Marathwada. Around 300,000 farmers and labourers leave Beed during the harvest season, according to trade union estimates. They migrate mainly to western Maharashtra's Kolhapur, Sangli and Satara districts, or to Karnataka's Belgaum district, to work as sugarcane cutters. (See The long road to the sugarcane fields )
Seasonal migration from Marathwada has increased over the years with the rise in production costs for agriculture and near-stagnant returns. A report titled Price Policy for Kharif Crops (2017-18) by the Commission for Agricultural Costs and Prices, shows a mismatch between investment and returns for almost every crop, including cash crops like cotton. The endemic water crisis in the region is another reason why small cultivators can no longer depend on farming as their primary source of income. This increases the numbers who migrate.

When families migrate for work, looking after a daughter becomes a concern, says Ahmednagar-based educationist Herambh Kulkarni, who works with a non-governmental organisation. "As the daughter enters her teens," he says, "migrating parents start worrying for her safety. They get her married quickly and believe they have fulfilled a responsibility."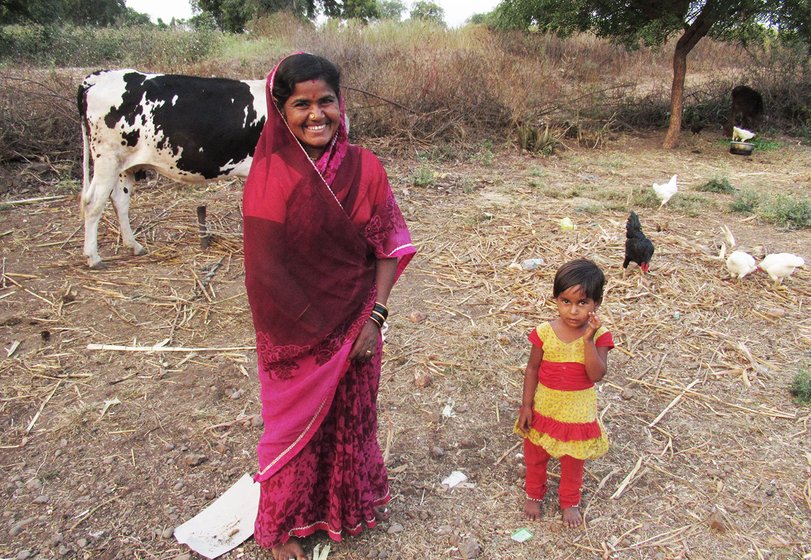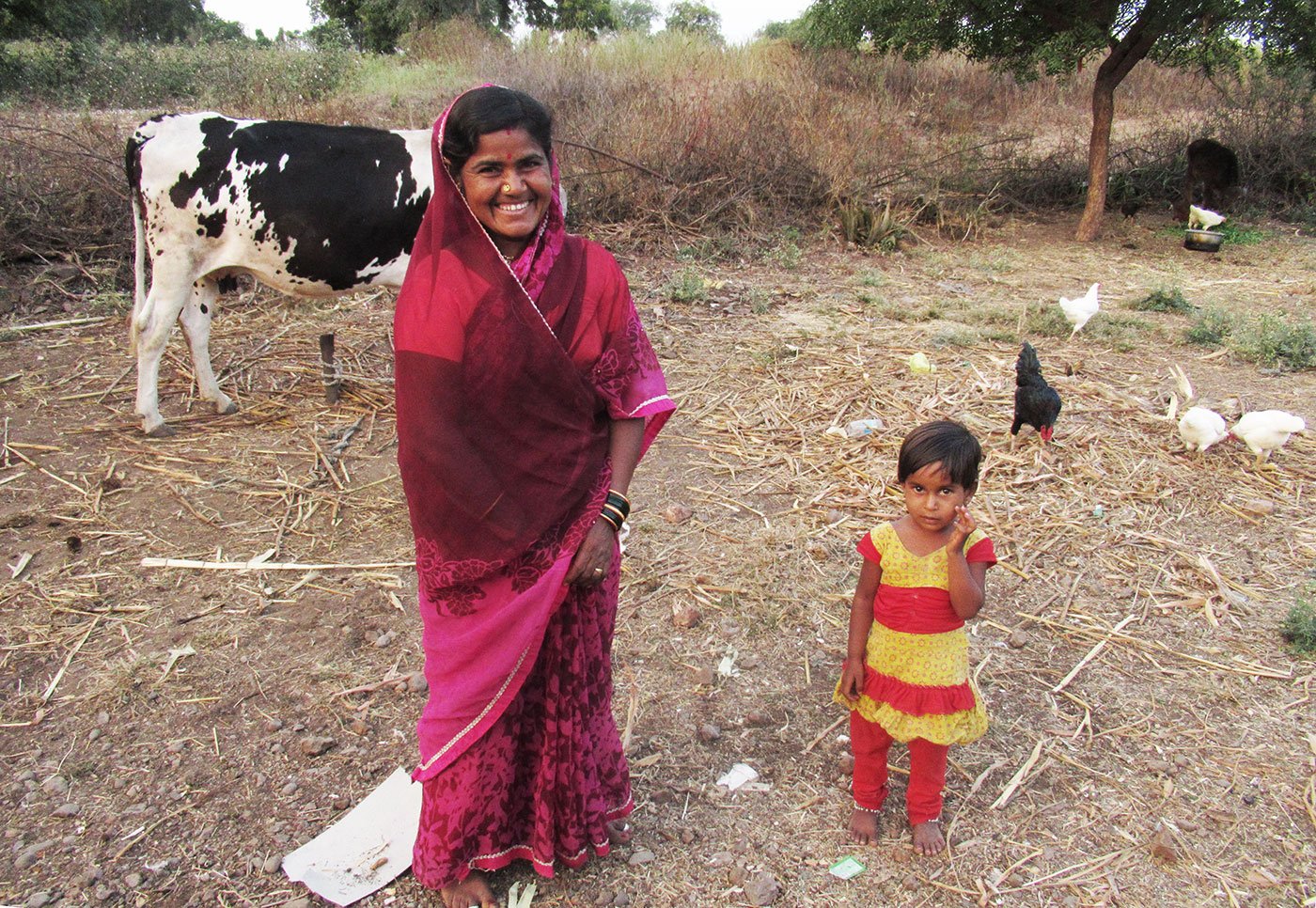 PHOTO • Parth M.N.
Vijaya's parents are farmers with two acres of land in Shirapur village in Shirur taluka of Beed. When she was a child, they migrated [and still do] every year for five months, from November to March, to work as cane cutters. "We cultivated cotton, but with little land, we had to look for other sources of income," says Vijaya, who does not have any sisters. "I have vague memories of life as a migrant. My parents would go to the field to cut cane, and I stayed back at the makeshift hut." (See: Cutting cane for 2,000 hours )

Other than the law against child marriage, when a girl gets married barely into her teens, there are many adverse health outcomes. Studies have repeatedly shown the higher rates of maternal mortality among very young mothers in India, of undernourishment in children when the mother is herself so young and physically weak. Miscarriages, stillbirths and low-weight babies are also all potential consequences of early pregnancies.

A report of the National Commission for Protection of Child Rights, titled A Statistical Analysis of Child Marriage in India: based on Census 2011 , says that girls between the ages of 10 to 14 are five times more likely than women aged 20 to 24 to die in pregnancy and childbirth. When they are 15 to 19, girls are twice as likely than older women to die from childbirth and pregnancy.
"It is…well established that early marriage and child-bearing are significantly related to malnutrition and under-nutrition amongst young mothers," the report states, "[and this contributes to] complications such as premature deliveries, difficult labour, birth of low-weight babies and maternal death."

Others have also pointed to a link between domestic violence and child marriage. "A young bride doesn't have a say, and because she is told to be tolerant, she hesitates to stand up for herself. Besides, families hardly report abuse, either due to a lack of awareness or a sense of honour," says Pune-based lawyer and child rights activist Rama Sarode. "Early motherhood also spells an end to the education of girls, which increases their economic dependence, perpetuating a circle."
Only 32.6 per cent women in rural Maharashtra have had schooling for 10 years or more – and just 31 per cent in Beed, according to the NFHS.
Vijaya only studied till Class 2 in her village school. "As I grew up, my safety became a concern for my parents. They found me a groom and I got married," she says. Her husband Bandu's family lives in Arvi, five kilometres from her own village. He inherited two acres, where they cultivate cotton. "In an entire season [of around 6 to 8 months], we harvest only eight quintals," she says. That earns them a profit of Rs. 22,000. "But when we cut cane, contractors pay us an advance of around 50,000 rupees. For us that's a lot of money, even if it means five months of intensive labour."
Because cane contractors only hire couples, when a very young girl and boy get married, another couple is ready to migrate to the fields – and open up a source of income for the family
Because cane contractors only hire couples, when a very young girl and boy get married, another couple is ready to migrate to the fields – and open up a source of income for the family. Vijaya and Bandu began migrating to cut cane every year right after they were married. "As our daughters grew up, we had the same concerns my parents did and we repeated their mistake," she says. "We wondered how we would take care of them with such little income, and thought it was better to get them married."
And then Swati also started to migrate to cut cane with her husband. But they did this for just one season. Two years after her marriage, her husband Kishor died in a motorbike accident in his village, Chikhali, in Beed's Patoda taluka . Swati was seven months pregnant. "After she delivered her daughter, Dnyaneshwari, her in-laws refused to take care of her," says Vijaya. So Swati returned to her mother's house.
To help the family cope, Deepak Nagargoje, who runs a non-governmental organisation called Shantivan in Arvi, provided Swati with financial support to enrol in a nurse-training programme in Pune. Vijaya and Bandu pitched in by taking in Dnyaneshwari. They are now raising her along with their own 15-year-old son, Rameshwar, who is in Class 10 at a residential school started by Shantivan in Arvi.
To be able to take care of the children, Vijaya and Bandu no longer migrate during the harvest season, and depend on whatever work they can find in nearby fields. Vijaya's younger daughter Sheetal lives in Beed town, where her husband works as a construction labourer.
Over the last 15 years, Nagargoje says he has helped dozens of child brides from surrounding villages, who faced domestic violence or were abandoned after marriage. "There are many child marriages, but we cannot step in unless the families want us to," he says. "And these marriages are often clandestine."
Various local organisations have tried to turn village schools into temporary residential schools to stem the practice of migrant parents taking along their children. But the residential schools are few and usually in bad shape, and parents hesitate to keep their daughters back.
Pune-based Nutan Maghade, who works with the Sarva Shiksha Abhiyan, a government-run 'education for all' programme, says the state gives Rs. 1,416 per month per child under the Hangami Vastigruh Yojana, a seasonal hostel plan. It does not take responsibility of the kids' stay, but the money, given to state-aided school committees, helps take care of food and other costs of children who can stay back with grandparents. (See: 'Almost everyone in the village has left' )
The parents I spoke to in Arvi had little or no schooling themselves, and their daughters had dropped out of school at a young age. All of them, except Vijaya, refused to come on record and be photographed, perhaps because they know that child marriages are illegal.  But they mentioned the same dilemmas Vijaya faced.
Vijaya though wants to talk about child marriages so that families like hers can break away from this pattern. "We did not have money to educate our girls, but at the same time we were unaware of the importance of education," she says, looking at little Dnyaneshwari playing in her lap. "What happened to us will not happen to her."