Satyabhan and Shobha Jadhav are all set to board the tractor. "We carry as much as we can – and bajra , flour and salt to cook," Satyabhan says, "so we do not have to spend money during the journey and in Belgaum district.
Many others in Bodkha, a remote village of around 1,200 people in Maharashtra's Beed district, are doing the same – busy packing clothes, utensils,
chapatis
for the journey, and various other items on that hot Tuesday afternoon at the end of October, and loading their sacks and bags onto tractors. Sturdy padlocks are being tested repeatedly against the wooden doors of their modest houses. The locks must hold fort for the next five months.
This departure is an annual process. Around October-November every year, more than 125,000 farmers and labourers (the collector estimates) migrate from Beed district alone in Marathwada to work in the sugarcane fields of western Maharashtra and Karnataka for 4-5 months. Forced to move by the lack of work options in their villages, and by a growing agrarian crisis driven by rising input costs, uncertain market rates for crops, poor credit systems, water scarcity and other factors.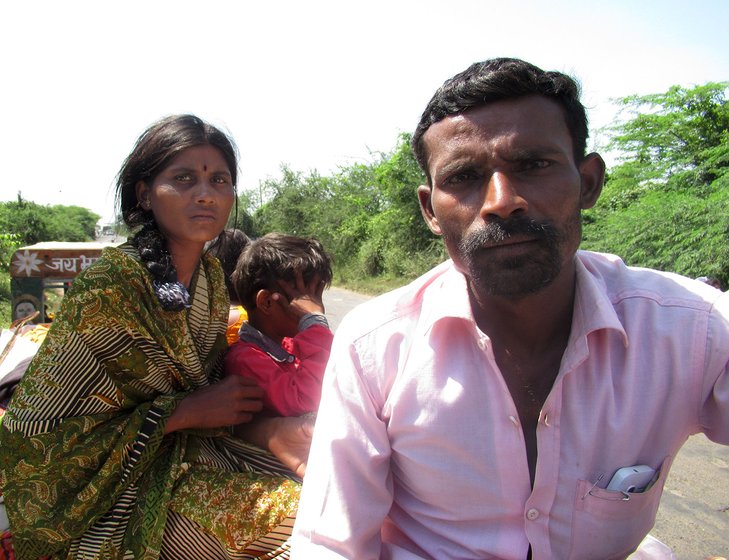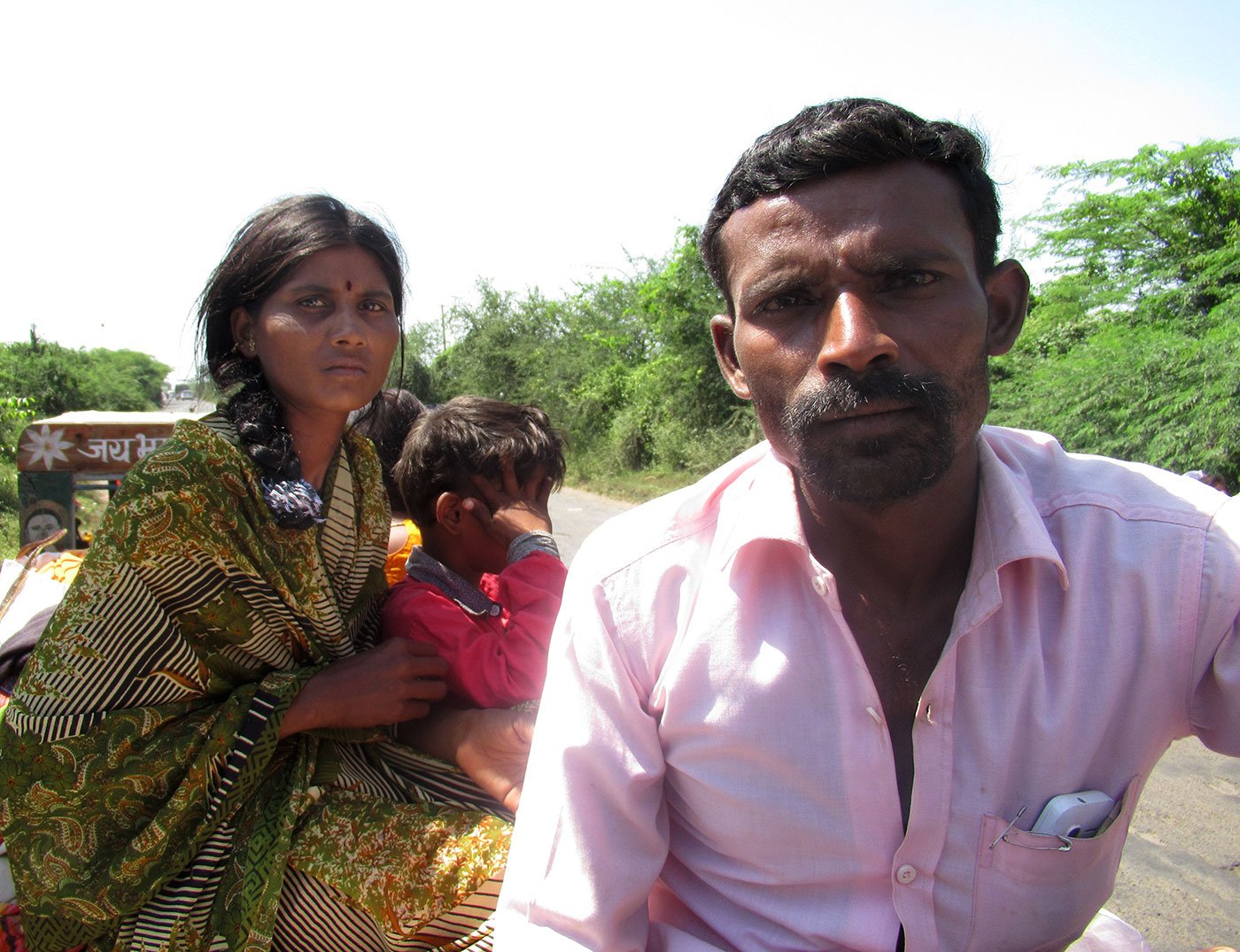 PHOTO • Parth M.N.
When they are away, their villages are almost deserted. Only a few – the elderly, the infirm, a few children – stay back. Often, if grandparents cannot look after the children in the village, parents take kids along, at the cost of their schooling. Satyabhan and Shobha too are taking their six-year-old son Arjun with them, leaving behind their 9 and 12 year old boys. "He was adamant to come with me," Shobha says. "The other two are with my in-laws."

In a few days, the Jadhav family and many others from Bodkha, most of them from Dalit and Banjara communities, will reach Gokak taluka in Karnataka – almost 450 kilometres from Beed. To get there, they will have to endure an interminable two-and-a-half day journey on an open platform-like trailer attached to a tractor.
Sadashiv Bade, a contractor who supplies labourers to various sugarcane factories in Karnataka, is overseeing the proceedings as two trailers are attached to each tractor. "I am responsible for 200 trucks and tractors [most of them leaving from the villages of Beed]," he says. "Each vehicle carries 10 couples; I have already sent 50 such vehicles. Two more are now set to leave from Bodkha, carrying people of this and nearby villages."
By the time afternoon wears down and a sombre dusk approaches, many have stacked their gunny bags packed with bajra , wooden boxes stuffed with flour and salt, and clothes and utensils in sacks on to the trailers. Orange plastic pots filled with water hang on to the sides of the vehicle, tied by rope.

Once the luggage is loaded, they head back to their homes for dinner with their families – the last one for a while. Even though this is an annual farewell, those left behind are tearful when their family members climb in to the tractor-trailer. Women and small kids occupy the first one, men and boys clamber on to the second. Toddlers left behind with their grandparents start wailing when their mothers board the tractor.The mothers, too, appear guilty and stricken.
But Shobha, who has been migrating for the past 17 years with Satyabhan, both now in their 40s, is relatively cheerful this time. "Diwali came earlier this year," she points out. "So I got to be with my entire family for the festival. Migration had made me forget what it is like to celebrate Diwali with my family."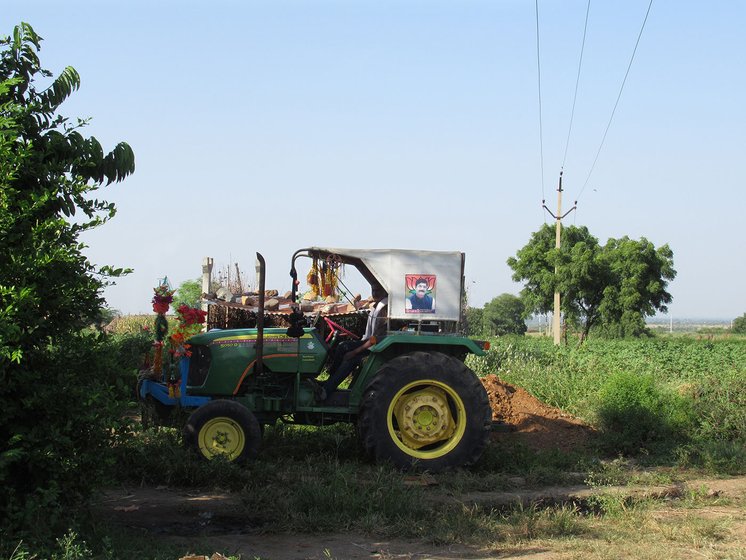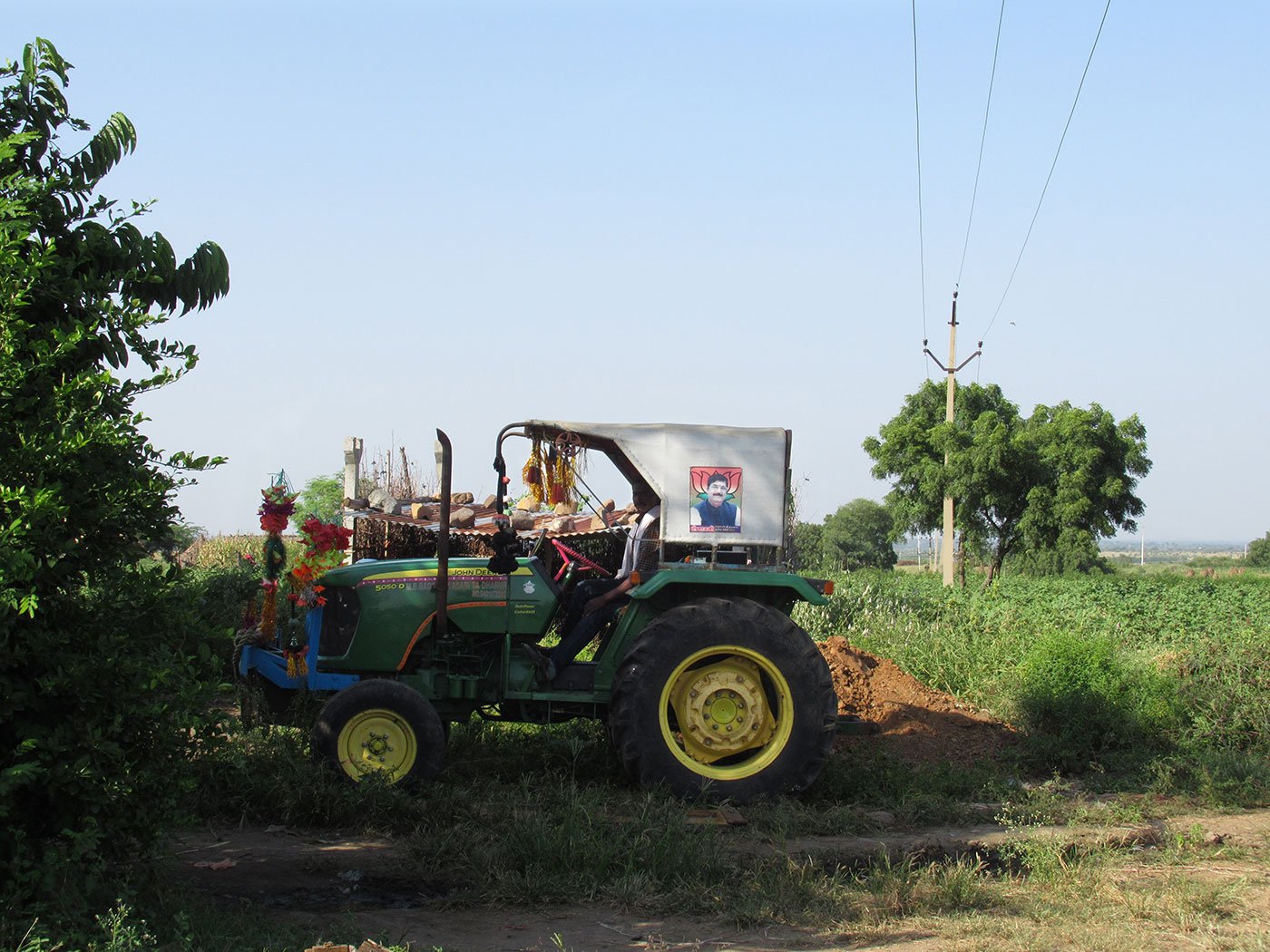 PHOTO • Parth M.N.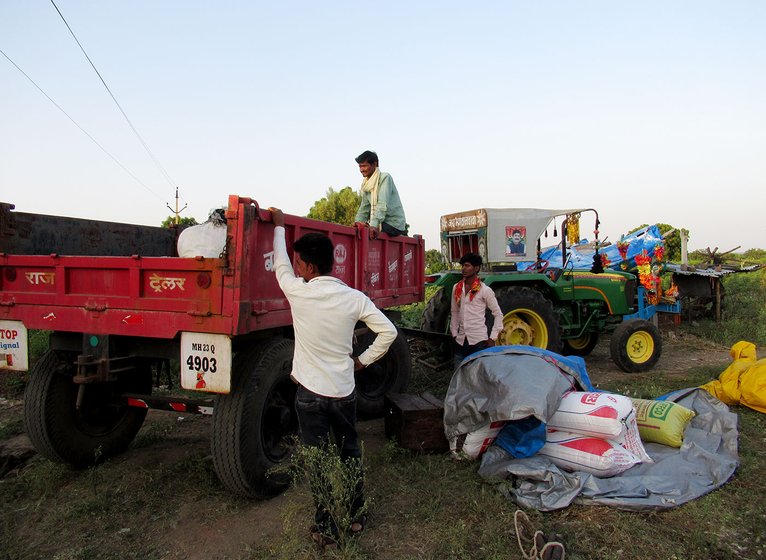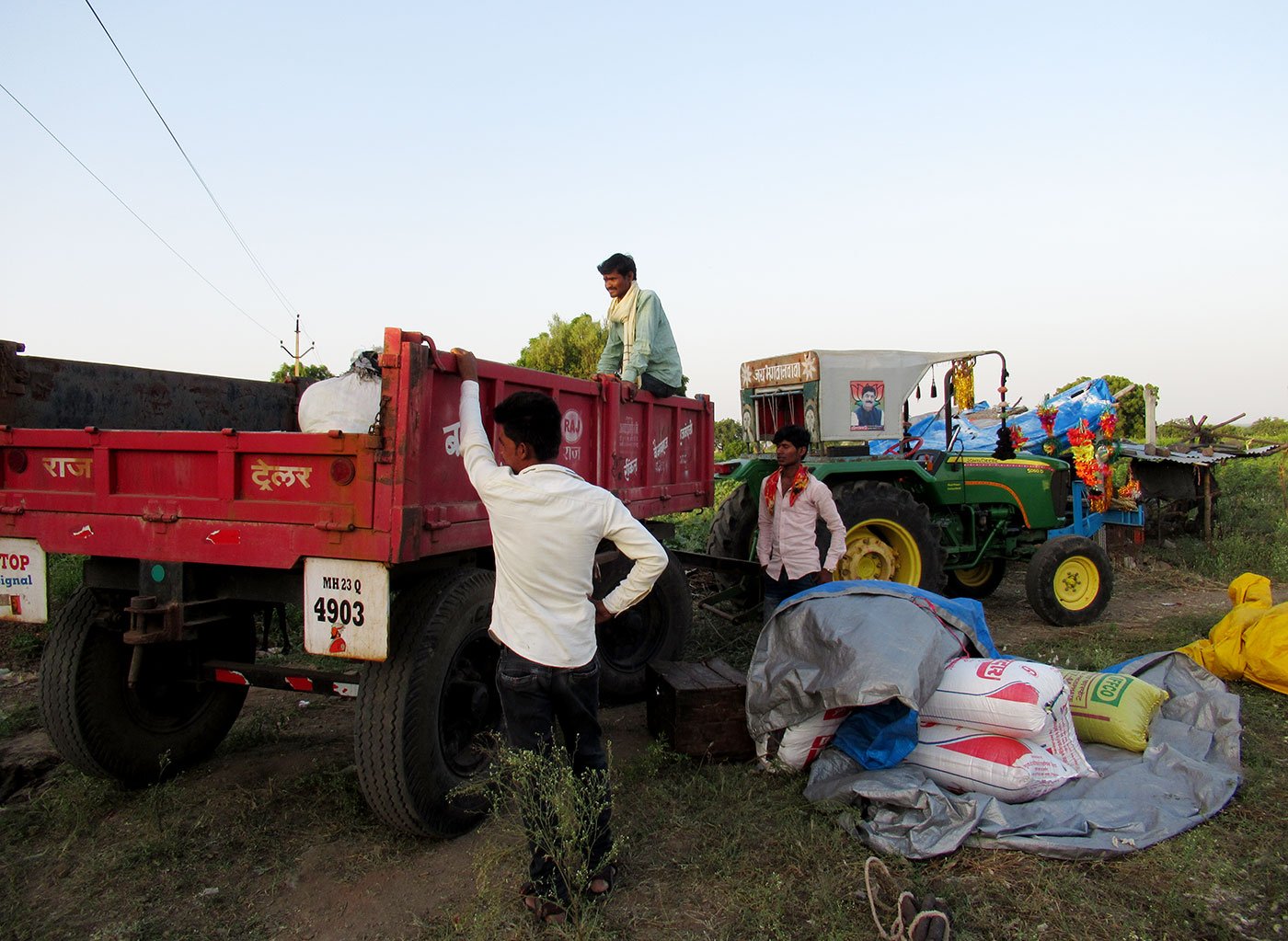 PHOTO • Parth M.N.
Before the journey to the south begins, someone flings a coconut on the ground and Mahadev Tidke, the 24-year-old driving the tractor, starts the engine. It is around 10 p.m. Tidke too is from Bodkha and says he has been ferrying migrants since he was 19.
"Jai Bhim," Satyabhan shouts, and the tractor moves forward through pitch-dark lanes under a clear starlit sky. There is a nip in the air. Mahadev inserts a pen drive in a socket beside his seat, and loud Hindi film songs pierce the night. People on the tractors wave goodbye to those on the ground, while adjusting themselves amidst and atop the gunny bags and utensils.
A couple of goats, too, have found a place on the trailer. "They will be useful for milk in Belgaum," says Shobha, as she makes sure her son Arjun is comfortable in her lap, while the tractor lumbers along bumpily. Cars and trucks zoom past. When a chill wind starts blowing on the open trailer, Shobha takes out a monkey cap from her bag for Arjun and wraps her saree around her own ears. Others look through their luggage and bring out threadbare and torn blankets that offer little protection from the cold. A few manage to fall asleep.
Mahadev, at the wheel,  has a muffler around his neck and a full-sleeved shirt. He manoeuvres the tractor through curvy lanes without street lights deep into the night. At around 3.30 a.m., he needs a break. "There is a lot of pressure," he sighs. "I cannot afford to shut my eyes even for a second. These are families I am carrying."
He pulls over as soon as he sees an empty shed on the highway. Takes out a blanket, spreads it in the shed and tucks himself in. Most of his passengers – around 24, including kids – have dozed off on the trailer. A couple of hours later, Mahadev is back at the wheel.
Though sugarcane cutting does not fetch as much money as it once did, the assurance of steady work is enough for the Nikaljes and other families to leave their homes every year

Shobha, Satyabhan and the others wake up to dawn on the tractor on Wednesday. Mahadev has located a deserted spot near a lake in Osmanabad's Kalamb taluka , where they disembark, free limbs stiff from the cramped discomfort of the night, brush their teeth, relieve themselves (the women try to find privacy behind trees and bushes) and freshen up.
An hour later, at 8.30 a.m., it is breakfast time at a dhaba in Yermala, clearly a common halt for the labourers – several other tractor-trailers are parked alongside. Over a plate of poha , Shivaji Nikalje, 48, of Jodhingani village, 12 kilometres from Bodkha, says sugarcane cutting work is decreasing every year. Nikalje has been migrating to Karnataka for 15 years "We get paid a lumpsum amount of around 75,000 rupees per couple," he says. "We earn 228 rupees for every ton of sugarcane we chop. After the designated time period, contractors calculate the number of tons we have cut and deduct it from our total amount or add to it." To earn Rs. 75,000, a pair of workers must cut around 335 tons of cane.
Nikalje is on the move with his wife Archana and 15-year-old daughter Saraswati, who has been migrating with them for around three years. "I left school after the seventh standard," she says. "I travel with my parents because I can share their burden. They toil in the sugarcane fields the whole day. If I am around, they do not have to cook food after working so hard."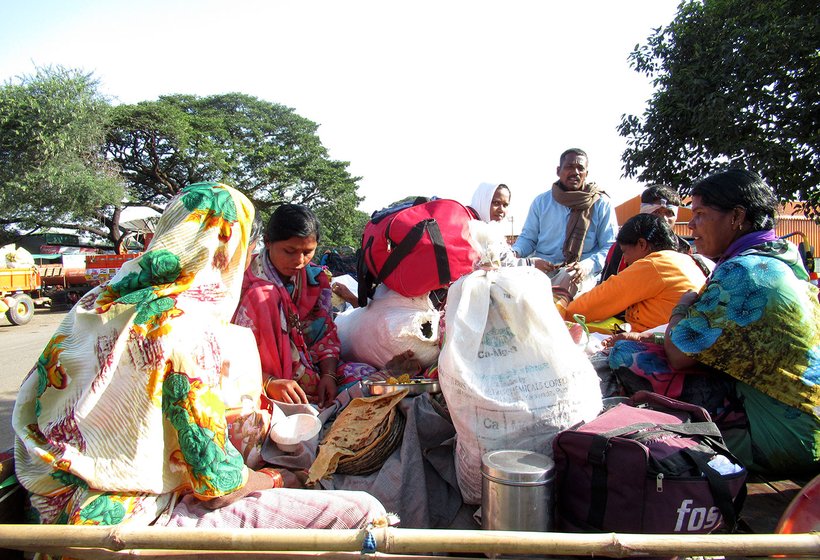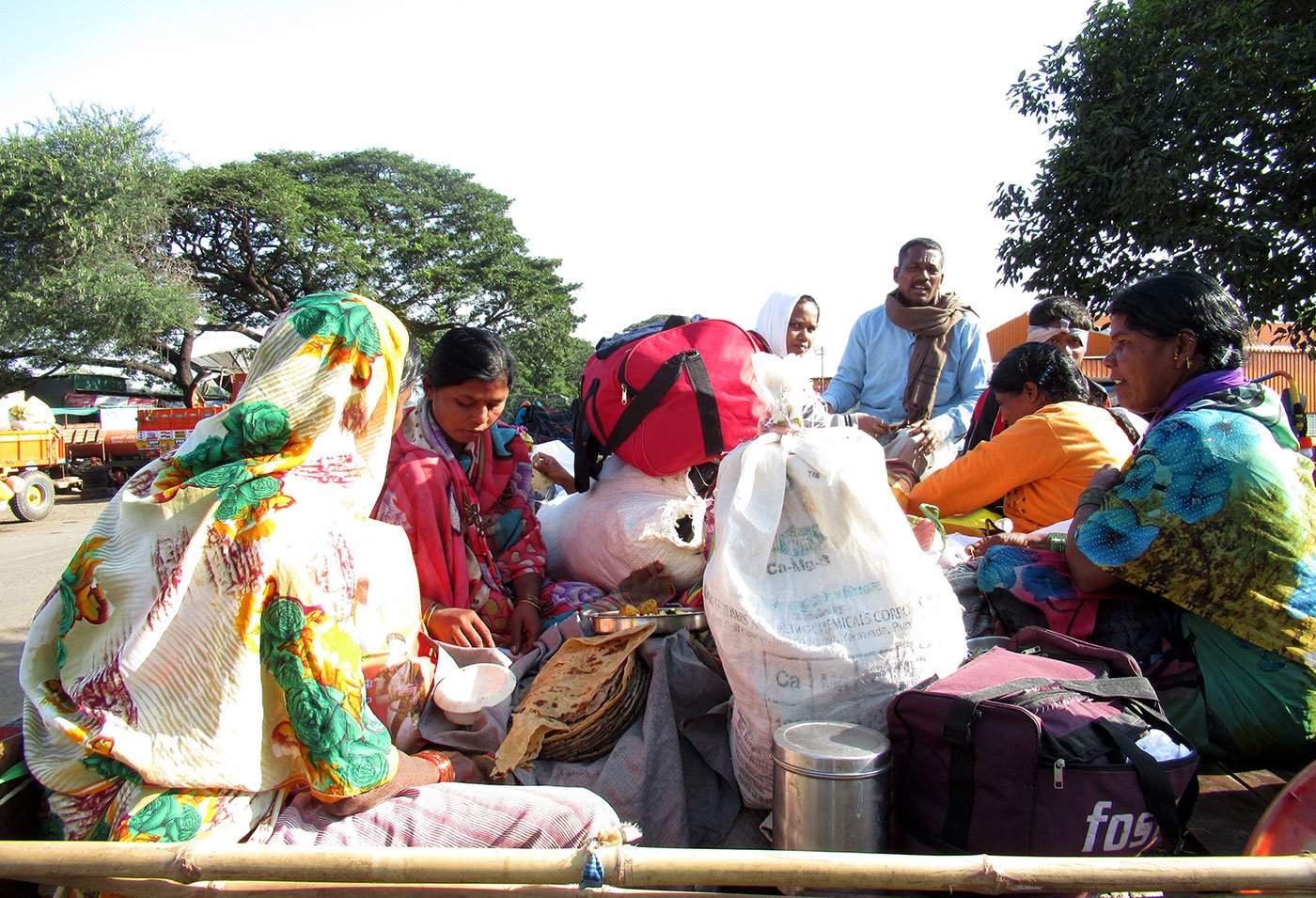 PHOTO • Parth M.N.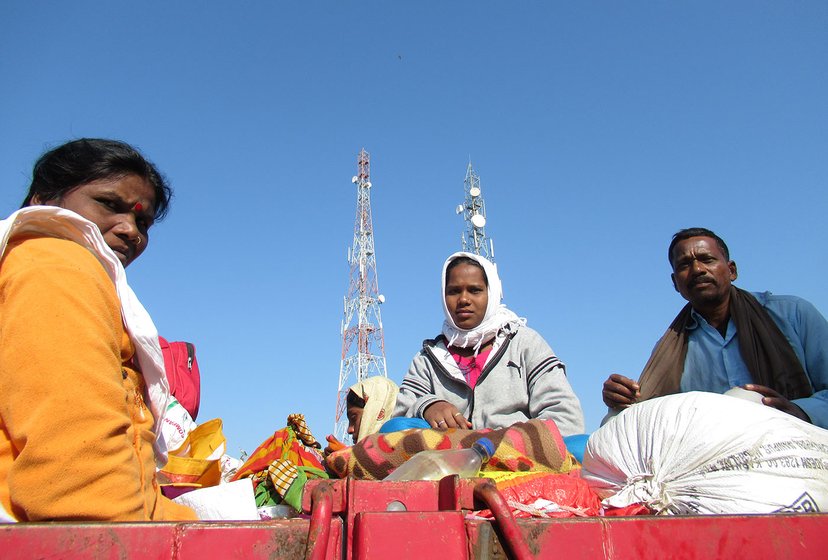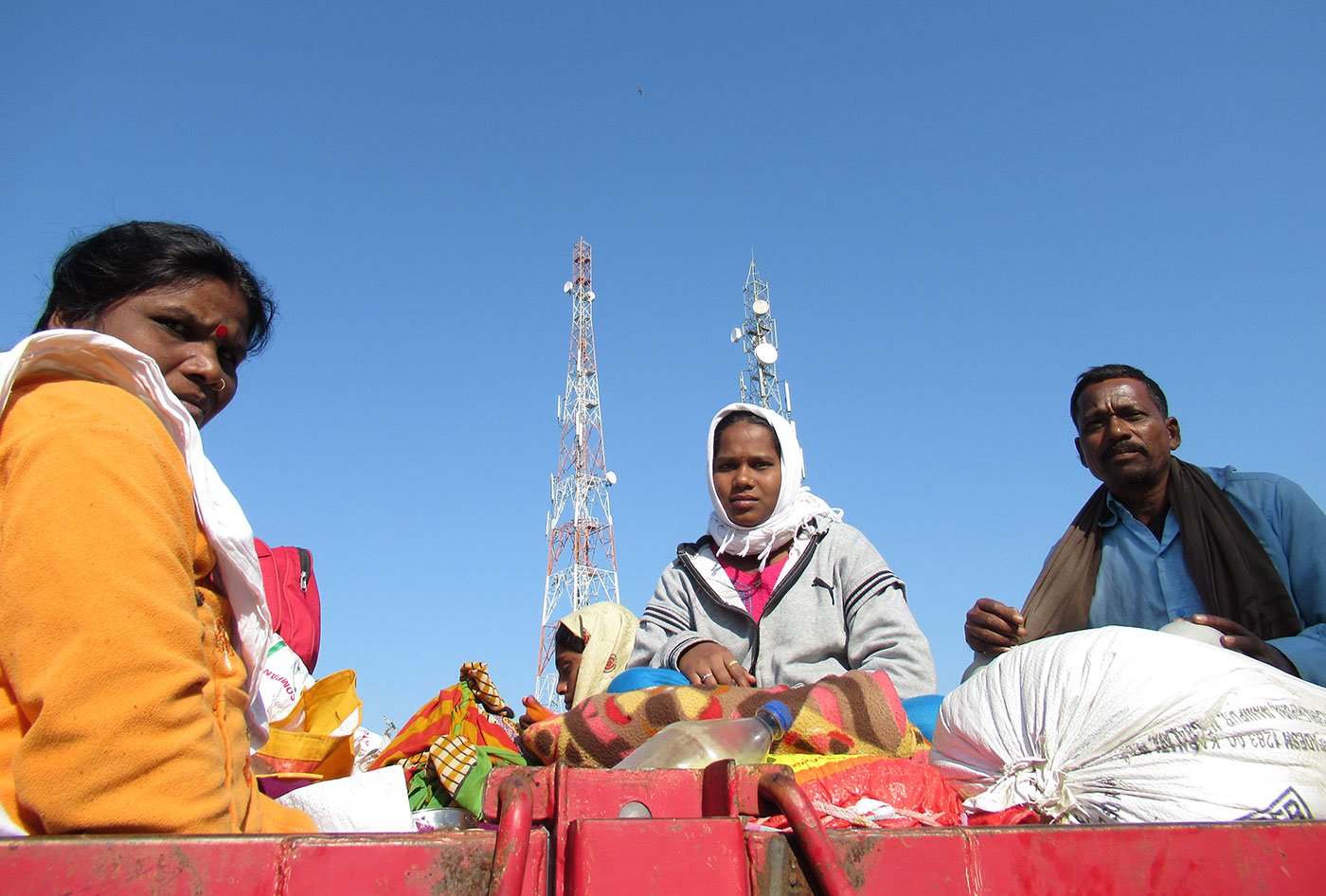 PHOTO • Parth M.N.
As the tractor trudges along, Archana explains why they embark on this annual journey: "We don't have a land of our own. We work as agriculture labourers in and around Bodkha. I get 100 rupees a day, Shivaji gets 200. But that too is uncertain because unreliable rainfall has ensured there is hardly any work on the farmlands these days. The previous month, both of us together earned only 1,000 rupees."  They then lived off their modest savings and by borrowing small sums from ''here and there.''
Even though sugarcane cutting does not fetch as much money as it once did, the assurance of steady work is enough for the Nikaljes and other families to leave their homes for five months every year. "Last year, we only made 40,000 rupees because many of the sugarcane factories did not have much work," says Archana. "A few years ago, we made close to a lakh. Lack of rainfall means less sugarcane. "
In a while, we reach Kurduwadi, a small town in western Maharashtra's Solapur district, where we stop for lunch. Everyone again disembarks from the tractor, clothes wrinkled, hair ruffled, fatigue clearly visible on their faces.
Seventeen-year-old AdinathTidke though has a spring in his step. He has been migrating for two years, and for the first time he will be paid as much as his uncle, who is travelling on the same tractor-trailer. "Until last year, I got 190 rupees for cutting a ton of sugarcane," he says. "This time, I am in the same bracket as the adults."
At the quiet eatery in Kurduwadi, the weary travellers only order dal to go with the bhakri and chutney they have carried with them. "For the evening snack, we have laddoos and chiwda we prepared at the time of Diwali," says Shobha.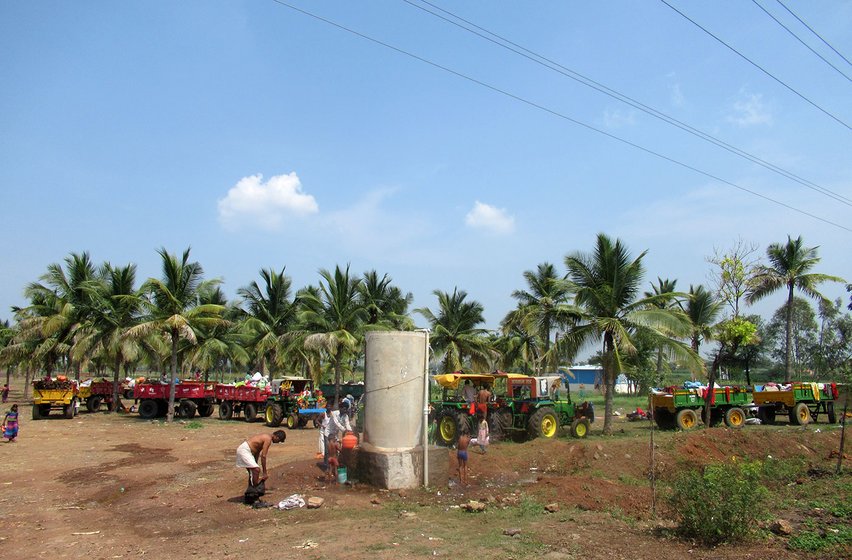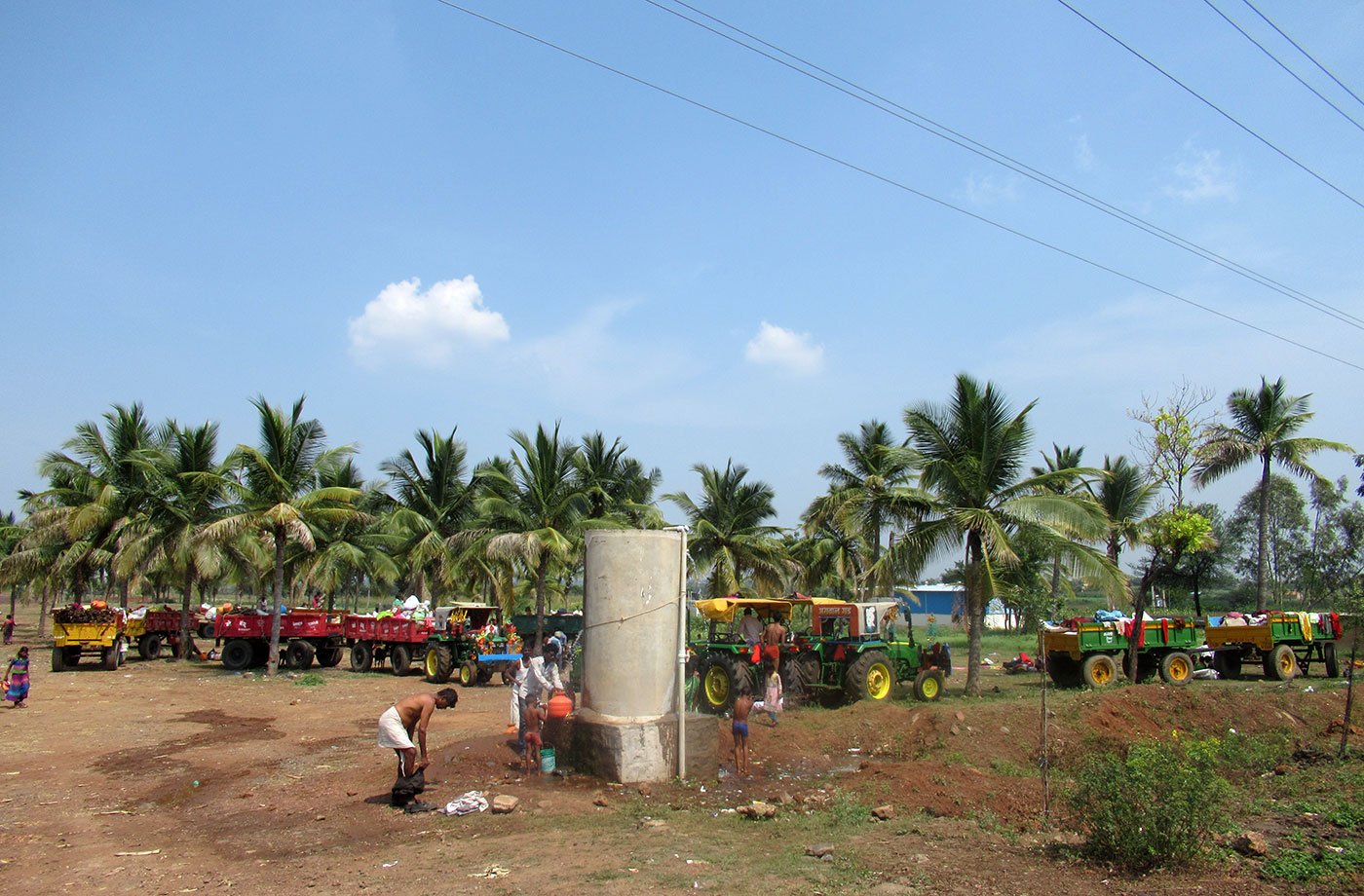 PHOTO • Parth M.N.
The tractor enters the pilgrimage town of Pandharpur in Solapur district of western Maharashtra, 180 kilometres from Beed, by 8.30 p.m. After dinner at a dhaba , the chill is back in the air. Mufflers, sweaters and blankets are again taken out of the bags.
It is close to midnight on Thursday when the exhausted travellers reach Gokak's Satish Sugar Factory, where several trucks stacked with sugarcane are parked. "It is finally time to get some sound sleep," says Satyabhan. Everyone spreads a sheet on the ground in the vicinity of the sugar factory. The next morning, they will have to start the arduous work of cutting cane.