"Shall I compare thee to a summer's day?" says 19-year-old Faiza Ansari in a low voice, almost a whisper. We are sitting cross-legged on the tiled floor of the only library for women in Mumbra – the Rehnuma Library Centre.​
More young women come and go from the two-room apartment turned library on the first floor in a decrepit building near the Darul Falah mosque. They hang their burkha s on idle plastic chairs and sprawl on the cool floor. It's 36 degrees outside in this northeastern suburb roughly 35 kilometres from central Mumbai.
As Faiza recalls Shakespeare's Sonnet 18 , I insist on hearing more. All eyes turn towards her, including her sister Razia's. Faiza paraphrases a line from Romeo and Juliet , "A beautiful heart is better than a beautiful face." Razia looks at her sister coyly. The other girls hoot, nudge each other, and bashfully giggle. The joke is anybody's guess.
Razia Ansari, 18, is not as shy. She presents to me an intriguing summary of the only Shakespeare story she has read. " Twelfth Night is like a Hindi film. Viola has a double role," she says of Viola's disguise as Cesario. Razia is trying to improve her English and has joined the spoken English class at the library. Classes are conducted here five days a week in numerous one-hour batches from 11 a.m. to 6 p.m.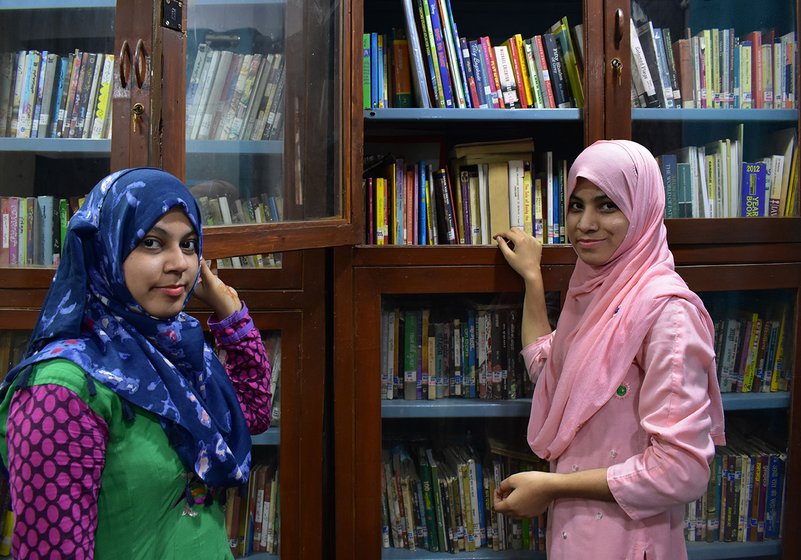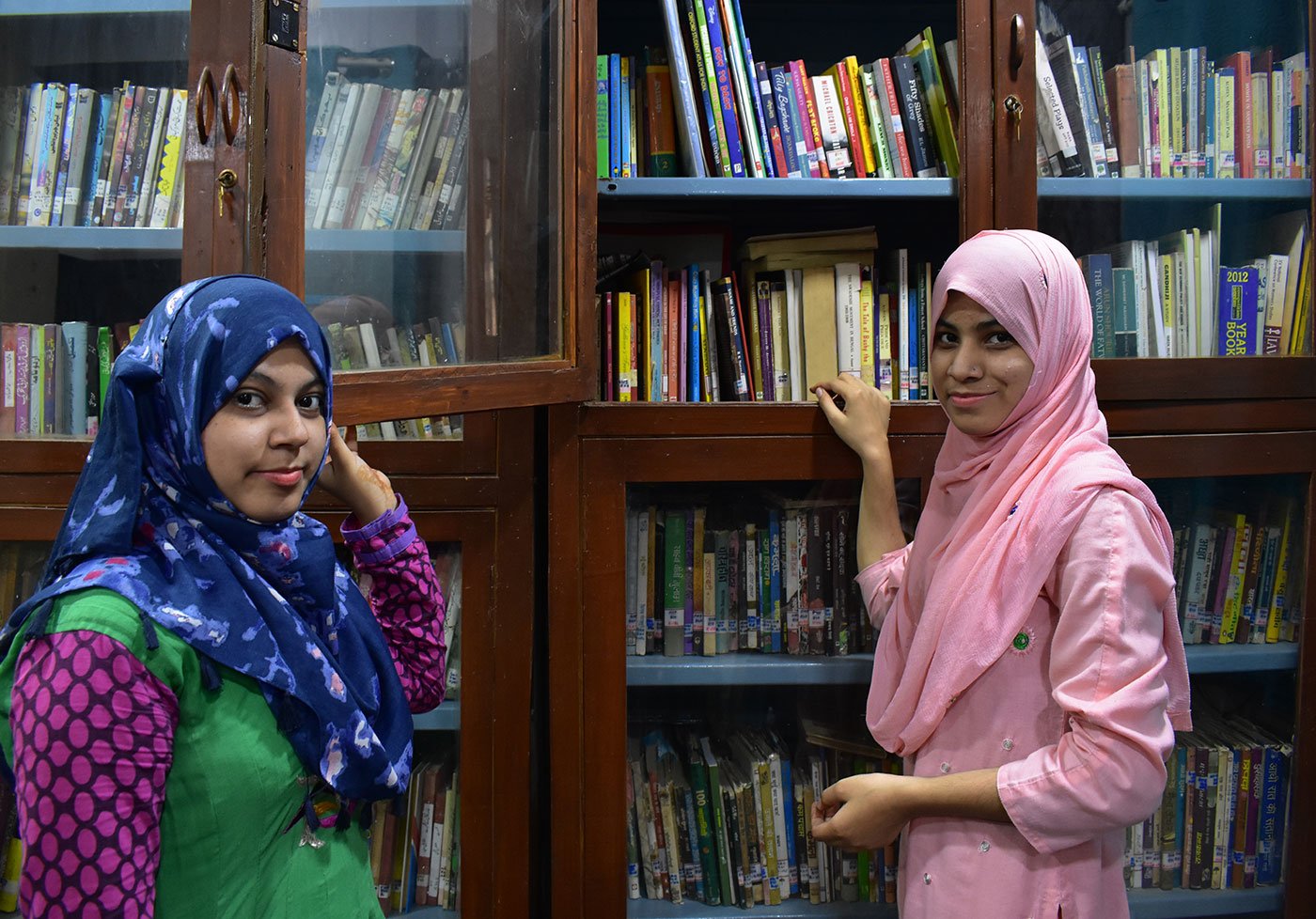 PHOTO • Apekshita Varshney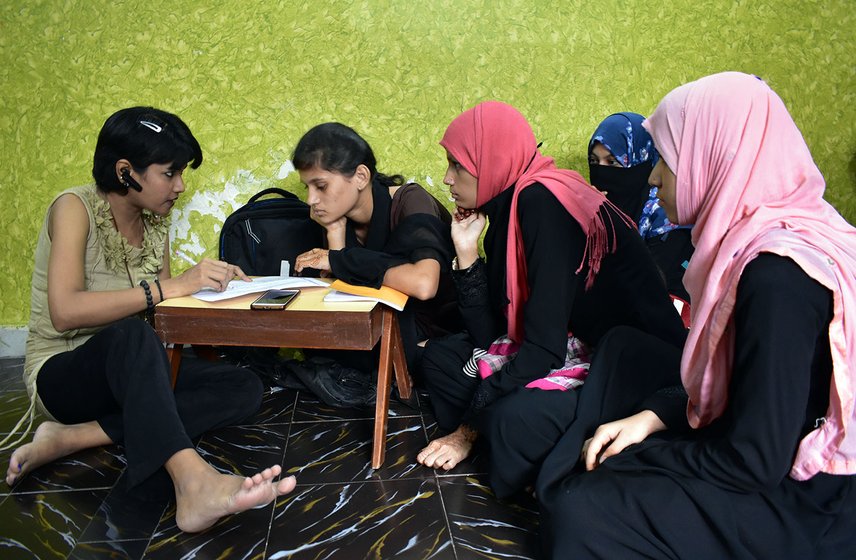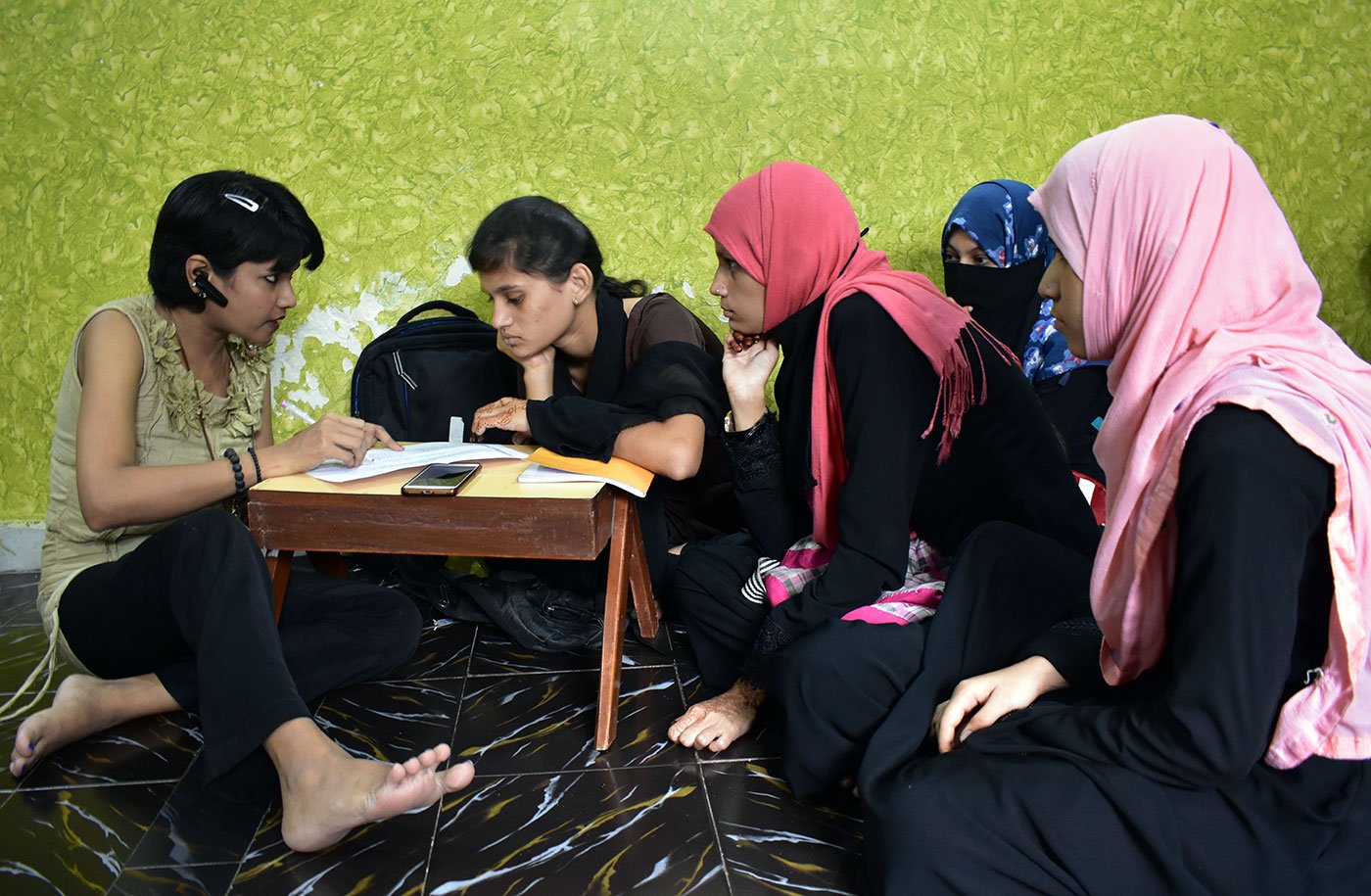 PHOTO • Apekshita Varshney
Faiza and Razia's family moved to Mumbra from Asansol village in Dumka district of Jharkhand around 18 months ago. The sisters dislike Mumbra. "There's garbage everywhere," Razia says. Faiza agrees: "There are more eateries than bookshops." The sisters were not expected to wear a burkha in their village. "We had a lot of freedom back home," Razia says. "But here," Faiza continues, "our mother says that the mahol [environment] is not good."
Their father owned a wholesale groceries shop in Asansol and decided to come to Mumbai, where their grandmother and other family members already lived, "to make more money and for better education for the children," Razia says. He has since set up a groceries shop near their house.
The sisters spend a majority of their day at the nearby A.E. Kalsekar Degree College, where they are studying in the first and second year BA, respectively. But it's in the Rehnuma library, a short walk from their home, that they are reminded, Razia says, "of the home they left behind [in the village]."
For Bashira Shah, from Babhnan village in Harraiya tehsil of Uttar Pradesh, the library is where she can stop thinking about home. Bashira got married when she was around 14 years old and moved to her husband's house in Ashokpur village near Gonda city. Her husband was a construction labourer in Saudi Arabia. Now 36, she has been widowed for two years and lives with her mother, her four children, and two younger sisters in Mumbra.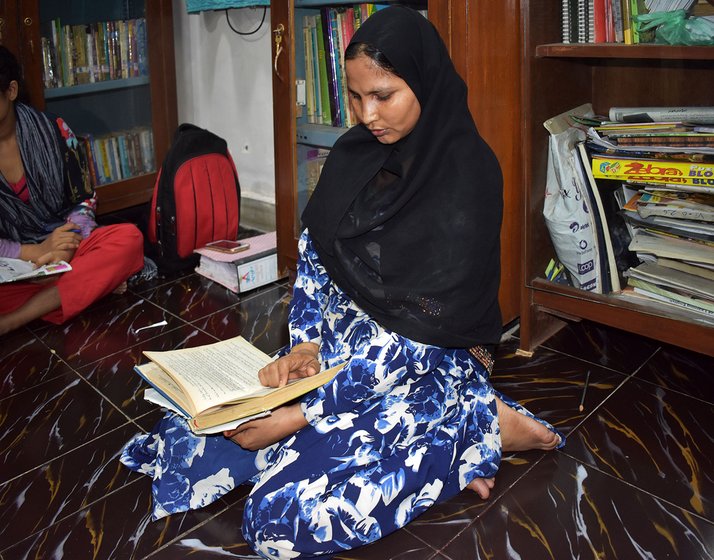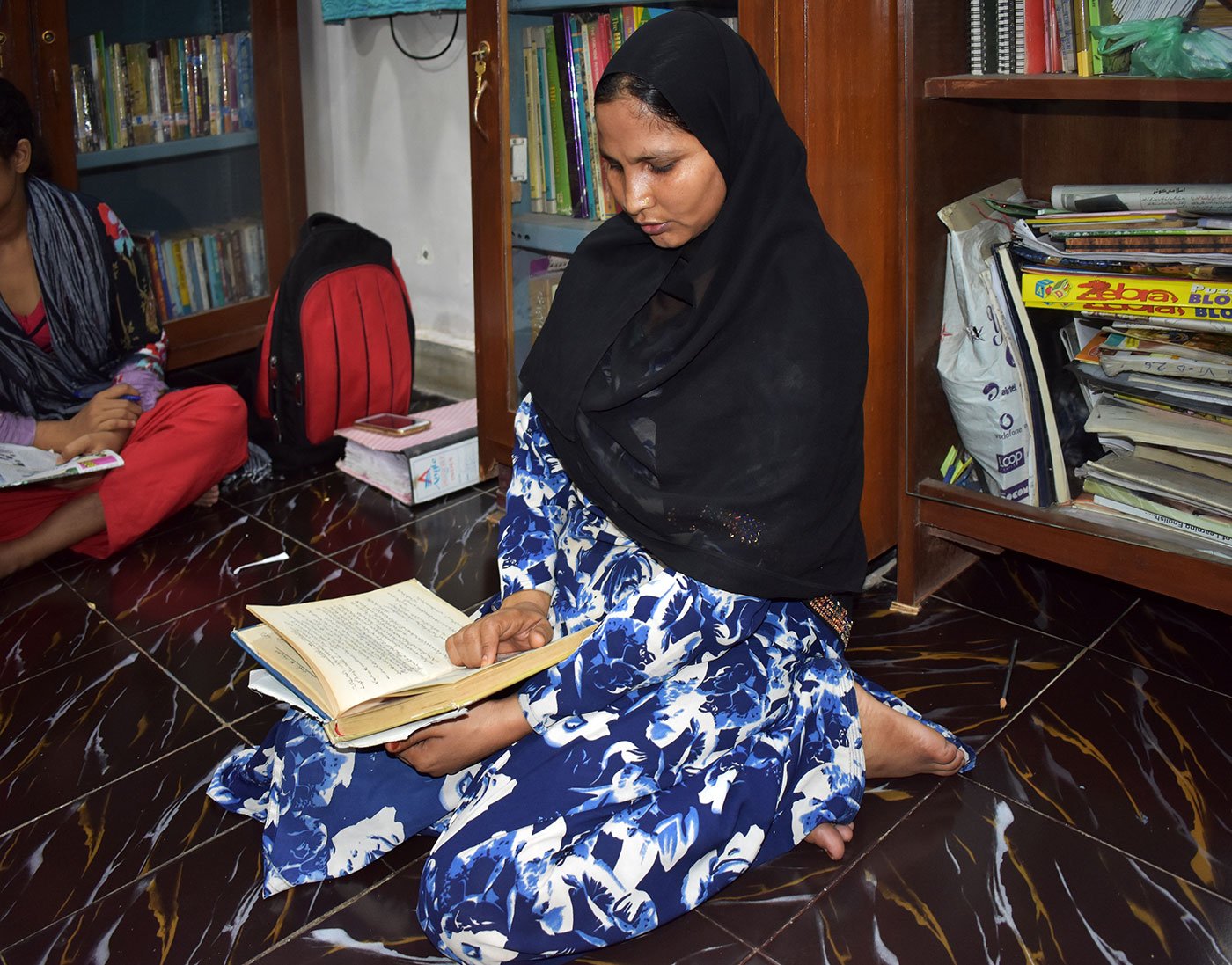 PHOTO • Apekshita Varshney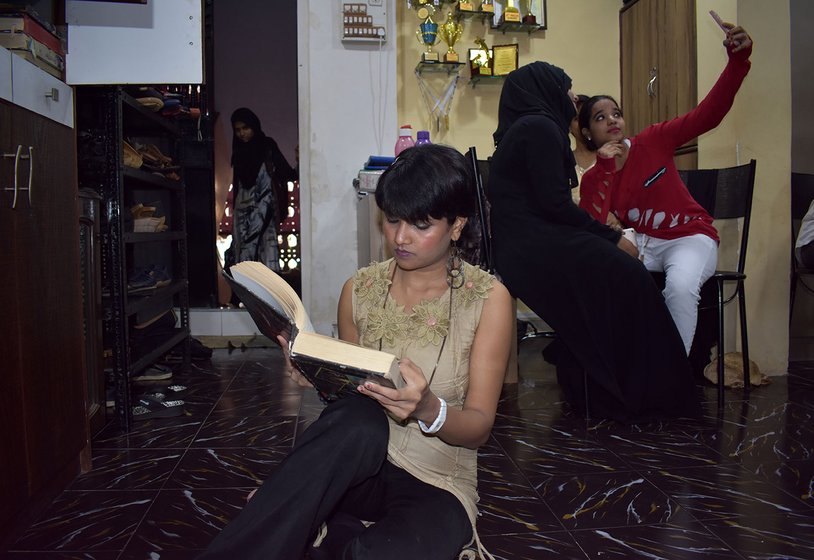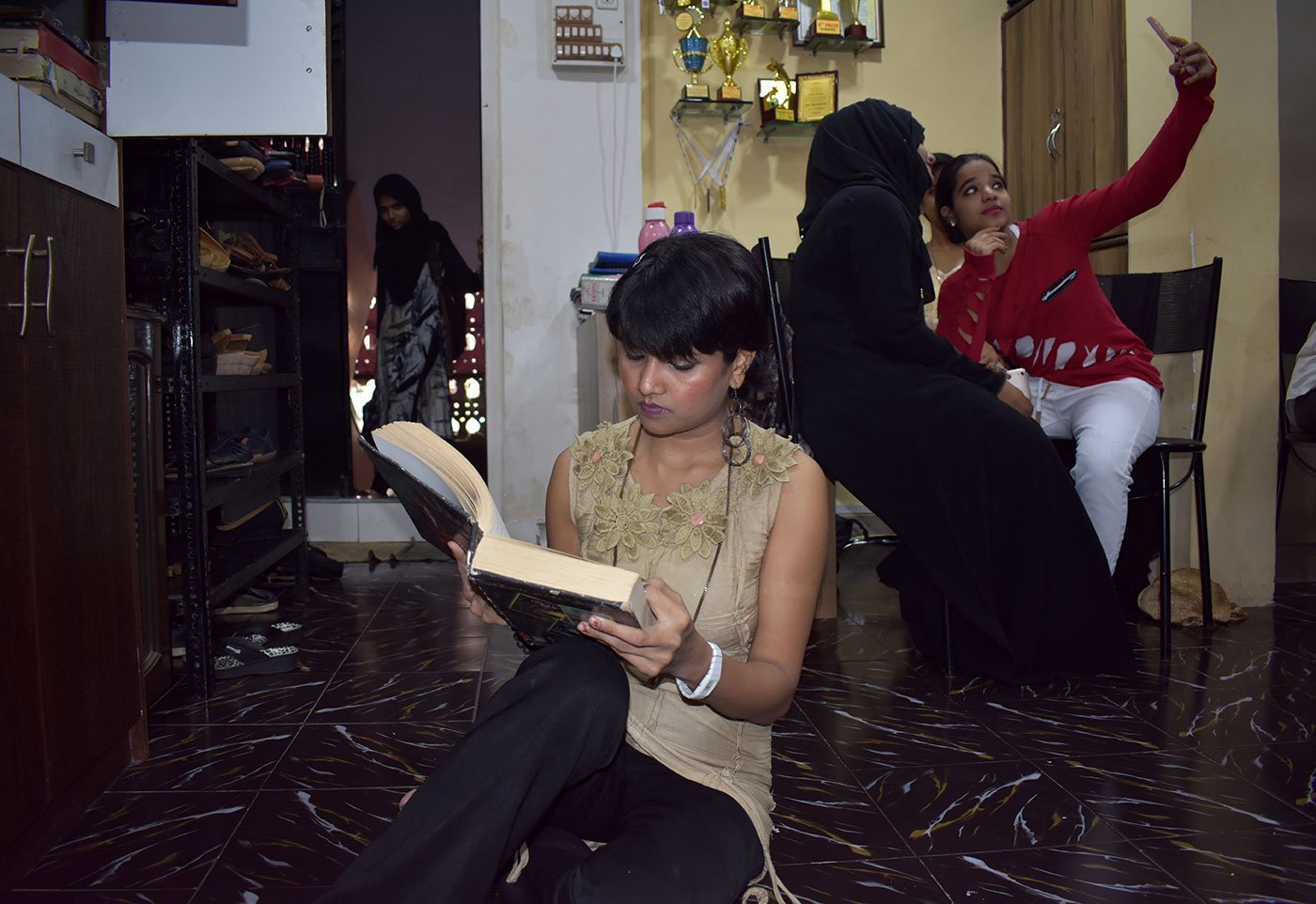 Her parents moved here in the 2000s but in October 2017, her father passed away. He had a dry fruits shop in Masjid Bunder which is now leased out. Two of Bashira's sons, 16 and 15 years old, have dropped out of school. But Bashira, who received a religious education and studied Urdu till Class 3, has decided to study more. "My dream, she says, "is to be able to talk to Shamshir and Shifa in English." Shamshir, 12, her youngest son and her daughter Shifa, 9, study at the Mumbra Public School in English.
Since the Rehnuma Library – rehnuma means a 'guide' in Urdu and Hindi – was started in 2003, women come here throughout the day to converse, laugh, relax, or curl up with a book. The library was set up with donations and a crowd-funding campaign by Awaaz-e-Niswaan, a non-governmental organisation. The space is also the NGO's Mumbra centre, where they focus on literacy for women and legal aid – many women come here with issues related to divorce, polygamy and domestic violence, among others.
The locality was chosen because of its predominantly Muslim population and, as Yasmeen Aga, Awaaz-e-Niswaan's coordinator for Mumbra says, "the lack of spaces for women to take off their burkha , interact with each other and relax."  The library initially acquired members by telling schoolgirls and their mothers about it, but as college girls found out, they too wanted to join.
The library's 350 patrons – all women, many of them from families that have migrated to Mumbai from various villages – renew their Rs. 100 membership every year to return home with books or magazines and occasionally participate in book club meetings and workshops.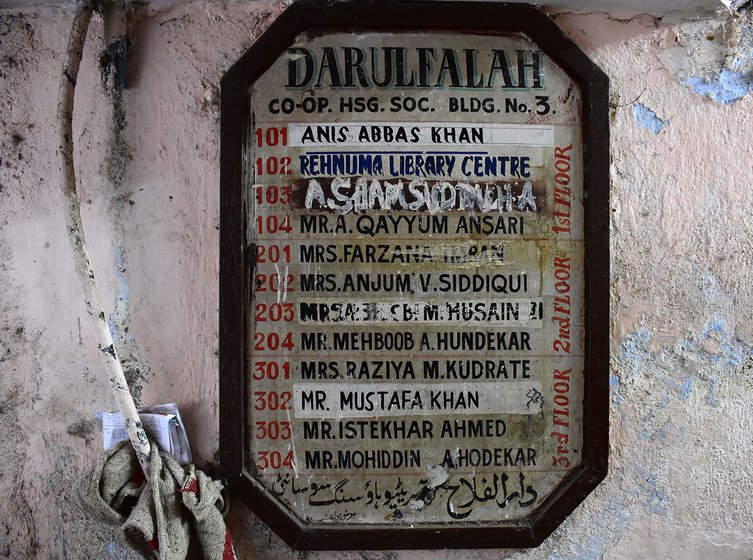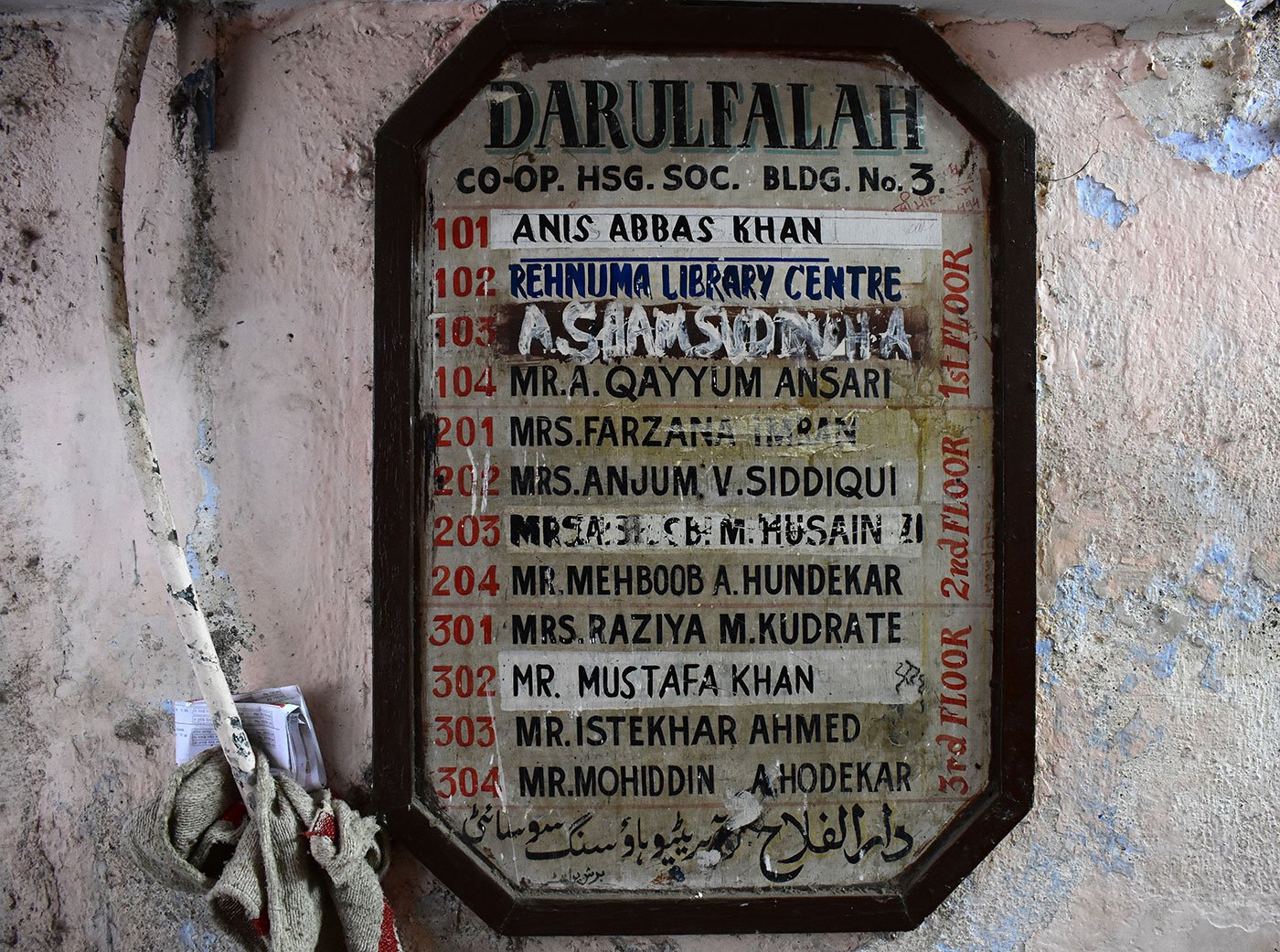 PHOTO • Apekshita Varshney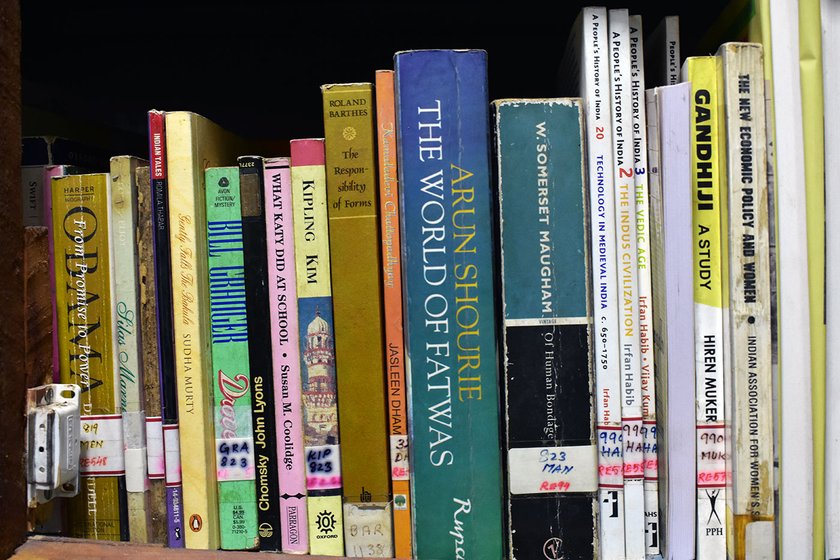 PHOTO • Apekshita Varshney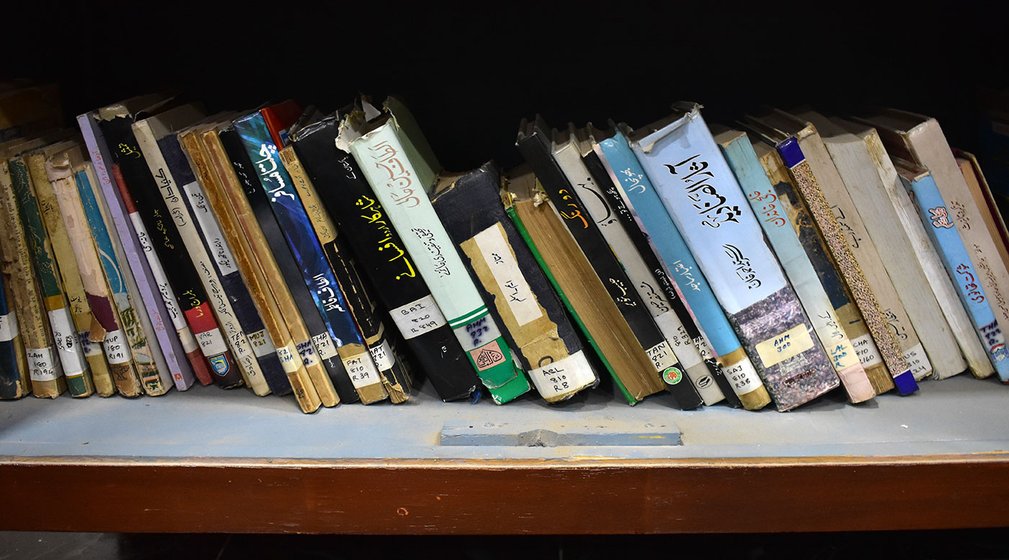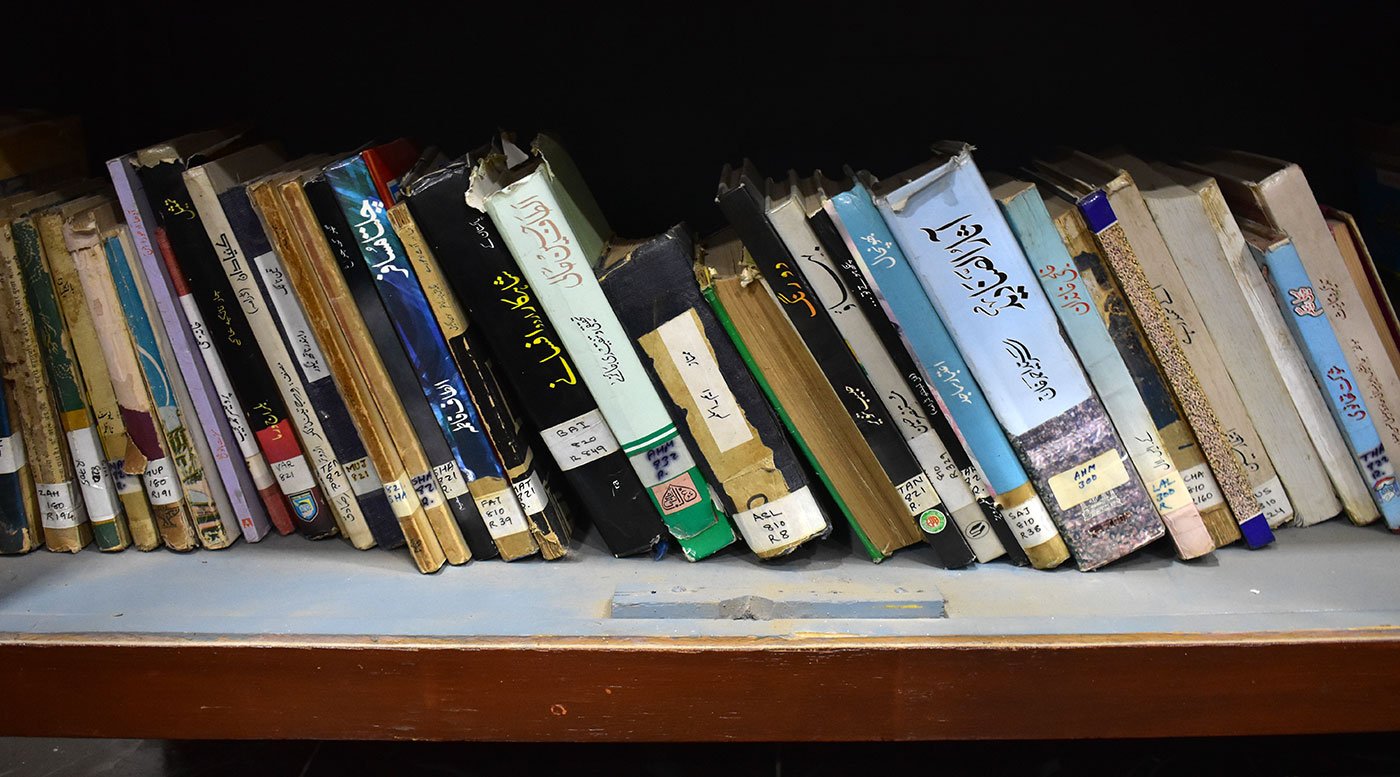 PHOTO • Apekshita Varshney
In the last book club meeting in mid-January, 12 young women discussed the poems of Mirza Ghalib and Faiz Ahmed Faiz. Librarian Faiza Khan says, "The readers were divided into two camps – each wanting the other to concede and admit that the poet they admired was the best."  Faiza, was in the Ghalib camp, but chose to remain sternly neutral.
Faiza, now 28, started coming to Rehnuma when she was 19. She was born and brought up in Mumbra, has a degree in Management Studies,  and was offered the librarian's job in 2014.  "The public spaces are dominated by men," she says. "And women are locked inside their houses". But at the library, she says, "women can be unabashed and sit and talk like men do."
She not only holds the key to the library, but also helps wandering visitors become members, and nurtures their reading tastes. "Urdu books," she says, "are the most sought after." These make the majority of the 6,000 books stocked in the library's five wood cabinets.
Some of the most popular books are by Pakistani authors that have been on long journeys. The pages of Ibn-e-Safi's Imran series and Jasoosi Duniya , highly popular spy novels, have turned yellow. The library has a collection of 72 Ibn-e-Safi novels.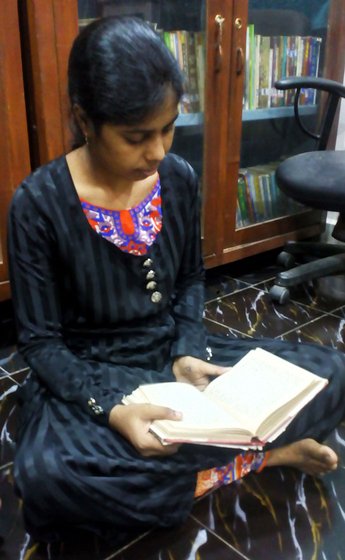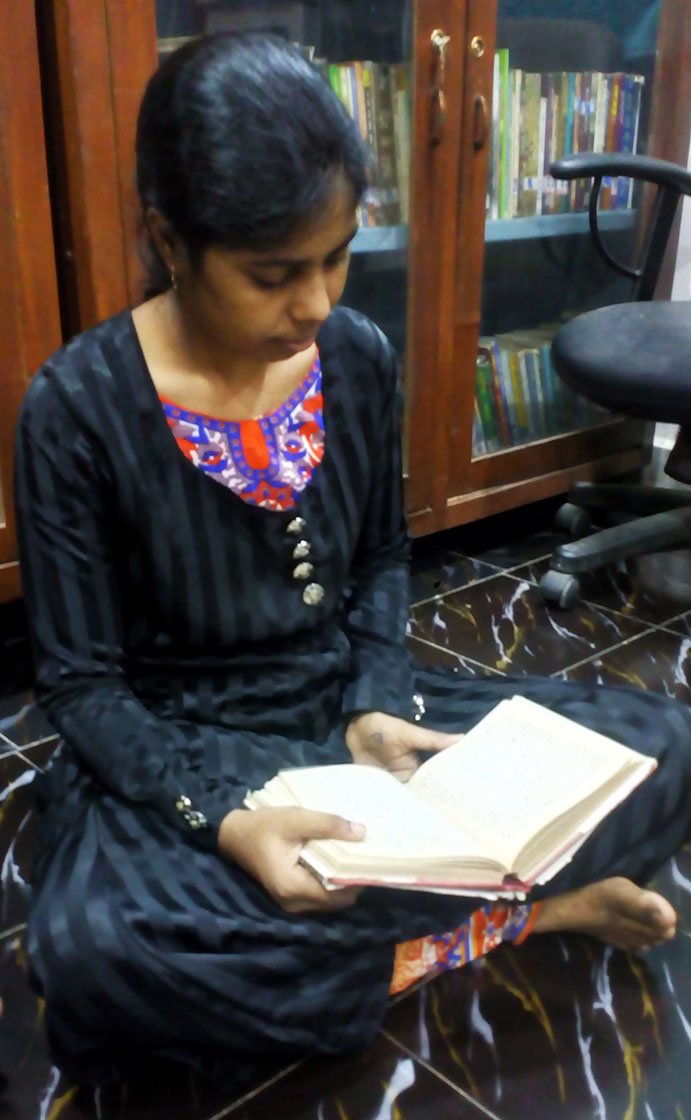 PHOTO • Apekshita Varshney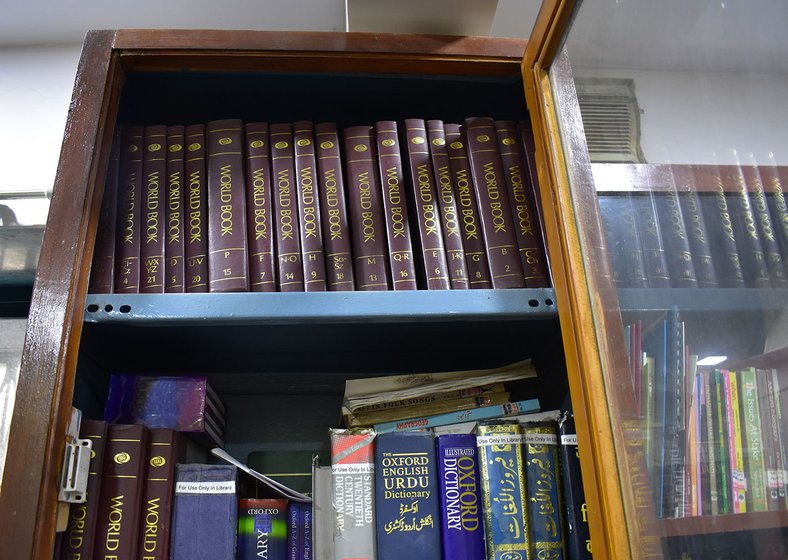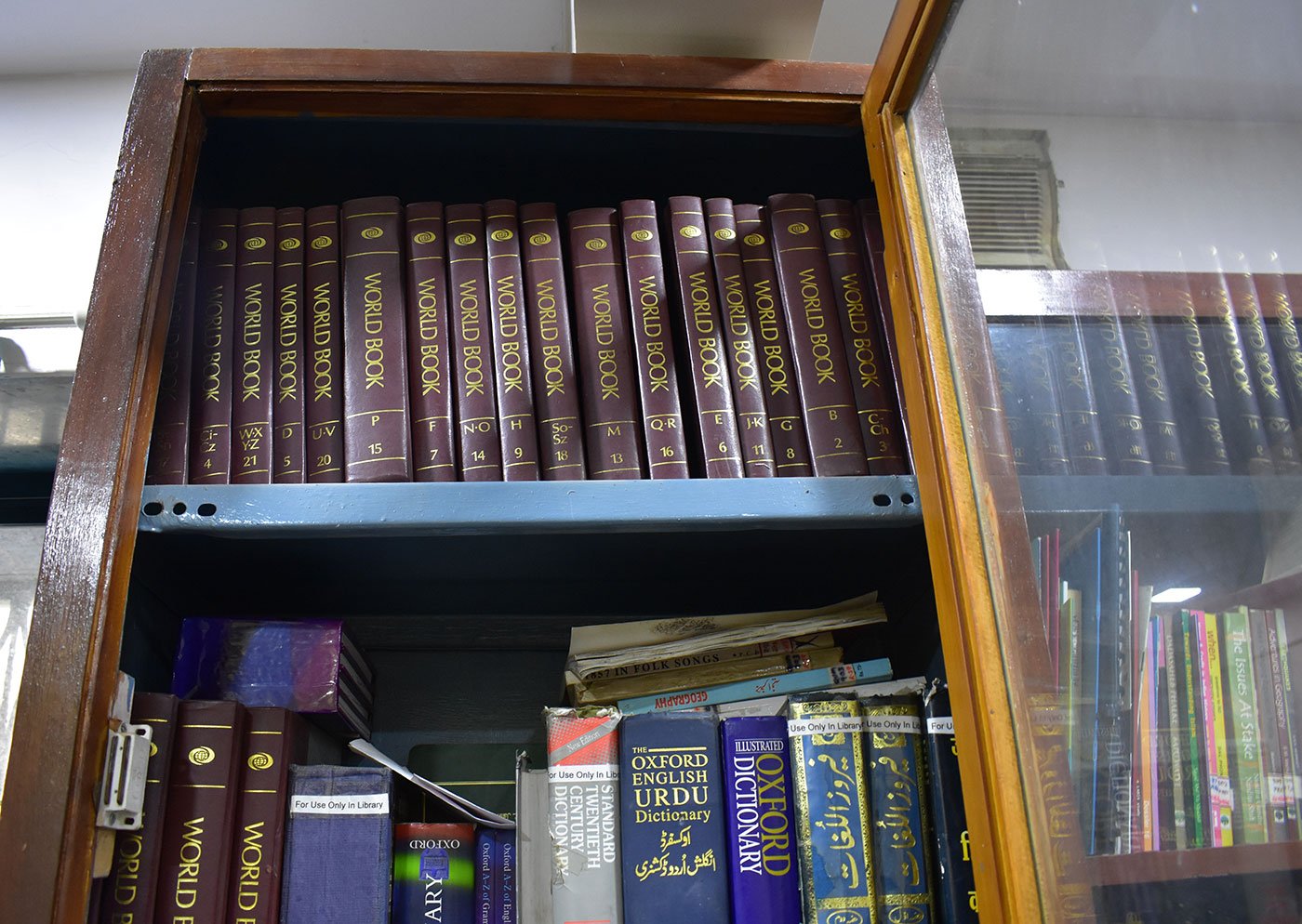 PHOTO • Apekshita Varshney
And the pages of the novels of Umera Ahmad (the library's most-read author), to Faiza's utter dismay, are dog-eared with plenty of margin notes. There are also books by Razia Butt, Ismat Chughtai, Munshi Premchand, Saadat Hasan Manto, along with the Urdu translations of Shakespeare. And there is Harry Potter, and of course, Chetan Bhagat too.
Zardab Shah, 20, who came to Mumbra from Khizirpur Ali Nagar village in Ghazipur district of Uttar Pradesh, has been reading Ujaale ki Talaash , a thriller in Hindi by Sharad Pagare, but wistfully looks at the World Book Encyclopaedia placed at the top of a cabinet. "We are not allowed to take these home," she says, regretfully. "I like to look at the maps and imagine going on an adventure to Switzerland."
The closest Shah has got to a sense of adventure was when she secured admission at Banaras Hindu University for an MA in English last year. But her parents didn't let her go. Her father is a truck driver, her mother a homemaker. "They didn't want me to live in a hostel," she says. Instead, they moved Zardab from her uncle's home in the village – where she was staying while studying – to be with them in Mumbra.  She is now trying to get admission in a Mumbai college. When someone in her building told her about Rehnuma, she immediately joined.
"I was wasting my time in the village… here, at least, I am reading and learning," she says. It took her some time to get used to Mumbra, but Zardab doesn't miss her village. "There are no opportunities," she says. "It's a place you can love as a child but not as a grown-up." And now she has forged an attachment so strong with the Rehnuma Library, that, she confides, "this might be all the adventure I need".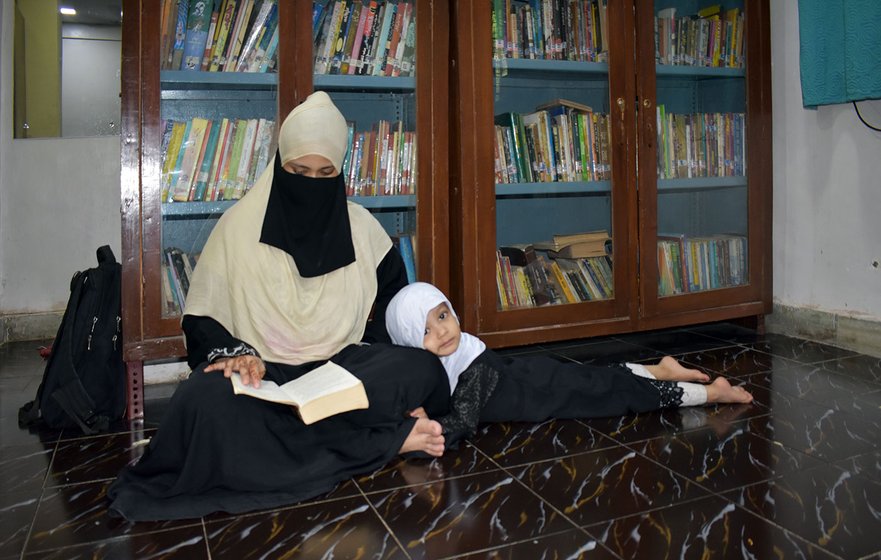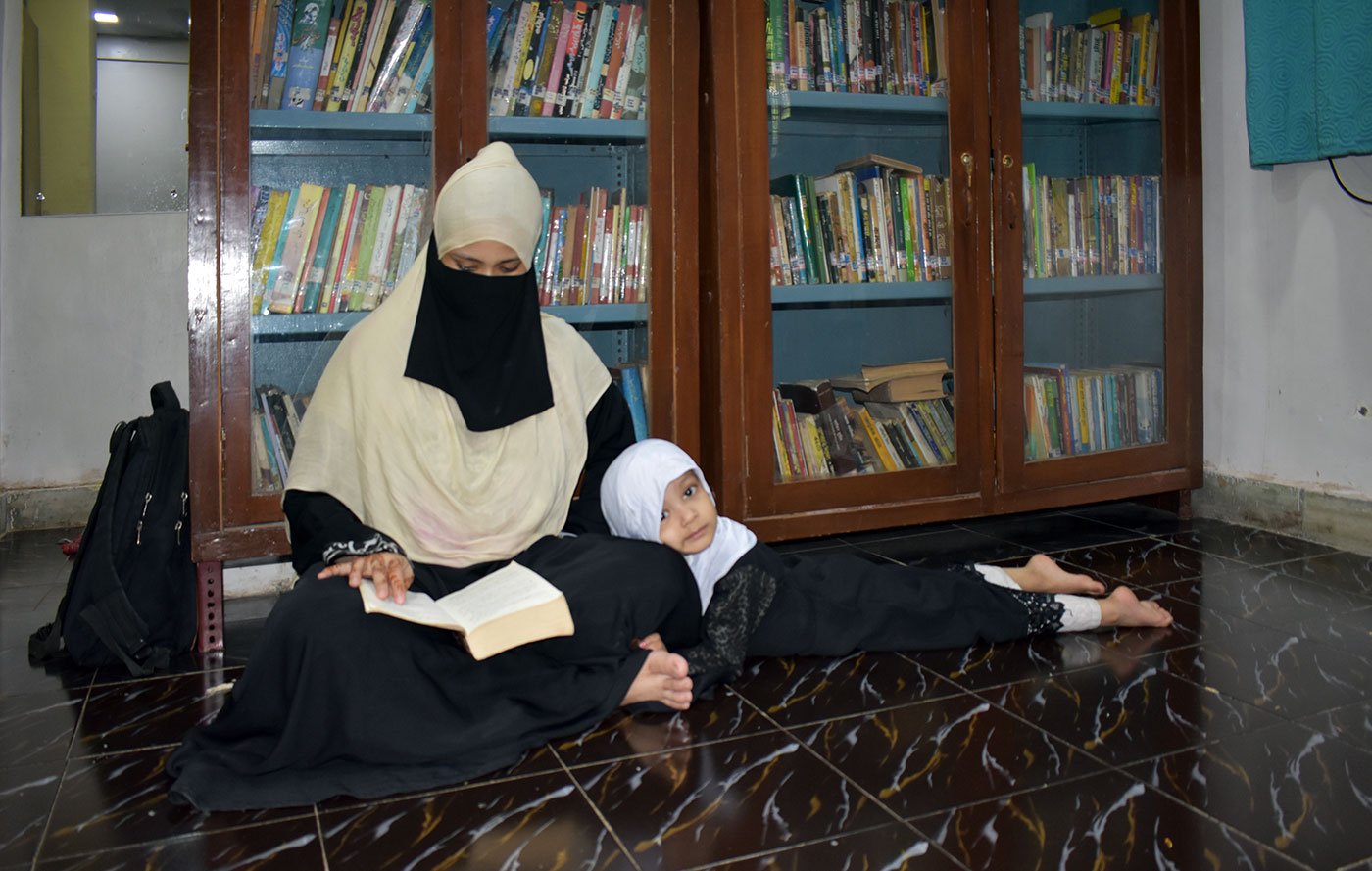 PHOTO • Apekshita Varshney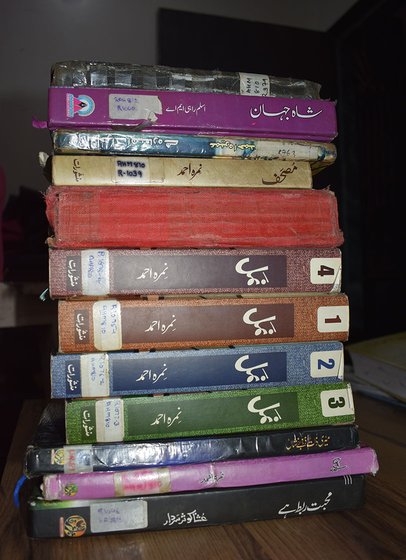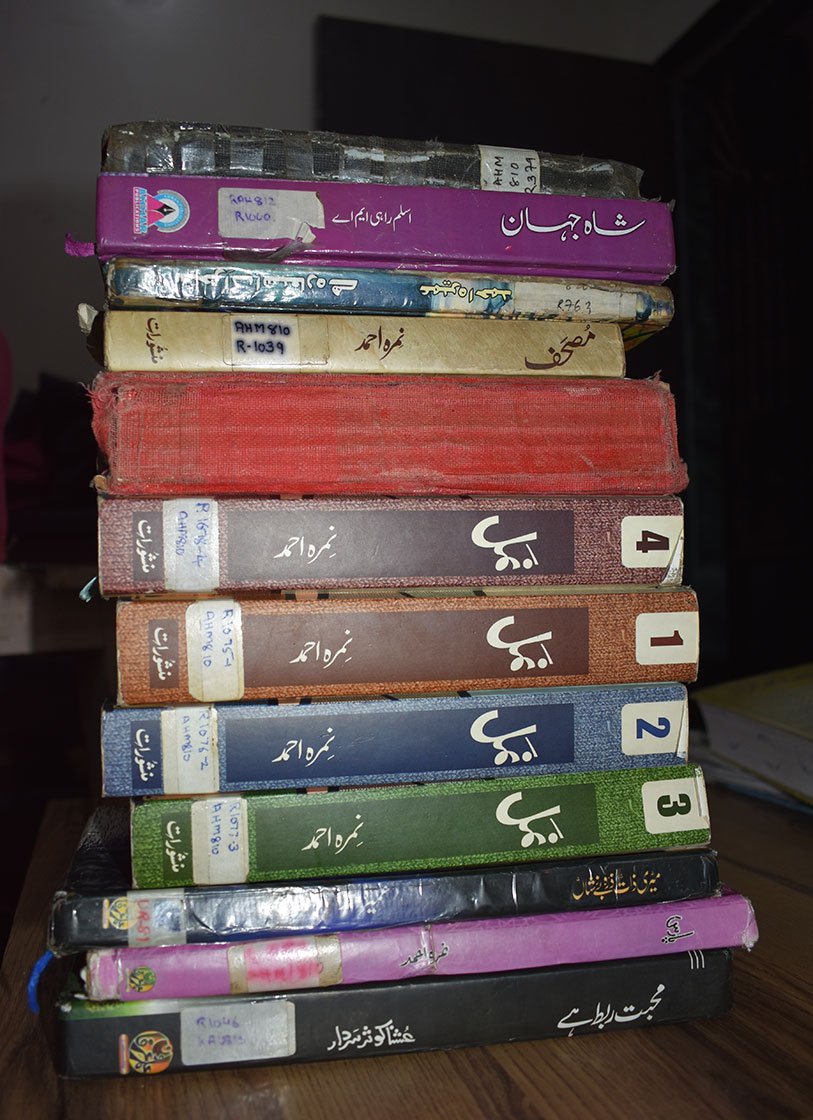 PHOTO • Apekshita Varshney
A large number of Muslim families moved to Mumbra after the 1992 riots in Bombay. Shafiya Shaikh's family too shifted at that time, distraught but physically unharmed, from Worli in south Mumbai. The first time she came to Rehnuma was when she was seeking help to get a divorce from her husband. He had abandoned a pregnant Shafiya after eight months of marriage. But when she saw the stacked books, she was confused, "I thought that like everything else for women in our society, even books were out of reach."
Soon, Shafiya and her mother Haseena Bano became members. Shafiya, now 27, also reads some of the books out to her four-year-old daughter Misbaah Fatima. The Shaikhs are now among the most voracious readers the library has seen – they check out 2-3 books and 2-3 magazines per week while others read and return one book in a couple of months.
Shafiya is currently reading Jannat Ke Pattay by Nemrah Ahmed, an acclaimed Pakistani novelist. It's about sexual violence against a girl, and the story's male lead doesn't save her. "It's not like a hero will come to save everyone," she says.
Apart from the lure of the books, the library brings women together to enjoy the company of others. Here, Zardab says, "We can sit however we like, laugh, play, or chat. There's freedom here that we don't find at home." A current hot topic is the popular Zee TV show about triple talaq – Ishq Subhan Allah .
Librarian Faiza has also become a role model for the young women – a job she has reluctantly accepted. She now takes it upon herself to gather them and discuss books they may not read themselves. The last book she discussed was Rana Ayyub's Gujarat Files – on the investigations in the 2002 riots in the state – and unlike the Ghalib-Faiz session, this discussion remained utterly sombre.