The Warlis might be known for their art – the distinctive paintings with geometric figures – but in their modest wood, brick and asbestos houses in the hamlets of Sanjay Gandhi National Park (SGNP) in north Mumbai, the community lives without it.
"There's only one Warli artist," says Asha Kaole, a resident of Rawalpada. "The rest of us are busy putting together a living." Neither Asha, 43, nor her two younger brothers were taught how to paint. "We didn't think it was important," she says.
The lone artist, 25-year-old Dinesh Barap, who lives with his family in Navapada in SGNP, agrees: "Warlis are no longer interested in their own art." Dinesh learnt how to paint from his grandmother. His mother Shamu, a balwadi worker,  also took lessons from her mother, but, he says, "She couldn't give it time or practice because we didn't have any money."
Besides, for long, the Warlis of the national park, Asha says, "have been living in fear [of eviction]. They tell us they will remove us any time. What will we do? We will have to build a new house in an unknown place" even though Asha's family has been living for "seven generations on this land." "What angers me," she adds, "is that they took our land and give us small jobs on it as if they are doing us a favour."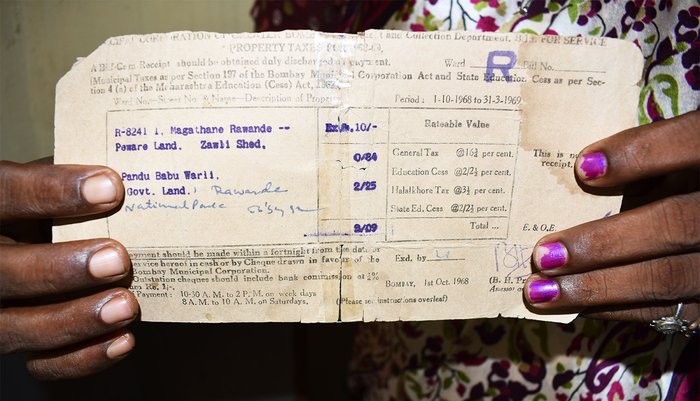 PHOTO • Apekshita Varshney
Though many Warlis work in SGNP as caretakers, guards, daily-wage labourers and gardeners, the debate over whether they should live inside the park continues. The tussle dates back to a court order of 1997

Among those given work as labourers was Asha's husband, who died over a decade ago. Asha was born inside SGNP, and at the age of five started accompanying her mother to sell drywood and vegetables in the Borivali market. As a teenager, she worked in a packaging factory. Since 2001, she has been working as a gardener at the park's Nature Information Centre – gardening, cleaning, sometimes answering visitors' queries, clocking more than 10 hours a day and earning Rs. 7,000 a month.
The Warlis  in the padas of SGNP estimate there are around 2,000-3,000 people of their community living in the park's premises, spread over 103 square kilometres. This forestland, the SGNP website says, was established as the Krishnagiri National Park in 1950. With the addition of more land, it became the Borivali National Park in 1968. In 1981, it was renamed the Sanjay Gandhi National Park. The Warlis – listed as a Scheduled Tribe, and spelled as Varli in the Census – also live in other parts of Maharashtra, including Nalasopara, Jawhar, Dahanu and Dhule, as well as in Gujarat and Dadra & Nagar Haveli.
She may not have proof of living here for many generations, but Asha has a property tax receipt from the Bombay Municipal Corporation (BMC) dating back to 1968. Despite that, she says, "We are not allowed to build a pucca house and many of us don't have toilets, gas connections or water supply inside our houses."
Lakshmi Warkhande, who lives in Keldapada, echoes Asha's complaints – her biggest grouse is the lack of community toilets in her hamlet, which forces women to use the forest to relieve themselves. Lakshmi is 60 and works as a part-time garden cleaner in park, earning just Rs. 800 a month; she depends on her son, who works on the maintenance of SGNP's safari.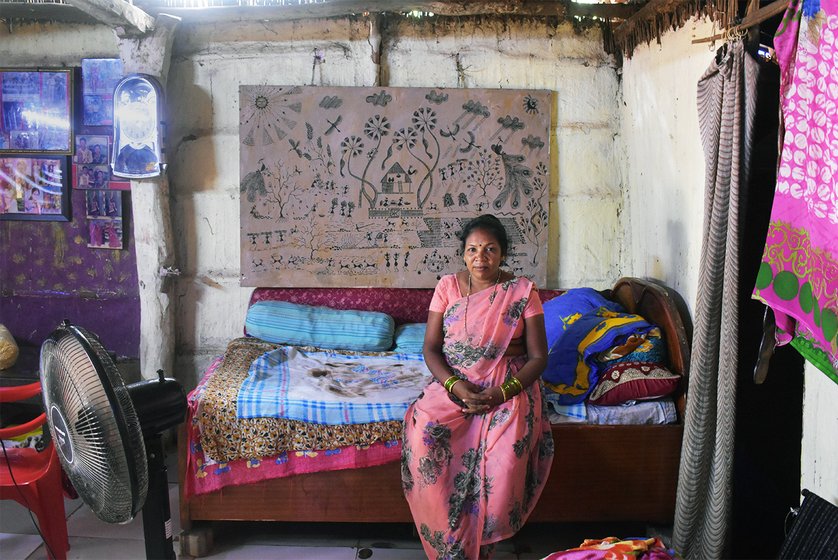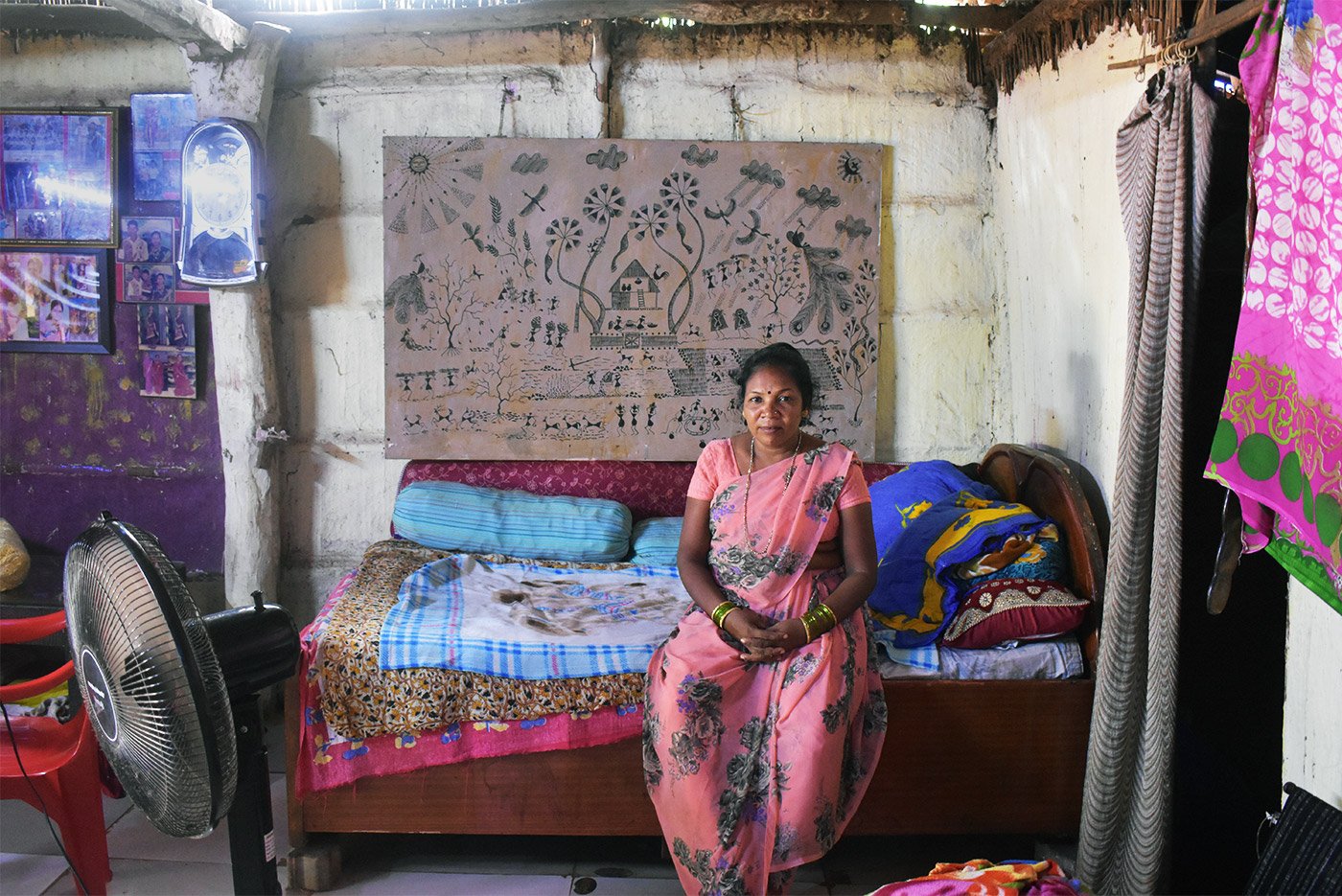 PHOTO • Apekshita Varshney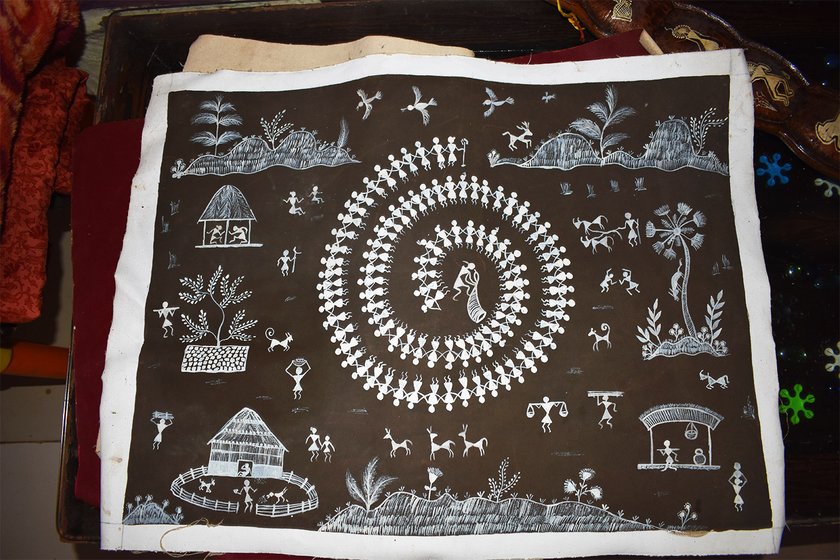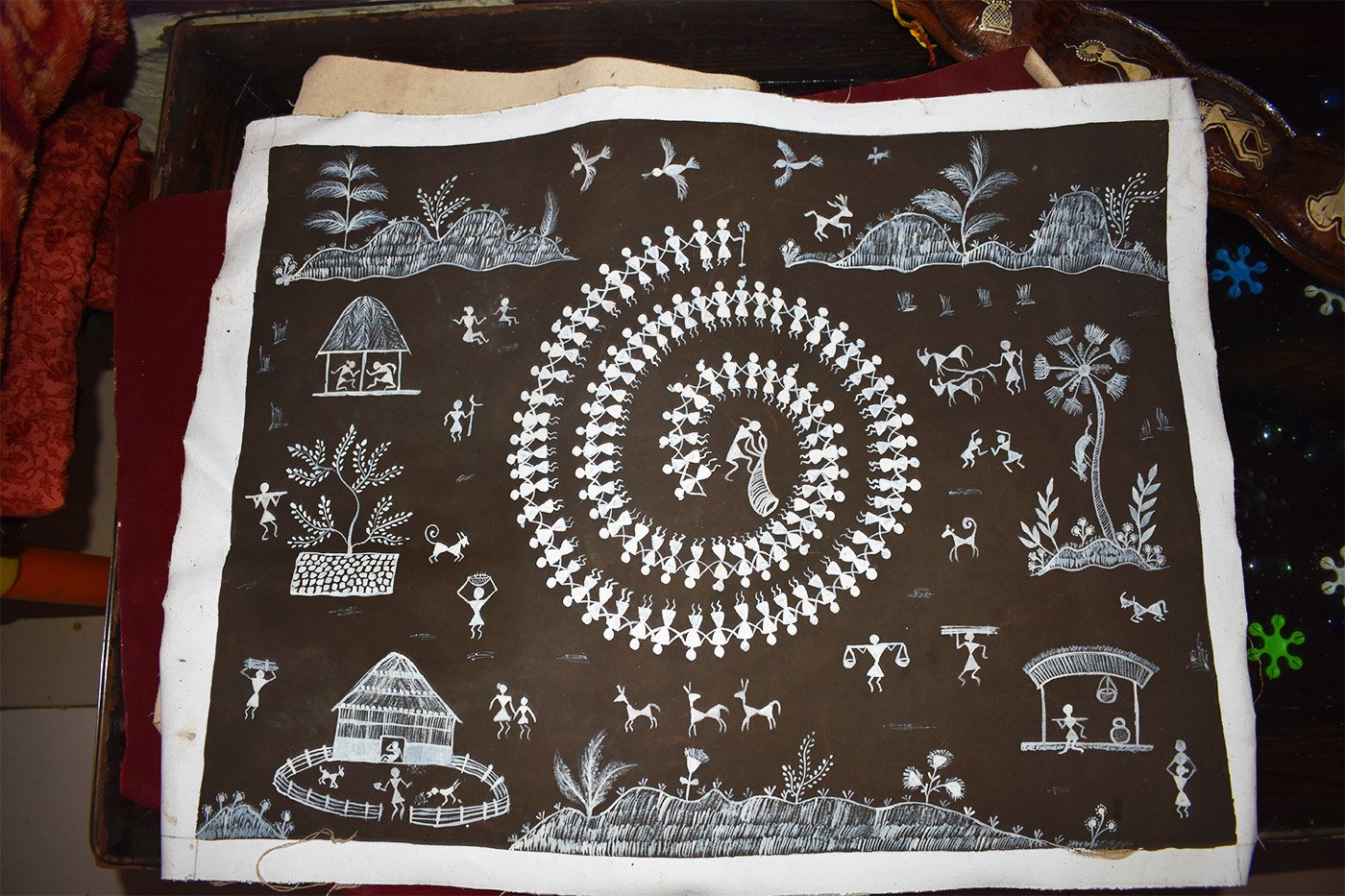 PHOTO • Apekshita Varshney
Like most other families here, the Warkhandes have access only to a community water tap and cook on a chulha using wood.  And like most of the families, they live in fear of their electricity connections being cut off. They use an 'electricity-sharing formula' with the forest department and take the connection from a nearby pole or point. This means that the 7-8 families who enter into this verbal agreement together contribute to the bill.
Though many Warlis like Asha, Lakshmi and their families work in SGNP as caretakers, guards, daily-wage labourers and gardeners, the debate over whether they should live inside the park continues. The tussle between the Warlis and the state dates back to a Bombay High Court order of 1997. Based on a public interest litigation filed by the Bombay Environmental Action Group in 1995, which cited a forest department survey to say that around 400,000 people were living within the park's boundaries, the court ruled that those who could prove they had lived here before 1995 qualified for resettlement after they paid a 'fine' of Rs. 7.000. The rest were to be evicted and their electricity and water connections cut off.
So far, says Kalpana Temgire, an Assistant Conservator of Forests and the spokesperson for SGNP, 11,380 families who qualified for resettlement have been given houses in Chandivali, and 13,698 are on a waitlist. A May 2002 report titled Environmental Management Plan for Sanjay Gandhi National Park, Borivali, says that there were a total of 67,000 huts in the encroached park area in 1997, and by the year 2000, 49,000 of these huts had been removed.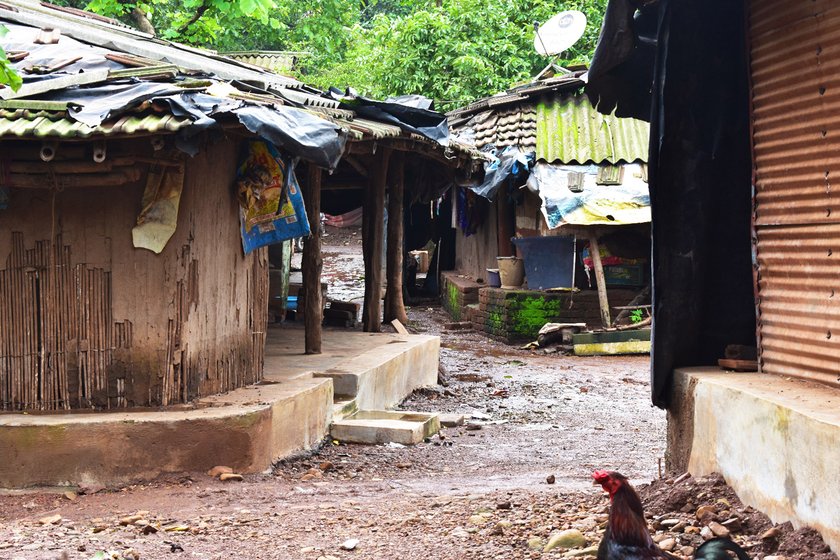 PHOTO • Apekshita Varshney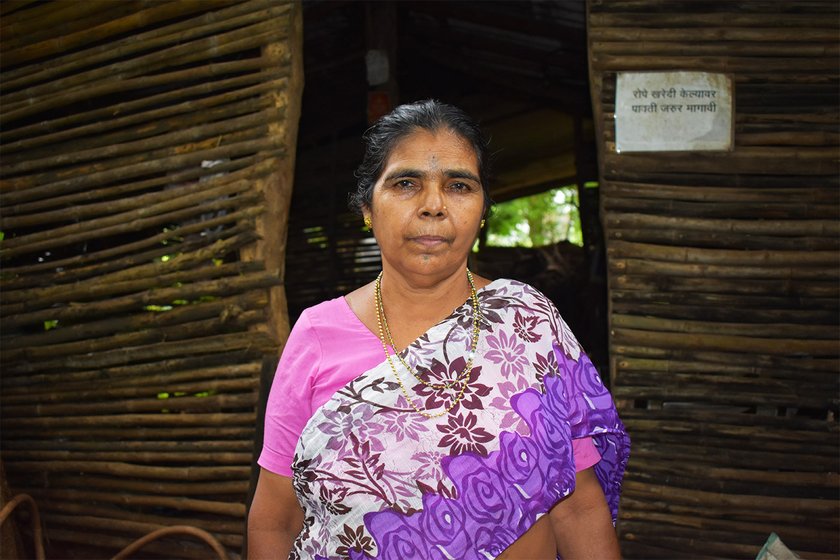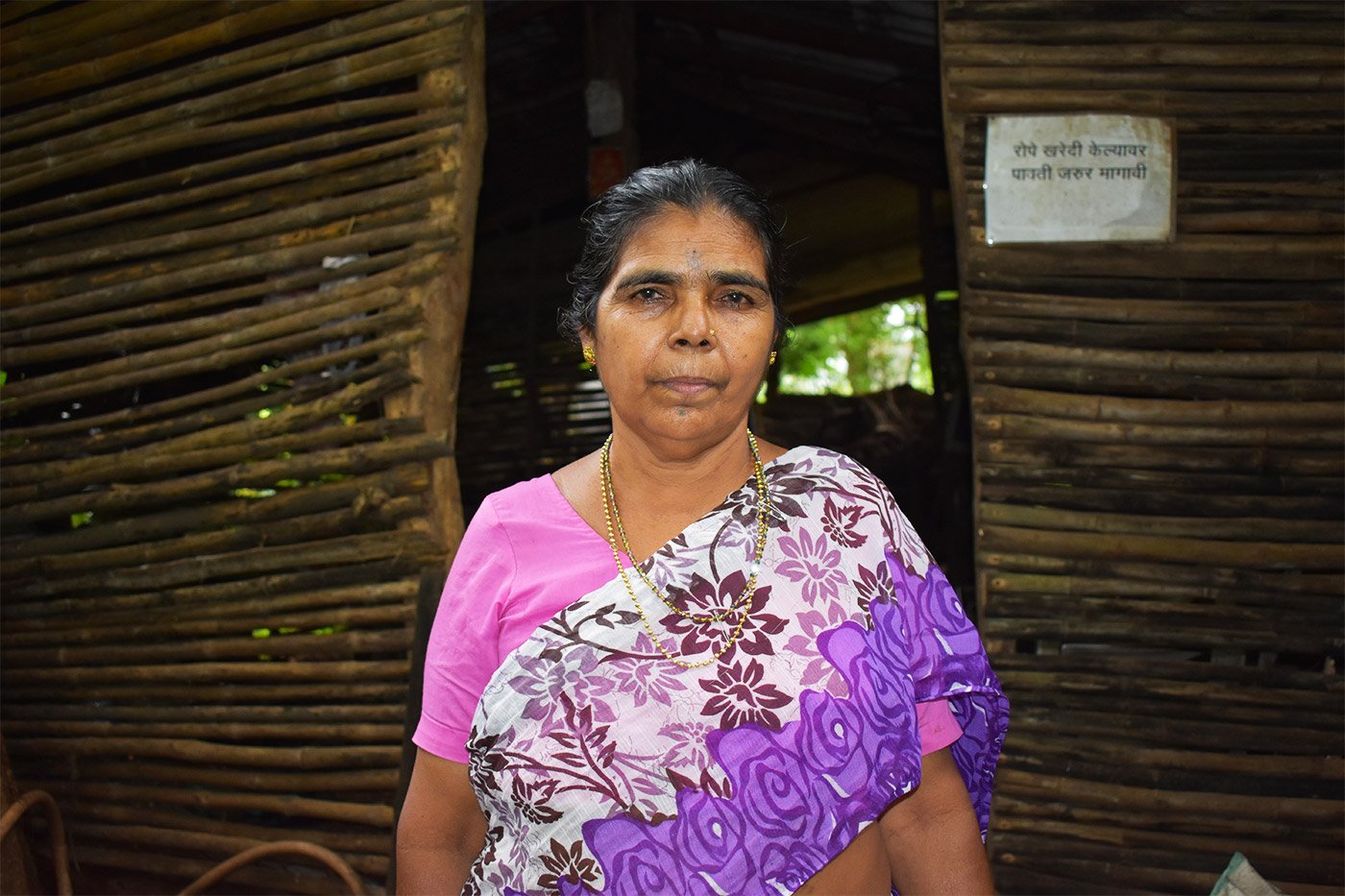 PHOTO • Apekshita Varshney
Most of the Warlis here have proof of residence dating back to before 1995. But those who couldn't afford to pay the fine (or didn't want to) have continued to live inside SGNP.  This includes Asha's family – two sons, two daughters-in-law and five grandchildren. She couldn't afford to pay the Rs. 7,000, and didn't want a relocation that "trades fresh air and open land with a window and a grill."
Back in 1997, Shamu Barap recalls, "we did not want to be rehabilitated in a 220-square feet flat outside our forest. It was as if we had neither a village nor a country." Shamu's daughter-in-law, 28-year-old Mansi, asks, "Why were we expected to pay a fine of Rs. 7,000 for land that was our own?" Mansi uses her sewing machine to stitch jute bags and make handicrafts – which she sells through a local NGO, earning Rs. 50 to Rs. 200 a day.
The Barap family of Navapada is among the few in the hamlets here who have an  indoor toilet, and gas and water connections. Shamu, now 47, remembers coming to Navapada as a 14-year-old bride from Nalasopara, 35 kilometres from SGNP's Borivali entrance, 33 years ago. "My mother-in-law introduced me to this place by showing me where their farms used to be," she says.
A year later, when her first child was born, she knew she wanted to educate him but, she says, "Our caste had no education." When an NGO started a balwadi inside SGNP in the early 1990s, Shamu joined as a cook, and continues to work there. "It's only from the early 2000s that everyone here started schooling their children," she says. However, the absence of education didn't mean the presence of traditional art. Shamu says, "Our financial difficulties have made us pick up the sickle, the shovel and the broom, but drop the brush."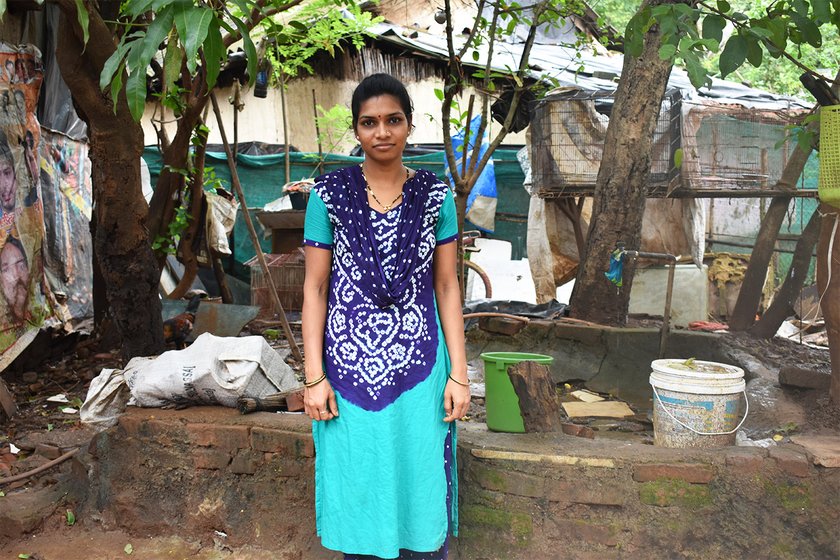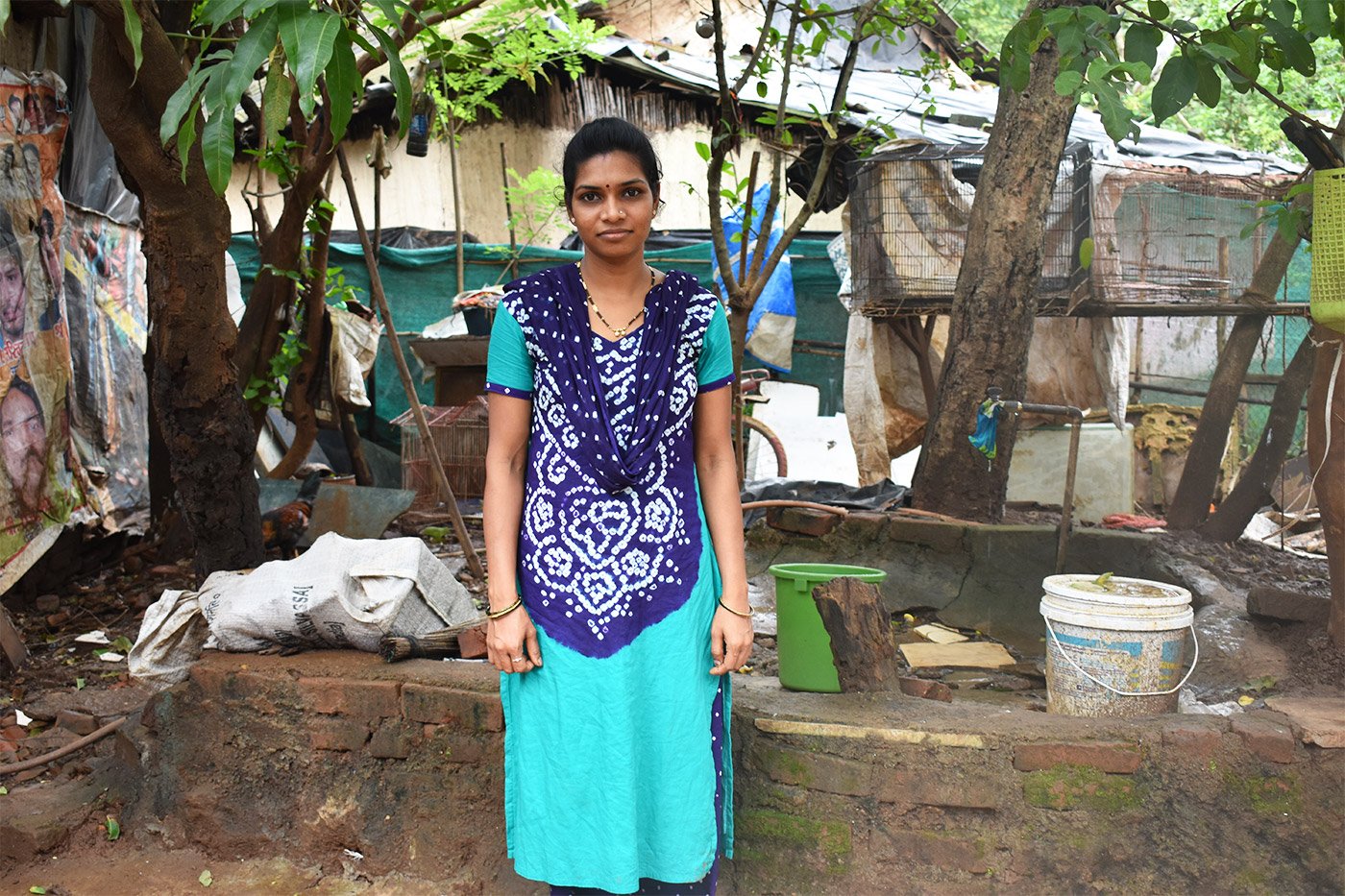 PHOTO • Apekshita Varshney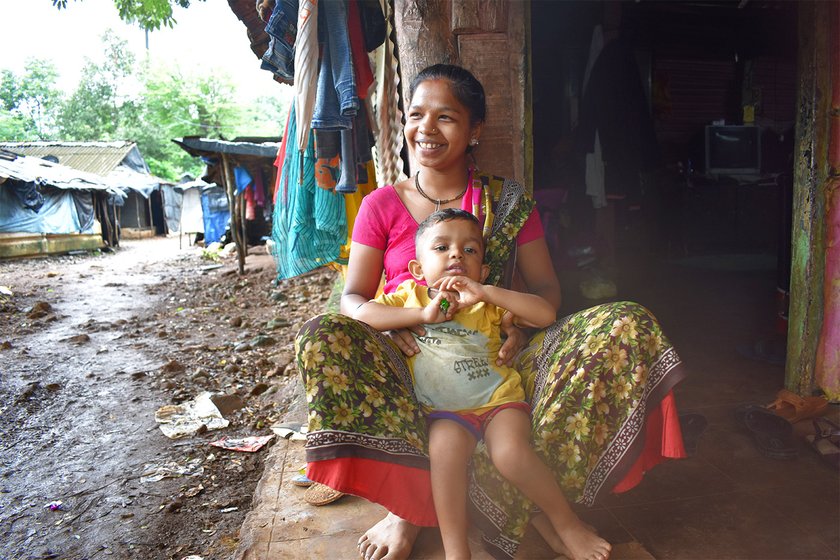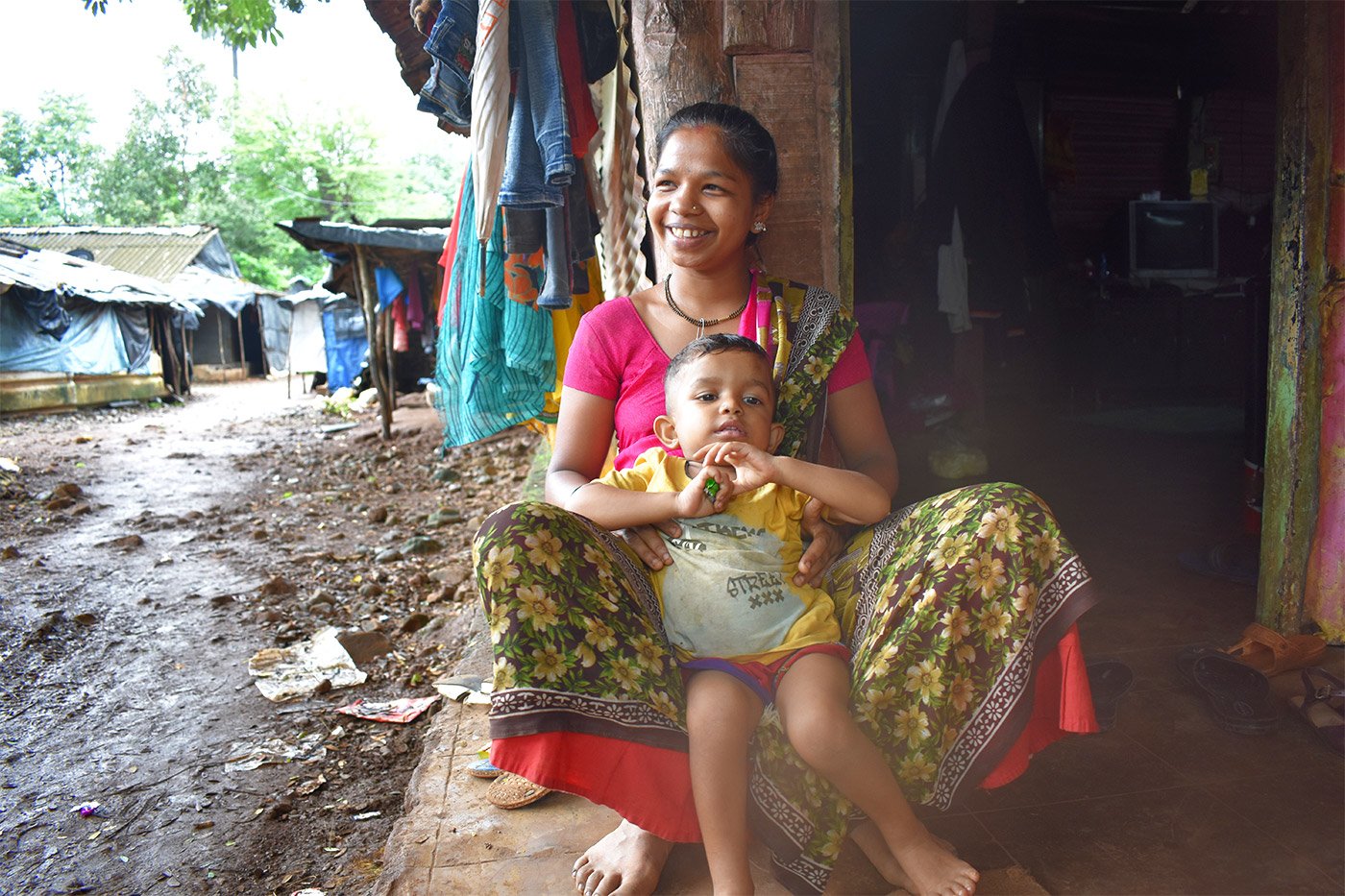 PHOTO • Apekshita Varshney
Among all the Warlis in SGNP, only Dinesh, the youngest of her four sons, makes a living from painting. He uses traditional Warli materials and colours – earth, cow dung, red ochre – and spends six-seven hours a day painting on canvas and sarees. He sells these online and through a network of customers, and even maintains a log of comments from his countrywide and overseas visitors (but does not want to talk about his income from this work). Dinesh also tries to teach Warli painting to children.
Although Lakshmi Warkhande still believes that "the paintings can't bring us food," Shamu is hopeful  "the younger generation can help revive" her community's art.
Meanwhile, the Warlis' demands have remained constant: they want electricity metres, toilets, water taps inside their house, and permission to build pucca houses. If relocation is unavoidable, Shamu says, "Don't send us to live in buildings, give us space in the periphery of SGNP."
However, the rehabilitation project remains delayed. A forest official (who did not want to be named), explains why:  "The second phase of resettlement hasn't been successful because the planned project in Chandivali, near Powai, falls in the airport funnel zone."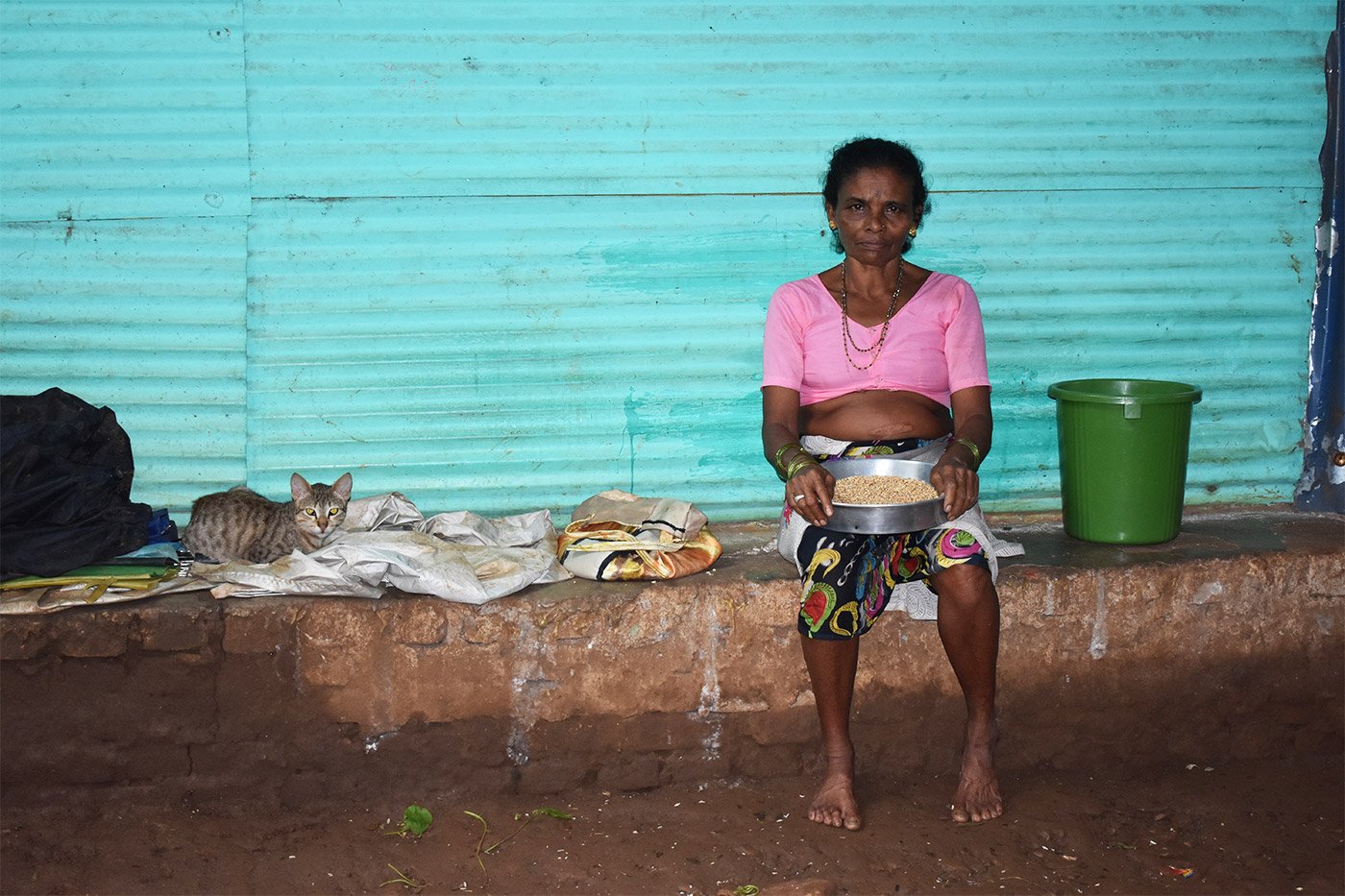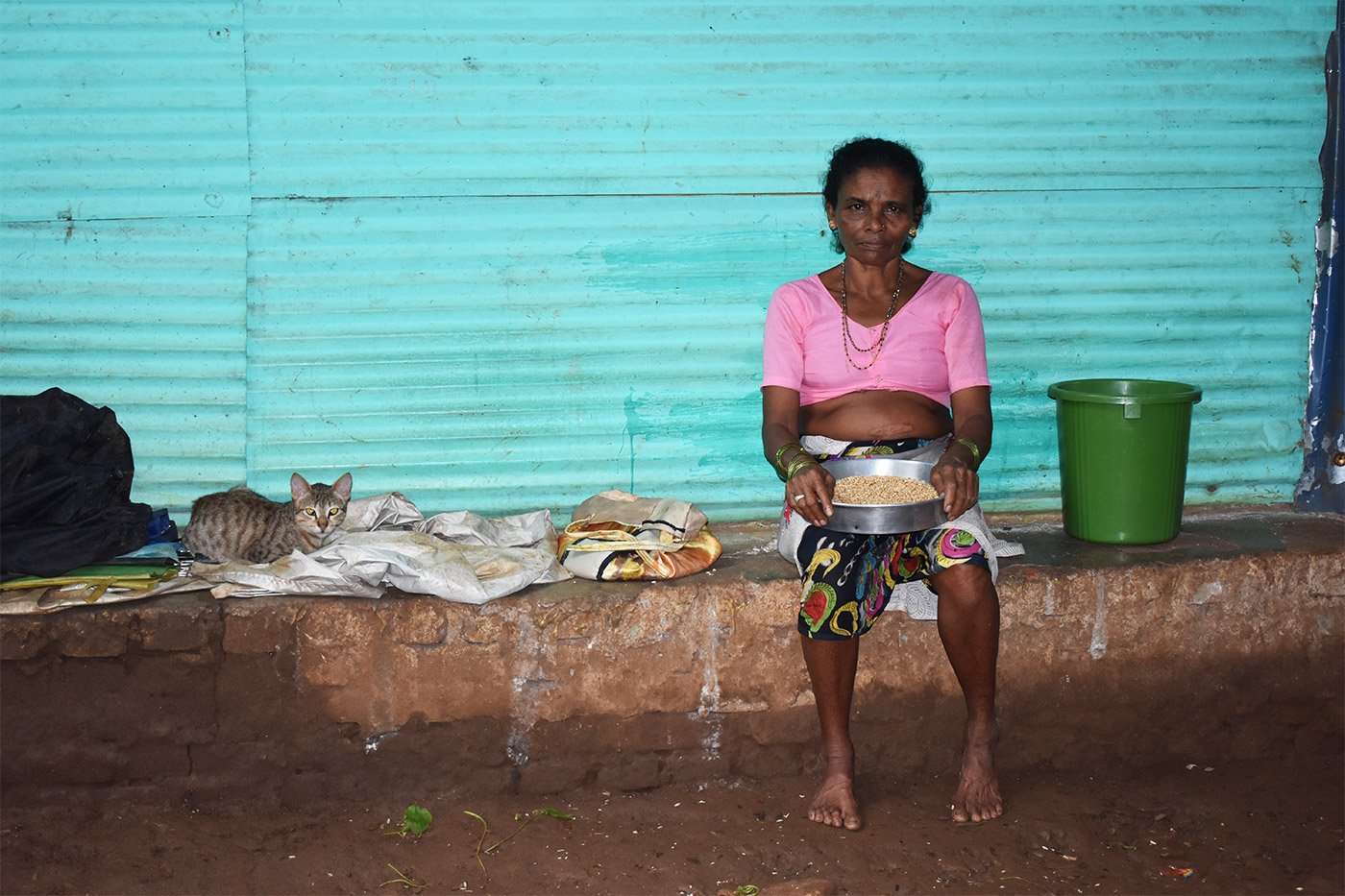 PHOTO • Apekshita Varshney
Another forest officer explains the reason for the slow rehabilitation: "There is little coordination between the numerous agencies involved in SGNP – the four municipal corporations – Mumbai, Thane, Mira-Bhayandar, and Vasai-Virar – along with the Slum Rehabilitation Authority (SRA) and others."
And Assistant Conservator of Forests, K. M. Dabholkar, says, "The government is planning to rehabilitate the eligible households in Marol-Maroshi near Aarey [about 15 kilometres from SGNP's Borivali entrance]."
Amid the 1997 court judgment and tardy relocation, the Forest Rights Act of 2006 has been a respite for the Warlis. The Act secures the Adivasis' rights to their land as well as to forest resources. Section 3(1)(m) of the Act "recognises the right to in situ rehabilitation including alternative land in cases where the forest dwelling Scheduled Tribes and other traditional forest dwellers have been illegally evicted or displaced from forest land without receiving their legal entitlement to rehabilitation..."
But SGNP spokesperson Temgire says, "The Act  focused on gram sabhas and was expanded to cover municipal corporations only in 2015 [through a notification of the Ministry of Tribal Affairs]. Now we will move ahead when the municipal corporation forms a committee."

Some among the younger generation of Warlis are waiting for the rehabilitation project to restart, and are not opposed to moving. Aarti Tokre, 23, says it could "help bring more opportunities." Aarti is a BMC contract worker who sweeps roads near Borivali station in the morning, runs an eatables shop from her hut, and in the monsoons grows vegetables like gourd and cucumber in SGNP to sell in the Borivali market.
Opposite her hut is the hut of her mother-in-law's mother, Gauri Dhadge, who is nearing 70. "We might adjust outside," Aarti says, eyeing her, "but they won't".