Hasan Ali's life is as fragile as the char on which he lives. Unlike many char -dwellers, who shift to the riverbank or beyond when the river Brahmaputra erodes their land, Ali moved to a char from Panikhaiti village along the bank – making a reverse journey into uncertainty.
Panikhaiti is a village in Mahtoli panchayat of Assam's Kamrup district.
"When floods and erosion washed away our house three years ago, leaving me without a paisa, I came to this char , where I could at least erect a roof over my head to survive," Ali says.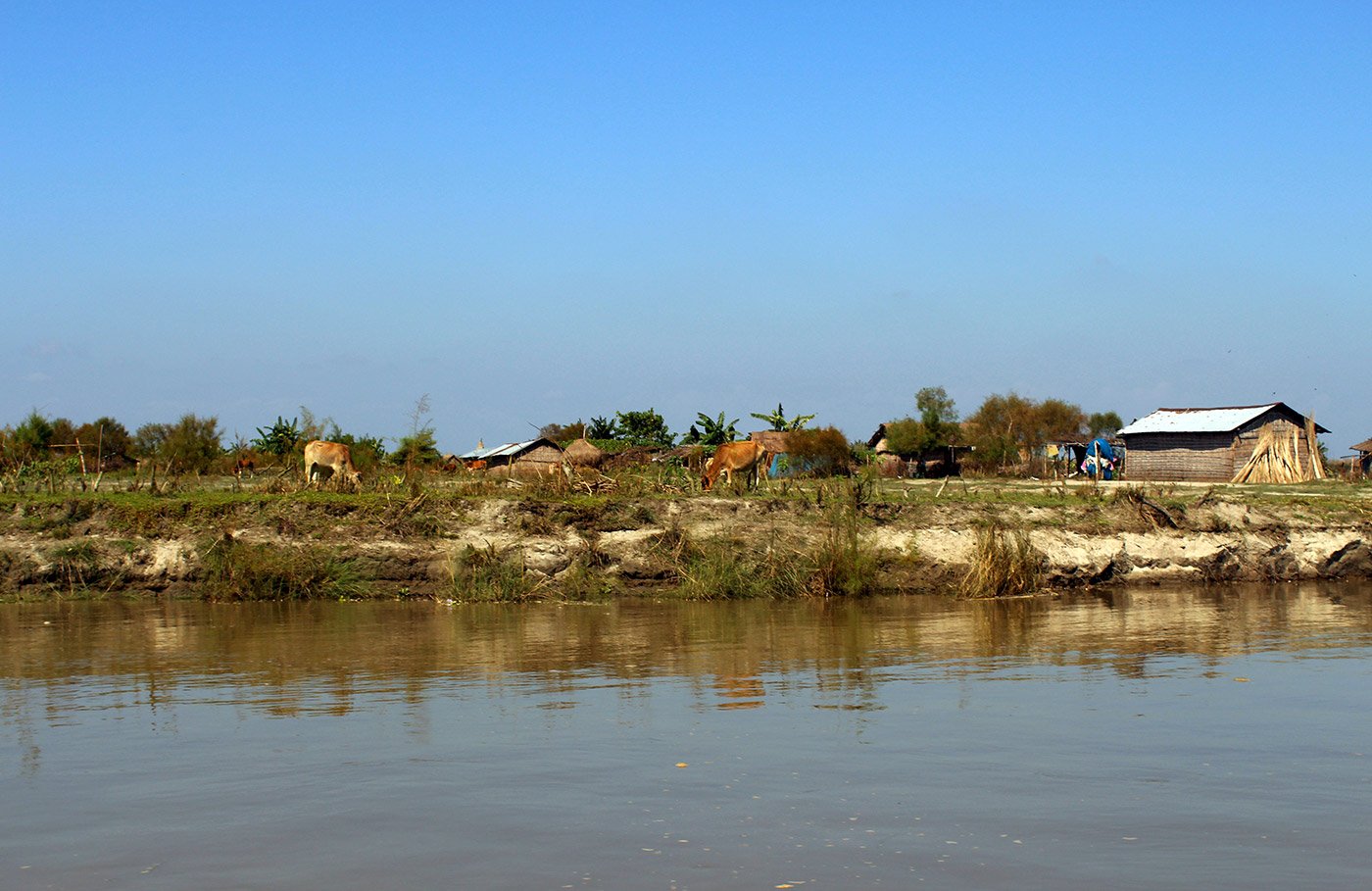 PHOTO • Ratna Bharali Talukdar
Ali had three bigha (seven bigha is equal to one hectare) of agricultural land when they settled on the char , but the entire plot has been lost to erosion over the last three years. He has no idea where he will shift next, when another bout of displacement occurs due to constant erosion of the char .

Chars – the sandbars or small sandy islands in the braided river – are formed by the mighty Brahmaputra all along its 728-kilometres east-west stretch in Assam. They account for about 5 per cent of the total area of the state, and are spread across 14 districts and 55 blocks.
Chars are an integral part of the fluvial process of the river and its tributaries, states the Assam Human Development Report , 2014. Suspended particles and the bed load combine during floods to create these almond-shaped formations. Their rich alluvial soil is ideal for crops such as mustard, sugarcane, jute, peanuts, sesame seeds, black gram, potatoes and other vegetables. But the height of a char is never greater than the level of the highest flood, keeping them at perpetual risk of destruction.
There are 2,251 char villages in the Brahmaputra valley. They sustain a population of more than 24 lakhs, over 90 per cent of them migrant Muslim families from erstwhile East Bengal, according to the Socio-Economic Survey Report (2002-03; the most recent population data available) published by the Directorate of Char Areas Development, government of Assam.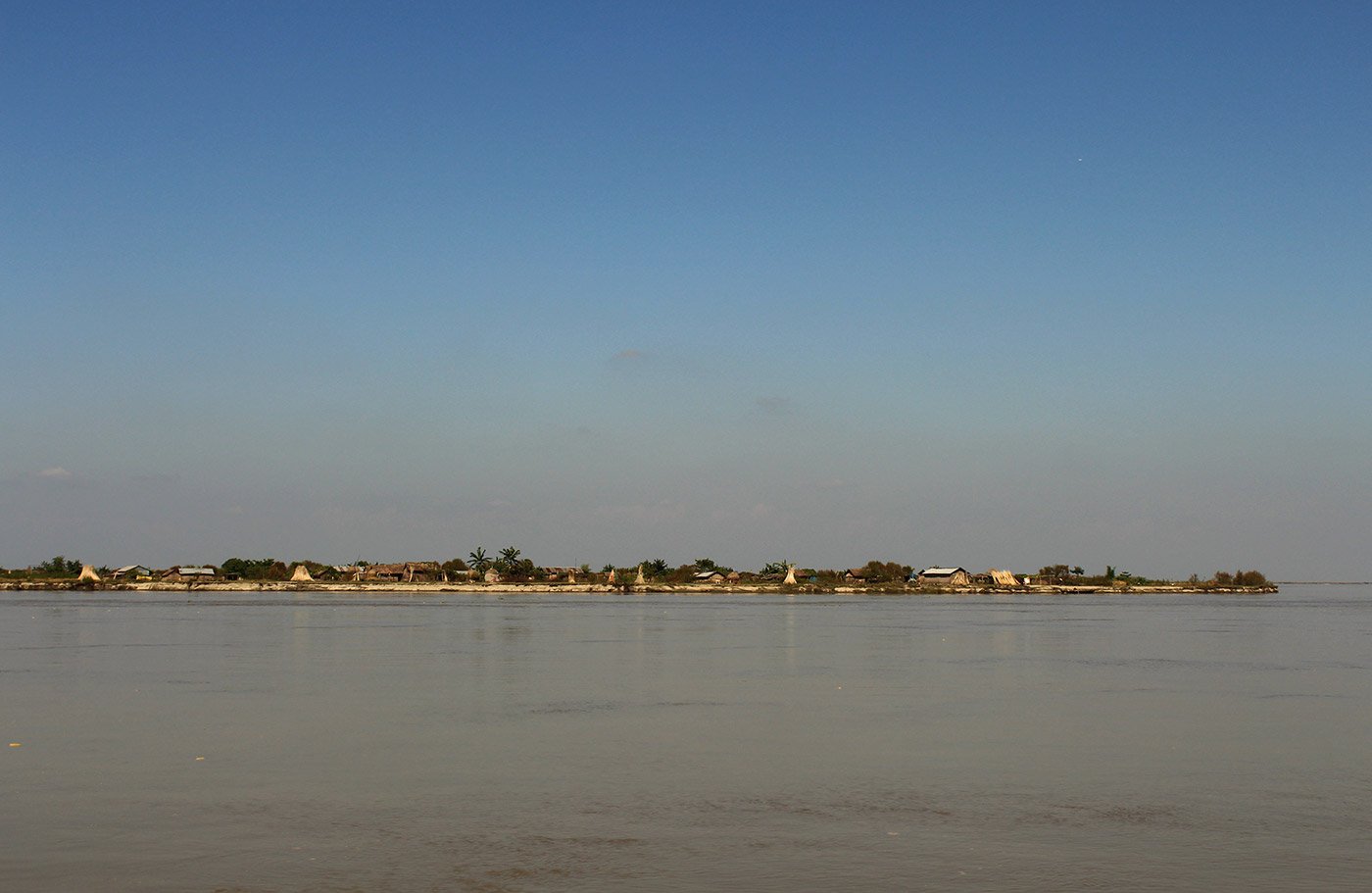 PHOTO • Ratna Bharali Talukdar
The colonial British government, in an attempt to extract revenues from agricultural lands, encouraged poor farmers from East Bengal to migrate and cultivate these chars . The generations that have grown up here speak a Bengali dialect as well as Assamese, and are listed as speakers of Assamese in the population census.

Ali's char has three different names – Panikhaiti (the eastern part, where he lives), Lakhichar (the middle) and Morishakandi (the western part). Each refers to the original villages from which the inhabitants had been displaced.
It takes around 25 minutes to reach the char on a bhutbhuti (a mechanised country boat) from the riverbank. The river between the char and the bank is about three kilometres wide today – it was only a small stream of the Brahmaputra  separated the char and Panikhaiti village from the riverbank when it was formed nearly 10 years ago. The char , roughly two kilometres wide and two kilometres long, presently houses over 800 displaced families, residents estimate.
We find only the elderly, mothers and children at home. While young girls here help in household work and are married off by 14 or 15, most of the young boys migrate for work. They go to Guwahati and other cities in the North East, or even as far afield as Delhi, Mumbai or Chennai to work as construction workers, security guards, industrial labourers, or hotel staff. All of them narrate a similar story of displacement and subsequent hardship. Ali's elder son has also migrated to Guwahati to work as a daily wage-earner after completing his higher secondary exams.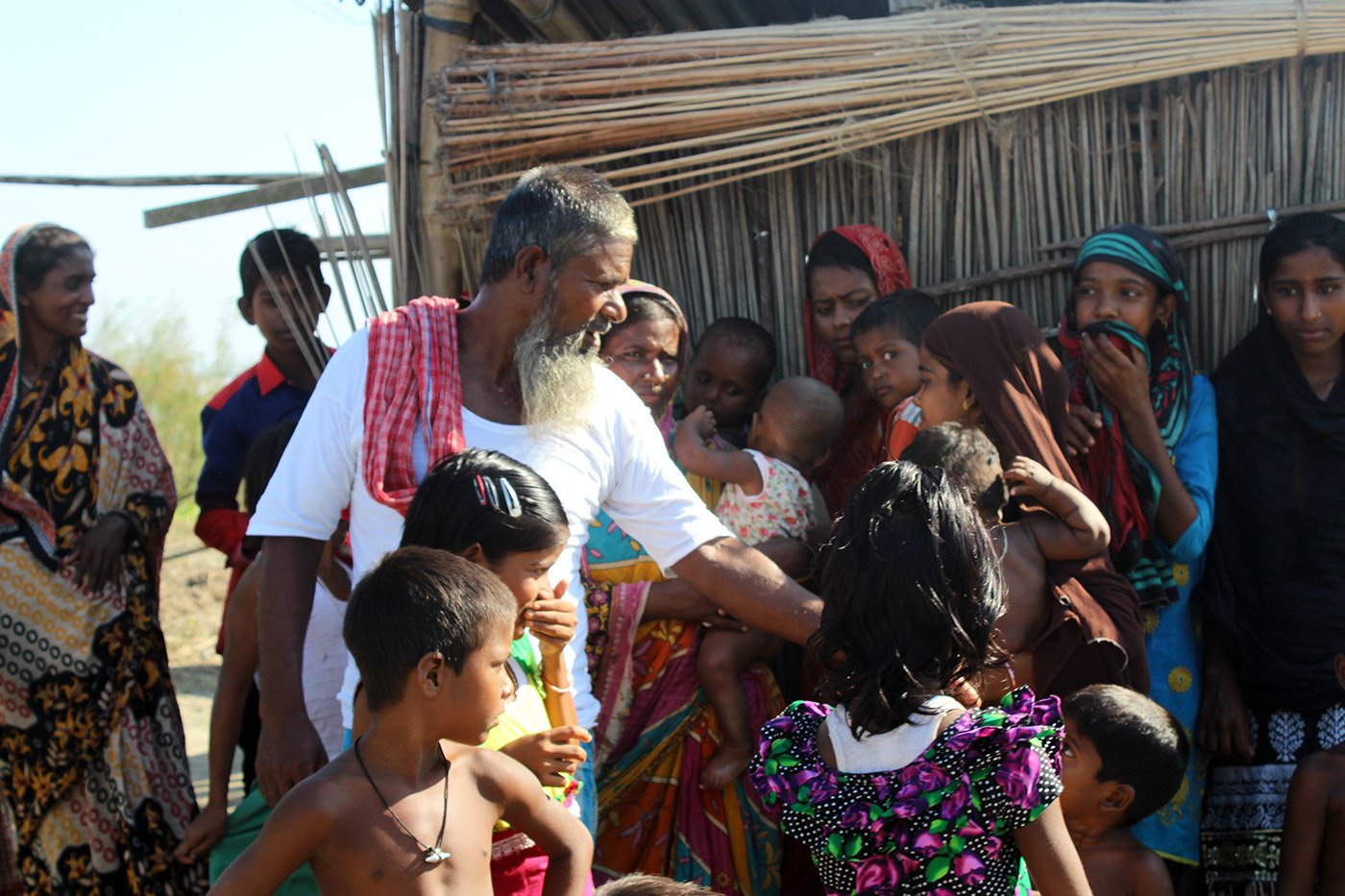 PHOTO • Ratna Bharali Talukdar
The older men usually do not migrate because they are not considered employable by contractors; they work on their own plots of land or as agriculture labourers on other farms. Ali, now around 60, has stayed back too. He survives on fishing, earning barely Rs. 1,500 a month. His son sends another Rs. 1,500 home to support the family. Ali has seven children; four of his daughters were married when they were minors; the fifth is around 13 and likely to soon be married.

When we visit, he has some time to talk because he is not going to the weekly market across the river, which is also a meeting place for char neighbours.  "We depend on this market for our daily essentials. The fare to and from is Rs. 20, and I don't have the money," says Ali. In the absence of state-run ferry services, privately-run mechanised boats are the only means of conveyance here.
A Directorate of Char Areas implements specific development programmes on the chars , working alongside the district administrations. Panikhaiti char has two government-run upper primary schools. Anyone who wants to study further must bear the daily cost of crossing the river by boat – a major cause of school dropouts.

Panikhaiti also has a health sub-centre – without a roof. With vegetation growing in and around the building, it appears to be abandoned. An auxiliary nurse midwife (ANM) visits the char occasionally, but she prefers to work from someone's home rather than this health centre, the people here say. For a health emergency, they have to cross the river and walk another three kilometres to the nearest primary health centre in Sontali.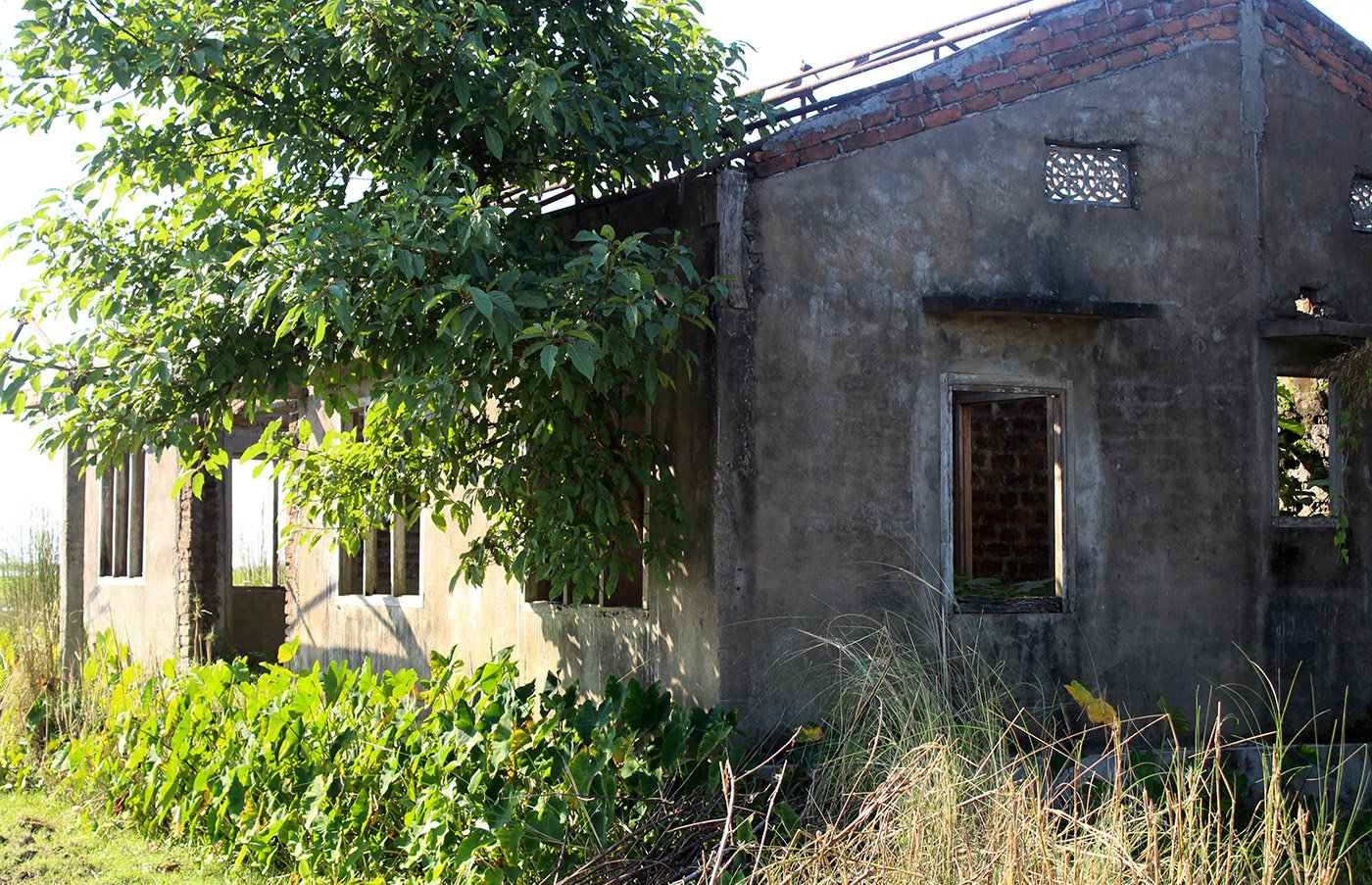 PHOTO • Ratna Bharali Talukdar
"After the flood havoc in September [2016], no health officials visited us. The administration distributed only two kilos of cattle-feed in the name of flood relief," Ali says.  The walls, made of jute-sticks, bear the marks of the flood levels that have periodically submerged their houses.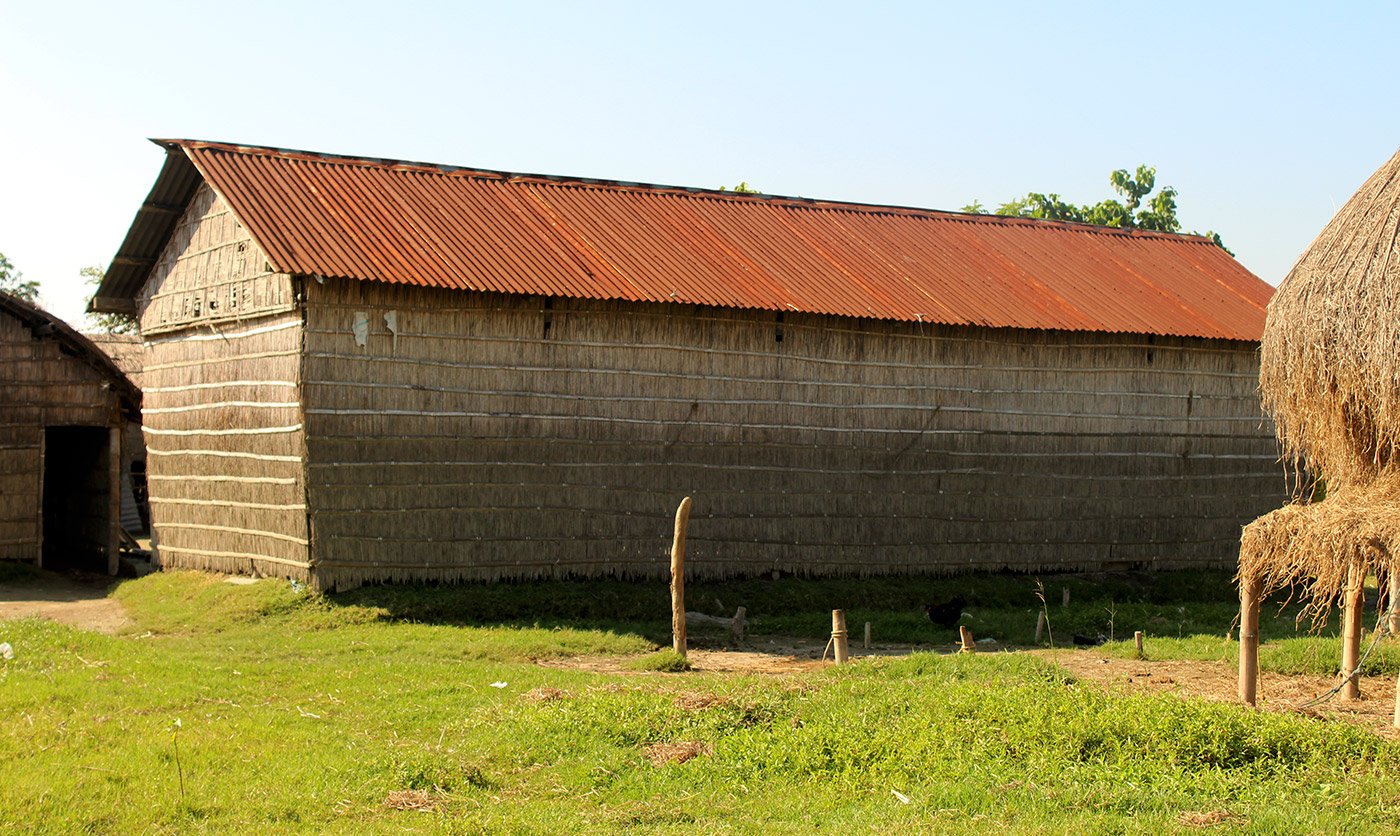 PHOTO • Ratna Bharali Talukdar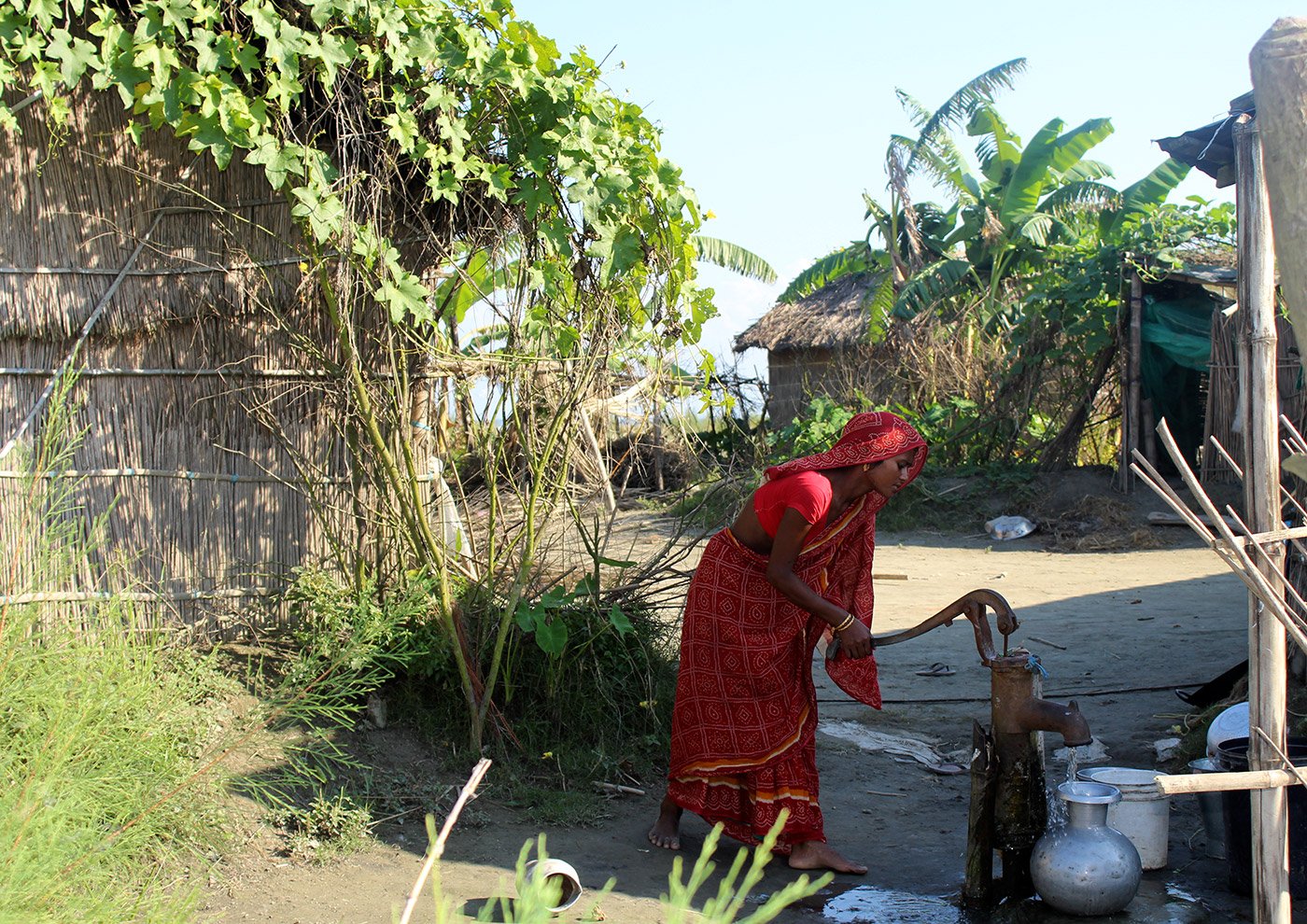 PHOTO • Ratna Bharali Talukdar
Open defecation is the norm and diarrhoea is common in every household, particularly after a flood. For drinking water, about 10 families depend on a single tubewell, which they maintain at their own cost.

"Our char is divided equally into two legislative constituencies – Boko on the south bank and Chenga on the north bank. Due to some official anomalies, however, people who belong to Chenga constituency have been deprived of below poverty line (BPL) rations for a long time," says Ali, who is registered with the Boko constituency but does not get any benefits, apart from BPL rice.
Electricity is a distant dream and no family has a solar lamp. Instead, they rely on kerosene, which costs Rs. 35 a litre – Ali's family needs 5-7 litres every month.  Even a radio seems to be a luxury here.
"Life would have been better if a char existed for at least 20 years. But the life of a char is hardly 10 years. By the time we manage to earn something and prepare for a relatively settled life, erosion begins again, forcing us to shift," Ali says.
"This is our story, the story of every char -dweller. My story, however, does not end here…"  And Ali begins to speak about his second son, 18, a Class 12 science student at a college in Barpeta district of lower Assam.  He is now preparing for a medical entrance exam. Ali could not provide for his elder son's higher education. But, with the help of his teachers, his second son got 83 per cent in the secondary examination two years ago, despite all the hardship.
"He is determined to get enrolled in a medical college," says Ali. "His teachers say it would cost at least Rs. 30 lakh to complete the course. I do not know how he will complete it even if he does clear the entrance exam."
But Ali's eyes tell us that he still nurtures the hope that life will take a new turn some day.