The first step to making a patachitra painting is composing a song – a patar gaan . "Before starting to paint, we need to create the stanzas of the song… its rhythm will provide a structure to the painting process," says Mamoni Chitrakar. Seated in her home, the eighth-generation artist is creating a patachitra depicting the East Kolkata Wetlands in West Bengal.
The art derives its name from the Sanskrit word 'patta' or a piece of cloth and 'chitra' or painting. As Mamoni paints the intricate ecosystem nurtured by the Wetlands, she sings the patar gaan that will accompany the performance of the patachitra. This song, written and composed by Mamoni herself, begins with an invitation: "Listen, O listen all, listen in attention".

The song goes on to explain the importance of the East Kolkata Wetlands that are the "lifeline of so many". Fisherfolk, farmers and vivid fields are painted on a pata , which are paper scrolls mounted on cloth. When the final pata is unrolled during a performance, sections of the painting will correspond to the stanzas in the song. In this way, Mamoni's art tells the story of the Wetlands through painting and music.

A resident of Naya village in Paschim Medinipur, Mamoni's village in the Pingla taluka is home to around 400 craftspeople, she estimates. No other village in this taluka has such a high concentration of artists who practise patachitra -making. "Almost all the 85 houses in the village have murals on the walls," says the 32-year-old resident and artist referring to the drawings of foliage, wild animals and flowers in vivid colours. "Our entire village looks beautiful," she adds.



PHOTO • Courtesy: Disappearing Dialogues Collective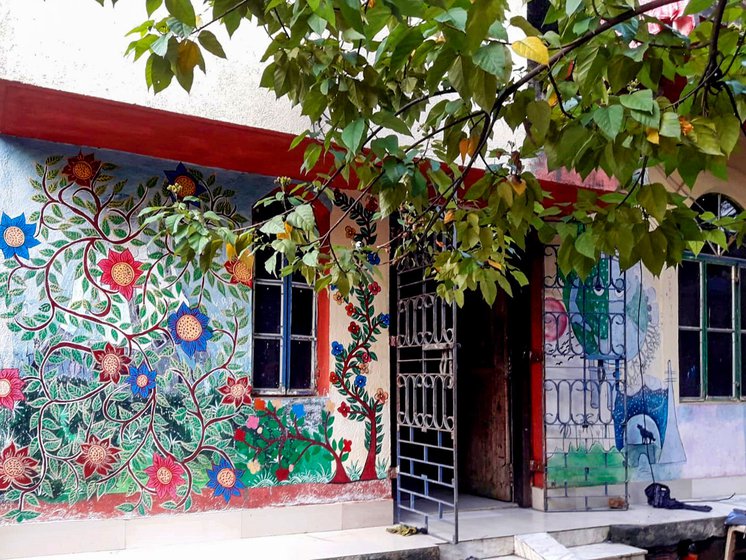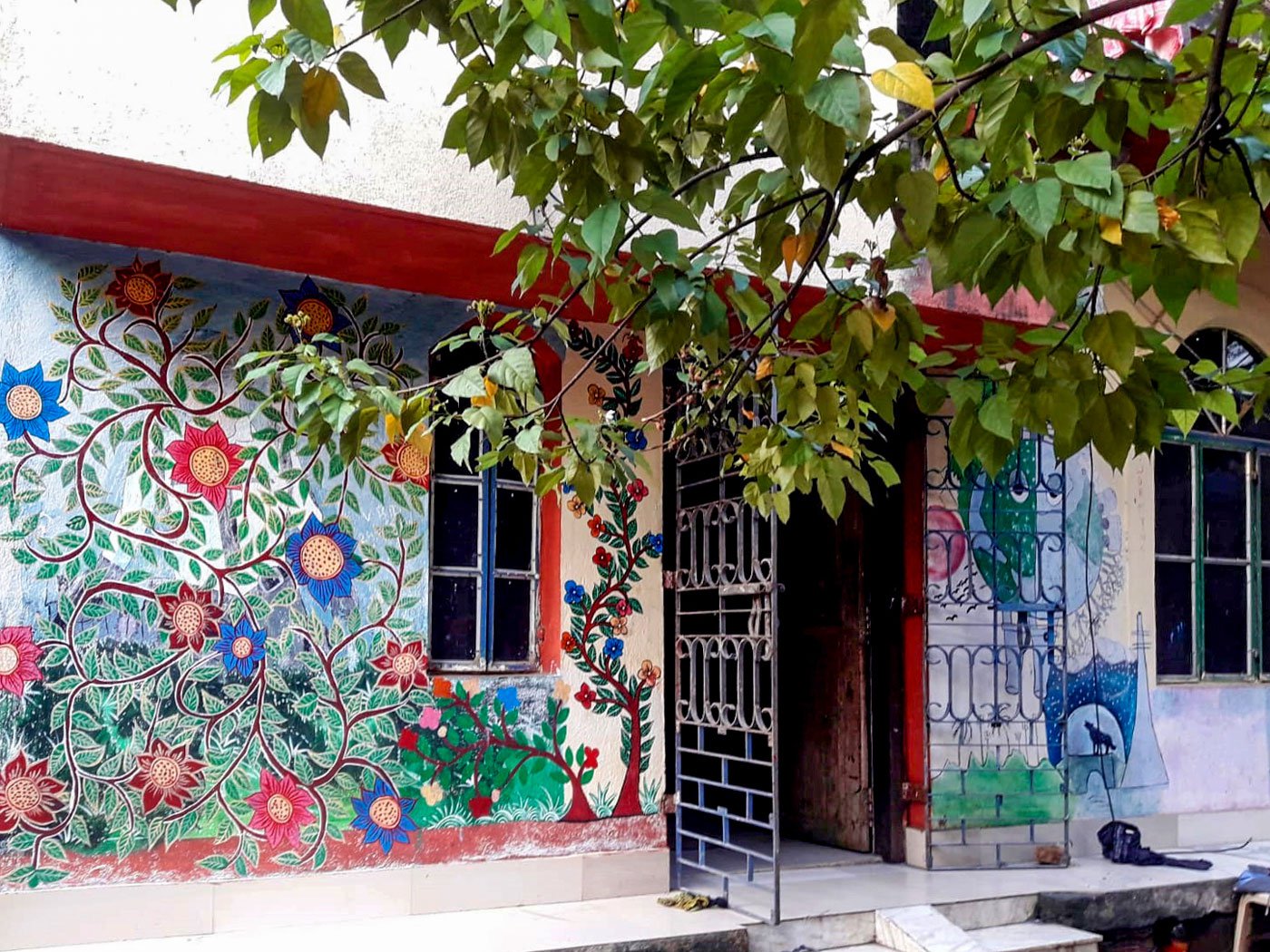 PHOTO • Courtesy: Mamoni Chitrakar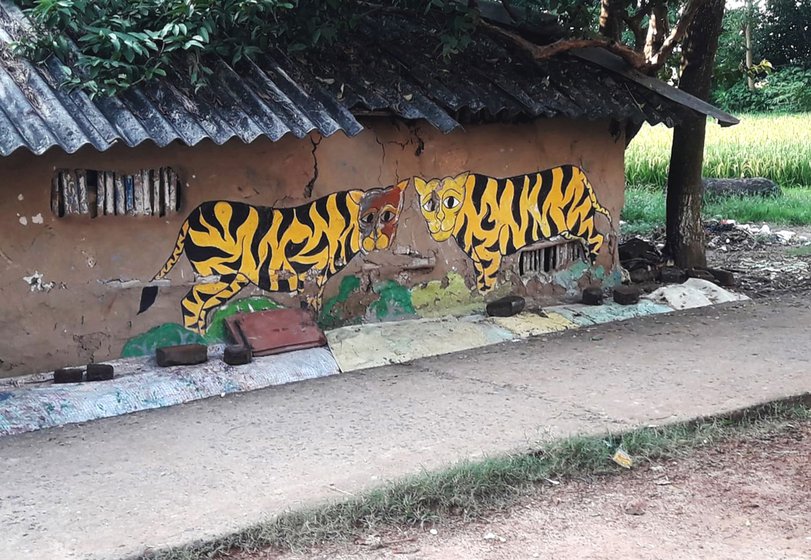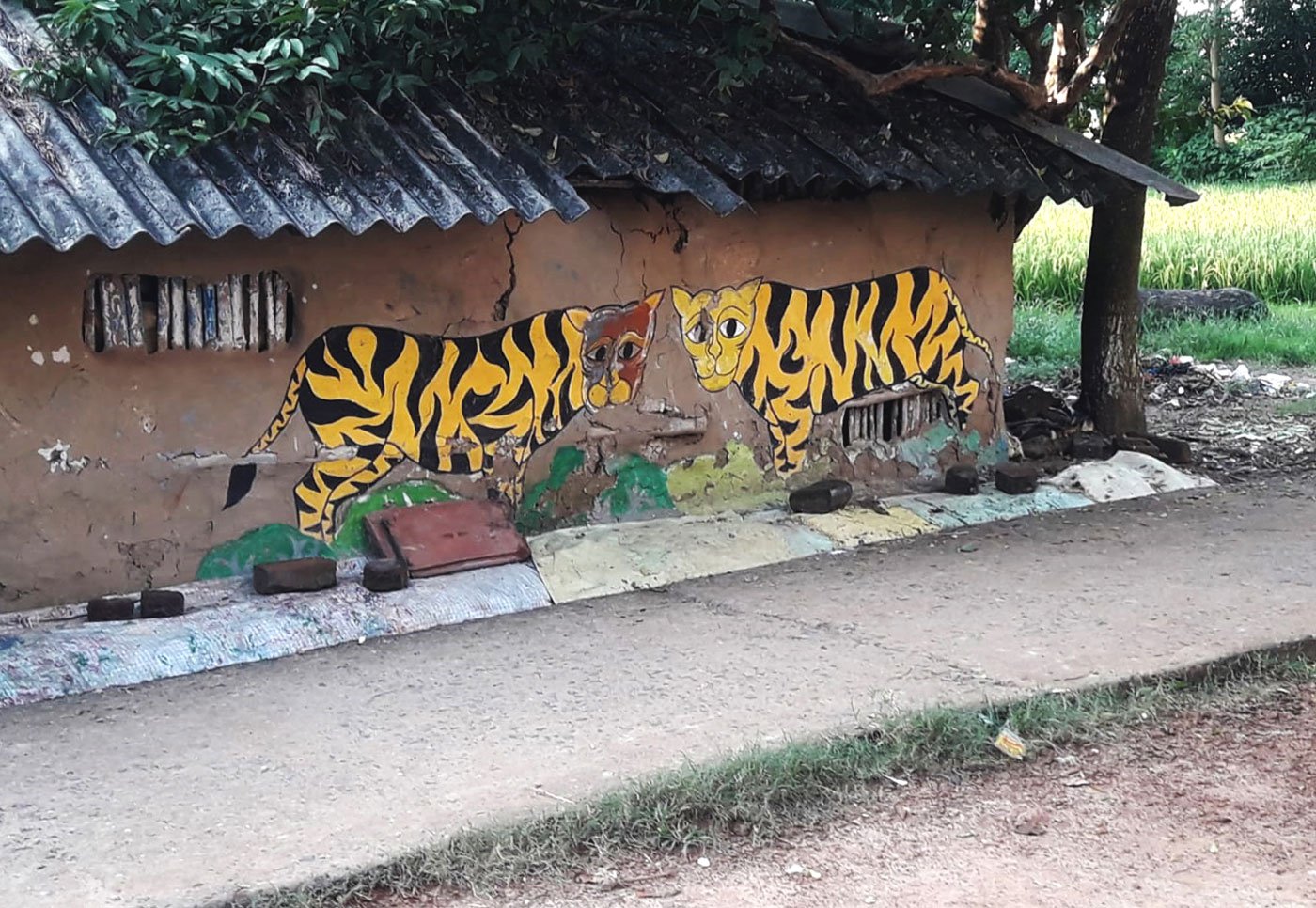 PHOTO • Courtesy: Mamoni Chitrakar
The village is listed as a tourist attraction in the state and has visitors from across India and abroad. "We also welcome students who come to talk to us, learn our craft, and ask us about our lives and skills," Mamoni says, adding "we teach them patar gaan , the patachitra style of painting and conduct workshops on making naturally sourced colours."
"The art of patachitra is derived from guhachitra , or the ancient art of cave paintings," Mamoni says. This centuries-old craft demands hours of labour, before and after the actual painting work.

After the patar gaan has been fine-tuned, the actual painting process begins, explains Mamoni. "As is our tradition, all the paints I use are sourced naturally." Colour is extracted from raw turmeric, burnt clay and marigold flowers. "I burn rice to get a rich black colour; press aparajita flowers to distil a blue colour and so on."

The colour extracts are stored in coconut shells and dried in the sun. This process of curing can take upto a year as some of the ingredients are not always in season. Mamoni says that although these processes get tedious, "the steps are important and have to be carefully done."

The colours are mixed with natural gum extracted from bael (wood apples) before painting. The freshly painted scroll has to dry before it can be pasted to a cloth for longevity. The finished product is the final patachitra .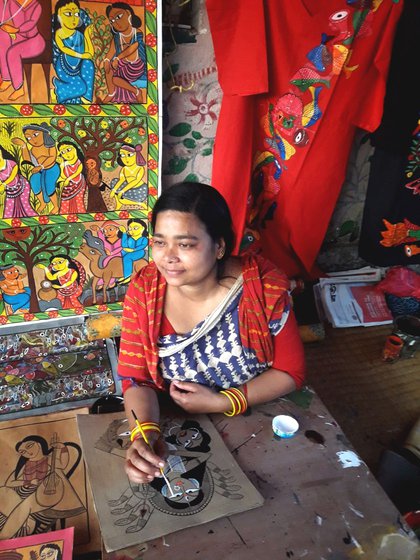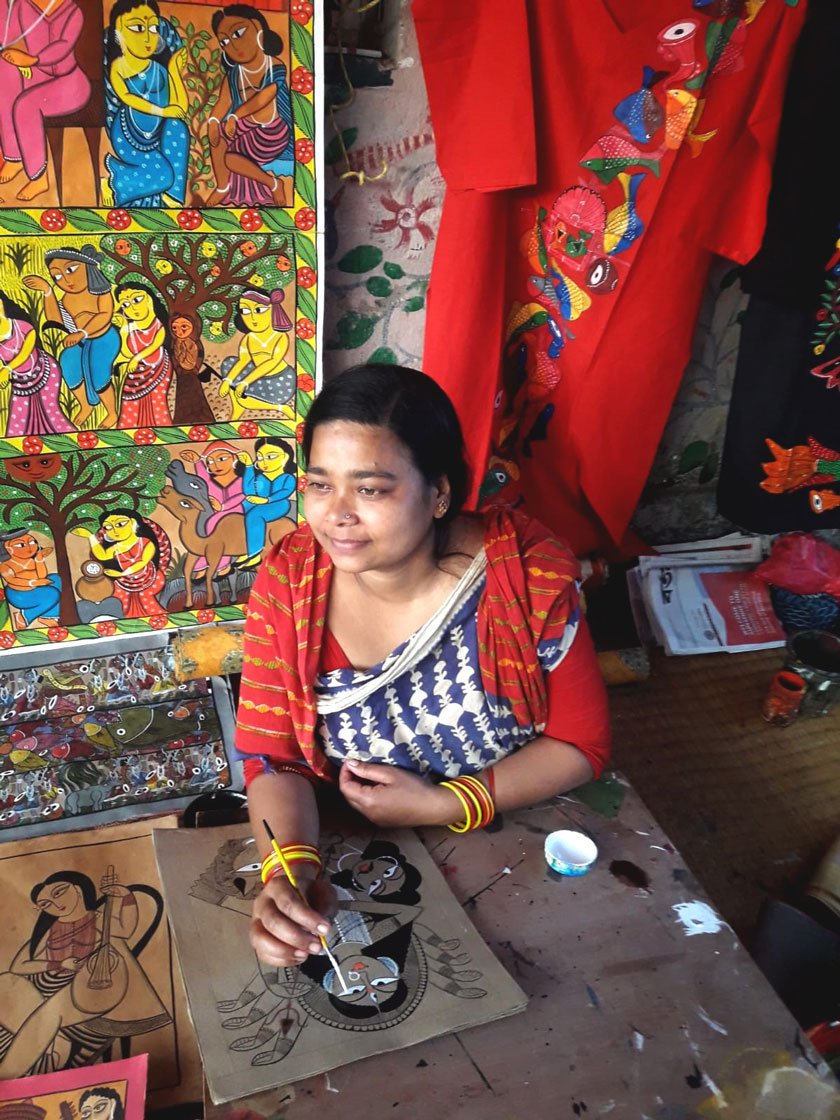 PHOTO • Courtesy: Mamoni Chitrakar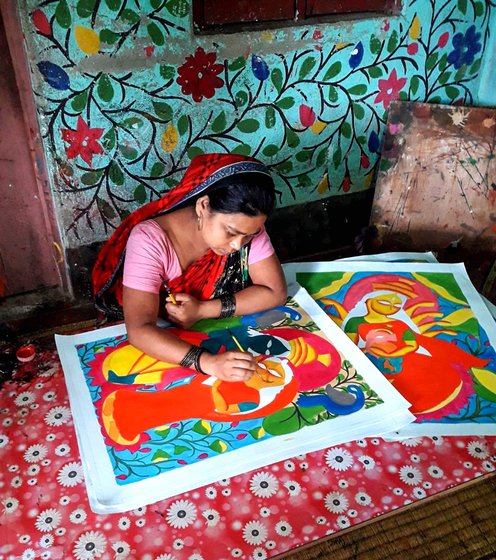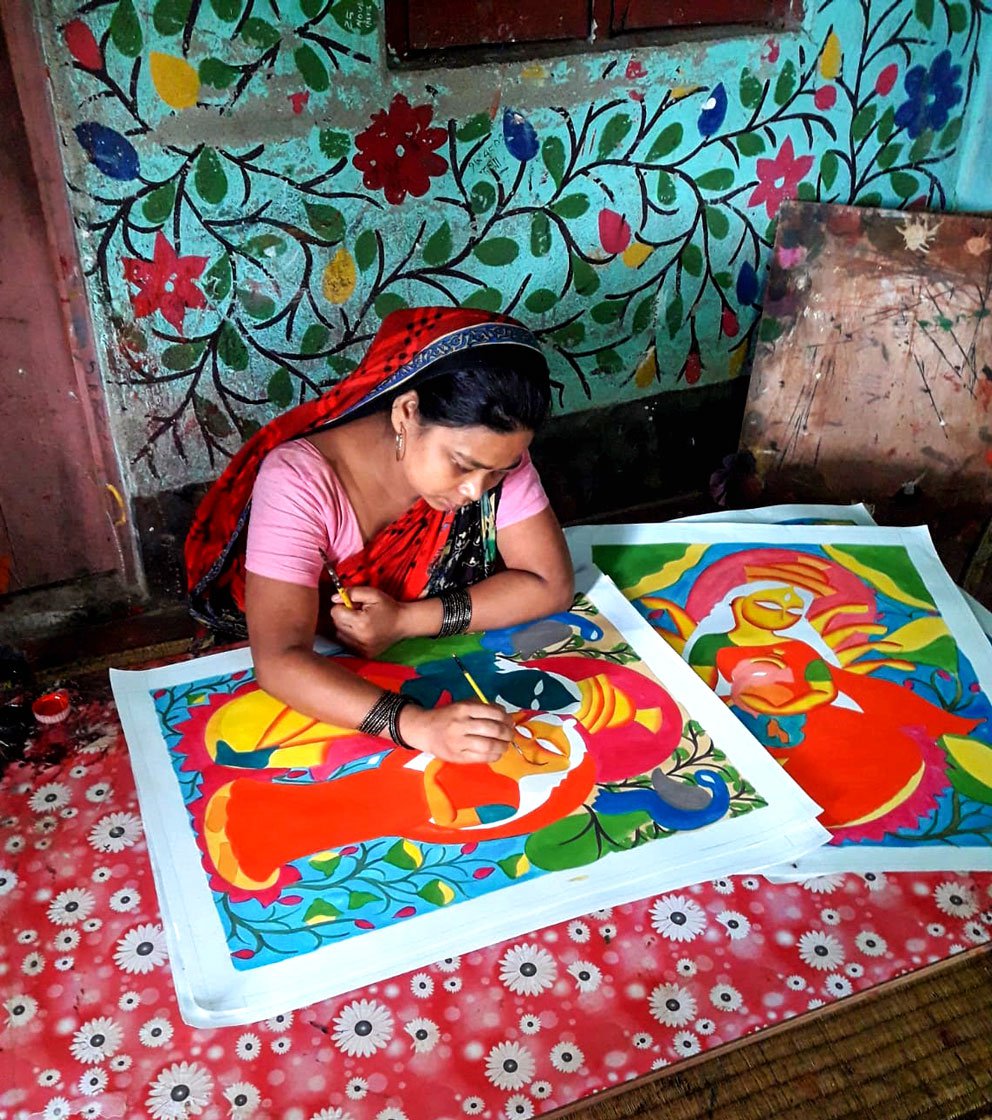 PHOTO • Courtesy: Mamoni Chitrakar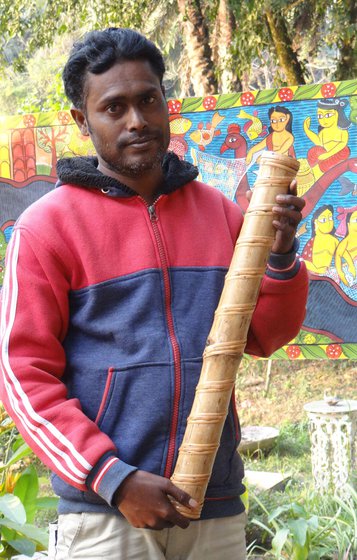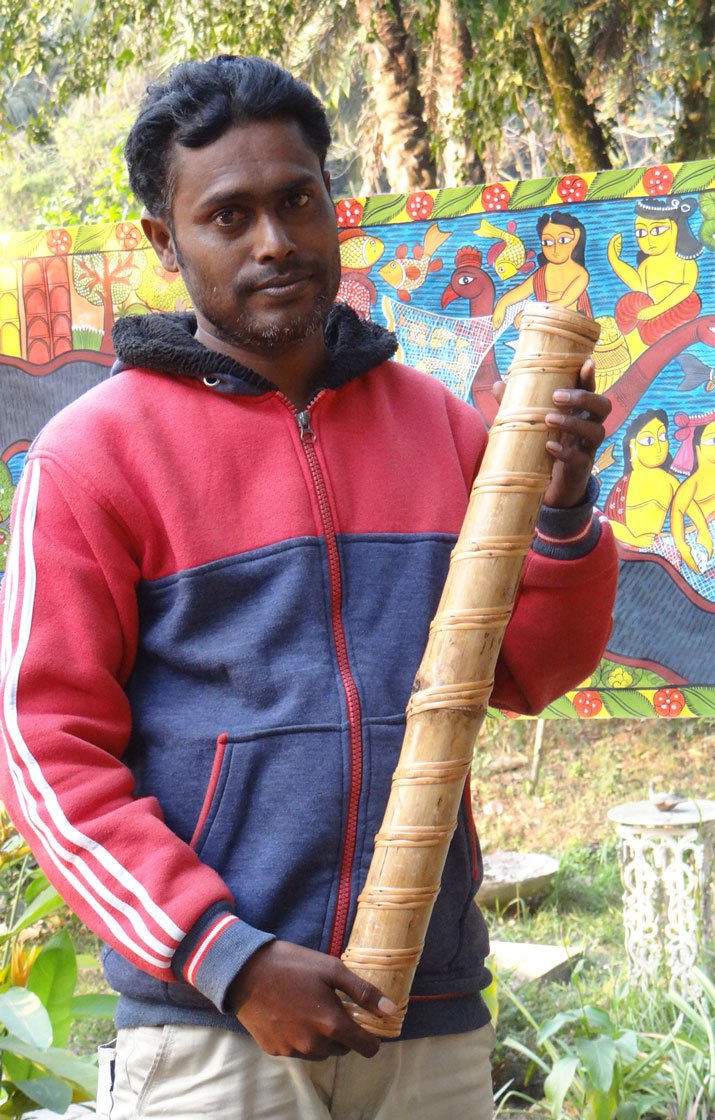 PHOTO • Courtesy: Mamoni Chitrakar
Like others in her village, Mamoni started learning the art of patachitra from a young age. "I have been painting and singing since I was seven years old. Patachitra is my ancestral tradition and I have learnt it from my mother, Swarna Chitrakar." Mamoni's father, Sambhu Chitrakar, 58, also works as a patau . As do others in the family – her husband, Samir, and her sister, Sonali. Mamoni's children, her son in Class 8 and her daughter in Class 6, are learning the art from her.
Traditionally, a patachitra borrowed from local folklore and commonly depicted scenes from epics like Ramayana and Mahabharata . Older patuas – practitioners of the patachitra style of painting, including Mamoni's grandparents and their ancestors – went from village to village performing the stories depicted in a patachitra . With the money or food they were offered in return, such performances sustained them.
"They [ patachitras ] were not prepared as objects for sale," Mamoni explains. A patachitra was never just a style of painting but rather a mode of storytelling, employing both audio and visual mediums.

Over time, patuas like Mamoni have merged the traditional tenets of the patachitra style with contemporary themes. "I love to work on new topics and subjects," she says. "Some of my work is based on natural disasters like tsunamis. I also use my work to reflect socially relevant issues, such as gender violence and trafficking."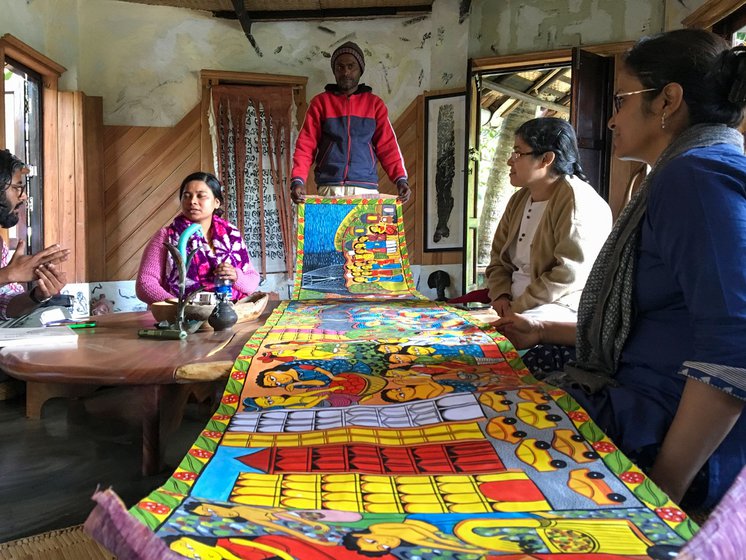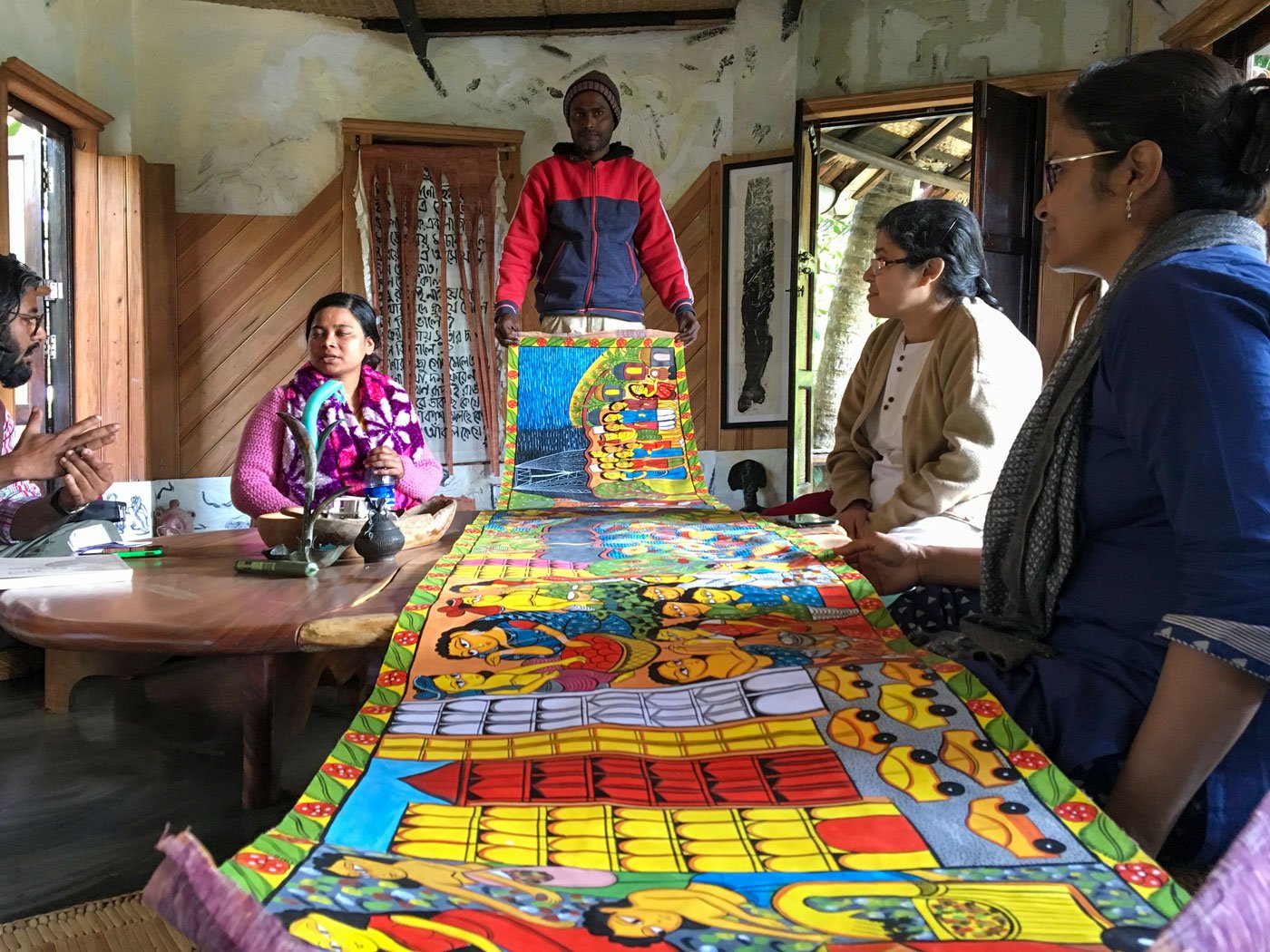 PHOTO • Courtesy: Mamoni Chitrakar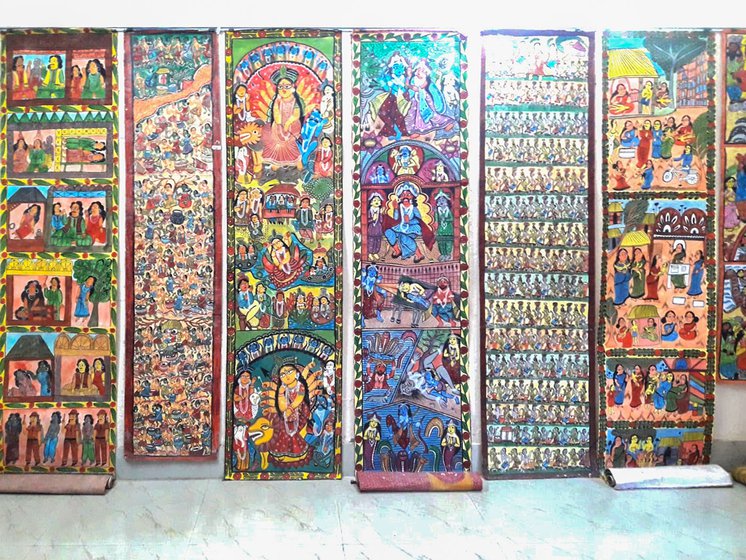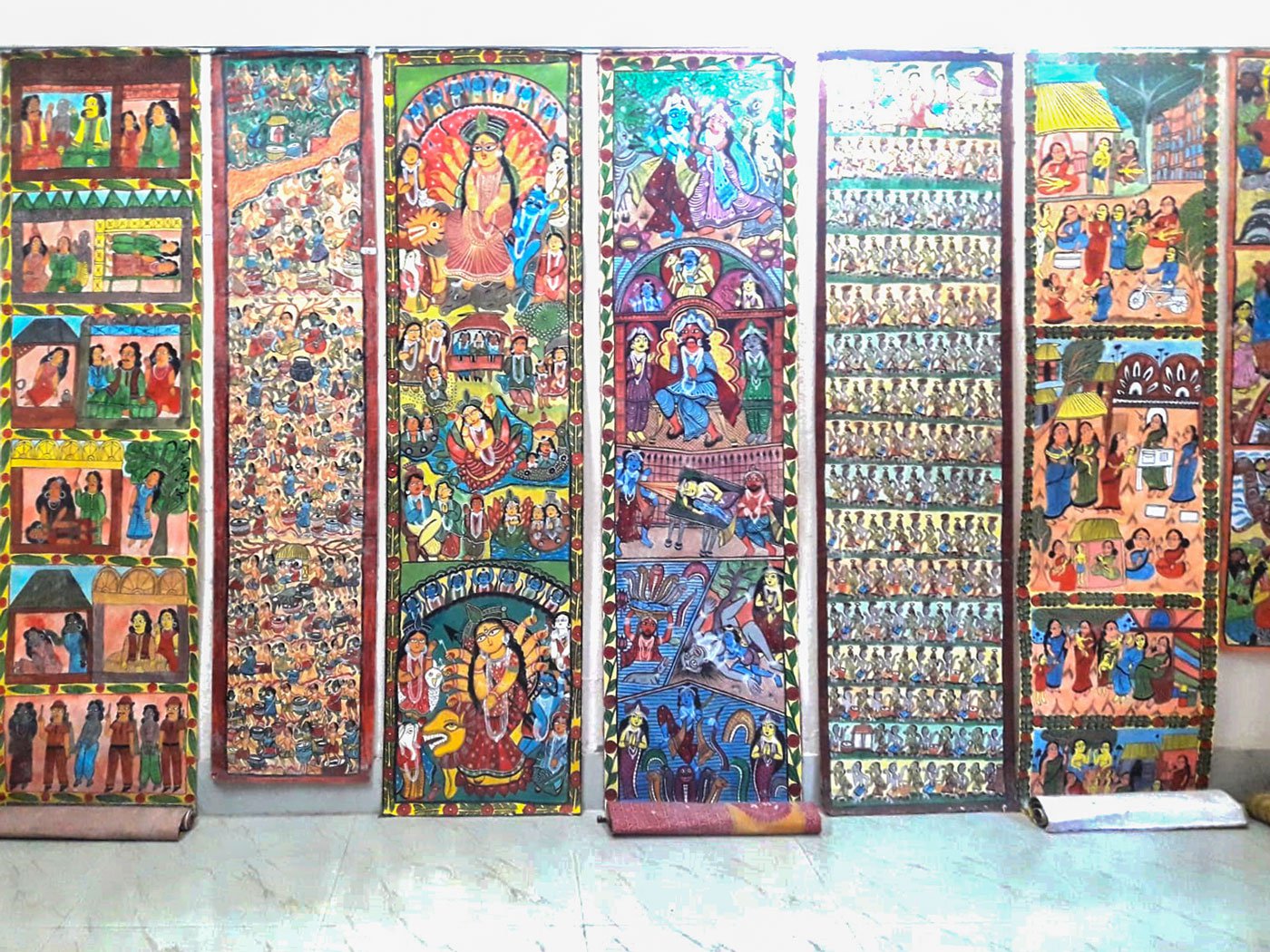 PHOTO • Courtesy: Mamoni Chitrakar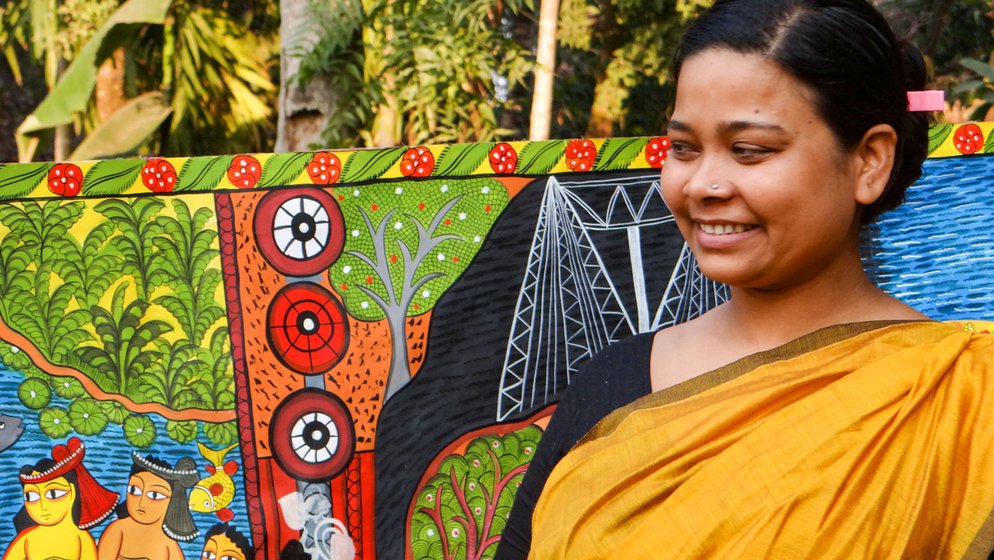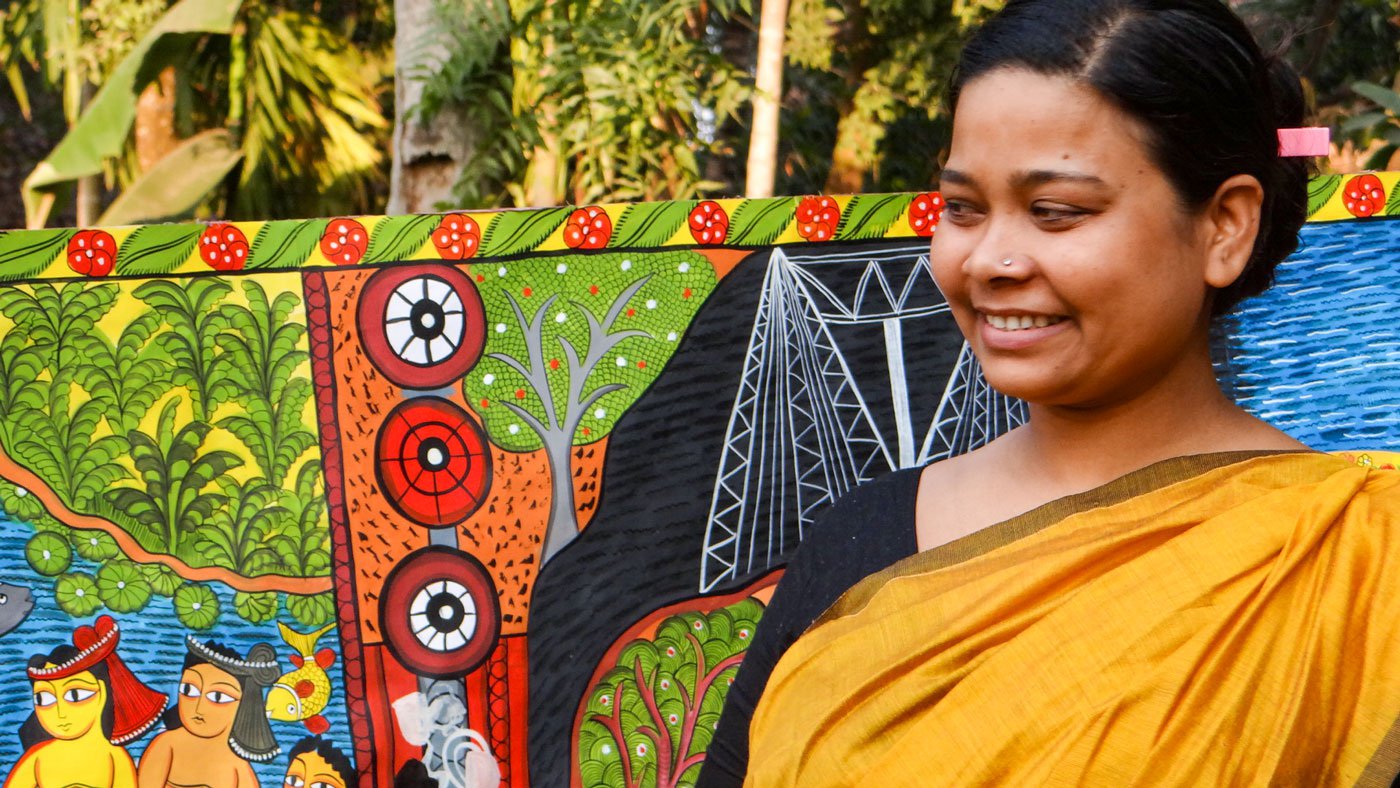 PHOTO • Courtesy: Mamoni Chitrakar
Her recent work depicts the impact of Covid-19, its symptoms and spreads awareness around it. Along with some other artists, Mamoni performed this patachitra in hospitals, haats (weekly markets) and villages around Naya.
Pata-maya is a mela organised every November in Naya. "It is a major attraction for tourists and art connoisseurs from India and abroad who come and buy the paintings," Mamoni says. The patachitra style is also seen on tee-shirts, furniture, utensils, saris, other garments and household items sold in and around Naya. This has increased interest around the craft, and improved sales which had taken a hit during the Covid-19 pandemic. Mamoni shares pictures of her work on social media, mostly Facebook, and this helps her sell through the year.

Mamoni has visited Italy, Bahrain, France and the US with her craft. "It is through our art and song that we can reach many people," says Mamoni, hopeful that this craft will carry on.

The Disappearing Dialogues Collective (dD) works with and within communities, using art and culture as a medium to bridge gaps, start conversations and build new narratives. The idea is to add value and assist in the preservation of existing heritage, culture and environment.
This article is a compilation for Jol-A-Bhumir Golpo o Katha | Stories Of The Wetland, a project implemented by India Foundation for the Arts under their Archives and Museums Programme, in collaboration with People's Archive of Rural India. This has been made possible with part support from Goethe-Institut/Max Mueller Bhavan New Delhi.