"When we sit down to study, water drips on our books and notebooks. Last year [2022], the house collapsed in July. It happens every year," says eight-year-old Vishal Chavan about his home made of heavy stones and bamboo.
A student of Class three in the Alegaon Zilla Parishad school, Vishal's family belongs to the Beldar community which is listed as a nomadic tribe in Maharashtra.
"It is especially difficult to stay inside the hut when it rains...water drips from different places," he adds. So, he and his nine-year-old sister Vaishali, keep checking for places in the house where the roof of their home in Alegaon Paga village of Shirur taluka , is not leaking so that they can study.
The siblings' keenness for academics makes their grandmother Shantabai Chavan very proud. "In our entire khandan [family], nobody has ever gone to school," says the 80-year-old, "My grandchildren are the first to learn how to read and write."
But as she speaks about her grandchildren, there is a shadow of grief mixed with pride on her wrinkled face. "We don't have a pucca house for them to study comfortably. There is no light also," says Shantabai, speaking inside their tarpaulin hut in Alegaon Paga vasti .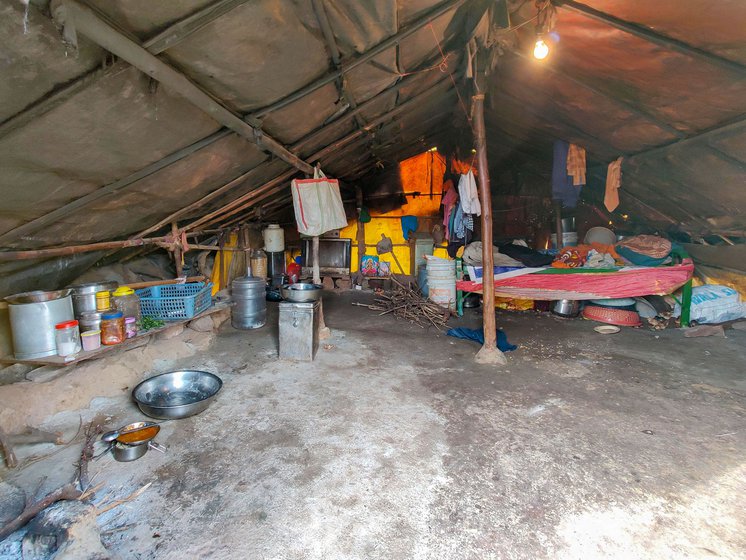 PHOTO • Jyoti Shinoli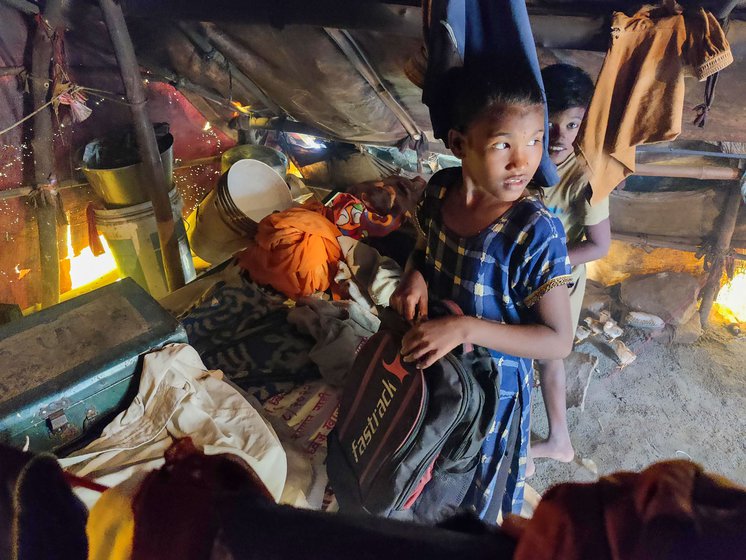 PHOTO • Jyoti Shinoli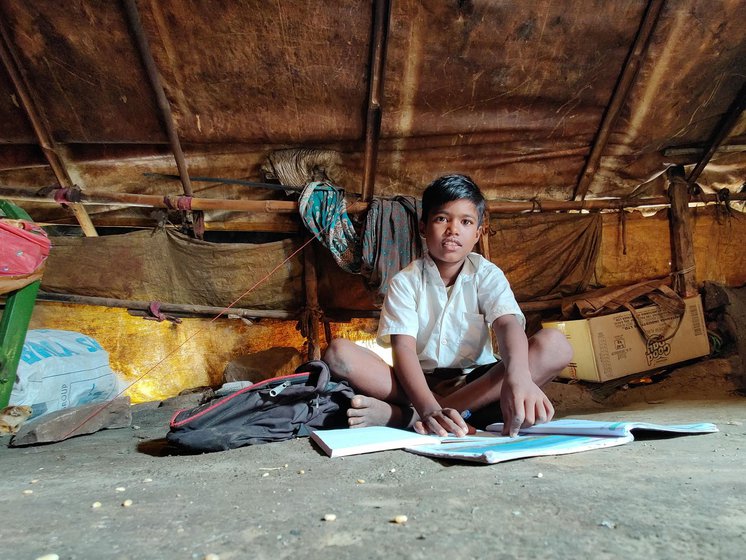 PHOTO • Jyoti Shinoli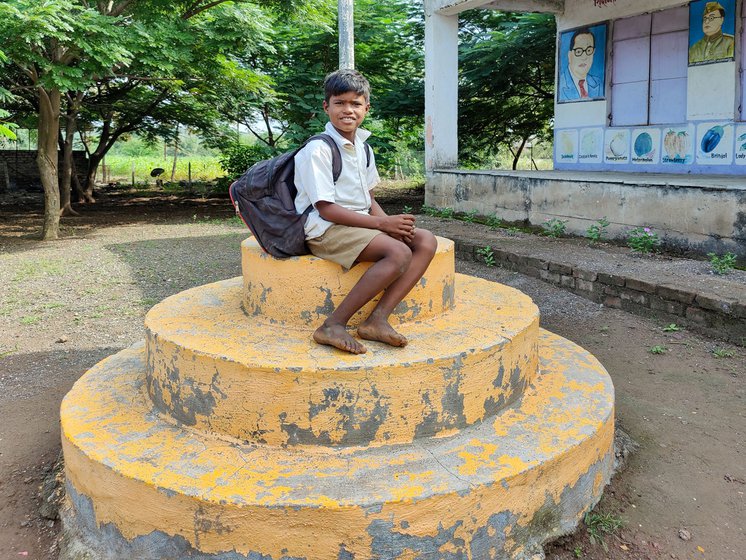 PHOTO • Jyoti Shinoli
An adult over five feet tall would have to bend their heads to enter this triangular structure with bamboo supporting the roof. Their home is part of a cluster of 40 huts belonging to Beldar, Phanse Pardhi and Bhil tribes. It is located two kilometers outside the Alegaon Paga village here in Pune district. "It's difficult to live in a hut, Shantabai says, "But these kids don't complain, they adjust."
The tarpaulin sheets of the hut are also worn out. It has been more than nine years since they last changed the sheets or carried out any repair work.
"My parents are always away at work," says Vishal about his parents, Subhash and Chanda who work at a stone quarry in Pune. They each earn Rs. 100 a day, breaking and loading stones onto trucks. That adds up to around Rs. 6,000 a month with which they must support a family of five. "Oil, grains, everything is so expensive. How will we save any money? points out Vishal's mother, Chanda, 42, "How will we build a house?"

Although there are a number of government welfare schemes to provide housing for nomadic tribes in Maharashtra, building and owning a concrete house with their modest earnings is a distant dream for the Chavan family. Schemes such as Shabari Adivasi Gharkul Scheme, Pardhi Gharkul Scheme and Yashwantrao Chavan Mukt Vasahat Yojna require the beneficiary to produce a caste certificate. "For any gharkul yojna [housing scheme], we need to prove who we are. How will we prove our jaat [community]?" says Chanda.
The Idate Commission report of 2017 shows that poor housing arrangements are common among nomadic tribes across the country. A point that Chanda raises when she says, "you can see how we are living." Of 9,000 households surveyed by the commission, over 50 per cent live in semi-pucca or makeshift structures, and 8 per cent live in tents with their families.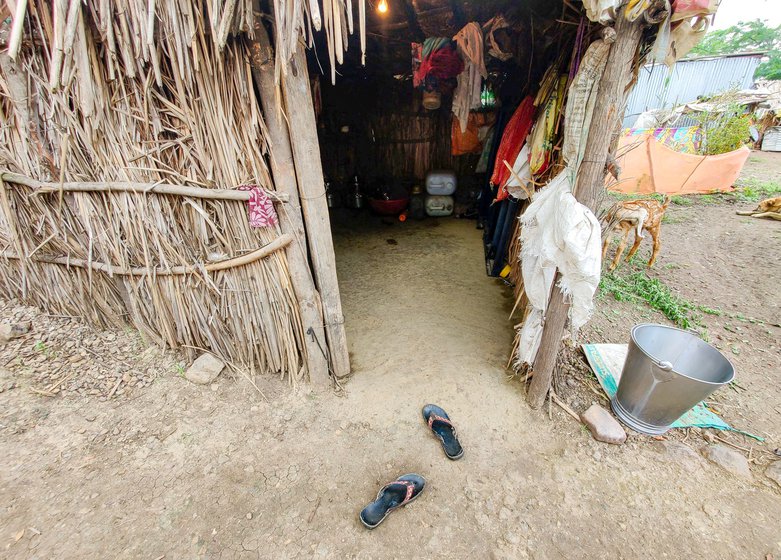 PHOTO • Jyoti Shinoli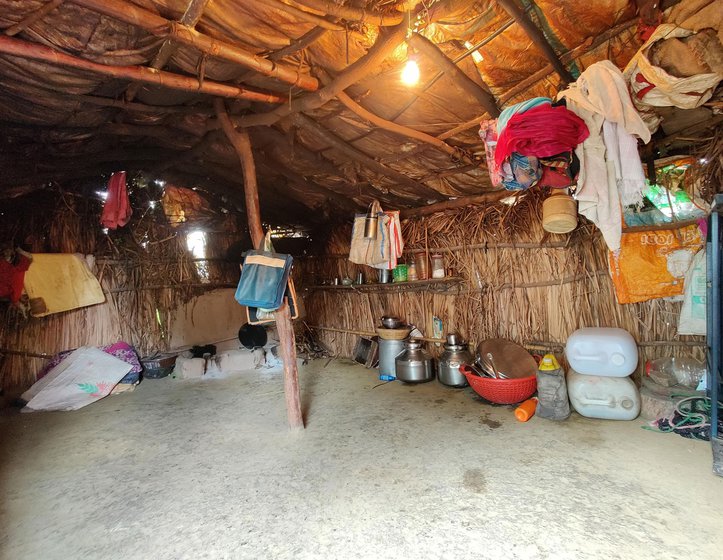 PHOTO • Jyoti Shinoli
Several petitions have been raised about the problems in acquiring identification documents to access government schemes and they have been recorded as received by the National Commission for Denotified, Nomadic and Semi-Nomadic Tribes. A majority – 304 out of 454 petitions related to problems with caste certificates.
To avail of a caste certificate, under the Maharashtra Scheduled Castes , Scheduled tribes, De-notified tribes (Vimukta Jatis), Nomadic tribes, Other Backward Classes, and Special Backward Category (Regulations of Issuance and Verification of) Caste Certificate Act, 2000, the applicant must prove they are permanent residents of the  area or their ancestors have been residing in the concerned area on deemed date (1961 in case of De-notified tribes). "With this provision, it is not easy to get a caste certificate," says Sunita Bhosale, a social activist based in Shirur.
"Many generations of these Bhatkya-vimukt jati 's [De-notified tribes] families have been wandering from village to village, from one district to another," she continues, "How is it even possible to produce residential proofs from 50-60 years back? This Act needs to be changed."
Sunita, who belongs to the Phanse Pardhi community established Kranti, a non-profit organisation in 2010, which handles cases against De-notified Tribes. The organisation also helps people in getting caste certificates, Aadhaar cards, rations cards and other official documents so that they can avail various government schemes and handles cases of atrocity. "In 13 years, we have managed to get caste certificates for some 2,000 people," says Sunita.
Kranti volunteers work in 229 villages of Daund and Shirur talukas of Pune district, and Shrigonda taluka of Ahmednagar district, covering an estimated population of around 25,000 of de-notified tribes such as Phase Pardhi, Beldar and Bhil.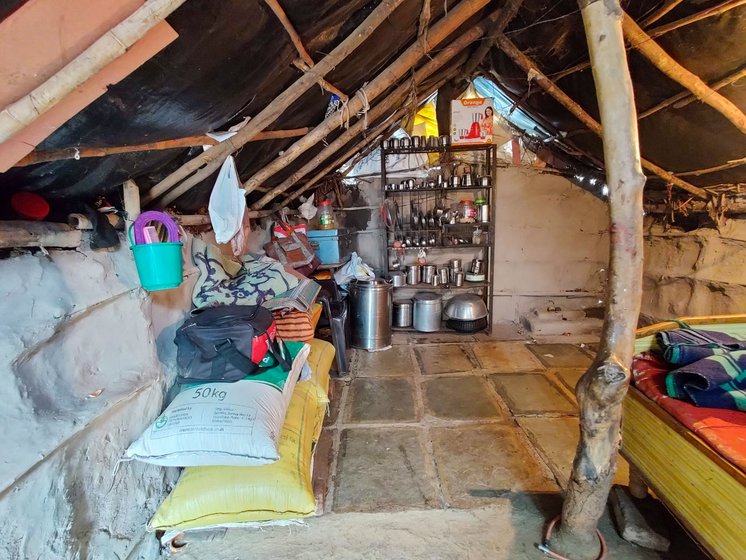 PHOTO • Jyoti Shinoli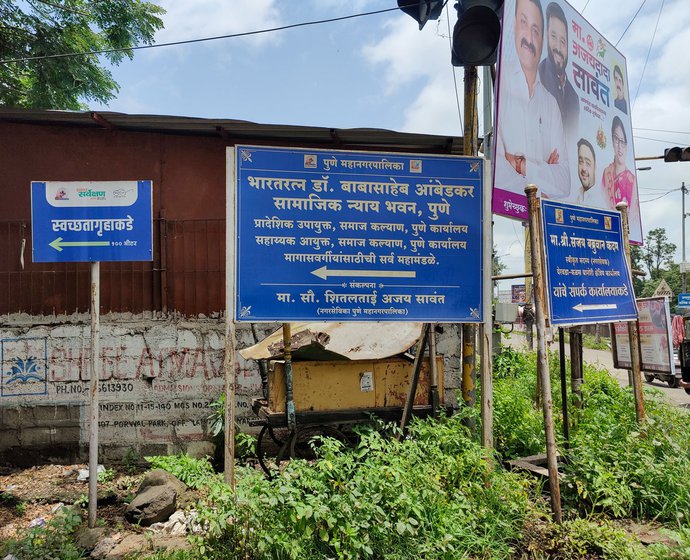 PHOTO • Jyoti Shinoli
She says the process of organising the certificates is tedious, time consuming and expensive. "You have to spend money from your own pocket for travelling to the taluka office and for xerox [photocopying] again and again. You have to submit proof of papers after papers after papers. People give up hope of getting caste certificates then," Sunita explains.
"We never had a place to call home," says Vikram Barde, "I can't recall how many times we have changed places since my childhood." The 36-year-old adds, "People don't trust us. Even now. That's why we move. Villagers put pressure on us to leave the place once they know who we are."
Vikram, a daily-wage worker, belongs to the Phanse Pardhi tribe and lives with his wife Rekha in a one-room house with a tin roof. Their house is a part of a settlement of 50 Bhil and Pardhi families on the outskirts of Kuruli village, 15 kilometers from Alegao Paga vasti .
Vikram was 13 when his parents migrated to Bhilpuri Kh village in Jalna taluka of Jalna district in 2008. "I remember we used to live in kudacha ghar [thatched hut] outside Bhilpuri Kh village. My grandparents used to tell me they used to live somewhere in Beed," he vaguely recalls. (Read: No crime, unending punishment )
In 2013, he migrated to Pune with his family to the place where he currently lives. He and his wife Rekha, 28, travel to various villages in Pune district for agriculture work and sometimes they also work in construction sites. "In a day, we earn a total of Rs. 350. Sometimes Rs. 400. We don't get work for more than two weeks," says Vikram.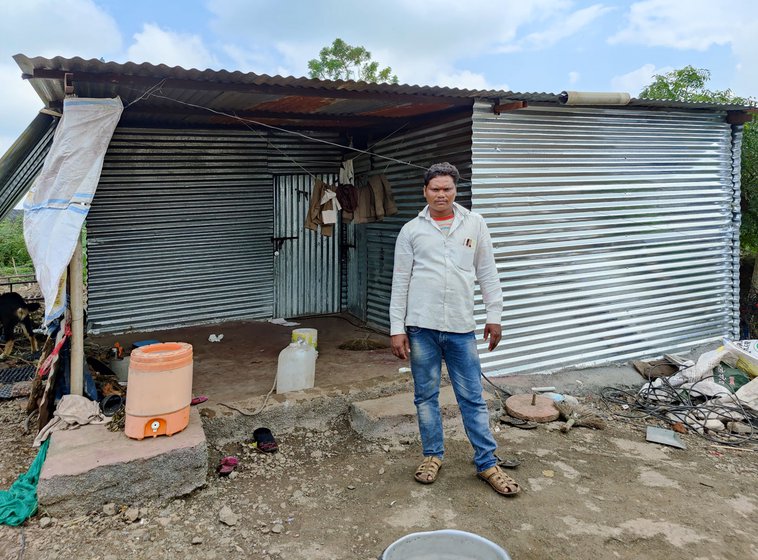 PHOTO • Jyoti Shinoli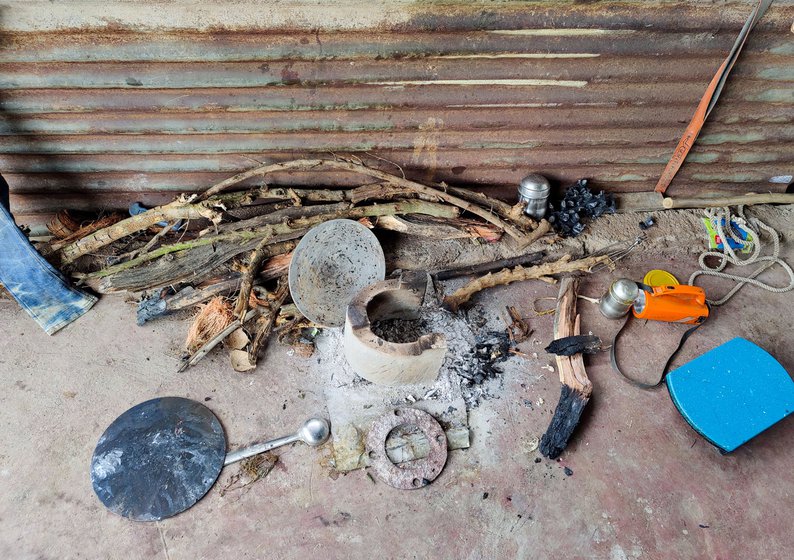 PHOTO • Jyoti Shinoli
Two years ago, he used to spend around Rs. 200 every month to apply for a caste certificate. Vikram had to travel 10 kilometres to the Block Development Office in Shirur four to five times a month to follow up on his application.
"The fare of a shared auto ride for both ways was Rs. 60. Then the xerox. Then you would have to wait at the office for a long time. I would lose wages. I don't have any proof of my residence or a caste certificate. So, I stopped," says Vikram.
Their children Karan, 14 and Soham, 11 study in a residential government school in Vadgaon of Mulshi taluka in Pune. Karan is in Class nine and Soham is in Class six. "Our children are our only hope. If they study well. They won't have a life of moving around."
The PARI reporter spoke to an official from the Social Justice and Special Assistance Department of Pune division to know the number of families who have received monetary help under various housing schemes for socio-economically vulnerable groups. The officer said, "Rs. 88.3 lakhs were allotted to 10 families from VJNT [Vimukt Jati Notified Tribes] in 2021–22 in Pandare village of Baramati taluka of Pune. Apart from that, no other proposal has been approved for nomadic tribes this year [2023]."
Back in the Alegaon Paga vasti , Shantabai is manifesting a dream of a happy future for her grandchildren. She says, "I feel confident. We did not live in a house with concrete walls. But my grandchildren will build a house for sure. And they will be safe there."