"One day I want to win a medal for India in the Olympics," she says, still catching her breath after a long running drill on the tar road that goes past her sports academy. Her tired and injured bare feet are finally resting on the ground after four hours of arduous training.
This 13-year-old long-distance runner is not barefooting on some modern-day fad. "I run that way because my parents can't afford to buy expensive running shoes," she says.
Varsha Kadam is the daughter of Vishnu and Devshala, agricultural labourers from Parbhani, one of the state's poorest districts in the drought-prone Marathwada. Her family belong to the Matang community, listed as Scheduled Caste in Maharashtra.
"I love running," she says, her eyes shining. "The five-kilometre Buldana Urban Forest Marathon was my first [run] in 2021. I felt very good when I came second and won my first medal too. I want to win more competitions," says the determined teenager.
Her parents recognised her passion when she was only eight. "My mama [maternal uncle] Paraji Gayakwad was a state-level athlete. He is in the Army now. Seeing him I also started running," she adds. In 2019, she secured a second rank in the four-kilometre cross-country running at the interschool state-level competition and, "that gave me more confidence to pursue running."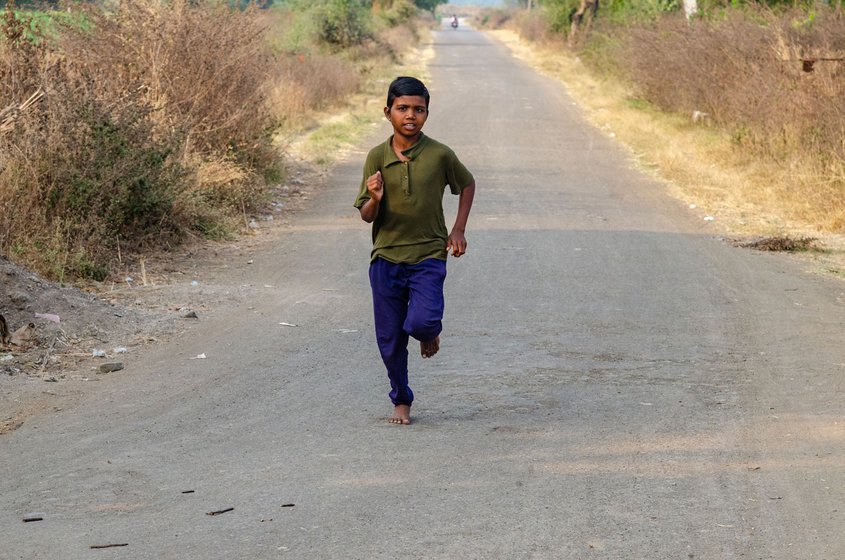 PHOTO • Jyoti Shinoli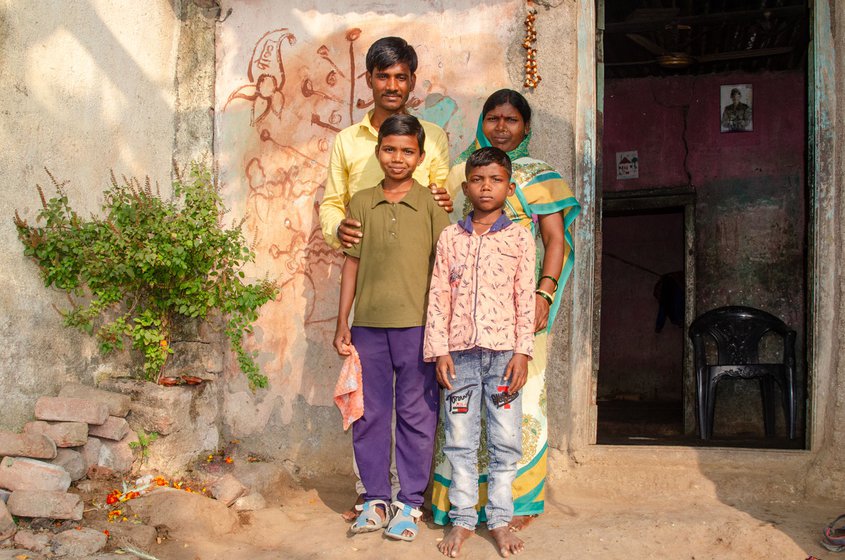 PHOTO • Jyoti Shinoli
The pandemic in March 2020 meant no school. "My parents don't have a phone [smartphone] for online classes," says Varsha who used the time to run – two hours in the morning and two in the evening.
In October 2020, at the age of 13, she joined the Shri Samarth Athletics Sports Residential Academy on the outskirts of Pimpalgaon Thombare village in Parbhani district of Maharashtra.
There are 13 other athletes from marginalised communities – eight boys and five girls – who also train here. Some are from Particularly Vulnerable Tribal Groups (PVTG) in the state. Their parents work as farmers, cane cutters, agricultural workers and migrant wage labourers in the Marathwada region, better known for its crippling droughts.
Training here, these young people have reached the finish line in state and national-level races, and some have even represented India at the international level.
The star athletes stay at the academy through the year and attend school and college in Parbhani, 39 kilometres away. They return home only during breaks. "A few of them have morning school, and others go in the afternoon. So, we schedule practice accordingly," says Ravi Raskatla, the founder.
"There is lot of potential for various sports among the children here, but it is hard for them to pursue it as a profession when the families are struggling for two square meals," says Ravi. He used to teach sports in Zilla Parishad schools before starting the academy in 2016. "I decided to coach such [rural] kids from a very young age by providing them the best training for free," says the 49-year-old coach who is always on the lookout for sponsors for coaching, training, diet and shoes.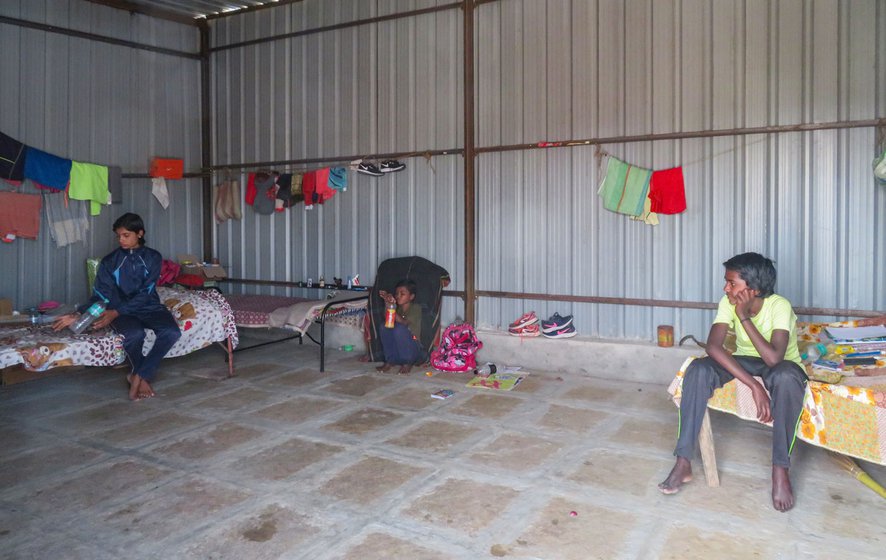 PHOTO • Jyoti Shinoli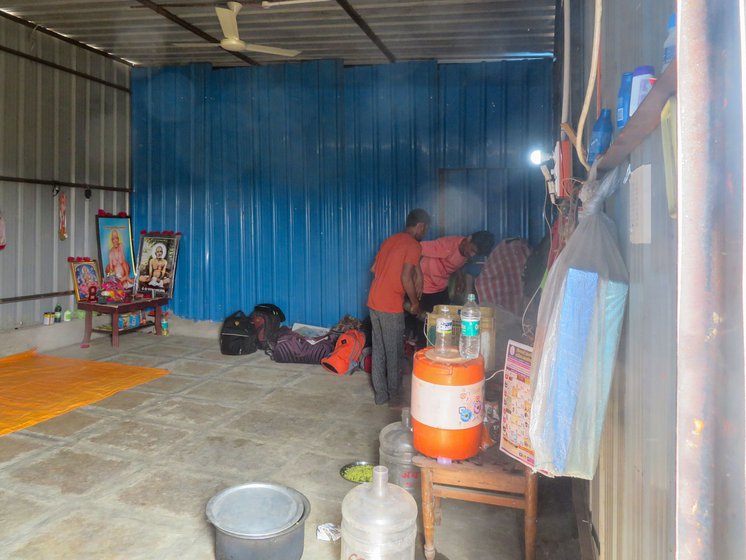 PHOTO • Jyoti Shinoli
PHOTO • Jyoti Shinoli
The academy is a makeshift tin structure, painted blue and located in the middle of fields, adjacent to the Beed bypass road. It stands on a one-and-a-half-acre portion of land that belongs to Shankarao, father of Jyoti Gavate – an athlete from Parbhani. He used to work as a peon with the state transport office; Jyoti's mother works as a cook.
"We used to stay in a house with a tin roof. I was able to invest some money and we managed to build a one-storied house of our own. My brother [Maharashtra police constable] is also earning more than he used to," says Jyoti, who has dedicated her life to running. She felt the family could afford to offer their farmland to 'Ravi sir' for his sports academy and had the support of her parents and her brother. "It is a mutual understanding," she says.
At the academy, tin sheets divide the space into two rooms, each about 15 x 20 feet in size. One is for the girls and five of them share three beds that the academy has received from donors. The other room is for the boys and mattresses are lined up on the concrete floor.
There is a tube light and a fan in both the rooms; they come on when there is power which is often infrequent. Summer temperatures in this area can go up to 42 degrees and winters it drops to 14 degrees.
The Maharashtra State Sports policy of 2012 , makes it mandatory for the state to provide sports complexes, academies, camps, and sports equipment to upgrade the performance of athletes.
But Ravi points out, "ten years of policy remains just on paper. There is no real implementation on the ground. The government fails to recognise such talent. There is lot of apathy among sports officials."
Even an
audit report
filed by the Comptroller and Auditor General of India in 2017 accepts that the aim of the sports policy to develop sports infrastructure from
taluka
level to state is far from complete.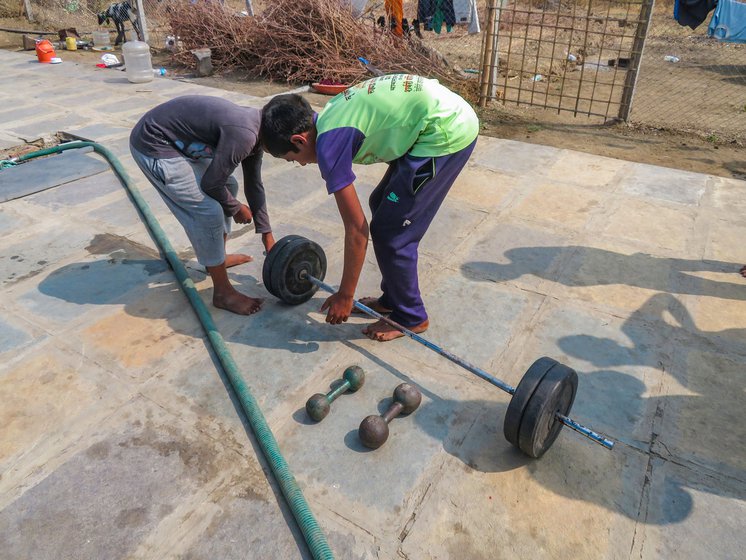 PHOTO • Jyoti Shinoli
PHOTO • Jyoti Shinoli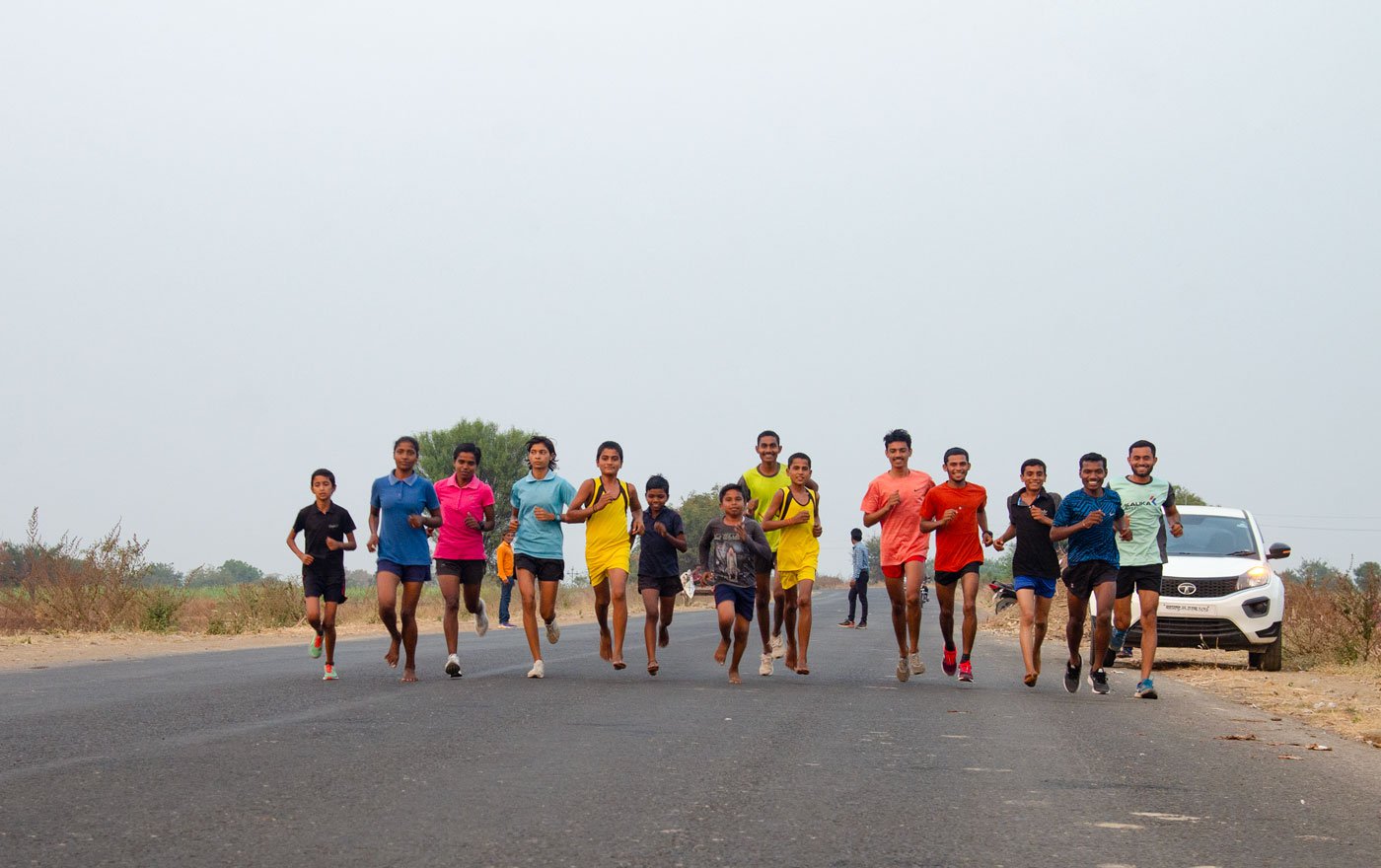 PHOTO • Jyoti Shinoli
Ravi says he manages the daily expenses of the academy with private coaching. "Many of my students who are now elite marathon runners, donate their prize money."
Despite its limited monetary resources and facilities, the academy ensures a nutritious diet for the athletes. Chicken or fish is provided three to four times a week. On other days, green vegetables, banana, jwari, bajri bhakri , sprouted beans like matki, moong, chana and eggs are given.
The athletes begin practice on the tar road from 6 a.m. and stop at 10 a.m. In the evening, after 5 p.m. they practice speed work on the same road. "This road is not that busy but while running we still have to be careful of vehicles passing by. I take great precautions for their safety," explains their coach. "Speed work means covering maximum distance in minimum time. Like in 2 minutes 30 seconds one kilometre distance must get covered."
Varsha's parents look forward to the day when their athlete daughter's dreams of becoming a national-level athlete come true. She has been participating in several marathons across Maharashtra since 2021. "We want her to excel in running. We give all our support. She will make us and the country proud," says her mother happily. "We would really like to see her running in competitions. I wonder how she does it," adds her husband, Vishnu.
The couple used to migrate regularly when they first married, in 2009. When Varsha, their eldest child was three years old, her parents would migrate out of their village in search of wage work – sugarcane cutting. The family would stay in tents and always be on the move. "The constant travel in trucks would make Varsha sick, so we stopped going," recalls Devshala. Instead they began looking for work around the village where, "women get 100 rupees and men 200 rupees a day," says Vishnu who also migrates to the city for six months in a year. "I go to Nashik, Pune and work as a security guard or at a construction site, or sometimes I work at nurseries." Vishnu is able to earn Rs. 20,000 to 30,000 over five to six months. Devshala stays back, ensuring their other children, a girl and a boy, do not miss school.
Despite their best efforts, Varsha's parents have not been able to afford a pair of proper shoes for Varsha. But the young athlete brushes it off saying, "I try to focus more on my speed and technique of running."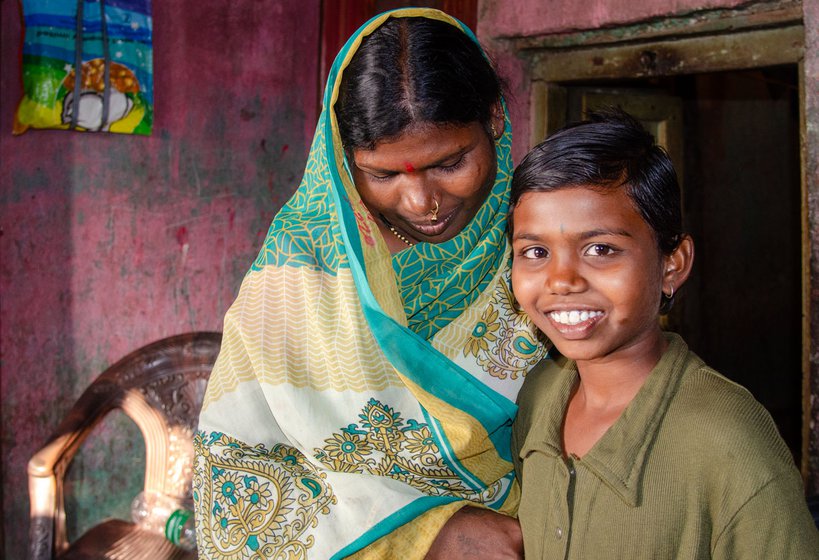 PHOTO • Jyoti Shinoli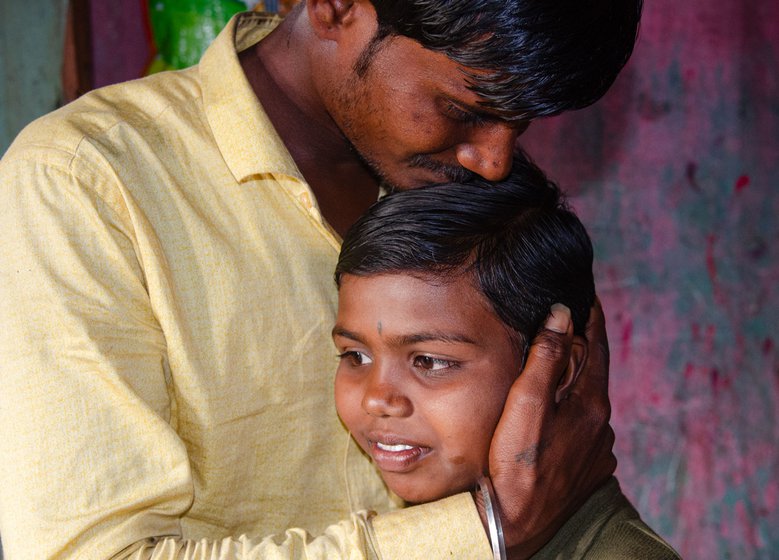 PHOTO • Jyoti Shinoli
Chhagan Bomble is a marathon runner who had to wait to win his first race before he could afford a pair of shoes. "I bought my first pair in 2019. When I started, I had no shoes, but when I earned some prize money by winning marathons, I got these," he says showing us a rather ragged pair he is wearing just now.
The 22-year-old is the son of agricultural labourers from the Andh tribe, and his family live in Khambala village in Hingoli district.
Shoes he now has, but without the socks that he can ill afford, he can feel the rough asphalt road though the worn-out soles. "Of course, it hurts. Both synthetic tracks and good shoes would provide protection and fewer injuries," he informs this reporter matter-of-factly. "We are habitual to walking, running around, playing, climbing hills, working without chappals in the farm with our parents. So, this is not a big thing" he says brushing off regular wounds and cuts.
Chhagan's parents, Maruti and Bhagirata don't own any land and depend on wages from agricultural labour. "Sometimes we work in a farm. Sometimes we take farmers' bullocks for grazing. Any work which comes our way," says Maruti. Together they earn Rs. 250 a day. And work comes only for 10-15 days every month.
Their runner son, Chhagan keeps participating in big and small marathons at city, taluka, state and country level to support his family. "The first three winners get prize money. Sometimes 10,000 rupees, sometimes 15,000," he says. "I get to participate in 8 to 10 marathons a year. It is difficult to win each one. In 2022 I won two and was a runner-up in three others. I earned some 42,000 rupees then."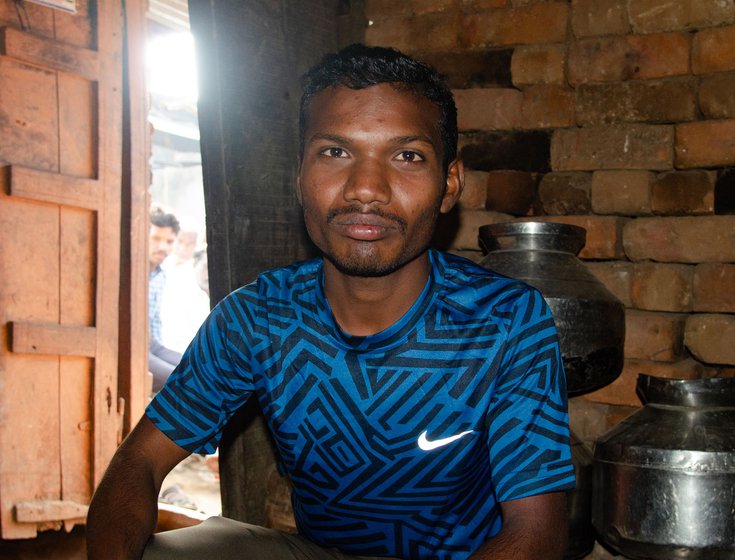 PHOTO • Jyoti Shinoli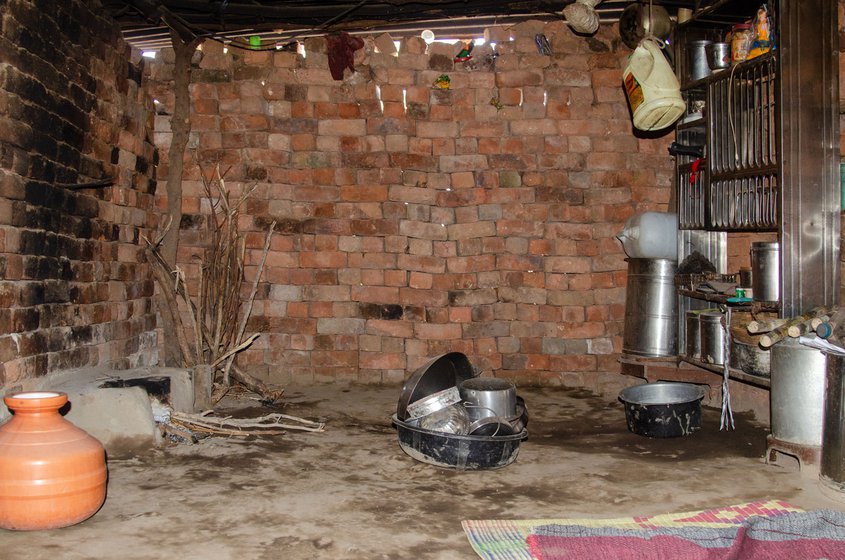 PHOTO • Jyoti Shinoli
Back home in Khambala village, Chhagan's one-room house is full of medals and trophies. His parents take immense pride in his medals and certificates. "We are anari [illiterate] people. My son will do something in life by running," says 60-year-old Maruti. "This is more precious than any gold," chuckles Chhagan's 56-year-old mother Bhagirata, pointing at the medals and certificates spread out on the floor of their small mud house.
Chhagan says, "I am preparing for bigger things. I want to become an Olympian." There is a distinct ring of resolution in his voice. But he knows the odds. "We need at least basic sports facilities. For runners the best score is maximum distance in minimum time. And the timing on mud or tar roads differs from synthetic tracks. As a result, it gets hard to get selected for the national and international running competitions or for the Olympics," he explains.
Parbhani's young athletes make do with two dumbbells and four PVC gym plates with a rod as equipment for strength training. "There is not a single state academy in Parbhani or in all of Marathwada," confirms Ravi.
Promises and policies abound. The 2012 State sports policy now more than 10 years old, had promised sports infrastructure at the taluka level. Not after Khelo India , under which the Maharashtra government received Rs. 3.6 crore for opening 36 Khelo India Centres, one in each district.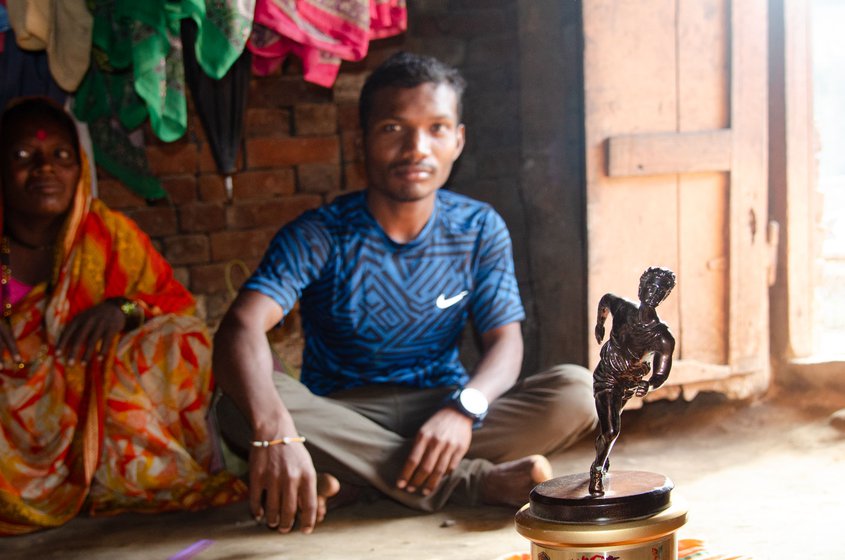 PHOTO • Jyoti Shinoli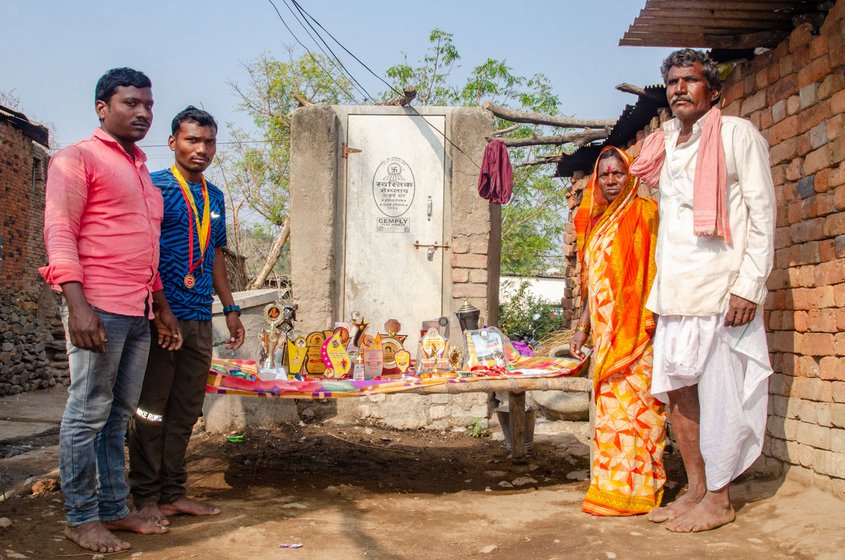 PHOTO • Jyoti Shinoli
Still to come are the 122 new sports complexes of international standards for rural Maharashtra – the 'sporting powerhouse' of India – as announced by Chief Minister Eknath Shinde during the launch of the Maharashtra State Olympic Games in January 2023.
Narendra Pawar, the district sports officer, Parbhani says while speaking over the telephone, "We are looking for a place to build an academy. And the construction of a taluka level sports complex is underway."
Athletes at the academy do not know what to believe. "It is sad that politicians, even citizens, recognize our presence when we win medals in the Olympics," Chhagan says. "But until then we remain invisible; our struggle for basic sports infrastructure remains unseen. I felt this even more when I saw our Olympian wrestlers fighting for justice and getting brutal treatment instead of support."
"But sports people are fighters. Whether it is for synthetic running tracks or for justice against crime, we will fight until our last breath," he says with a smile.