The monsoon was good this year, the climate perfect and the yield bumper. Sandeep Thavkar, 28, thought his tomatoes would fetch a tidy sum.
Used to growing the traditional soybean or cotton, he had gambled on tomatoes on an acre-and-a-half of his four acre farmland after seeing the crop fetch better returns for his neighbours in Virkhandi, 65 kilometres from Nagpur, last year.
But the prices crashed even before he had begun harvesting his tomatoes, a local variety, in mid-December. In the first week of January, 25 crates of his tomatoes, each with 25 kilos of the vegetable, fetched just Re 1.20 a kilo.
At that price, he said, he could not recover even the labour charges, let alone the cost of transport and carting, and the market agent's commission. Not to mention his input costs and family labour.
After returning home on December 27, Sandeep borrowed his cousin Sachin's tractor. He drove it over his standing tomato crop on which he had toiled around the clock with his wife, an elder sister and an aunt for four months – planting, weeding, watering, standing guard against pests.
PHOTO • Jaideep Hardikar
He did it partly in despair and partly to cut his losses. "Tomatoes are harvested till March. I have already spent Rs. 50,000 and needed to spend another Rs. 20,000 on pesticides and labour to maintain the rest of the crop," Sandeep said.
"That would have meant more losses. I could see the prices won't rise. I'd rather gamble on another crop today and harvest it by March-April to make up some of my losses," he said.
Sandeep, who says a price of Rs. 10 a kilo would have merely helped him break even, insists the prices began tumbling after the November 8 note recall announcement.
But local traders in Bhiwapur and Umred towns, 20 kilometres on either side of Virkhandi village, don't blame the demonetisation entirely.
"A bumper crop resulted in the price crash," Banti Chakole, 38, said at Umred mandi . "Vegetable prices do fall in November-December-January every year, and this year tomatoes are in abundance."
But he conceded that the prices nosedived after November 8. "I have to say I have never seen the situation this bad in my 20-year career."
"Vegetable prices go down around this time of the year because of seasonality, but perhaps the cash shortage has been an additional factor," Dr. Ashok Kumar Lahiri, former chief economic adviser to the Indian government, writes in a recent paper on demonetisation, part of a series published by the National Institute of Public Finance and Policy.
Data from Nagpur's Agricultural Produce Market Committee shows a sharp difference in prices before and after the demonetisation.
Before November 8, Bandu Ghormade of Chicholi, 50 kilometres from Nagpur, sold his tomatoes for Rs. 8 a kilo – a little low, perhaps because of the glut. Today the price stands at Re. 1 a kilo.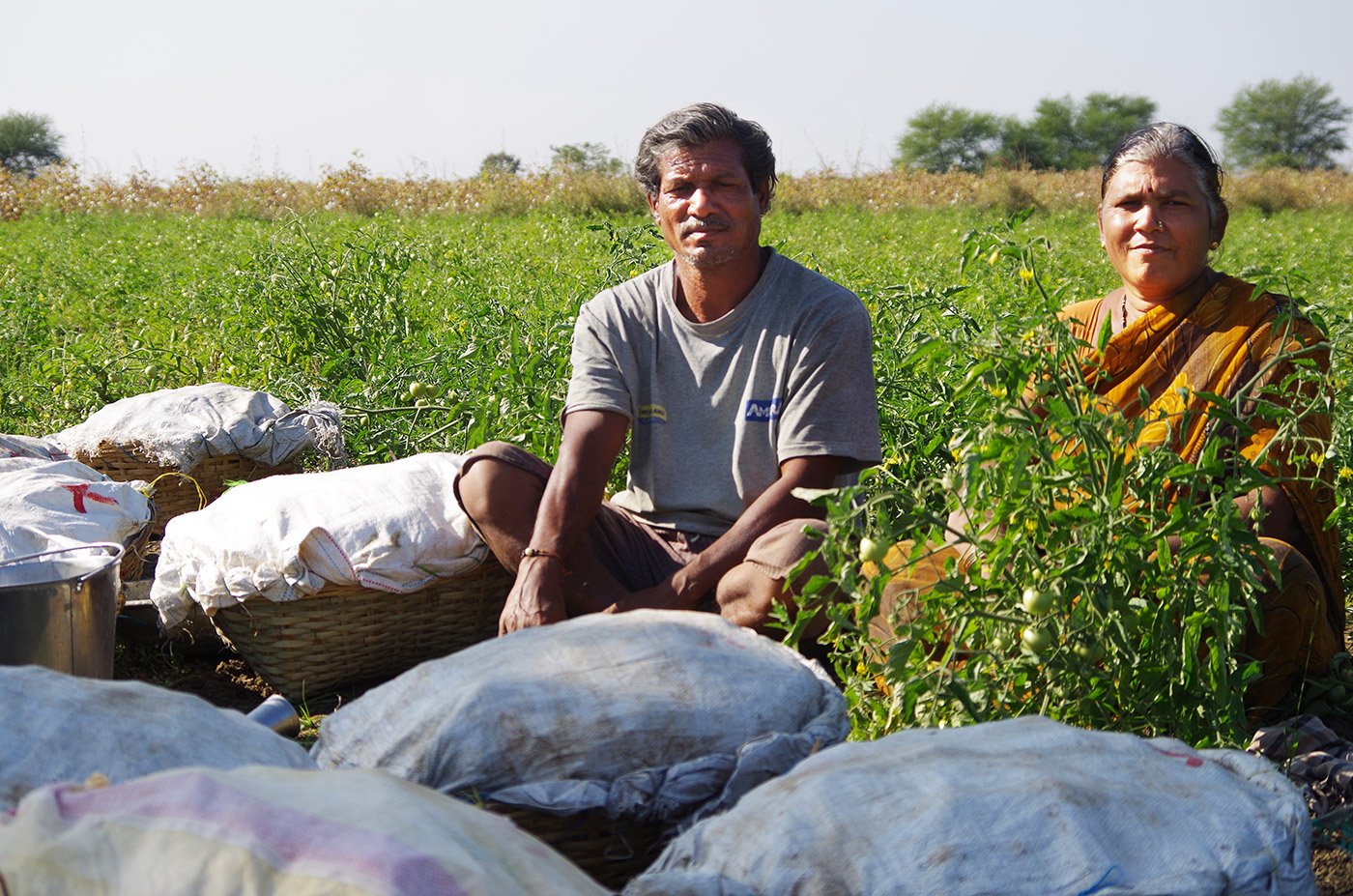 PHOTO • Jaideep Hardikar
In 2015, tomato prices in December-January averaged Rs. 15 a kilo for the desi variety and Rs. 37.5 for the export (hybrid) variety. But between November 1 and December 25 last year, the hybrid prices fell from an average of Rs. 29 a kilo to Rs. 5.50 per kilo in 29 big markets across India, according to data of the National Horticulture Board.
In Raipur, hybrid tomato prices fell to Rs. 4 a kilo. The desi variety sold at 50 paise a kilo in Chhattisgarh's Jashpur district, prompting farmers to dump several tonnes of tomatoes on the highways in frustration.
In Wardha town, 80 kilometres from Nagpur, farmer Pramon Ranit parked his tempo in the middle of a busy square on December 27 and gave away 400 kilos of his tomatoes free in four hours.
The nine-acre farmer had grown tomatoes over three acres, expecting to double his Rs. 1 lakh investment. But when the traders offered Re. 1 per kilo, he decided to earn goodwill through charity instead.
On January 2, news agency ANI reported that a group of farmers, members of the Yuva Pragatisheel Kisan Sangh, gave away about 1 lakh kilos of vegetables, including tomatoes, free in Raipur in protest against the demonetisation.
In Virkhandi, Sandeep is wondering what to plant on his forlorn patch, freshly flattened with a tractor. Should it be the guar (a kind of bean), the Indian round gourd ( tinda in Hindi) or okra? Whatever it is, what's the guarantee it will fetch a profit?
"I'll need to check the market prices and take a gamble," he smiles wanly.
This article (slightly modified here) was originally published in The Telegraph , Kolkata, on January 7, 2017.