Thursday (September 29, 2011), 8.27p.m. Wara Kavtha village in Maharashtra's farmer suicide belt. Aparna Malikar's home is buzzing.
Seven-year-old Rohini paces the dimly lit rooms impatiently: how can three minutes take so long? At 8.30, mother Aparna will be on Kaun Banega Crorepati, and half the village seems to have turned up at the three-room mud-and-brick house, one of the few with a TV. They all know the result, of course: the 27-year-old farm widow, mother of two and a cotton grower, has made them proud. That's why this tiny village in Yavatmal district wants to join Aparna in watching her moment of glory, seated across host Amitabh Bachchan at the KBC special, Doosra Mauka (second chance).
Rohini shouts at her grandfather, Arun Tathe, who is surfing channels. "Go back to Sony!" He smiles and obliges.The only peaceful expressions are on the faces of younger sister Samruddhi, 4, who was asleep, and their father Sanjay, gazing down benignly from a framed photograph on the wall.
Aparna looks buoyant. After the September 10 recording, she says, Big B sent her a cheque as a personal gift. "He had promised me Rs 50,000," Aparna says."I was surprised to find a cheque for Rs 1 lakh. I am deeply moved."
The actor wrote on his blog: "I am afraid there is not much that can be said after my time spent among the 'bleeding hearts' on this wonderful programme."
KBC had chosen Aparna from among 10 farm widows from this region. The 10 were recommended by Kishor Tiwari of the Vidarbha Jan Andolan Samiti, a farmers' movement.
"Their team came to interview me here; I was given a questionnaire to fill," Aparna recalls. Mother Leelabai whispers she hasn't seen her daughter smile so much in the eight years since her marriage.
Marriage had meant work, loans, quarrels. Then, in August 2008, Sanjay drank pesticide at nearby Patanbori. Rohini was four years old then, her sister just nine months. Aparna says she still wears her mangalsutra "to protect myself from society".
But it's cheering time now. It's 8.30. KBC, Bachchan's baritone informs the audience, wants to give Aparna a second chance to live her life.
First, however, Big B must see through an overnight contestant, Sanjay Kumar from Bihar, who's playing "very well". The packed TV room in Aparna's home can't wait any more.
8.45pm. Disaster! The lights go off. "Load-shedding!" shouts one of the kids. "Keep quiet.It won't be long," an elder admonishes. He's right. At 8.50, the lights are back. But a commercial break is playing spoilsport. The wait continues.
Challenges
After Sanjay's suicide, Aparna's challenges multiplied. She says her three Nagpur-based brothers-in-law tried to get her to leave the house so they could grab her land.
Two weeks after the suicide, one of her brothers-in-law lodged a police complaint accusing Aparna's father Arun and brother Amol of pushing Sanjay towards death. The same brother-in-law, Aparna says, was with her husband when he killed himself.
"They were harassing us so that my daughter gives up the farmland," Arun says. According to Aparna, the bone of contention is a 16-acre field that she and her husband cultivated till his death, and which she cultivates now.The entire village stood by her.
Arun and Amol spent 10 days in jail on charges of abetting suicide and common intention before securing bail. Police produced a suicide note found on Sanjay that accused his in-laws of harassing and threatening him, but the defence argued the letter had been planted. The case is in trial stage at the sessions court in Pandharkavda, a cotton-trading town 40km down National Highway 7.
Sanjay's eldest brother, Raghunath Malikar, is an NCP-turned-Congress leader and a former mayor of Nagpur, where his wife is a councillor. After the recording of the KBC show, Raghunath allegedly wrote to the producers saying Aparna was a widow but not a "farm widow".
The land record (7/12 document), though, shows her as a cultivator and says the land under contention is in her possession.
"She is a very hardworking farmer; it's not easy to manage a 16-acre field, pay loans,and also raise children," says sarpanch Nirmala Gore.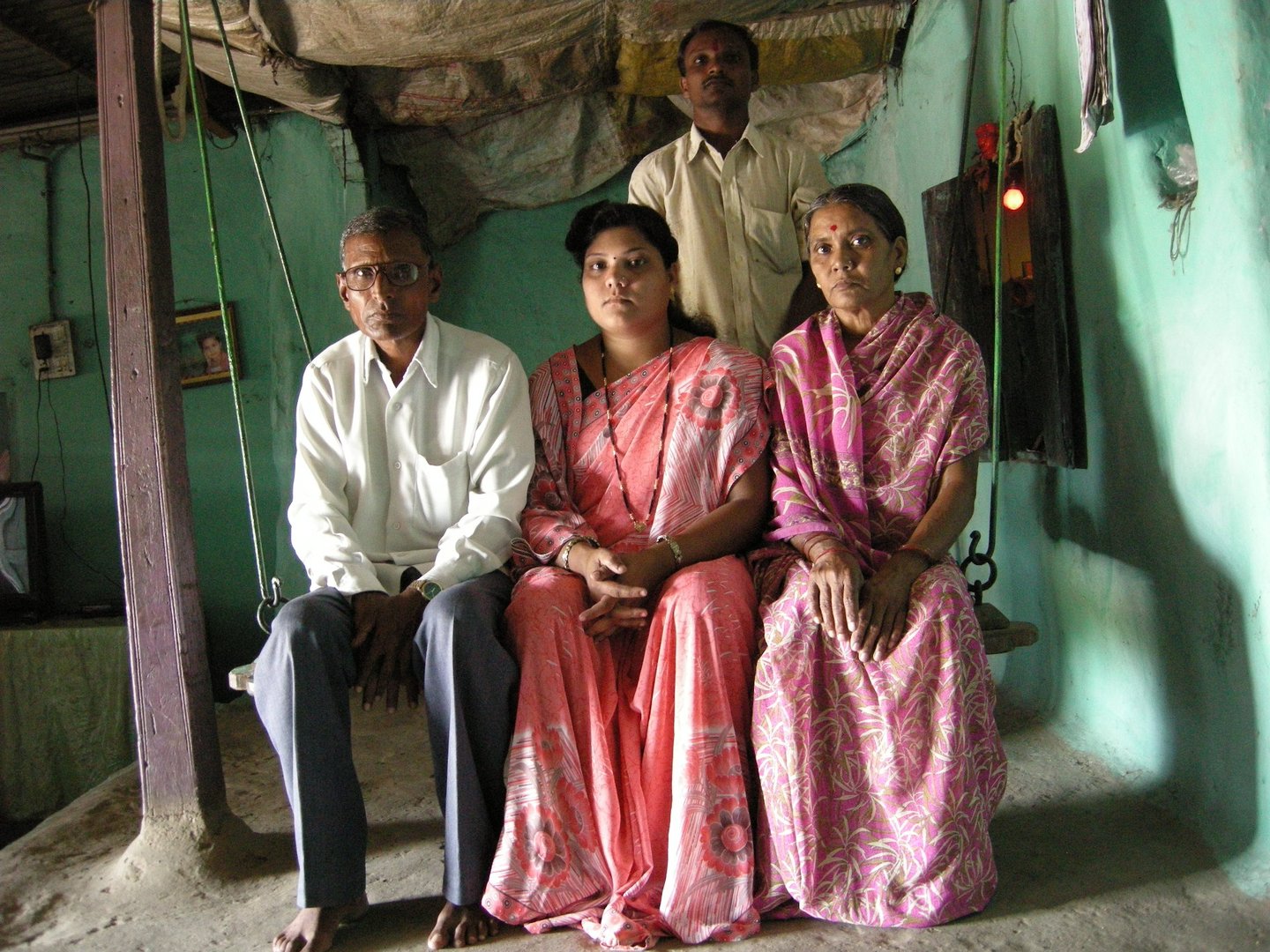 PHOTO • Jaideep Hardikar
Bees and bats
The 21-inch TV screen is now showing Bachchan walking Aparna to the hot seat. "I felt so nervous," Aparna giggles at the memory. She had never ventured beyond Yavatmal. "But Amitabh sir comforted me. I thought I was in a dream."
She was accompanied to Mumbai by her father and Manjusha Amberwar, a journalism student from Nagpur whose father, a farmer, had committed suicide in1998 in Yavatmal. Arun says the trip was thrilling. "I had never seen a plane. We flew to Mumbai."
The game starts. Aparna sets Rs 1.6 lakh as the first target, or Man Chaha Padav.
Question 1, for Rs 5,000: What is the home of bees called in Hindi? Aparna goes
for the first lifeline: audience poll. " Chhatta " is the answer. Aparna s ays she knew its Marathi name. "It's called a moharu ."
Question 2 (Rs10,000): Which of these sports is usually played on a non-rectangular field? Aparna opts for her second lifeline: expert advice. Economist Ajit Ranade, the invited expert, comes to her rescue. Cricket, ofcourse.
Aware that the kids watching at her home would be incredulous that she had failed to grab such a lolly, Aparna sheepishly says: "I knew both the answers, but I was so nervous!"
Quiet, hush!Question 3 (Rs 20,000): Which of these animals has black and whitestripes? Aparna's cool as cucumber. Zebra's the answer. Rohini sits up straight.
Next. Which of these diseases is called chhoti maa or khasra ? Rs 40,000 at stake. The youngest of three siblings, Aparna had dropped out after Class X. The clock ticks.
Big B repeats the question. Aparna is thinking. At her home, there's a sudden quiet."Measles," she finally says, struggling to pronounce the word. The audiences at the Mumbai studio and Wara Kavtha clap.
Question 5 (Rs80,000): Which political party elected Nitin Gadkari its president in 2009? Aparna goes for the third lifeline: phone-a-friend.
"Computerji" connects to Tiwari, the Samiti activist. It's easy for him: the BJP.
The next question is crucial: it's the Man Chaha Padav: get it right and you go home with at least Rs 1.6 lakh.
According to Hindu mythology, which of these would you associate with Kurukshetra?
The answer is "C" — the Mahabharata.
Bachchan writes out a cheque. Commercial break.
'Ineligible' suicide
The money will help Aparna pay off the bulk of her loans. She never got the Rs 1 lakh state compensation because Sanjay's was not an "eligible suicide".
To the Maharashtra government, a farmer's suicide is "eligible" if the victim ended his or her life for "agrarian reasons". The criteria: outstanding bank loans; cultivator or land ownership status; and no reason for distress other than agrarian.
But loans from private moneylenders don't count — and Sanjay owed them Rs 2 lakh. He also owed Rs 50,000 to the Union Bank, but it had been taken as a housing loan because, as a defaulter farmer, he would not get a crop loan, Aparna says.
That he had suffered losses in back-to-back years didn't count. And his brothers won't accept it as a farm suicide, either. So, officially, Sanjay's suicide was prompted by "domestic reasons".
"We would fight, yes, but which couple don't? How could I see him die slowly, bit by bit every day, from the tension of loans?" asks Aparna.
"Till 2005, my husband was not an alcoholic," she says as several villagers nod. "He was always worried about loans; I would fight with him, telling him that liquor will only worsen our problems."
More than 70 percent of suicides after 2008, the year the Centre gave a one-time loan waiver to farmers, have been classified "ineligible".
In his blog, Bachchan says he has no words to express his anguish at Aparna's struggle. "But there it was. Stark, brutal and honest," he writes.
Last lap
Question 7 (Rs 3.2 lakh): Identify the hero from this audio clip. Aparna smiles, perhaps for the first time on the show: she knows Salman Khan's voice. Right answer! She can now clear her loans altogether and set up the beauty parlour that has been her dream.
Which freedom fighter is also known as Lokmanya? Bal Gangadhar Tilak. Bachchan hands her a cheque for Rs 6.4 lakh.
Now, Big B is admiringly chatting with Aparna. He poses the next question: number 9, for Rs 12.5 lakh. Which seer is believed to have written over 4,000 abhangas, most of which were addressed to the god Vithoba of Pandharpur?
Long silence. Aparna is contemplating the four options. She has one lifeline left: double dip. Bachchan gauges her dilemma and tells her to play only if she's absolutely sure. After a while, Aparna says she wants to quit.
Sure? She repeats she wants to quit. The actor asks the audience to clap one last time.
Now, if she were to guess the answer, which option would she choose, Bachchan asks. "SantTukaram," says Aparna. That would have been the correct choice!
At her home, Aparna tells the villagers she was not certain, that's why she quit.
It's 10pm. The show's over. The villagers leave, praising and patting her. Aparna comes out of her reverie. More daunting questions lie ahead in life. Only, lifelines are rare and quitting is never an option.
PHOTO • Jaideep Hardikar