Around 20 young girls and women have gathered by a well at 11 a.m., just outside the entrance to Killabandar. "The well has only a little water [in the summer] in one corner. It takes us half-an-hour to fill one kalshi [metal pot]," says Neelam Manbhat, a resident of the village. Killabandar is a coastal village of fish workers, bordering Vasai Fort, north of Mumbai city.
For the women and girls at the well, some as little as four, spending several hours collecting water is a daily reality. The well on public land is the only source of drinking water close to the village. The municipal water supply here is erratic and inadequate, the women say. Since numerous families in Killabandar depend on the well, that water is inadequate too, especially in the summer. The women and girls have to literally scrape the bottom of the well.
Vasai taluka in Palghar district is spread over 600 square kilometres, and the township's population is around 13 lakhs (Census 2011). The Vasai Virar City  Municipal Corporation should ideally provide adequate water for the area's two towns, and over a hundred villages and hamlets. It doesn't.
Killabandar residents resent the fact that while they still depend on wells and tankers, water from Palghar district is diverted to the Mumbai Metropolitan Region. "She doesn't have to do it," Priya Ghtya tells another woman at the well, pointing to me. Then she turns to me and says, "You must have a machine [to wash clothes]. You don't have to do this. We don't get water, you do."
There are more than 75 wells in and around the 109-acre Vasai Fort. "Most of them are out of commission," says Kailas Shinde, the Archaeological Survey of India conservation assistant in charge of the fort. "Only 5-6 wells are functional."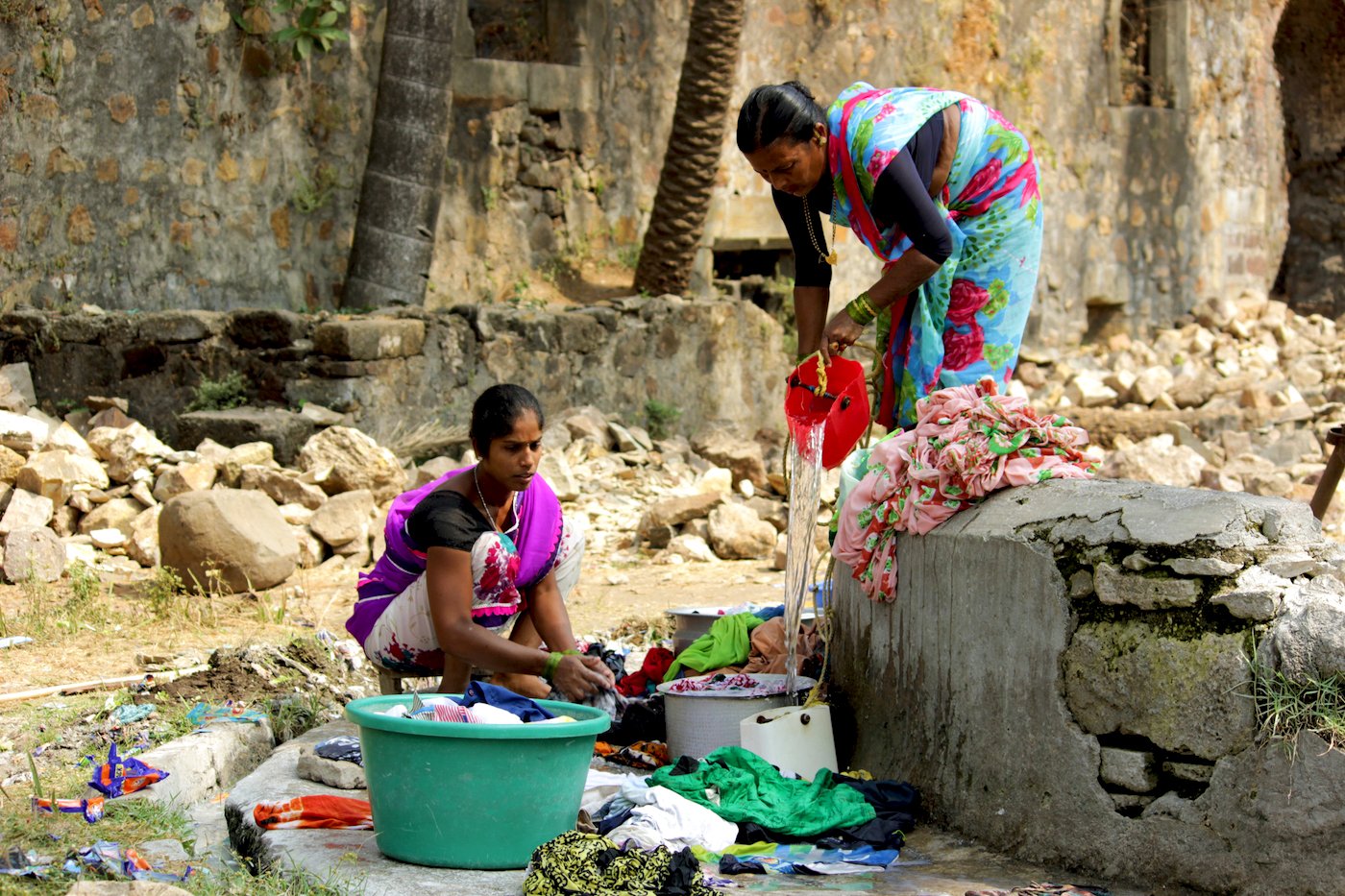 PHOTO • Samyukta Shastri
Shilpa Alibag (left) and Josephine Mastan (right) wash clothes at a well inside the Bale Killa portion of Vasai Fort.  They come with a big load of clothes, detergent, and plastic cans with their tops cut off and tied to a rope to draw water from the well. "We come here every day after we are done with other chores… Yes, every day. We don't get any holidays!" Shilpa says, laughing.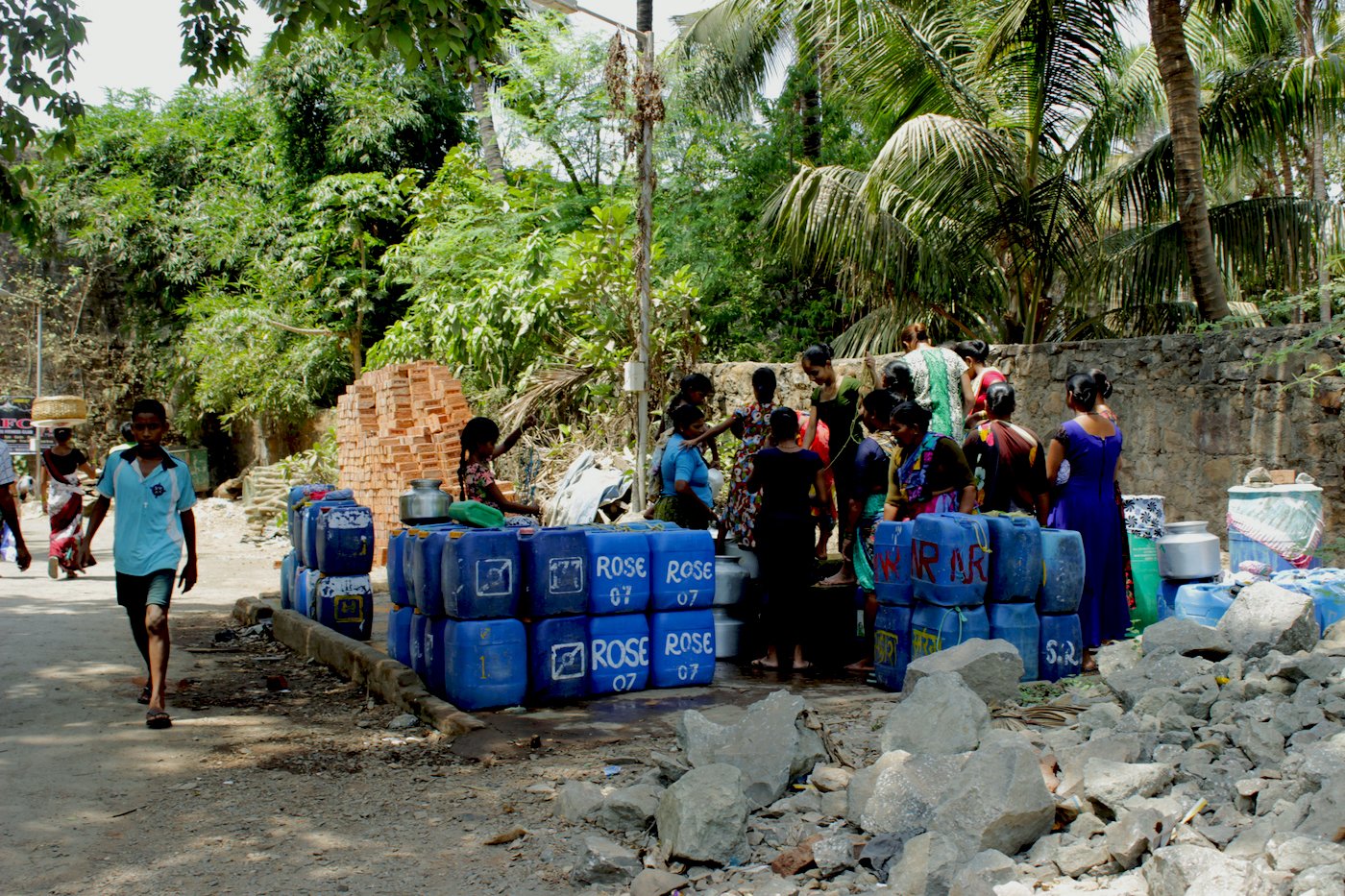 PHOTO • Samyukta Shastri
At another well nearby, women and young girls also use improvised plastic cans to draw out water and then pour it into stainless steel or copper kalshi s. This is one of the wells that was built at the same time as the 16th century fort.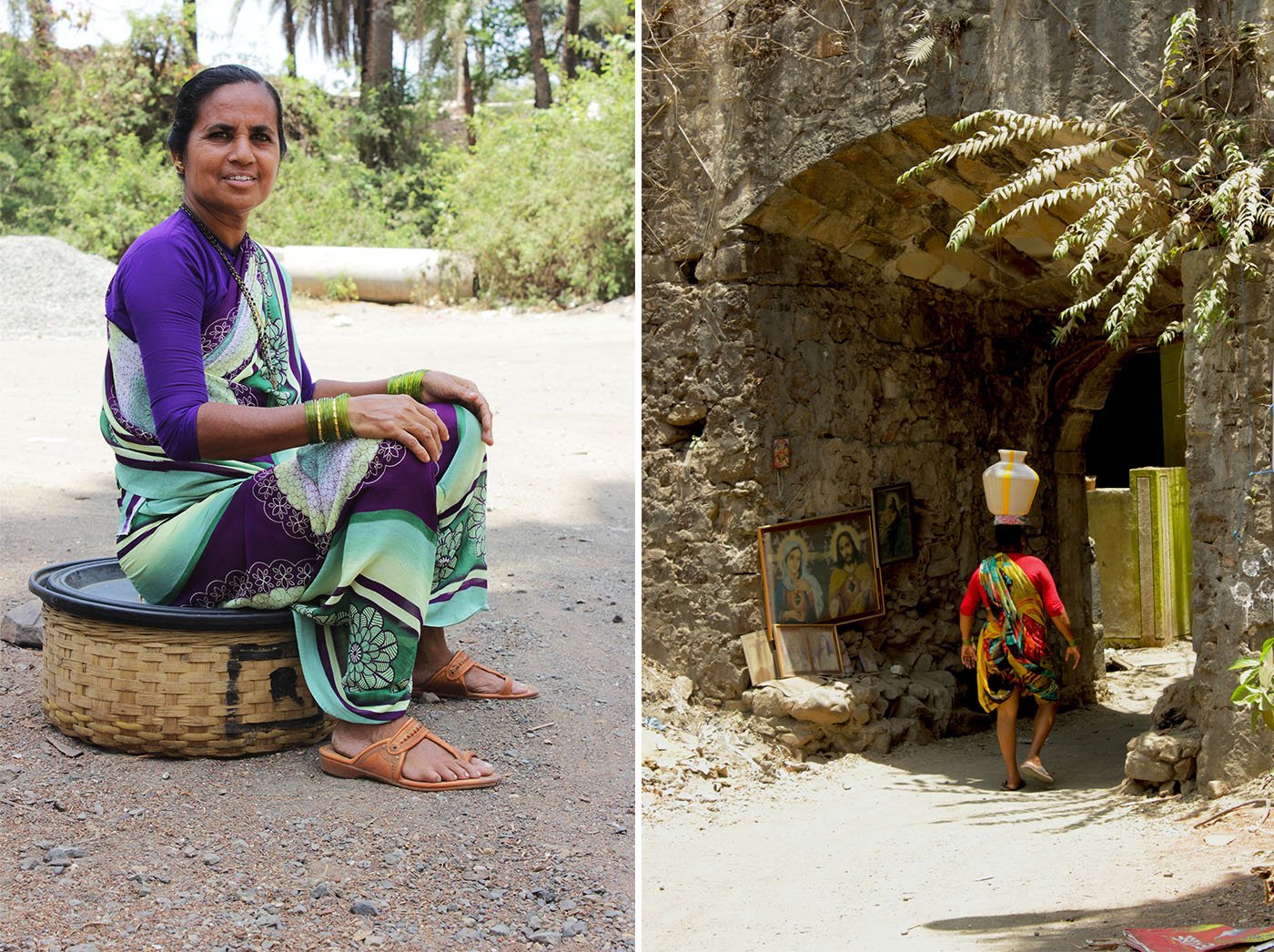 PHOTO • Samyukta Shastri
"The well is 400 years old. We pool in money for repairs when needed," says Regina Jungli, sitting on her fish basket and waiting at a bus stop near the well. "There are taps at various places in the village, but they are of little use. The [municipal] water only comes for around one-and-a-half hours on alternate days. And they don't bother to even check if the tanks in the village fill up," adds Neelam Manbhat.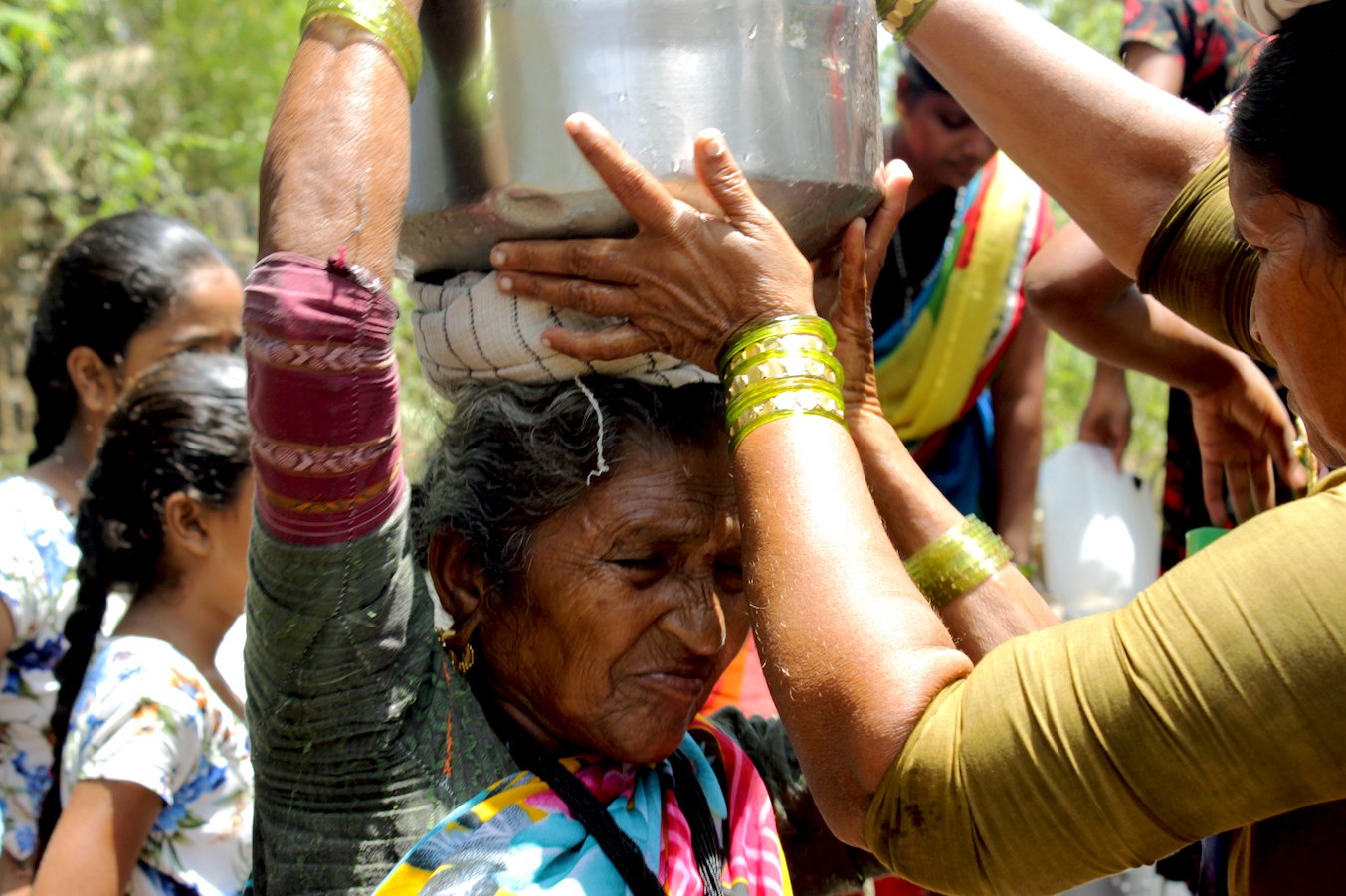 PHOTO • Samyukta Shastri
So it can take hours to fill the daily requirement of water for the family. Some women gather at the wells in the dark of the night to ensure their share – and then walk back home with the heavy pots on their heads. The pots and containers of varying sizes can hold between 5 to 15 litres of water each; large jerry cans contain even up to 50 litres.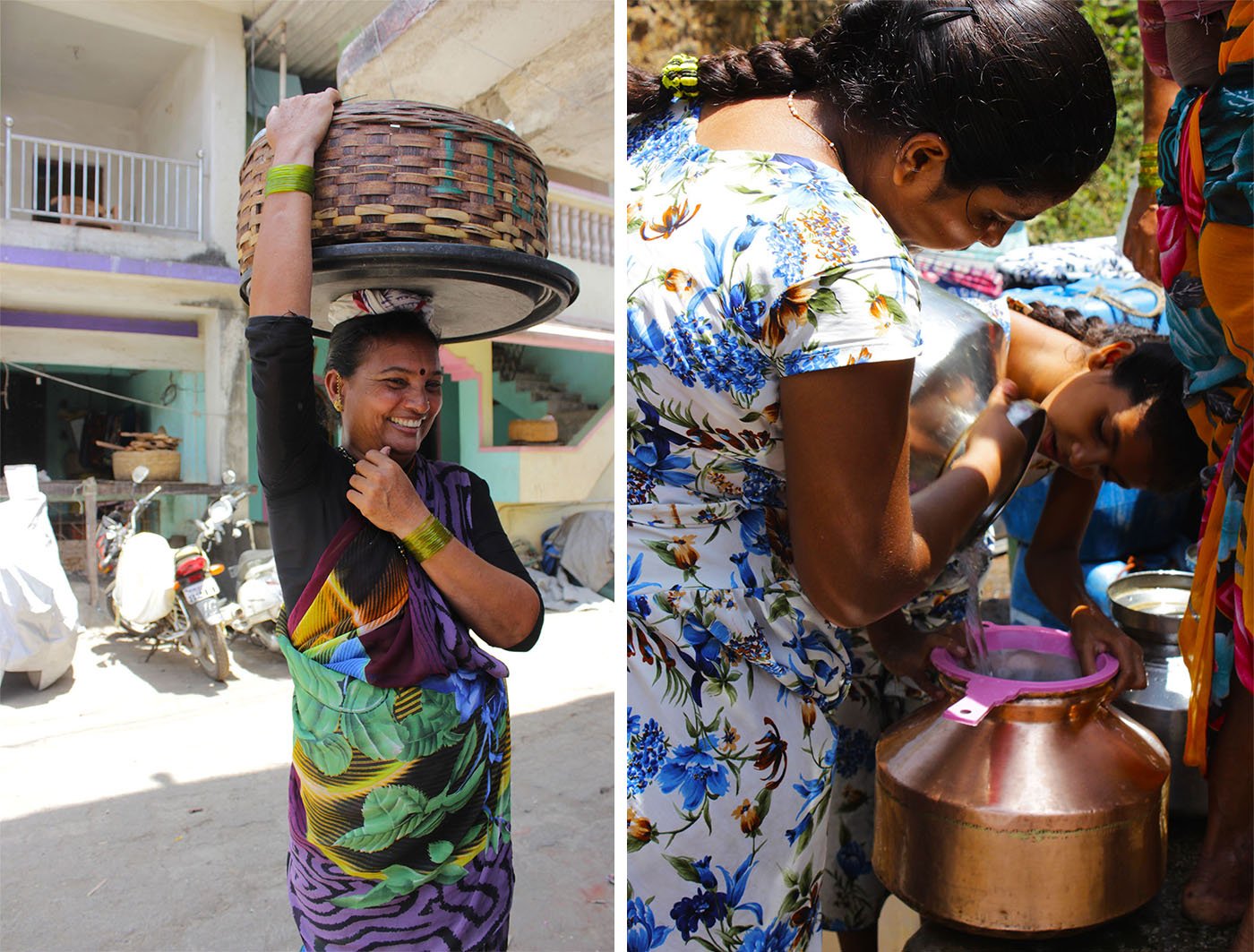 PHOTO • Samyukta Shastri
"We get up and fill water at two in the morning. There are fewer people then. What can we do? We need the water," says Sunita Moses Itur (left). "You'll get water; I won't. Some will; some won't. The municipal water is uncertain. We have the connections for years but there is no water yet."
Sisters-in-law Avita and Priscilla Pakya are lucky to have functional piped water in their houses. "We need water [from the well] only for drinking," Priscilla says. "We don't drink the municipal water." To collect even just this water takes a lot of effort at the well. "The water is so less, it takes an hour [to fill] two handi s," she says, holding out her hands to indicate the size of the vessels.
Since water is drawn from the well round-the-clock, the groundwater has little time to replenish. Often, the little water that is drawn is muddy and has small pebbles. The girls then sieve the water when they transfer it into handi s to take home (right).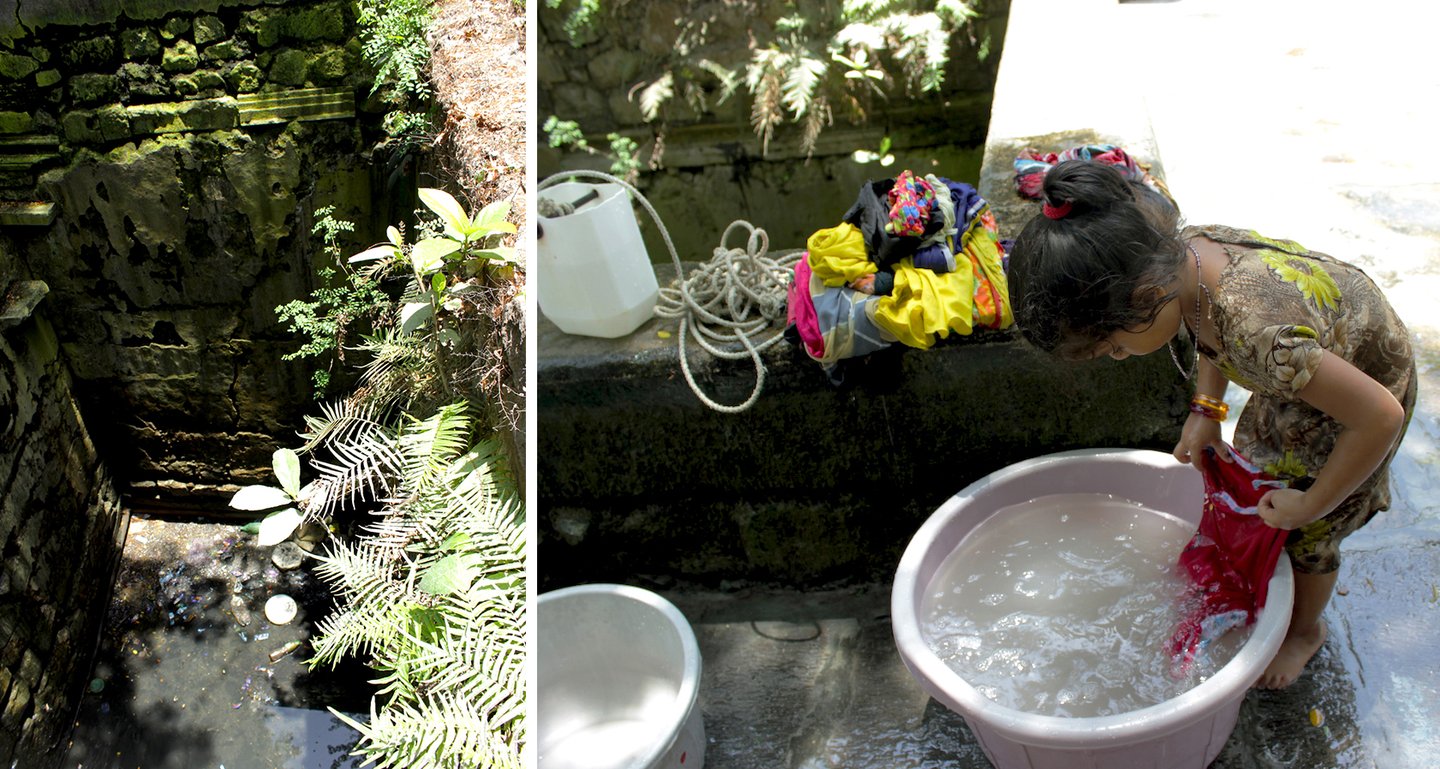 PHOTO • Samyukta Shastri
At another well nearby, some women are washing clothes. During the intense summer this year, the well was drying up fast. Young girls help their mothers not only to fetch water, but also in other household tasks. "She was washing clothes since she was two-and-a half," says a proud Priya Ghtya about her daughter Nerissa. "See how she washes all her own clothes. She will turn four in July."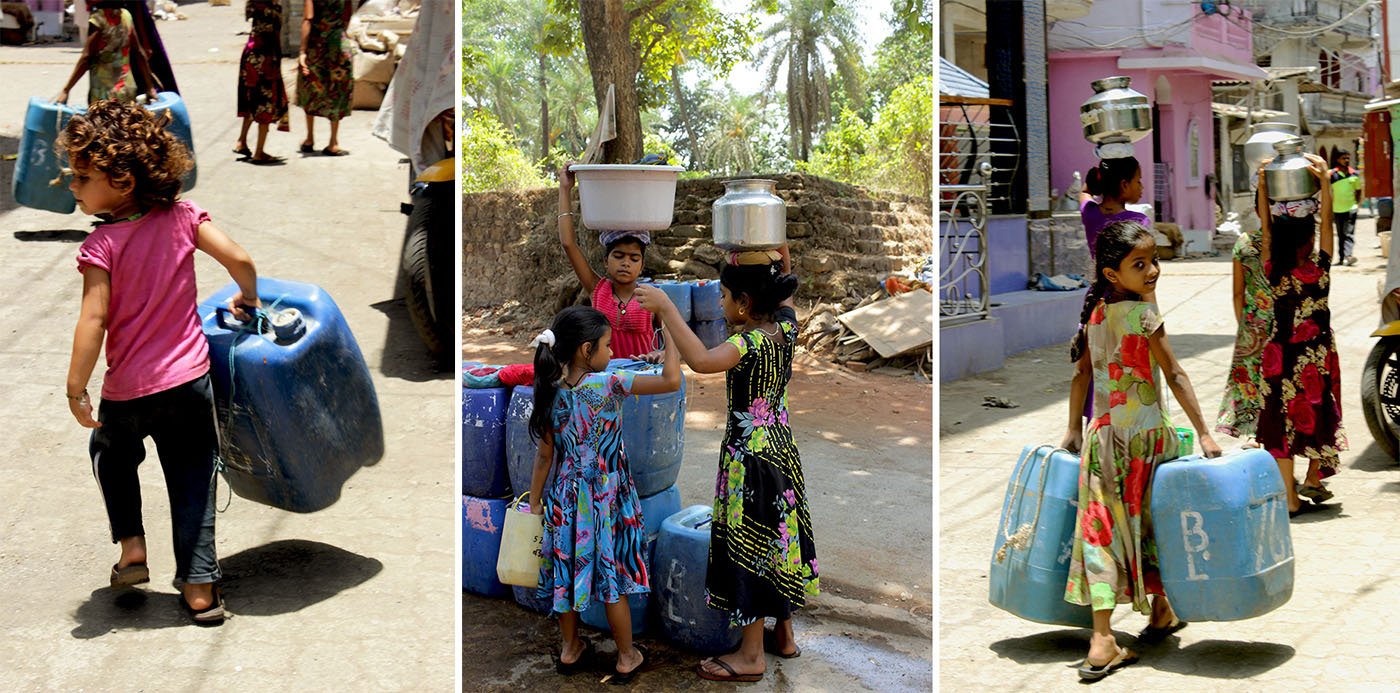 PHOTO • Samyukta Shastri
Nerissa is not the only child at work here. The need for water pushes even the youngest members – almost always girls – of many families into this daily labour.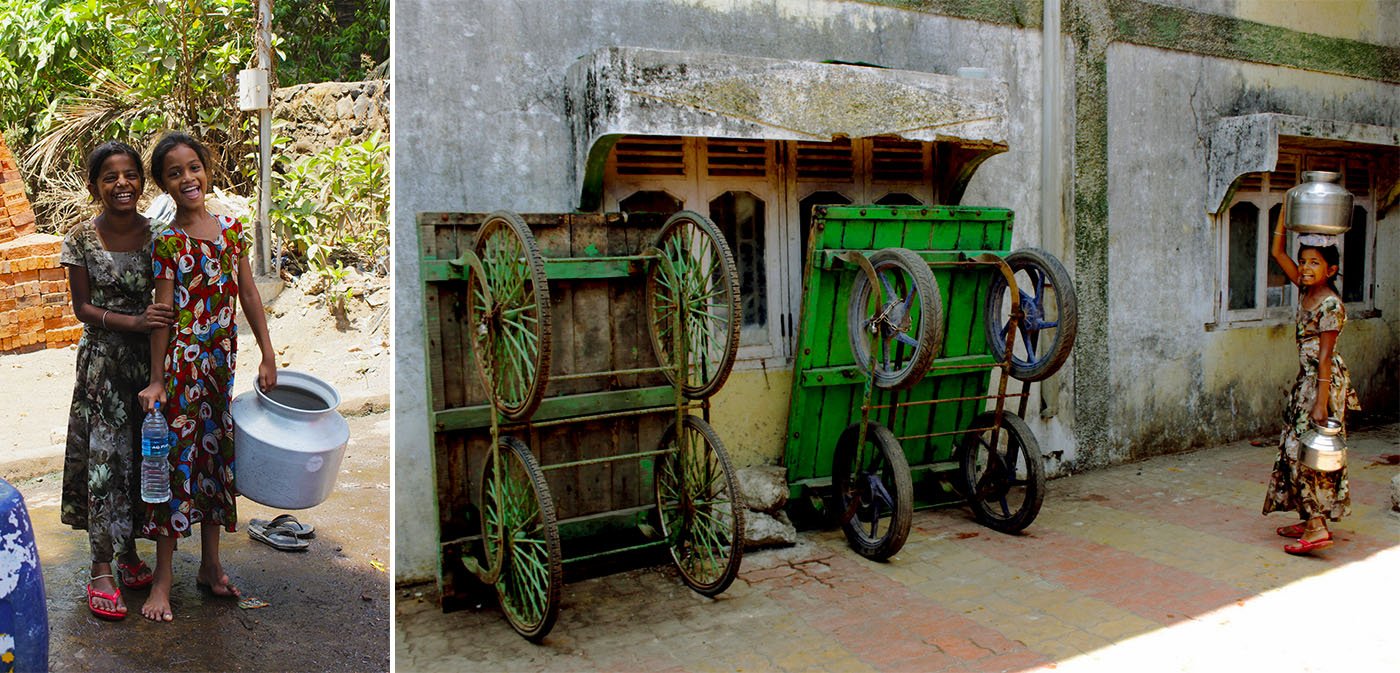 PHOTO • Samyukta Shastri
Vanessa, a Class 4 student,  and her friend Saniya, walk to the well at Killabandar every morning. "I wake up at 7," Saniya Bhimawaghri, 11 years old, says. "I collect water until 10-10.30, then I go to school at noon." Saniya lives with her parents, an older sister and three younger brothers. While her parents are out working – her mother sells clothes, her father is a fish worker – her sister, a little over a year older, cooks for the family and Saniya fetches the water. She has to make multiple trips from the well to her home deep inside Killabandar village. But can only take two pots at a time – adding to the number of trips. The handcarts in the photograph above are hired by some families to ferry their water; Saniya's family isn't one of those.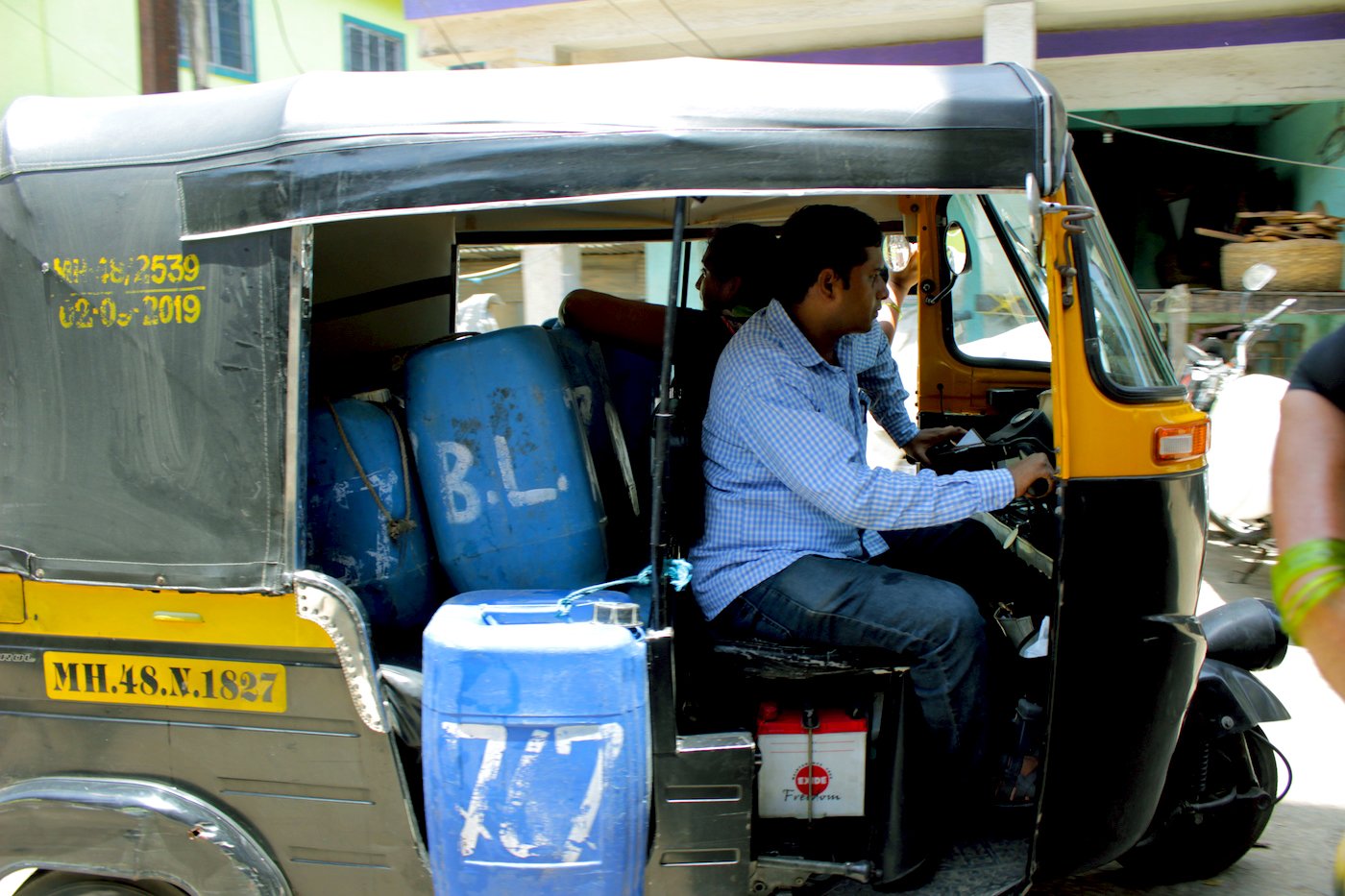 PHOTO • Samyukta Shastri
Some families draw more than a day's supply. They store it in large, blue jerry cans. The initials of the owner-family are painted on each set of cans. These cans wait at the well until they are transported in autorickshaws.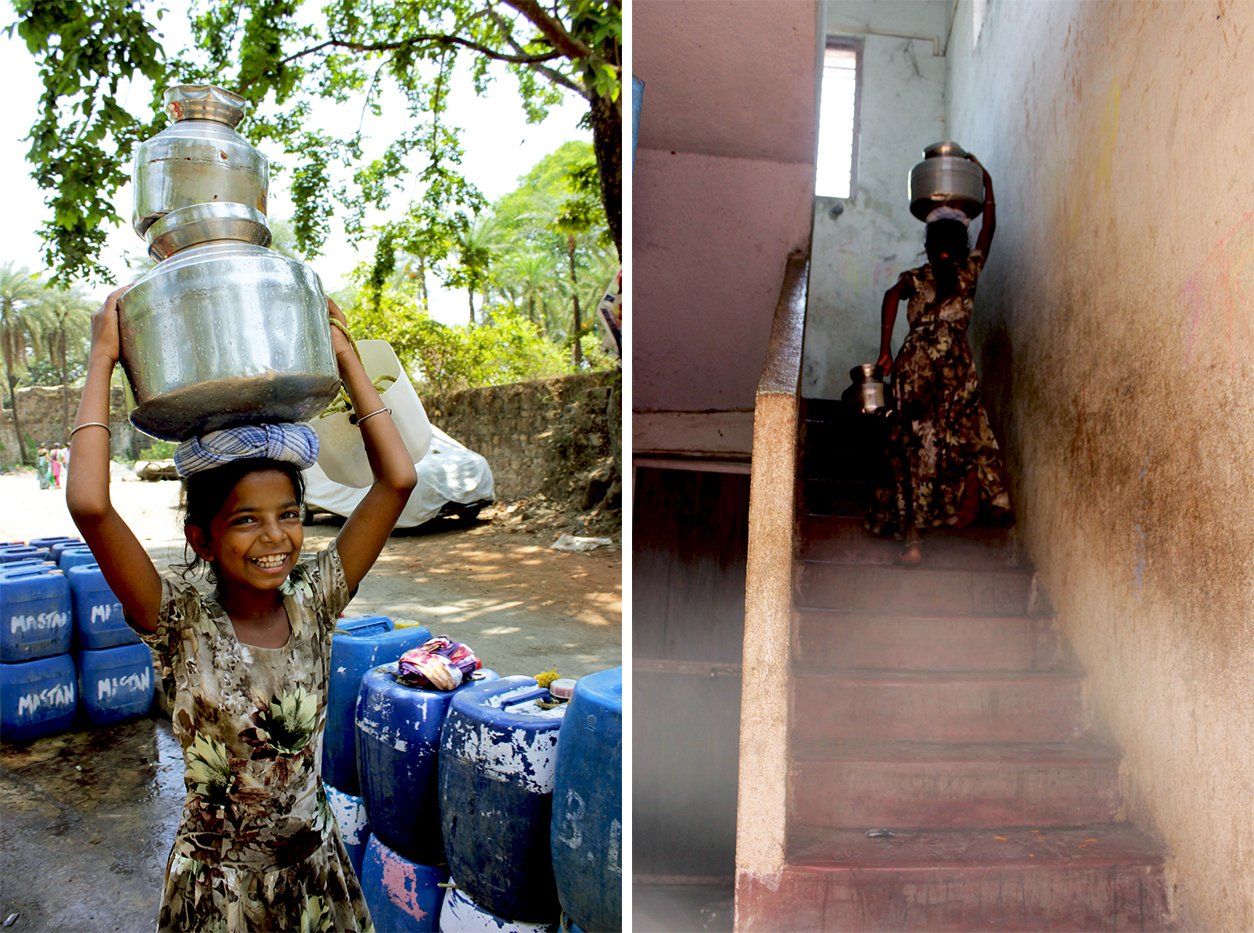 PHOTO • Samyukta Shastri
"We are hungry now. So we are going home to eat. We'll come back later," Vanessa tells me, and scurries off into a narrow lane that leads to her home. I follow Saniya to hers. She lives on the first floor and practically runs up the stairs with her heavy steel pots without spilling a drop.