Listen to the first of over 100,000 folk songs by women in Maharashtra's villages that make up the unprecedented Grindmill Songs Project, which will run regularly on PARI. Close to 30,000 of these songs have been digitally recorded and 40,000 translated into English from the original Marathi. Some 3,302 performers across more than 1,000 villages were involved in this phenomenal recording of a poetic-musical legacy

Welcome to 'The Grindmill Songs Project', a collection of over 100,000 folk songs composed and sung by the women of Maharashtra over generations, while toiling at the jāte (English: grindmill, IPA: zɑːt̪ə) at home and performing other household tasks.
This database is the culmination of decades of meticulous field research by numerous anthropologists and ethnomusicologists. The motivation for this project is the long-term preservation, translation, documentation and restoration of a very large corpus of songs that were performed by women at the grindmill. This practice has almost disappeared during the last decade with the hand-operated grindmill largely overtaken by motorised grinding.
A phenomenal body of work, these songs yield insights into village life and culture; gender, class, and caste issues; religion; relationships between women and their children, husbands, siblings, and larger communities; and various contemporary social and political concerns.
The People's Archive of Rural India is proud to unveil this testament to the tenacity and artistry of the women of rural Maharashtra on our website.  This launch honours International Women's Day, March 8, 2017.
The grindmills songs database was conceived by the late Hema Rairkar and Guy Poitevin , social activists and distinguished scholars, who co-founded the Centre for Cooperative Research in Social Sciences in Pune. Together they transcribed more than 110,000 folk songs of Maharashtra over a period of 20 years.
Bernard Bel , a computational musicologist and former engineer at the French National Centre for Scientific Research, joined the project in the late 1990s, architecting a database of texts and annotations and recording more than 120 hours of associated audio. This material was maintained by the Archives and Research Centre for Ethnomusicology in Gurgaon, Haryana, and later ported to the Speech and Language Data Repository in Aix-en-Provence, France, also curated by Prof. Bel. There, the grindmill songs database became a prototype for later Open Archival Information Systems, and paved the way for many subsequent advances in the Digital Humanities.
Between 1993 and 1998, the Grindmill Songs Project received financial support from UNESCO, the Netherlands Ministry for Development Cooperation, and the Charles Leopold Mayer Foundation for the Progress of Humankind in Switzerland.
"I had a personal commitment with Hema Rairkar and Guy Poitevin to complete the documentation/ edition/ translation of the grindmill corpus and publish it in open access," says Prof. Bel. "In January 2015, their project was revived as I donated equipment to the team of grindmill song experts working in Pune. We worked together on an initial publication format for the corpus. This required a serious investment in re-engineering the database and transcoding texts from several Devanagari encodings."
With PARI's involvement, the project has been recently revived together with a host of old and new collaborators. The 70,000 untranslated songs are being tackled by Asha Ogale, a former documentation officer at the Gokhale Institute of Politics and Economics, Pune, and her colleagues Rajani Khaladkar and Jitendra Maid. Their deep collective knowledge of the Marathi language and rural life lends invaluable context to the translation effort.
A partnership with Ashoka University in Sonepat, Haryana, was established in 2016, led by Gilles Verniers , Assistant Professor of Political Science at that institution. Three members of the 2016-17 Young India Fellowship class – Meherish Devaki, Sneha Madhuri and Poornaprajna Kulkarni – are reviewing the translations and providing additional archival assistance. Namita Waikar, Managing Editor, PARI, heads the Grindmill Songs Project at the People's Archive of Rural India, while Olivia Waring, an American India Foundation Clinton Fellow, also contributes to database curation.
Among the many others significantly contributing to the project were Bhimsen Nanekar (interviewer), Datta Shinde (research participant), Malavika Taludkar (photographer) Lata Bhore (data input), and Gajarabai Darekar (transcribing).
All selected videos and photographs of Gangubai Ambore, a central performer and participant in the project, are the work of Andréine Bel.
We invite you to explore this latest addition to the People's Archive of Rural India, which will be incrementally unveiled over the coming months and years. PARI extends its heartfelt gratitude to all the Grindmill Songs partners – and especially acknowledges the lives and achievements of thousands of unsung women of rural Maharashtra, but for whom there would be no songs and no database.

---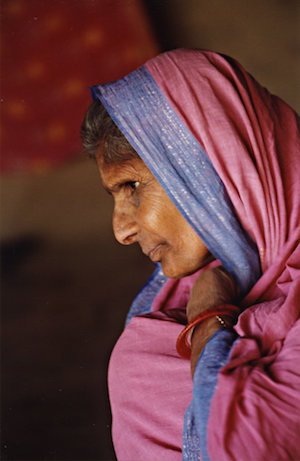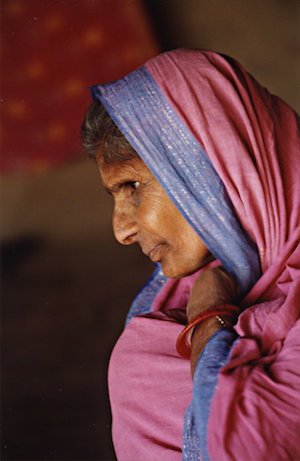 Performer/ Singer: Gangubai Ambore
Village: Tadkalas
Taluka: Purna
District: Parbhani
Gender: Female
Caste: Maratha
Age: 56
Education: None
Children: 1 daughter
Occupation: From a family that had 14 acres; she was dispossessed and lived in a temple in the village.
Date: Her interview and songs were recorded on April 7, 1996 and February 5, 1997.
आरण्या ग वनामधी, कोण रडत आईका, कोण रडत आइका | बोरी बाभळी या बाइका, बोरी बाभळी बायका |
कोण रडत आईका, सीतेला ग समजावया | बोरी बाभळी बाइका, बोरी बाभळी बाइका बोरी बाभळी या |
āraṇyā ga vanāmadhī, kōṇa raḍata āīkā, kōṇa raḍata āikā | bōrī bābhaḷī yā bāikā, bōrī bābhaḷī bāyakā |
kōṇa raḍata āīkā, sītēlā ga samajāvayā | bōrī bābhaḷī bāikā, bōrī bābhaḷī bāikā, bōrī bābhaḷī yā |
In the forest, in the woods, who is weeping? Listen!
Bori-babhali [jujube and acacia trees] are the 'women' who listen to and console Sita.
Note:  In this ovi , Sita is weeping. She is in the forest – sent here, the Ramayana narrates, as a punishment by Lord Ram. She is alone and the only friends she can share her sorrow with are the bori (jujube) and babhali (acacia) trees. These are thorny trees with fissured barks; their condition, the ovi implies, speaks of the barbed, unequal status of women in society. In the song, these trees, in the form of 'women', console Sita and tell her that they too are like her: alone and marginalised. Gangubai Ambore, who is singing this ovi , sees herself in the weeping Sita.
---
Gangubai Ambore of Tadkalas village in Parbhani district sang songs suffused with sorrow, her voice spoke of long years of loneliness — and it captivated listeners

Read Gangubai: village voice, Marathi soul by Jitendra Maid.
Poster: Aditya Dipankar, Shreya Katyayini, Sinchita Maji