'Now the tourists come',  Renuka Umbre of Rajmachi village in Mawal taluka said, 'So we do not get much time to sing…' In these ovi, she sings about a woman who has left for the big city. Continuing the Grindmill Songs Project on PARI as part of our International Women's Day features throughout March
Renuka Umbre's voice was very melodious. She knew many grindmill songs, which she had learnt from her mother in childhood, and later from her husband's aunt. Renuka told us that to sing ovi, women usually do not use a high pitch because it is tiring when they have to grind at the same time. Like other women who are experts at singing ovi , she too did not change the tune for at least 10 songs once she started singing about a theme.

Renuka lived in Rajmachi village, situated at the foot of a hill  in Mawal taluka of Pune district when we visited her two decades ago. Her family cultivated red millet on land owned by others. They had recently bought some land in Raigad district where they cultivated paddy.  At times, they went there for a week, sometimes for a day-trip. To reach their farm they had to cross a mountain on foot.

Renuka's husband and his two brothers and their families lived in the same house and cultivated the farm together – but each family unit cooked separately. Her two sisters-in-law were abandoned by their husbands and they too lived in the same house.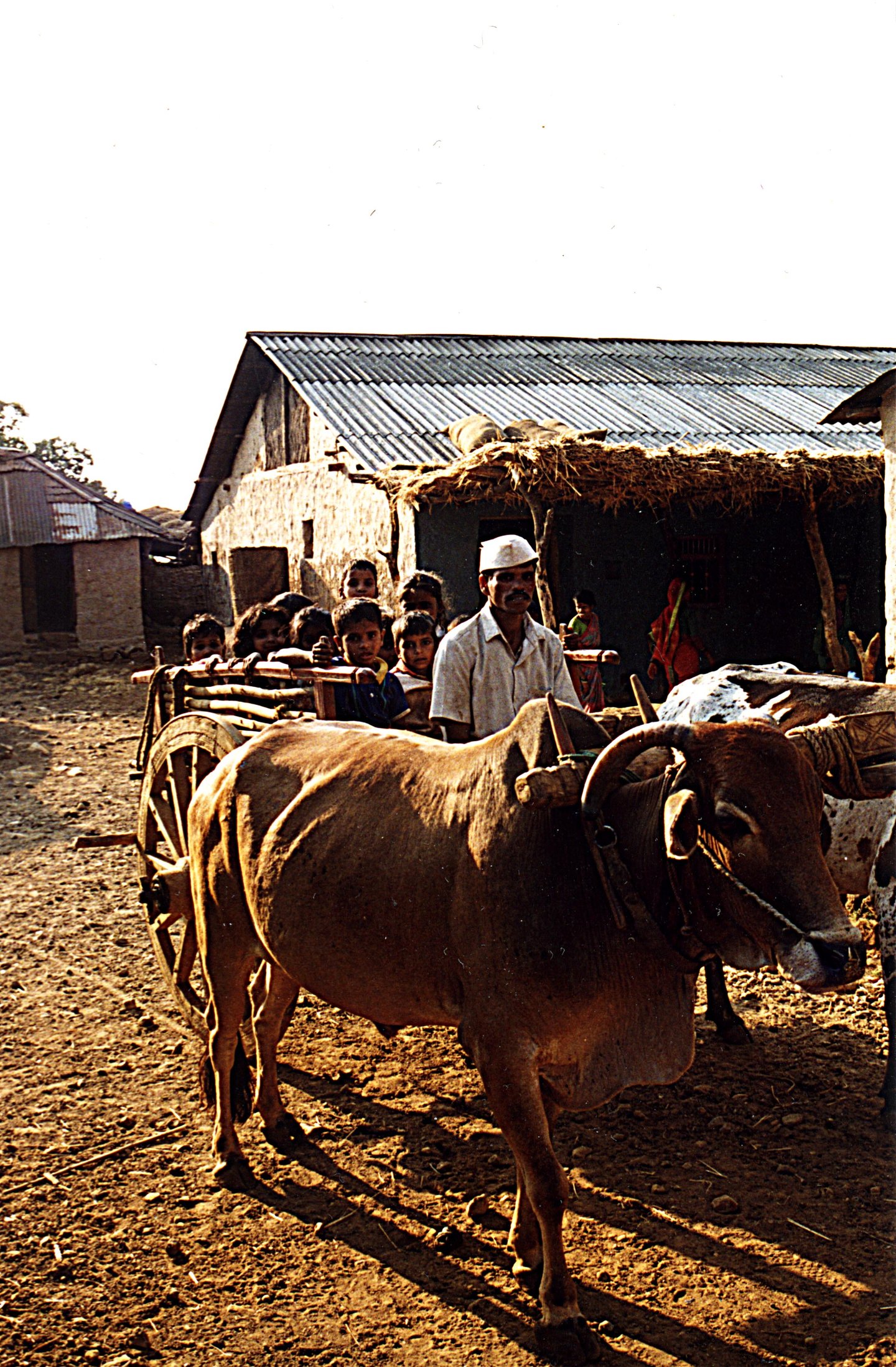 PHOTO • Bernard Bel
Renuka had two daughters.  She said, "We tried a lot to get a son. We even went to a sorcerer, but to no effect. Now I think that my brothers-in-law have sons, so why should I aspire for one more?" The marriage of Renuka's older daughter, around 16, was scheduled for April 1997.

The family's house was quite large, like most of the houses in Rajmachi. The villagers built these with their own labour in a traditional style, the doors decorated with different designs and colours.  The large houses catered to tourists, mainly from Bombay and Pune, who visited nearby Rajmachi fort. Every household in the village cultivated contacts with families from the cities in an effort to get an income from tourism.

Renuka told us that she did not sing bhajans or gaulan (gaulan are folk songs that village women sing in the mornings while walking to the river to fill water, and while at the river; like many villages, Rajmachi did not have tap water). "I sing only grindmill songs and festival songs," Renuka told us. But even that, she said, was on the decline for some years. "Now the tourists come," she said, "We have to look after them, so we do not get much time to sing. Now I don't remember many of them [ ovi ], though I like to sing and express myself…"

In the audio featured here, Renuka Umbre sings three ovi . The first speaks of the cost of a dozen (glass) bangles that her nephew (sister's son) purchases for Renuka. The second and third ovi are about a woman who migrates from the village to Mumbai. She becomes a city dweller and gradually forgets the language of the countryside. She eats fish but searches for the vegetables grown in her village fields –  she misses her life in the village.
बारीक बांगडी, बारा आण्याला डझन
बहीणी तुझी बाळ, मला भरितो सजण
मुंबईला हीन गेली नार, बाई मुंबईवाली झाली
आपल्या ग मुलुखाची, बोली विसरुनी गेली
मुंबईला ना गेली नार, खायीती म्हावर
कुरडूच्या भाजी साठी, ही नार हिंडत वावयर
bārīka bāṅgaḍī bārā āṇyālā ḍajhana
bahīṇī tujhī bāḷa malā mhaṇītō sajaṇa
mumbīlā hīna gēlī nāra bāī mumbīvālī jhālī
āpalyā ga mulukhācī bōlī visarunī gēlī
mumbīlā nā gēlī nāra khāyītī mhāvara
kuraḍūcyā bhājī sāṭhī hī nāra hiṇḍata vāvayara
The thin bangles cost twelve annas a dozen
Sister, your son Sajana, gives them to me
The woman went to Mumbai, she became a Mumbaiwali
She has forgotten the language of our countryside
The woman went to Mumbai, she is eating fish
She wanders around our fields in search of kurdu vegetable
Note: An anna was a part of Indian currency in the past, Four paise was equal to one anna , 64 paise was one rupee, and 16 anna made one rupee. Now, 100 paise is equal to one rupee in India. Kurdu (silver cockscomb) is a leafy vegetable, a type of long grass with a pink flower.
---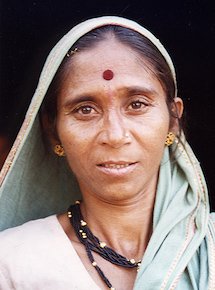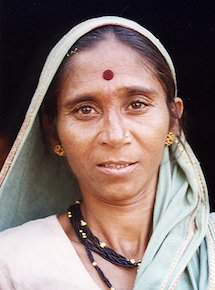 PHOTO • Bernard Bel
Performer/Singer: Renuka Umbre

Village: Rajmachi
Taluka: Mawal
District: Pune
Gender: Female
Caste: Mahadev Koli
Age: 37/38
Children: 2 daughters
Occupation: Farmers who cultivate red millet ( nachani/ ragi )
Date: These songs were recorded on March 15-16, 1997
Photos: Bernard Bel
Poster: Shreya Katyayini and Sinchita Maji