Before they begin their premier magic trick, Gulab and Shahzad shout loudly, " Huruk bom bom khela !" It's their own Bengali version of "Abracadabra!" and it helps gather around an audience of around 80-90 people – men, women and a gaggle of kids. Then Gulab, the older of the two brothers, asks Mintu Halder, one of the spectators, to help. Mintu bravely steps forward. The magic trick begins.
Gulab promises to make younger brother Shahzad disappear. The soon-to-disappear sibling sits on a large net while Mintu fastens its loose ends over Shahzad's head. Gulab places a box, open on two ends, over Shahzad and covers it with sheets. The audience watches, waiting for what's to come.
Next, he waves around an animal bone and chants a 'mantra', appealing to a higher power to make the boy disappear: " Arghat khopdi marghat masan, baccha ke leaja teliya masan . " He then asks Mintu to feel every corner of the box with his hand. Mintu dutifully does as told and the box is, in fact, 'empty'. Shahzad is nowhere to be found.
"I want to hear from you: is this boy having a hard time? I want everyone to tell me: is he or is he not?" Gulab asks. The people in the audience agree that the now-invisible Shahzad must indeed be having a hard time.
'I want to hear from you: is this boy having a hard time?' Gulab asks. The people in the audience agree that the now-invisible Shahzad must indeed be having a hard time

The trick is part of an act that itinerant magicians Gulab Shaikh, 34, and Shahzad, 16, put on in open fields or on the streets when they travel from one village to another in search of audiences. When I saw them in late October, they had come to Tehatta village in Nadia district from Pandua town in West Bengal's Hooghly district. "Our forefathers did this [work] and we are doing it too," says Gulab, who has performed magic tricks for nearly 20 years, while Shahzad joined in four years ago.
When I first heard their dugdugi from a distance, I thought a madari was putting on a show – with his hourglass-shaped musical instrument and a trained monkey doing tricks. I was surprised to see instead a boy tied up in a net in an open field. I assured the brothers that I wouldn't divulge any of their secrets. Relieved, they asked me to accompany them for their next show in the Dutta Para area of Tehatta.
Gulab talks to the spectators throughout the performance, engaging them in banter and jokes, and even discusses religion and other topics. In the middle of that disappearing act, he continues: "Only he who has not been given a child by god will say that this boy is not having a hard time. He has been roasted in the hot sun. He had gone into the Earth for half an hour. Such a big boy was [tied up] in such a small net for 7-8 minutes. If you tie up any other boy like this, he will suffocate or twist his neck. But this boy let himself be tied up like this because of hunger."
Gulab talks about their hardships throughout the performance and plays the flute too, often as a light interlude. In another serious moment, he asks the audience, "Why did I do this act?" He answers his own question: "For hunger."
Shahzad remains (presumably) inside the box for most of the show.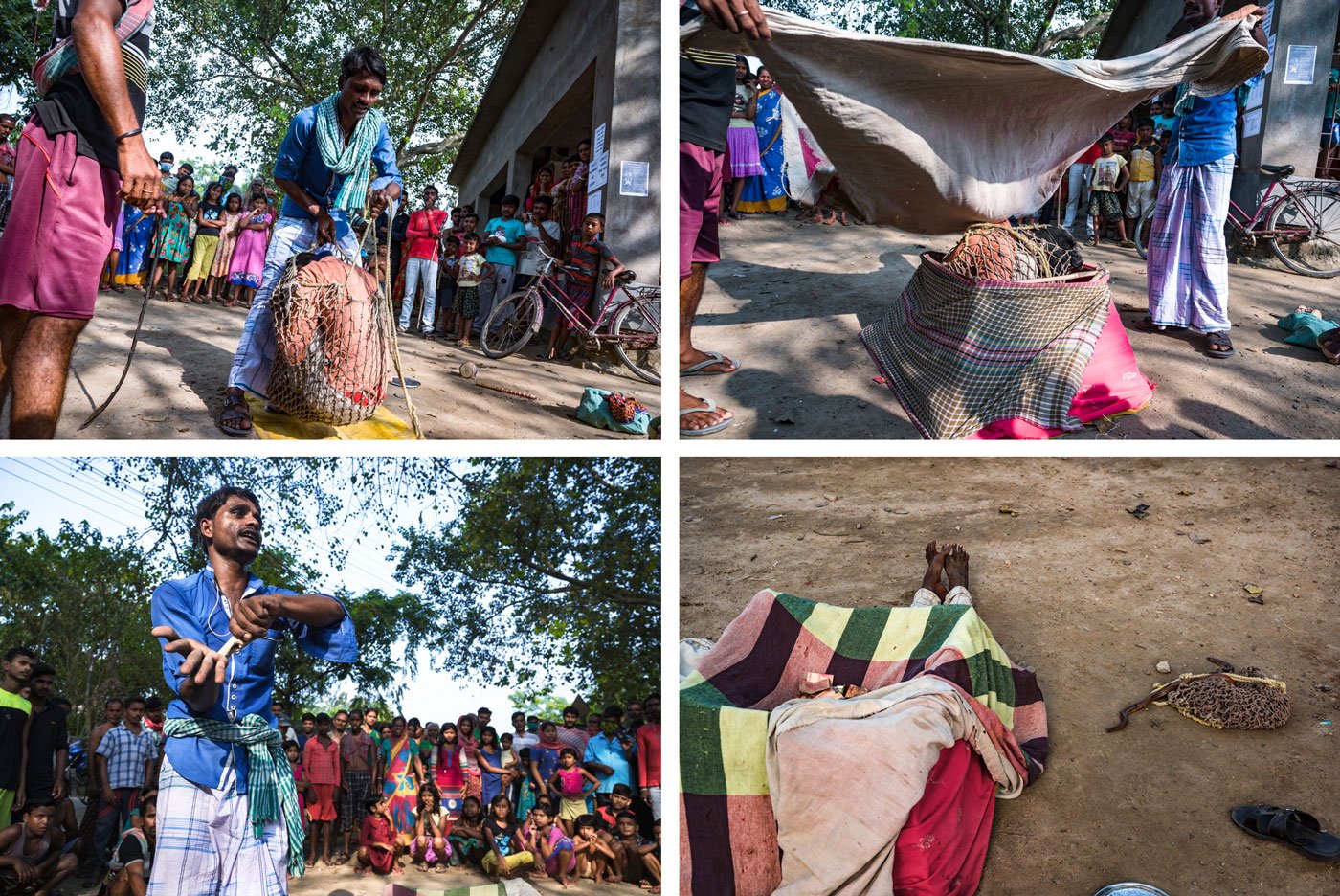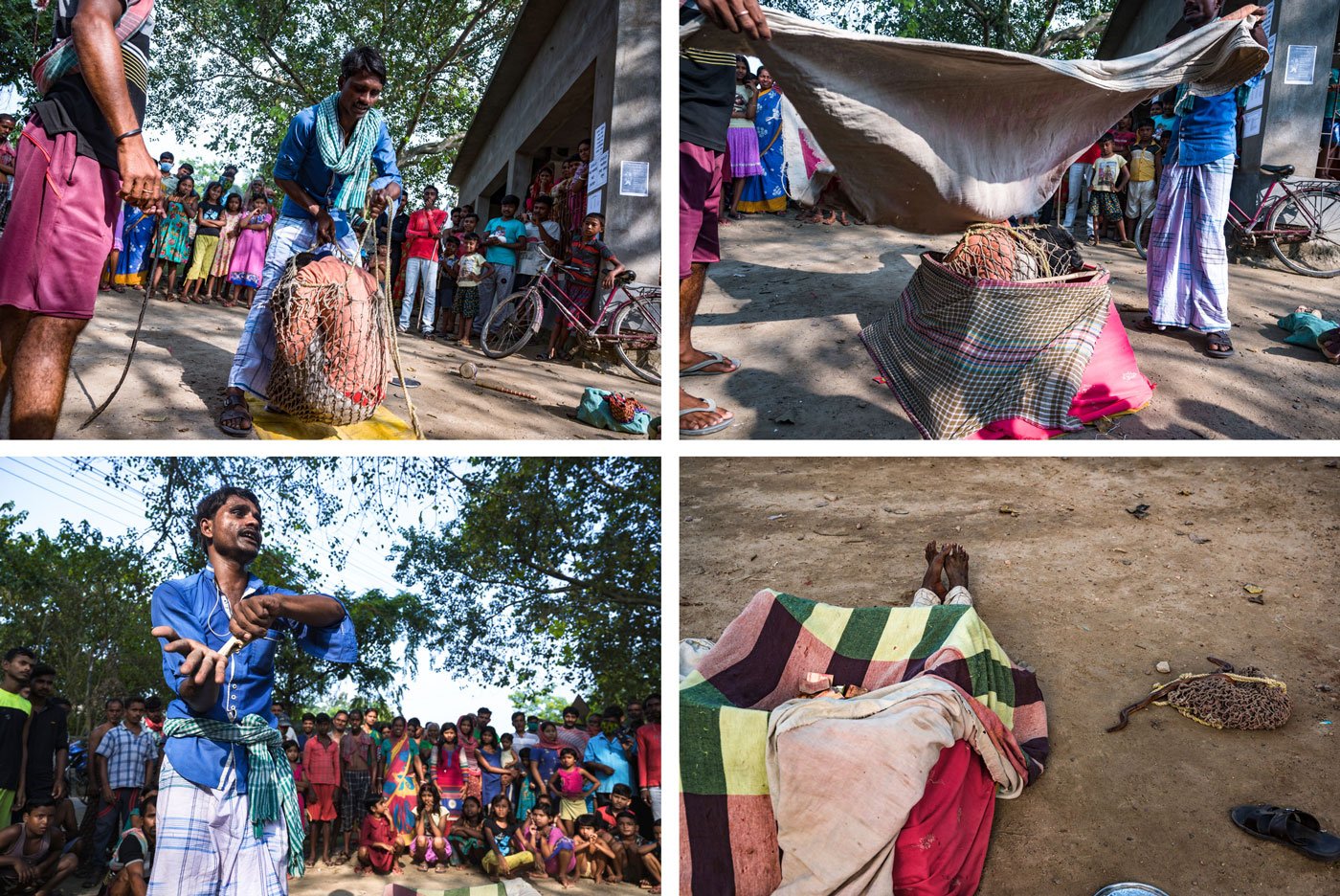 PHOTO • Soumyabrata Roy
The brothers' finale is 'transforming' a bicycle tyre into a small, harmless 'snake' – and they perform it convincingly. Gulab ends the show by playing a popular Bengali song on the flute.
Then it's time to collect money from the audience. As he does this, Gulab says, "I've spoken about hunger, but please don't let anyone leave... If you understood [the meaning of this] show, it is worth 500 rupees, and if you didn't, it's not even worth five paise. My brother and I have taken pains to put this on for one hour straight. We've gathered so many people to show them magic tricks and played the flute for them too. Did I make everyone happy or sad? I want to hear from you."
Not everyone in the audience pays the magicians. When they wind up, Gulab and Shahzad tell me that they usually put on 3 to 4 four shows daily and on some days can earn a total of Rs. 500 from these performances. They hope that each spectator will pay Rs. 20, and if anyone pays more than that, they usually return the extra amount. It's a rite for them – they just want to make the minimum they need. "The price of a plate of rice is 20 rupees," Shahzad says.
The Covid-19 pandemic and the restrictions on movement and crowds must have affected their livelihood? Gulab says, "For the first four months, we couldn't get out of the house because of the lockdown. I am still carrying the burden of that debt."
But the show must go on if Gulab and Shahzad have to earn a living and support their family. And before they pack up that day, they make another request to the audience: "Everyone will help me, all together, but not with money," Gulab says. "God has given you two hands to clap with!" The spectators break into applause and the performers take a bow.
This story is part of a series of 25 articles on livelihoods under lockdown, supported by the Business and Community Foundation.