As the sky turns dark, a huge cut-out of Om Sakthi, lined with colourful serial lights, comes alive. The Irulars of Bangalamedu are celebrating the annual theemithi thiruvizha , or fire-walk festival, for the goddess Om Sakthi.
Wooden logs, kept burning all through the afternoon, begin to crumble into embers; volunteers spread these into a thin layer resembling a bed of glowing flowers, inspiring the Irulars to refer to theemithi as ' poo-mithi ', or flower-walk, instead.
There is palpable anticipation in the air. Hundreds of people from neighbouring villages have gathered to witness the Irulars walk on fire, affirming their faith in Om Sakthi – a non-Irular goddess with a cult following across Tamil Nadu, worshipped as the manifestation of strength and power.
The Irulars (also referred to as Irula) are listed as a Scheduled Tribe in Tamil Nadu and they have traditionally prayed to Kanniamma, who they consider one of the seven virgin deities; every Irular home has a
kalasam
, or mud pot, placed on a bunch of neem leaves, symbolising her.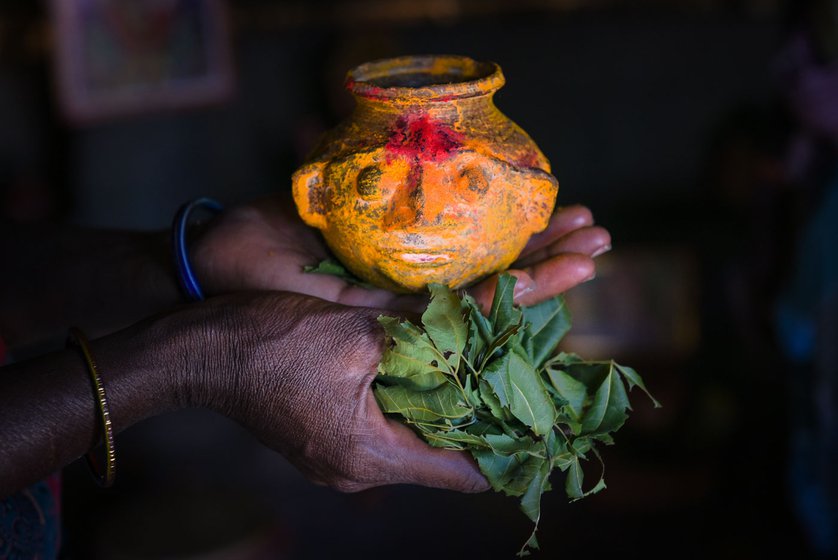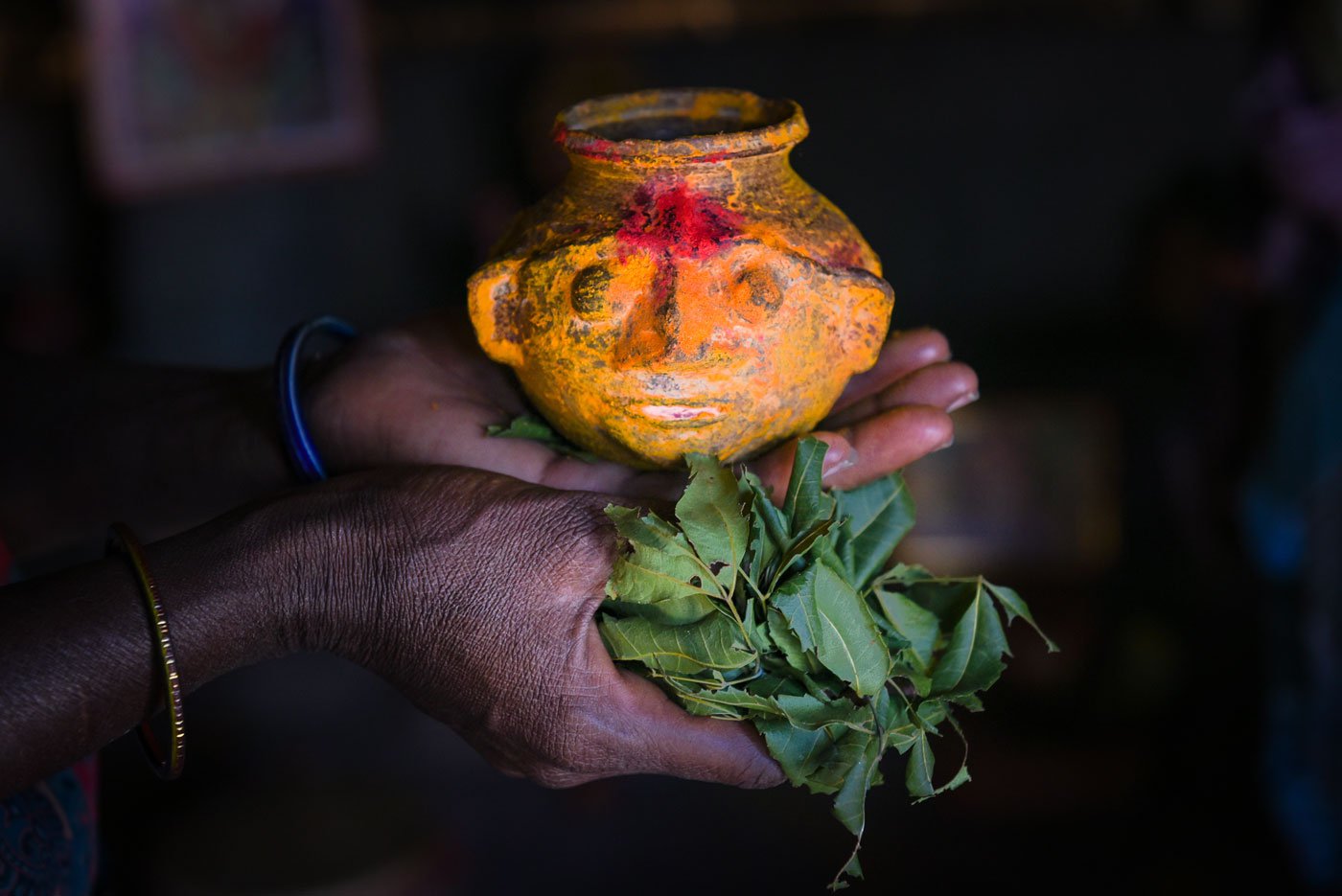 PHOTO • Smitha Tumuluru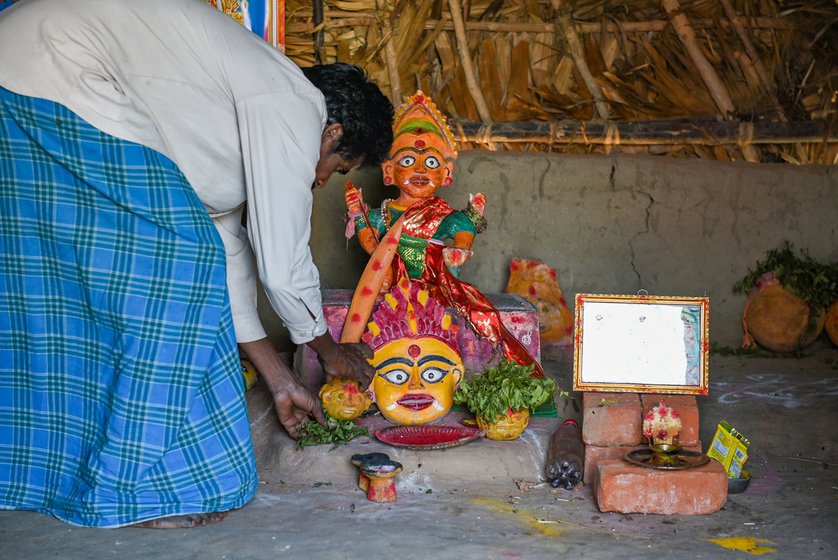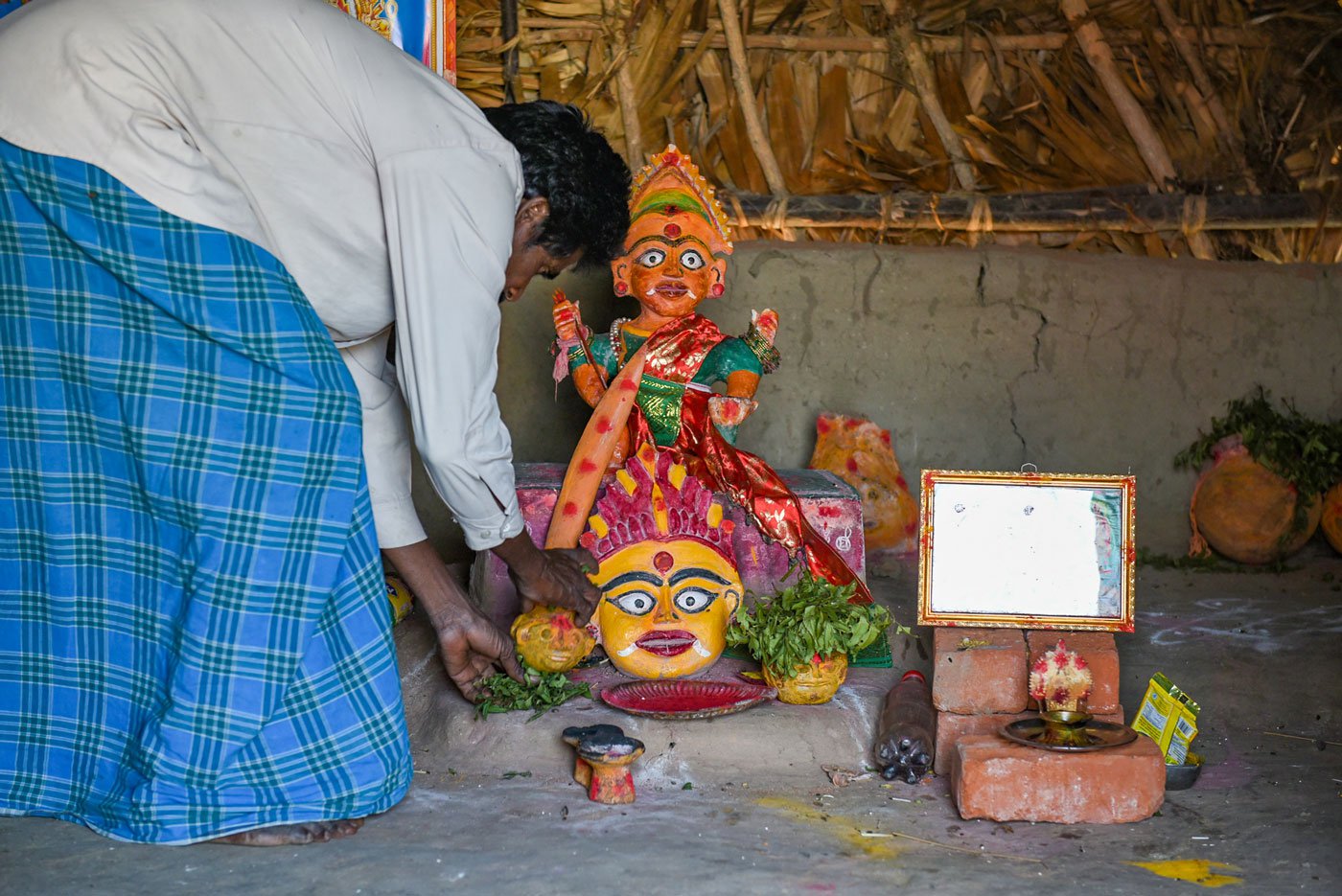 PHOTO • Smitha Tumuluru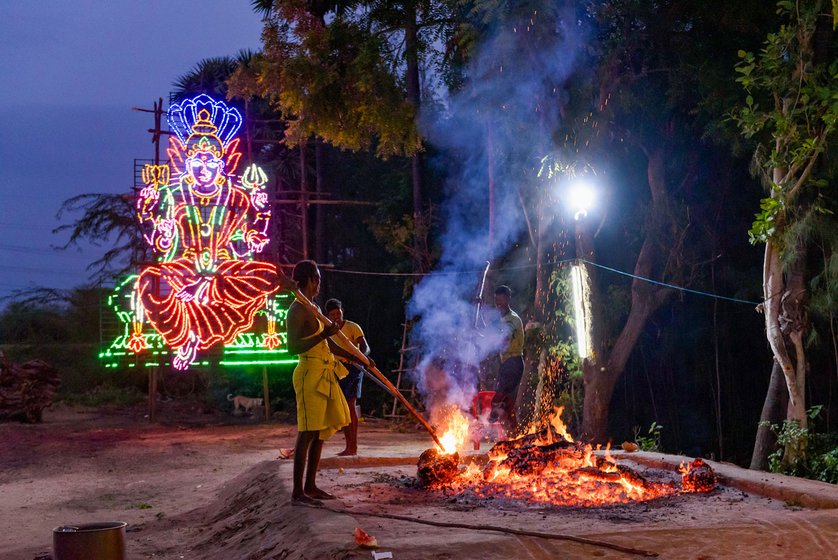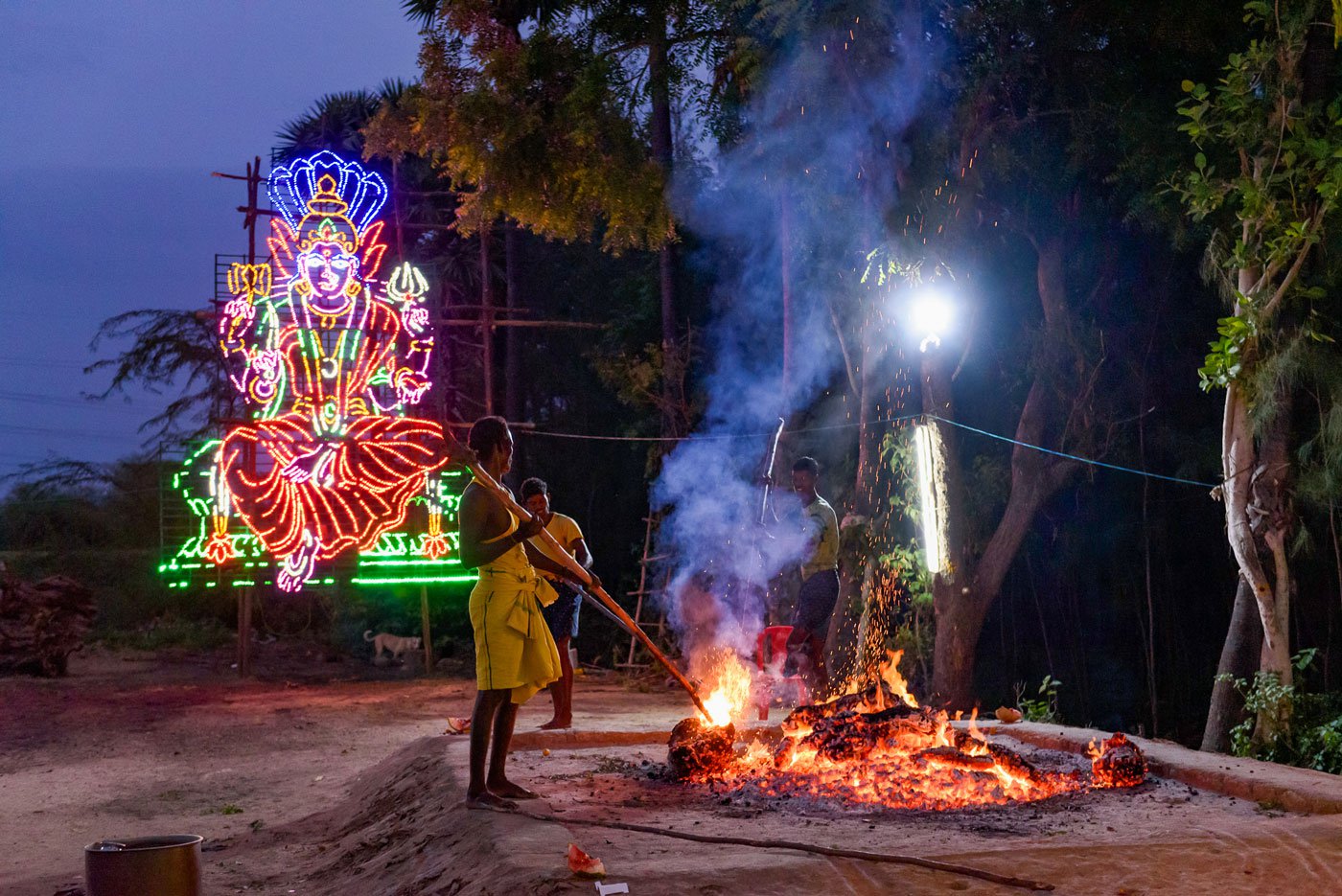 PHOTO • Smitha Tumuluru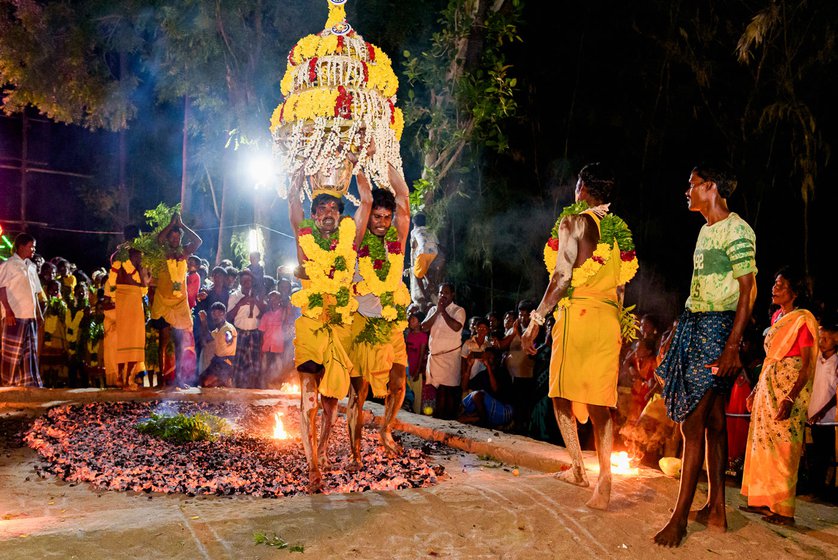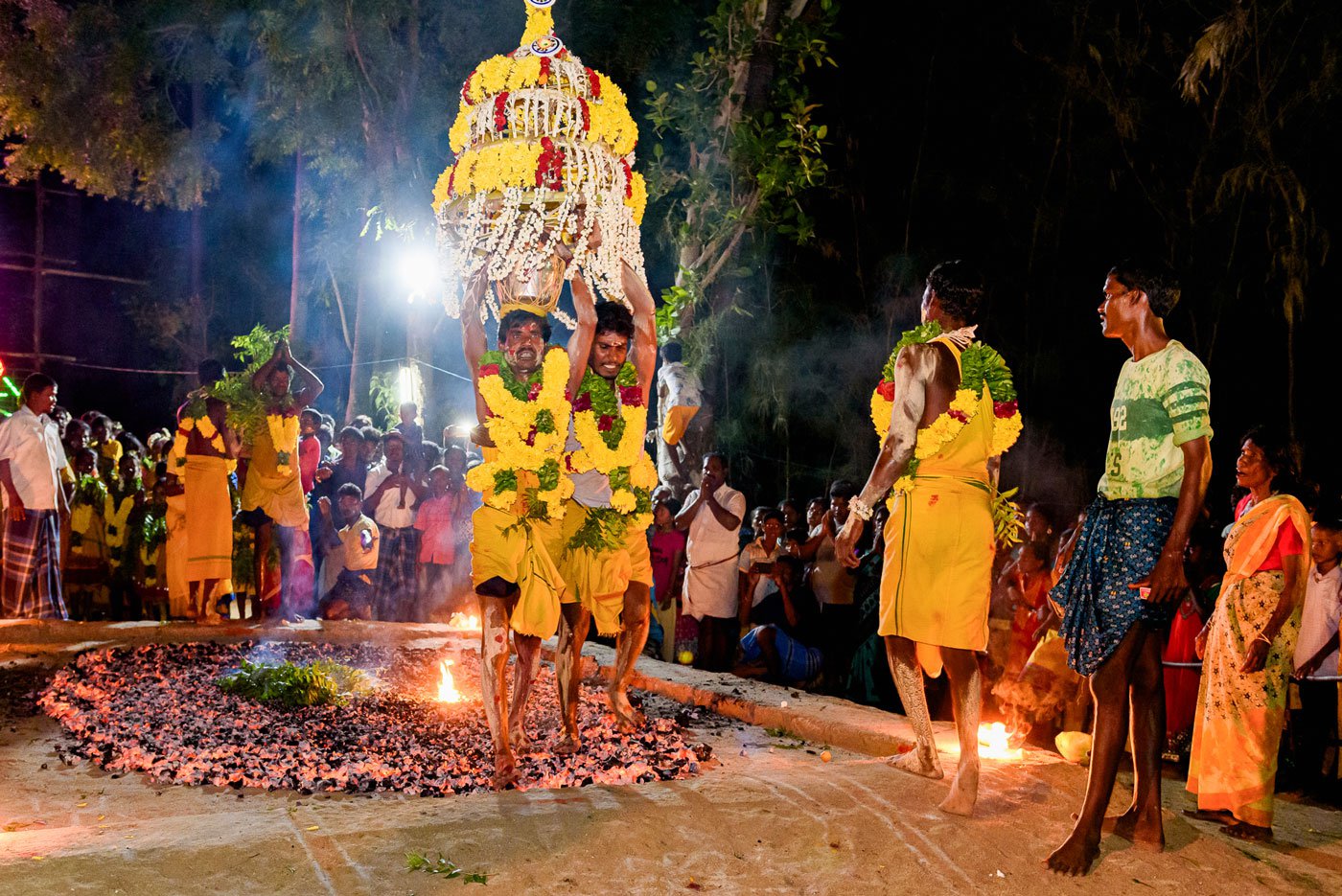 PHOTO • Smitha Tumuluru
So, what explains the Bangalamedu Irulars' festival for Om Sakthi?
G. Manigandan, 36, narrates an incident from the late 1990s when his family was forced to flee their home in Cherukkanur village overnight due to caste tensions triggered when his sister and a non-Irular youth fell in love. The family took refuge in a small shack near the Cherukkanur lake.
"Throughout the night, there was a gowli [lizard] making noise, and it felt reassuring. We took it as a good omen from the amman [goddess]," he says, believing that it was Om Sakthi who saved their lives that night.
"When we fled, it wasn't easy to find food and work. My mother would gather groundnuts from the fields and hunt for small animals to feed us. Only the amman protected us," he remembers. [Read: On a different route with rats in Bangalamedu ]
Manigandan's family and a few others who fled with them eventually settled down in Bangalamedu, about a kilometre from the Cherukkanur lake, and found work on the farms near the lake.
Bangalamedu, initially a settlement of less than 10 families, has now grown to 55 Irular families. Officially known as Cherukkanur Irular Colony, it is a single street with homes lined on either side, surrounded by the open scrub. Electricity, which finally came here in 2018 after a long fight, and a few pucca homes are recent additions to this settlement. The Irulars here depend on daily wage work and MNREGA work for their income. Manigandan is among a handful in Bangalamedu to have completed middle school.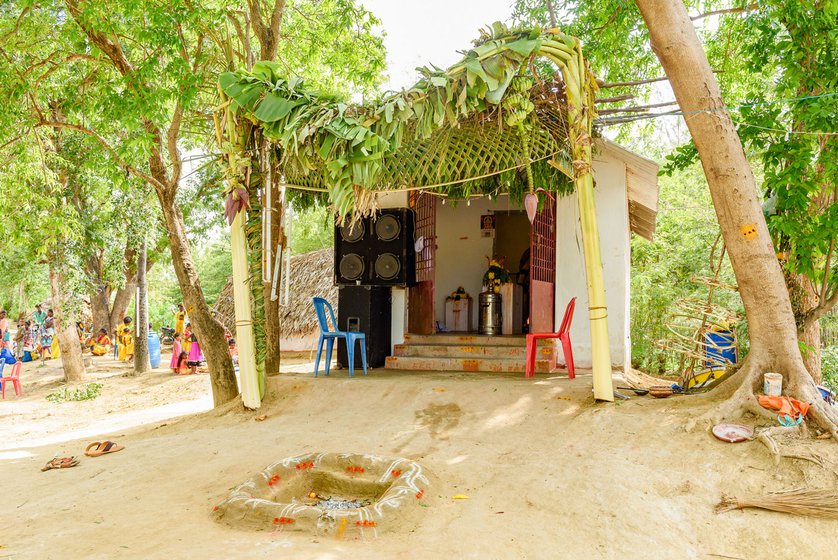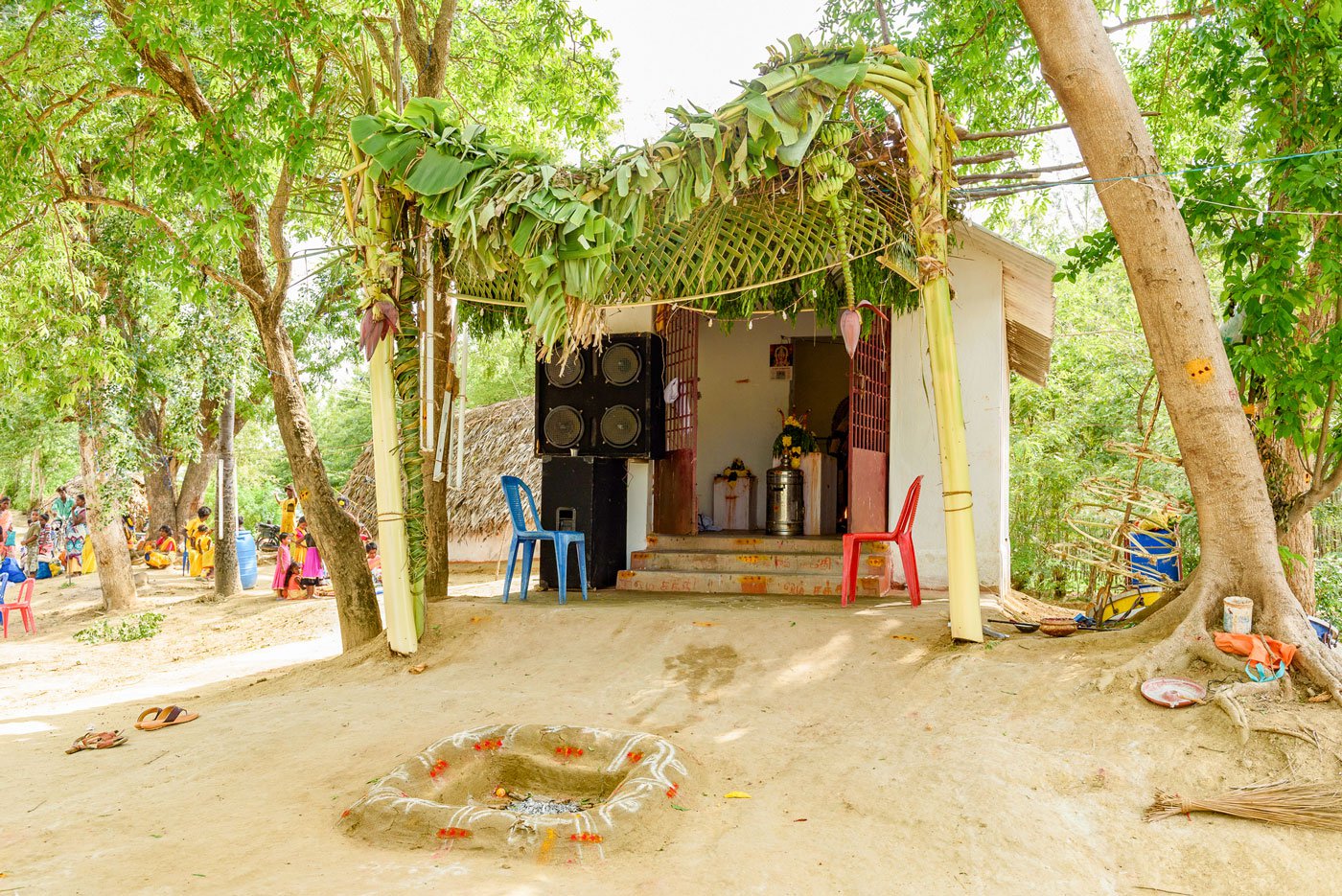 PHOTO • Smitha Tumuluru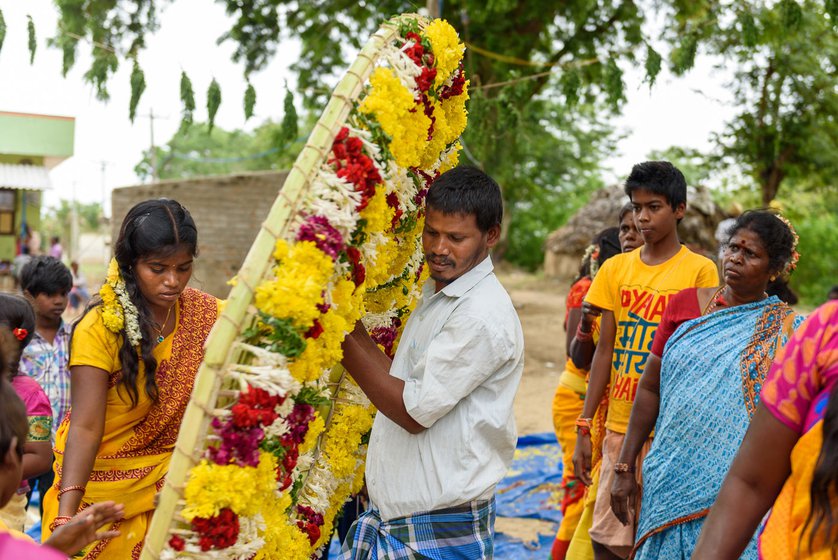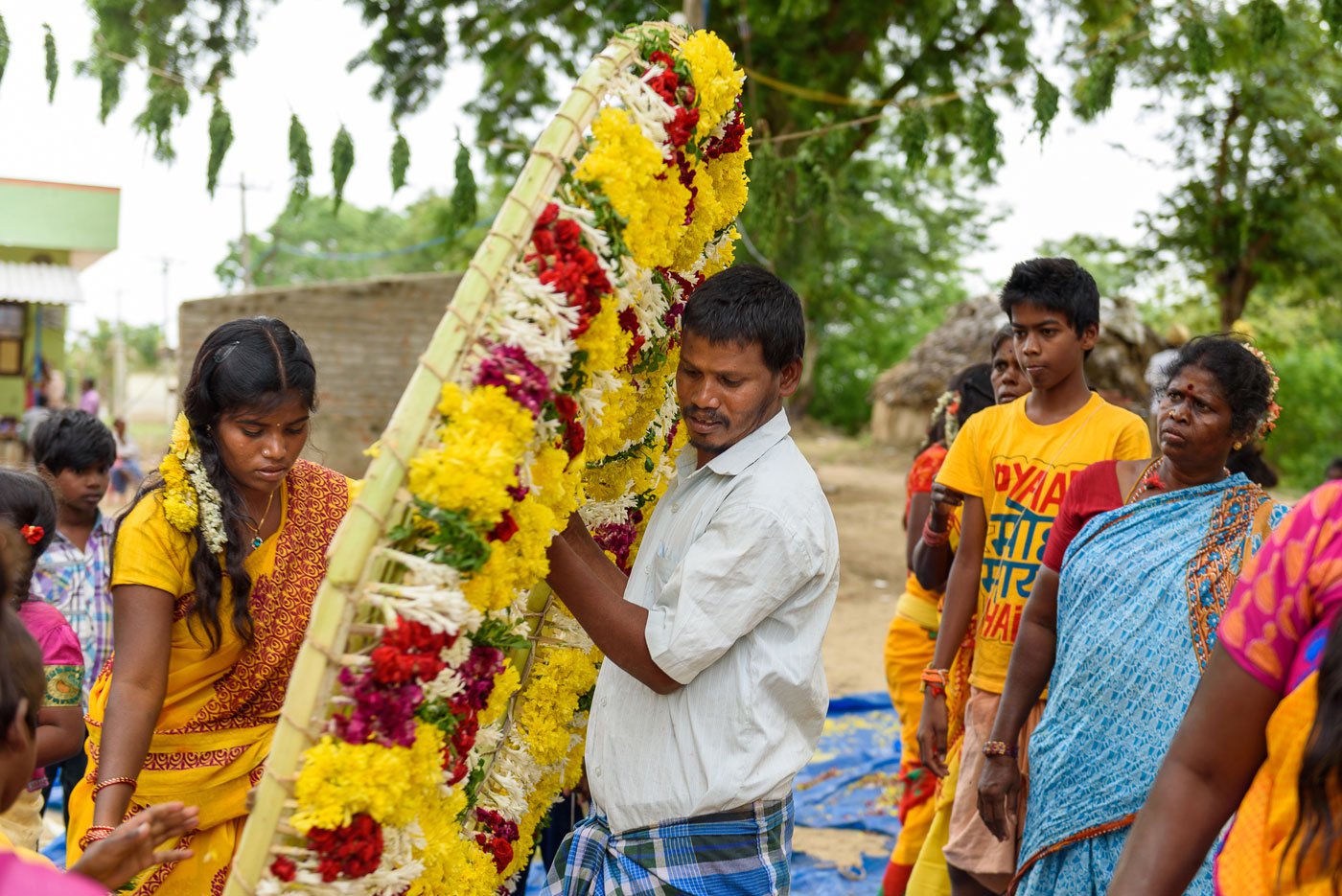 PHOTO • Smitha Tumuluru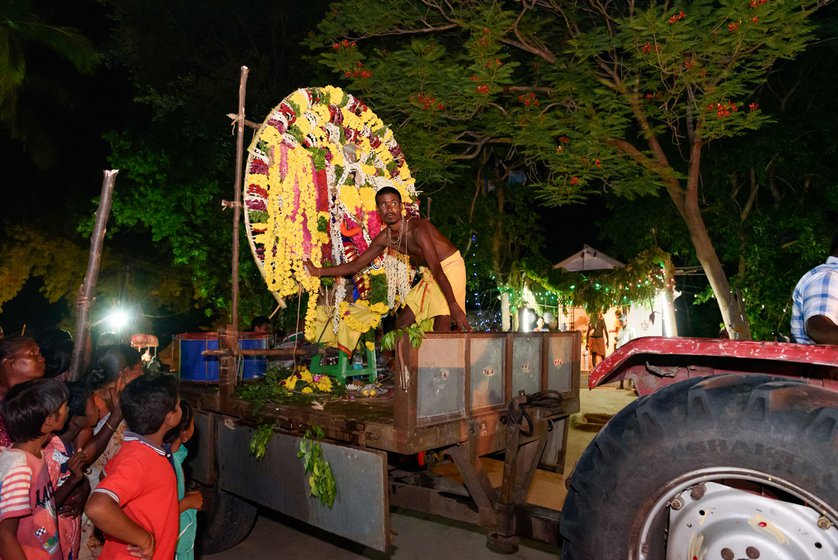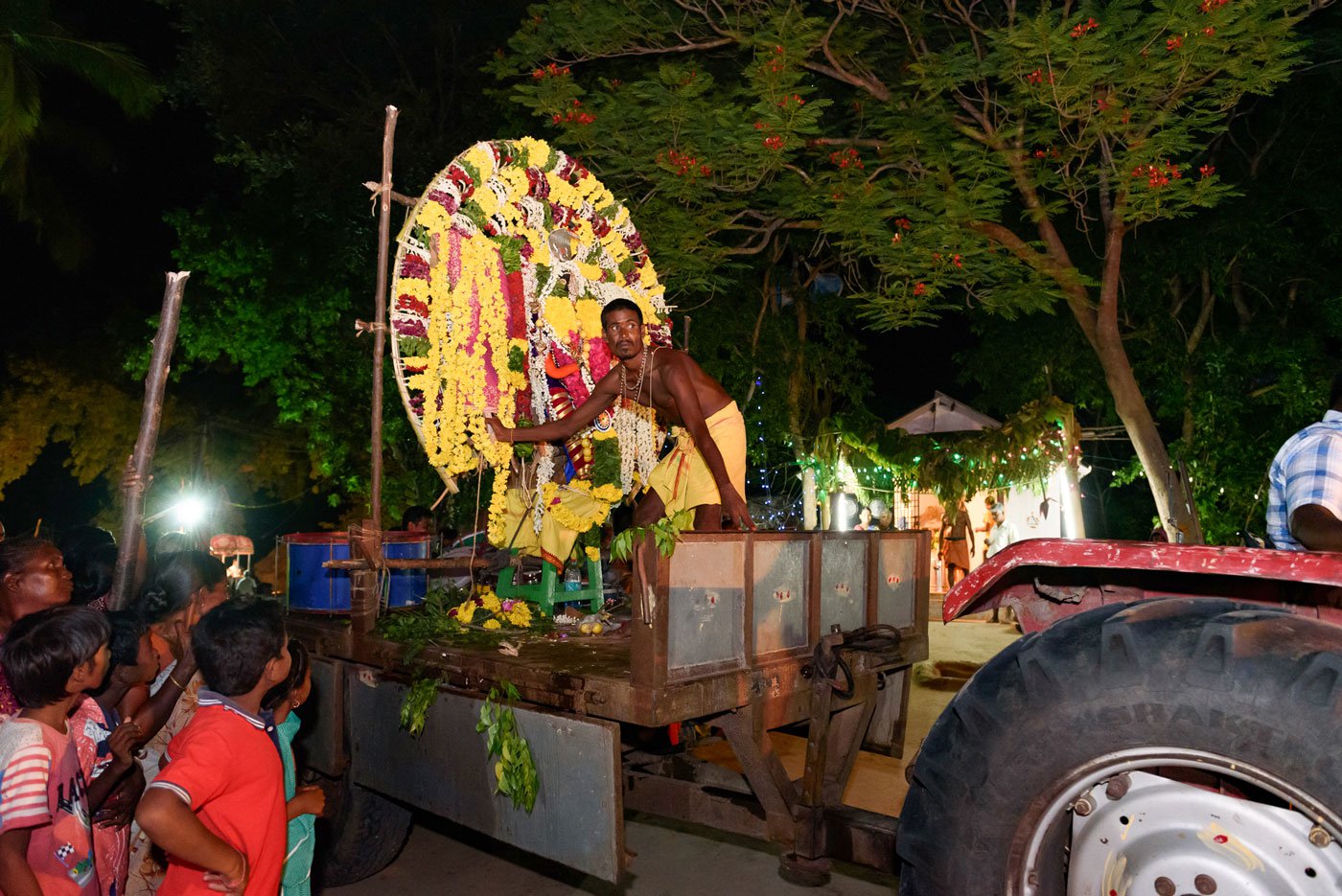 PHOTO • Smitha Tumuluru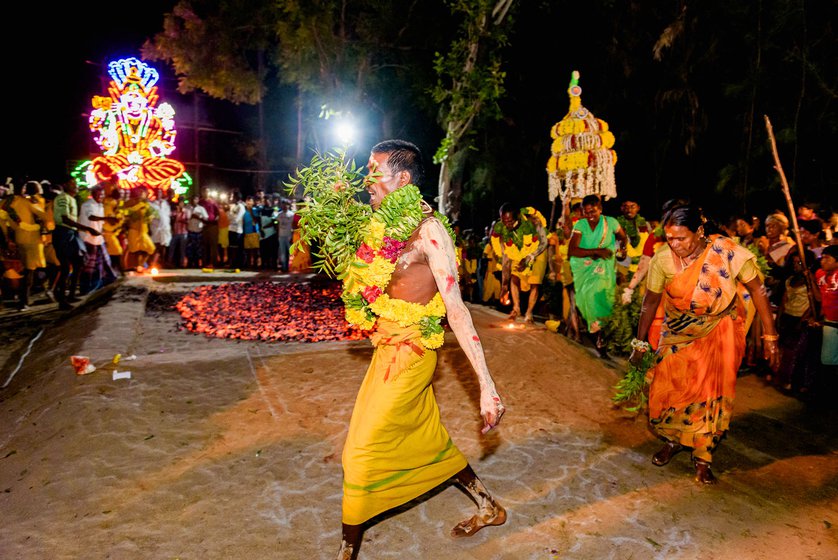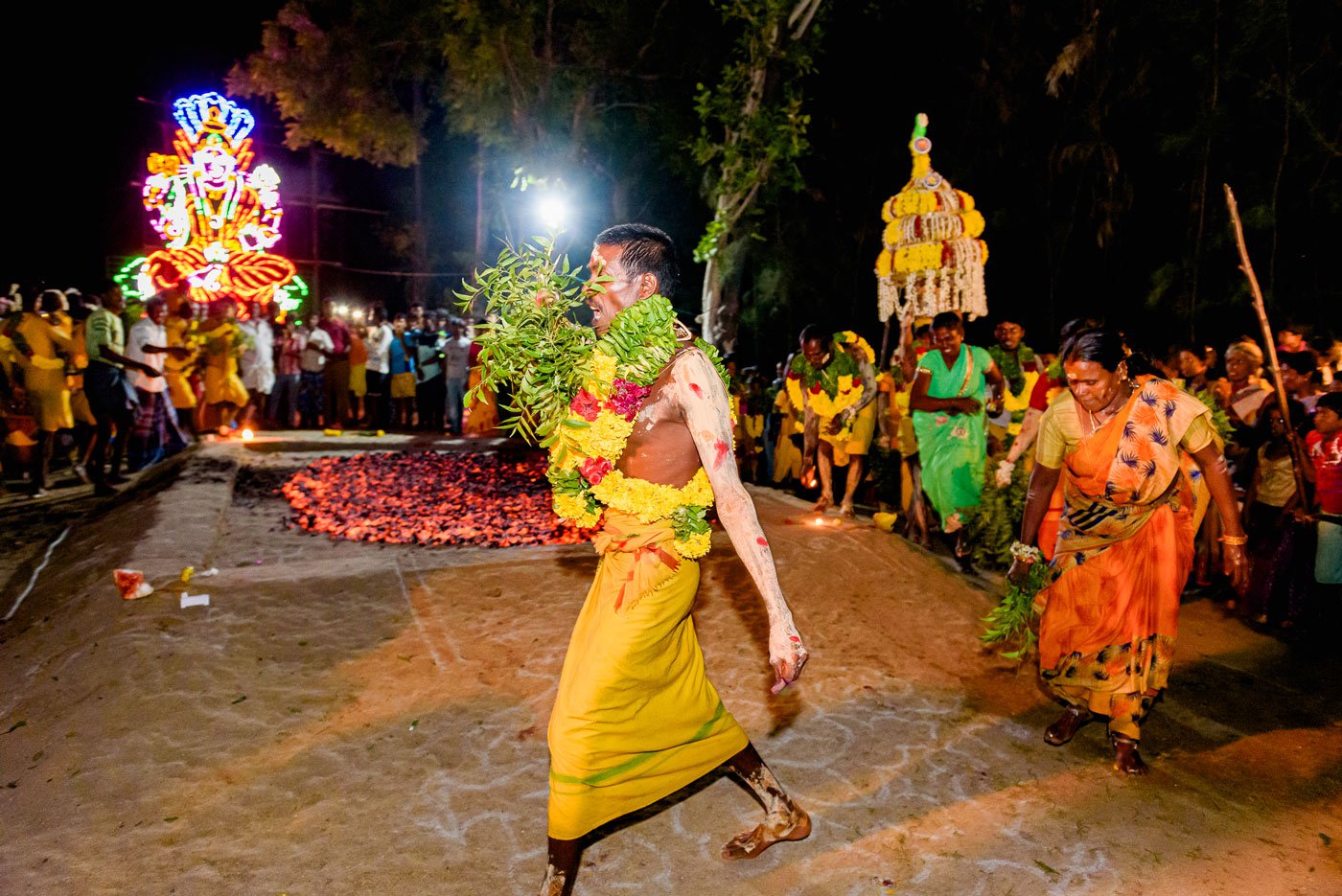 PHOTO • Smitha Tumuluru
A few years after settling here, Manigandan's father – the Irular elder, P. Gopal – set up a shrine for Om Sakthi on a piece of public land near the lake, in thanksgiving to the amman for seeing them through their difficult times. He served as its priest until his death in 2018. "The temple was a small hut. We got the amman idol made using mud from the lake. It was my father who initiated the aadi theemithi thiruvizha ," says Manigandan.
After Gopal's demise, Manigandan's elder brother, G. Subramani, took over his father's priestly role. Subramani dedicates one day a week to temple duties; the remaining six days, he looks for wage work.
For more than 15 years, the Bangalamedu Irulars have kept their vow to Om Sakthi in a day-long event that culminates with them walking on embers. The festival is celebrated in the Tamil month of Aadi, which falls around July-August, months that bring relief from the scorching summer with the onset of the monsoons. Although it is a fairly recent practice among Irulars, theemithi is a common event across the Tiruttani taluk of Thiruvallur district during the Aadi month, with devotees offering prayers to goddesses such as Draupadi amman from the epic Mahabharata, Mariamman, Roja amman , Revathi amman and others.
"In summer, people often fall sick with amman [referring to measles here]. We pray to the amman [goddess] to get through these difficult months," says Manigandan, using the word amman fluidly to denote both the goddess and the ailment, and echoing a common belief that it is the goddess who gives the ailment, and it is she also who heals the faithful.
Ever since Gopal started the theemithi festival in Bangalamedu, a non-Irular family from the neighbouring Gudigunta village has been participating in organising it. It was in this family's farmland shack that his family had found refuge when they fled their own village.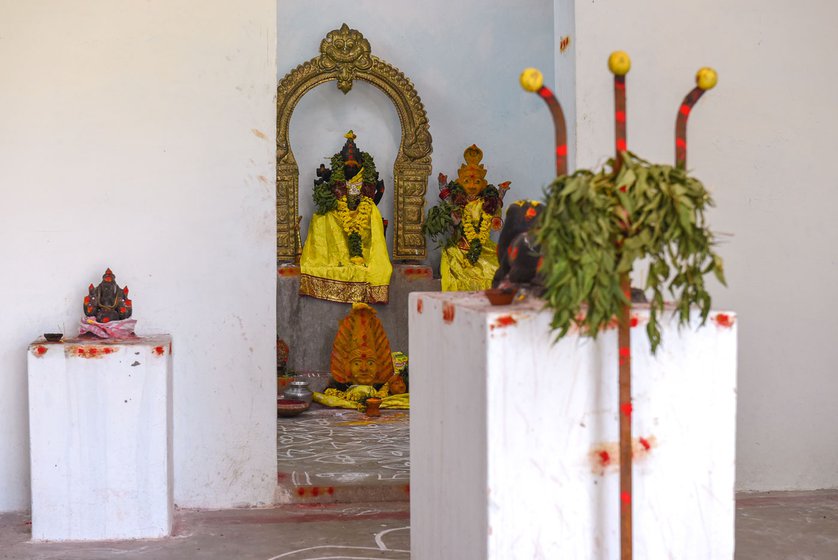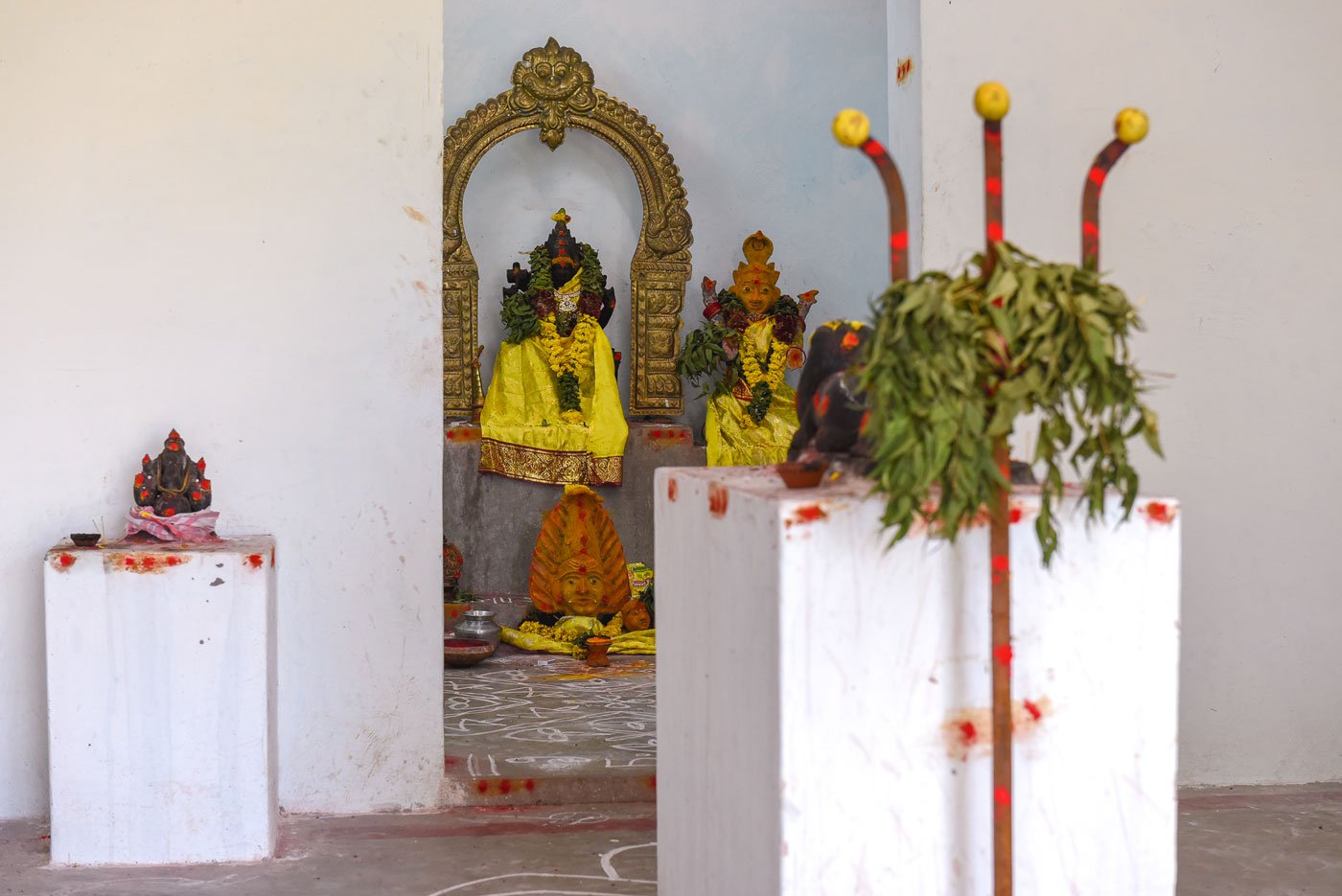 PHOTO • Smitha Tumuluru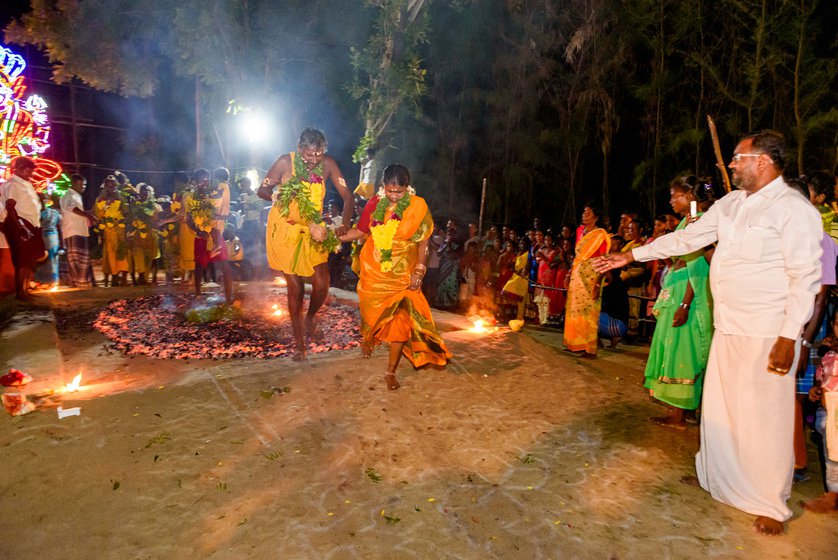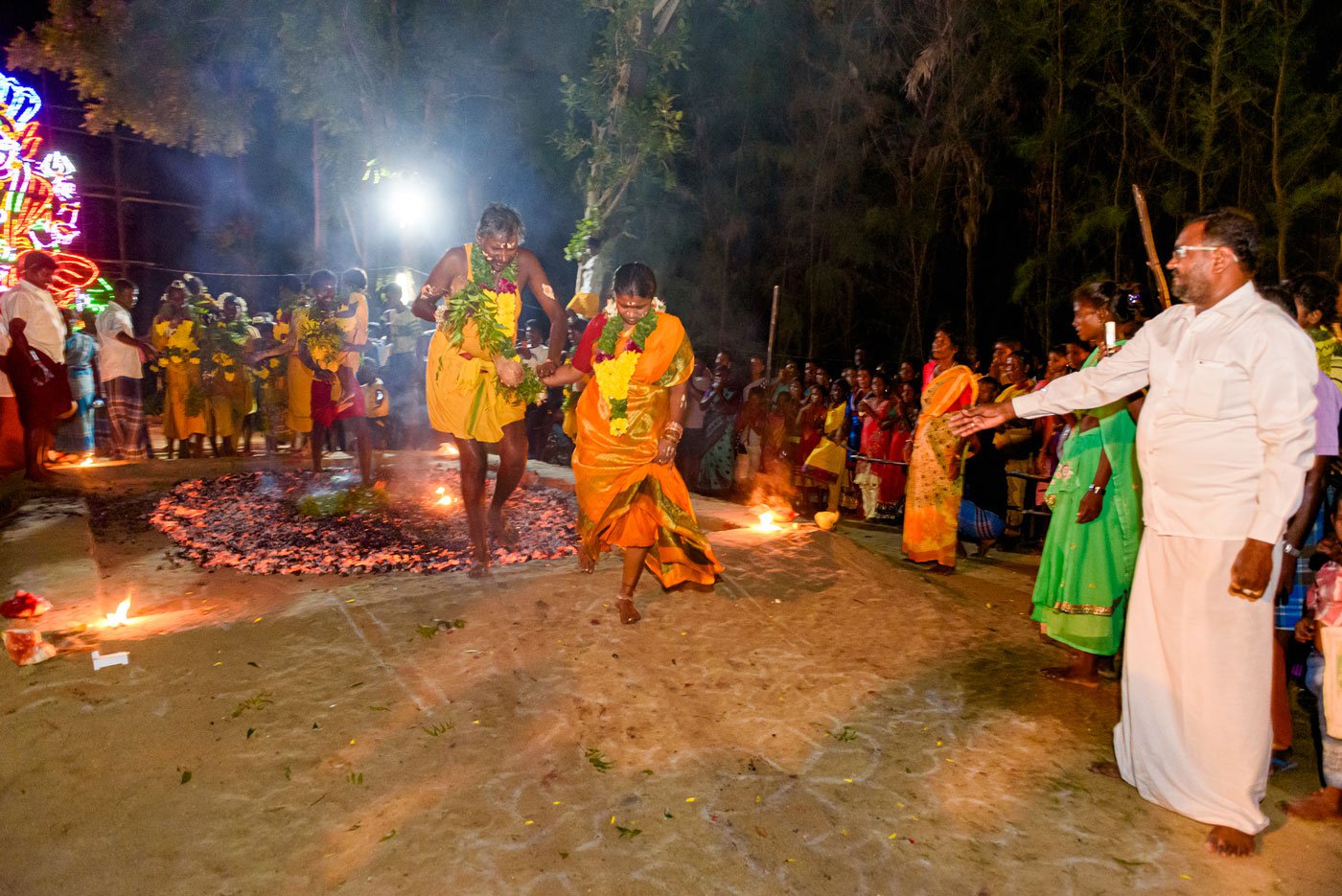 PHOTO • Smitha Tumuluru
"Apart from the Irulars, ten of our family members and friends have been firewalking since the beginning," says 57-year-old T.N Krishnan – known as Palani to friends – one of the owners of the farmland. Palani's family believes they were blessed with children only after they started praying to Om Sakthi.
They expressed gratitude to the deity by replacing the Irulars' modest temple hut with a small
pucca
building. They also installed a stone idol in place of the Irulars' mud
amman
.
For the Irulars of Bangalamedu, preparation for the much-anticipated Aadi theemithi begins a few days before the event. Those who intend to walk on fire wear a kaappu , or a sacred amulet, around their wrist and begin a strict daily personal regimen until the day of the festival.
"Once we wear kaappu , we take head bath and visit the temple twice daily, wear yellow clothes, avoid eating meat and avoid leaving the village," says S. Sumathi, who runs a petty shop in Bangalamedu. Some follow this regimen for a week, some for longer. "As many days as one can afford. We cannot leave the village once we wear kaappu ," says Manigandan.
Dr. M. Dhamodaran, who has worked closely with the community for years as part of his association with the non-profit Aid India, explains that these rituals point to a diffusion of ideas or practices between cultures. "Certain practices, like keeping a vow, fasting, wearing clothes of a certain colour and having a community event, have gained mass acceptance across many [non-Irular] communities. This culture has seeped into sections of the Irular community too,'' he says. "Not all Irular hamlets follow these practices."
In Bangalamedu, the Irulars handle all the rituals of the day, pooling their meagre contributions towards the decorations. On the morning of the festival, bunches of fresh neem leaves crisscross the trees on the path leading to the temple. Loud devotional music blares from speakers. Freshly matted coconut fronds and tall banana leaves adorn the temple entrance.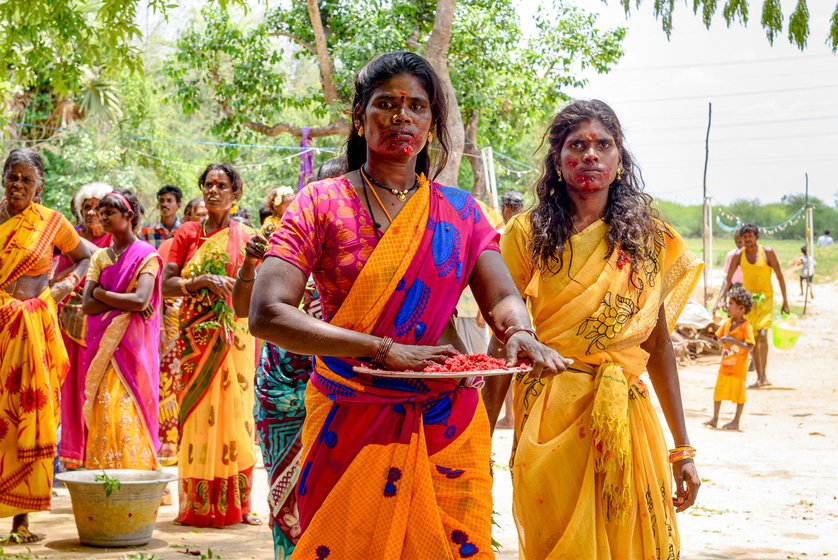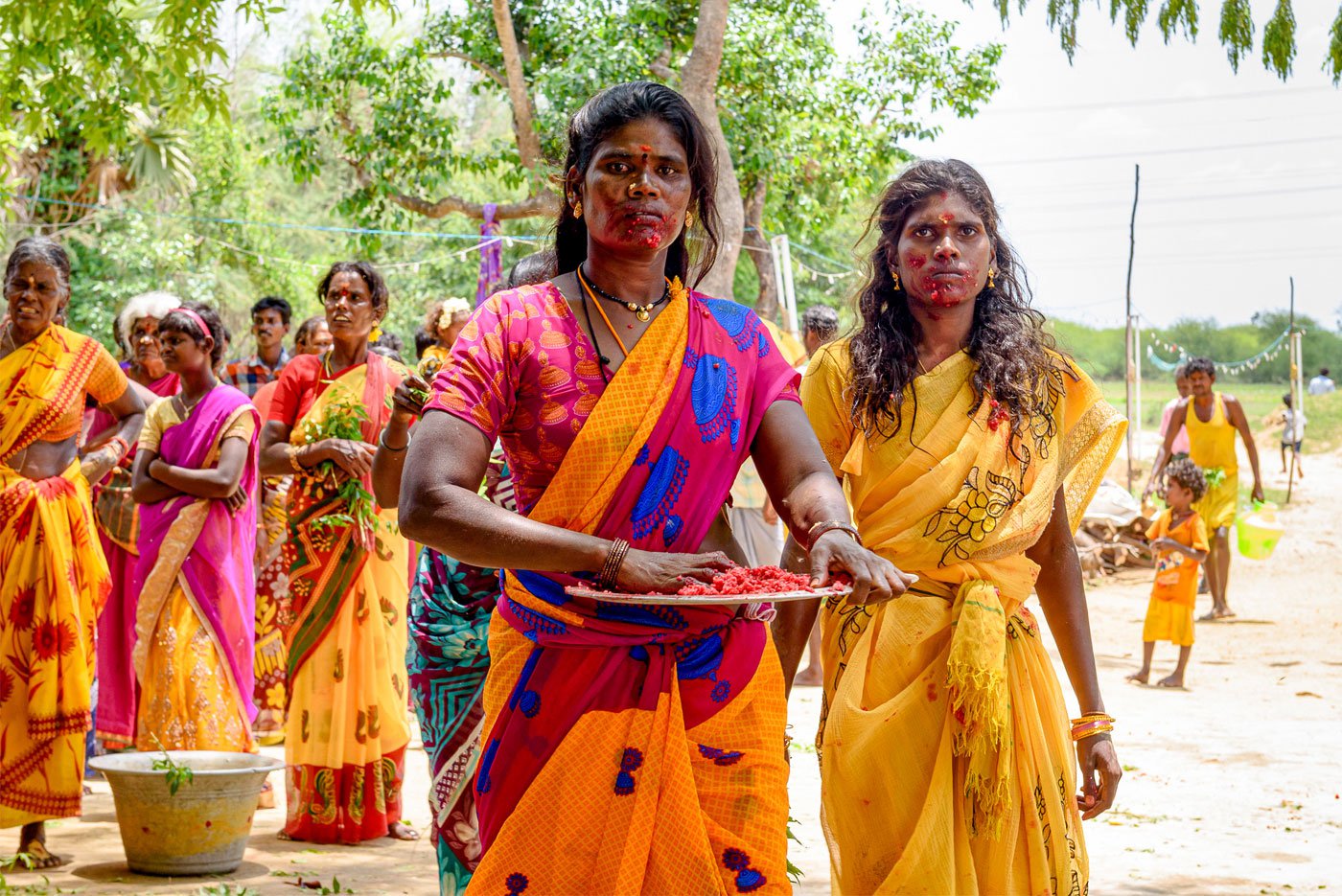 PHOTO • Smitha Tumuluru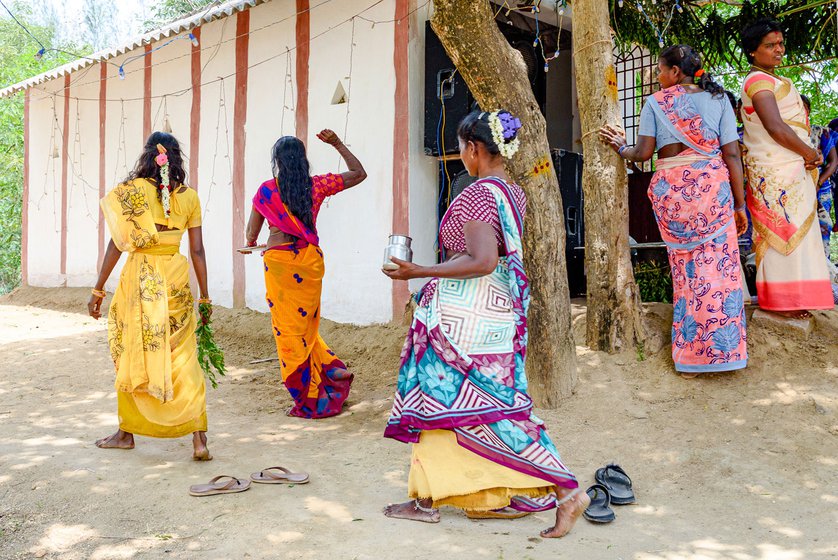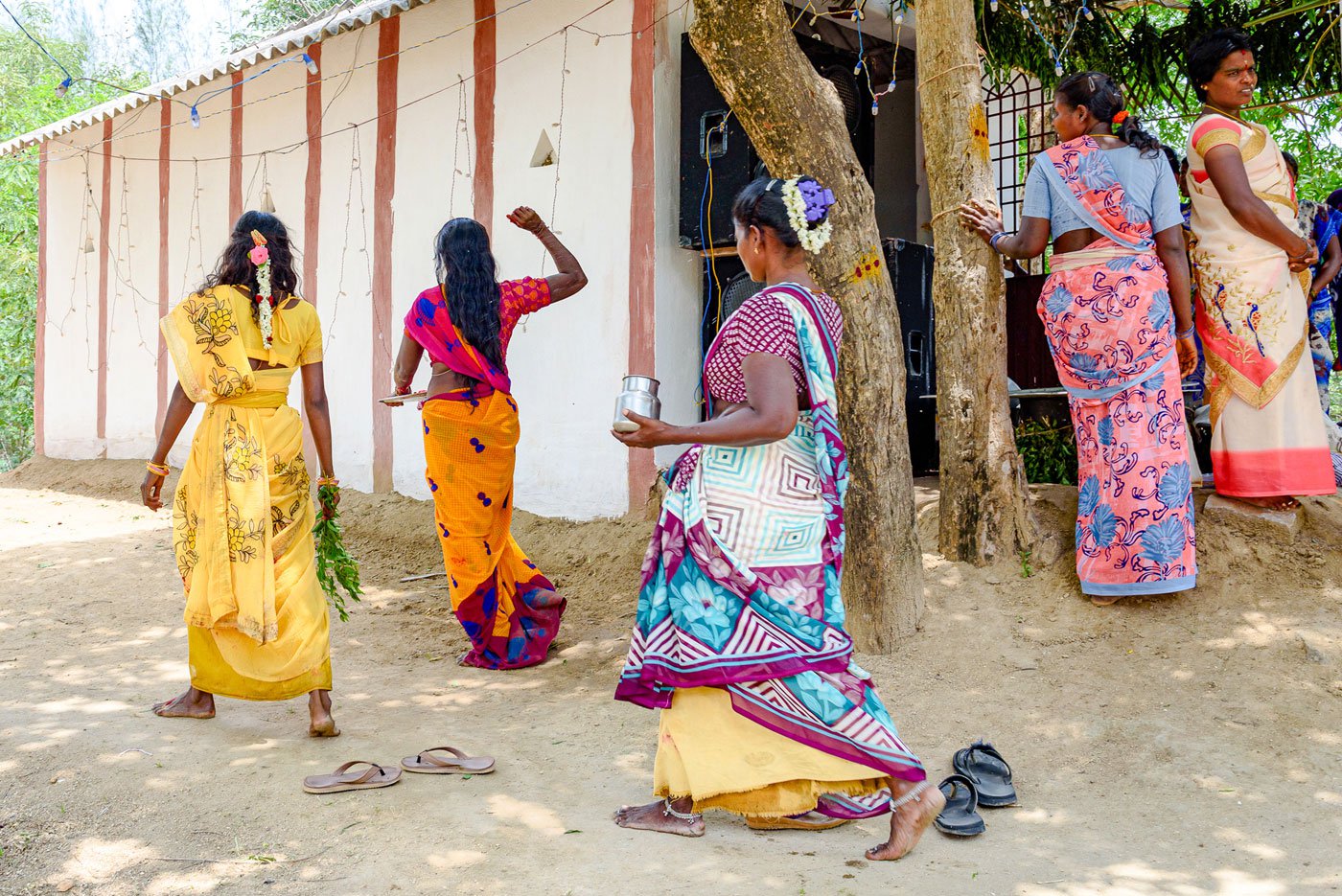 PHOTO • Smitha Tumuluru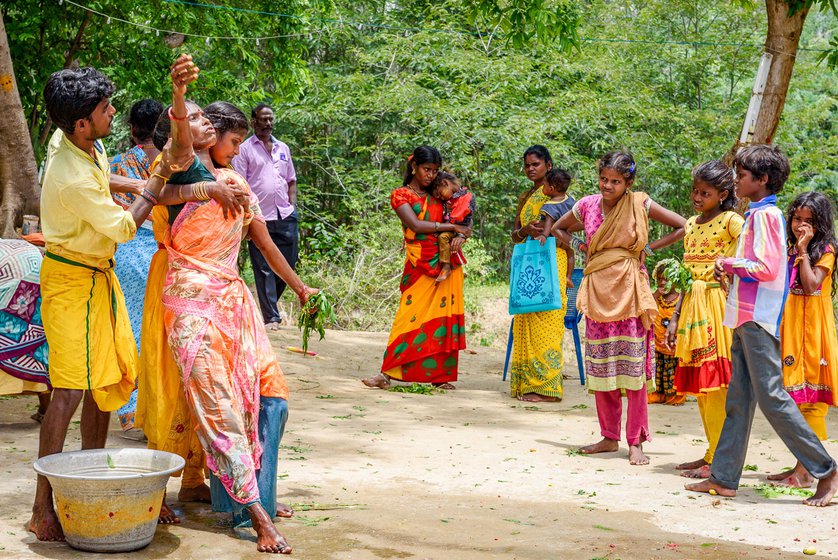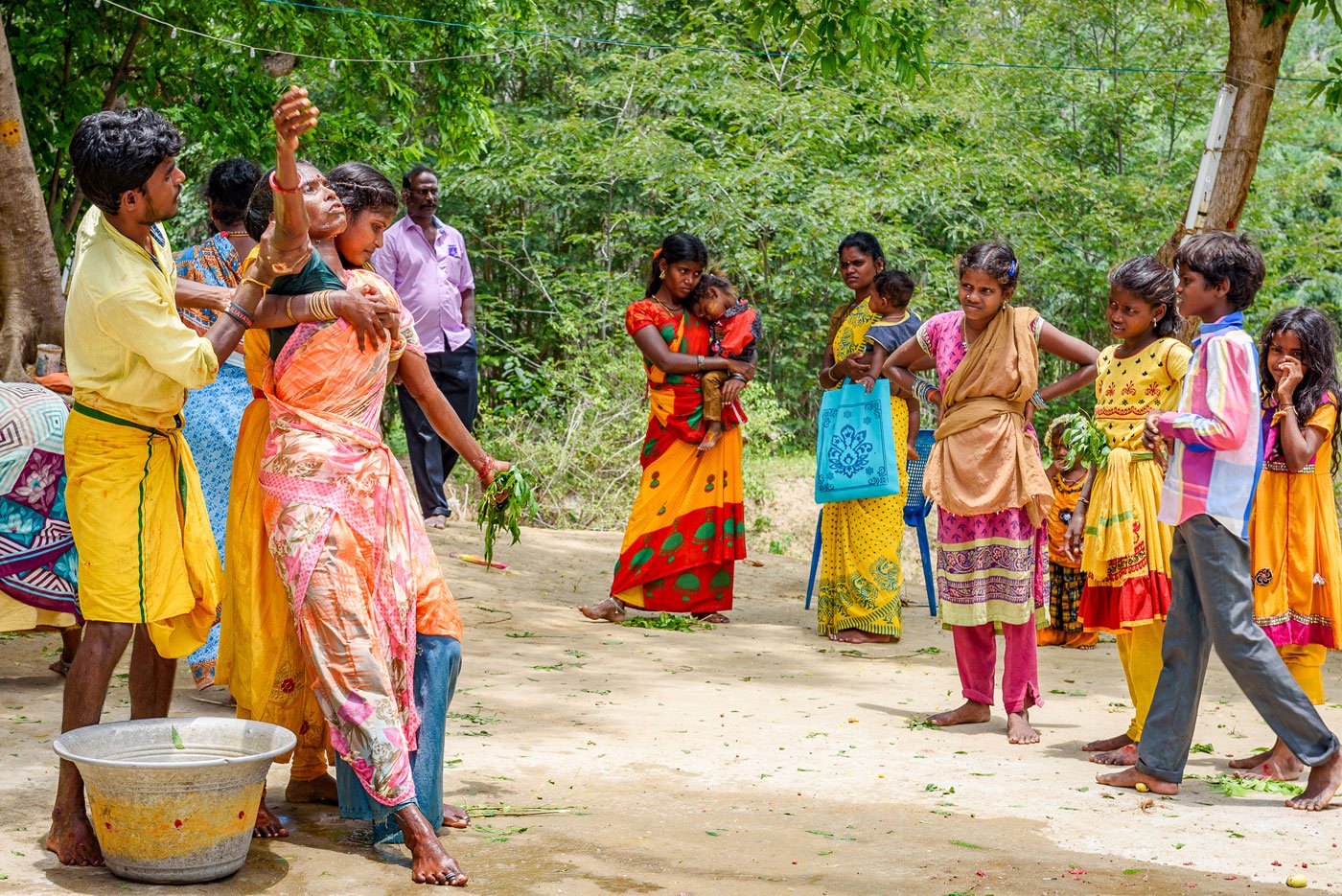 PHOTO • Smitha Tumuluru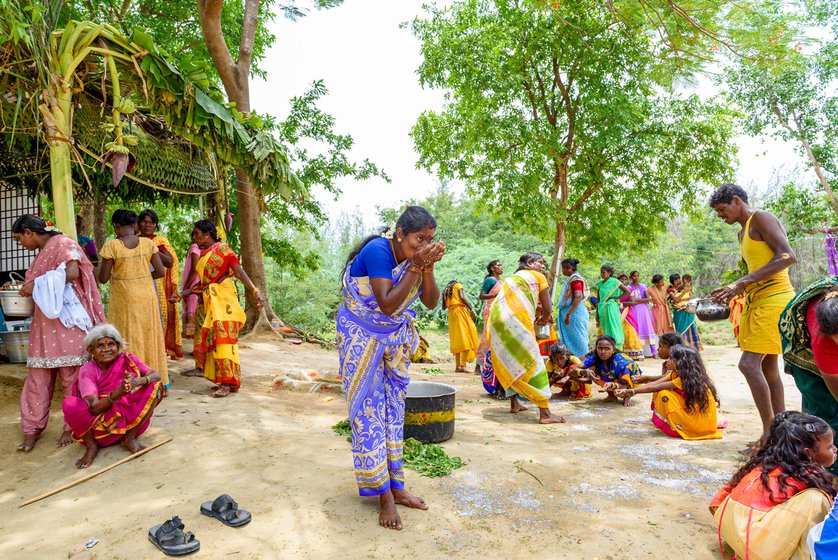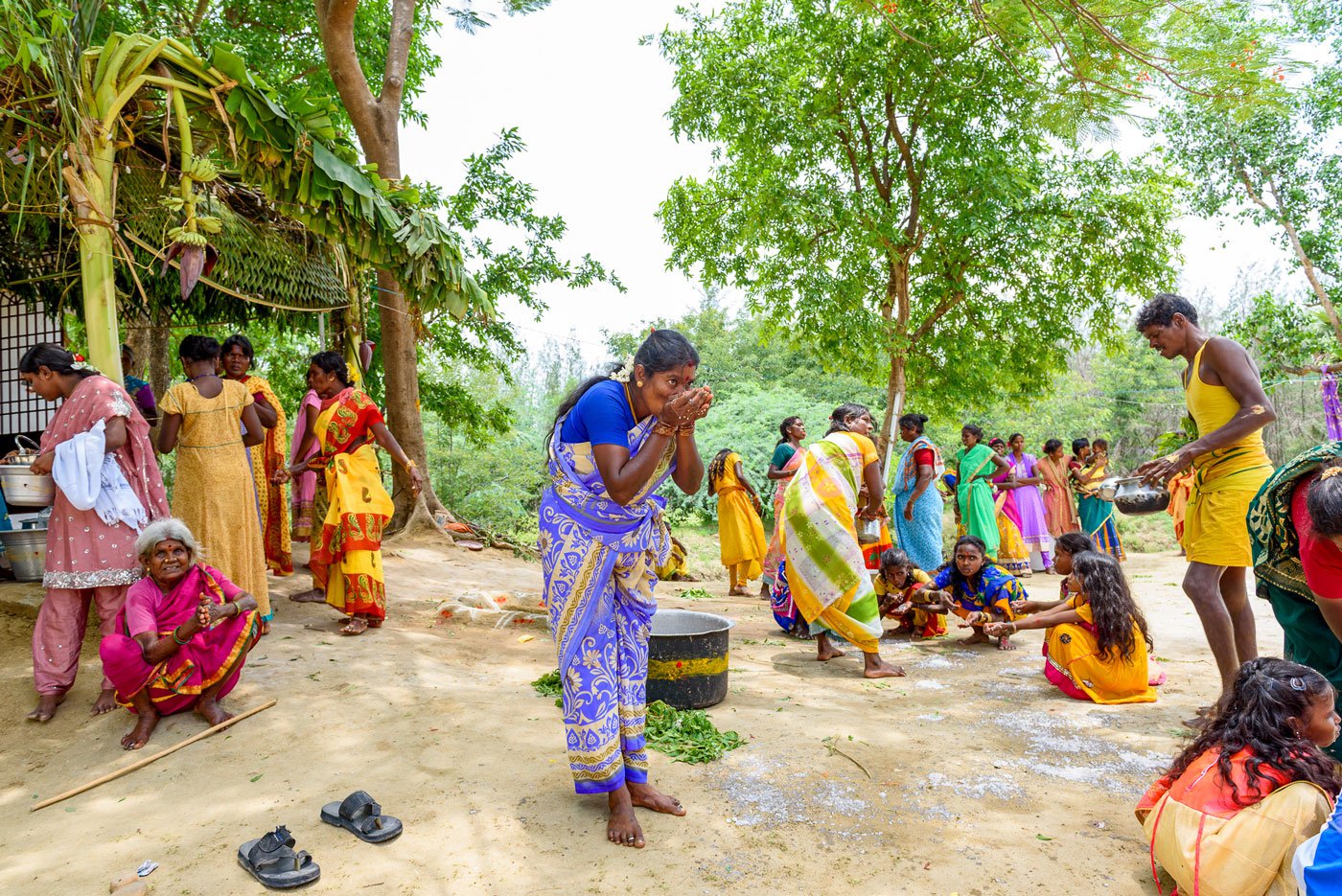 PHOTO • Smitha Tumuluru
The kaappu wearers, dressed in turmeric yellow clothes, arrive at the temple for the rituals. The day's events begin with the arulvakku , or the divine word, from the amman , which they believe she delivers through a medium. "When the amman comes over someone, she talks through them," says Manigandan. "Those who don't believe merely see a stone in the temple. For us, the idol is real, something that has life. She's like our mother. We talk to her like one of our own. A mother understands our problems and offers advice."

Manigandan's sister, Kanniamma, who delivers the arulvakku every year, sprinkles rice mixed with the sacrificial blood of rooster and goat around the temple and the village limits. Volunteers cook and distribute warm koozhu or porridge made with rice and ragi (finger millet) to the entire community. The afternoon is spent building a large thora , a wreath of flowers and banana stem, to prepare the deity for the evening procession.
Over the years, with the pucca temple replacing the mud hut, the festival has grown in scale. A huge crowd of spectators from neighbouring villages, including Palani's Gudigunta village, now assemble to witness the fire-walk in Bangalamedu. "The festival never stopped, not even during Covid, although it was a smaller crowd those two years," says Manigandan. In 2019, the year before Covid struck, the festival saw around 800 visitors.
In recent years, Palani's family has been sponsoring free food, or annadanam , for all visitors. "In 2019, we spent more than one lakh rupees on just 140 kilos of chicken for the biriyani," says Palani, adding that the number of visitors is now back to the pre-Covid days. "Everyone leaves content,' 'he adds. To meet the increased expenses, Palani raises money from his friends.
"Ever since we made a building for the temple, the crowd has only increased. The Irulars cannot manage this, right?" he asks, referring to the temple as Gudigunta Om Sakthi temple, after the village he comes from.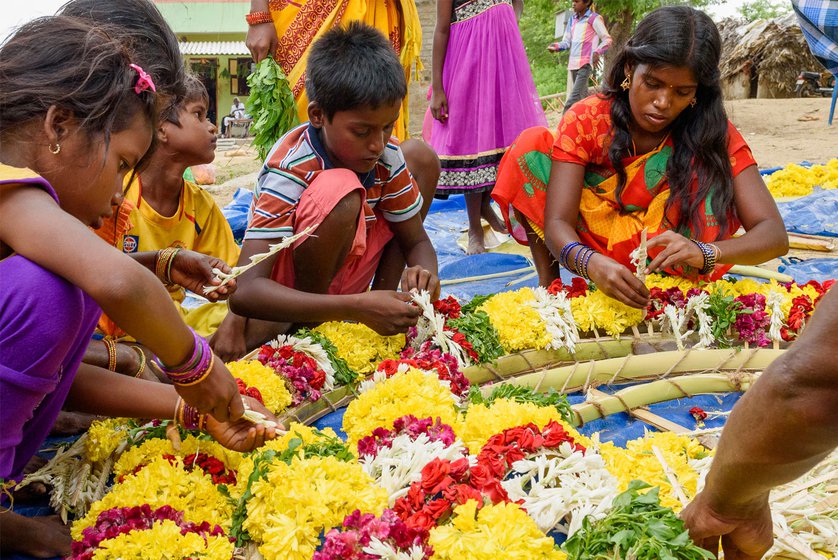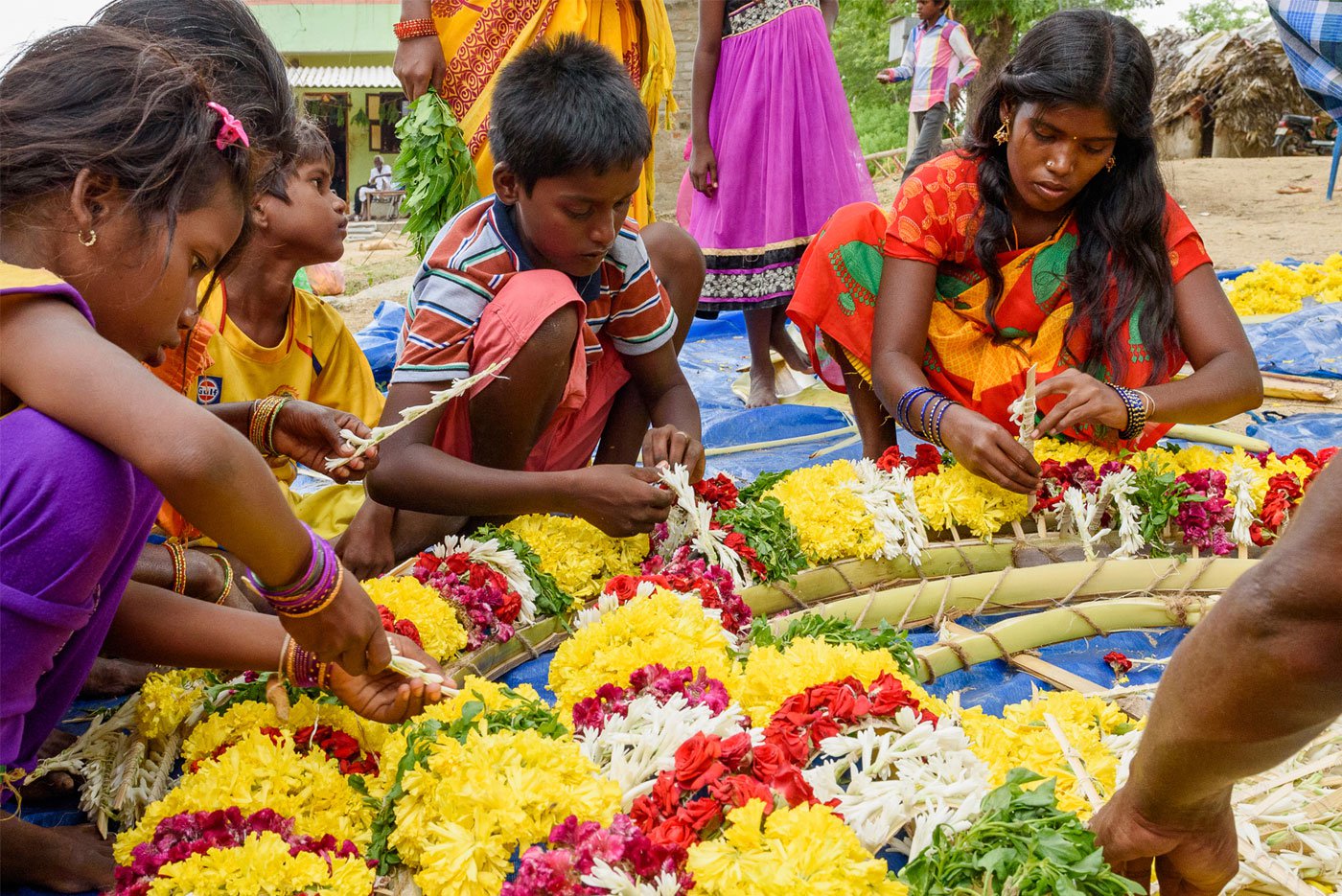 PHOTO • Smitha Tumuluru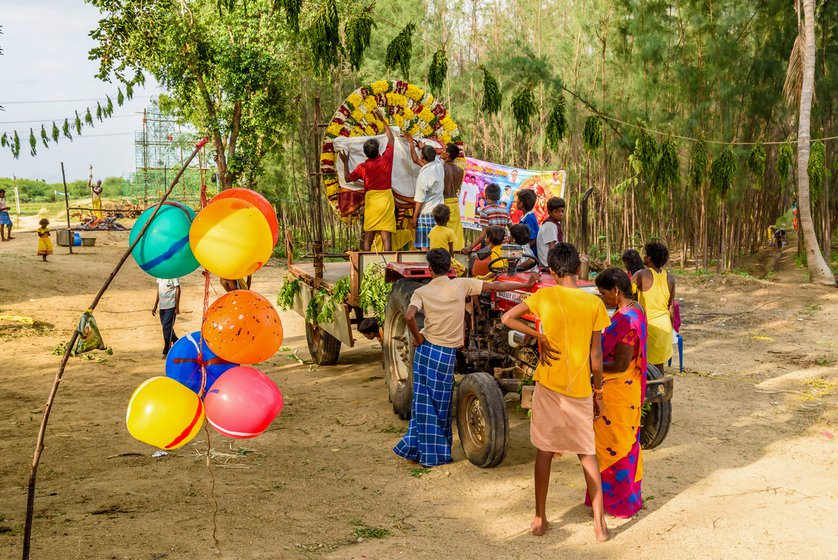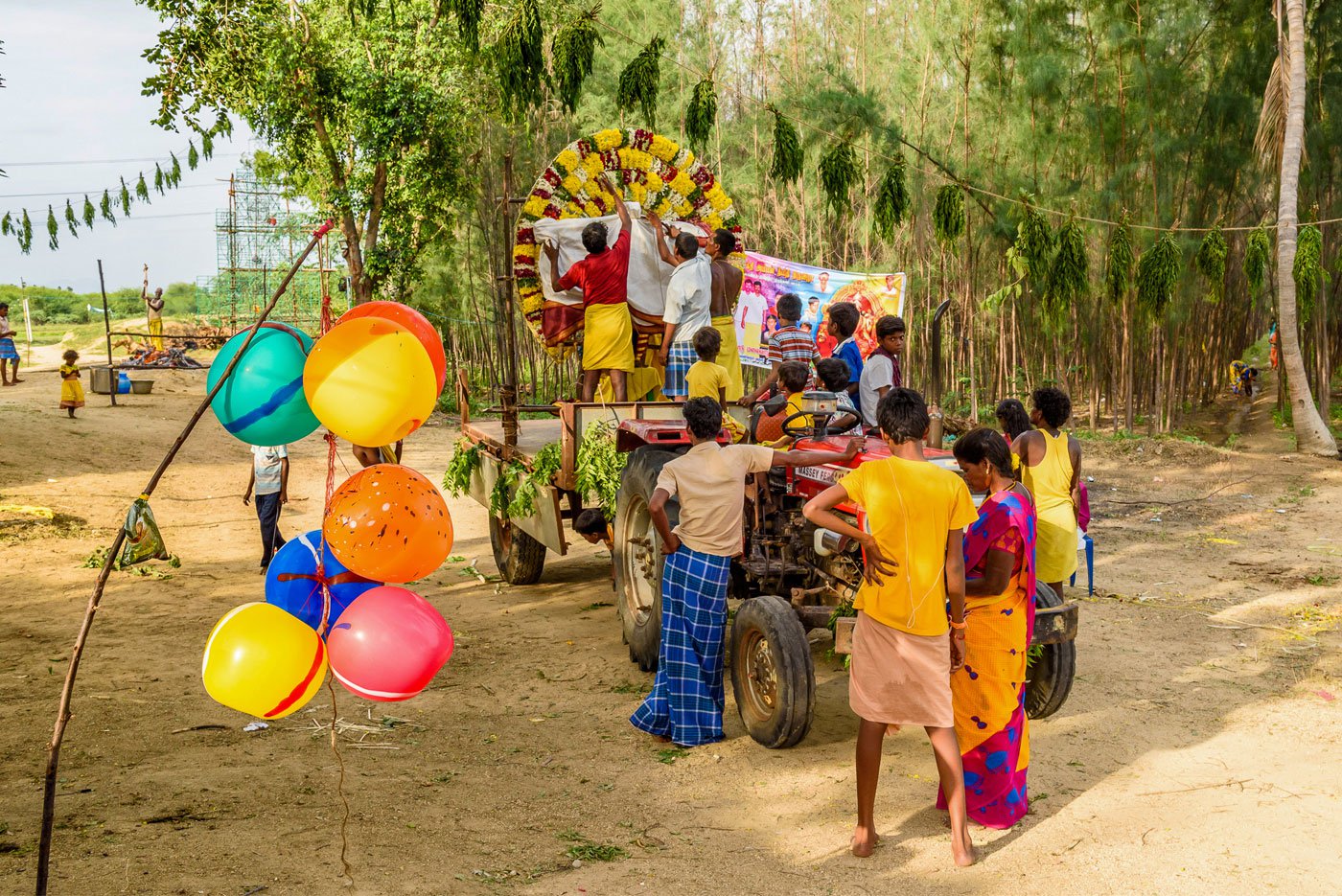 PHOTO • Smitha Tumuluru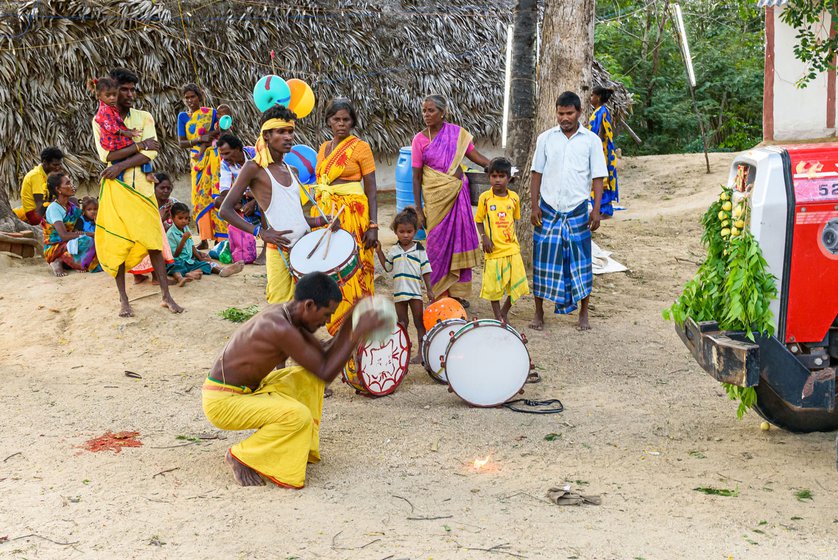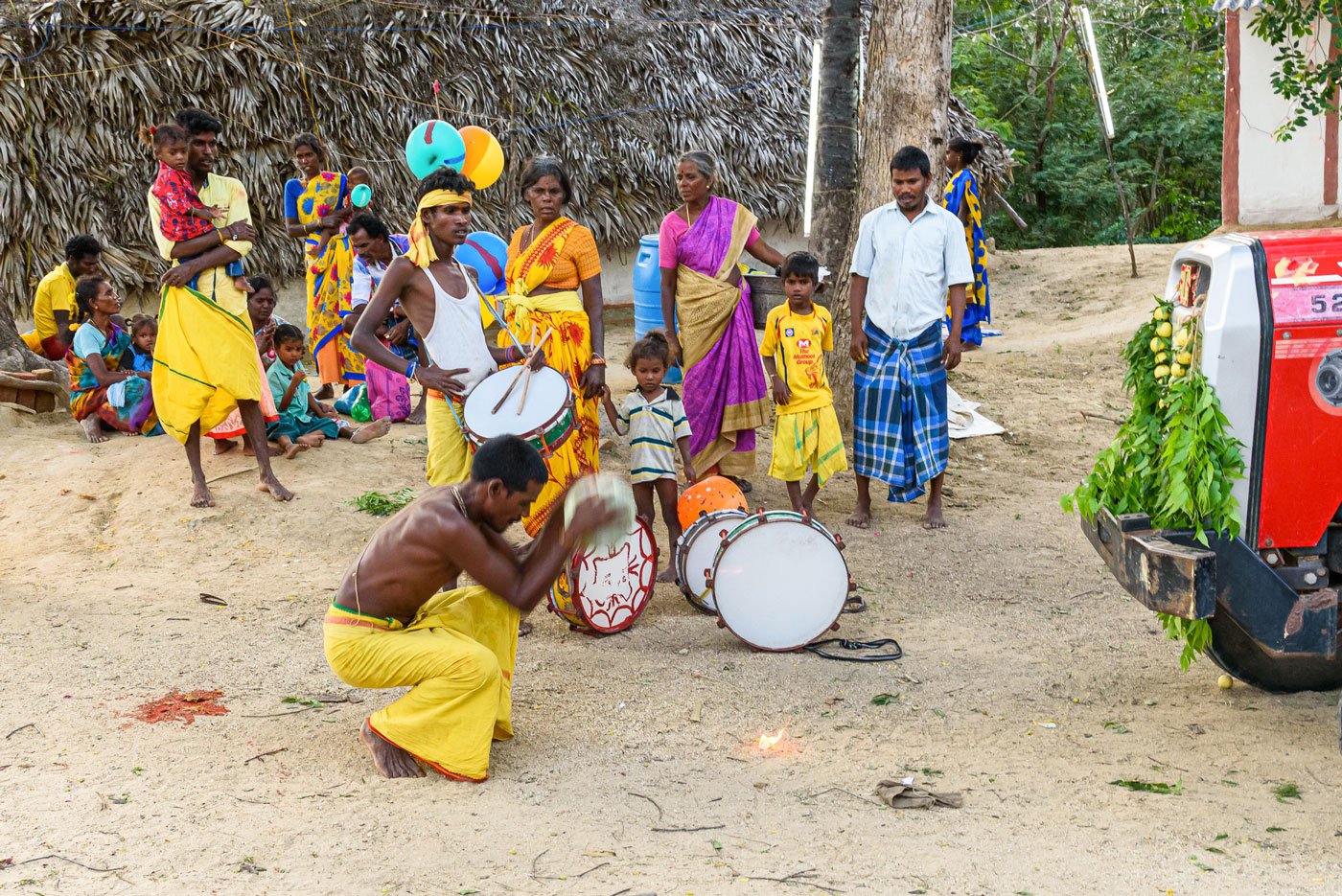 PHOTO • Smitha Tumuluru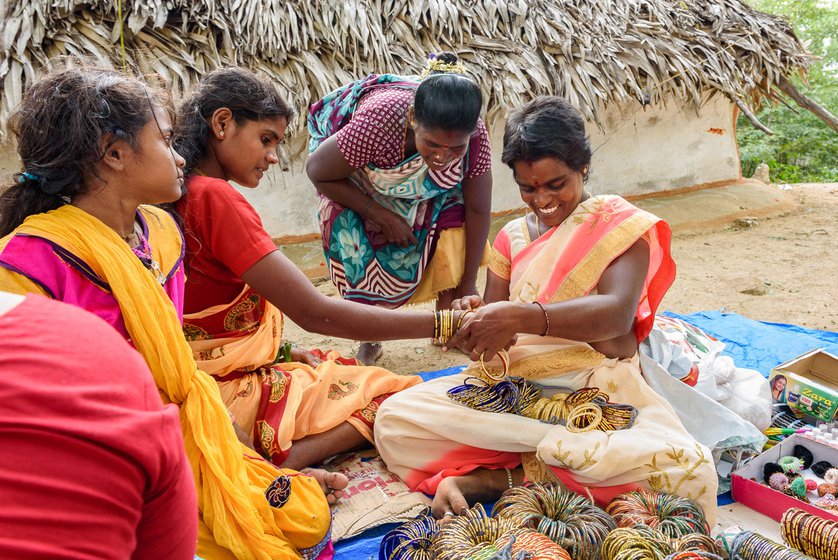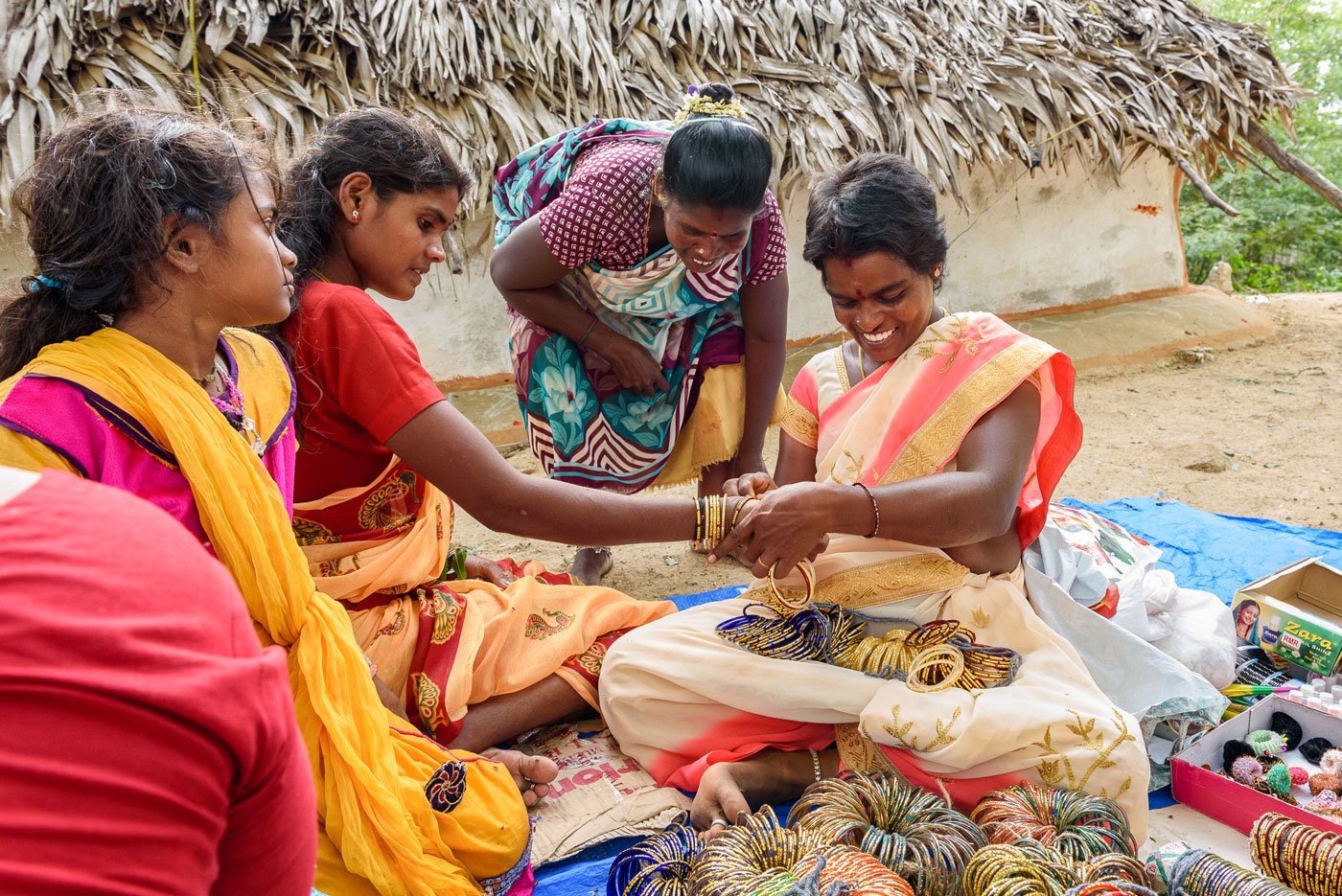 PHOTO • Smitha Tumuluru
"When the new temple was built, our mud idol was replaced with one made of stone; they said that is how temples are consecrated,'' says Manigandan. "We have retained our earthen idol next to it. It is the earth that protects us.''
"They called an Iyer [Brahmin priest], who removed our offerings of raw rice and neem leaves," he says. "It is different from how we do things,'' he adds, with a tinge of discomfort.
"Worship of deities like Kanniamma doesn't usually involve elaborate and structured rituals or even the entire community," says Dr. Dhamodaran, who also holds an advanced degree in Anthropology.  "The emphasis on rituals and a certain way of doing them, and then validating it by involving a [often brahmin] priest, has become a template. It standardises practice, erasing unique ways of worshipping by different cultures."
With the Bangalamedu theemithi becoming grander every passing year, Manigandan and his family sense that the festival is slowly slipping out of their hands.
"Earlier, my father managed all the food expenses with the moi [gift money from guests after enjoying the festive meal]. Now they [Palani's family] take care of all the expenses saying, 'Mani, you focus on the kaappu rituals,'" says Manigandan, whose family occasionally works on Palani's farms.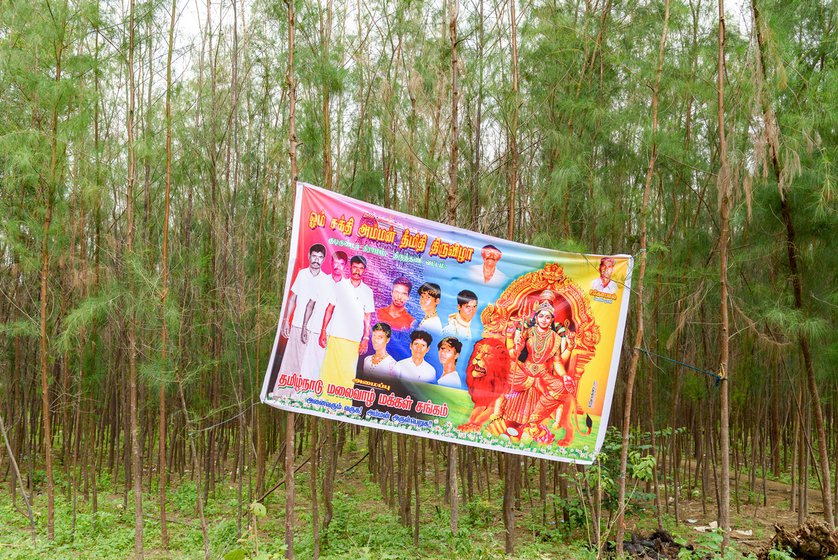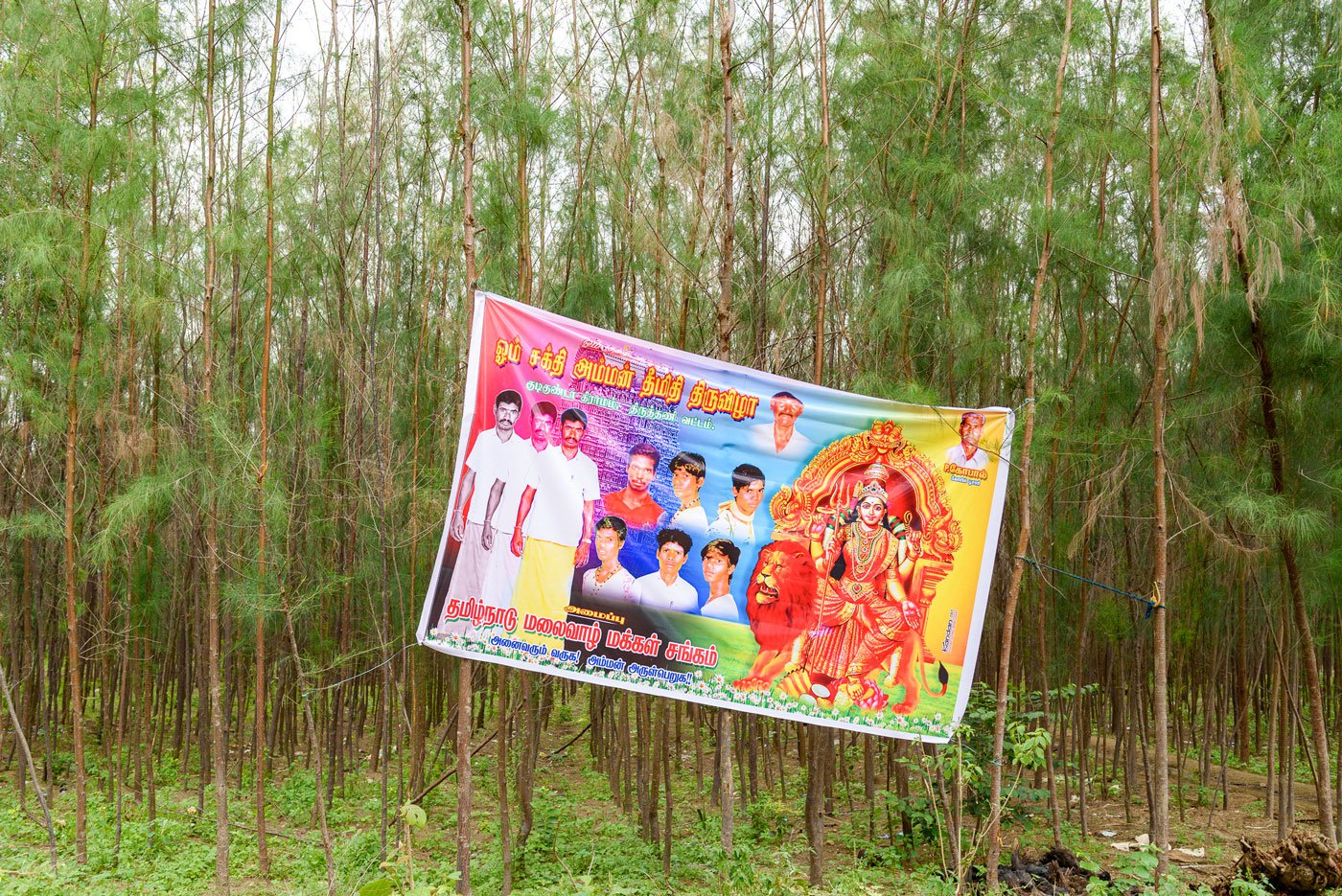 PHOTO • Smitha Tumuluru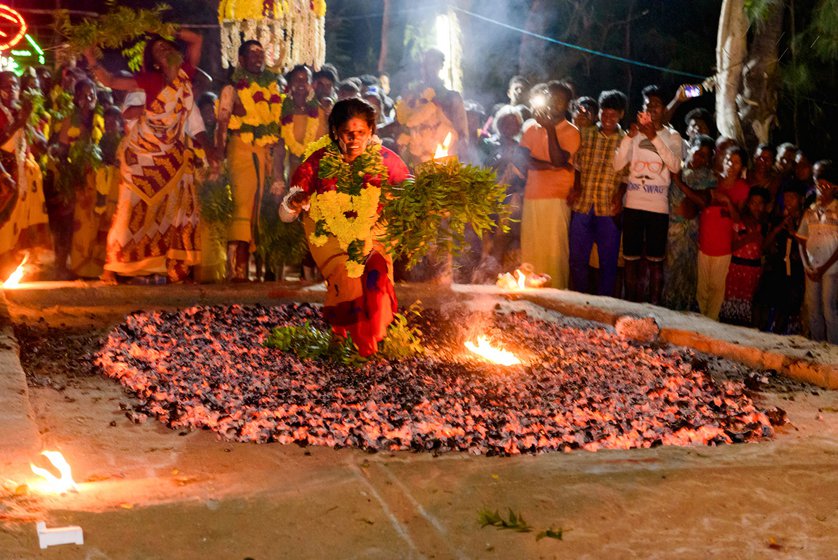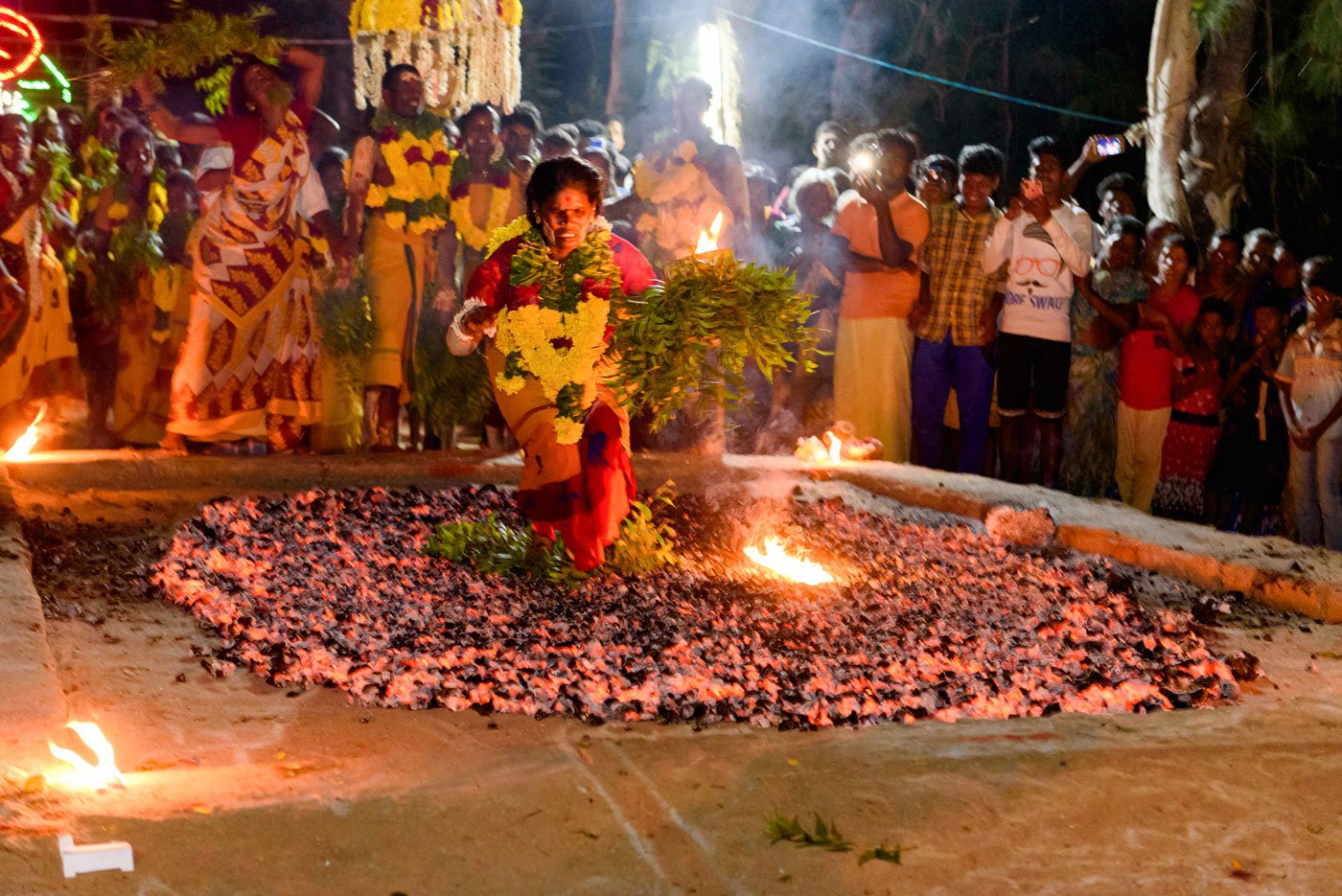 PHOTO • Smitha Tumuluru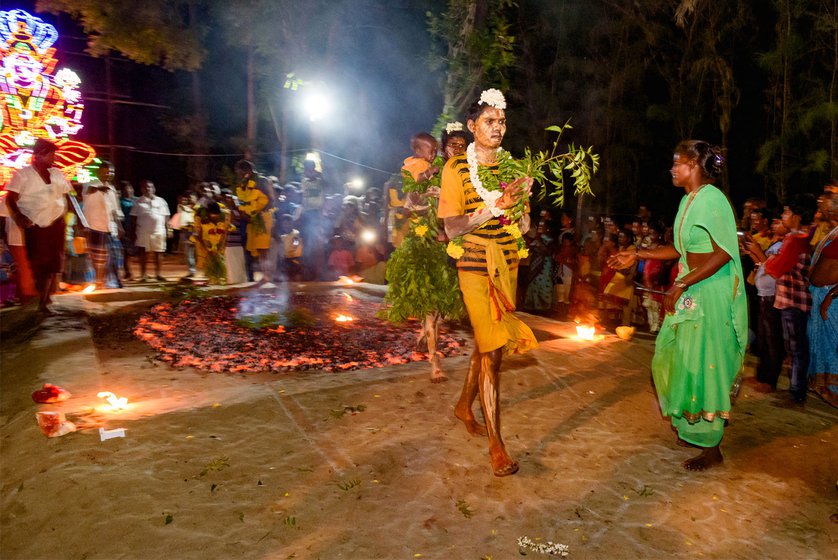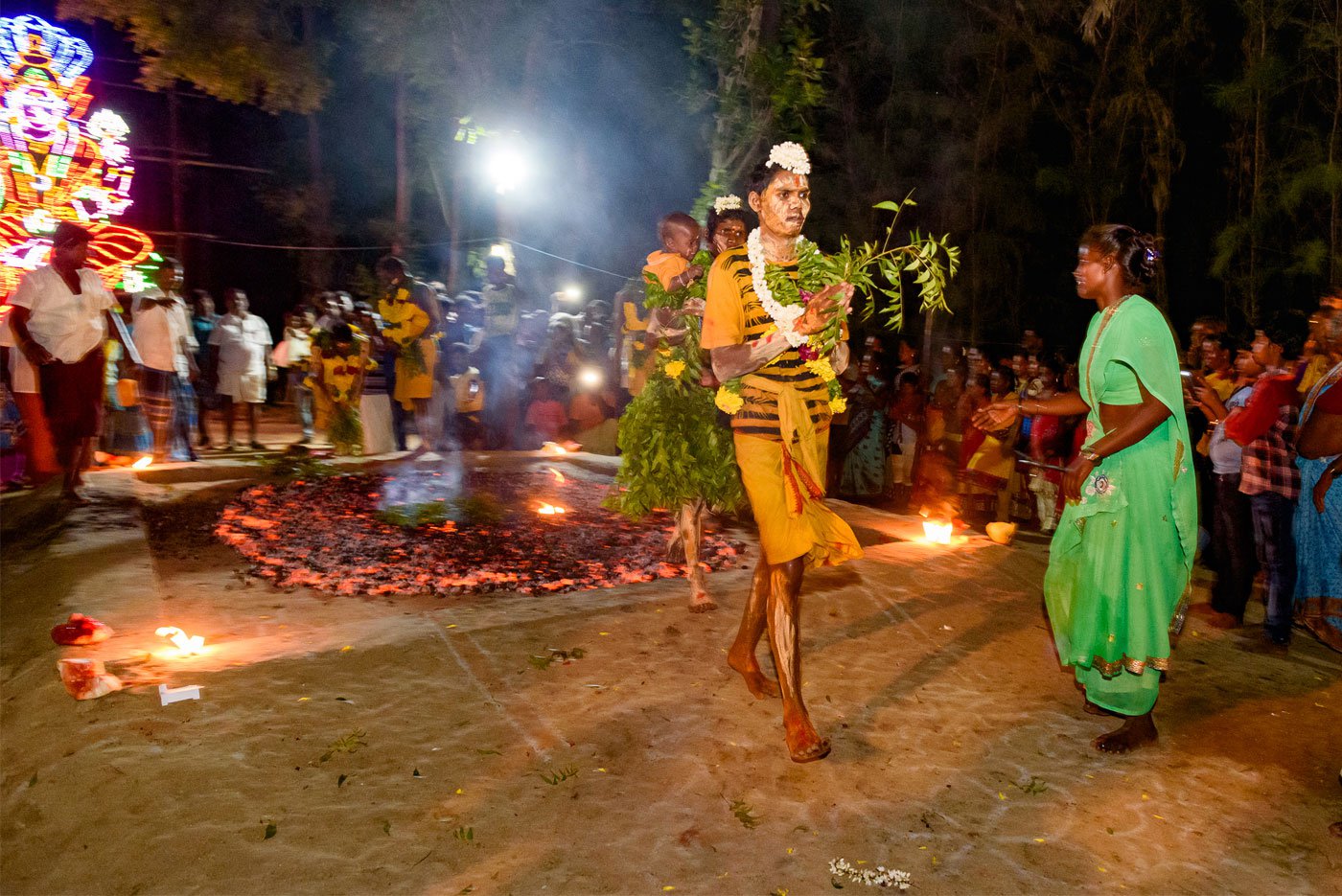 PHOTO • Smitha Tumuluru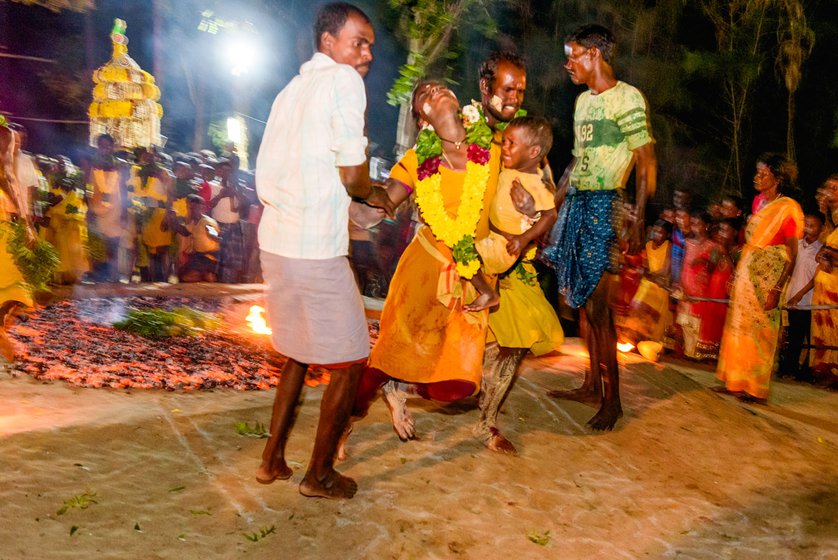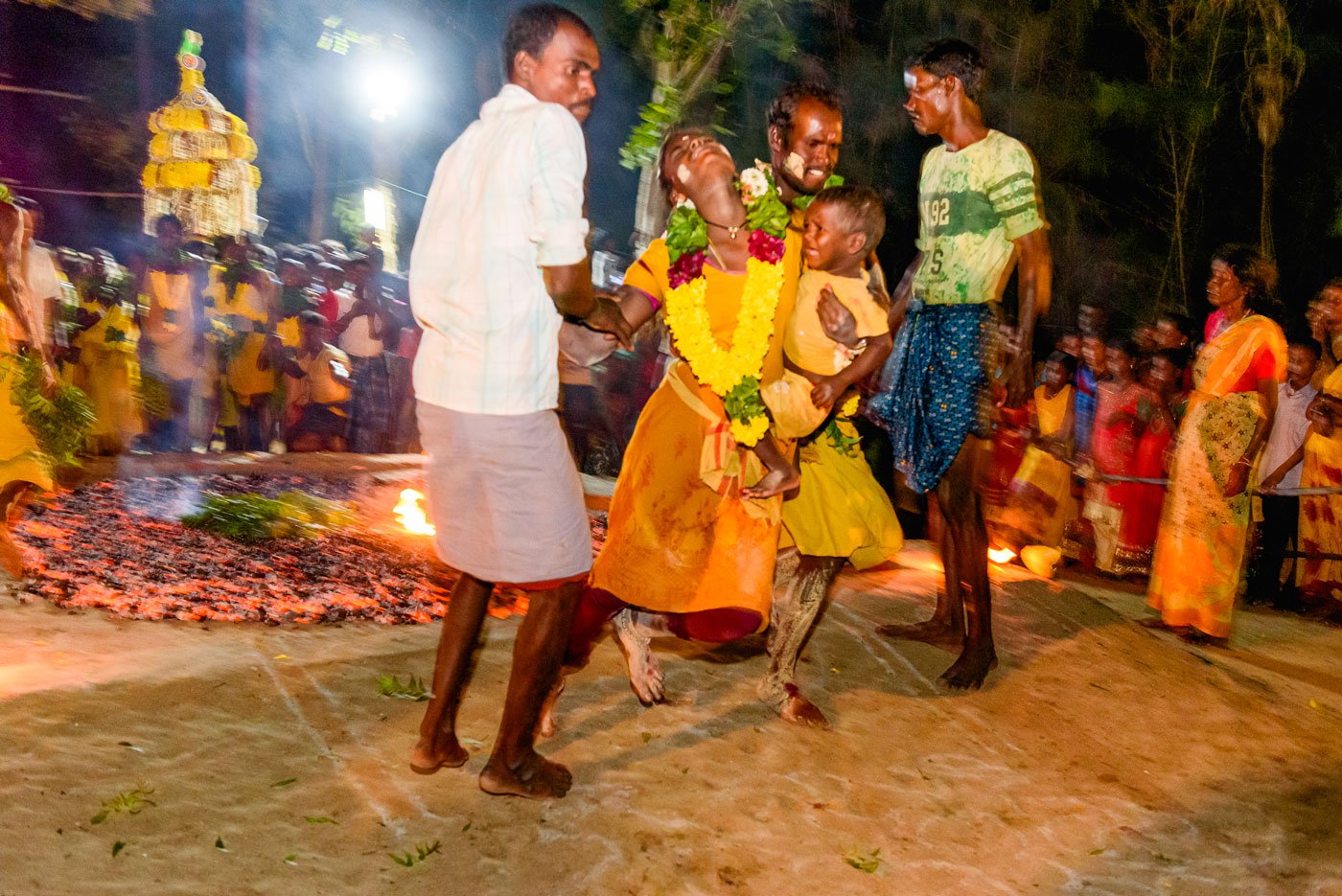 PHOTO • Smitha Tumuluru
The flier for the event has no mention of the Irulars, except for a phrase acknowledging the late Gopal's vazhimurai (legacy). "We had to insist on adding our father's name. They did not want anyone's name appearing in it," says Manigandan.
On the day of theemithi , though, the firewalkers set aside these apprehensions as they prepare for the test of their devotion – bathed and dressed in yellow clothes, flower garlands around their neck, hair adorned with flowers, sandalwood paste smeared all over their bodies, and pious hands bearing bunches of neem. "On that day it is like the amman is within us. That's why even the men wear flowers," says Kanniamma.
As the firewalkers take turns to cross the pit of embers, emotions range from calm to frenzied. Some visitors cheer, while others pray. Many whip out their mobile phones to capture the spectacle.
Despite the new name for what was once a humble Irular shrine, a new idol and the changing dynamics of managing the temple and the festival, Manigandan and his family keep their late father's promise to their amman , thanking her for protecting their lives. During theemithi , all their worries are reserved for another day.
Note: The photographs accompanying this story were taken in 2019 when the reporter visited Bangalamedu to witness the
theemithi
festival
.