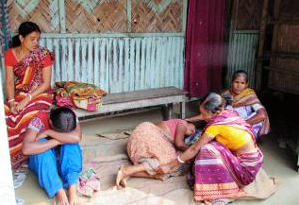 MUMBAI: A day after TOI reported about 601 farmer suicides in the state between January and March this year, Union agriculture minister Radhamohan Singh told Parliament that only three had committed suicide in the state due to unseasonal rains.
TOI's report was based on state government data. The Union minister said that his figures were based on a report from the state government. "I am basing my answer on reports provided by state governments on farmer suicides caused by unseasonal rains and hailstorms. I do not know how credible these are," Singh told Parliament.
The state Congress has accused the BJP-led state government of trying to hoodwink the public and threatened a state-wide agitation. "The BJP government is totally insensitive. Who will believe such low figures," asked Congress MP and state party chief Ashok Chavan. "We will launch a state-wide agitation seeking total loan waiver and compensation for kin of affected farmers," he added.
Later, state agriculture minister Eknath Khadse said there was no contradiction between the figures. He told a TV channel, "There were 601 farmer suicides between January and March, of which 141 were eligible
for relief, but only three were linked to unseasonal rains and hailstorms."
Report 14: The original version of this story appeared in The Times of India on 21 April 2015
More in this series:
Report 1: Nearly 80000 homeless elders go hungry
Report 2: Drought hits 90 lakhs farmers in Maharashtra
Report 3: Kharif crops hit by drought pulses take a maha pounding
Report 4: 40% rise in farmer suicides in Maharashtra
Report 5: Bitter Harvest - Where villagers dig for hours to fill a pot
Report 6: Drought migration forces aged to toil as farm hands
Report 7: The man with 48 borewells in drought-hit Marathwada
Report 8: Maharashtra's drought-hit farmers without bank accounts denied aid
Report 9: Maharashtra govt says mulling farmer insurance as opposition cites TOI's suicide reports
Report 10: Study: Agri-corporates, not farmers, hog loans
Report 11: Direct loans below Rs 25,000 to farmers plunge to 4.3% from 23%
Report 12: Only 12% potential of Maharashtra's 70,000 small dams used
Report 13: Unseasonal rain: 601 farmer suicides in Maharashra in just 3 months
Report 15: State government's logic for its low farmer suicide count: Only 3 blamed rains
Report 16: Beef banned, but no state-run cow shelters in sight