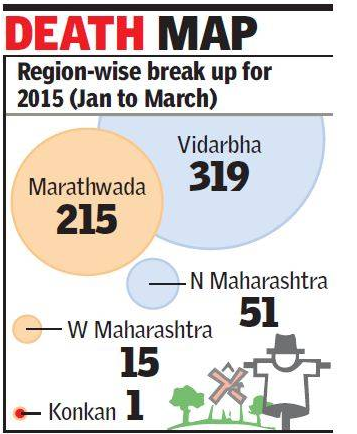 In 2014, the state had reported 1,981 farmer suicides. In just three months this year, it has reached 30% of that figure. This despite the state government's claims that halting farmer suicides is its top priority.
The suicide rate had already started climbing with the onset of the drought last year. The unseasonal rain which impacted a wide expanse of crops and continues to pound the state has made things worse.
The cotton belt of Vidarbha - from where chief minister Devendra Fadnavis hails - continues to report the highest number of cases, the data shows. More than half the suicides between January and March - 319 in all — were from Vidarbha. The arid zone of Marathwada reported the second-highest number, with 215 cases. These regions were worst hit by the drought and have also been impacted by unseasonal rain.
In 2014, the state reported the same trend. Of the 1,981 cases, the highest toll of 1,097 was from Vidarbha. Marathwada accounted for 574 cases, reporting a steep rise in suicides once the drought began. In December 2014, Marathwada reported 151 cases, the highest toll in the state.
Farmers' groups say the state's Rs 4,000 crore drought relief package translated into a very small sum per farmer since as many as 90 lakh farmers were impacted. "It works out to just around Rs 1,875 an acre. Also, banks continued to demand repayments from farmers despite instructions from the state to restructure loans," said Kishor Tiwari of the Vidarbha Janandolan Samiti.
The low price of crops and the lack of bank credit to farmers - which underpin the larger crisis in the farm sector - have not been addressed by the government, he pointed out. "It costs Rs 6,800 to grow a quintal
of cotton. The sale price fixed by the government is Rs 4,000. Even without a drought, farmers were in debt," Tiwari said.
"The farm crisis preceded our government. We have announced a series of measures which will soon have an impact," said state agriculture minister Eknath Khadse. The state hopes to boost water conservation
through its Jalyukta Shivar Yojana. It has also drafted an action plan which includes restructuring bank loans and waiving loans worth Rs 171 crore from moneylenders. The state has also set up a committee to
monitor vulnerable families and planned schemes to aid education and medical treatment for families of farmers.
Report 13: The original version of this story appeared in The Times of India on 19 Apr 2015
More in this series:
Report 1: Nearly 80000 homeless elders go hungry
Report 2: Drought hits 90 lakhs farmers in Maharashtra
Report 3: Kharif crops hit by drought pulses take a maha pounding
Report 4: 40% rise in farmer suicides in Maharashtra
Report 5: Bitter Harvest - Where villagers dig for hours to fill a pot
Report 6: Drought migration forces aged to toil as farm hands
Report 7: The man with 48 borewells in drought-hit Marathwada
Report 8: Maharashtra's drought-hit farmers without bank accounts denied aid
Report 9: Maharashtra govt says mulling farmer insurance as opposition cites TOI's suicide reports
Report 10: Study: Agri-corporates, not farmers, hog loans
Report 11: Direct loans below Rs 25,000 to farmers plunge to 4.3% from 23%
Report 12: Only 12% potential of Maharashtra's 70,000 small dams used
Report 14: 'Only 3 Maharashtra farmers ended life due to unseasonal rain'
Report 15: State government's logic for its low farmer suicide count: Only 3 blamed rains
Report 16: Beef banned, but no state-run cow shelters in sight