MUMBAI: Nearly 90 lakh farmers in Maharashtra have been impacted by the drought that has devastated the kharif crop, official data shows. The figure is almost on a par with the population of Sweden.
Maharashtra is already known for its farm crisis and reports the highest number of farmer's suicides in the country. The drought — brought on by a delayed and inadequate monsoon — is set to deepen the distress for its cultivators.
It comes close on the heels of the crop distress wreaked by the hailstorms last year which hit cultivators hard.
Data with the agriculture department shows that two-thirds of the state's 1.37 crore farmers have been affected by the drought which has impacted mainly the Marathwada and Vidarbha regions. These areas have historically been the most deprived in the state.
Two weeks ago, the state government officially declared that 60% of its villages were facing a "drought-like condition". This means that they reported a crop yield which was less than 50% of the standard yield in the area. In absolute figures, 23,811 of the state's 39,453 villages come in this category. This will result in a drastic fall in the state's agricultural output for the year, officials said.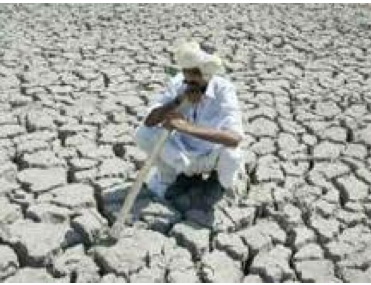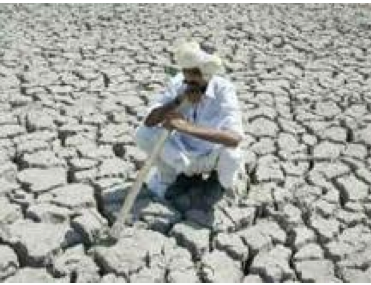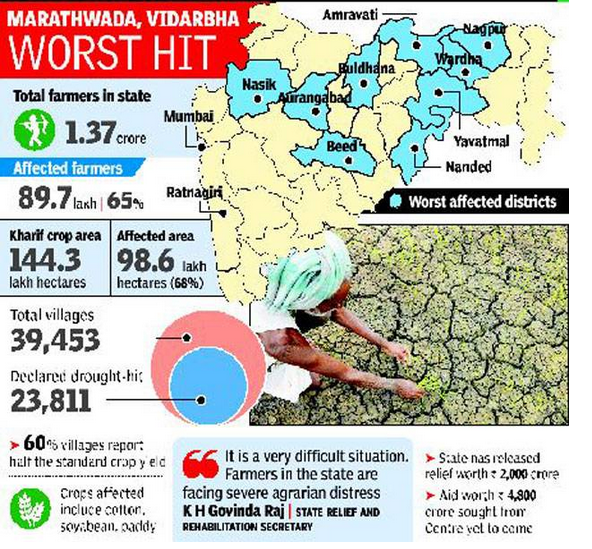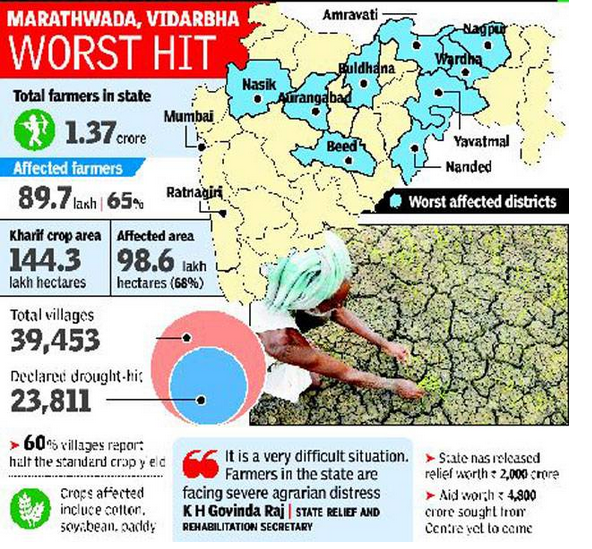 "It is a very difficult situation. Farmers in the state are facing severe agrarian distress," said state relief and rehabilitation secretary K H Govinda Raj. The state government has released relief worth Rs 2,000 crore so far, he added. The state had asked the Central government for aid worth Rs 4,800 crore but that's yet to come in.
Vidarbha-based farmer activist Vijay Jawandia pointed out that this is the fourth drought in the state since 2008. "The impact on farmers is only getting worse. Earlier farmers used to suffer because of low yields but at least they got a decent price for their produce. Now they have poor yield and very low prices for their crop," he said.
In his estimation, the cotton and soyabean crop in the state could see a dramatic drop in yield. "The total cotton production in Maharashtra could drop by 1.5 crore quintals this year. The soyabean yield was 4 quintals per acre. This year it could be just half of that," he said.
Report 2: The original version of this story appeared in The Times of India on 3 Feb 2015
More in this series:
Report 1: Nearly 80000 homeless elders go hungry
Report 3: Kharif crops hit by drought pulses take a maha pounding
Report 4: 40% rise in farmer suicides in Maharashtra
Report 5: Bitter Harvest - Where villagers dig for hours to fill a pot
Report 6: Drought migration forces aged to toil as farm hands
Report 7: The man with 48 borewells in drought-hit Marathwada
Report 8: Maharashtra's drought-hit farmers without bank accounts denied aid
Report 9: Maharashtra govt says mulling farmer insurance as opposition cites TOI's suicide reports
Report 10: Study: Agri-corporates, not farmers, hog loans
Report 11: Direct loans below Rs 25,000 to farmers plunge to 4.3% from 23%
Report 12: Only 12% potential of Maharashtra's 70,000 small dams used
Report 13: Unseasonal rain: 601 farmer suicides in Maharashra in just 3 months
Report 14: 'Only 3 Maharashtra farmers ended life due to unseasonal rain'
Report 15: State government's logic for its low farmer suicide count: Only 3 blamed rains
Report 16: Beef banned, but no state-run cow shelters in sight