In this edition of the Grindmill Songs Project: Lilabai Kamble of Kolavade village sings of irreplaceable mothers and the cruelty of in-laws while Tarabai Ubhe of Lawarde village tells sons-in-law to limit their demands
"The powerful men and the thugs won't support a sarpanch who has a mind and voice of his or her own. They will only support someone who will carry out their bidding," says Lilabai Kamble, 58, a tenant farmer from Kolavade village in Pune district. "If the sarpanch is a woman, it is her husband or father-in-law who controls and she is completely dominated by them. If the woman dares to exercise an independent opinion, the men in her own family will make her life difficult."
Lilabai has been an activist with the Garib Dongri Sanghatana (GDS), an organisaiton working with the rural poor in the hilly tracts of Pune district. She learned to read and write in adult literacy classes offered by GDS and, over time, developed strong views on village-level politics.
Lilabai lives with her husband Vitthal, their son Santosh, daughter-in-law Sheetal and their school-going grandchildren Yash and Soham. They are a family of tenant farmers, who work on tracts of land between 10 and 20 guntha, that is, between a quarter and a half acre. About 50 per cent of their harvest goes to the land owner and so it isn't surprising that Lilabai's other sons, Ashok and Nandkumar, work in Pune city as construction labourers.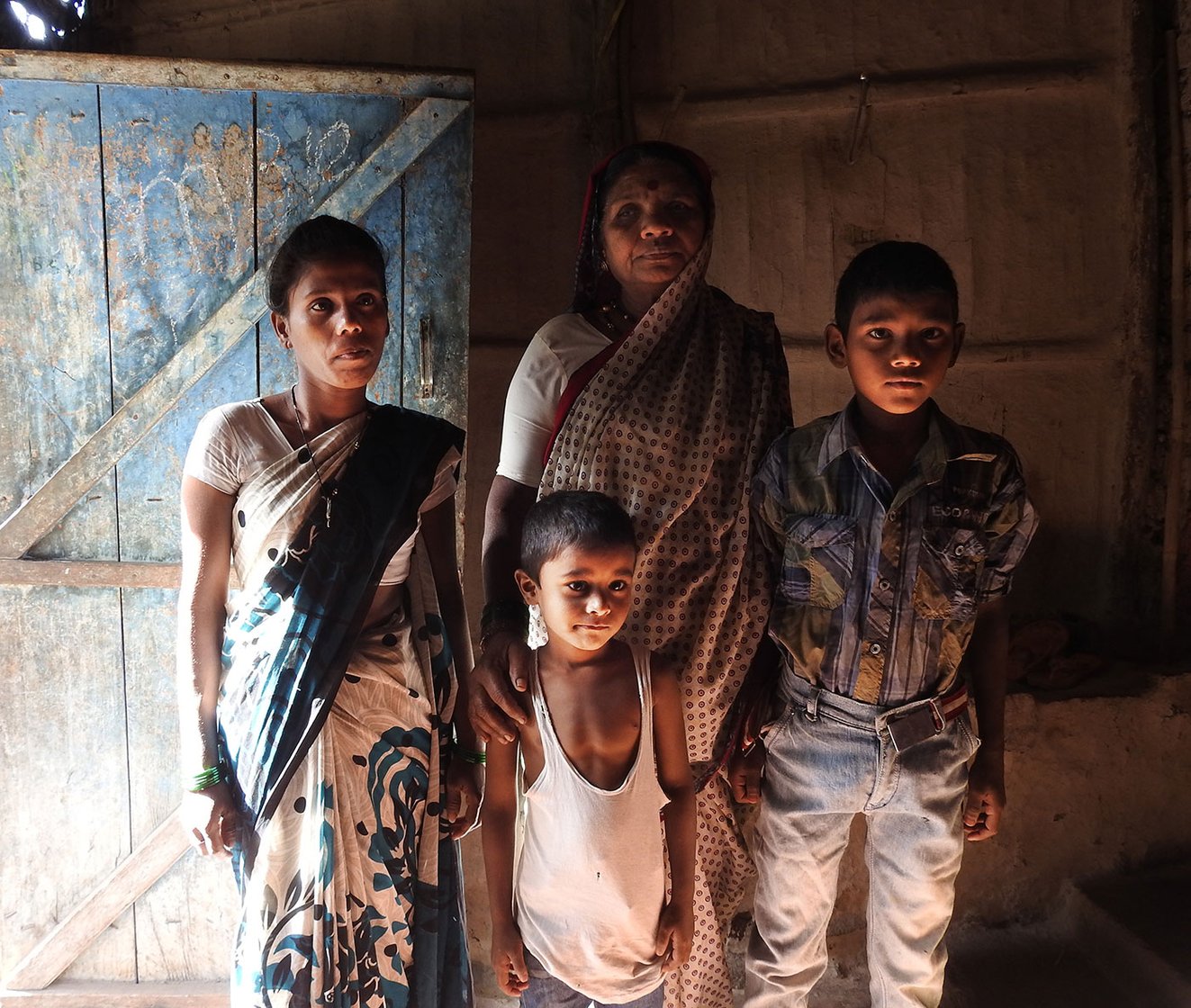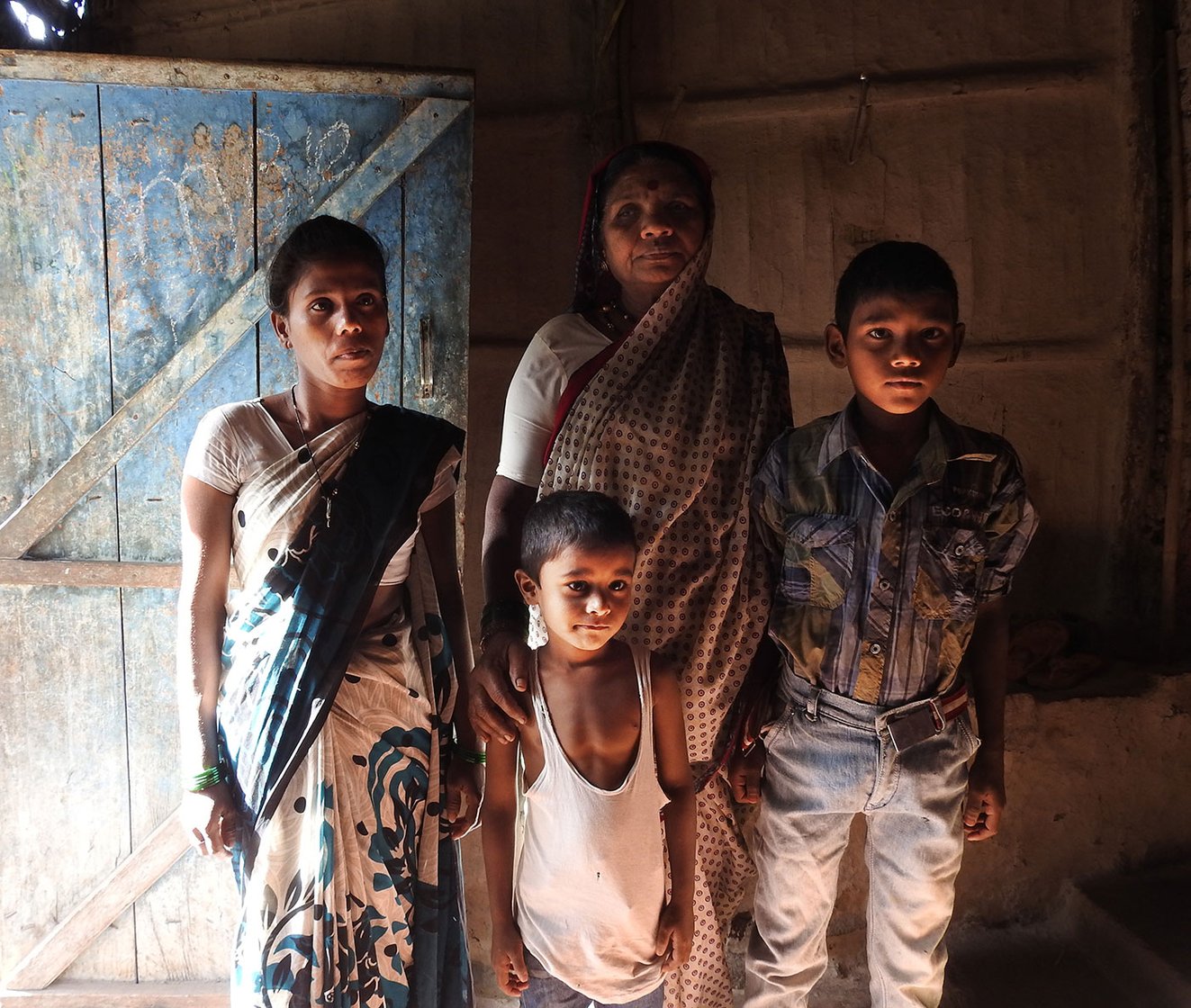 PHOTO • Samyukta Shastri
On April 30, 2017, we made an impromptu trip to Kolavade to meet Lilabai and other women from the villages of Mulshi taluka , all of them singers for the Grindmill Songs Project (GSP). Liliabai's home was our first stop.

Lilabai had contributed 176 ovi to the grindmill songs database. These couplets were written down over two decades ago and 18 of them were recorded on audiotapes by the original GSP team in the 1990s. We had come to photograph her and, with her as our guide, meet other singers here and from neighbouring Lawarde village. She also took us – Jitendra Maid (from the original GSP team), Samyukta Shastri and I – to Tarabai Ubhe's residence in Lawarde, but the latter was not home that day.
So we returned to Lilabai's home, one of the few that still uses the grindmill to crush rice and gram flour. It is a mud structure with a roof of tiles and tin sheets. It has a veranda with a metal-frame sofa and a living room with a small television set next to a single bed. The grindmill is in the kitchen which also has a sunken space for washing utensils.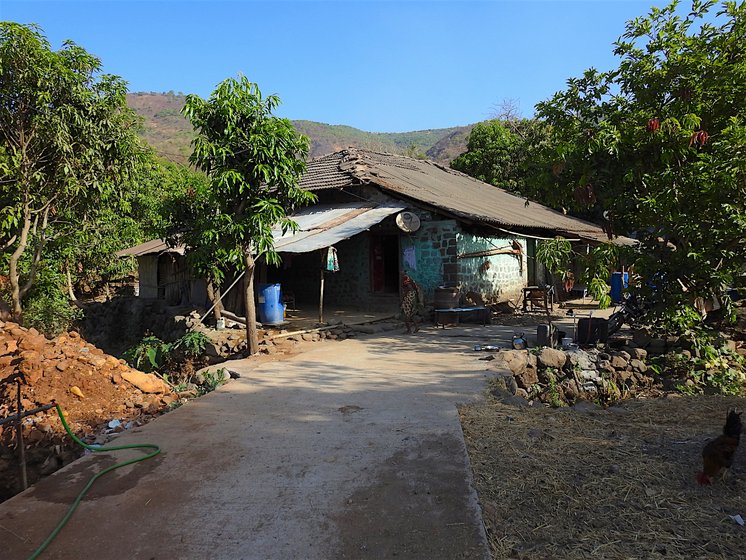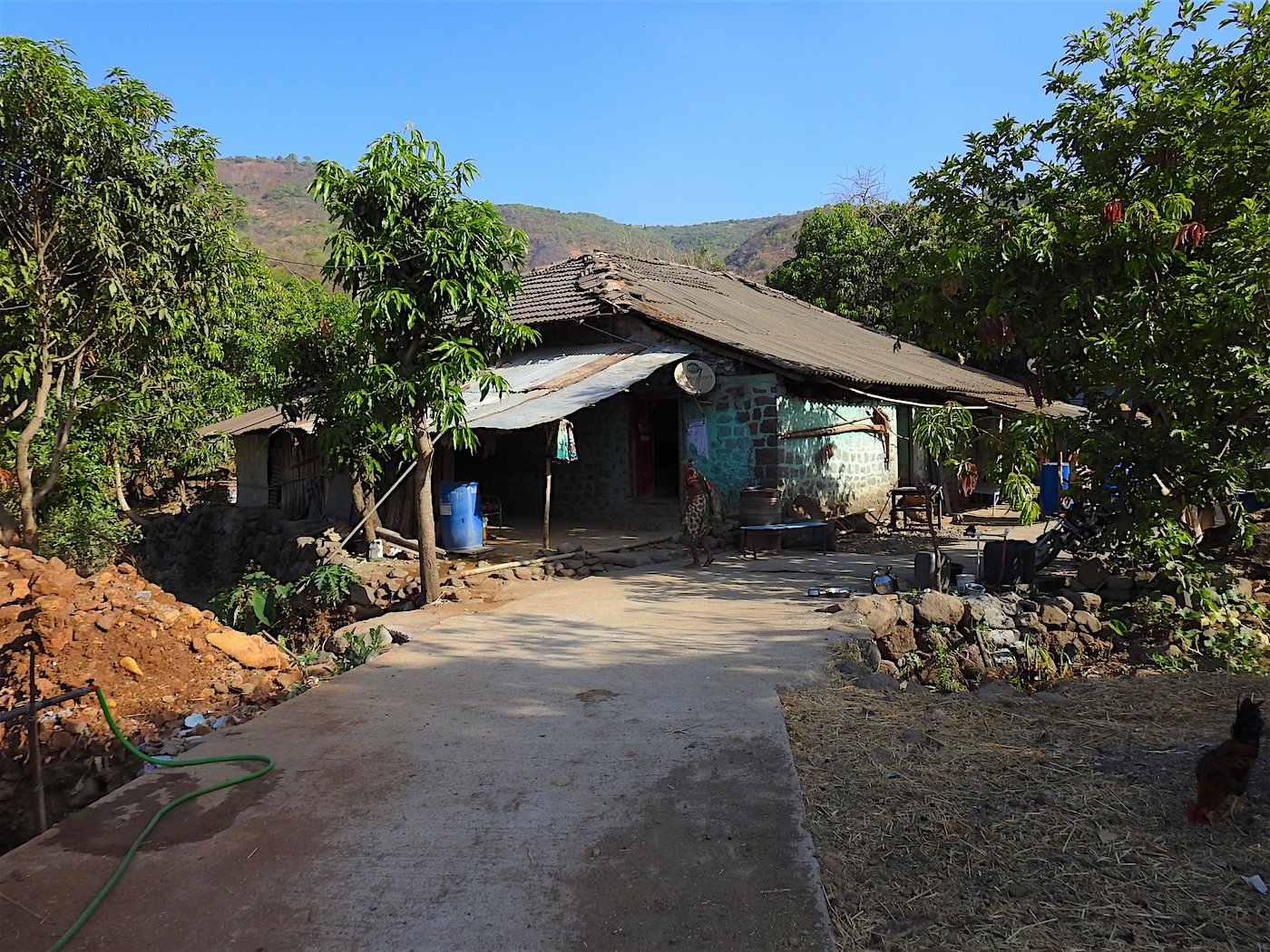 PHOTO • Samyukta Shastri
Before we leave her home, Lilabai, sweet as the mothers she sings about, fed us a delicious meal of bhakri , potato curry, rice and spicy masoor dal . It was a meal she had made with her daughter-in-law Sheetal – and a loving gesture.

The grindmill songs of Lilabai and Tarabai

Here we bring you five ovi sung by Lilabai Kamble and one by Tarabai Ubhe.
In the first audio clip, Lilabai sings three ovi in praise of mothers. She says that no woman, however dear, can be compared to one's mother; even a neighbour, who is sometimes addressed as aai , cannot come close. A mother is irreplaceable – her sweetness is like honey or rock sugar that has no trace of bitterness. And just as buttermilk cannot be reconverted to milk, children cannot take the place of their mothers.
The second clip has three ovi about fathers, and in-laws. In the first song, Lilabai says that when a father gets his daughter married, he thinks he has done his duty. This ovi juxtaposes kanyadaan (giving away a daughter in marriage) and godaan (gifting a cow), both considered good deeds in Hindu tradition. Does the father not realise that his daughter's in-laws could give her trouble? It is almost as if he has gifted his daughter into a butcher's hands – a young woman's husband and in-laws sometimes treat her like a butcher treats meat!
A son-in-law, Lilabai says, is like a son but he is usually arrogant and speaks harshly, which makes him more like horse gram, a legume with a pungent smell and taste. In the clip's last ovi , Tarabai says that the son-in-law is constantly making demands. In response, she tells him: "I have already given you my daughter. What more can I give?"
अशी आई आई म्हण आई कुणीच व्हयीना
अशी आईची सर शेजा नारीला येईना
अशी बया बया म्हण इतकी गोड काही
अशी खडसाखरला जरा कडूपणा नाही
अशी बया बया म्हण बया मवूळाची मध
अशी अंतरी करीते शोध ताकाचं व्हयीना दुध
aśī āī āī mhaṇa āī kuṇīca vhayīnā
aśī āīcī sara śējā nārīlā yēīnā
aśī bayā bayā mhaṇa itakī gōḍa kāhī
aśī khaḍasākharalā jarā kaḍūpaṇā nāhī
aśī bayā bayā mhaṇa bayā mavūḷācī madha
aśī antarī karītē śōdha tākācaṁ vhayīnā dudha
Just calling someone a mother, doesn't make her one
Even a woman's neighbour cannot be compared to a mother
Mother, I say, is so sweet
She is like rock sugar with no bitterness at all
Mother is like honey from a honeycomb
I search within, but buttermilk cannot become milk
बापानी दिल्या लेकी लेकीच बर केल
गाईना याच दान कसाब्याच्या हाती दिल
जावनायाईबाळ जसी हुलग्याची पेरयणी
पोटीची दिली कन्या याची उगीर बोलयणी
जावई म्हण बाळ हंड्यात घाली पायी
पोटीची दिली कन्या तुला आणिक देवू काई
bāpānī dilyā lēkī lēkīca bara kēla
gāīnā yāca dāna kasābyācyā hātī dila
jāvanāyāībāḷa jasī hulagyācī pērayaṇī
pōṭīcī dilī kanyā yācī ugīra bōlayaṇī
jāvī mhaṇa bāḷa haṇḍyāta ghālī pāyī
pōṭīcī dilī kanyā tulā āṇika dēvū kāī
Father got his daughter married – he thinks he has done his duty
But he gifted his daughter into the hands of a butcher
Son-in-law, akin to my son, is like pungent horse gram
I gave him the daughter of my womb and yet he is so arrogant
Son-in-law, akin to my son, demands more and more
I have given you the daughter of my womb – what more can I give you?
---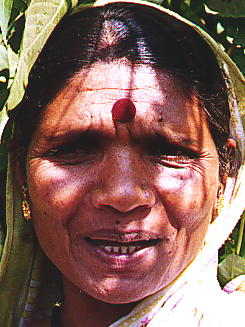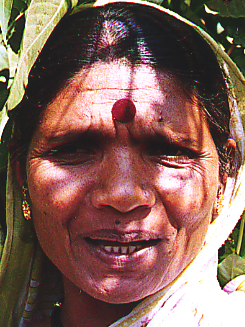 PHOTO • Bernard Bel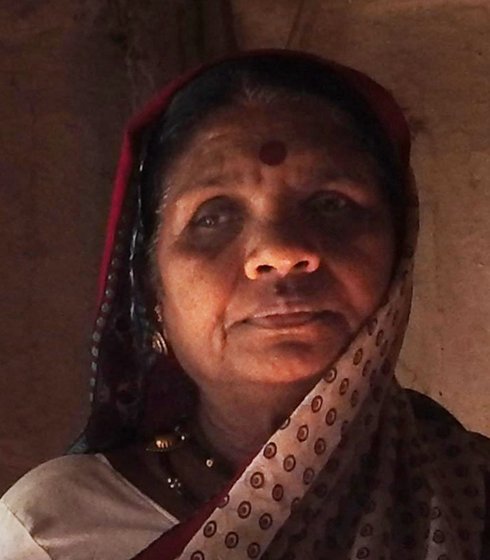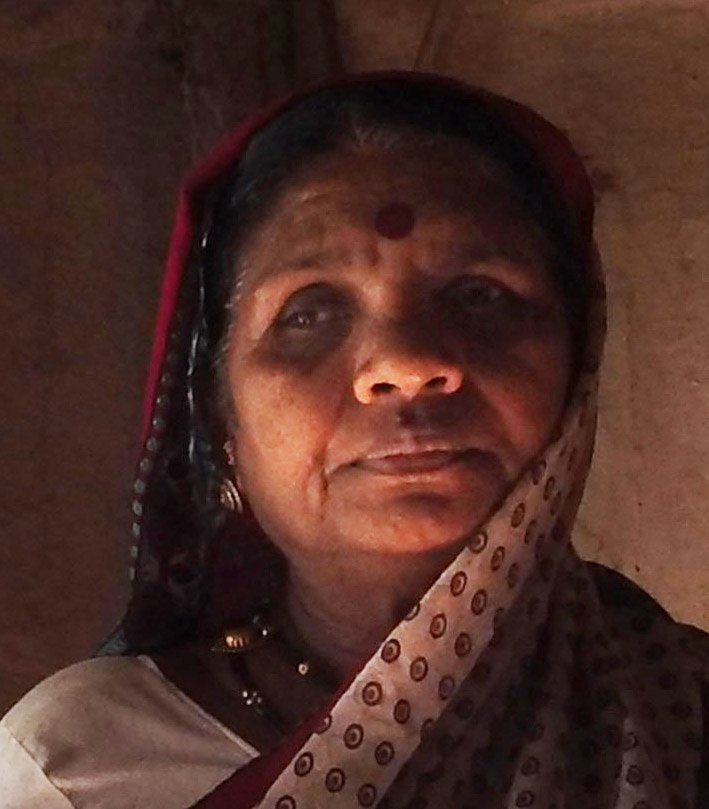 PHOTO • Samyukta Shastri
Performer/Singer: Lilabai Kamble
Village: Kolavade
Taluka: Mulshi
District: Pune
Caste: Nav Bauddha (Neo Buddhist)
Age: 58
Children: Three sons
Occupation: Tenant farmer
---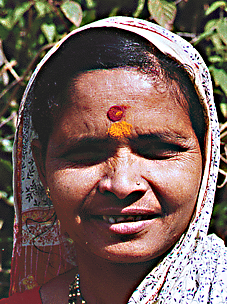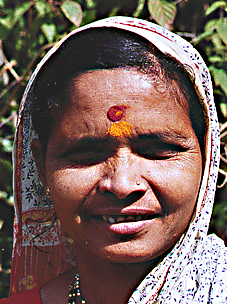 PHOTO • Patrick Faucher
Performer/Singer: Tarabai Ubhe
Village: Kolavade
Hamlet : Khadakwadi
Taluka: Mulshi
District: Pune
Caste: Maratha
Age: 57
Children: Three daughters
Occupation: Farmer. Her family owns one acre of land and grows rice, wheat, ragi and some little millet.
Date: These songs were recorded on January 6, 1996 and October 5, 1999.
Poster: Shreya Katyayini