Dussehra, on September 30 this year, is celebrated in a few songs in the Grindmill Songs Project. This week, we feature three ovi sung in 1999 by Shahubai Kamble of Nandgaon village, that describe the festive rituals
Shahubai Kamble's melodies were striking, her voice was outstanding. This we had gathered while listening to audio clips to curate ovi for publishing on PARI as a part of the Grindmill Songs Project.
We wanted to meet Shahubai when we visited Nandgaon village on September 11, 2017. So it was a disappointment when Jitendra Maid, who travelled with us and was on the original Grindmill Songs Project team too, told us a few days before we visited her village in Mulshi taluka of Pune district that Shahubai had died a year ago. We could only get a photograph of her from the family's home in Nandgaon, where her husband, two sons, their wives and children live.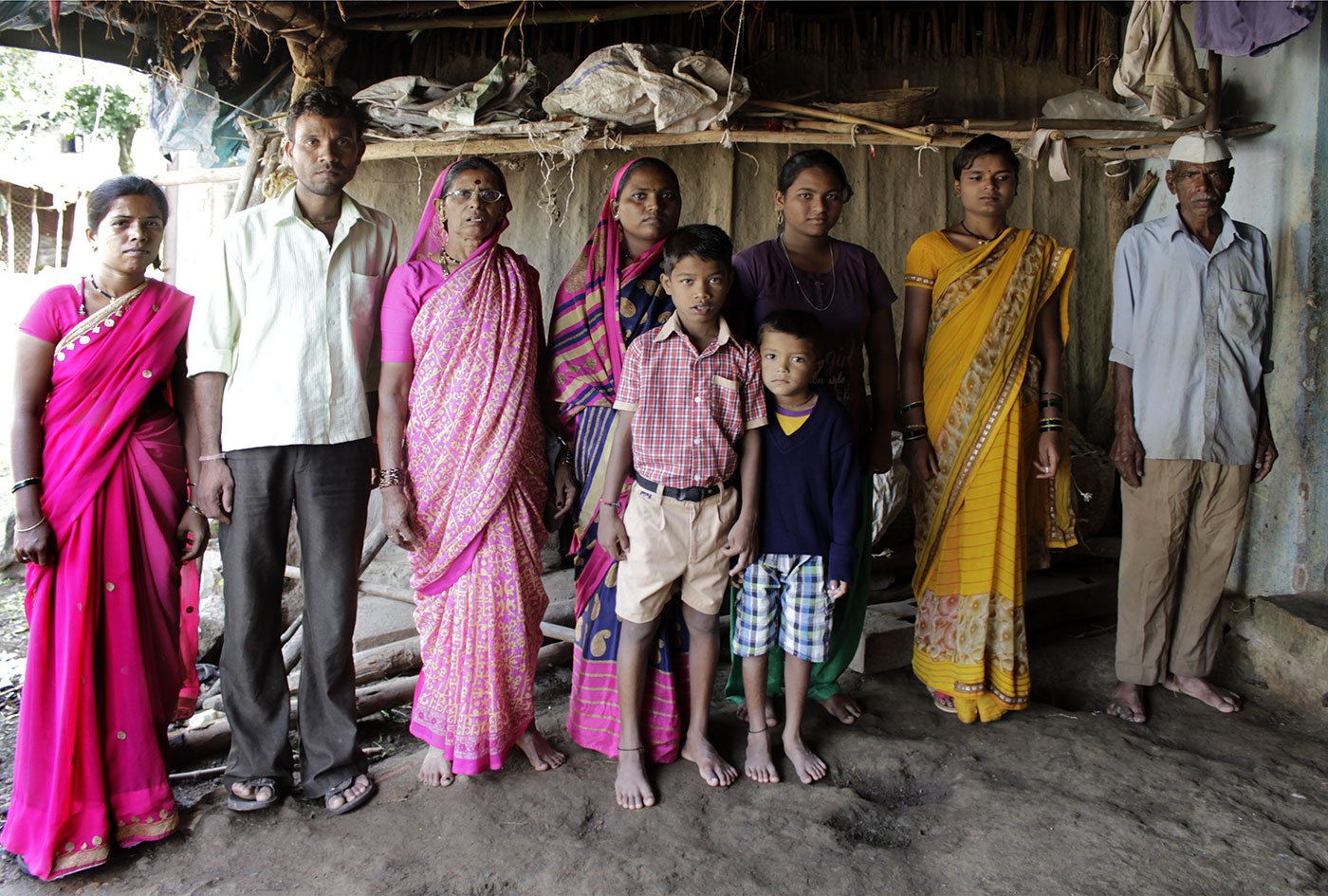 PHOTO • Samyukta Shastri
Kusumtai Sonawane, whose ovi were featured on PARI in Burn, burn, youth, because a young woman is blamed on March 15, 2017, also lives in Nandgaon. She says, "Shahu and I were friends from childhood, we went to school together in Kolwan village though we studied only till the first standard." The two were also related – Shahubai's husband is Kusumtai's first cousin. As friends and like sisters, they spent time with each other. They practiced different tunes and thought of new ones while pounding grain in the mortar with a wooden pestle. These tunes would then be put to use while singing ovi while they worked at the grindmill to make flour from grain. "'Each of us would bring a kilo of rice or gram to grind and sit together singing the grindmill songs," says Kusumtai.
Shahubai sang 401 songs for the grindmill songs database, of which around 170 were audio recorded in October 1999. These are a part of the database of over 110,000 ovi from rural Maharashtra. The project is now hosted on PARI, and a PARI team has been revisiting several villages to meet the singers, take photographs and record videos.
This edition contains three ovi about Dussehra. The festival marks the end of the nine days of Navratri – the tenth day, that celebrates the victory of good over evil, when Goddess Durga triumphs over the demon Mahishasur. In the Mahabharata , it is said that the Pandavas completed their year-long exile on this day. In the Ramayana , it was on this day that Ravana was killed by Lord Rama.
During this and a few other Hindu festivals, women in households that follow traditional customs, felicitate the men in the family through a simple ritual. The woman carries a platter with flowers, kunku (the Marathi word for red vermillion powder) and an oil lamp with a lit cotton wick. While the man sits in a chair or on a low wooden platform on the floor, she applies the kunku on his forehead and rotates the platter with the lamp clockwise a few times, reflecting its light on his face.  This ritual is called ovaalne in Marathi. There are also some festive occasions when children or women are felicitated in this way. The word vavāḷū ( ovāḷū ) in the three couplets refers to this ritual.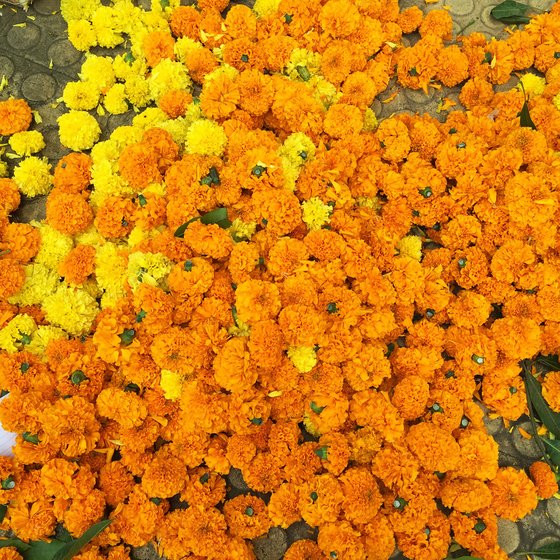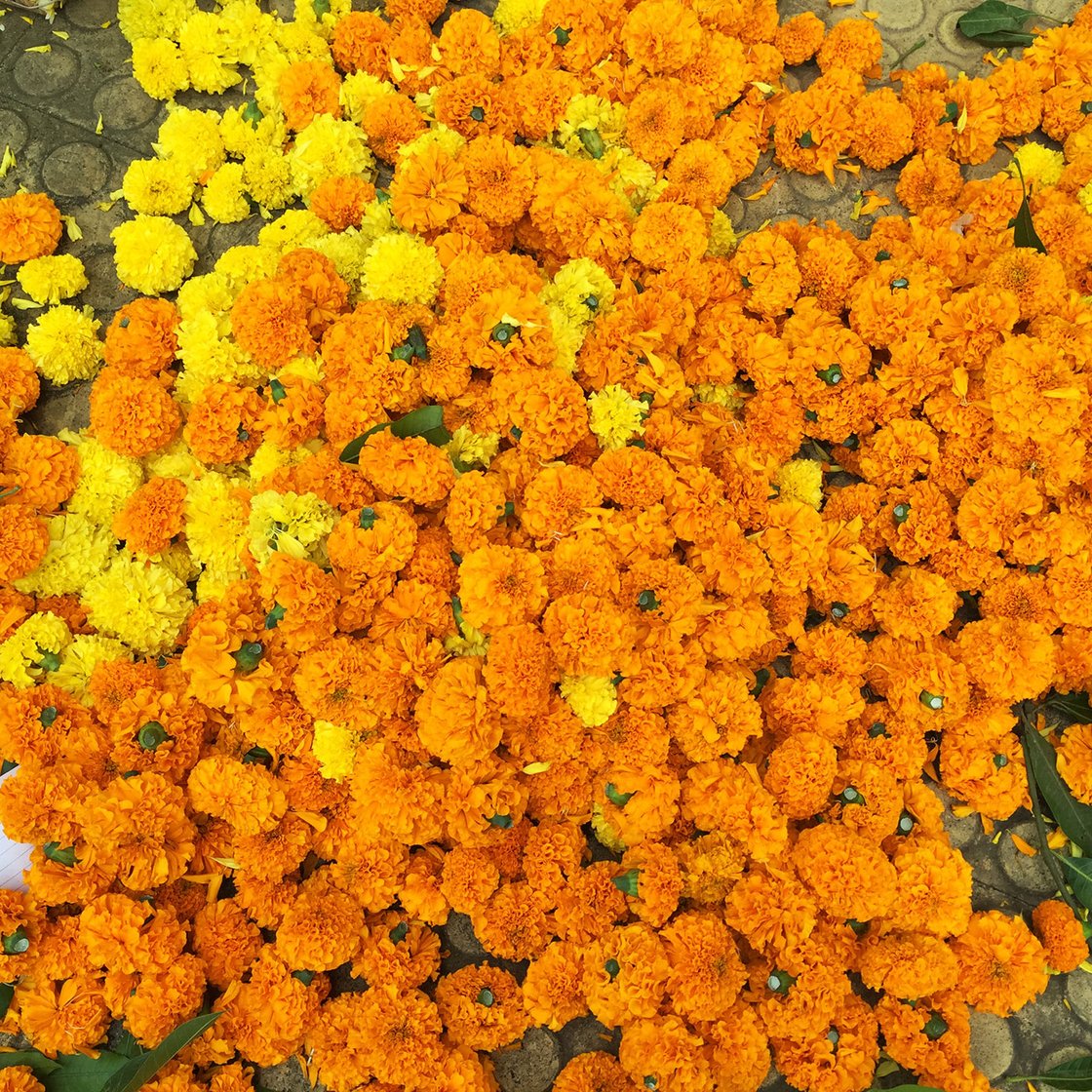 PHOTO • Namita Waikar
In the first ovi featured here, Shahubai sings that on Dussehra, her platter has a lacy napkin or scarf and says to her daughter that they will felicitate her maternal uncle (the singer's brother).  In the next couplet, she sings that her platter has kunku , and tells her sister or neighbour or a friend that they will honour their brother, who is like the sun – implying probably that he looks striking and is brilliant. In the third ovi , Shahubai sings that on Dussehra, her platter has marigold flowers and they will wish joy to their brother.
In Maharashtra, as well as in some other states across India, the homes of Hindus, and entrances to shops, factories and offices are decorated with garlands of marigold on festive occasions. The flower was not native to India. Early Portuguese traders and colonialists are said to have brought marigold to Europe from Brazil, and then to India in the 16th century. Over time, the flower began to be used in India for festive occasions to symbolise energy and prosperity.  It is grown in open fields in Maharashtra, Karnataka, Gujarat, Andhra Pradesh, Tamil Nadu and Madhya Pradesh. Marigold is planted and harvested four times a year and blooms within three months.
अशी दसर्याच्या दिशी माझ्या ताटामंदी जाळी
सांगते माझ्या बाई आपण ववाळू मामा आळी
अशी दसर्याच्या दिशी माझ्या ताटामंदी कुकू
सांगते ग माझ्या ना बाई आपण ववाळू सुर्यमुखू
अशी दसर्याच्या दिशी माझ्या ताटामंदी झेंडू
सांगते माझ्या बाई आपण ववाळू आपला बंधू
aśī dasaryācyā diśī mājhyā tāṭāmandī jāḷī
sāṅgatē mājhyā bāī āpaṇa vavāḷū māmā āḷī
aśī dasaryācyā diśī mājhyā tāṭāmandī kukū
sāṅgatē ga mājhyā nā bāī āpaṇa vavāḷū suryamukhū
aśī dasaryācyā diśī mājhyā tāṭāmandī jhēṇḍū
sāṅgatē mājhyā bāī āpaṇa vavāḷū āpalā bandhū
On Dussehra day, there is a lacy scarf in my platter

I tell you, my daughter, let's felicitate your maternal uncle [with an oil lamp]
On Dussehra day, I have kunku in my platter
I tell you, O woman, let's felicitate [our brother] who is like the sun
On Dussehra day, I have marigold flowers in my platter
I tell you, O woman, let's felicitate our brother [with an oil lamp]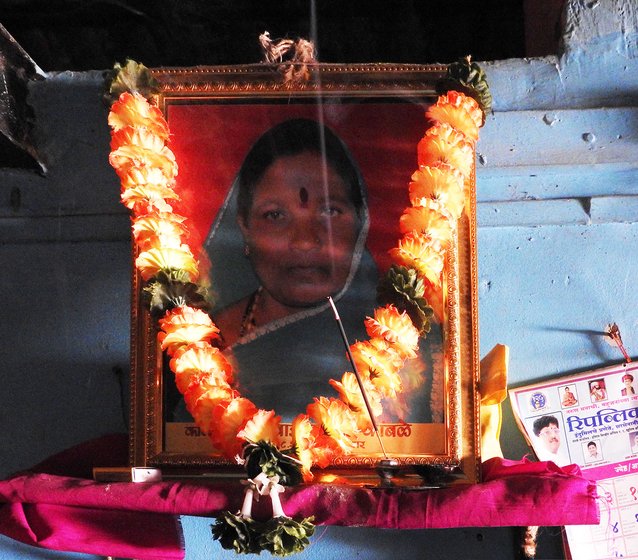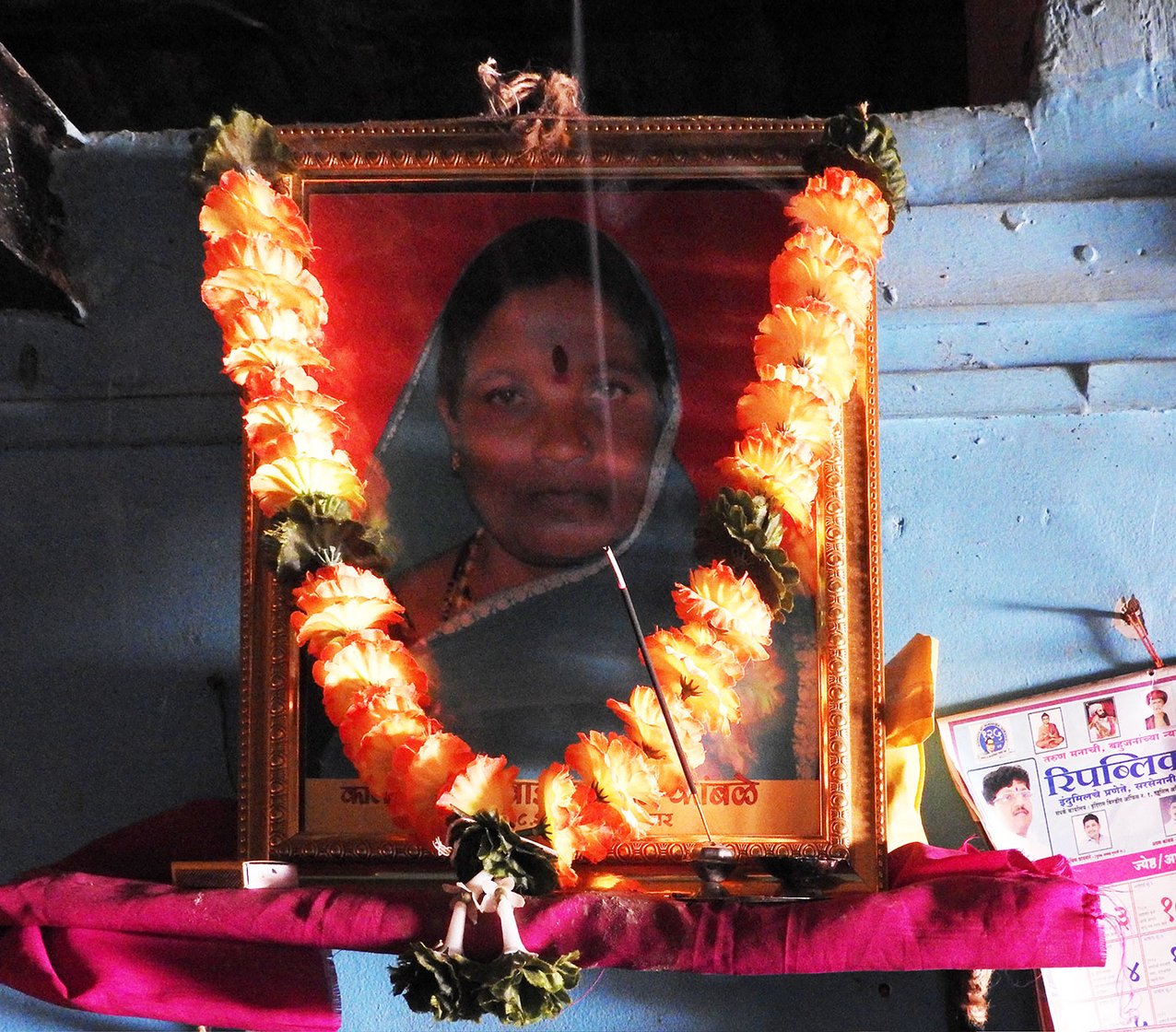 PHOTO • Samyukta Shastri
---
Performer/Singer : Shahubai Kamble
Village : Nandgaon
Taluka : Mulshi
District: Pune

Caste: Nav Bauddha (Neo Buddhist)
Age: 70   (She died in August 2016 due to uterine cancer.)
Children: 2 sons and 2 daughters Occupation: Farmer
Date: These songs and information were recorded on October 5, 1999. The photographs were taken on September 11, 2017.
Poster: Shreya Katyayini