Bapu Khandare sells trinkets and bells for animals, as well as accessories such as ropes and rings used in animal rearing and farming. He travels with these items to various weekly markets – in Atpadi and Jat talukas in Sangli district, to Mhaswad and Khatav talukas in Satara district, and a few nearby places. But with the escalating drought in Maharashtra, water and fodder for livestock have become scarce. Trade in cattle and goats is at a low. This has severely affected Khandare's sales too.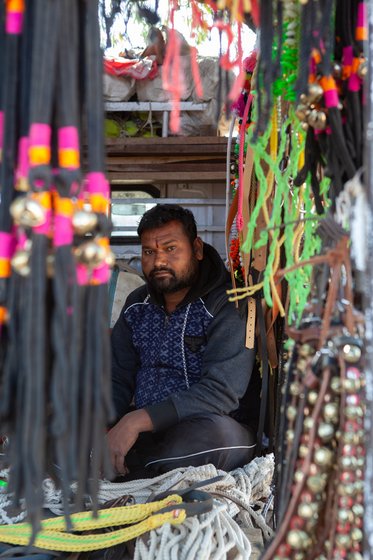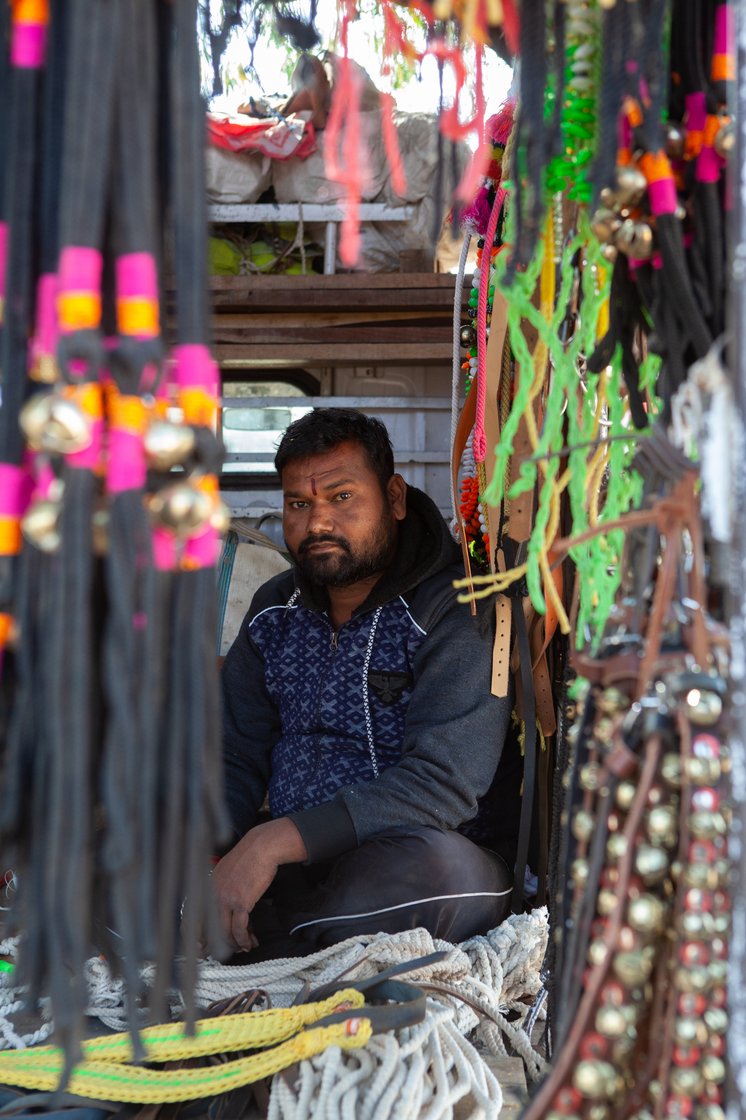 PHOTO • Binaifer Bharucha
We met Khandare, who is in his 30s and from the Dhor community, a Scheduled Caste traditionally involved in making these items, at the Wednesday goat market in Mhaswad town. He had come from Atpadi village, around 35 kilometres away. It was 10.30 a.m., and the  market was about to close. People were returning to their villages in shared autos or jeeps. Meat traders were loading male goats in their vans and a few hopeful sellers were hanging around for a last-minute customer.
Khandare had set up his shop in the tempo that he travels in by opening out the back doors of the vehicle. On fixtures inside, he had displayed various accessories and ornaments – a daave (a rope used to tie the animals in the shed or when they are out  grazing), a kasra ( a rope used when bulls or oxen are tied to the bullock cart), a gofan (a sling with a small pocket for a stone that is used to scare away birds feeding on crops), a muski (used to cover the animal's mouth so that it does not eat the crop), a ghungur-maal (small bells tied around a goat's neck), a kanda (a necklace of  woollen balls with small bells), and a morkhi (a knotted rope used as a nose-harness).
He was waiting for buyers. "I spent 400 rupees on travel and just managed to earn 350, that too from wholesale buyers [traders]. Not a single individual has come for these items," said Khandare, showing us his nearly empty wooden cash box. "This market is closed now. The only sale these days in the market is of [goat] meat. Let's see if I can sell at least a few of these trinkets in other weekly markets nearby."
Cover photo: Binaifer Bharucha