When the two-month old buffalo calf died at the end of January, Sarika Sawant  was worried. "I think there was a big worm in the maize cob. The calf must have swallowed it… so since yesterday, the buffalo is not yielding any milk," she said, when we met her at the cattle camp in Mhaswad town.
This loss came after Sarika and her husband Anil Sawant were forced to sell two cows around Diwali last year.  The family now has four Jersey cows, three buffaloes and two calves. Milk is their main source of income. But, Sarika says, "For two years, it just hasn't rained. We are facing a water shortage since Diwali [October-November 2018] after the wells in the village dried up. No fodder, no green grass, how do we feed our cattle? And the debt was growing…"
Unable to bear the burden of the drought, Sarika, 24, and Anil 32, who are from the Maratha community, have shifted to the cattle camp at Mhaswad, around 15 kilometres from Hawaldarwadi. Their village of  994 people is in Man block of Maharashtra's Satara district.
On October 31, 2018, drought was declared in 151 blocks of 26 districts in Maharashtra, of which 112 blocks are facing a severe drought. All blocks comprising the Maandesh region are on the list – Man and Khatav talukas of Satara district, Jat, Atpadi and Kavathemahankal talukas in Sangli, and Sangole and Malshiras in Solapur. The cattle camp, set up by the Mann Deshi Foundation, now houses over 2,500 people from 64 villages across Maandesh, along with more than 8,000 animals (See Families separated by the search for fodder and Chimnabai gets to eat finally, with 8000 others )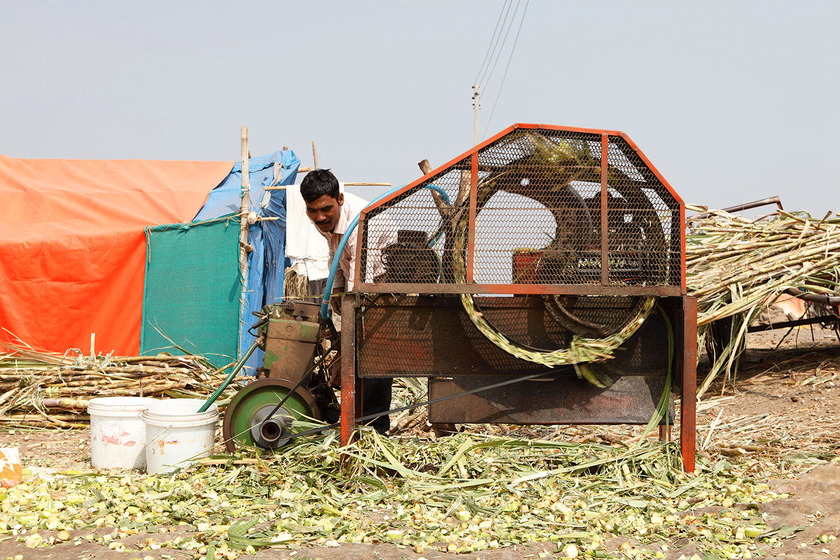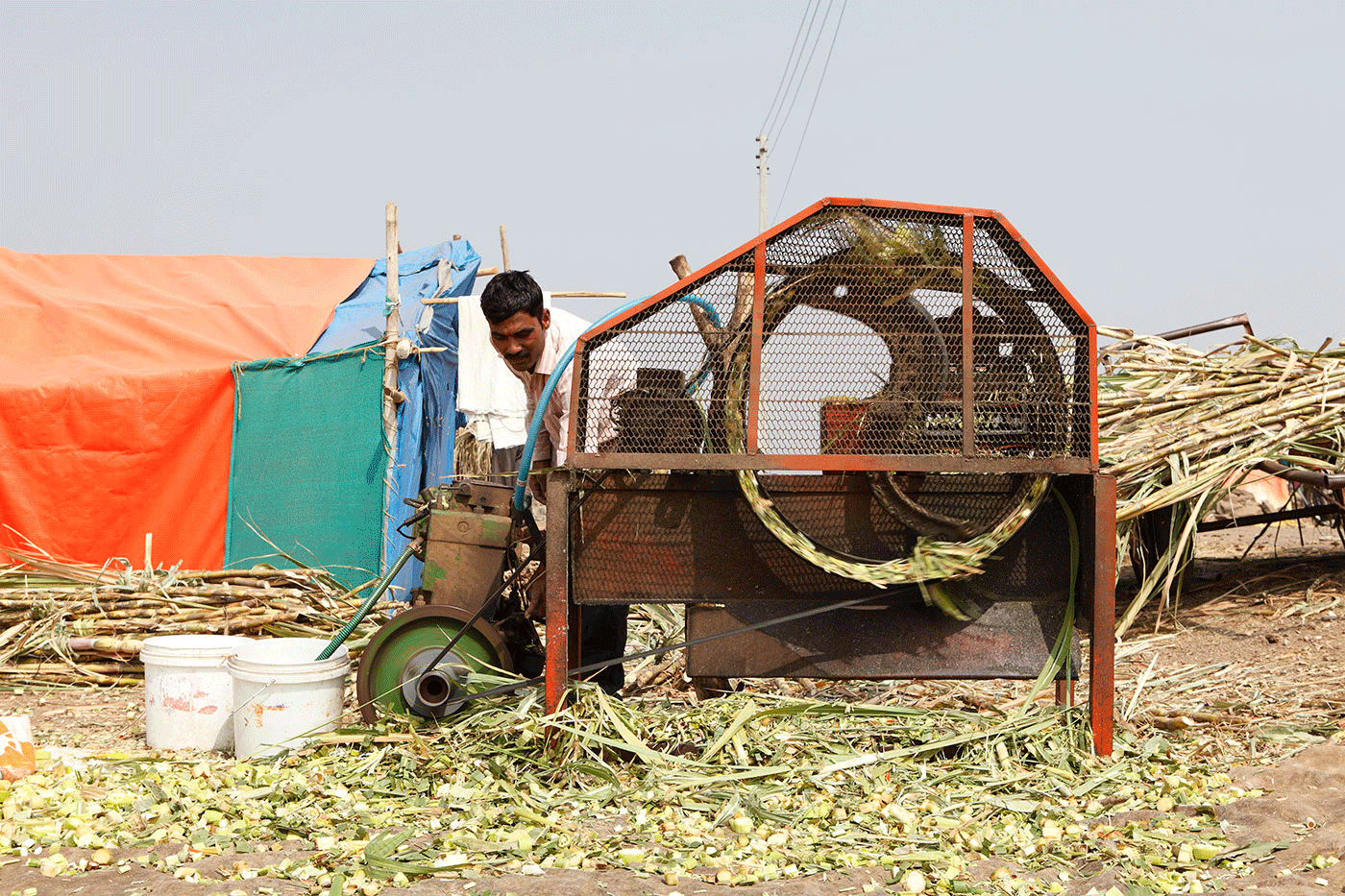 PHOTO • Binaifer Bharucha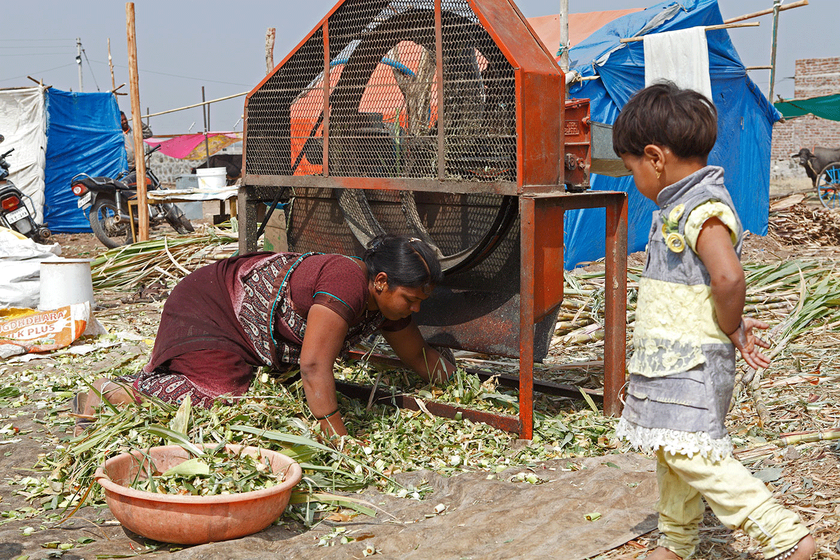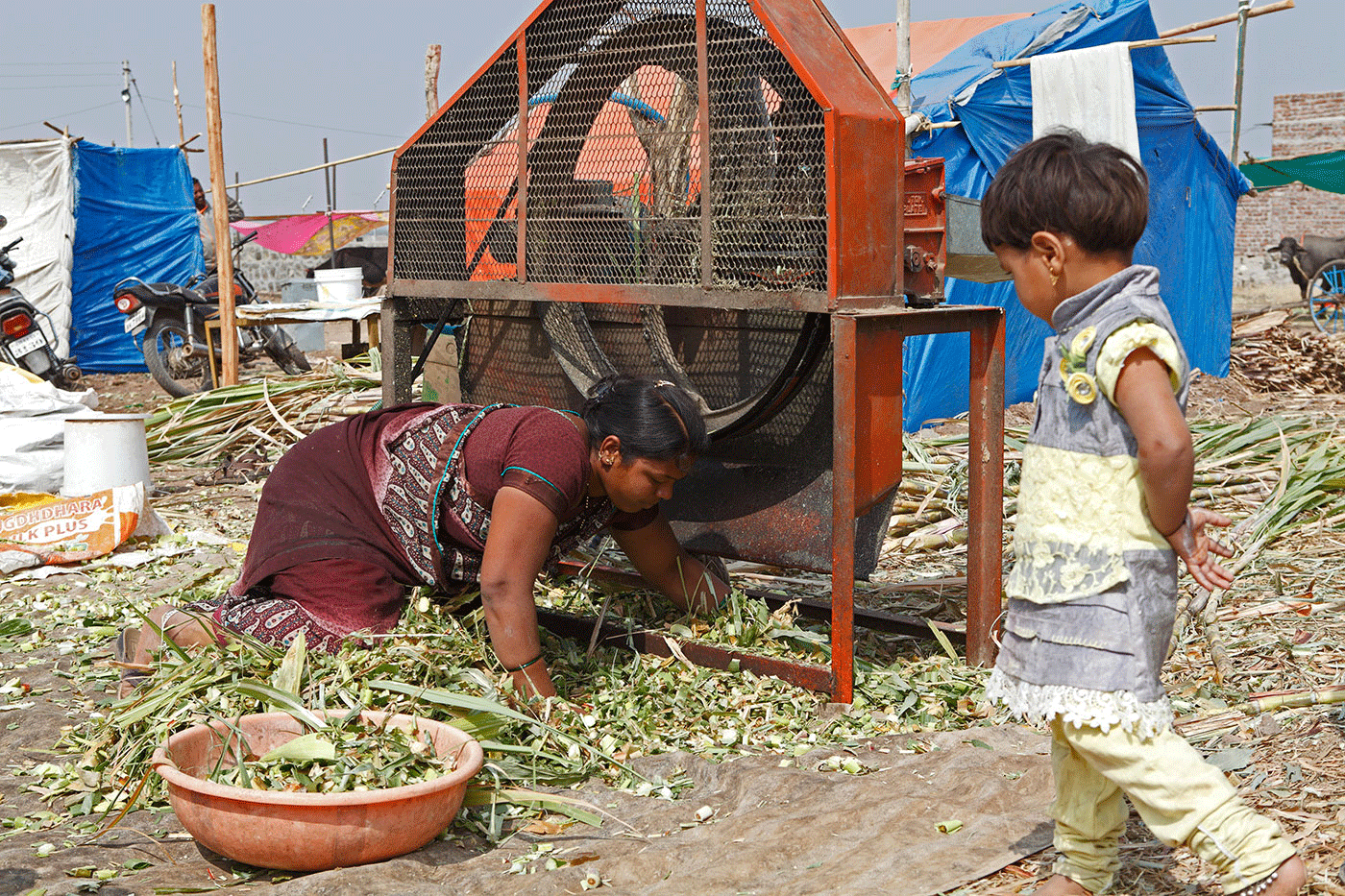 PHOTO • Binaifer Bharucha
Shivappa, who works with Sarika's brother at the brick kiln he owns and operates in Dighanchi village, has accompanied them to help.  Their tent in Ward No. 19 of the camp is unlike many other flimsy shelters here. It has been built with care, and has more items than several of the other tents – a gas stove and a cylinder, a mortar and pestle, a folded plastic mat and sheets. Their small puppy is guarding this new 'home' with all its might.

The Sawants are clearly not marginal farmers. But the widespread drought has brought everyone in many villages in Maharashtra – well-off or poor, landed or landless, Dalit or higher up on the caste ladder – to a similar state of desperation.
Outside the Sawants' tent, their Jersey cows and buffaloes are standing in a row in a shed covered with green net and sarees. "These are lactating cattle. So they need more feed. We also have to give them special maize feed. Before shifting here, one 1,200-rupee bag of cattle feed did not even last for a week. One bag of oilcake costs Rs. 1,260. The maize feed is another 900 rupees. We had borrowed oilcake [from shops] worth Rs. 7,000. The money still needs to be paid. And I have not even counted the expense on water," Sarika calculates.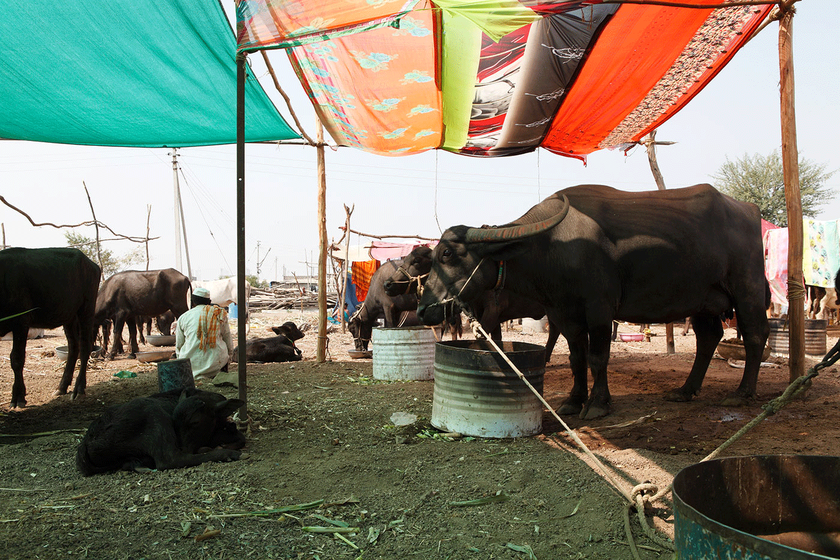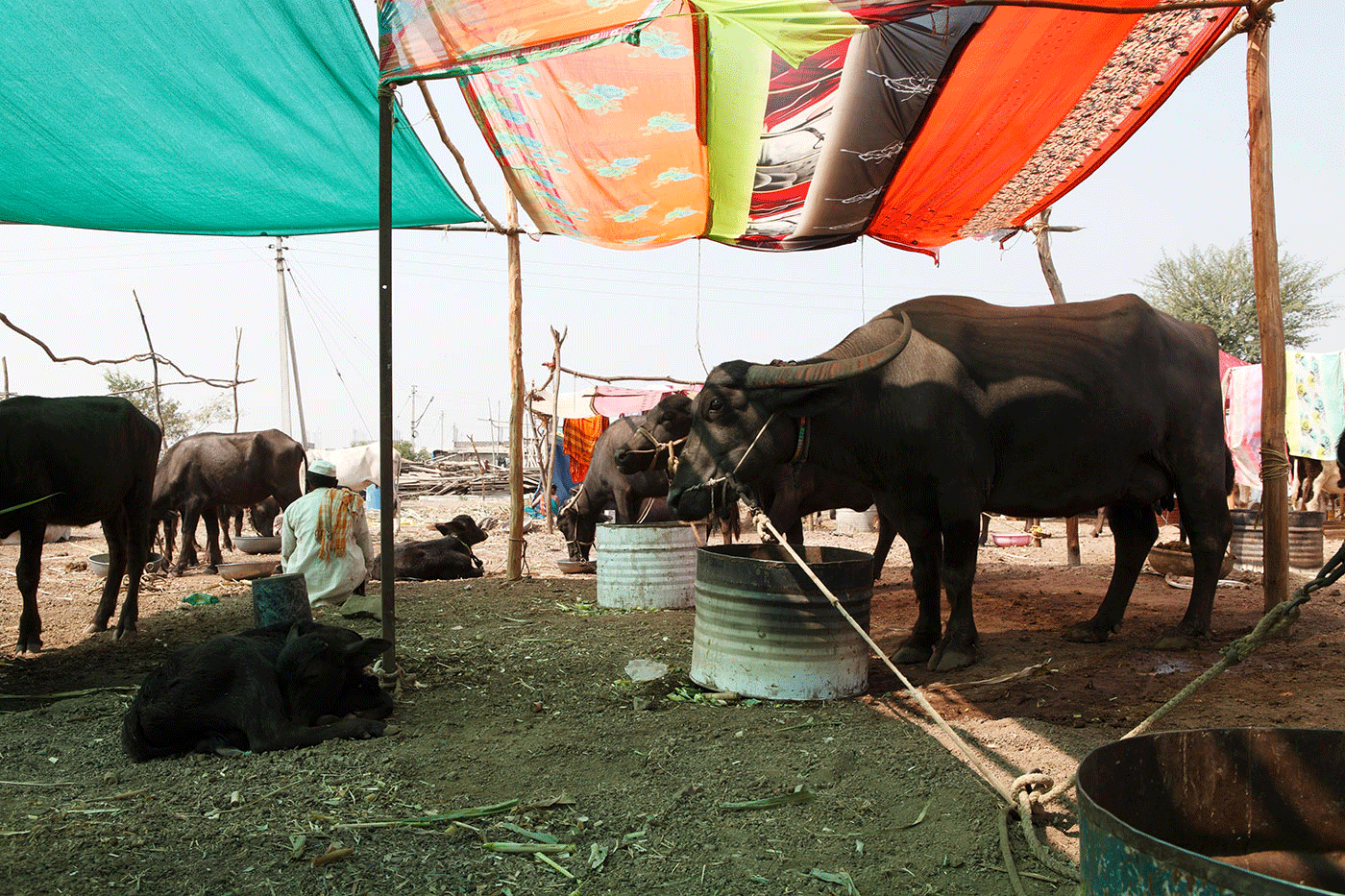 PHOTO • Binaifer Bharucha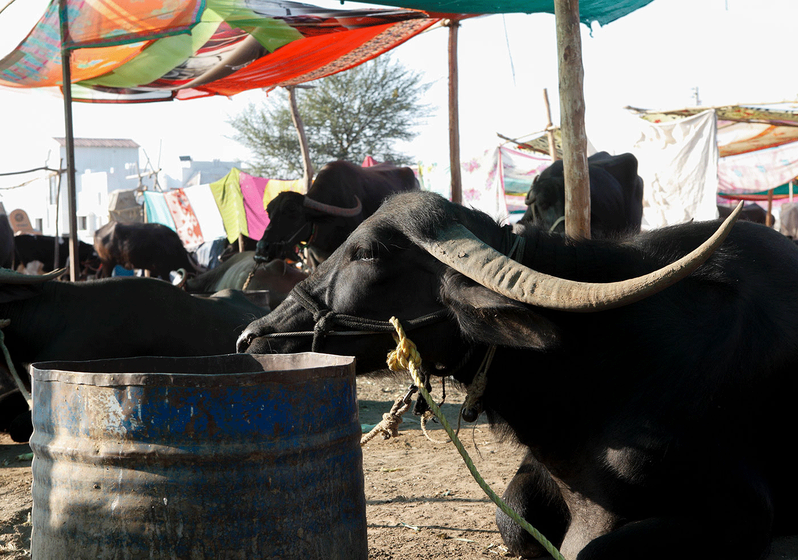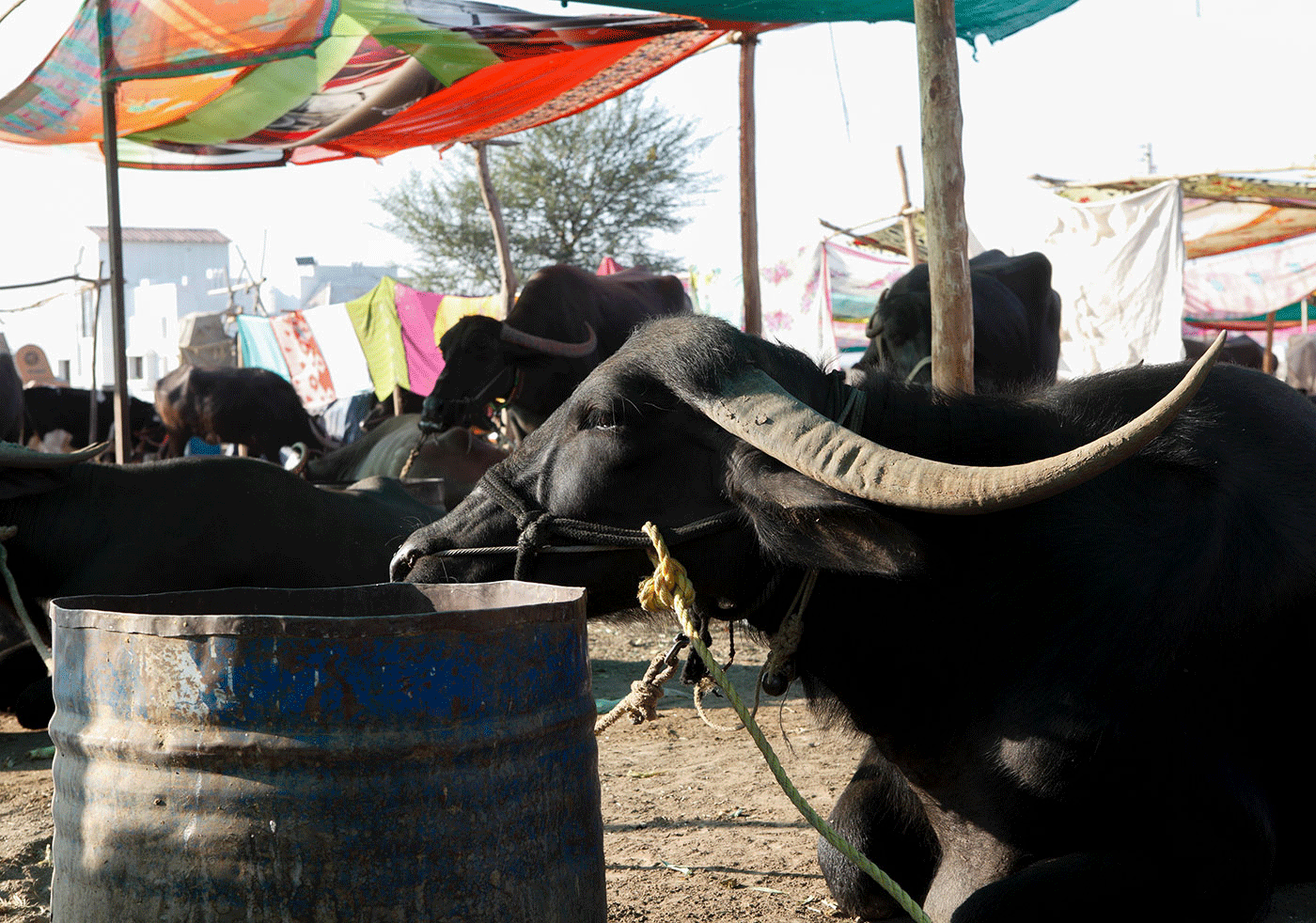 PHOTO • Binaifer Bharucha
Despite selling two cows during Diwali, Sarika and Anil still have a debt of Rs. 70,000 incurred just on cattle feed and water. "We took a loan of Rs. 42,000 from the Buldana Urban Bank, which is to be repaid in two years with a monthly instalment of Rs. 2,222," Sarika adds. "Another loan of Rs. 15,000 from a private money lender at an interest rate of Rs. 3 per month and a loan of Rs. 10,000 from a self-help group at an interest of Rs. 2 per month need to be repaid. That burden is on our head."

Anil tried many jobs in the past to add to the family's income. He left his BA degree education mid-way to work as a helper in a motor parts company in Pune for 3-4 years. He did odd jobs for few months in Mumbai. In 2012, he came back to Hawaldarwadi and started a poultry farm with investment from a company based in Akola. But with the water scarcity, it's difficult to sustain the business. His 5,000 birds reduced to 3,500, then fell further.  In April, Anil sold off all the remaining birds last month and is now getting the shed cleaned. Of his debt of Rs. 7 lakhs on this business he still has Rs. 1 lakh left to repay.
"None of the wells had any water from before Diwali," he says. "So we had to get tankers. A 5,000 litre tanker costs 1,200 rupees. Before we shifted to the camp, we had to get two tankers every week . Cattle and the birds, both need a lot of water."
Sarika too wanted to add to the family finances by earning an income. "I was married at a young age. I had not even completed my education. But my husband supported me and I could pass the HSC exam. I wanted to join some skill development course and look for a job, but my children were very young. I could not leave them and go out for work," she says. "And there is no direct bus to Mhaswad, the road is dusty which makes it difficult to travel daily for a job."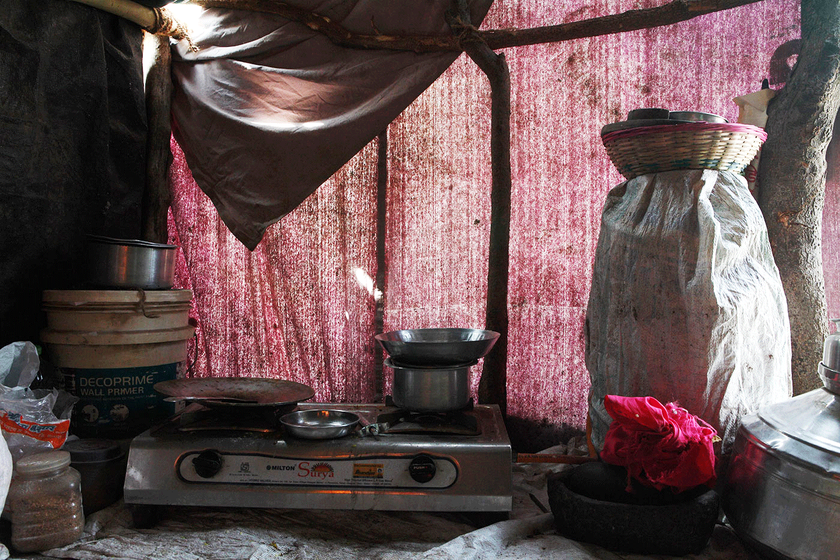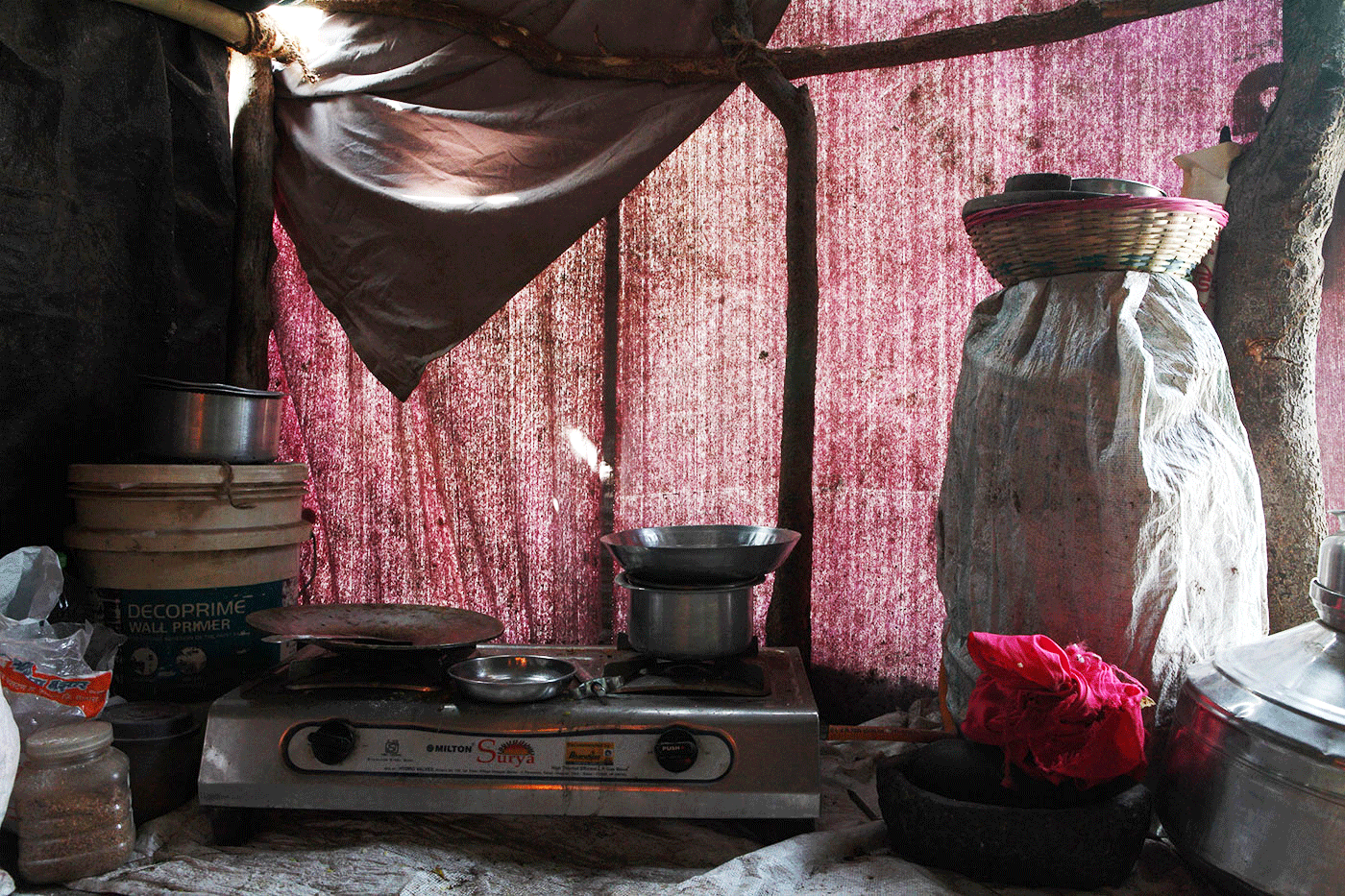 PHOTO • Binaifer Bharucha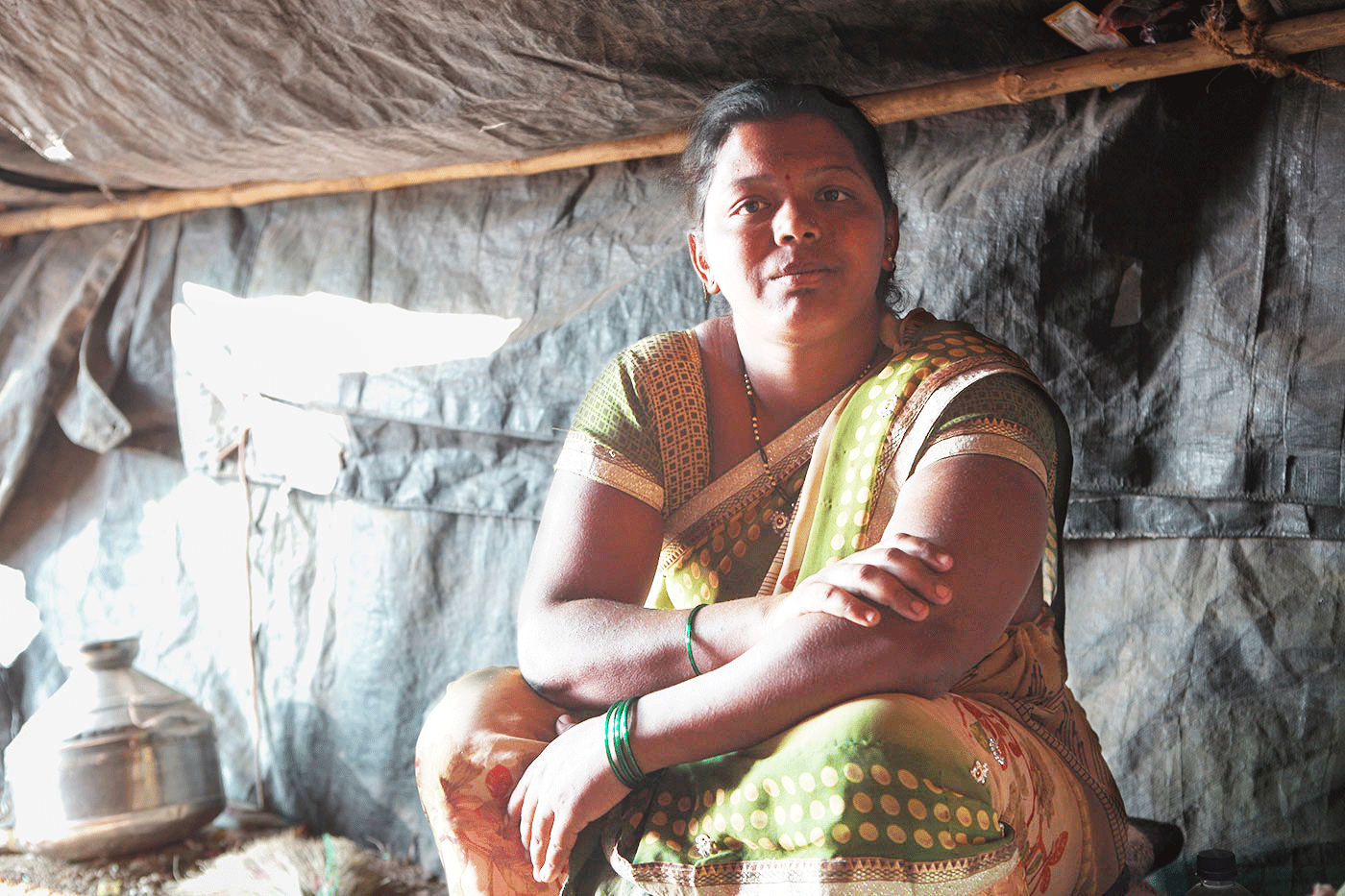 PHOTO • Binaifer Bharucha
And the two-year drought has dried up the family's 1.5 acre farmland. "If it rains well, we get 5-6 quintals of jowar and 8-10 quintals of bajra . So we have enough grain to feed us and fodder for cattle," Anil says. "But we have lost the entire farming season [the kharif season from June to October 2018]. We did not get any jowar or bajra . All that we got was some fodder. And we did not even get into rabi sowing [October-March] at all."
The Sawants sell their cows' milk to a milk centre in Pulkoti village of Man block. "We get around 3-4 litres a day and sell some of it for Rs. 23 rupees a litre [and use the rest for our own consumption]," Sarika says. "My husband sells buffalo milk for 40 rupees a litre in Mhaswad town. In all, we earn around 4,000 rupees a month [from milk]. The monthly expense of tending to all the cattle is around 2,000 rupees. The main question is: how to repay the debt? My brother is handling the school expenses of both my daughters. So at least that is taken care of."

Sarika and Anil's youngest daughter, four-year-old Swara, is with them at the camp. The older girls, Tanishka and Shraddha, are studying at a school in Dighanchi in Atpadi block of neighbouring Sangli district, where they are staying with Sarika's mother and brother. "We have three daughters, so my husband cannot even try for a government job," says Sarika, referring to a rule in the state that bars any person with more than two living children from applying for government jobs, utilising government schemes, and contesting local government elections.
"These are the main problems. But I like the milk business. I do not need to go anywhere and there is an assured income every 10 days. And one does not know how time flies when you are surrounded with cattle..." Then, she adds, in despair, "But the drought has made our lives very difficult."