Radhabai and Chimanabai are resting after lunch, and so is Kajal. It is cool even at noon in the camp at Mhaswad in Satara. But Badam is restless and has not been eating well for two days.
It's been nearly 20 days since the four came to the camp. They walked all the way from their village Valai in Satara district, around 16 kilometres away. The severe scarcity of fodder was especially difficult for them– it's their main source of nutrition.
So Lakshmi Kalel, 40, and her husband Parameshwar Anna Kalel, 60, walked along with Radhabai, Chimanabai, Kajal and Badam – their two buffaloes, a cow, and a bull – to the camp at Mhaswad. "It costs 800-1,000 rupees to transport them in a pick-up, and we cannot afford that amount. So we decided to walk," says Lakshmi, bringing sugarcane stalks for her animals from a depot in the camp.
Sitting by a tent made from plastic sheets, she says that after dropping her and the cattle at the camp, Parameshwar returned home. "I had to sleep under the open skies here for three nights. Then, with the help of my nephew and the new 'neighbours', I built this tent and a shed for my four cattle." In exchange for such help on occasion, Lakshmi offers her neighbours lunch or tea.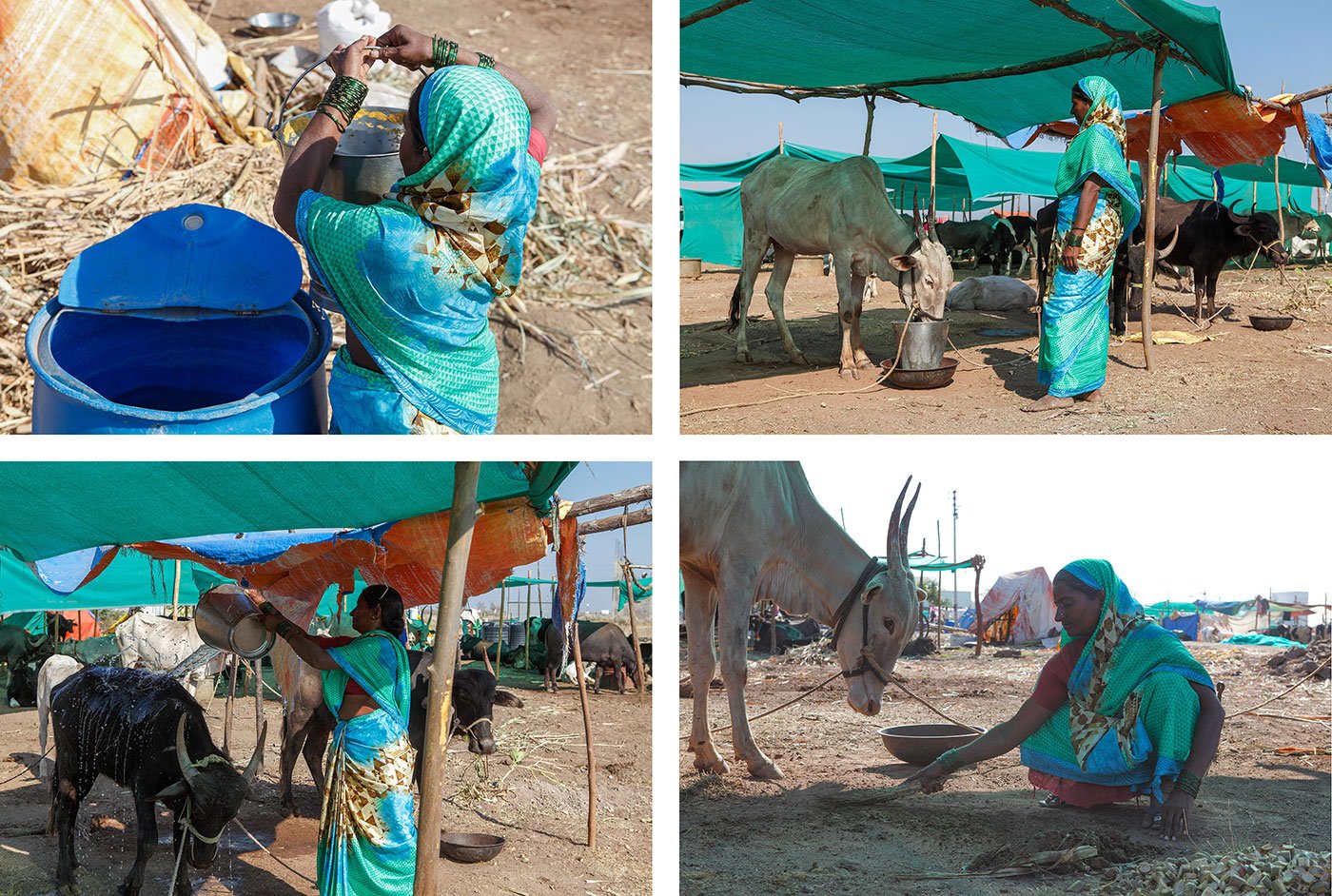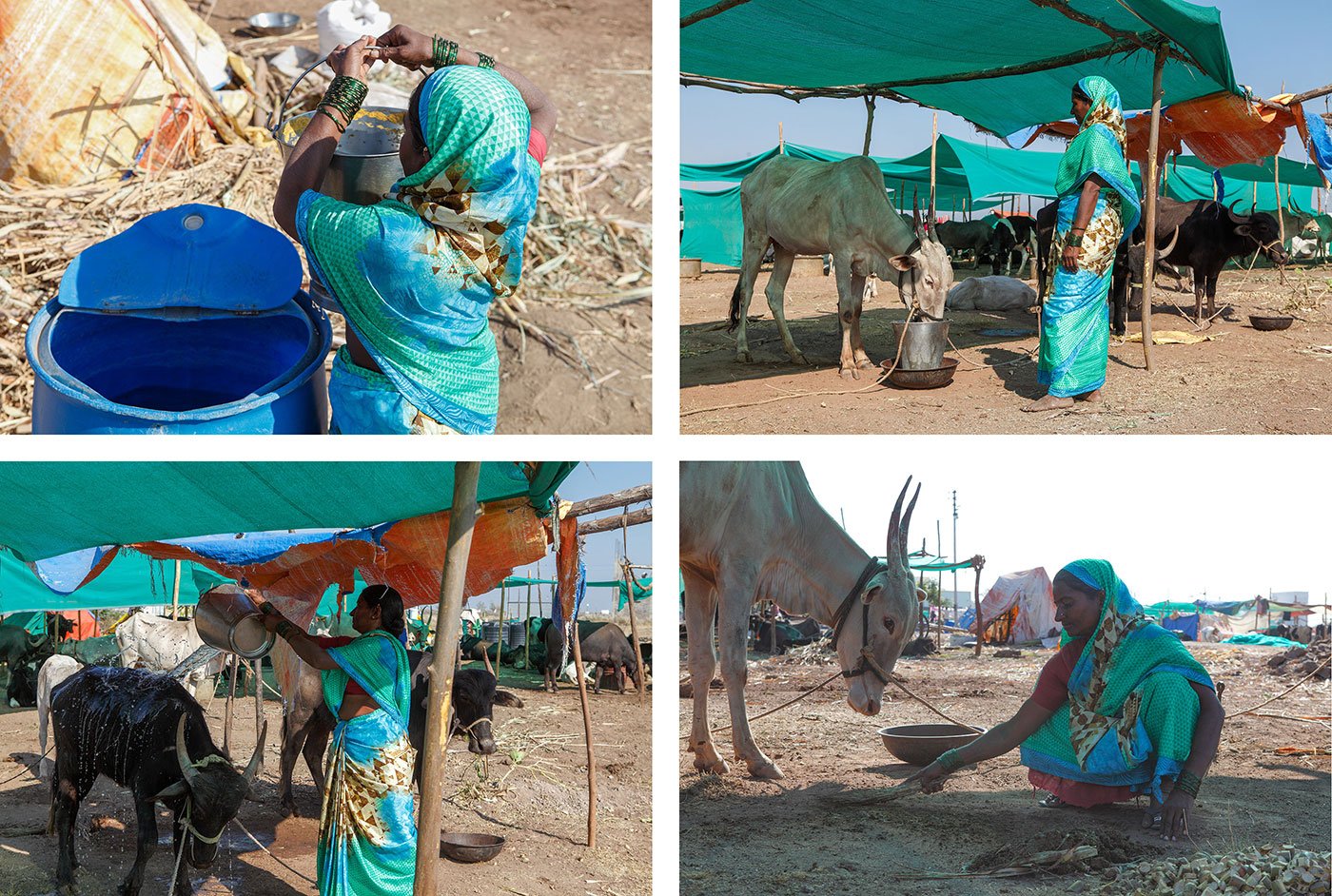 PHOTO • Binaifer Bharucha
Since their arrival at the camp, her two black buffaloes, five-year-old Radha and three-year-old Chimna, the three-year-old greyish-white cow Kajal, and her only bull, five-year-old greyish-white Badam, seem a little happier to her. "The cattle are getting to eat and looking relaxed," she says.
"I have been alone since the day I came here. It has been three weeks since my husband left us here…" says Lakshmi (when I met her at the end of January). "I have two sons, one is working in a dairy in Pune and other one has gone to Karad to graze our sheep. His wife and a child [her grandson, 18-month-old Ajinkya] are at home. Our house is in a remote hilly area and now due to drought, the thefts have increased. That's why my husband stayed back in the village and sent us to the camp," Lakshmi explains.
On October 31, 2018, drought was declared in 151 blocks of 26 districts in Maharashtra, of which 112 blocks are facing a severe drought. All blocks comprising Maandesh are on the list – Man and Khatav talukas of Satara district are in the region known as Maandesh, as are Jat, Atpadi and Kavathemahankal talukas in Sangli, and Sangole and Malshiras in Solapur. Around 1,600 people from 70 villages across Maandesh, along with nearly 8,000 animals are staying at the cattle camp in Mhaswad. (See Families separated by the search for fodder )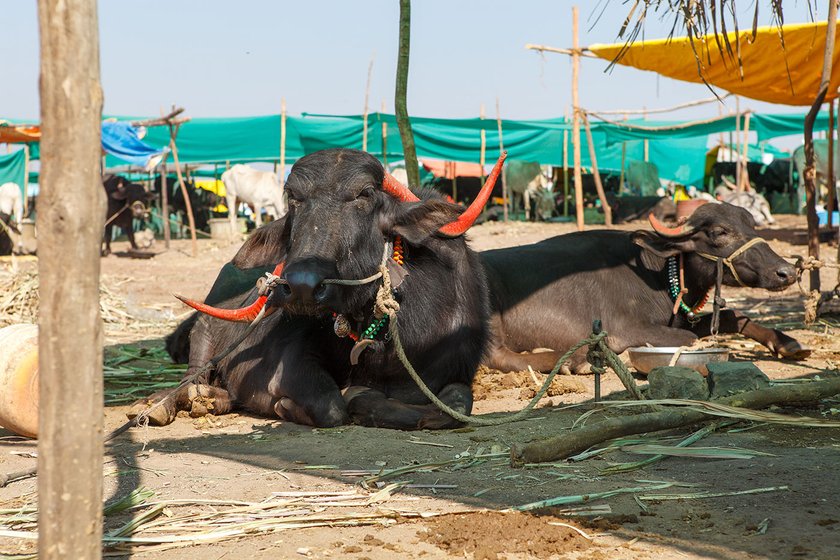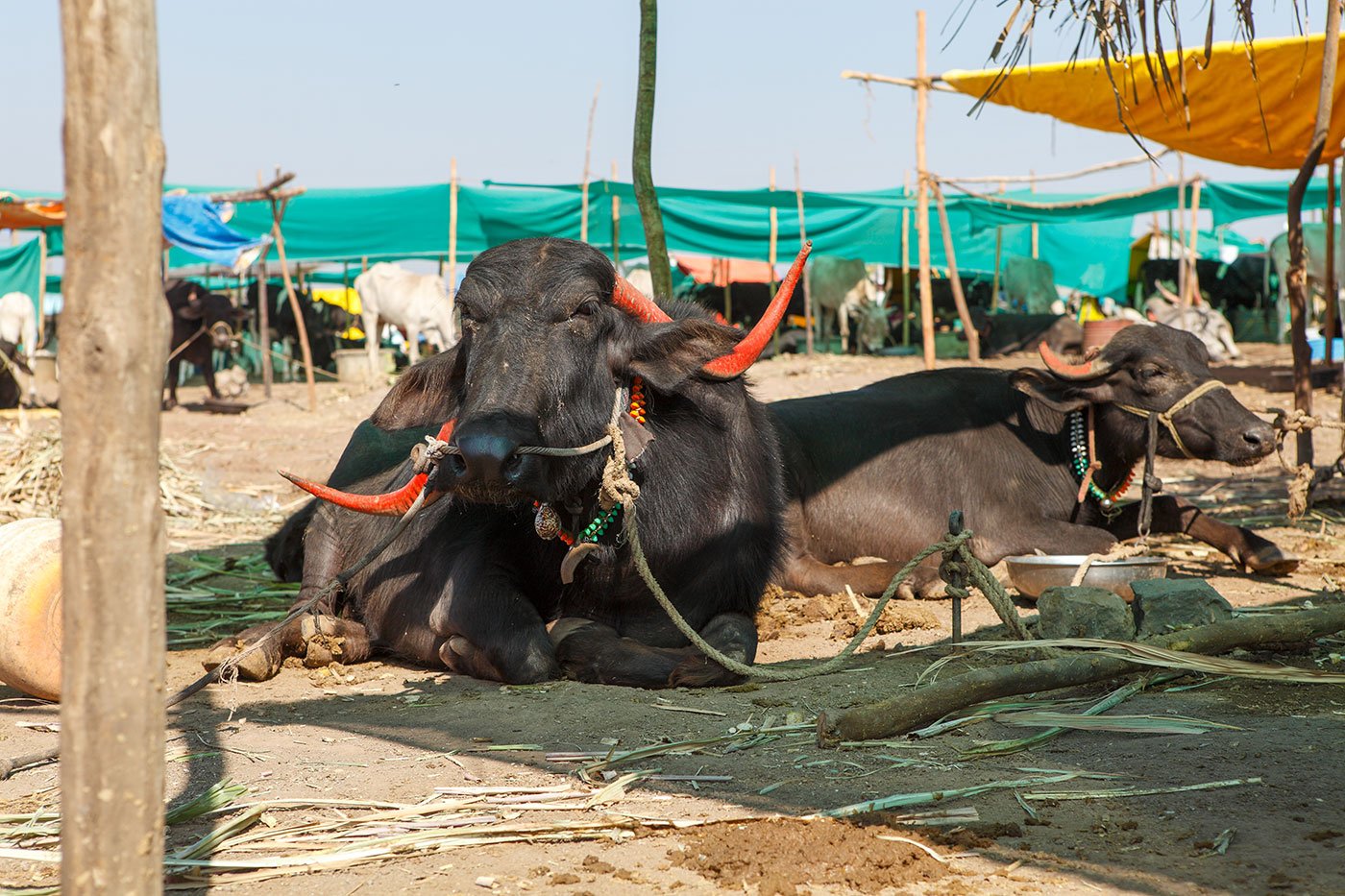 PHOTO • Binaifer Bharucha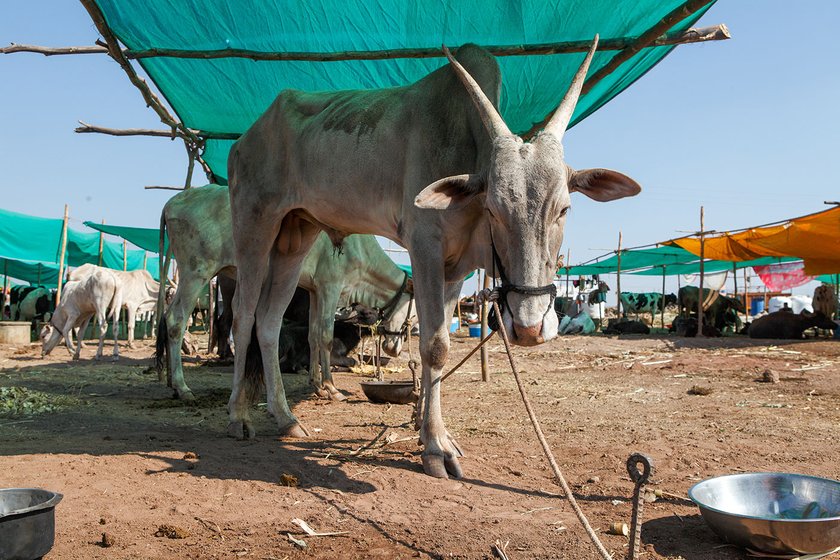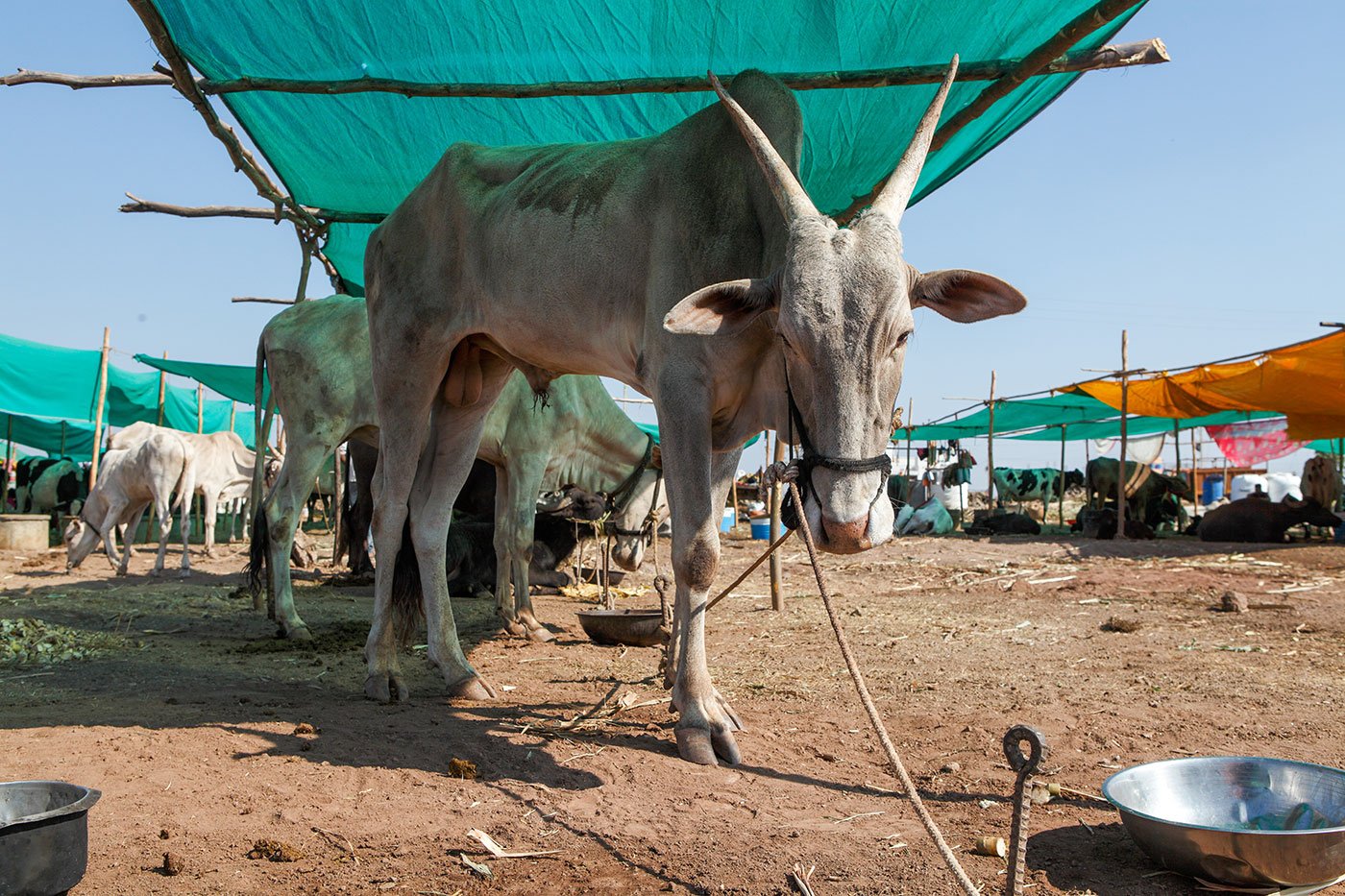 PHOTO • Binaifer Bharucha
The camp was started on January 1, 2019, by the Mann Deshi Foundation, which is based in Mhaswad and supports the Mann Deshi Mahila Sahakari Bank by working on issues that go beyond financing. It's the earliest cattle camp of this scale for villages facing the present (and escalating) drought. The camp organisers provide fodder and water (big animals get 15 kilos of green fodder, 1 kilo of animal feed and 50 litres of water per day). The cattle sheds are built by the animal-owners using wooden poles and a green net provided by the Foundation. "Sick animals are shifted outside the camp to avoid infections, and two veterinary doctors provide medical aid," says Ravindra Virkar, one of the main co-ordinators of the camp. The organisers also provide basic amenities to the people. For example, water barrels are placed in each 'ward' (a tanker brings water every second or third day), and there is a tank for drinking water.
Lakshmi's tent is just big enough for her to sleep in. On a string tied to a horizontal pole, are her two sarees, and on the same string hangs a plastic bag that contains tea leaves and sugar, a match box and few provisions such as lentils. She has made a stove with three stones and stored some firewood and fodder just next to this chulha . It is just enough to make tea or heat food. "I get food from home…" says Lakshmi. But when we met her, she had been waiting for two days for food from home, and managing by sharing her nephew's tiffin. "If they don't send it today, I will have to make a trip home and come back. A few days ago, my daughter-in-law packed just a few bhakris , no vegetables, no dal . Like my cattle, I also have to eat fodder, it seems. My name is Lakshmi [the goddess of wealth] but look at my fate…"
Valai, Lakshmi's village in Man taluka of Satara district, has 382 households and a population of nearly 1,700 (Census 2011). "Half of the villagers migrate for sugarcane cutting at sugar factories in Kolhapur and Sangli districts. People leave after Diwali [October/November] and return around Padwa [the first day of the Hindu Lunar calendar around March/April]. But this year nobody will come back till Jyeshtha [the fourth month on the lunar calendar, around May/June]," says 70-year-old Yashwant Dhondiba Shinde of Panavan village in Man taluka , a veteran of many farmers' agitations, who has brought his four cows to the camp.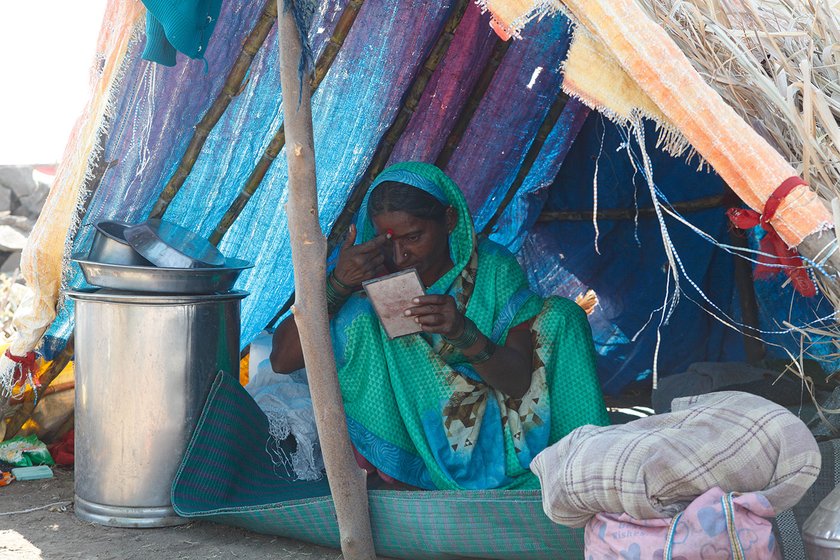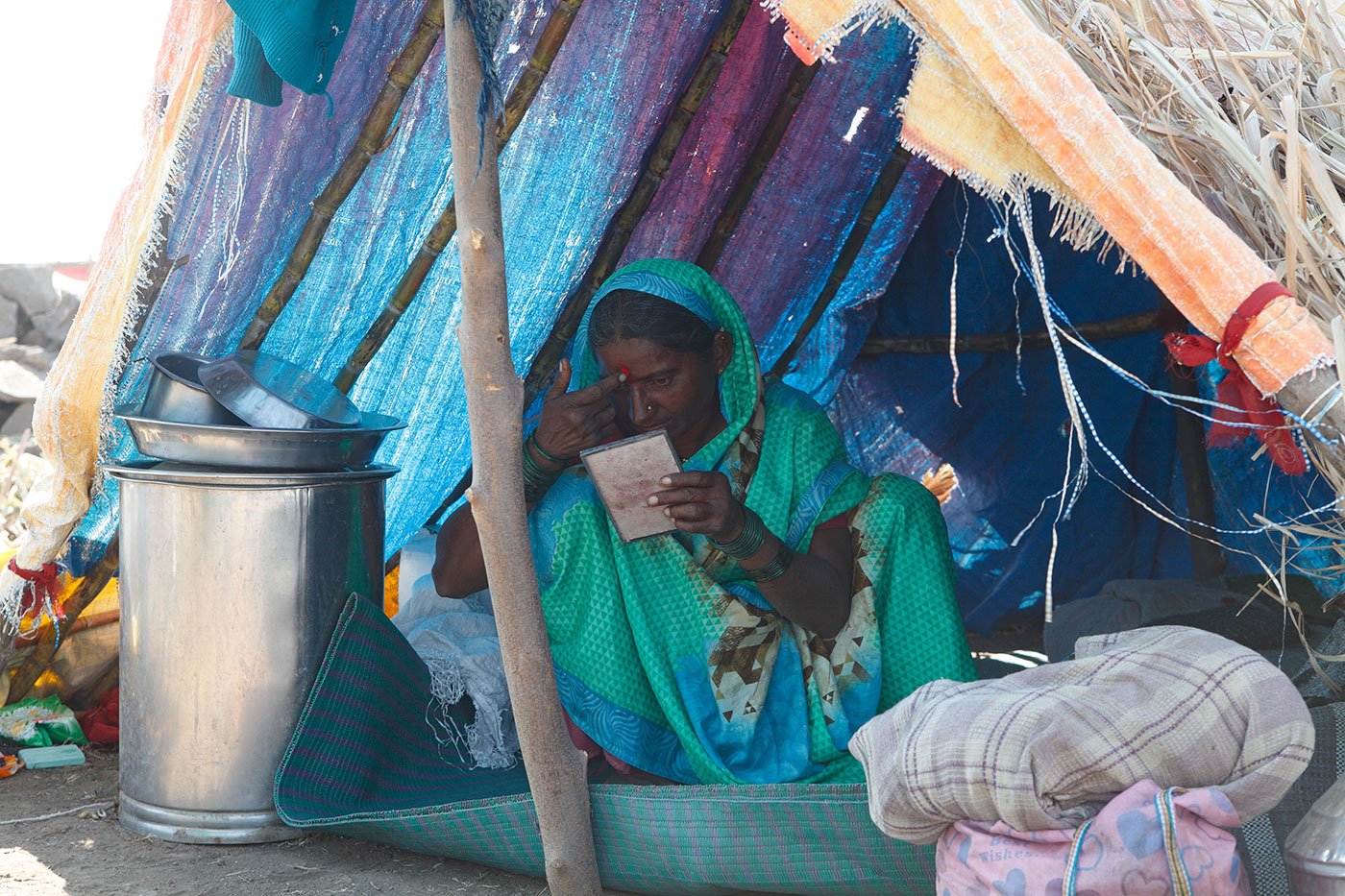 PHOTO • Binaifer Bharucha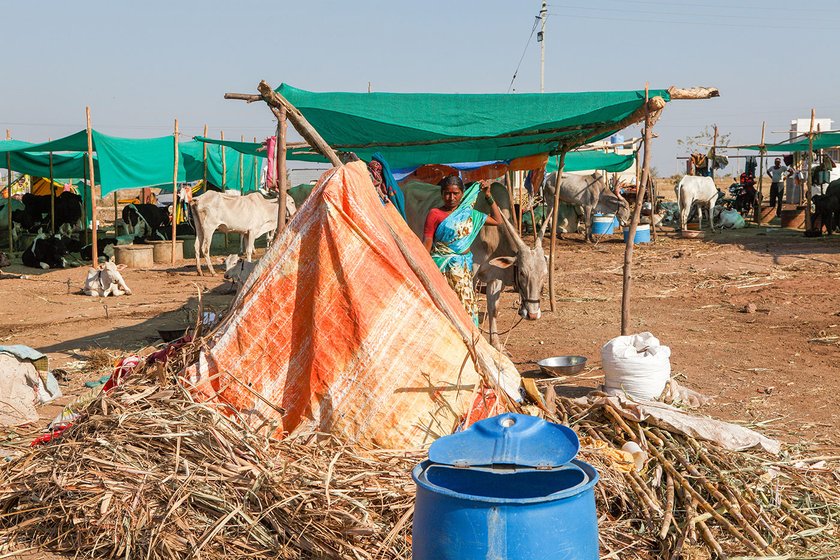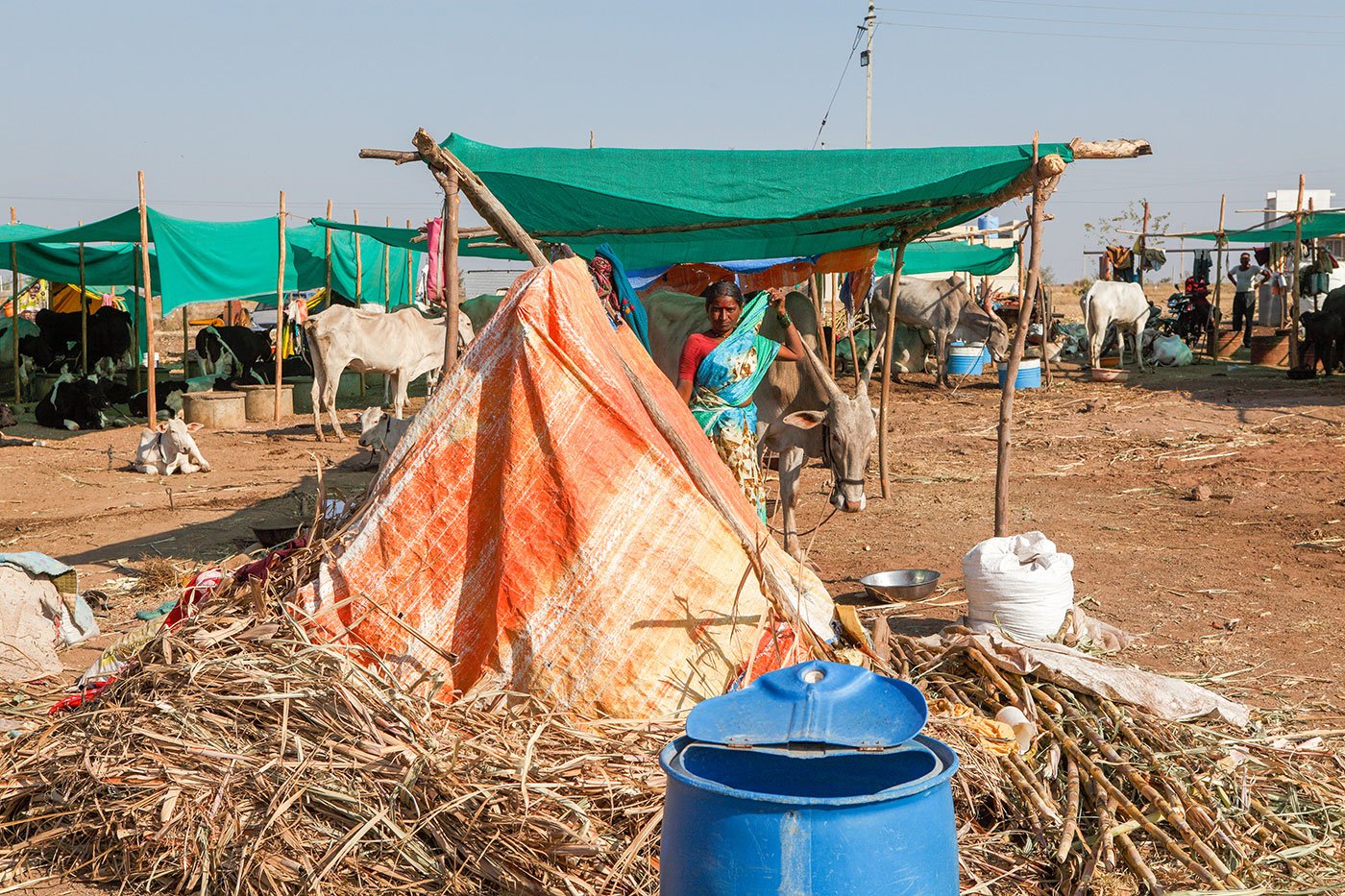 PHOTO • Binaifer Bharucha
As we talk, Lakshmi says that the drinking water is over; she fetches it from the water tank at the camp, and stores it in a white plastic can. Meanwhile, Shinde asks a friend to spare a four-litre can of water for her. In return she makes him black tea, served in a steel saucer. This camaraderie helps them all in these times of crisis.
Lakshmi belongs to the Lonari caste (listed as an OBCs in Maharashtra). Traditionally, this was a community of salt-makers (salt is locally called lavan ) and charcoal. The salt was extracted from the saline soil in parts of Maandesh. In and around Valai, families from this caste also rear cattle but don't sell milk. "The milk is for the calf and our household consumption. We do not make money out of milk. So many people sell pregnant cows or buffaloes [which fetch more money] and buy new ones," explains Lakshmi. Her family, she says, does not do that, and, she adds, Kajal is expected to give birth in the next 10 days.
I ask her about the names of her cattle. "We name only native Khillar cows or bulls or buffaloes. Jersey cows are never named," she replies. "My son has named all his goats and they respond to him when he calls out their names."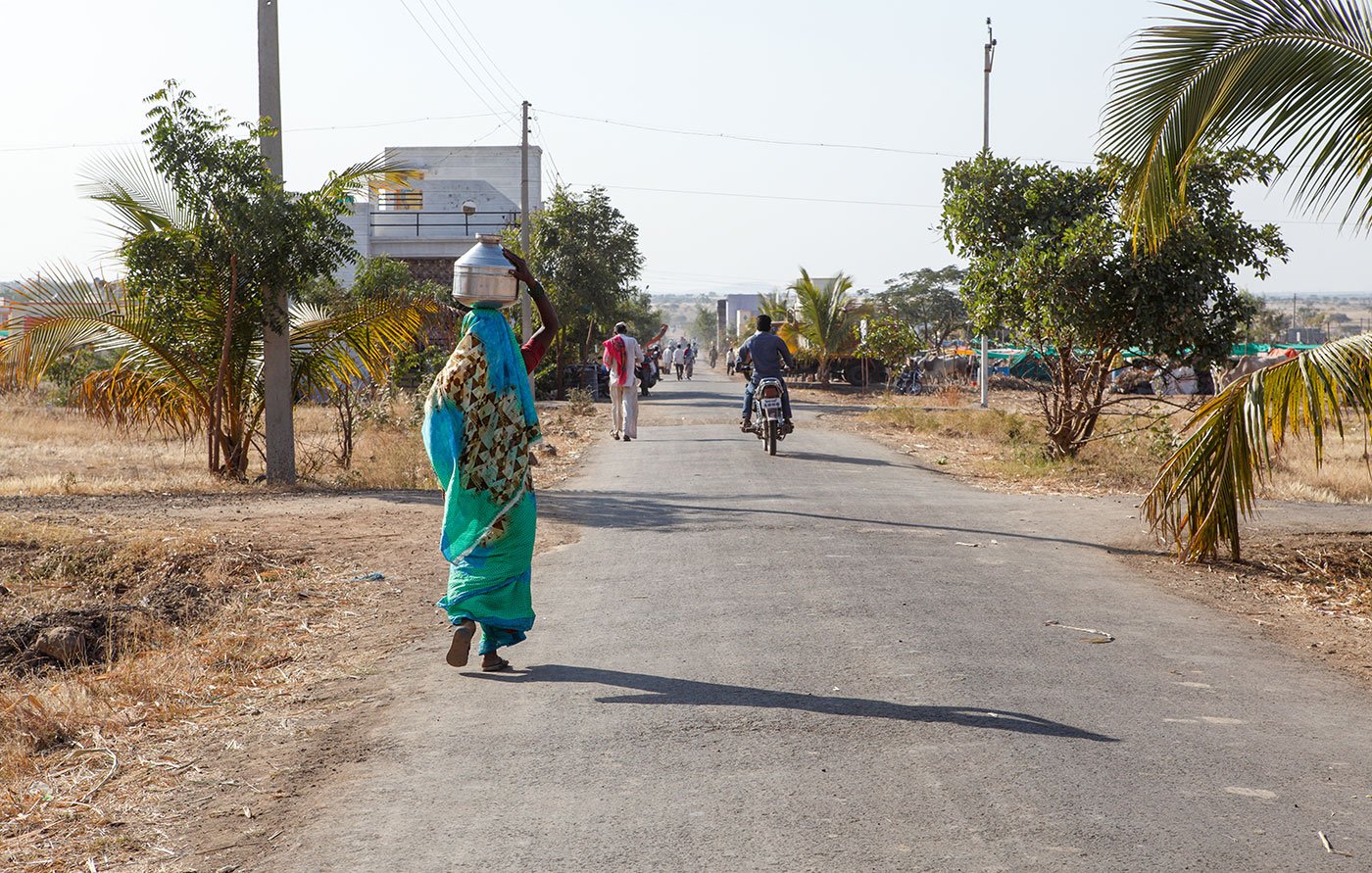 PHOTO • Binaifer Bharucha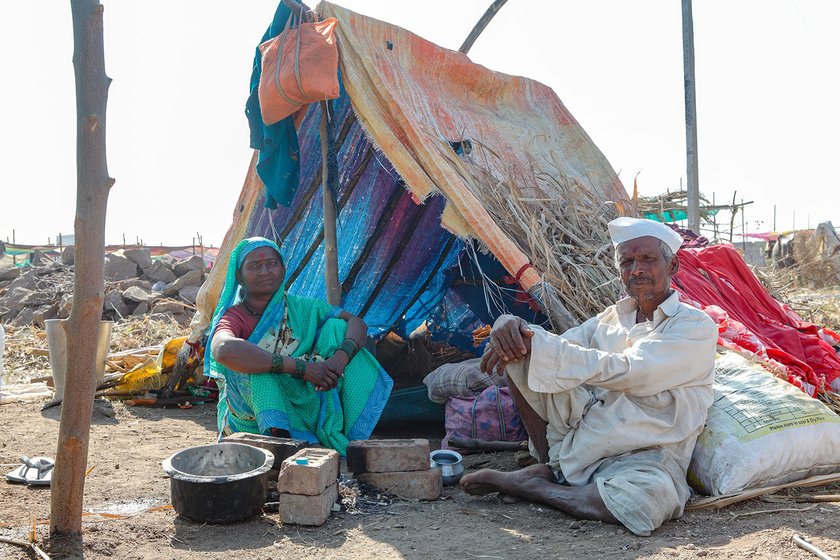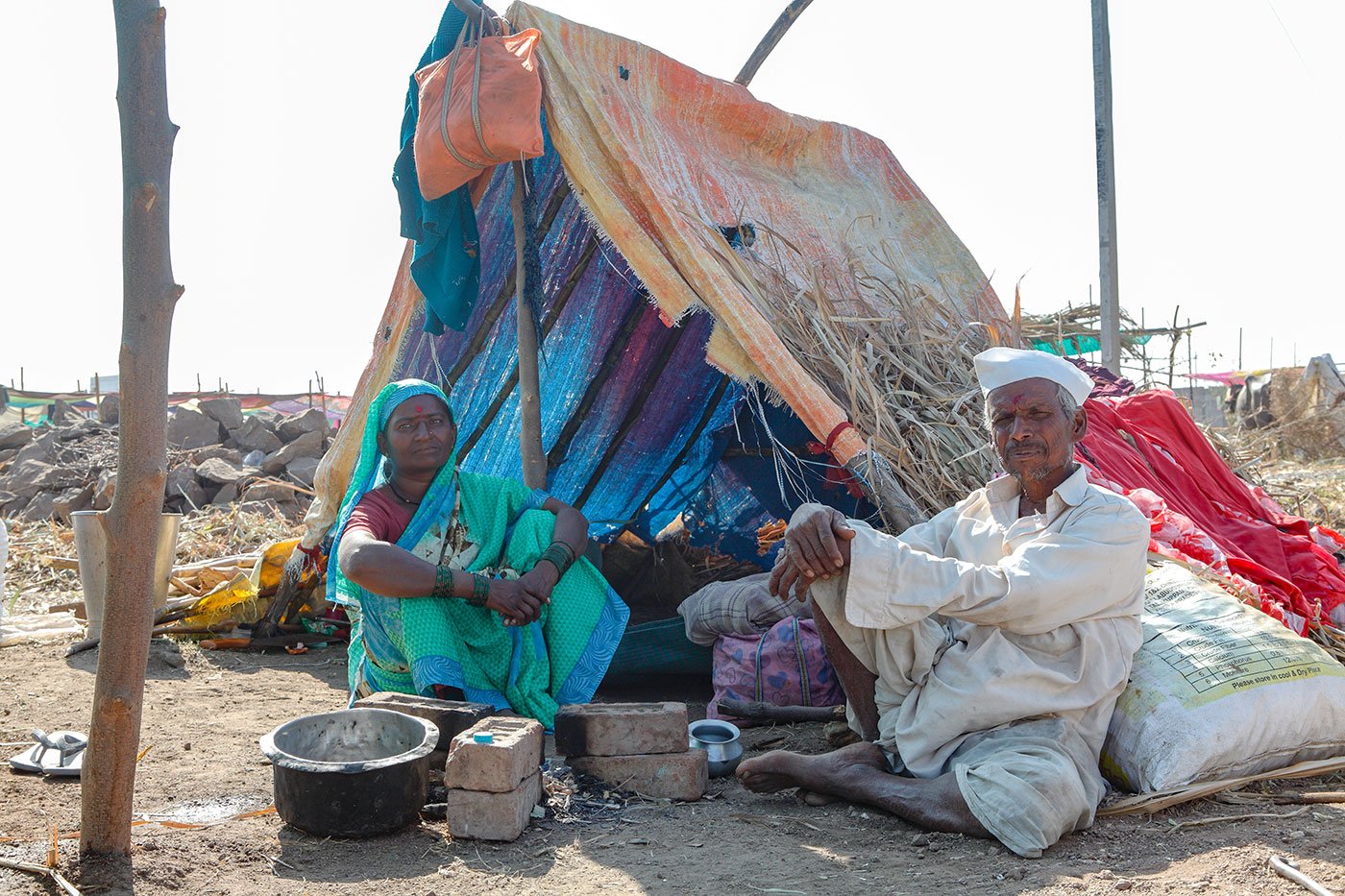 PHOTO • Binaifer Bharucha
Lakshmi's family owns 10 acres of dryland in Valai, on which they mainly cultivate jowar , bajra, maize and onions. They have a dug well, but it dried up in the summer of 2018. The persistent drought for two years means they had no jowar harvest, a low bajra yield, and poor quality onions in 2018. "We did not have more than 2-3 acres of land. It was my mother-in-law who bought this land by selling off sheep… She bought 7 acres like that, " Lakshmi says, while filling a 15-litre pot from the water tank 500 metres from her tent. She makes 3-4 trips in a day. "Cattle get water at our doorstep, but how will we get the same service?" she laughs. (See 'Cattle and birds, both need a lot of water' )
At the end of January, after three weeks, Lakshmi's husband, Paramaeshwar arrives at the camp around 2:30 p.m.  with some fresh methi , brinjal, chillis and other vegetables, tea powder, sugar, puffed wheat chivda , and the popular fried onion bhajiya sold at the weekly market at Mhaswad. Some of the snacks are for their grandson. Lakshmi keeps a few for herself, and re-packs the rest of the items in the bag her husband will take home to Valai.
She also carefully packs the heads of carrots in a newspaper, keeps half of the rest of the chopped carrots for herself, and half for Parameshwar to take home. She wants her daughter-in-law to plant the heads of carrots near their house. "These grow even on waste water from the kitchen. My Radha and Chimna will get some green shoots to eat," she says. "And if it does rain this time, even our crops will grow and we too will get something to eat."
Until then, Lakshmi says. "I have got used to the camp, I feel at-home with all the cattle around. It is almost as if I am surrounded by small children and time just goes by..."