"We have come to Delhi because the government didn't implement our demands," Bhartibai Khode said. In March 2018, Bhartibai had walked 180 kilometres from Nashik to Mumbai in a landmark protest morcha of farmers.
I met Bhartibai at Ramlila Maidan in central Delhi a day before the Mazdoor Kisan Sangharsh Rally on September 5. Many others from her village, Saptashrungagad in Kalwan taluka of Nashik district in Maharashtra, who had taken part in the Nashik to Mumbai Long March of 40,000-50,000 farmers, had come to Delhi. Demanding land titles, irrigation, loan waivers, better prices for crops and more.
But this time, their numbers had multiplied many times over – 300,000, the organisers estimated, from 26 states. And now, along with the farmers, there were other workers too. All of them had come to Delhi for the rally called by the All India Kisan Sabha, the Centre of Indian Trade Unions, and the All India Agricultural Workers Union.
Most of the protesters arrived in Delhi by train and bus a day before the September 5 rally, carrying small bags containing clothes and some food from home. Tents were set up at Ramlila Maidan for them to sleep in, meals were available for Rs. 25.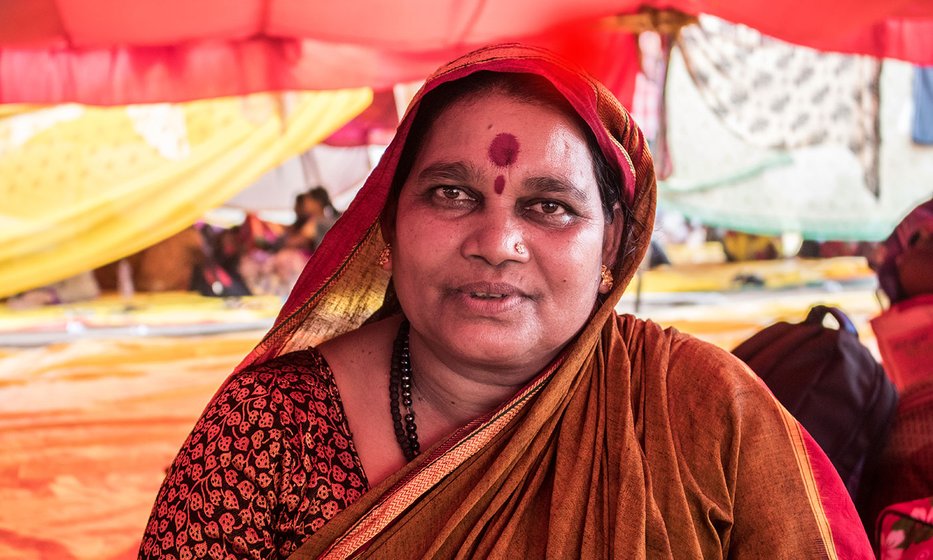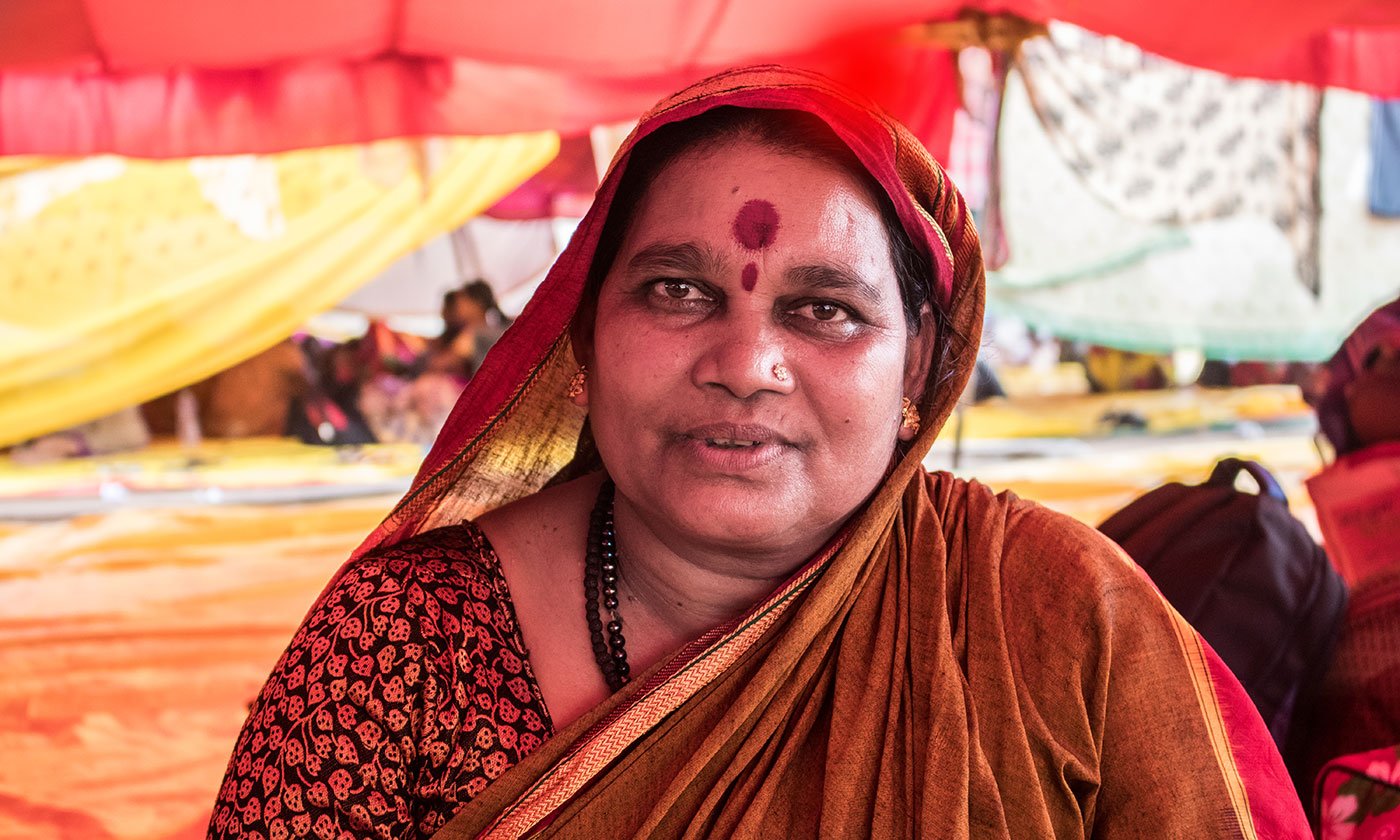 PHOTO • Sanket Jain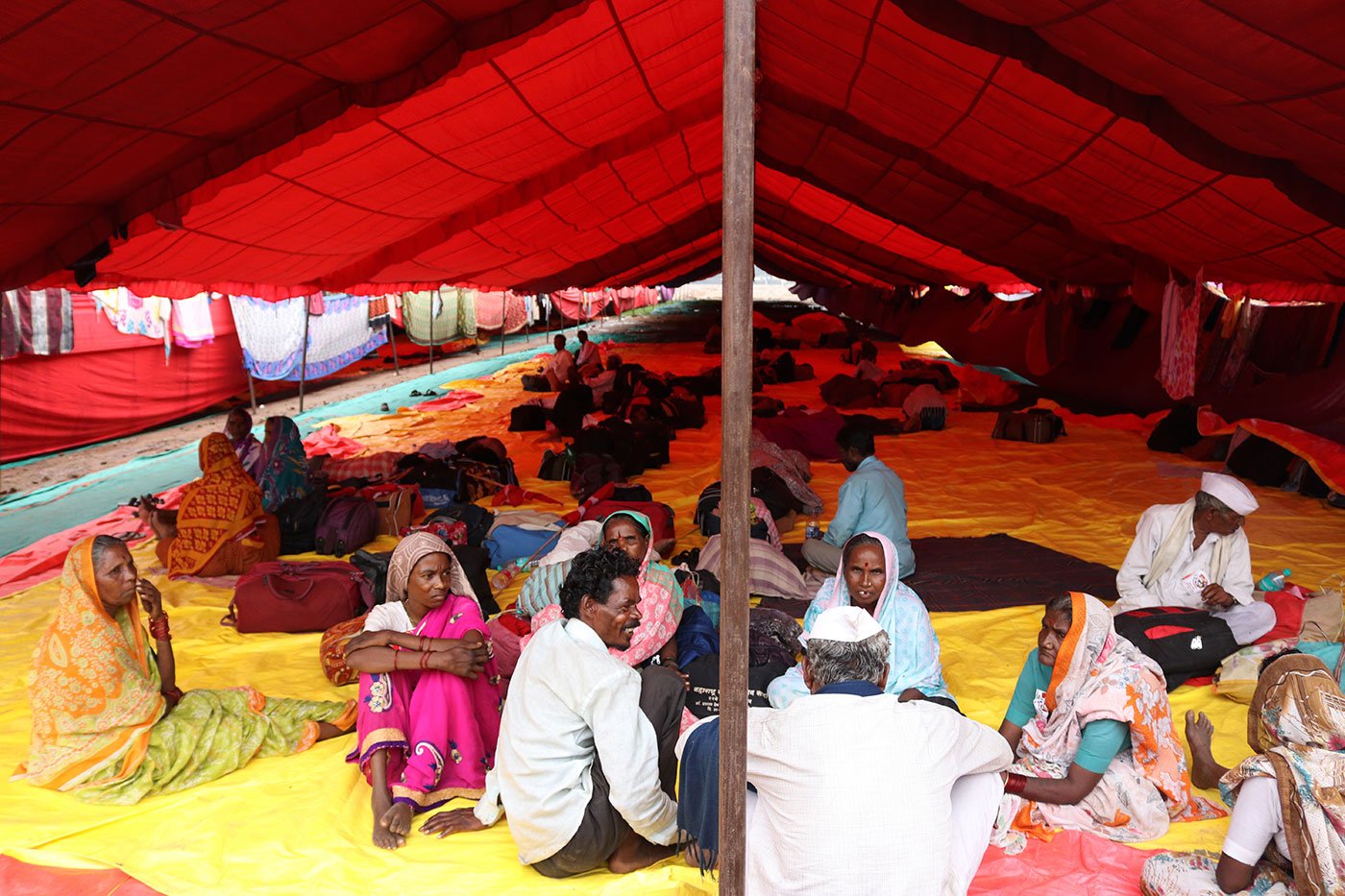 PHOTO • Sanket Jain
The rain in the morning of September 5 didn't dampen their spirits. Shouting 'Inquilab Zindabad' and slogans in Bengali, Gujarati, Kannada, Malayalam, Marathi, Tamil and other languages, the protesters started leaving their tents at 9 a.m., getting drenched in the rain. Two hours later, they had walked three kilometres to their destination – Parliament Street – to voice their demands.
"Even if the government doesn't give us justice, we will not leave the land," said Bhartibai, who is from the Koli Mahadev community, a Scheduled Tribe. For more than four decades, her family has been farming on less than an acre of forest land. "We want the government and forest department to give us land ownership. The patta [title] is not in our name, how we can get a loan?" she asked. These rights and safeguards are present in the Forest Rights Act of 2006 – but have not been implemented.
Instead, said Bhartibai, "forest officials have destroyed my house four times. I don't fear them. I just rebuild the small tin house again in the night. Why should we fear the government?"
Travelling by train, 70-year-old Maghar Singh came for the protest from Uppali village in Barnala district of Punjab. I saw him sitting on a blue cloth on Sansad Marg, tired of walking, resting for a while. Even at his age, Singh works as a labourer for projects under the MGNREGA. He got 25 days of work in the last financial year, but instead of the mandatory Rs. 240 a day, he said, "we are paid only Rs. 140 daily for eight hours of work. And sometimes the government takes three years to deposit the money we earned [into our bank account]." Maghar Singh's wife Gardev Kaur was also an MGNREGA labourer until an accident four years ago compelled her to use a walker. Their children work as labourers on construction sites in nearby villages. "What can we eat with this earning?" he asked. "So we eat food at the langar in Uppali."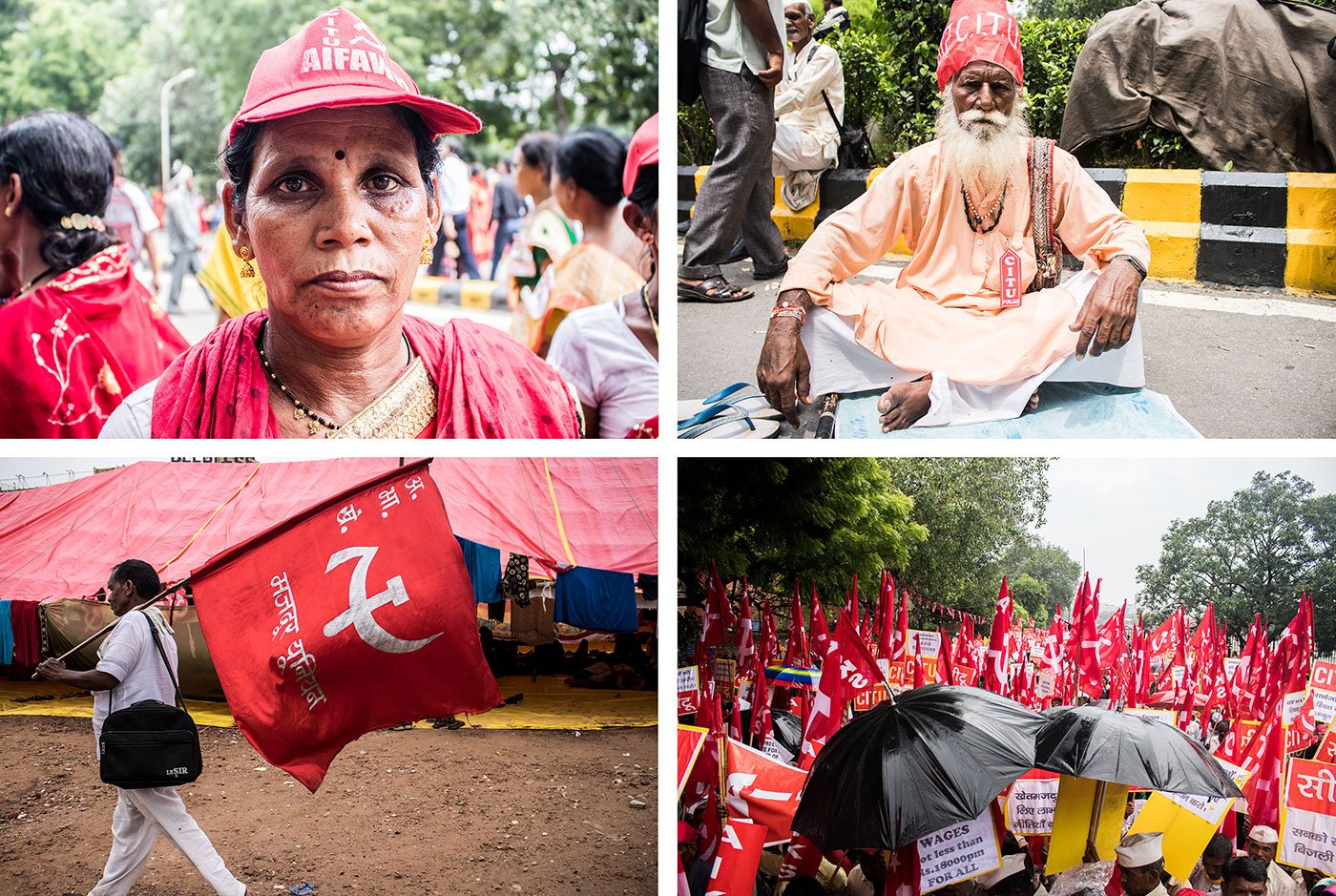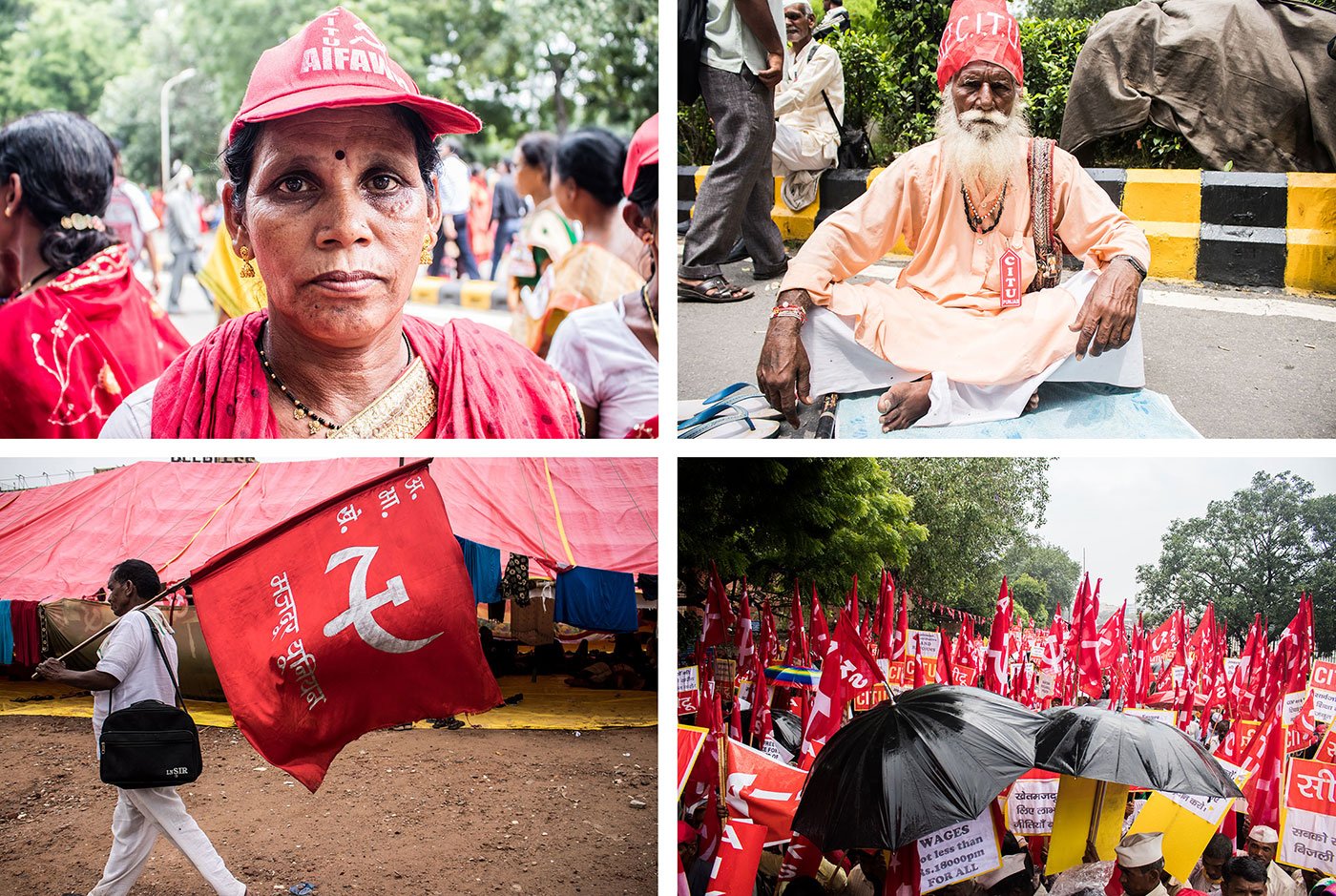 PHOTO • Sanket Jain
In Delhi to demand a better salary were also mid-day meal workers like Indrakumari Nevare, 42, from Malara village in Barghat block of Seoni district in Madhya Pradesh. Indrakumari has been employed under the state's mid-day meal scheme for two decades. "For preparing food for 50 students daily and washing the utensils [in the government primary school in Malara] we get only Rs.1,000 a month," she said. Her husband Shivprasad, who couldn't come to the protest, works as an agricultural labourer in the village for Rs. 100 a day.
The sizeable contingent of mid-day meal workers at the rally from several villages of Seoni district were demanding a monthly salary of Rs. 18,000.
While 28-year-old Mahendar Choudhary was asking for a modest revision in his wages. He had come to Delhi from Chature Khap village in Amas block of Gaya district in Bihar, where he is an agricultural labourer. For nine hours a day in the field, he gets 2.5 kilos of rice. "The landowners do not give us rupees. They just give us rice and the shopkeepers in the village buy it from us at Rs. 16 per kilo," he said, though the market rate is Rs. 22. To earn a little more, Mahendar also occasionally works as a construction labourer in nearby villages for Rs. 150 a day. "From the age of 12, I've been a labourer. Our wages should increase to Rs. 500 daily."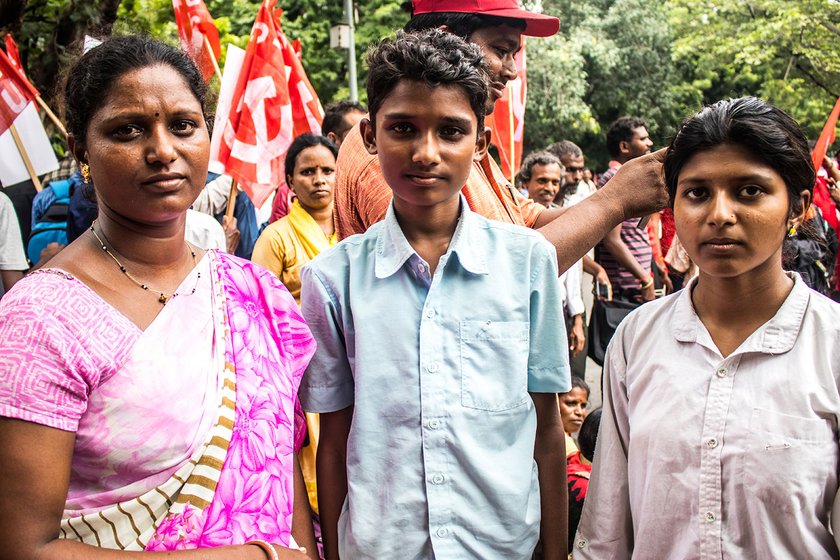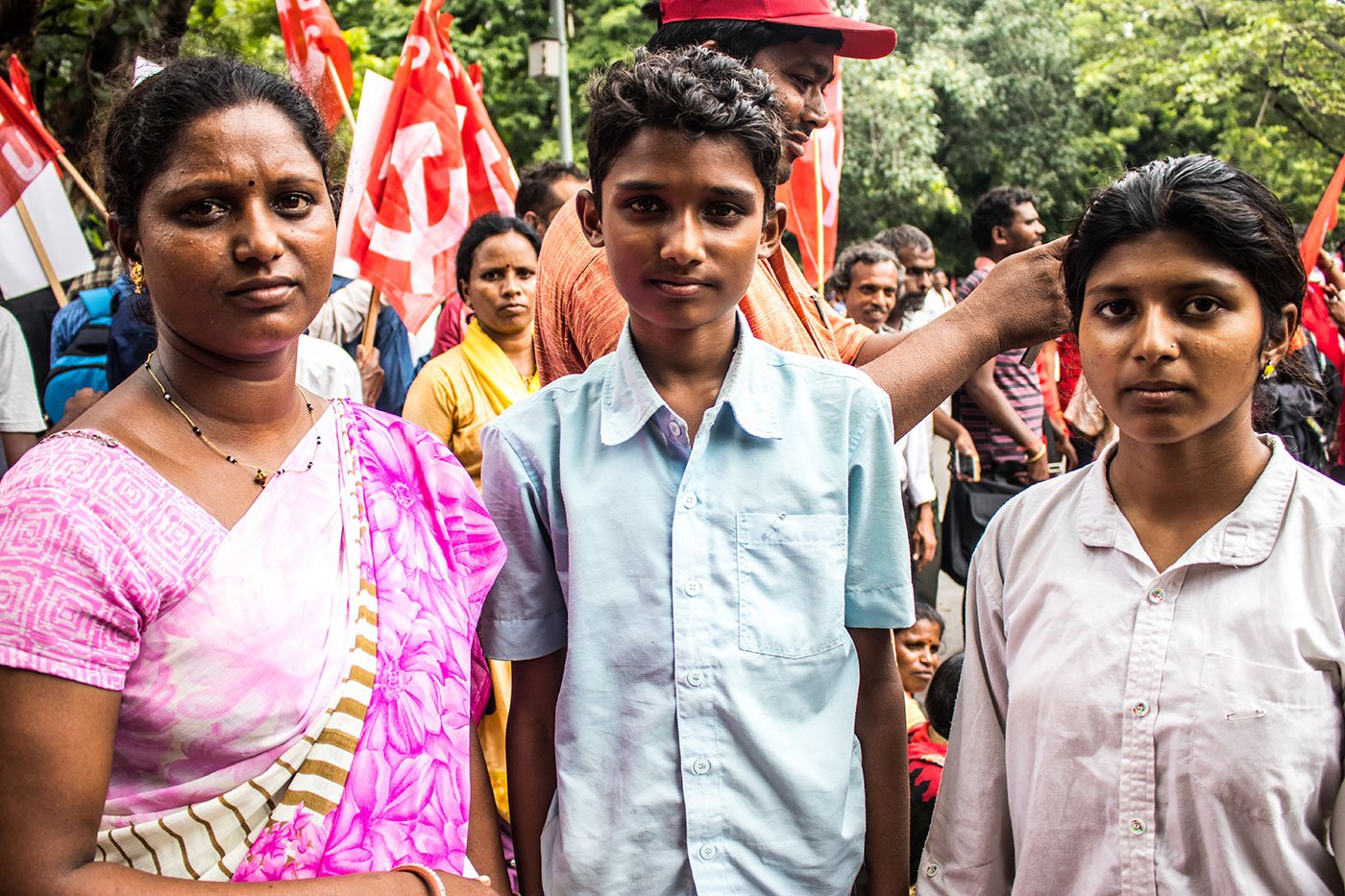 PHOTO • Sanket Jain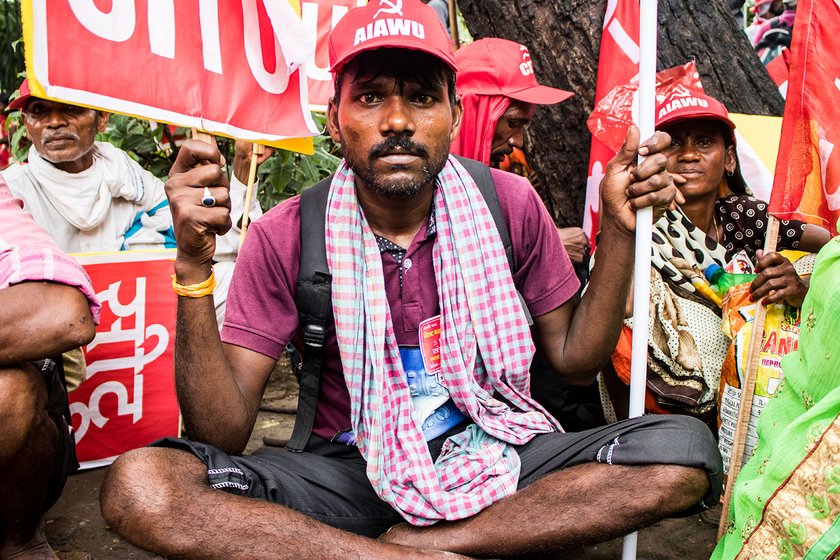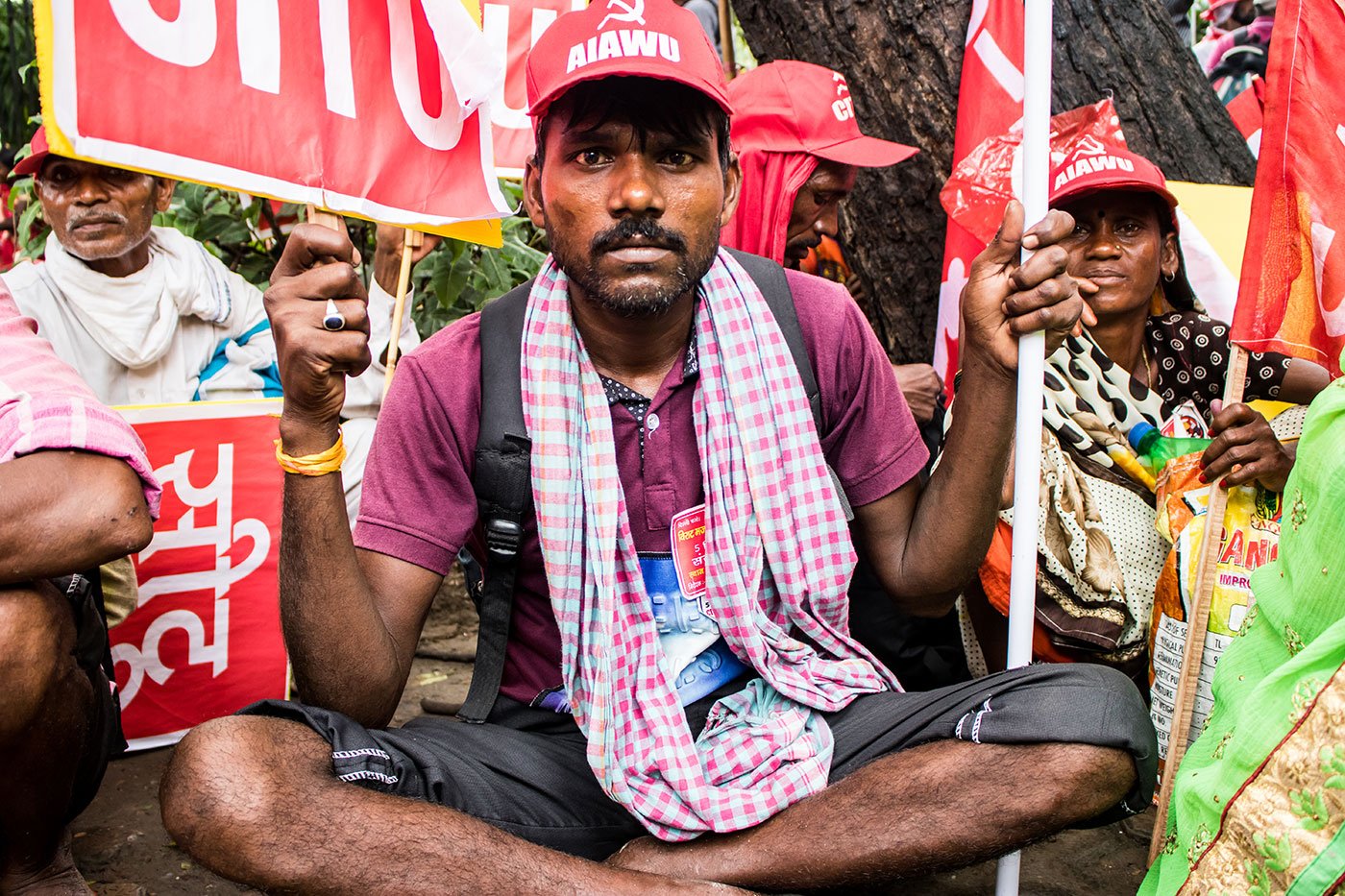 PHOTO • Sanket Jain
Also at the huge Delhi rally was Pradnya Dhurandar, 35, who had come from Takli Pr. Rajur village in Motala taluka of Buldana district in Maharashtra. She was sitting, looking exhausted, on the pavement of Tolstoy Marg, not far from Parliament Street. She had brought her daughter Kanchan, 17, and son Vishal, 11, to the protest. Her husband has polio and is unemployed. "We haven't eaten anything since morning. Both my children are feeling drowsy and I made them sit here," she said.
Since 2010, Pradnya has been working as an Accredited Social Health Activist (ASHA) community worker, under the National Rural Health Mission. She had come to the rally along with several other ASHA workers from the villages of Buldhana and Akola districts, all demanding a fixed salary. ASHA workers only get variable 'performance-based incentives' for tasks that include 'promoting universal immunisation', referrals for reproductive health services and for 'the construction of household toilets" (says the National Health Mission website).
In solidarity with the farmers, Pradnya participated in the Nashik to Mumbai march too. "We know the government won't give us a fixed salary. So we will come back again to Delhi," she said, firmly. As the rally came to an end at 4.30 p.m., like her, many said they were determined to come back to Delhi and protest again.
Also see Discontent and determination in Delhi : Photo Album.