For Diwali, here are 13 ovi related to Bhaubeej from the Grindmill Songs Project – celebrating the ties between brothers and sisters. The singer is Shahubai Kamble of Nandgaon village in Pune district
The poignancy in Shahubai Kamble's voice can stir any listener. It compelled us to plan a trip to Nandgaon village in Mulshi taluka in September 2017. We went with the hope of meeting her, shooting a video of her, and taking some photographs. But we learnt that she had died a year ago, and we were only able to get an old photograph of her from her family – her husband, two sons, their wives and children.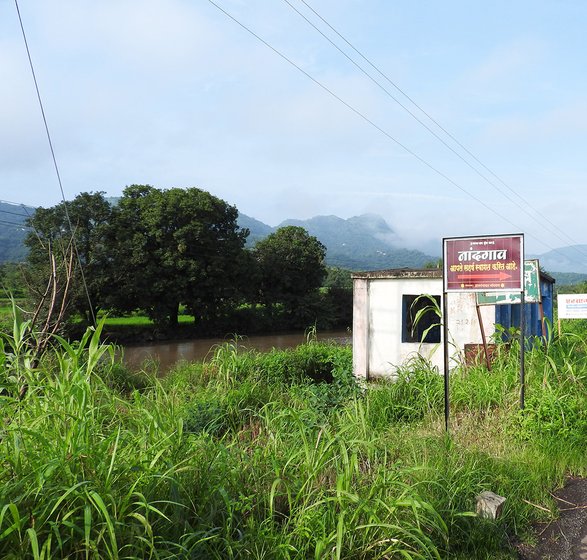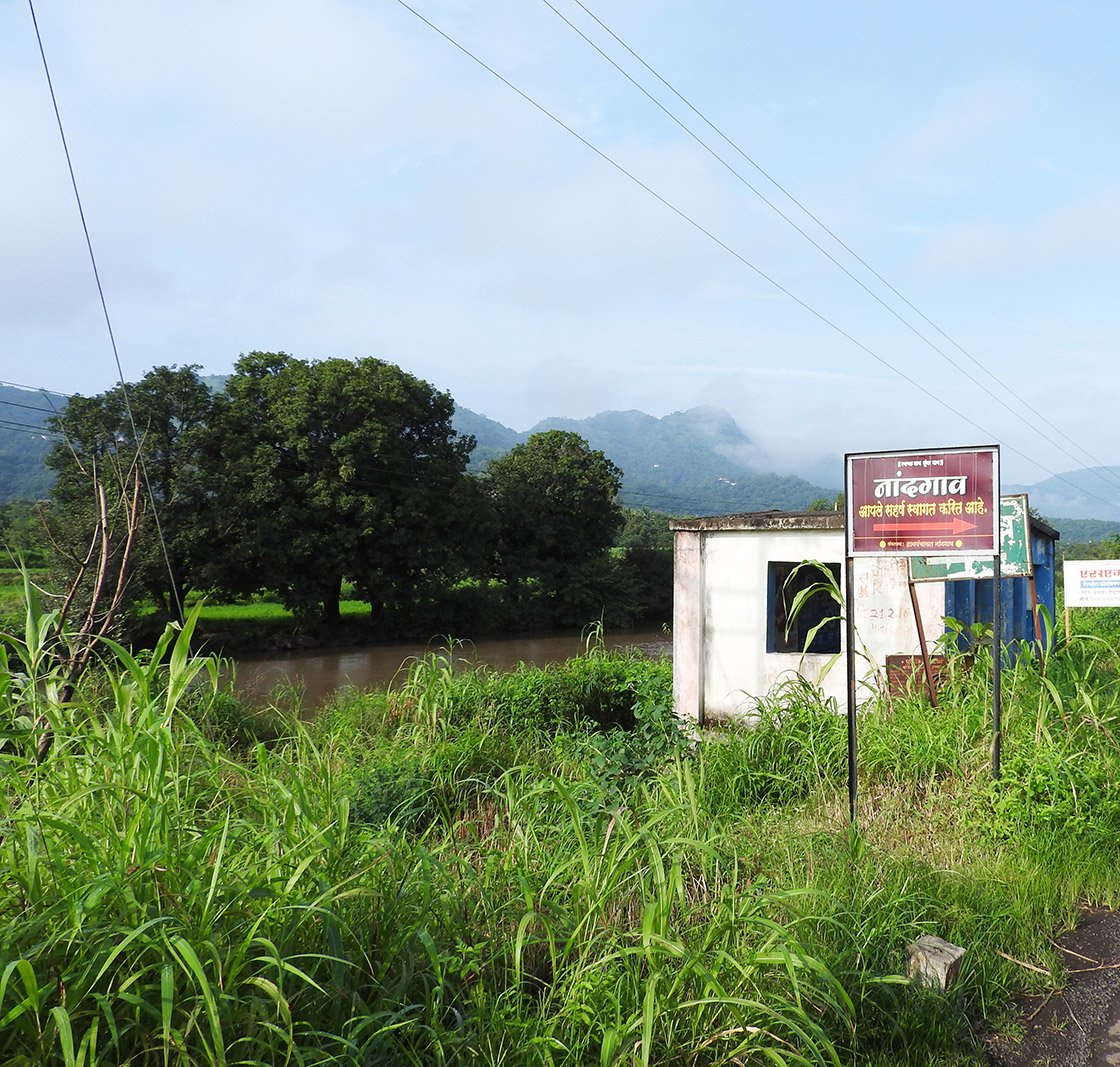 PHOTO • Namita Waikar
Shahubai had contributed 401 songs to the grindmill songs database, of which 170 were recorded in October 1999 (the others were only handwritten in 1995-96). These are among the 110,000-plus ovi from rural Maharashtra in the database. The project is now hosted on PARI, and a team has been revisiting some of the villages to talk to the singers, take photographs and record videos.
The songs celebrating the Hindu festival of Diwali featured here point to social structures rooted in patriarchy – it's the men in the family (husband, father, brother) who are honoured by the women in the family, it's the men who wield economic power, and it is they who are in a position to give cash and gifts to the women during festivals.
In the ovi featured here, Shahubai, sings about Bhaubeej, the fifth day of Diwali (on October 21 this year). On this festive occasion, women and young girls felicitate their brothers, who in turn give them gifts, usually new clothes or cash. As on some other Hindu festivals, the women perform a ritual called ovaalne in Marathi, with kunku (red vermillion) and a lit oil lamp on a platter.
In these ovi , the singer tells her friends that on Dussehra (which was on September 30 this year), she felicitates her husband with a jewel on her platter (usually, a bejewelled ring, signifying his worth and value to his spouse). Shahubai's ovi for Dussehra, the festival that celebrates the victory of good over evil, are featured on PARI in Melodies that thrive like marigold . So on Bhaubeej, it is the brother's turn.  And from the money he gifts her, she will buy a brocade saree of her choice.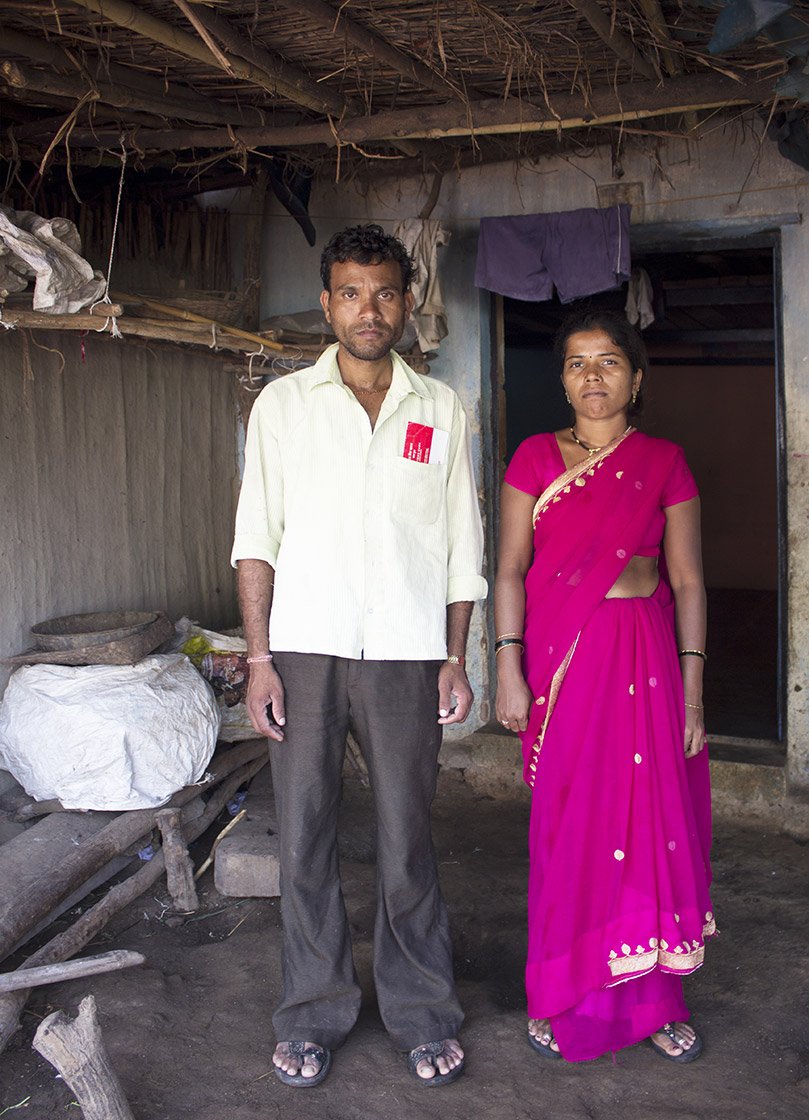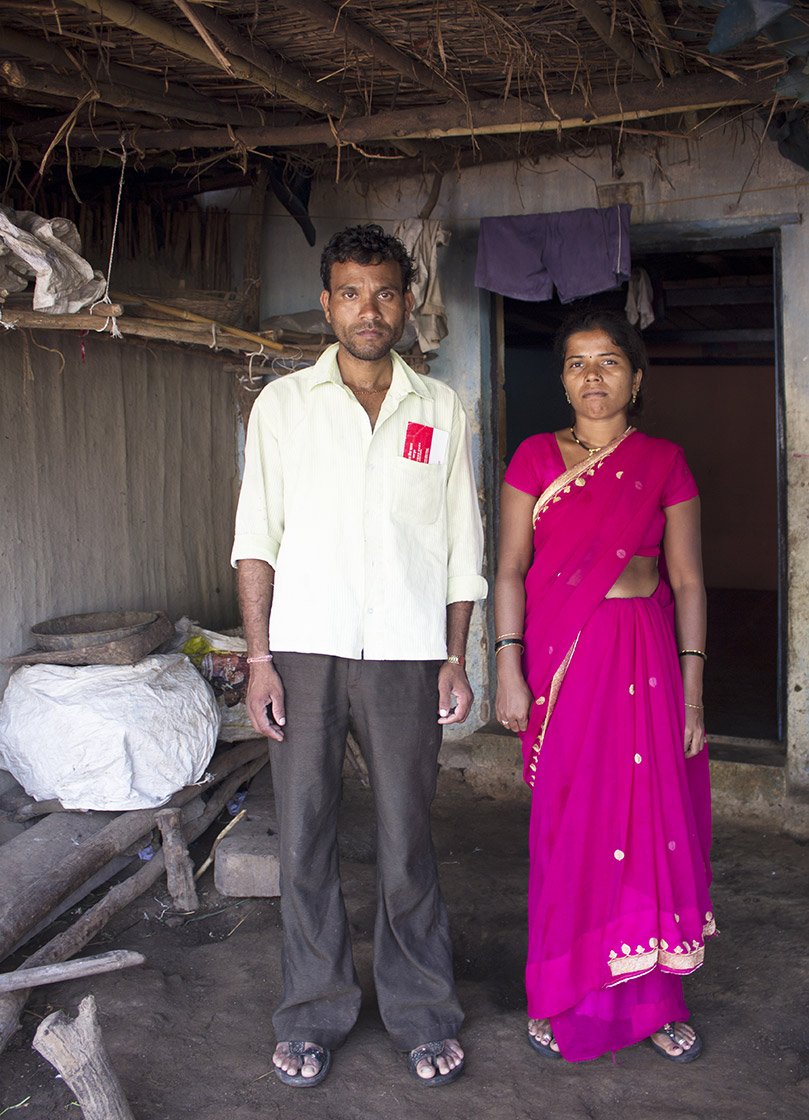 PHOTO • Samyukta Shastri
The singer says that a brother breaks his Monday fast at his sister's home, where she cooks a festive meal with five different kinds of sweets and fried slices of bitter gourd.
Sometimes, the guest doesn't eat well and the sister wants to hold his wrist to insist that he should, but how can she, when he is not her brother but her brother-in-law.
The sister uses jaggery to make these sweets, and she makes another with semolina. The brother, the ovi tells us, was born only after the prayers of his mother, implying that the sister is fortunate to have such a brother.
The woman who lives next door to the singer asks who the guest at her home is and what she will offer him to eat. The singer says that she will make anarasa , a special Diwali sweet made with rice flour. The guest, she says, is not a guest at all but her own brother. Their affection runs deep like the soft sugary core of a custard apple with a rough exterior.
In the last two couplets, Shahubai's singing alludes to the influence of the brother's wife on the affectionate relationship between a brother and a sister. The siblings, who were like two oranges from one tree, grow apart after the arrival of the sister-in-law. This also symbolises the changes that take place in human relationships over time.
अशी दसर्याच्या दिशी माझ्या ना ताटामंदी मणी
सांगते ग माझे बाई ववाळू घरधनी
भावाला ग भाऊबीज करु दोघी तिघी
सांगते ग माझे बाई शालू घेऊ मनाजोगी
अशी दसर्याच्या दिशी नाही ग बंधू ववाळीला
भावाला ग भाऊबीज आपण करु दिवाळीला
पंच अमृत भोजन कारलीच्या फोडी
कशी बहिनीच्या घरी भाऊ सोमवार सोडी
पंच अमृत भोजन जेव म्हणते जेवना
कशी हाताला धरु भाव नव्ह तो मेव्हणा
पंच अमृत भोजन याला गुळाचे लेवण
असा जेव माझ्या बंधू भाऊबिजचं जेवण
पाव्हणा ग मला आला शेजी म्हणती कोण व्हावा
माझ्या नवसाच्या बंधूला साखरत मी देते रवा
पाव्हणा ग मला आला शेजी विचारी अंगणात
शेजी विचारी अंगणात तांब्या बुडवी रांजणात
पाव्हणा ग मला आला शेजी म्हणती व्हईल कसं
अशी ना माझ्या बंधूसाठी पैदा करीते अनारसं
तिन्हीसांजचा पाव्हणा हा तर मजला नाही जड
अशी ना आता माझा बंधू माझ्या काळजाचा घड
बहिण ग भावंडाचा आत पोटामधी माया
फोडील ग सीताफळ आत साखरची काया
अशी साखरच पुडी कशी मुग्यांनी येढली
भावाला ग होती माया भाऊजयीनी तोडली
अशी ना बहिण भावंड अेक्या झाडाची संत्र
कशी आली परक्याची तिनी पाडीलं अंतर
aśī dasaryācyā diśī mājhyā nā tāṭāmandī maṇī
sāṅgatē ga mājhē bāī vavāḷū gharadhanī
bhāvālā ga bhāūbīja karu dōghī tighī
sāṅgatē ga mājhē bāī śālū ghēū manājōgī
aśī dasaryācyā diśī nāhī ga bandhū vavāḷīlā
bhāvālā ga bhāūbīja āpaṇa karu divāḷīlā
pañca amṛta bhōjana kāralīcyā phōḍī
kaśī bahinīcyā gharī bhāū sōmavāra sōḍī
pañca amṛta bhōjana jēva mhaṇatē jēvanā
kaśī hātālā dharu bhāva navha tō mēvhaṇā
pañca amṛta bhōjana yālā guḷācē lēvaṇa
asā jēva mājhyā bandhū bhāūbijacaṁ jēvaṇa
pāvhaṇā ga malā ālā śējī mhaṇatī kōṇa vhāvā
mājhyā navasācyā bandhūlā sākharata mī dētē ravā
pāvhaṇā ga malā ālā śējī vicārī aṅgaṇāta
śējī vicārī aṅgaṇāta tāmbyā buḍavī rāñjaṇāta
pāvhaṇā ga malā ālā śējī mhaṇatī vhīla kasaṁ
aśī nā mājhyā bandhūsāṭhī paidā karītē anārasaṁ
tinhīsāñjacā pāvhaṇā hā tara majalā nāhī jaḍa
aśī nā ātā mājhā bandhū mājhyā kāḷajācā ghaḍa
bahiṇa ga bhāvaṇḍācā āta pōṭāmadhī māyā
phōḍīla ga sītāphaḷa āta sākharacī kāyā
aśī sākharaca puḍī kaśī mugyānnī yēḍhalī
bhāvālā ga hōtī māyā bhāūjayīnī tōḍalī
aśī nā bahiṇa bhāvaṇḍa aēkyā jhāḍācī santra
kaśī ālī parakyācī tinī pāḍīlaṁ antara
On Dussehra day, I have a jewel on my platter
O woman, let's felicitate our respective husbands
We, sisters, will together celebrate our brothers' Bhaubeej
I tell you, my sister, we shall buy brocade sarees we like
On Dussehra day, I did not felicitate my brother
We shall celebrate Bhaubeej for my brother during Diwali
A meal with five kinds of sweets and fried slices of bitter gourd –
A brother breaks his Monday fast at his sister's house
A delicious meal – I insist he eat it, but he refuses
How can I hold his hand to stop him? He is not my brother but my brother-in-law
Five kinds of sweets are made with jaggery for the festive meal
Brother, have this special Bhaubeej meal
A guest has come to my house; the woman next door asks who he is
My brother for whom mother had made a vow, I give him sweet semolina
A guest has come to your house? The woman asks me in the courtyard
The woman asks me while dipping a jug in an earthenware pot [of water]
A guest has come to my house, the woman next door says, what will you do
I shall get anarasa [a special Diwali sweet made with rice flour] for my brother
A guest came to my house in the evening, but he is not a burden
My brother has come, he is very dear to me
A sister and brother have deep affection for each other
Like a green custard apple with sugary flesh inside
A packet of sugar is surrounded by ants
My brother loves me dearly but my sister-in-law broke our relation
A brother and a sister are like oranges from the same tree
A sister-in-law comes from another family, she caused a rift between them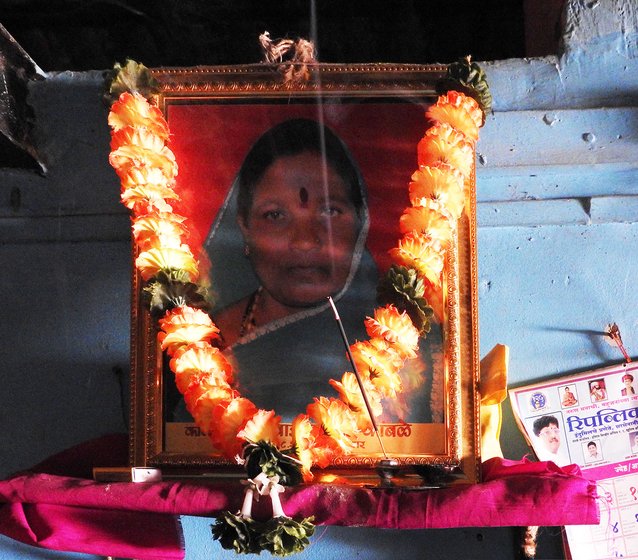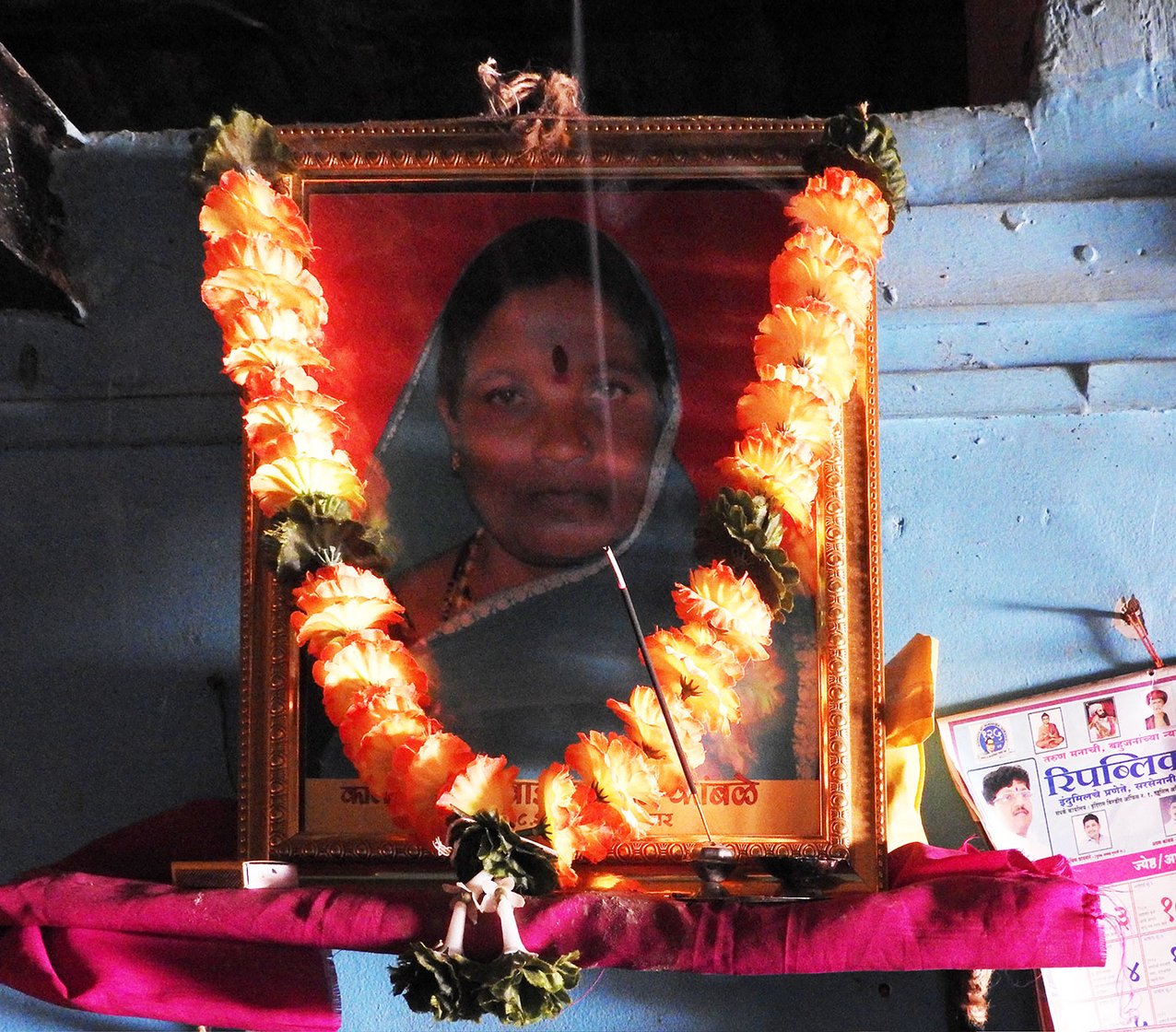 PHOTO • Samyukta Shastri
---
Performer/Singer: Shahubai Kamble

Village: Nandgaon
Taluka: Mulshi
District: Pune
Caste: Nav Bauddha (Neo Buddhist)
Age: 70   (She died in August 2016 due to uterine cancer.)
Children: 2 sons and 2 daughters Occupation: Farmer
Date:
These songs and information were recorded on October 5, 1999. The photographs were taken on September 11, 2017.
Poster: Shreya Katyayini