"The spirits of our forefathers reside here," says Monjit Risong, pointing to a thick clay base in the centre of his kitchen. Here the roof, walls and floor are all made of bamboo.
The beige rectangular structure is a foot tall and firewood is stacked on top of it; food is cooked below. "It's called a marom and it is our worship hall. It's everything to the Mising community," he adds.

Monjit and his wife, Nayanmoni Risong are preparing tonight's feast that includes a thali of traditional Mising dishes. The couple belong to the Mising community (listed as a Scheduled Tribe in Assam) and together run Risong's Kitchen — out of their home in Garamur, a town in the river island of Majuli, Assam.

On the Brahmaputra and covering roughly 352 square kilometres, Majuli is India's largest river island. Its topography is characterised by endless stretches of bright green paddy, small lakes, wild bamboo and marsh vegetation. Homes are built on stilts to withstand the heavy monsoons and subsequent flooding. The island is also famous for migratory bird sightings such as storks, the kingfisher, and the purple moorhen. It's no surprise that the scenic district attracts a steady number of tourists every year from around the world.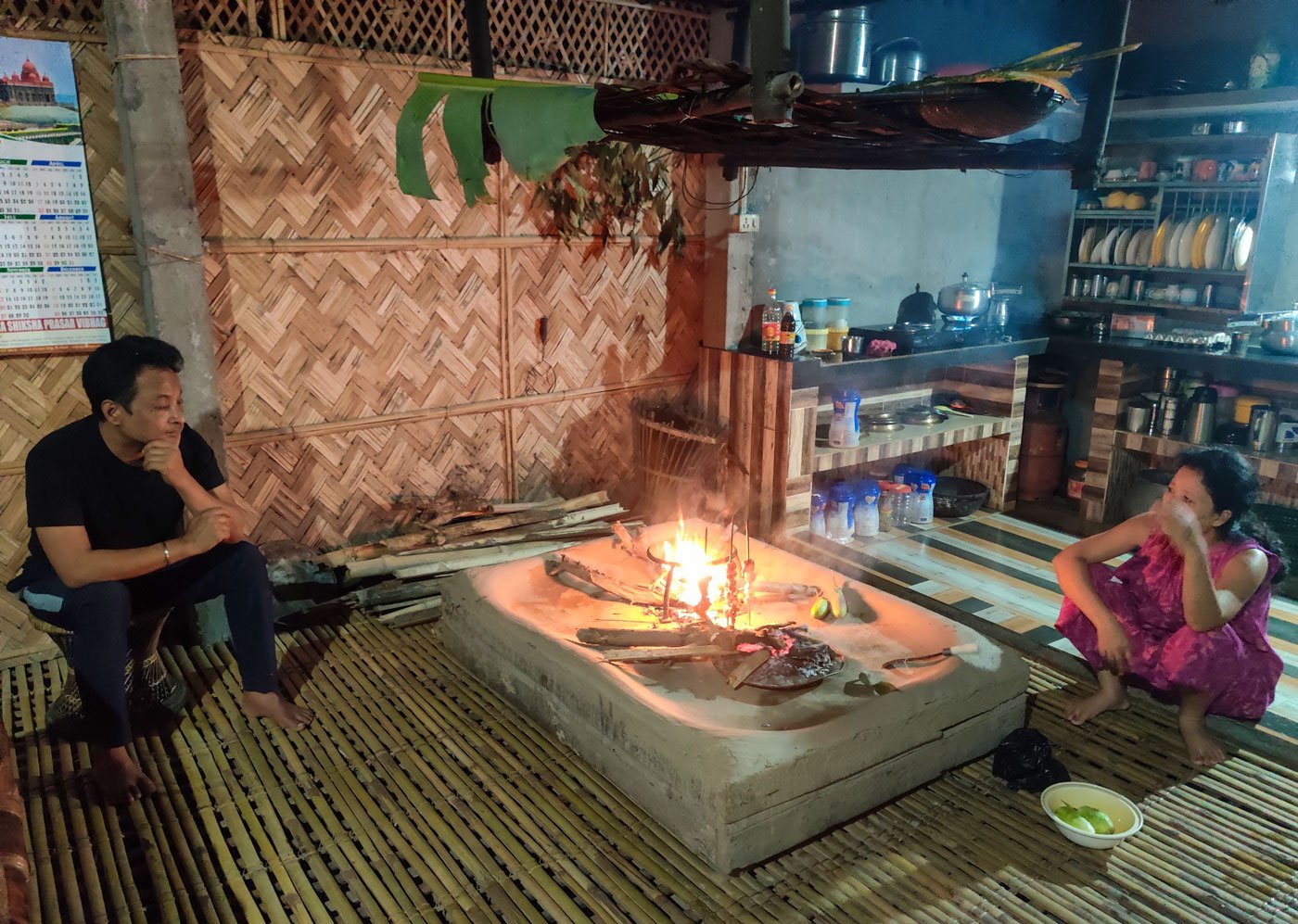 PHOTO • Vishaka George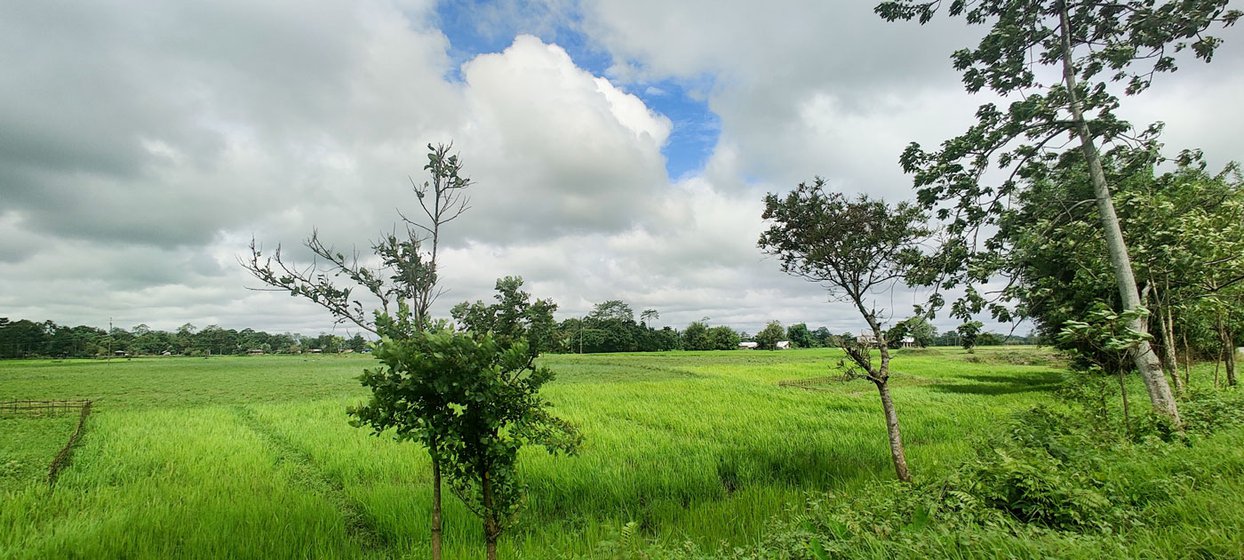 PHOTO • Vishaka George
And Monjit, 43, and Nayanmoni's, 35, livelihood revolves around tourism. They help run three homestays in the area — Rising, La Maison de Ananda and Enchanted Majuli. At 'Risong's Kitchen', a frame on a bamboo wall holds currencies from across the world.
Eating at Risong's is an immersive experience, where barriers between the kitchen and dining area are removed. Conversations happen around the marom , where most of the food is cooked. Despite the smoke from firewood, the well ventilated kitchen never gets stuffy.

As Nayanmoni assembles thick fillets of fish, cut chicken, fresh eel, greens, brinjal, potatoes and rice for dinner, she says, "Mising people use a lot of raw spices in our cooking like ginger, onion and garlic. We don't eat a lot of masala. We also tend to steam our food and boil it."

In a few minutes, she whizzes some ingredients in a mixie and starts to stir others in a wok over the woodfire. The kitchen slowly starts to fill with the fragrant aroma of herbs and spices that she handles with care.

While the food is being cooked, glasses of Apong brew arrive in brass tumblers. A traditional Mising drink, Apong is slightly sweet with a mild spice kick. Every Mising house tends to have their own brew. This batch comes from Monjit's sister in law, Junali Risong, who lives next door. You can read more about the drink's significance and how it's made here: Making the Mising brew in Majuli .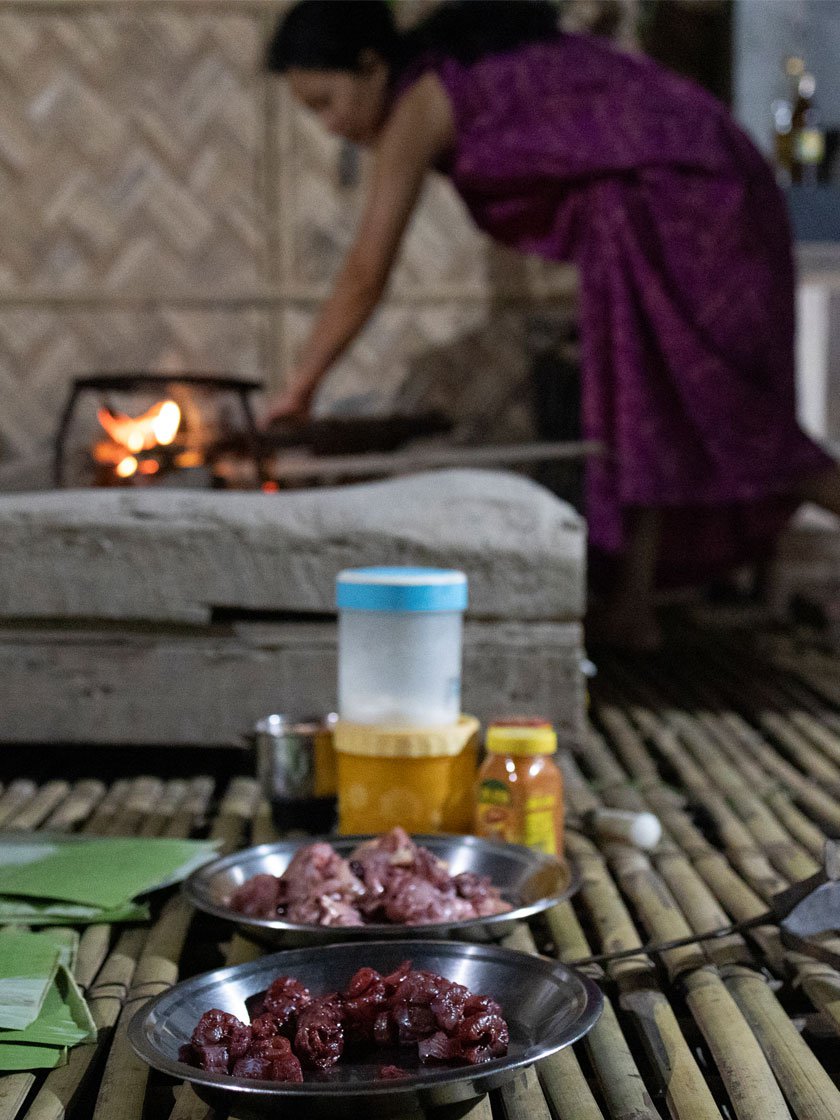 PHOTO • Riya Behl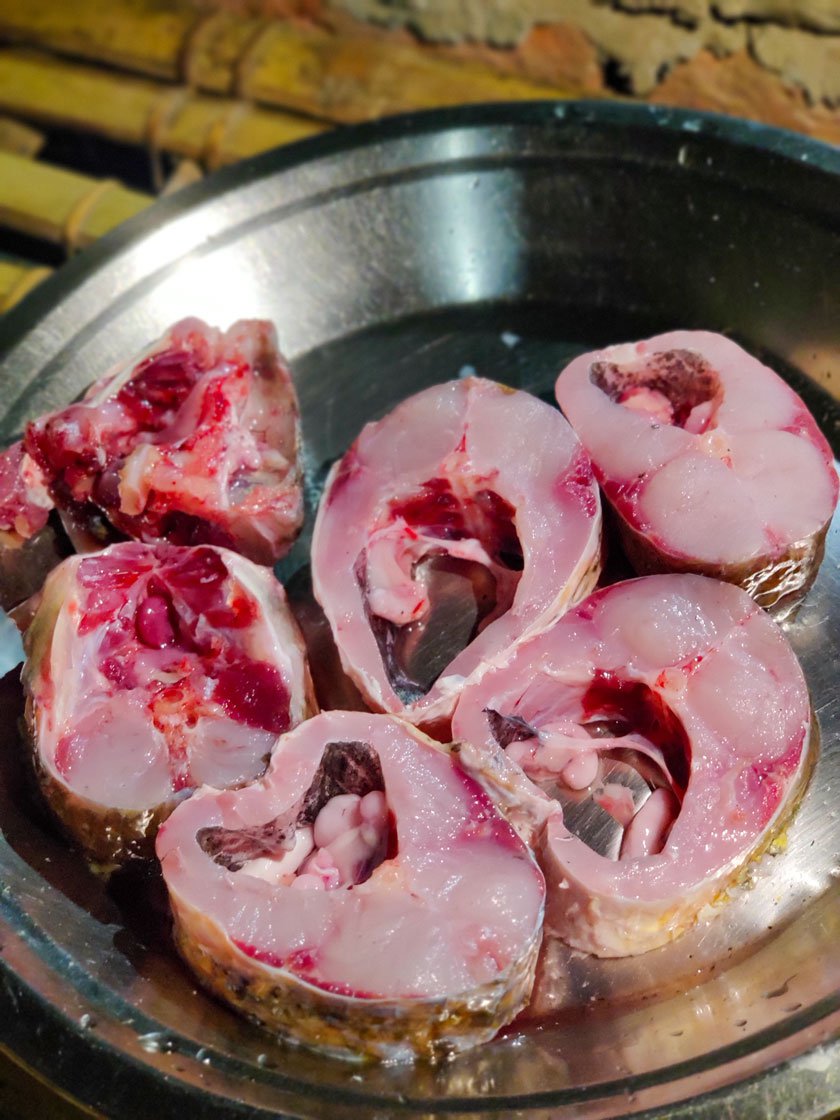 PHOTO • Vishaka George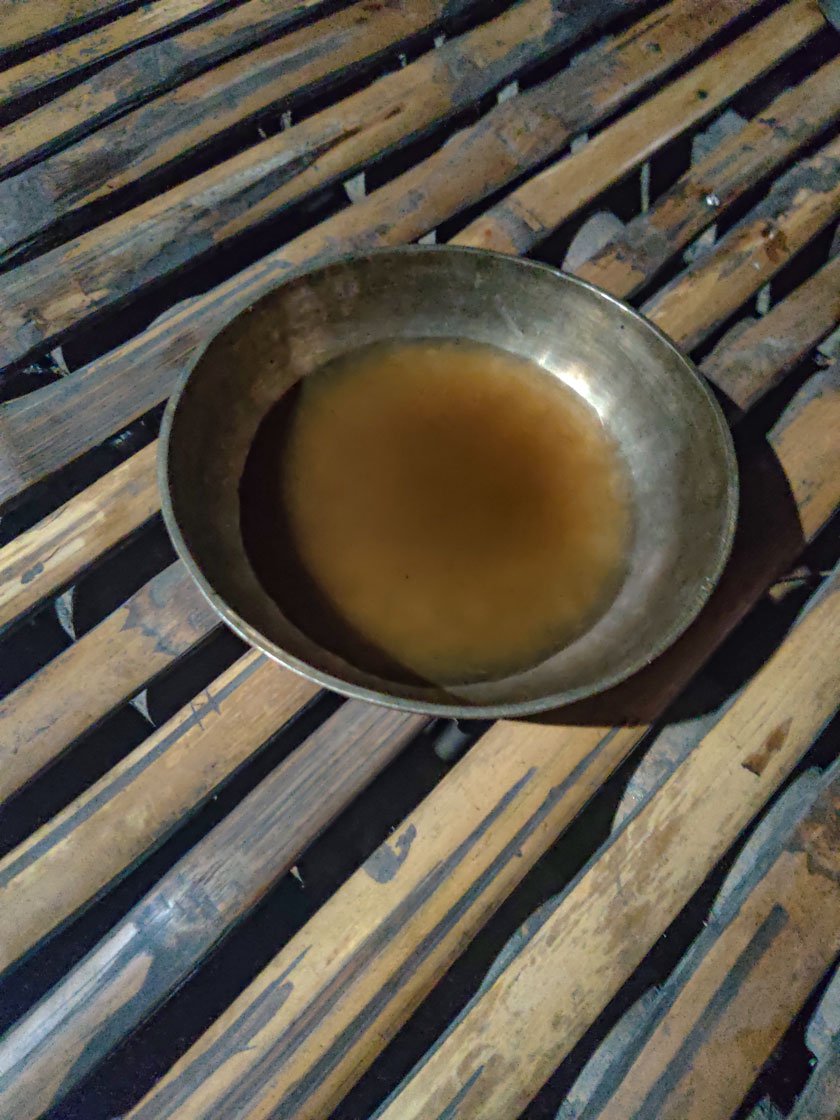 PHOTO • Vishaka George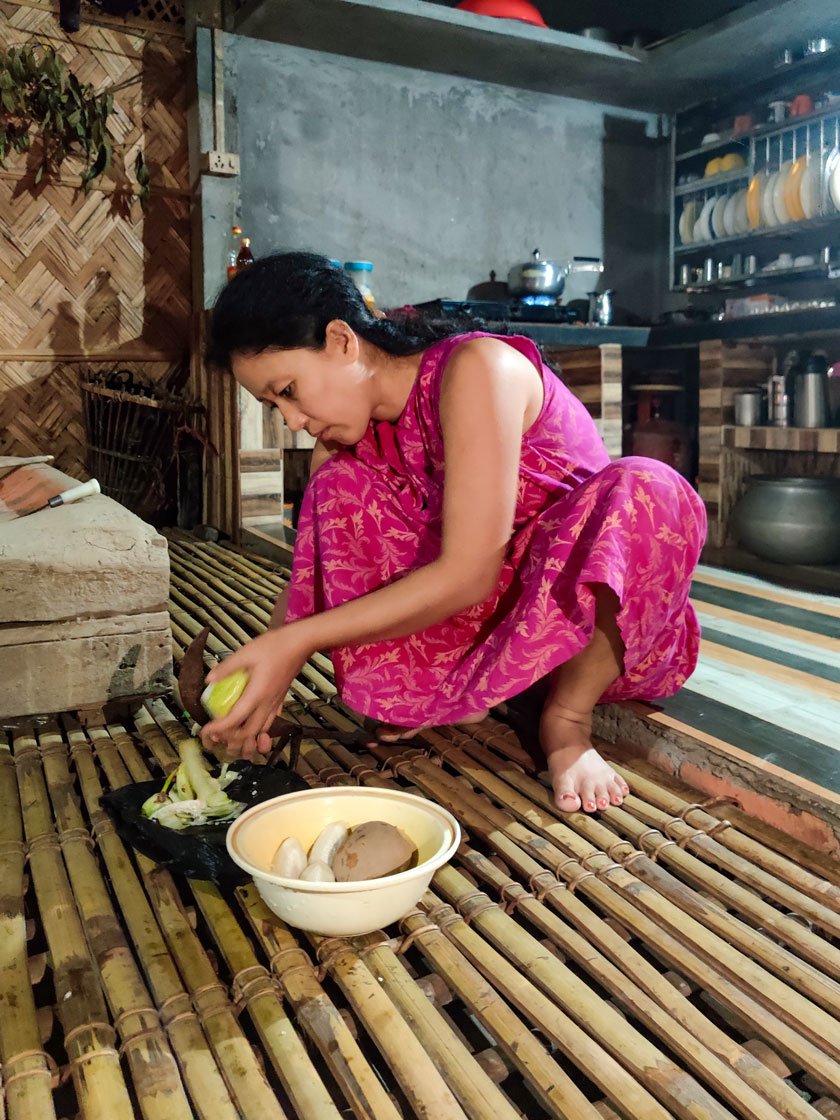 PHOTO • Vishaka George
Between peeling, chopping and stirring, Nayanmoni checks the woodfire, stoking it so that it's hot enough for the next dish on the menu: chicken skewers that have been prepped and ready to smoke. A scaffolding above the marom called a parap, is used to store and dry wood and fish, especially during breeding seasons when, as Monjit says, "Fishing is banned in April, May and June. Fish breed then and we don't want to overfish."
The kitchen-diner room is a part of a traditional Mising cottage, known as chang ghar . It is raised over two feet above the ground with concrete and bamboo pillars. The flooring has gaps, which is a conscious element in most Majuli homes to keep flood waters out.

Diets change during the time of floods, Monjit says that, "During the floods, fewer vegetables are harvested. Winter is the time for many vegetables. We eat a lot of vegetables then."

As the woodfire gets weaker, Monjit helps out saying, "I can carry a load on my head up a mountain, but I simply cannot cook!" When asked why, he laughs and says, "I just don't enjoy it. In the Mising community, 99 per cent of the food is made by women."

Women generally assume the responsibility of cooking, according to Folk Literature of the Mising Community , a book by Dr. Jawahar Jyoti Kuli that studies the communities practises with help from their oral and written traditions. Apart from other activities, Mising women are skilled in cooking and weaving. Men admit that they do not prefer to cook unless and until it is demanded by the situation.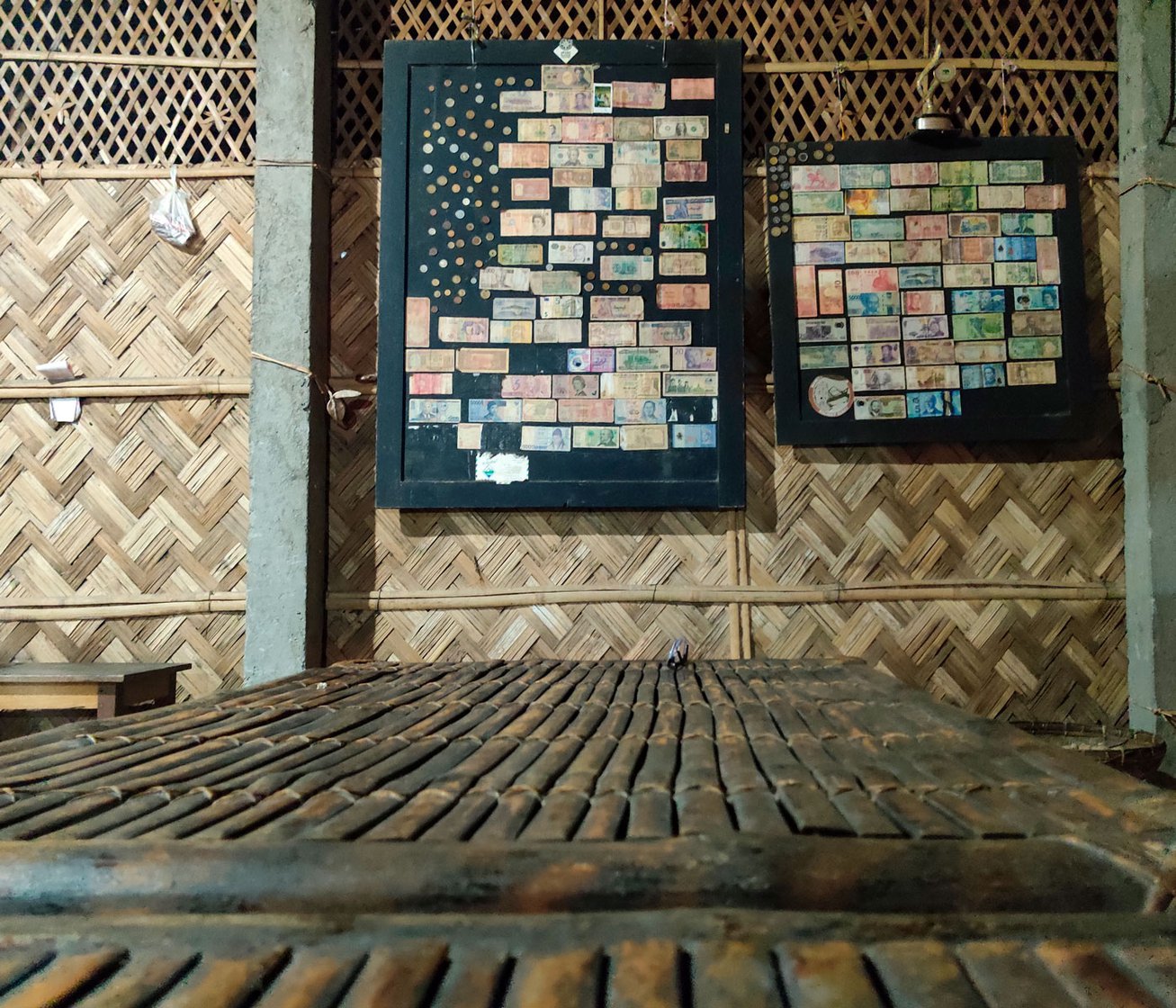 PHOTO • Vishaka George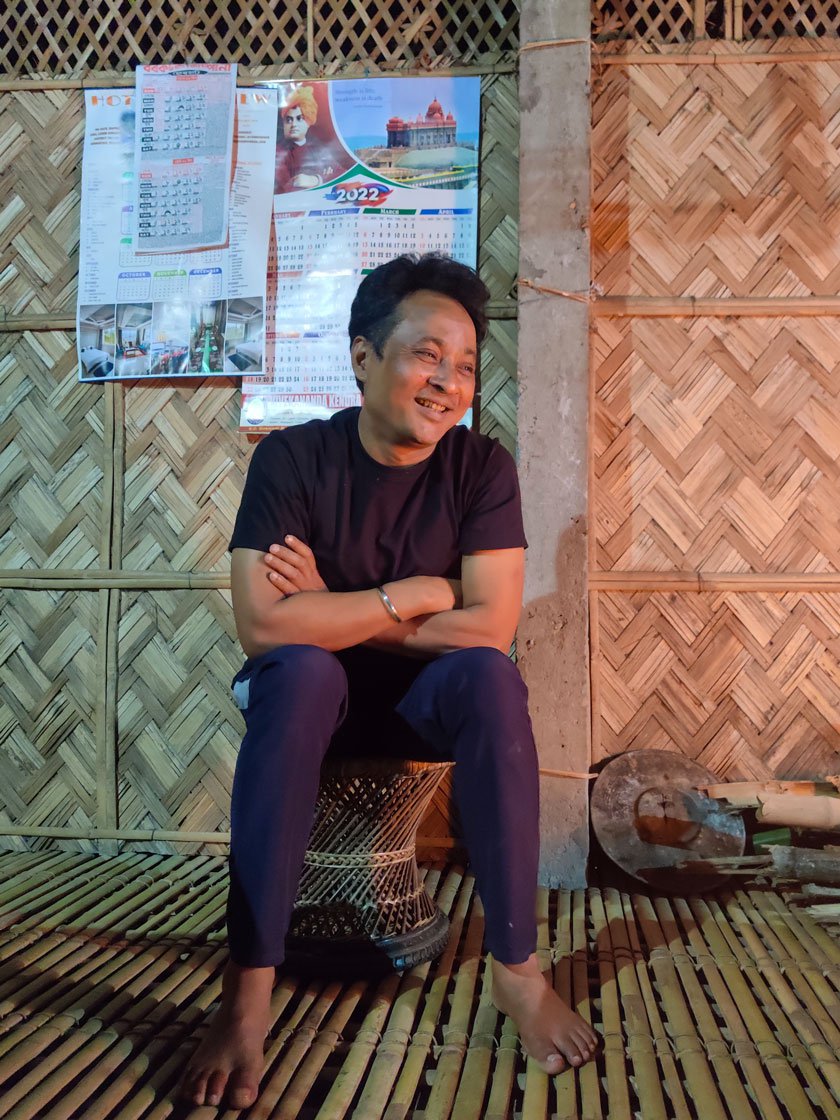 PHOTO • Vishaka George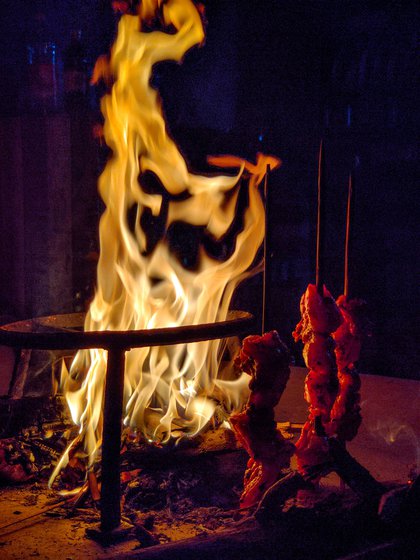 PHOTO • Vishaka George
PHOTO • Vishaka George
Yet, Monjit and Nayanmoni have figured out an arrangement that works for them. Nayanmoni, Monjit says is 'The Boss' at Risong's Kitchen. While he is more involved in taking care of guests at the homestays. As the evening progresses, Monjit moves in and out of the room to look into the guests at the homestays they run.
Making the elaborate thali is hard work. Nayanmoni has been toiling over the stove, woodfire and sink for over two and a half hours. Cooking on the marom is a slower process, but is a visual spectacle as visitors get to watch dishes cooking as the smoke rises in the warm light of a wood fire.
How often does she do this? "Sometimes I make this thali once a month, sometimes not at all." Before covid however, she used to do this more often, she says. She has been doing this for 15 years – since they got married in 2007.

"It was love at first sight for me," says Monjit, staring into the woodfire.

"Okay, maybe it took 30 minutes," he rephrases, giggling.

Nayanmoni, who is cutting fish next to him, laughs and whacks him playfully, "30 minutes it seems!" she says, exasperated.

"She's right," says Monjit and this time with conviction adds, "Two days was all it took. After that, we would meet secretly near the river and spend time together. Those were the good old days." The couple first met 20 years ago. Today, they have a teenage daughter, Bubbly, and a toddler, Barbie.

The last dish Nayanmoni is cooking is eel, a delicacy in this part of the country. "We usually cook the eel in raw bamboo because it tastes great that way. Today we didn't have raw bamboo so we steamed it in a banana leaf."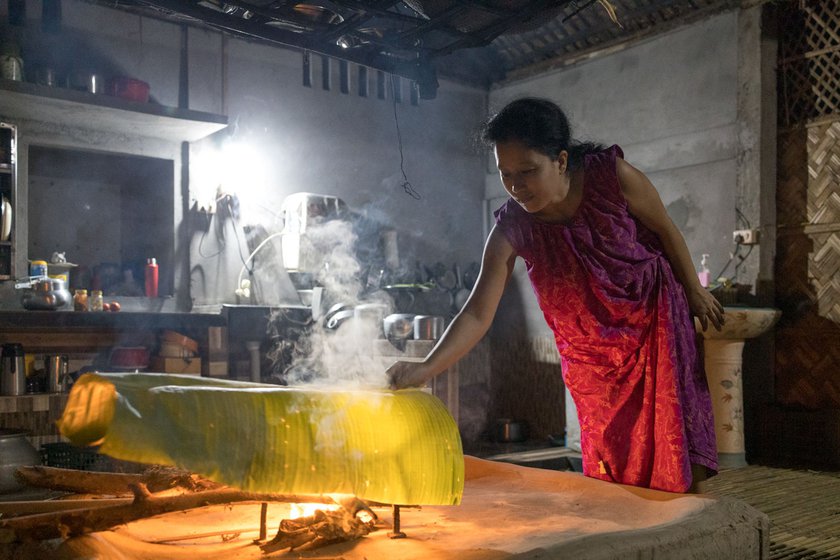 PHOTO • Riya Behl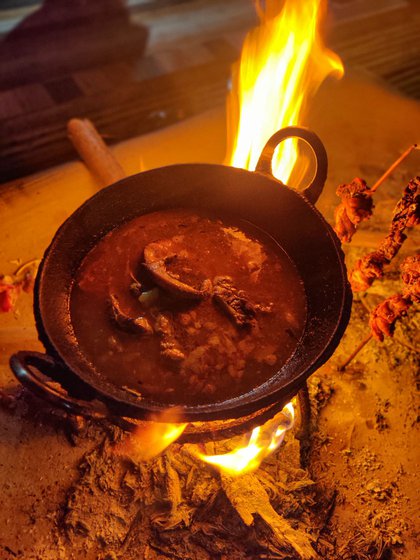 PHOTO • Vishaka George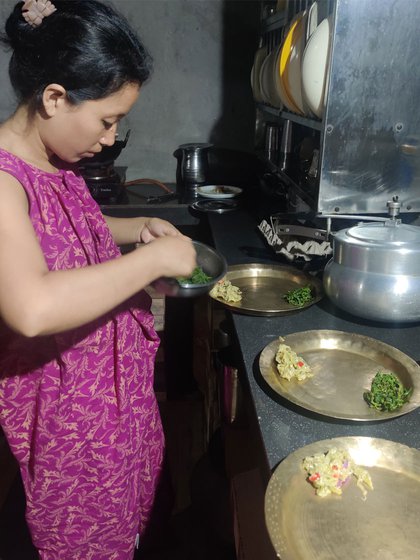 PHOTO • Vishaka George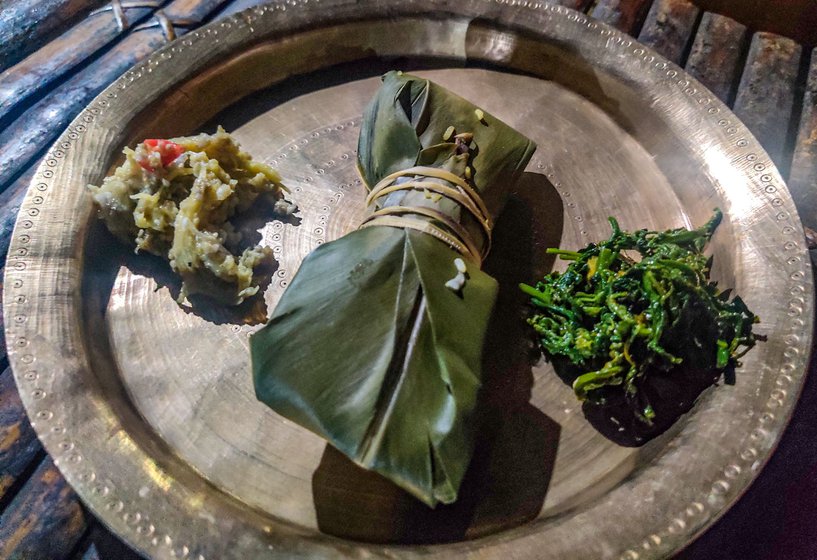 PHOTO • Vishaka George
How did she learn? " Monjit ki ma, Dipti, ne mujhe sikhaya [Monjit's mother taught me how to cook]," she says. Dipti Risong is away, visiting her daughter in a neighbouring village.

Finally the most awaited moment arrives and everyone picks up their bamboo ottomans and moves to the long bamboo dining table at the corner of the kitchen.

On the menu is ghetiya , a sweet and sour fish and potato curry, steamed eel in banana leaves, stir fried greens, smoked chicken skewers called kukura khorika , eggplant or bengena bhaja and steamed rice wrapped in banana leaves called purang apin . Tangy curries, delicately smoked meat and a flavoursome rice make this meal delectable.

Each thali sells for Rs. 500.

"It's very difficult making this kind of thali ," a tired Nayanmoni acknowledges and then says, "In a few days I have to cook for 35 people coming for lunch."

After a hard day's work, she dreams of going to Jorhat, a big city across the river that is accessible by a daily ferry. She hasn't been there in three years owing to the pandemic. "In Jorhat I can enjoy a little shopping and eating out at a restaurant, where someone else does the cooking," she says smiling.