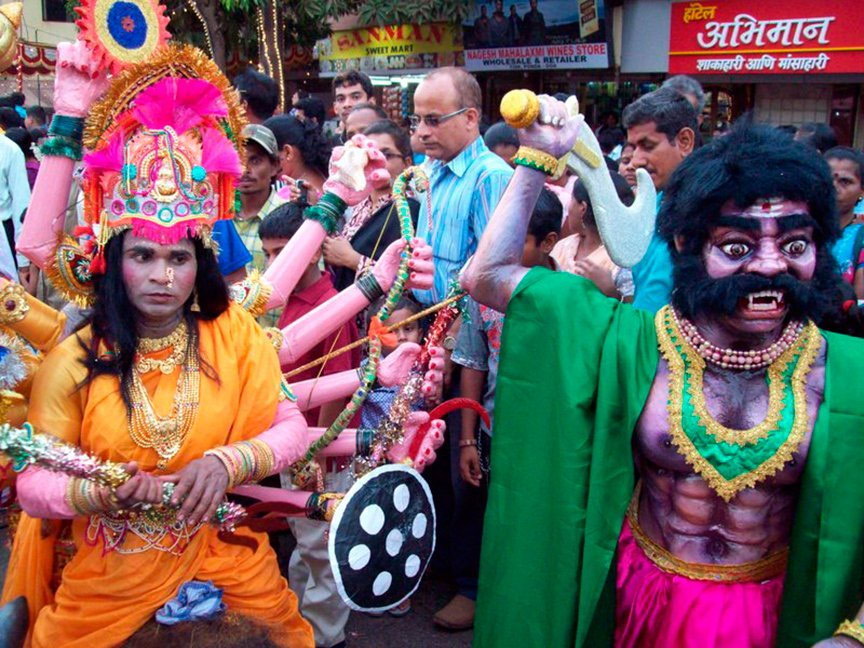 Mythology characters replete with masks are big in the Shigmo festival, attracting much audience

Goa has vindicated my long-held practice of not wearing a watch. Nothing necessarily starts on time. Buses don't run to timetables. And just as well, you don't lose or miss much. So after one such ambling 30-km ride from Panjim to Ponda, standing in a crowded state bus, falling asleep clutching a railing, the one-and-a-half hours served well. The extra energy helped traverse the vibrant Shigmo festival that kick-started – well past its designated time – in Ponda.
Shigmotsav is the Hindu equivalent of the cultural reminiscent of the state's 450-year-long Portuguese rule – the carnival. It's a traditional folk festival, also called the 'Hindu Carnival', which coincides with Holi in north India and is celebrated over a fortnight. Its significance lies in the marking the end of winter/harvest season and embracing spring. While Shigmo essentially is a village festival, over the last 30 years, the state government has sponsored floats and competitions for it to gain larger tourist tract in cities like Panjim and Vasco, where popular songs score over traditional music. But it still hasn't received as much patronage as the carnival has. Locals say it's because the carnival, with its distinctive westernised flavour, has been largely promoted to the foreign tourists in Goa. But that doesn't seem to bother them: Shigmo resonates with a deep personal celebration of an important event in their lives that takes place every year. Simply, it's a cultural context of their livelihoods. And that has perhaps boded well. Compared to the carnival, Shigmo's parades and its components – costumes, agricultural tools, musical instruments and dances apart from the floats – have largely remained indigenous, without commercial sponsors. It has thus retained a strongly-rooted village identity, an expression of unfettered celebration, free from external diktat. Also, unlike the carnival, where women become the face of beer brands, fast food and pop dances, it's only the men who participate in Shigmo.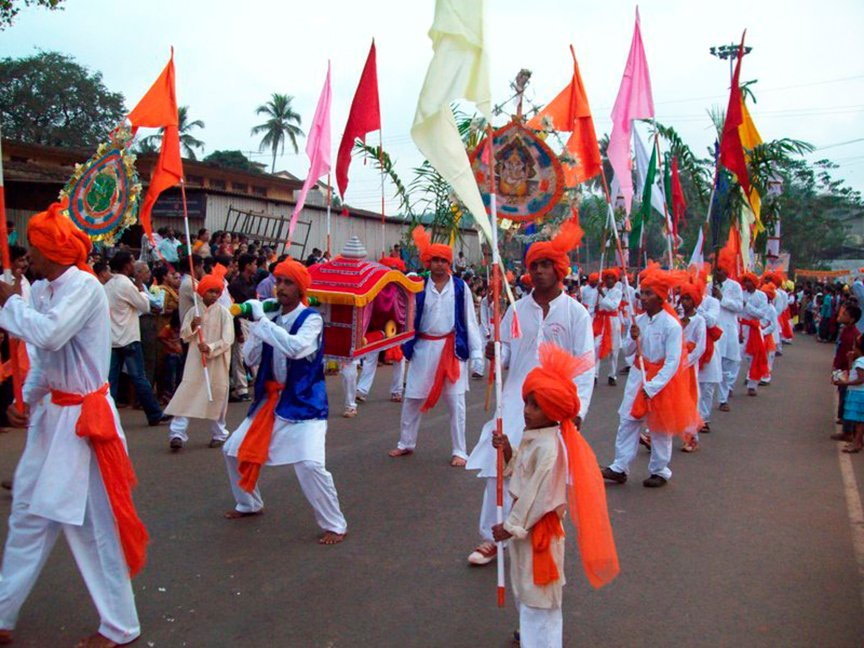 Men of all ages take part. Every performing group is judged on the basis of how they hold their sticks and march to the beats

Interestingly, at the Ponda Shigmo this year, the only 'glam' representation was in the form of a Kareena Kapoor a la Tashan, complete with a short red dress and a blonde wig. It was a middle-aged man.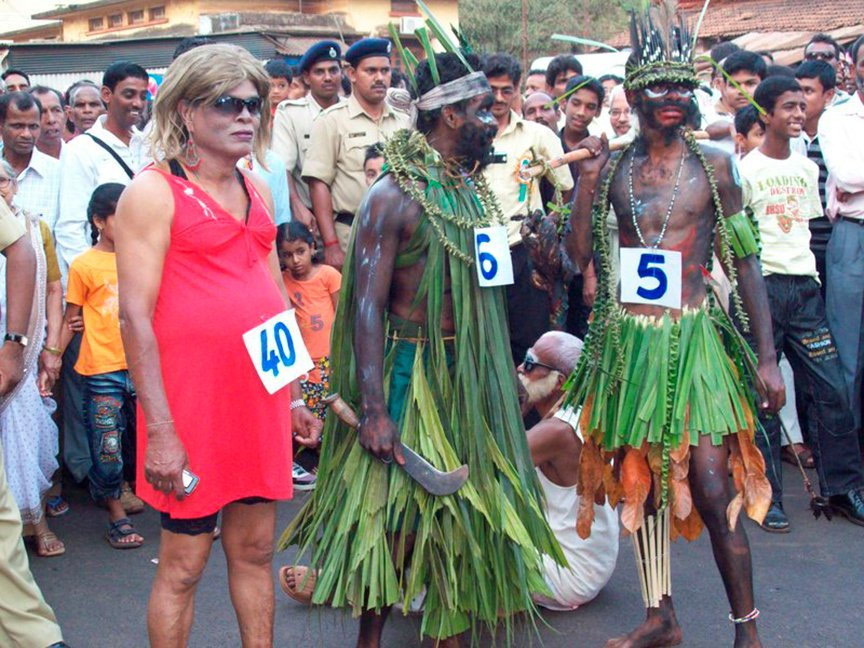 Even a token Kareena Kapoor, a la her film, Tashan. The other two represent the adivasi life in the forests

Roll the drums
Ponda, the village in Goa known for its dozen temples and spice plantations, is markedly busy today. The street corner down Almeida School sees a bright bustle of activity – village folk are busy getting dressed for the parade dances and fancy dress competition. Crisp white kurta pyjamas are being changed into, robust orange turbans are getting nimbly tied onto heads, young and old while colourful flags flap about breezily in the promising evening air.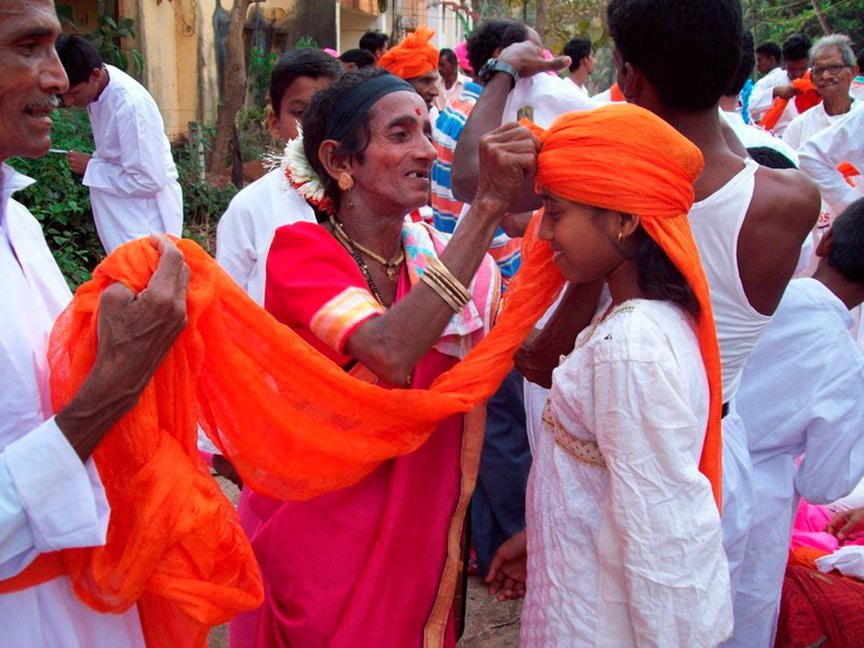 A man dressed as a woman tying a turban on a young boy's head. Goa's Hindu carnival Shigmo is a men's only festival

The festival begins with a naman or invocation to folk deities (here it's Shiva) at the sacred square or stage in the village called the maand. This is followed by beating of indigenous instruments like dhol (drums), tashe (cymbals), ghumat (earthen pot covered with monitor lizard skin used as percussion). The police instruct the front row of onlookers to hold hands. A man dressed as an asval, Konkani for bear, dances his way through the crowd, followed by two adivasis in their leafy and war-paint get-up. They interact with the audience, who are busy capturing them on their mobile cameras. Besides the common mythological characters from Ramayana and Mahabharata, a token Donald Duck, Sai Baba, a beggar with make-up wounds, bandages and paralytic quivers in place strut their stuff.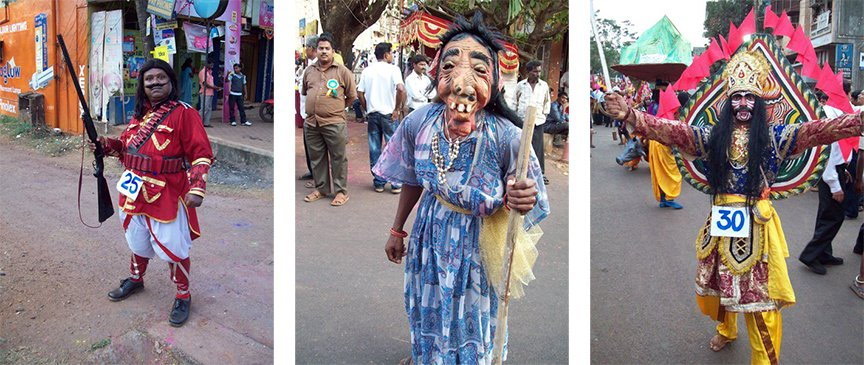 Men turn up in all sorts of costumes for Shigmo. Here, inspired by the forces...(L), ... or horror films! (M), Shigmo, which is different from the more popular carnival, is a celebration of the locals' cultural contexts in Goa (R)

Historian Prajal Sakhardande says Shigmo is essentially folk people's festival, in which "the higher castes don't participate." It takes place every year in Goa in February/March based on the lunar Hindu calendar.
It's about to be sunset, and a faint roll of drum beats is heard from the other end of the street. The celebratory dances put up by different communities called romtamel begin. The dhangar community of shepherds in their black-white and green costumes pass by. Besides costumes, every performing group is judged on the basis of how they hold their sticks and march to the beats. There is the mushal (old wheat kneaders) group, and the ghodemodini (horse warrior dance signifying war victory) in their cheery colours.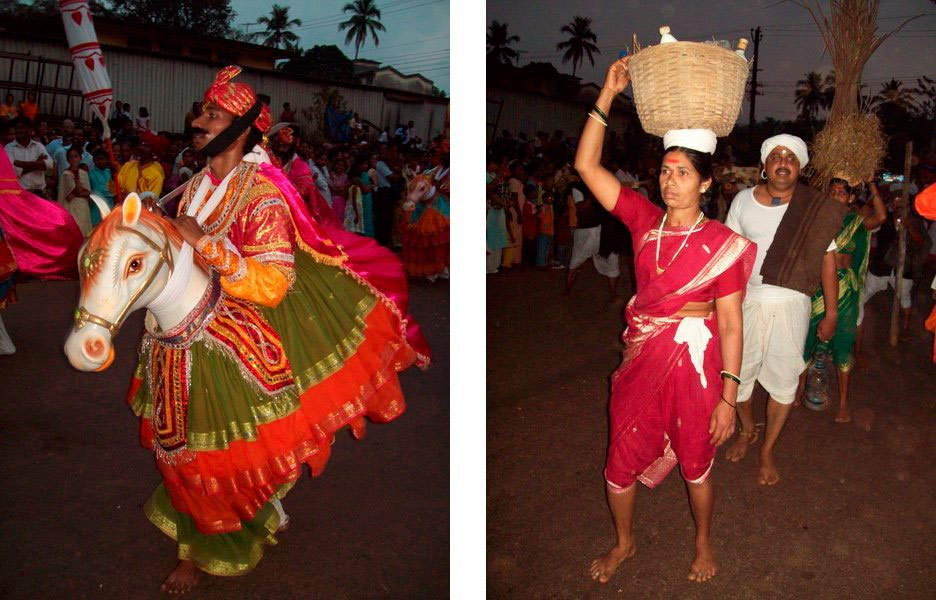 Ghodemodini is a horse warrior dance signifying war victory. (L), Locals dress up as farmers to showcase the rural life in Goa (R)

All must perform one after the other, without missing a beat. Keeping pace with them are the volunteers who serve them weak Tang or swiftly toss bottles of water. As each group moves on, a trail of white plastic is left on the road. The restaurants do brisk business as the onlookers troop in for crisp bhaji-paos (Goan street-snack), and glasses of thick milky tea. The entire parade moves on the village ground, where gigantic floats depicting agricultural life, popular scenes and characters from mythology have been put up.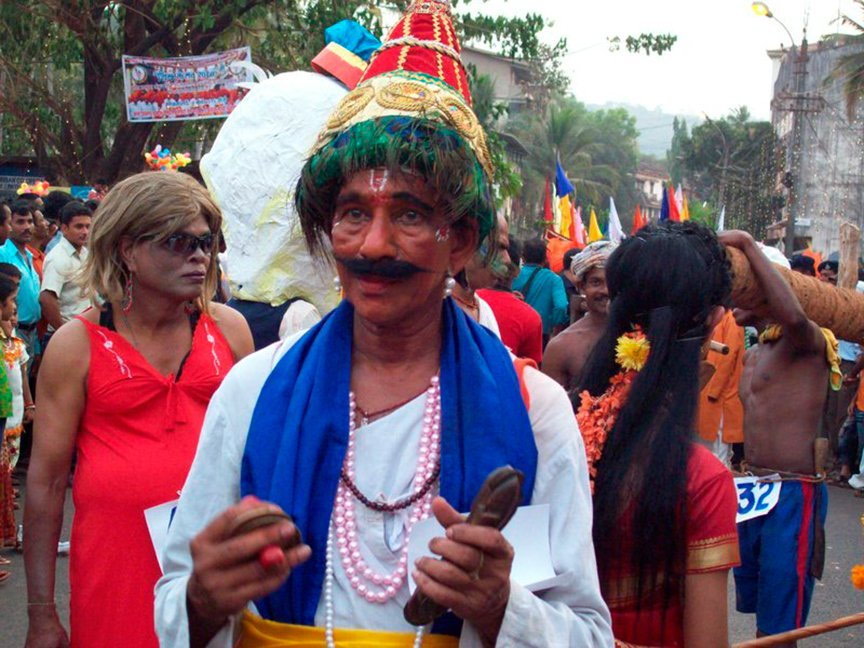 Dramatic, garish make-up and indigenous moustaches are part of the get-up

The celebrations continue well until midnight as prizes are given for the best floats and costumes. While traditionally Shigmo was about parade dances and music, with their individual significance, floats along the lines of the carnival have been introduced by the state for "tourist consumption", says Sakhardande. "The demand came for Hindu cultural floats to be celebrated in cities."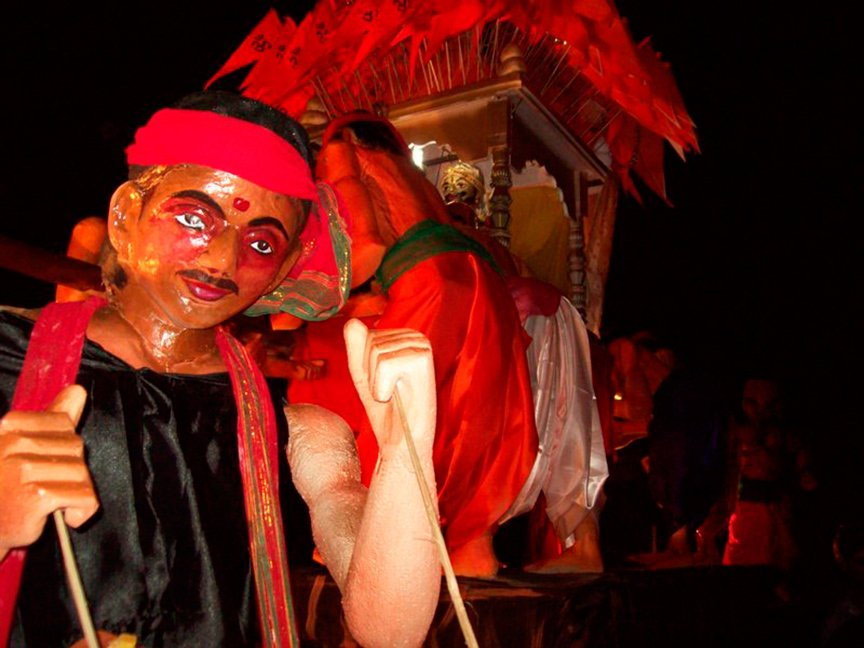 Indigenous painted statues complement the performances and floats

Tomorrow the action will move to Bicholim in north Goa.
Spring is in the air. And it rides on the colourful celebrations of Shigmo to every pocket of this state.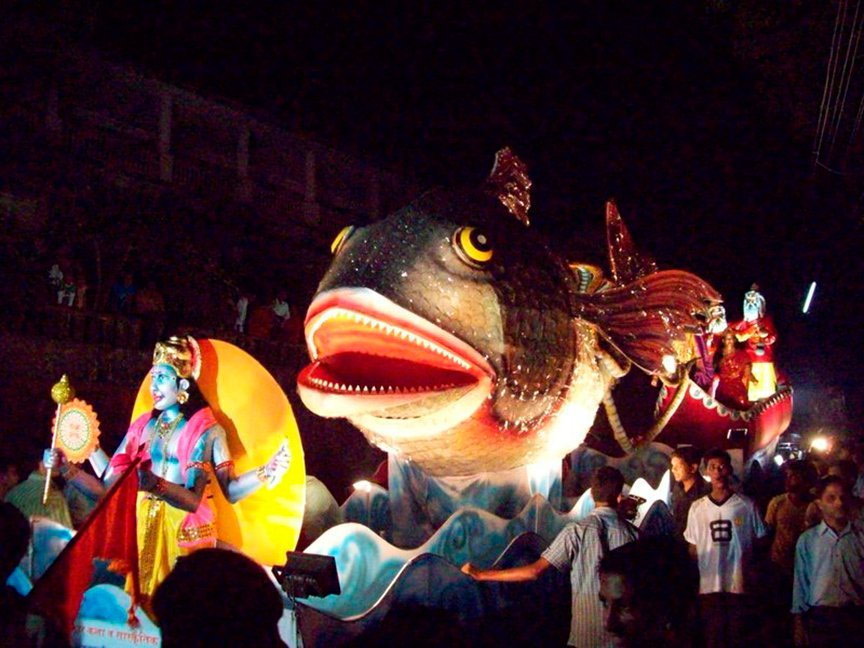 Shigmo celebrations continue way past sunset, with brightly-lit floats depicting gods and goddesses making their way through the village

This article was done under the aegis of CSE fellowships and an edited version appeared in the Hindustan Times in March 2010.