You'd think it was the turnout for Sachin Tendulkar's final test. Anyone might — seeing close to two lakh people showing up five hours before start of play, despite a nagging drizzle. But this is "below normal" for Kundal town, which hosts a prime event in Maharashtra's greatest spectator sport every year. And it ain't cricket — it's wrestling. Few sports are more deeply embedded in the State's rural economy, especially in farming in western Maharashtra. So much so that last year's water crisis saw even the Kundal event called off.
"Imagine organising water for three lakh people during the drought," says an event organiser.
Kushti is located at the intersection of sports, politics, culture and economy in the rural regions of this State. Wrestling exists in urban areas, but the wrestlers are from the villages. And mostly from poor farming families, as The Hindu's visit to many academies across the region found.
Setback
Maharashtra's ongoing agrarian crisis has hurt the sport for some years now. Last year's drought, and the water crisis early this year, made it worse. "The sookha devastated us," says Appasaheb Kadam, one of the sport's greats in this State, at the taleem or wrestling academy he runs in Kolhapur town. "Most local tournaments were cancelled." In the rest, prize money shrank. "Many students dropped out, hurting their families' investment in them." And this season, excessive rains may have triggered a similar process.
A tractor can be the first prize at smaller tournaments here. Sure, a private company can put up a purse, say Balasaheb Lad and Aruna Lad, organisers of the Kundal mega-event in Sangli district. "But Rs.15 lakh out of every Rs.25 lakh comes from the ordinary shetkari (farmer). If they're doing badly, wrestlingdoes badly."
Ticket to a better life
Kushti is a route out of poverty, a striving for status, for the rural poor. "Nearly 90 per cent of them are from poor farming families," says Kadam in Kolhapur. "The rest are the children of landless labourers, carpenters, and so on. None are from the educated classes. Wrestling is also a passion. Barely five per cent of pehelwans make it to higher levels."
That passion shows in the scores of very young boys sharing two or three small rooms in his taleem, cooking their own meals in groups. Many go running at 4 a.m., before training in the taleem commences at 5 a.m. and goes on till 8.30 a.m. The younger ones attend school between 10 a.m. and 5 p.m. Training resumes half an hour later, and lasts till 8.30 p.m. Extreme discipline is a given. "Budding cricketers train maybe four months in a year. Ten years of training isn't enough in wrestling."
At the taleems, farmers and labourers plead with the gurus to train their sons as pehelwans. It's barely 6 a.m., and 83-year-old Ganpatrao Andhalkar is busy teaching eight-year-olds, among others, at his academy in Kolhapur. The former Asiad gold medallist and Olympian keeps a watchful eye on the practice bouts of older students, while explaining the craft to the young ones. Occasionally, he bellows an instruction or reprimand to wrestlers. Often, he gets off his perch with the youngest and stands right over the fighters, pointing out moves and faults."
Wrestling is deeply rooted in the farm economy. But today that economy is fragile," says Andhalkar. "The fees at the taleems are nominal — Rs.100-200 monthly, perhaps." Andhalkar himself pulls in more from being a "chief guest" at functions across the State, than he earns from fees. The poorest students, he charges nothing. "Yet they've still got to bear huge diet expenses themselves."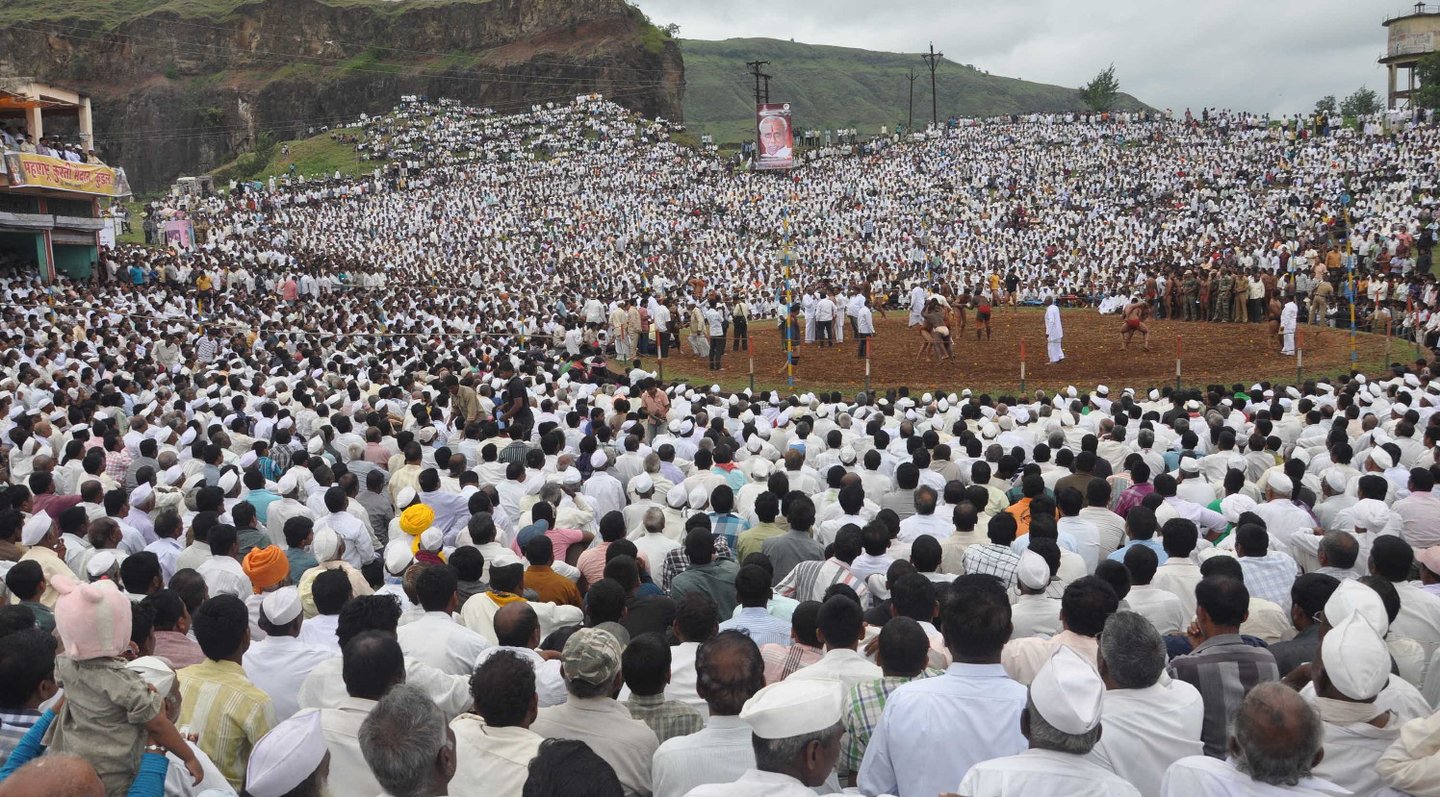 PHOTO • P. Sainath
Scant government support
Despite the many champions they've produced — and despite top political leaders heading their federations — the gurus of kushti have received little support from government. It's a complaint across western Maharashtra that Punjab and Haryana treat their wrestlers a lot better.

Their diet costs a lot, says the colourful Kaka Pawar — former Asiad, Commonwealth and national medallist — at his taleem in Pune. The older boys need 400 grams of badams, four litres of pure milk, 500 gm of ghee, several eggs, fruit and vegetables every day. Apart from mutton three times a week. "It works out to Rs.700 a day, maybe Rs.500 for the younger ones."
That's a heavy investment for a poor farm family, "but sometimes the village community helps out." In a couple of years, the younger ones might earn Rs.2,000 a bout, the older ones Rs.5,000. This rises as thepehelwan improves. Lakhs gather at the jatras (fairs or festivals) where many bouts are held. Sometimes, audiences too contribute a purse to budding wrestlers. And there are a few tournaments where the best can earn between Rs.20,000 and Rs.50,000, says Appasaheb Kadam.
With many tournaments cancelled earlier this year, young champions like Sachin Jamdar and Yogesh Bombale lost out badly on fees. And, in the case of the talented Santosh Sutar, saw him "drop out from the taleem in Kolhapur. I had to return here to Atpadi in Sangli district where my family is."
Wrestling on mats is transforming the sport. "Indian wrestlers are born of mitti, not mats," says the legendary Andhalkar. Preparing the mitti (mud-clay) for wrestling, in hundreds of villages, is a complex job involving lots of labour. Mixed into it are amounts of curd, limewater, ghee and haldi. The last for curative purposes as wrestlers often suffer injuries. (In a few cases, small amounts of minced meat go into the mitti mix.)
Parallel with hockey
The standard-size mat measuring 40 feet by 40 feet costs around Rs.7 lakh. This is far beyond the reach of tiny village taleems that cannot afford even smaller sizes. If everyone switched to mats, most local tournaments might fold, argue traditionalists. Some predict it would "do to Indian wrestling what astro-turf has done to Indian hockey. Local communities could not afford it and India and Pakistan lost their dominance over that sport." Mat wrestling makes for speed and bouts are over in a couple of minutes. A bout on mitti can go on for 25 minutes. "The difference is dramatic, cultural, economic and as a sport," says Andhalkar.
Meanwhile, in Atpadi, where all wrestling events were cancelled last season, teacher Namdeo Srirang Badare is pessimistic. "The perpetual water-crisis sees more people quitting agriculture every season. If agriculture dies, wrestling also dies."
This story originally appeared in The Hindu on October 30, 2013.