For the first time in four decades, Kilari Nageswara Rao stopped growing tobacco on his farm in 2017. He had suffered losses of Rs. 15 lakhs in three years on the crop and could no longer sustain the burden.
The price offered for his produce was low, the cost of growing the tobacco was increasing. Nageswara Rao, 60, estimates that half of the 2,400 acres of agricultural land in his village, Muga Chinthala, in Podili mandal of Prakasam district, is now lying empty. Farmers are not cultivating tobacco, he says, because "it is only bringing us losses."
Across Andhra Pradesh, tobacco cultivation has shrunk from 3.3 lakh acres in 2015-16 to 2.24 lakh acres in 2016-17. In the same period, tobacco production in the state fell from 167 million kilos to 110 million kilos, according to a Tobacco Board official. This is well below the board's annual target of 130 million kilos. The board, set up by the Ministry of Commerce and Industry in the 1970s, is headquartered in Guntur; its role includes market mediation between farmers and tobacco companies.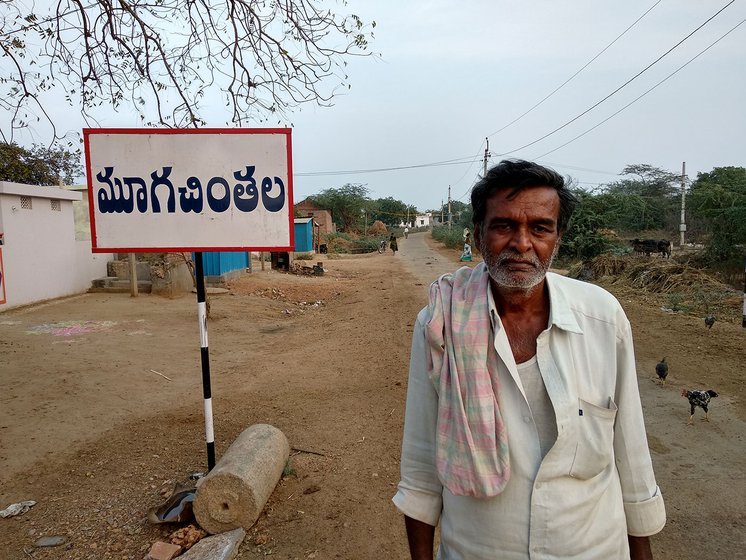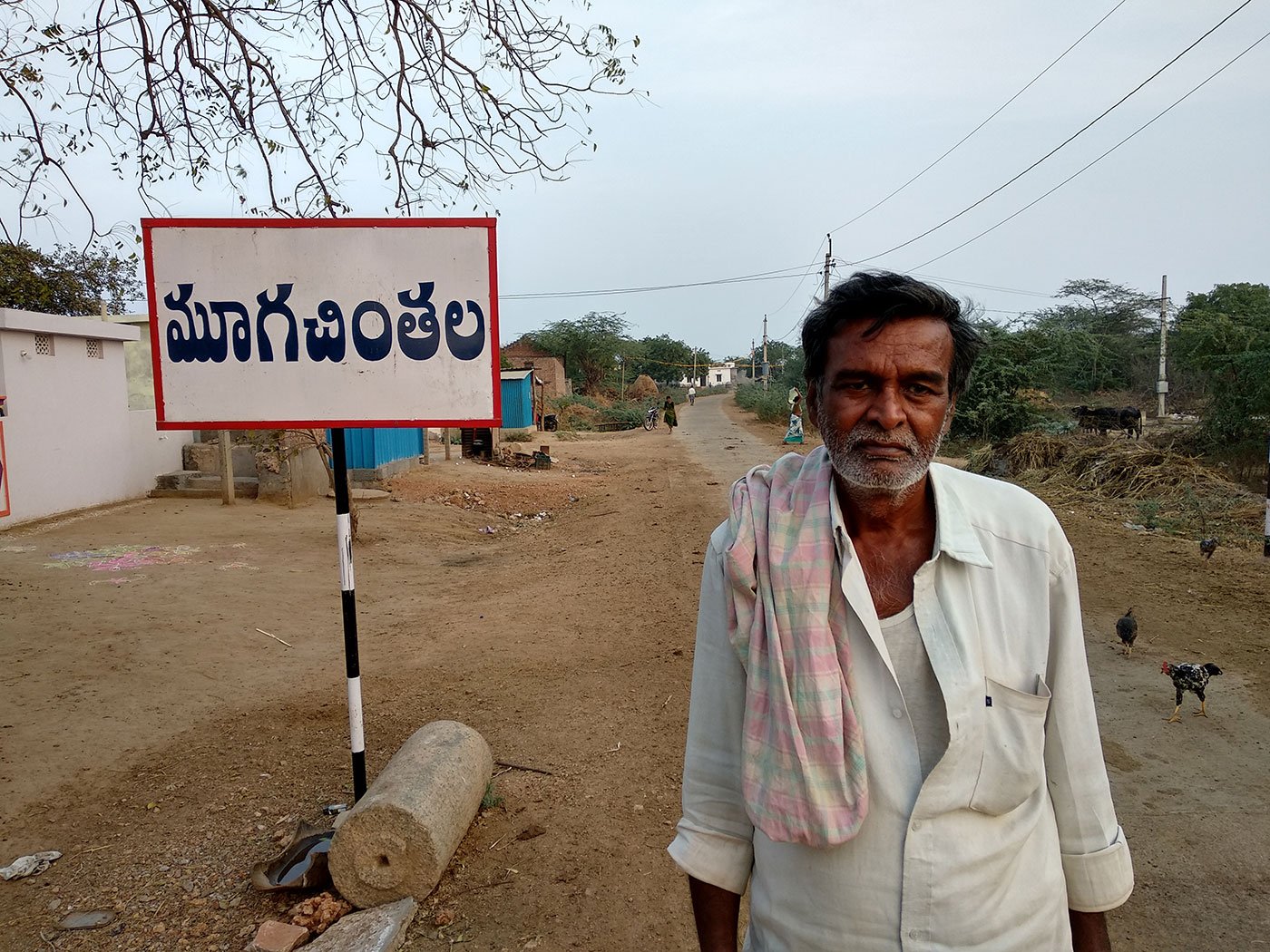 PHOTO • Rahul Maganti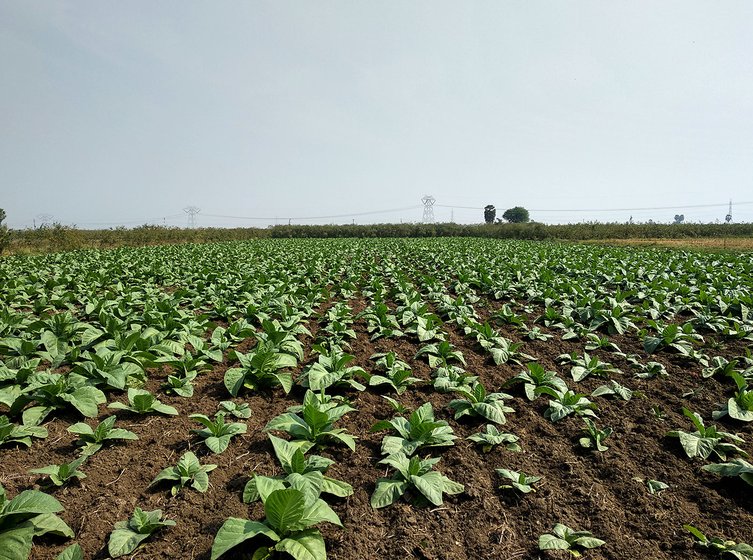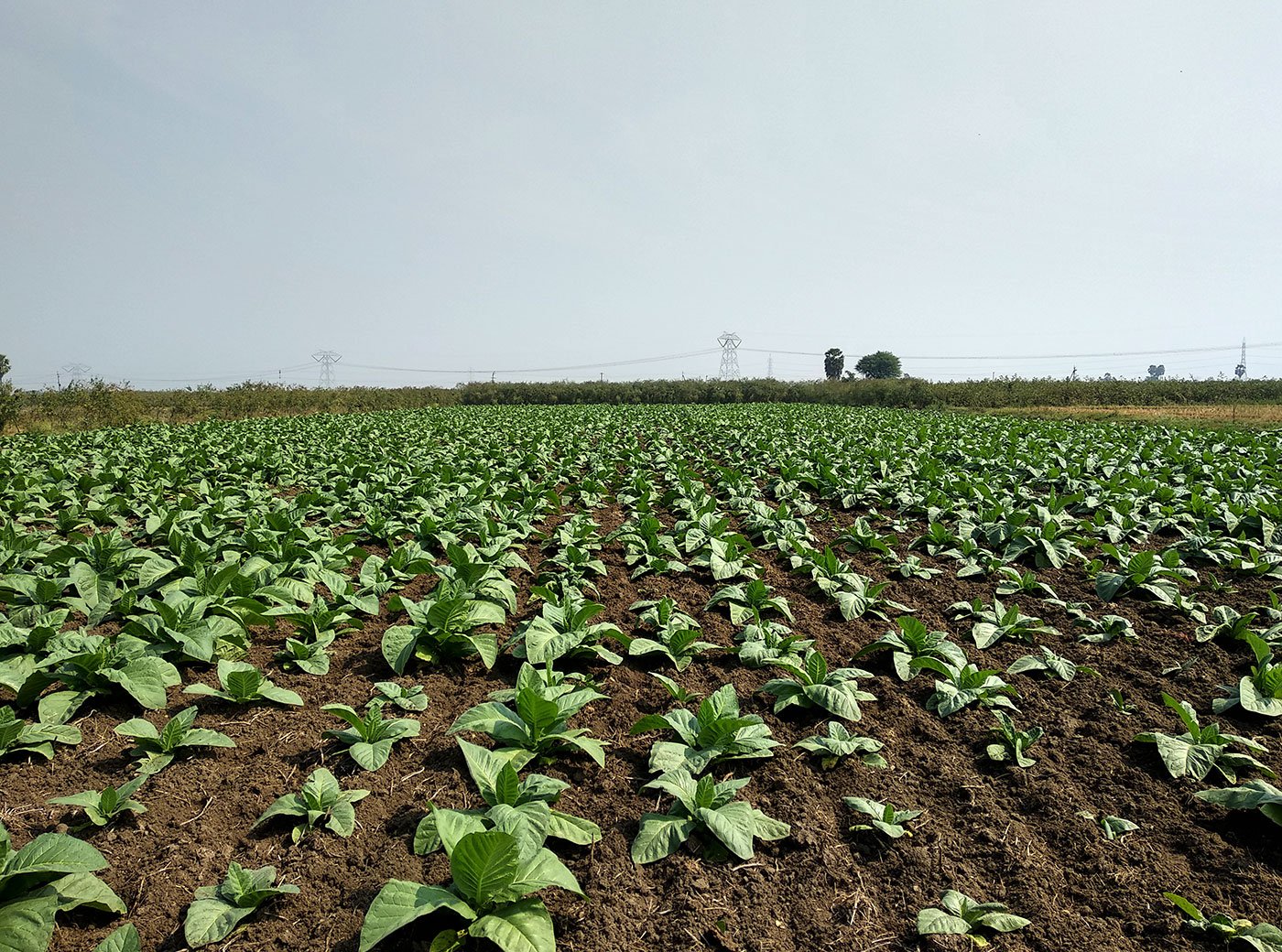 PHOTO • Rahul Maganti
A combination of factors is compelling farmers to abandon tobacco. One of these is decreasing rainfall in an already dry region. From an average of 808 mm per year, the actual rainfall in Prakasam since June 2017 has dropped to around 560 mm (state government data). The rainfall here is now even less than the usually drier Anantapur's roughly 580 mm last year, and much lower than the 880 mm average of Andhra Pradesh as a whole.
For long – for over a century, farm leaders estimate – tobacco has been an important crop in Prakasam because it requires relatively less water to cultivate.  But now the reduced rainfall has further depleted groundwater levels, which were already falling due to the excessive use of borewells.
In May 2017, a few months before tobacco sowing began in August, the groundwater in Prakasam district was at a depth of 23 metres, as against 14.79 metres in the rest of Andhra Pradesh (according to official figures). The Andhra Pradesh Water, Land and Trees Act, 2002, says that borewells cannot be dug where the groundwater is below 20 metres. So last year, to try and conserve groundwater, the digging of borewells was reportedly banned in 126 of the 1093 villages in the district.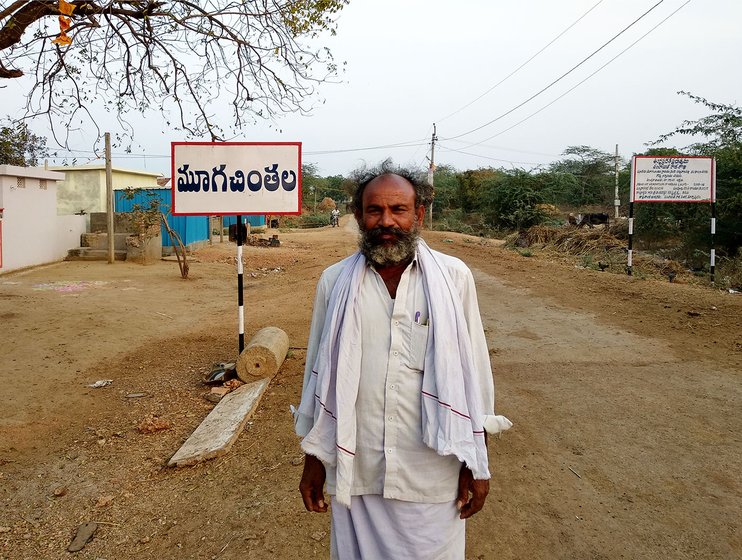 PHOTO • Rahul Maganti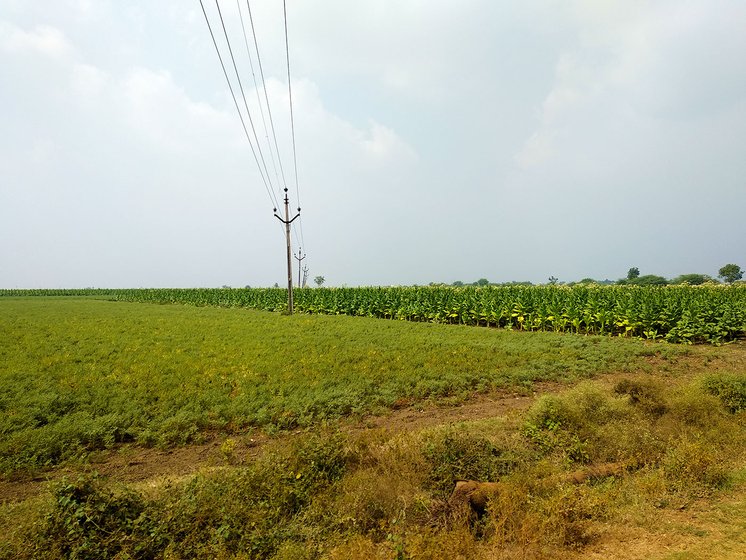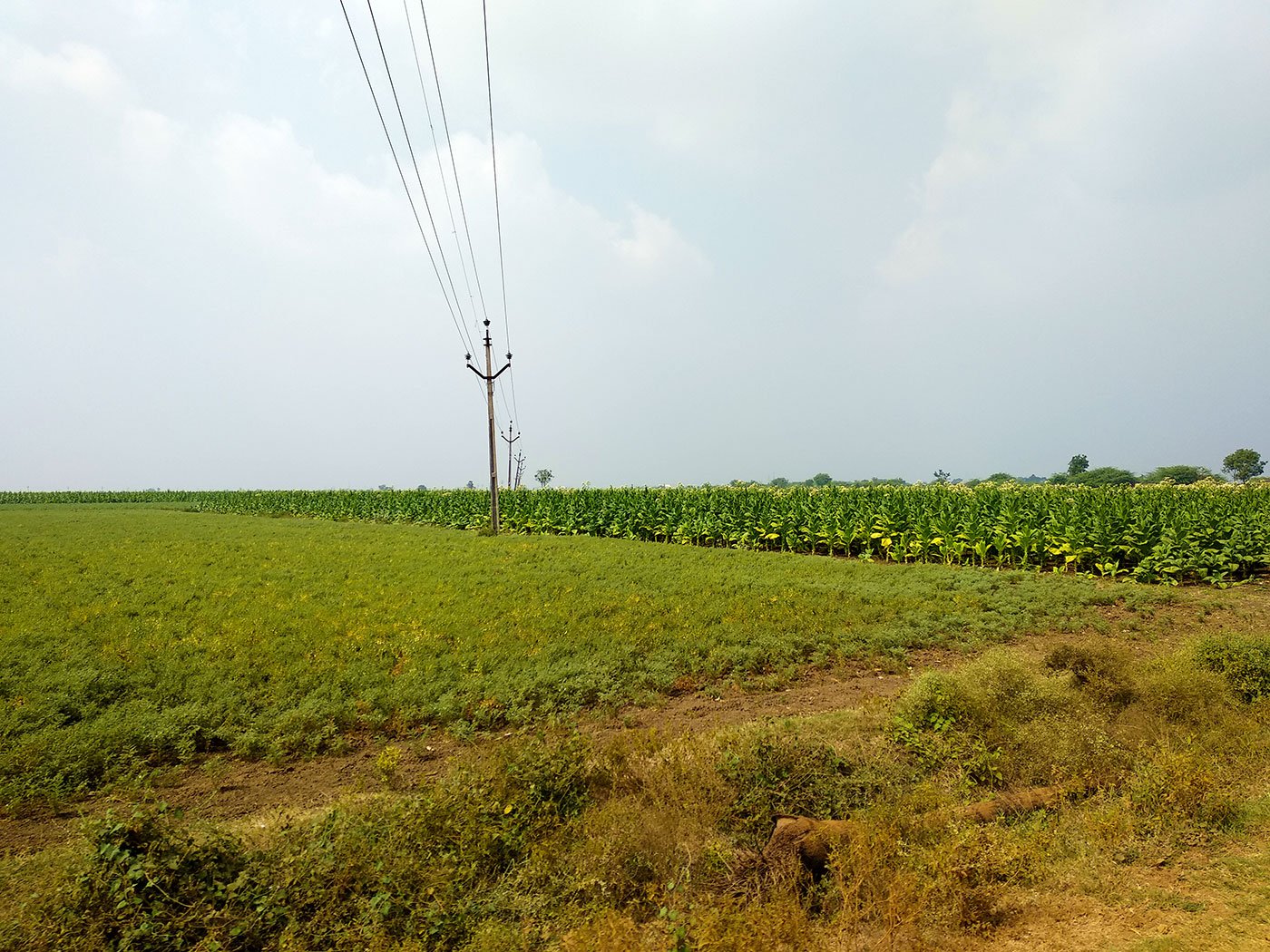 PHOTO • Rahul Maganti
"I dug 11 bore wells [from 2011 to 2014], each at a cost of [around] 2 lakh rupees, but 10 of them aren't working," says Yenuganti Subba Rao, who cultivates tobacco, maize and bajra on 40 acres of land in Muga Chinthala – 20 of which he owns, and 20 acres are on lease. The losses on these crops over the years have left Subba Rao with a debt of Rs. 23 lakhs even after selling off an acre last year, for which he got a good price of Rs. 15 lakhs because the land is adjacent to the main road.
Irrigation from the Gundlakamma reservoir, which was completed in 2009, also reduced the land under tobacco – when farmers deep in debt began trying to diversify to other crops. Over time, Nageswara Rao too has occasionally experimented with crops like gram, peas and cereals – only to incur losses on them too due to low market prices for the produce. The Veligonda project on the Krishna river, which was started in 2005 along with the reservoir, is still under construction.
Another reason farmers are leaving tobacco cultivation is the poor rates offered by tobacco companies. Vema Kondaiah, a 48-year-old Dalit farmer who grows tobacco on three of his five acres in Muga Chinthala, explains, "It costs us 120 rupees to produce a kilo of tobacco and the cigarette companies pay us just 90-100 rupees. The companies lobby with the tobacco board and fix a very low price."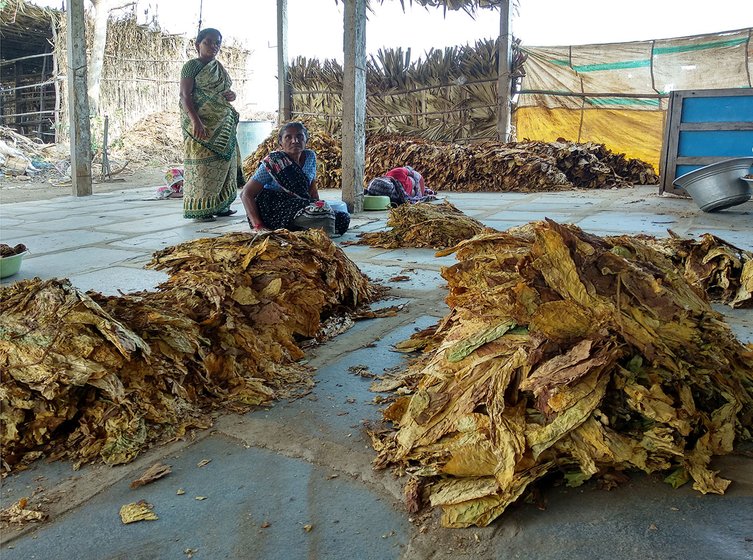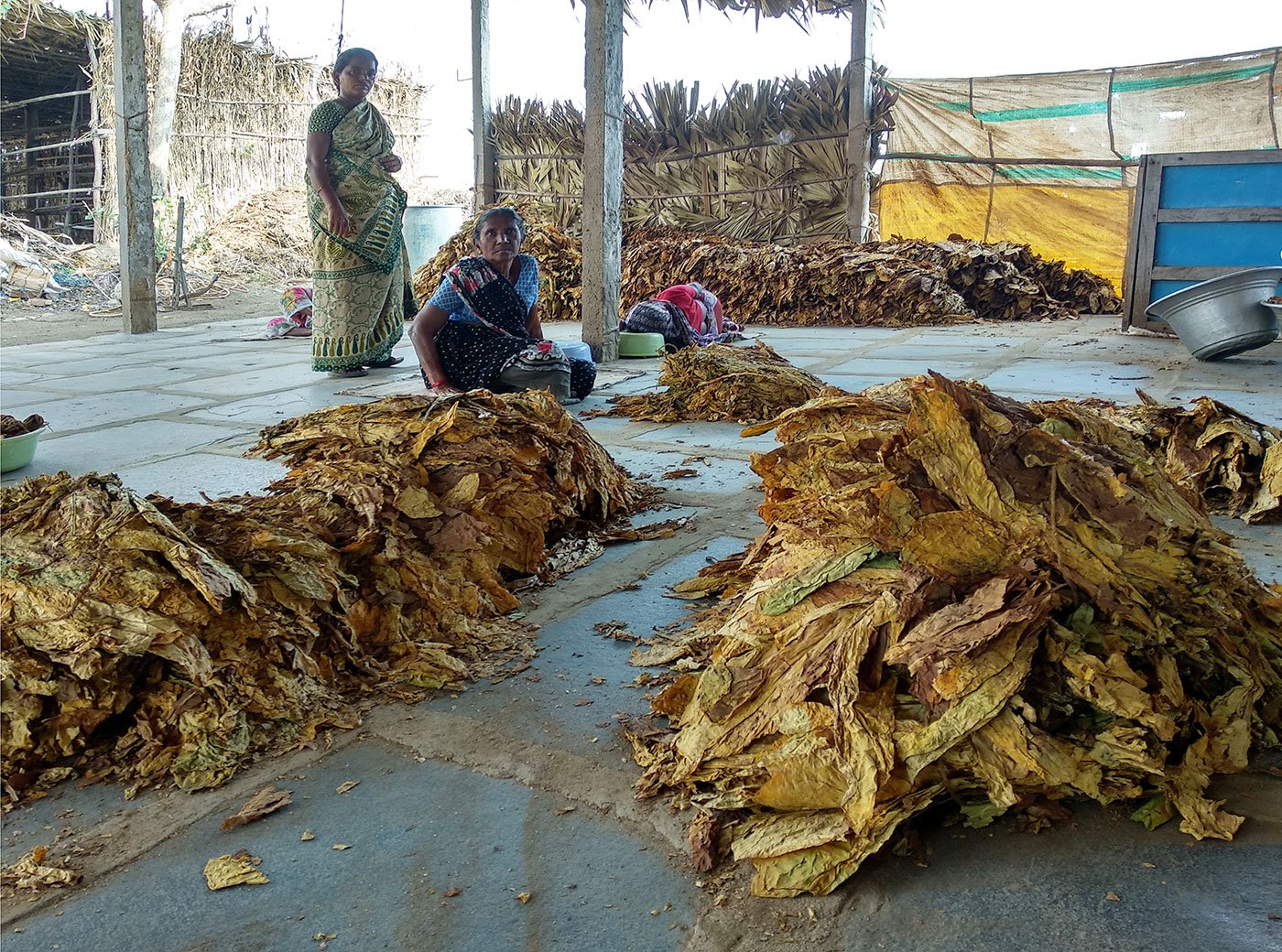 PHOTO • Rahul Maganti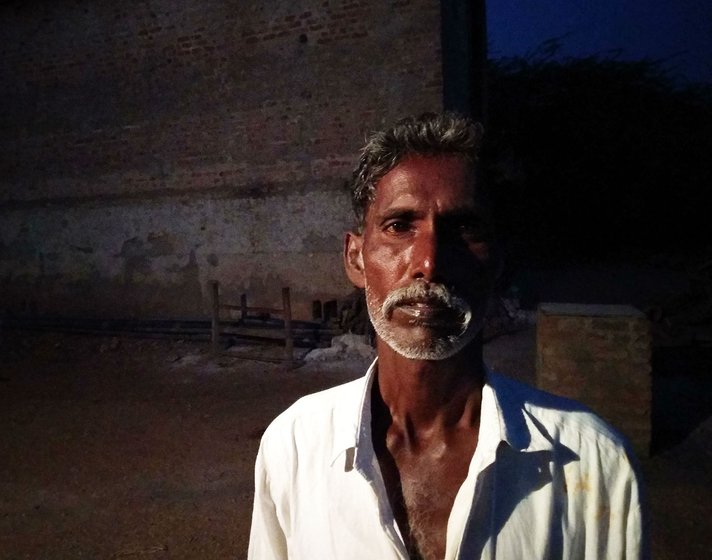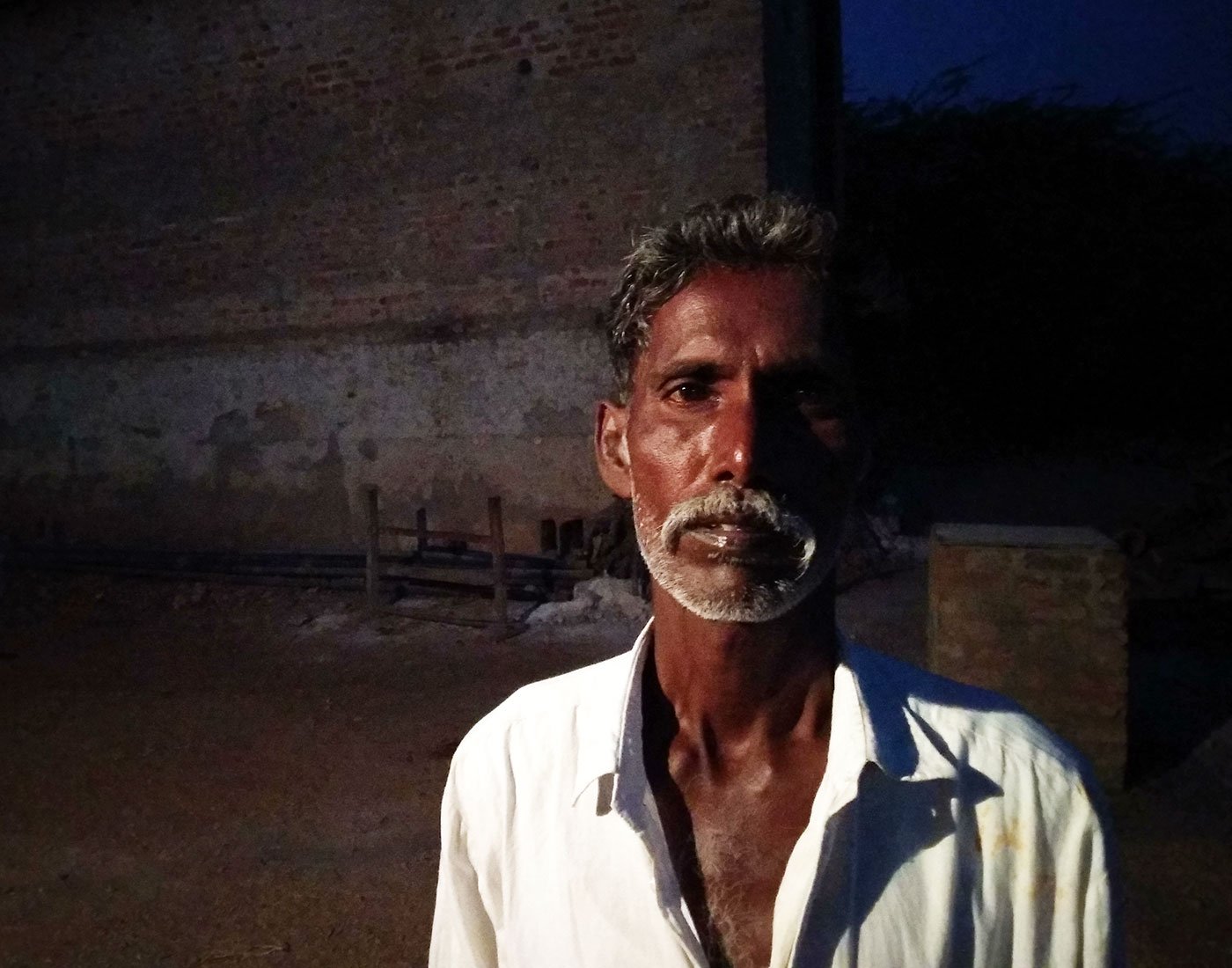 PHOTO • Rahul Maganti
Nagaboina Rangarao, Vijaywada-based leader of the All India Kisan Sabha, says, "The cigarette companies make 1,200-1,400 cigarettes with a kilogram of tobacco. They invest less than Rs. 250 and make Rs. 20,000 per kg of tobacco." The 2017 annual report of the ITC company, for example, speaks of profits in excess of Rs. 10,000 crores.
Yet another reason  tobacco farming is becoming unsustainable is the low yields in Muga Chinthala  and the rest of western Prakasam, due to the region's southern light soils. "Even three quintals of tobacco per acre here is a record," Kondaiah says. The average yield per acre here is 2-2.5 quintals per acre.
In the southern black soils of the eastern Prakasam region, closer to the coast, the productivity is higher – 6 to 7 quintals per acre. But there too, farmers are winding up tobacco because of unsustainable prices.
In T. Agraharam village of Naguluppala Padu mandal in eastern Prakasam, of the 220 barns – the highest  in a single village – only 60 are now functional. Across Andhra Pradesh, 15,000 of the 42,000 barns are not in use anymore, according to a report of the All India Agricultural Workers Union, which did a survey in the village in 2015. Barns are a capital-intensive investment by tobacco farmers, where tobacco is dried and cured before it is sold to traders or cigarette companies.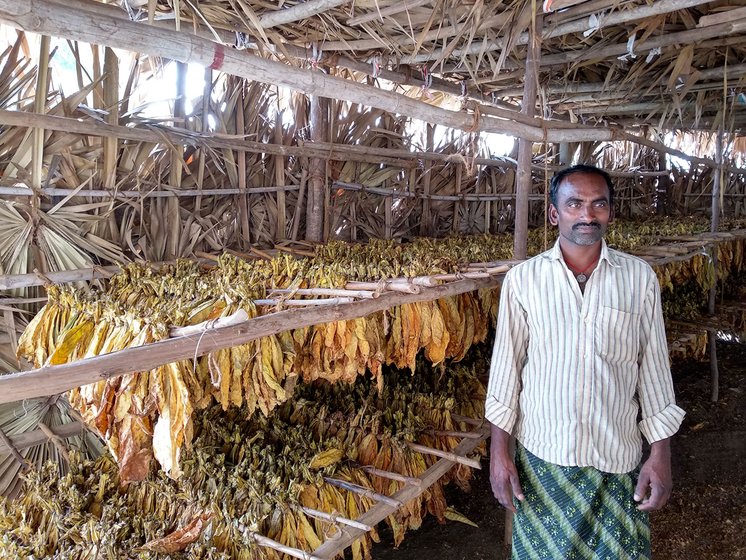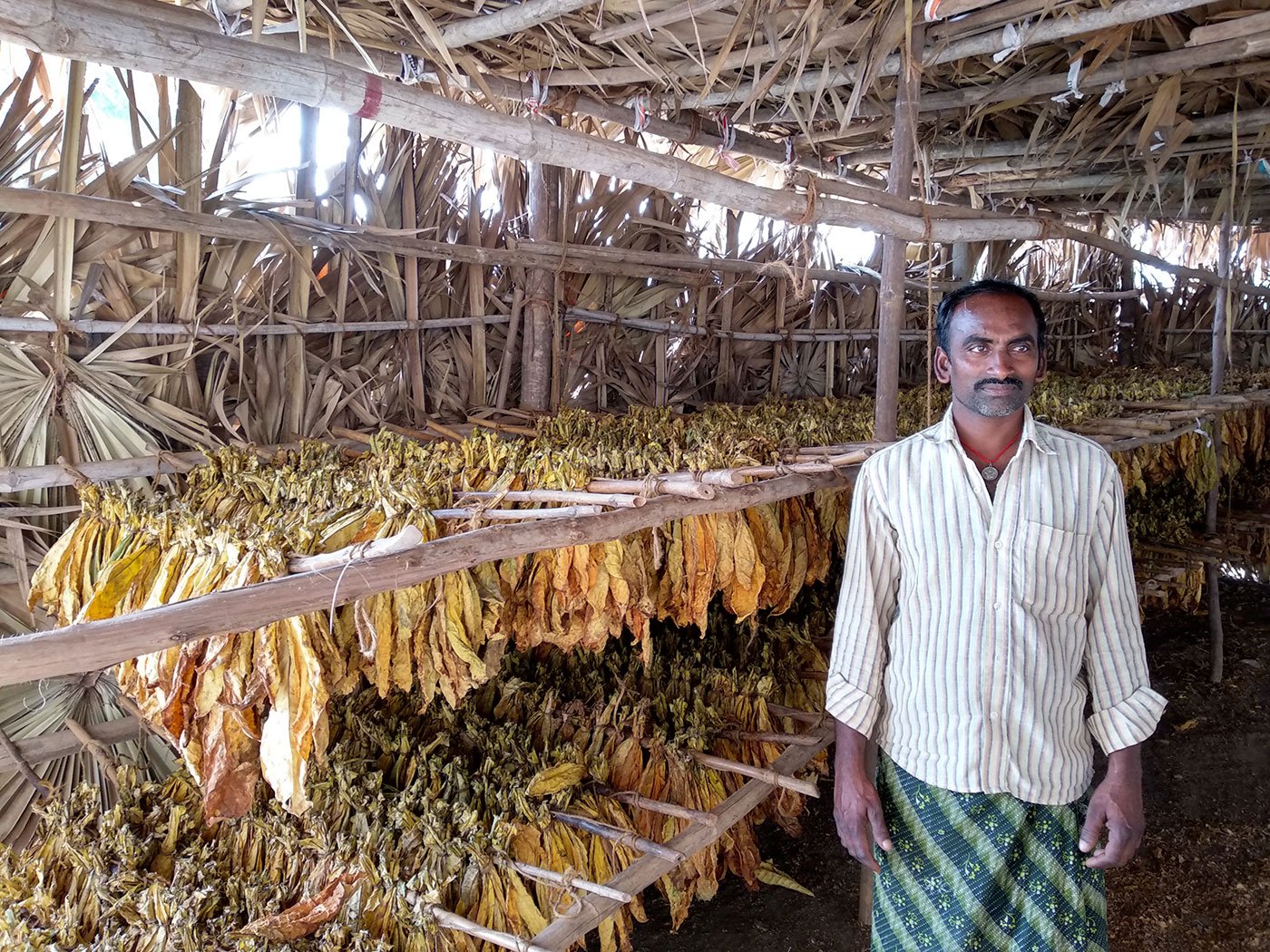 PHOTO • Rahul Maganti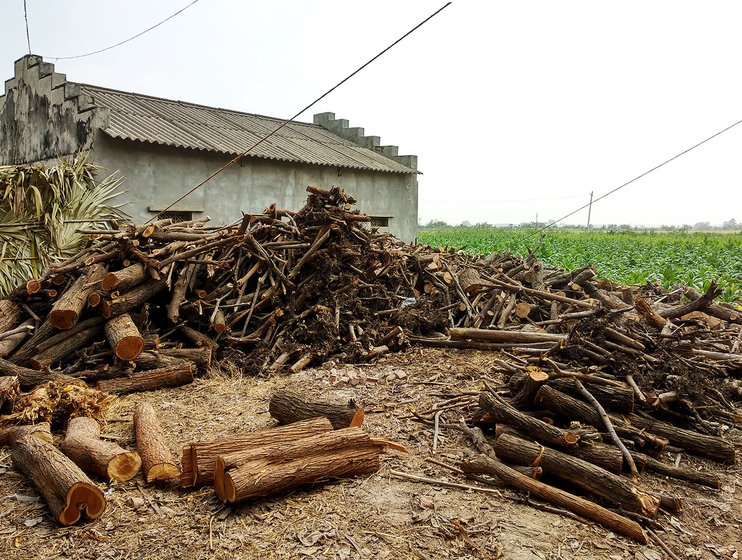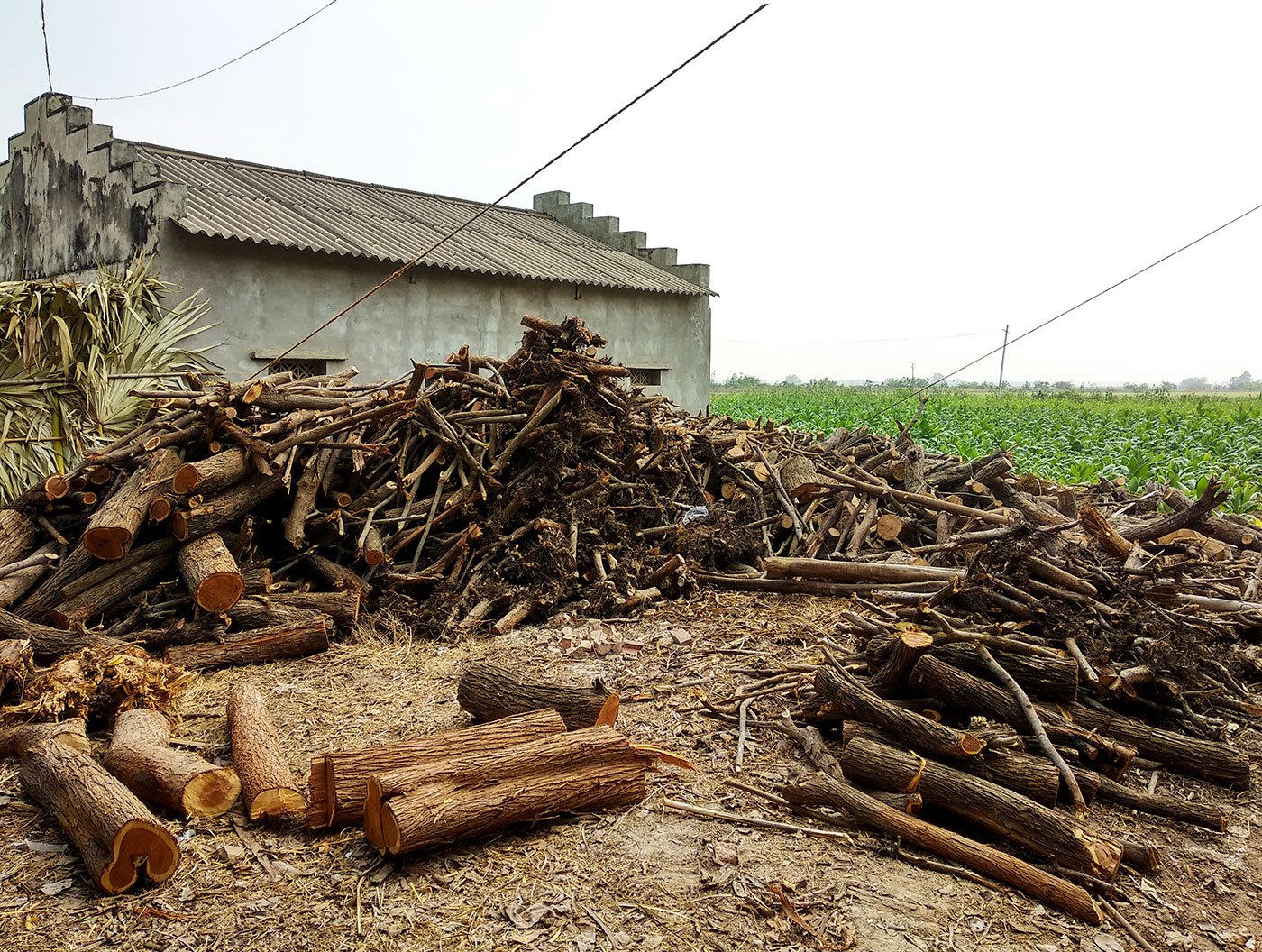 PHOTO • Rahul Maganti
The closure of barns and the shrinking of land under tobacco is also linked to the Framework Convention of Tobacco Control (FCTC) of the World Health Organisation, which aims to reduce tobacco consumption. In 2016, the signatories to the FCTC, including India, agreed to reduce the production of tobacco in a phased manner. So the Tobacco Board has stopped giving licences to new barns – and applications by farmers too are falling because of the decreasing profitability of tobacco.
Srinivasa Rao, 40, a tenant farmer in T. Agraharam, who grows tobacco on nine acres of leased land for an annual fee of Rs.  30,000 per acre, accumulated a Rs. 1.5 lakh debt in just the last agricultural season. "I built a barn at a cost of Rs. 6 lakhs in 2012 and sold it for Rs. 3 lakhs last year," he says. "No one is even ready to buy barns now. We demand the government give us a compensation of 10 lakhs per barn and we will move out of tobacco cultivation in minutes. In 2010, around 33 muthas – groups of workers – came from outside the village to work in the barns here. This year, hardly 10 muthas are here."
All this is forcing Prakasam's tobacco farmers to look for alternatives, for profitable crops which will grow with a minimal amount of water. When I visit Muga Chinthala village, Subba Rao is showing a Youtube video about the lacquer crop on his smartphone to other farmers. "We should try this crop in our village," he says; they nod, asking him to tell them more. "This is a cash crop which is grown in Srikakulam district and parts of Odisha and doesn't need much of water," he explains.
Meanwhile, posters featuring farmers saying 'Protect our livelihood' have come up on autorickshaws and bus stops in Delhi. They carry the name and logo of the Akhil Bharatiya Paan Vikreta Sangathan, a national body of tobacco sellers. When I ask the farmers about this campaign, they respond with abuses for the tobacco companies. Then Subba Rao adds, "If only the farmers had united and fought for irrigation facilities or against the cigarette companies, we could have been better off."
Another version of this article , co-authored, was originally published in 'The Hindu Businessline' on February 2, 2018.