It has been eight months since Sushma Mali, 22, has gone back to Adhalgaon, her village in Ahmednagar district, to be with her three-year-old daughter and husband, who is a farmer. But before she can return home for her annual May to August break, she has to settle accounts with the owners of the tamasha troupe, where she works as a dancer.
To settle the accounts, Mangala Bansode, the owner of the phad (troupe) or Mummy, as she is called, sits on a chair in the living room of her house in Karavadi village in Satara district. A few men sit on the floor, thick ledgers in hand. The 170 members of the troupe – artists, labourers, drivers, wiremen, managers and cooks – walk in one by one, shutting the door behind them.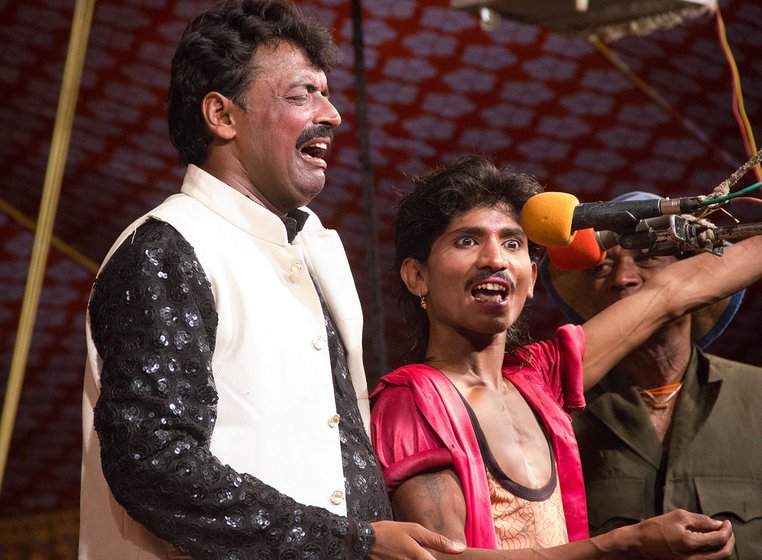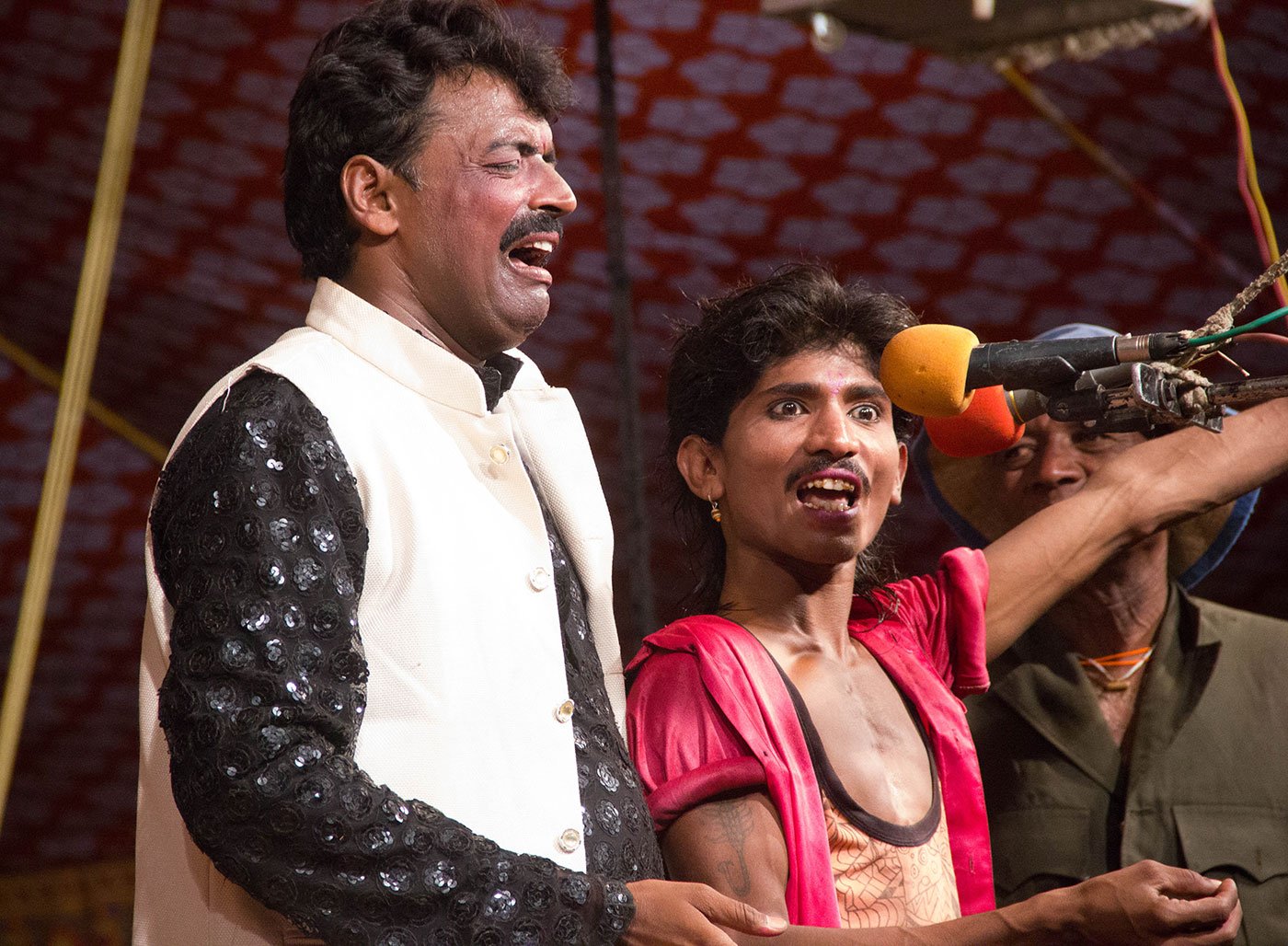 PHOTO • Shatakshi Gawade ,  Vinaya Kurtkoti
Mangalatai, now 66, is the daughter of tamasha legend Vithabai Narayangaonkar. She started working  in her mother's phad when she was seven. She later met her husband Ramchandar Bansode there, and started a phad in 1983 with him. (He was a director, producer, writer and actor, but no longer works due to ill health). Her phad is now called the 'Mangala Bansode and Nitin Kumar Tamasha Mandal' (Nitin is her younger son).
Among the tamasha members now walking into her living room is Kiran Bade; he leaves with an uchal (advance) of Rs. 50,000. During the four months of the phad 's annual break, the uchal will help support his family of seven in Pathardi town of Ahmednagar district. His father and brother work in another tamasha troupe.
Circumstances like medical emergencies and weddings make people take uchal . "But," Kiran says, "the owners give uchal so that a person is tied to them."
A portion of Kiran's monthly salary of Rs. 15,000 will be used to repay this advance in the 2017-2018 season, for which practice starts in September and the performances end in May. "With all the work I do, I should get much more than this!" says Kiran, 24, whose skills include singing, dancing and acting.

But when his wife asked him to leave the tamasha for a different job, he refused. Tamasha is his passion. "I told her I will get a different wife, but I will not leave the phad. Tamasha is like jail, but one that I want to stay in."
When the season starts, Kiran gets Rs. 50 as shidha (daily allowance). He also fills in as an electrician and driver for extra income – around Rs. 200 per job per day. He will get his composite earnings at the end of the season, and the daily allowance will be deducted from this amount.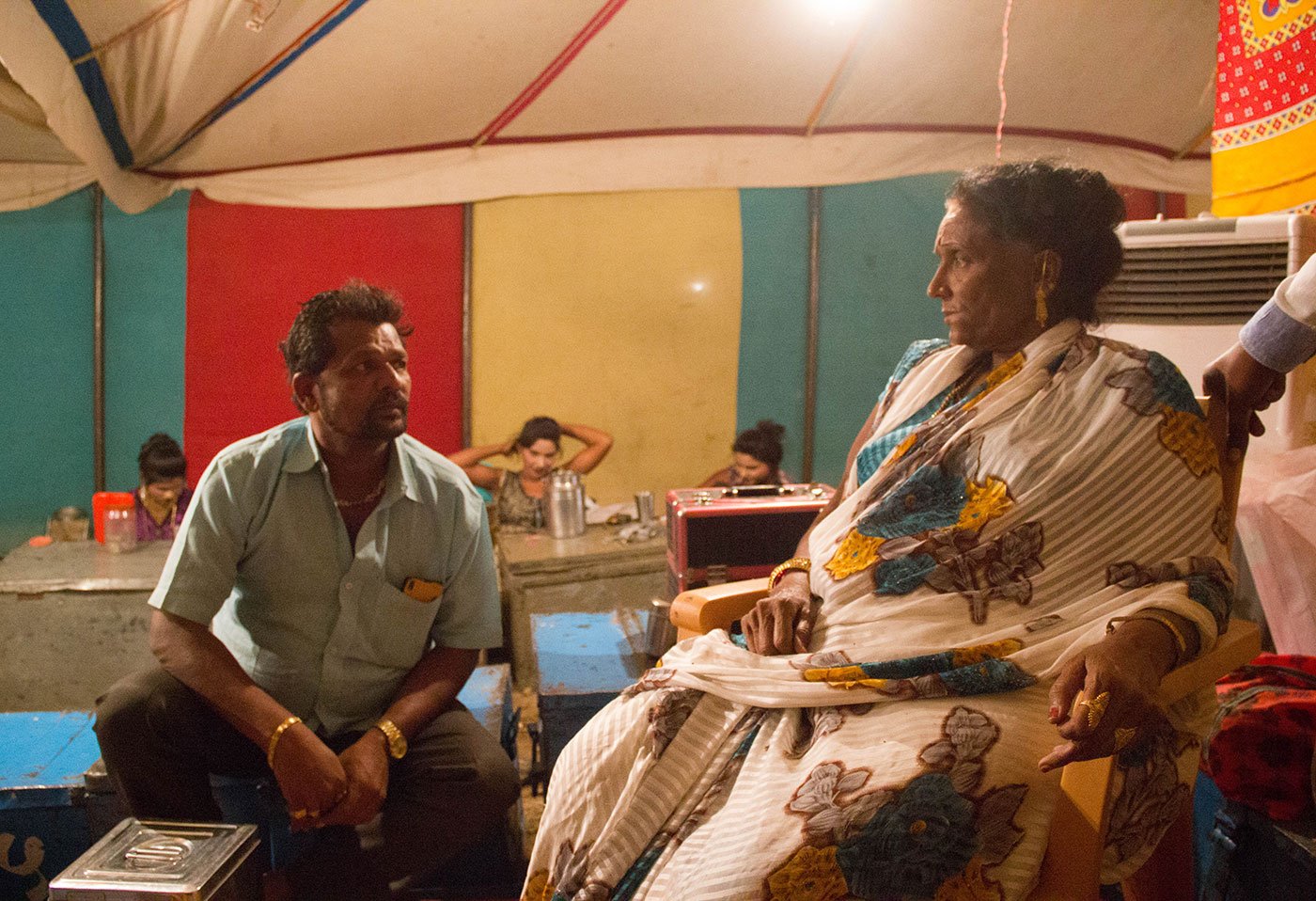 PHOTO • Shatakshi Gawade ,  Vinaya Kurtkoti
The finances of most tamasha artists follow this cycle: take uchal , work to repay it, take an advance again for the upcoming year. They are bound for the 210-day season to a phad by a notarised contract. Apart from the salary, members of the troupe get two meals a day and costumes, but they have to buy their own makeup.
During the four months when the phad is on a break, the artists and labourers work on their farms or as drivers and domestic workers. Their tamasha savings help to hold them up during this period.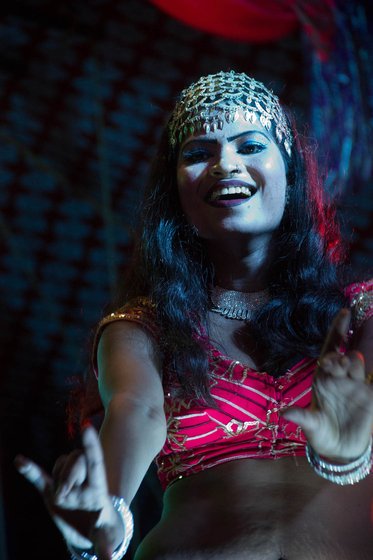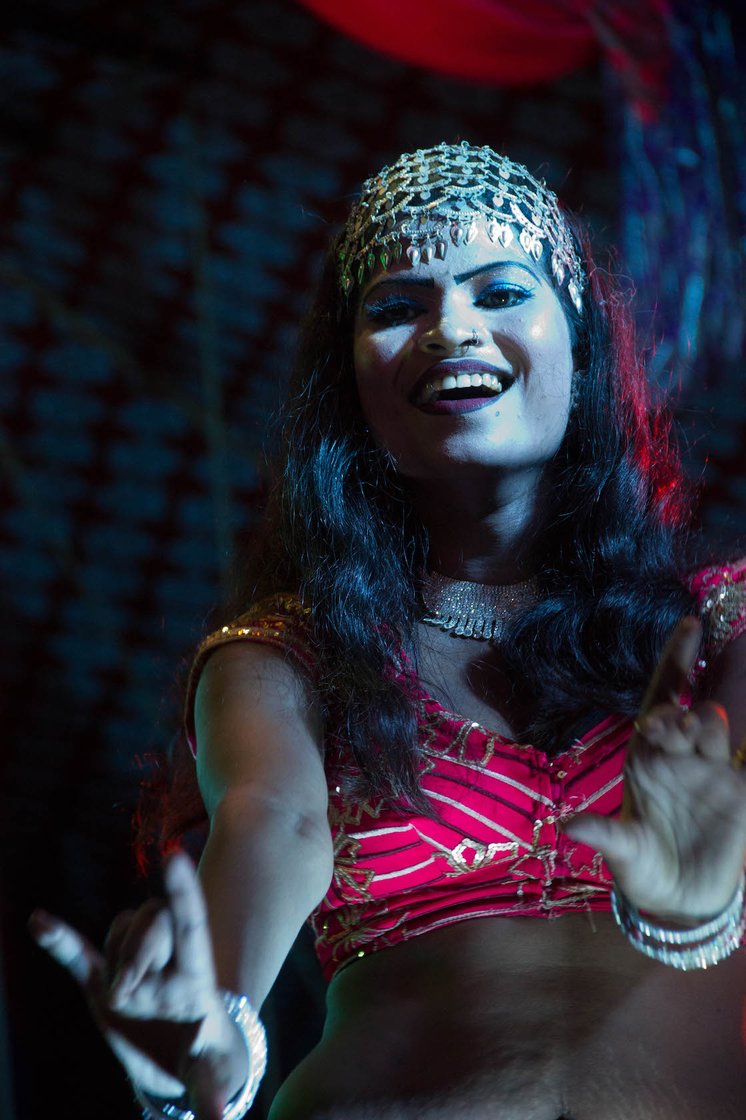 PHOTO • Shatakshi Gawade ,  Vinaya Kurtkoti
The female dancers – this troupe has around 16 – are paid the most in any tamasha troupe, says Anil Bansode, 45, Mangalatai's older son and manager of the phad . "In the 2016-17 season, the highest salary is Rs. 30,000 for a female dancer," he says. They draw the largest crowds and receive the loudest appreciation from the audience.  But, Anil says, finding dancers who will commit to travelling for eight months is not easy. "Higher salaries are the only way to retain them."
This season, Sushma Mali was the lead dancer in several songs. She started her tamasha career at the age of 12-13, and grew up watching her mother dance in a phad . Her mother was initially unhappy with Sushma's decision to become a tamasha artist, not wanting her to face the same hardships. But Sushma persisted because she liked the financial independence. "My husband [a farmer] also doesn't want me to work in the phad, but I have an eight-year-old brother and a three-year-old daughter to take care of," she says. Sushma too doesn't want her daughter to enter this field and has not told her that she is a tamasha dancer.
Many join the tamasha because of parents or older siblings who work in the troupe. It is seen as a more stable form of livelihood than agricultural labour. They also believe that being in the phad will give them recognition as artists, and a higher social status.
The tamasha is also home to families like Sharda Khade's, from Dubal Dhulgaon village in Sangli district. Sharda is a dancer and performer in the vag natya (folk drama). One son is a percussionist, the other is a wireman, and her husband is an actor. The tamasha business is their best option. As agricultural labourers, her relatives barely get Rs. 200 per day and daily work is uncertain.
But the steady income from the tamasha comes at a cost. Pitching a tent in a new village every day is hardly a means of comfort, Sharda says. And then there are the erratic schedules, late night work, irregular meals, and often insanitary living conditions.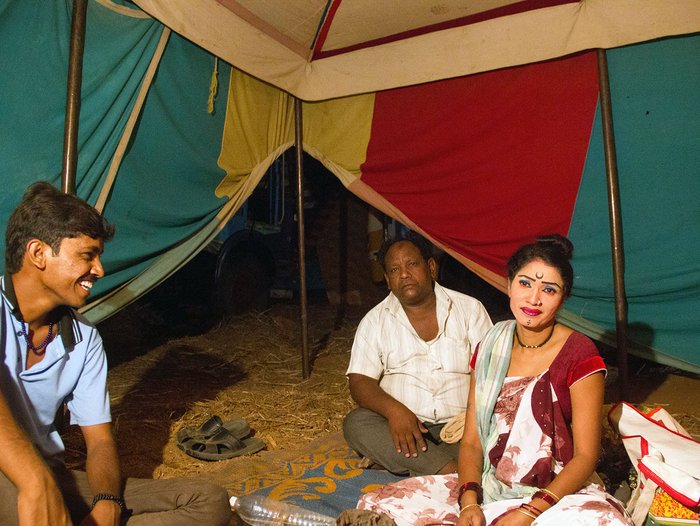 PHOTO • Shatakshi Gawade ,  Vinaya Kurtkoti
The steady income from the tamasha comes at a cost. Pitching a tent in a new village every day, erratic schedules, irregular meals, insanitary living conditions – and, often, lewd comments
And many times, the male audience members gesture or comment lewdly. Sharda sometimes asks them why they do this, don't they have mothers and sisters at home? They reply: "But our women don't behave like you tamasha women!" and ask her why she doesn't do a job that does not require dancing in front of men. "But this is also a job!" she replies.
The men in the tamasha also face barbed comments. Anil speaks of how, when he was a child, people in his village would call him and his siblings "children of a nautch girl."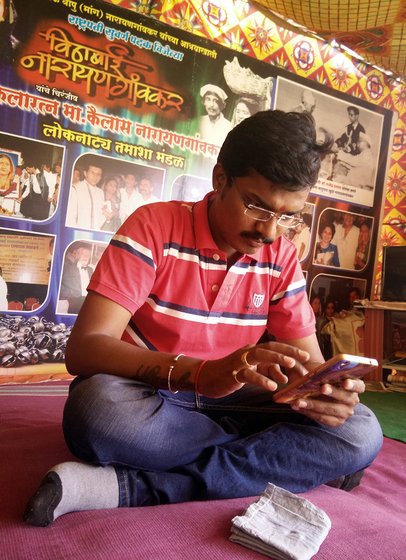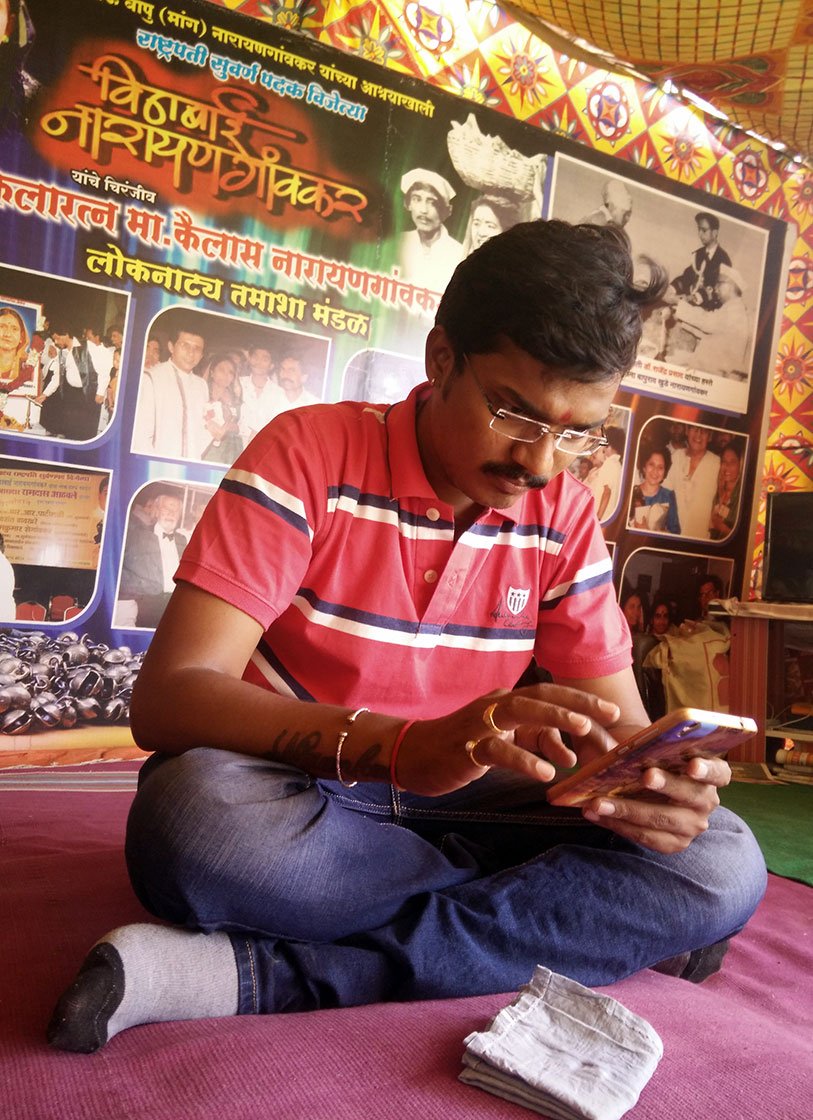 PHOTO • Shatakshi Gawade ,  Vinaya Kurtkoti
Almost the entire tamasha industry runs on cash transactions.  The troupe owners themselves take loans from private moneylenders at 4-5 per cent interest per month. "Banks do not give us loans. We take loans from private moneylenders and repay them over the next eight months, during the phad season," says Mohit Narayangaonkar, the owner of another tamasha and Mangalatai's brother Kailash's son.
Mangalatai's troupe, however, has received loans from banks, because she is considered creditworthy. Her troupe is one of the few that runs with its own equipment and without accumulated debt. It is one of the biggest in the business in rural Maharashtra in terms of the number of troupe members as well as earnings. Each year, the total transactions of Mangala's phad amount to about Rs. 1 crore. There are 30-40 such troupes of 70-150 members in western Maharashtra, says Sandesh Bhandare, a Pune-based photojournalist who has written a book about the tamasha community, and around 200 phad of 20-22 members, though not all of these perform for the entire season.
A phad makes money in two ways during the September-May season. The 'ticketed show' phase starts after Dussehra. A ticket typically costs Rs. 60. Ticketed shows continue till Gudi Padwa, usually in March/April.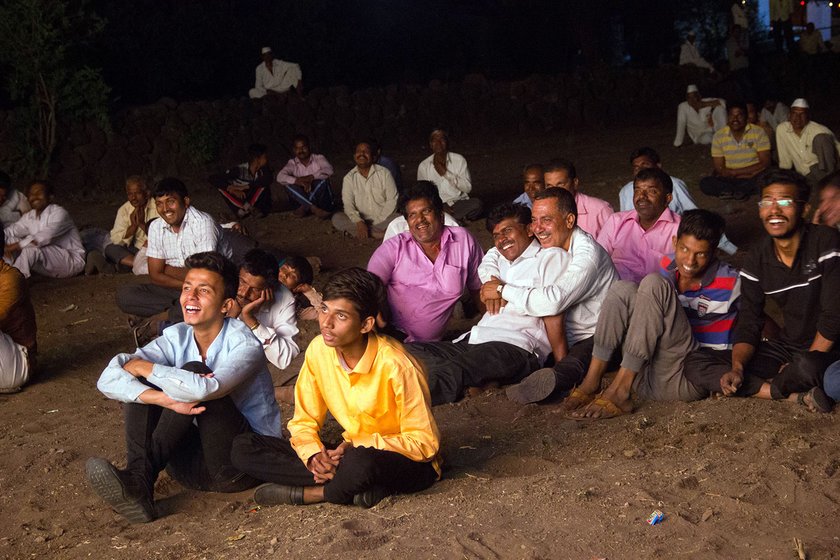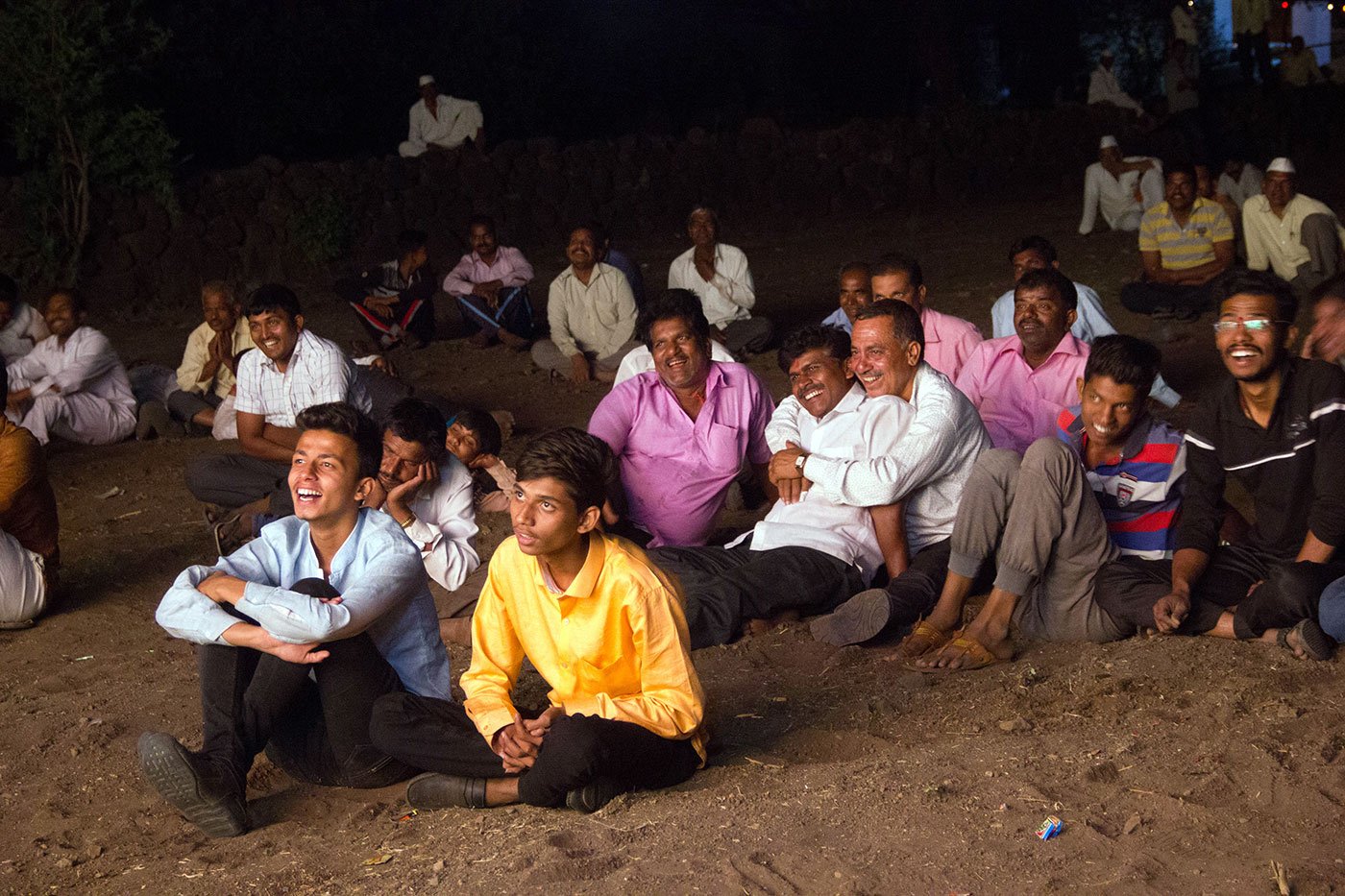 PHOTO • Shatakshi Gawade ,  Vinaya Kurtkoti
The ticketed shows need a minimum of 1,000 buyers to cover all costs. The audience – around 90 per cent of them are men – is usually the residents of the village and of surrounding villages. The show generally lasts for 5-6 hours, but if it starts later than 11 p.m. or midnight, it could end by 2 or 3 a.m.
Tamasha is performed outdoors in a field; the stage is set up by labourers in two hours. Each troupe performs at a different location every day. In some villages, the troupe is expected to put on a shorter morning performance called ' sakaalchi hajeri ', which lasts 2-3 hours.
The second avenue of making money is when the troupes are hired by jatra committees (each village has its own committee) to perform during their annual jatra (village fair). The supari (booking amount) is at least Rs. 1 lakh per show for the bigger troupes.

During the hired ' supari shows', there is no ticket window; anyone can walk in and watch. "In the season that ended in May 2017, we made a profit of Rs. 60 lakhs, but we had to spend it on the uchal . This cannot be avoided, for fear of losing the artists to another tamasha troupe," Mohit says.
In a drought year, however, both the ticketed and open shows suffer. People in villages don't have money to spare. "But the artists have to be paid, and they also demand a raise every year," Mohit says. "The owner bears this loss."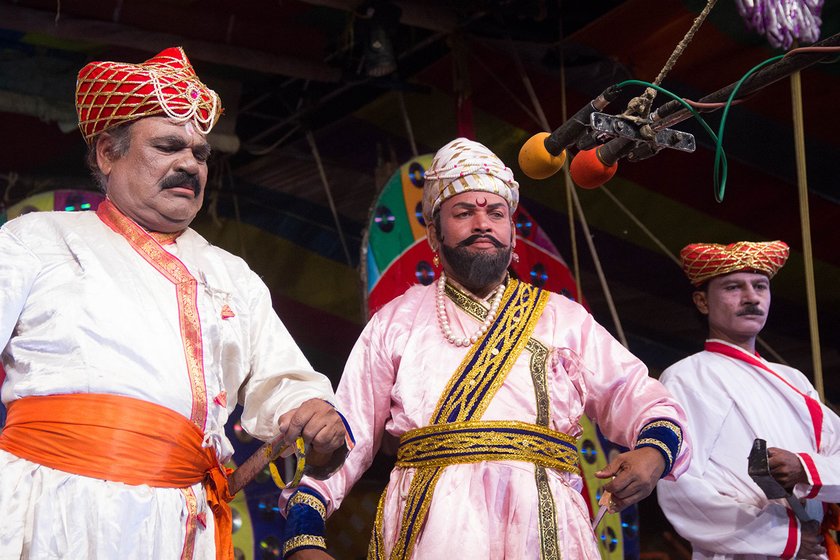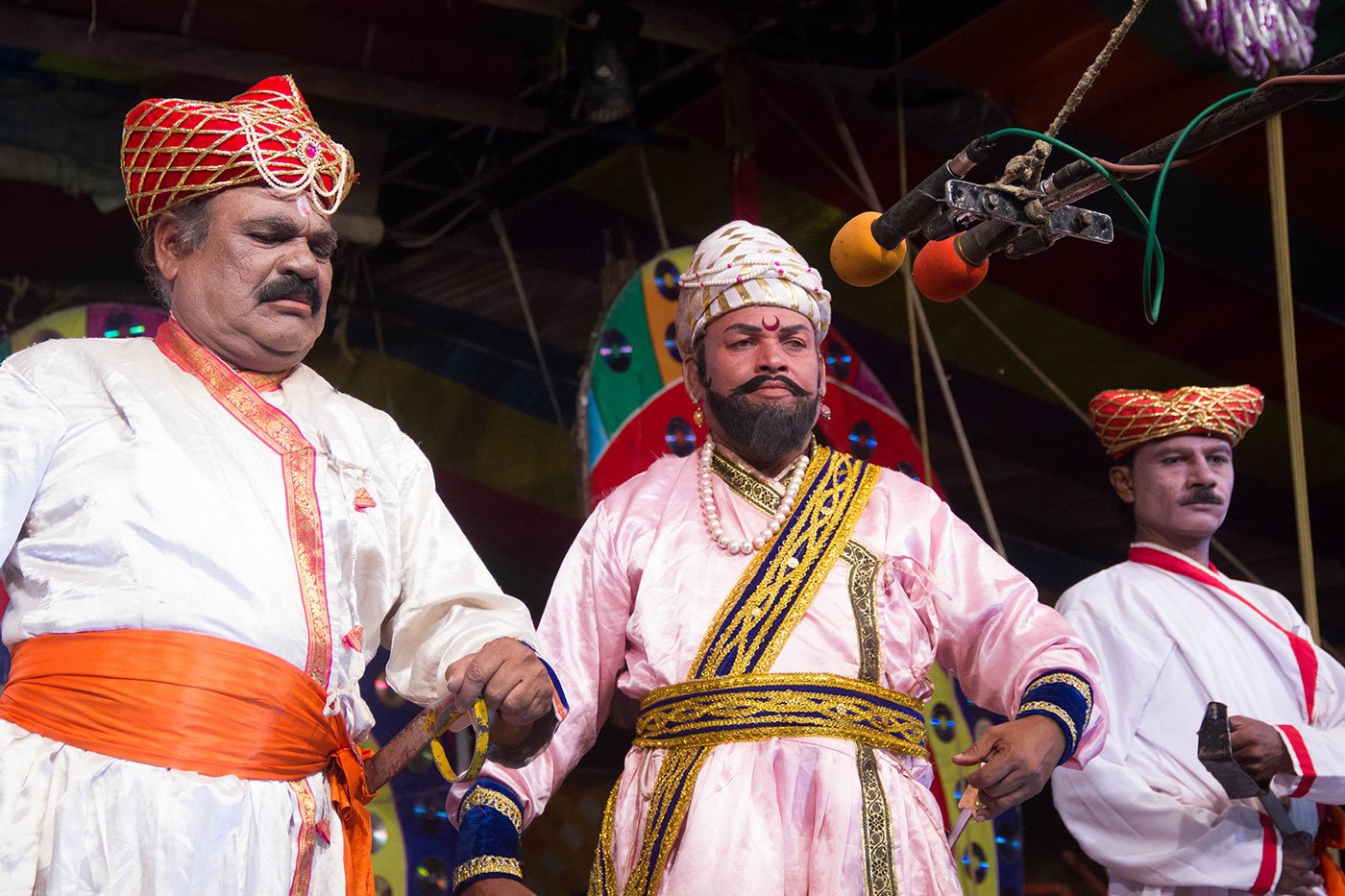 PHOTO • Shatakshi Gawade ,  Vinaya Kurtkoti
But profits are not the main agenda, both Mangala and Mohit agree. "The main purpose is that our phad should be remembered by the public," Mohit says. "The art of tamasha should stay alive." Mangalatai too insists that her only motivation for keeping the business going is to perpetuate her family's name. "We distribute all the money we earn among our artists and labourers. We don't get anything out of this," she adds.
What happens after retirement? Sharda, around 48, says, "We're supposed to get Rs.3,000 a month as pension [from the government, though getting it is uncertain]. But how can that be enough? I want to work till my body can take it. After that, I'll have to rely on my children to feed me."
Postscript: The troupe's 2017 season opened with a performance in Valvad village, Beed district, on September 17. Mangala Bansode received the Vayoshreshtha Sanman (National Award) 2017 in the Creative Arts category from the Department of Social Justice and Empowerment, Ministry of Social Justice and Empowerment on October 9.