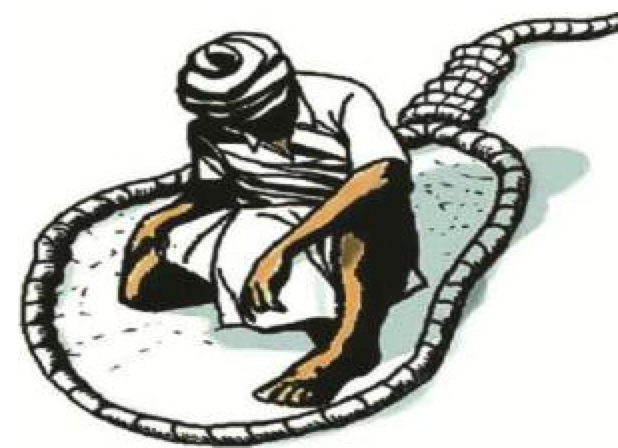 MUMBAI: At the RBI's 80th anniversary recently, PM Narendra Modi had invoked farmers' suicides to urge banks to lend more to cultivators. "When a farmer dies, does it shake the conscience of the banking sector? He faces death because he has taken loans from a moneylender," Modi said. Credit to the farm sector has risen across the country over the last decade. Yet, in Maharashtra, which reports the highest number of farmers' suicides in the country, the bulk of farm loans, ironically, does not go to farmers, says a new study based on the central bank's data.
Although the majority of farmers live in rural areas, a larger portion (44%) of agricultural loans are supplied by urban and metropolitan branches of scheduled commercial banks than rural branches, which supply almost 30%.
The study by economists R Ramakumar and Pallavi Chavan is based on data from the RBI's report, Basic Statistical Returns of Scheduled Commercial Banks in India, for 2013.
In effect, loans to farmers are not driving the rise in agricultural credit. Instead, the major beneficiaries in the revival of farm credit in this decade are agri-businesses and corporates involved in agriculture, the authors say. This is because the definition of agricultural credit has been expanded to include these businesses. "The definition now includes loans to corporate and agri-business institutions as well as storage equipment in cities. It also includes loans for commercial and export-oriented agriculture," says Ramakumar, an economist with the Tata Institute of Social Sciences, Mumbai.
The growth in agricultural credit has also been fuelled by a rise in indirect loans, the study says. Direct loans are given to farmers while indirect loans are given to institutions indirectly involved in agricultural production.
Significantly, the share of credit to small and marginal farmers has dropped dramatically across the country, the study shows. Instead, loans of Rs 1 crore and above are driving the revival of agricultural credit, the study says.
The share of direct agricultural loans worth less than Rs 25,000 to marginal farmers from scheduled commercial banks has fallen sharply-from almost 23% in 2005 to just 4.3% in 2013. On the other hand, the share of direct agricultural loans worth over Rs 1 crore has risen from 7.5% in 2005 to10% in 2013.
"The 1990s were the lost decade in rural banking. There was large-scale closure of commercial banks in rural areas," says Ramakumar. Since 2000, there has been a growth of agricultural credit, but a major part of this growth is illusory, he says. "It is driven by the expansion of funding to corporate and agri-business institutions involved in agriculture, high-value loans and credit from urban and metropolitan branches," he says.
Report 10: The original version of this story appeared in The Times of India on 12 Apr 2015
More in this series:
Report 1: Nearly 80000 homeless elders go hungry
Report 2: Drought hits 90 lakhs farmers in Maharashtra
Report 3: Kharif crops hit by drought pulses take a maha pounding
Report 4: 40% rise in farmer suicides in Maharashtra
Report 5: Bitter Harvest - Where villagers dig for hours to fill a pot
Report 6: Drought migration forces aged to toil as farm hands
Report 7: The man with 48 borewells in drought-hit Marathwada
Report 8: Maharashtra's drought-hit farmers without bank accounts denied aid
Report 9: Maharashtra govt says mulling farmer insurance as opposition cites TOI's suicide reports
Report 11: Direct loans below Rs 25,000 to farmers plunge to 4.3% from 23%
Report 12: Only 12% potential of Maharashtra's 70,000 small dams used
Report 13: Unseasonal rain: 601 farmer suicides in Maharashra in just 3 months
Report 14: 'Only 3 Maharashtra farmers ended life due to unseasonal rain'
Report 15: State government's logic for its low farmer suicide count: Only 3 blamed rains
Report 16: Beef banned, but no state-run cow shelters in sight