Somewhat in the middle of George Town, the old commercial hub of Madras (now Chennai), a narrow, winding street wakes up very early in the morning. But you'll never find it if you ask for it by its official name: Badrian Street. Everybody calls it Pookadai (Flower Bazaar). It's because, long before Chennai got its giant vegetable and flower market at Koyambedu in 1996, flowers were sold by the sack from here. And yet, 18 years later, Pookadai still throbs with morning life, with sellers unwilling to relocate, and buyers unwilling to travel all the way to the designated markets.
In the pre-dawn hours, Pookadai simply heaves with people, and you couldn't swing a kitten there if you wished. Bulging sacks of flowers arrive from Koyambedu, from Andhra Pradesh, from deep-south Tamil Nadu. The road is almost always slushy; in the centre is a long, low hillock of debris. Imagine a thousand feet crushing old flowers; imagine a hundred tyres churning all of that; and then, imagine the odour. It's not very pleasant. But the street itself is such a treat. Both sides are lined with shops, some are pucca cemented structures, with cupboards and ceiling fans, others are mere shacks. And all of them brim with colour. This is one of the pucca shops, in Pookadai. There are over a hundred that line the street, on either side. Many are run by migrants, who've run away from villages with dead dry fields and little employement. Their helpers are often young boys from their own or nearby villages, who live on tiny rooms behind or upstairs. (This picture was shot when I visited Pookadai very early in the morning, on April 19, 2012)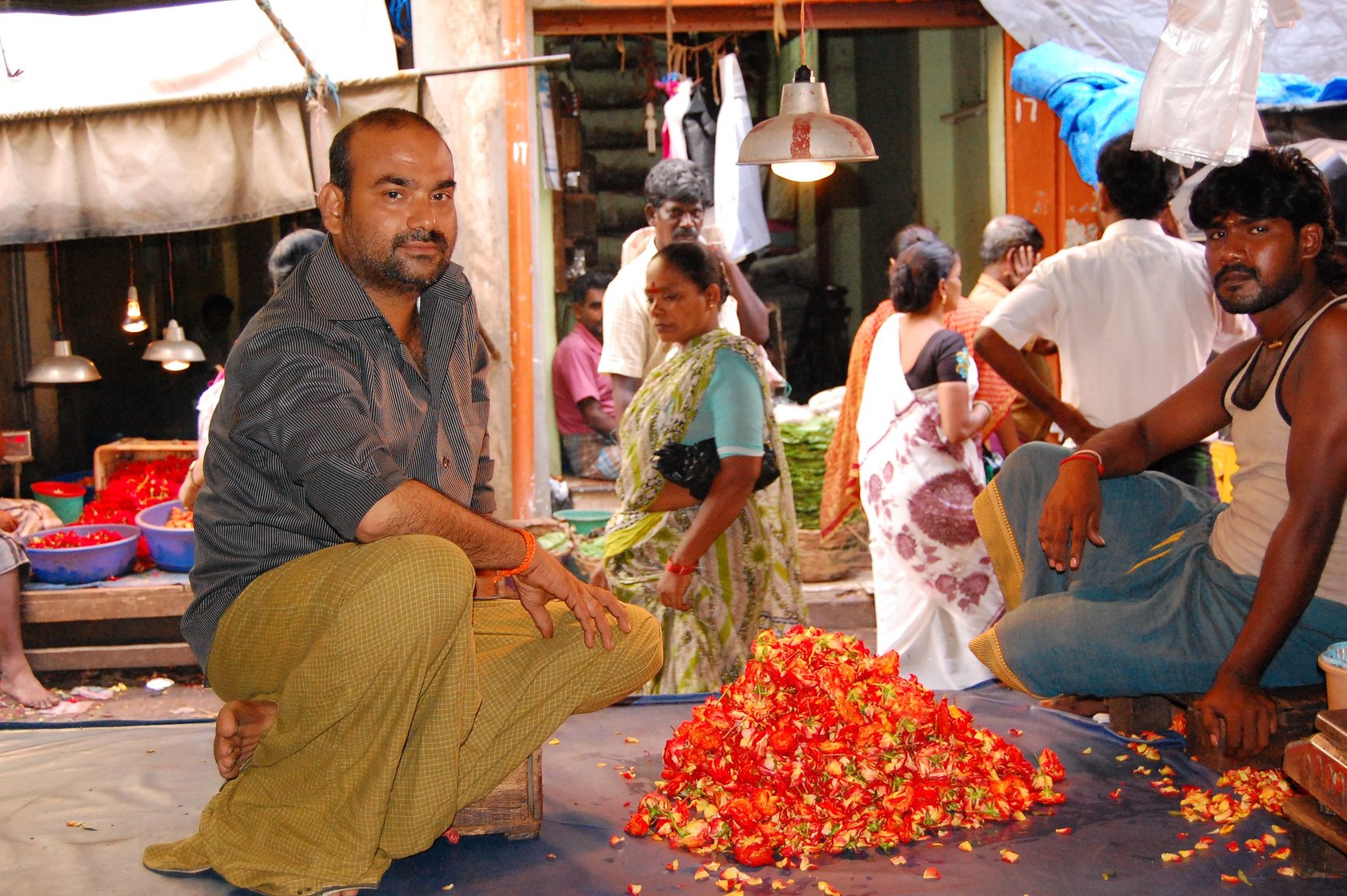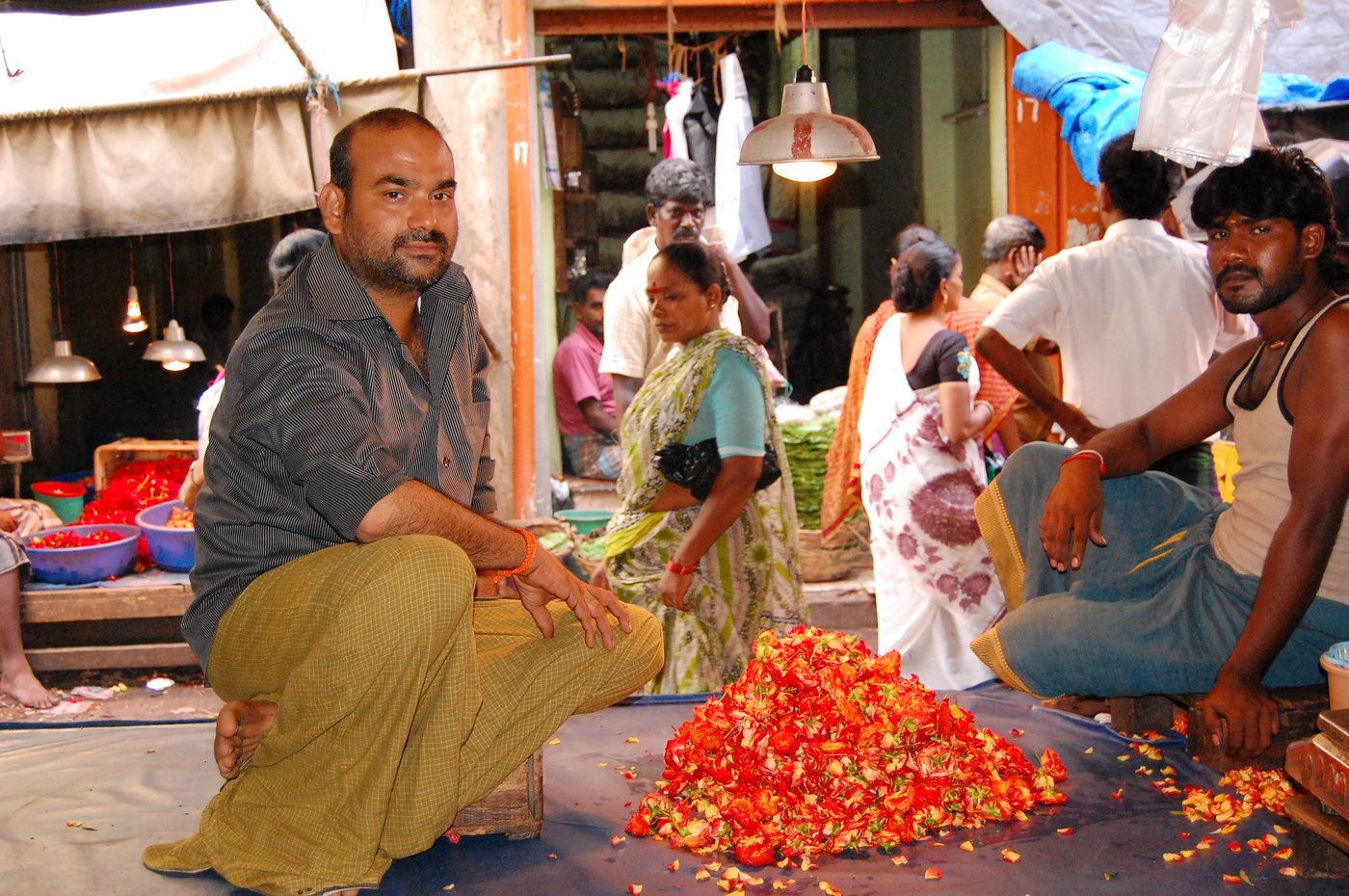 PHOTO • Aparna Karthikeyan
V. Shanmugavel (left) came to Chennai in 1984 from Goundampatti, Dindigul. He migrated because he earned Rs.5 a day in his village, when he went out to work. In Chennai, the daily wage even then was 10 times higher. His father farmed three acres of his own land. But when the rains failed, water was scarce and it was impossible to make a living. It's only now that borewells have appeared in his village, but it's too late, as many of the men have left.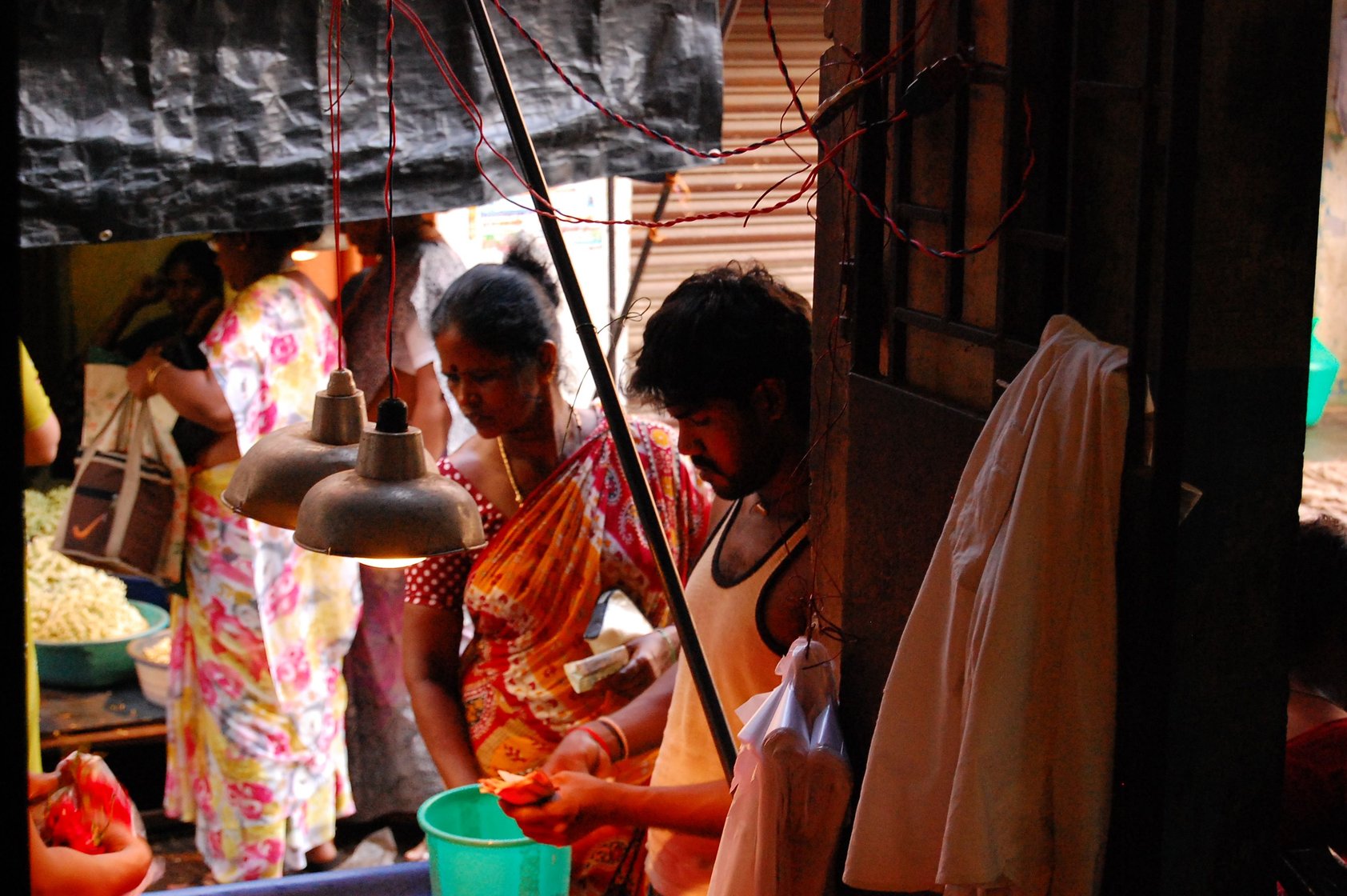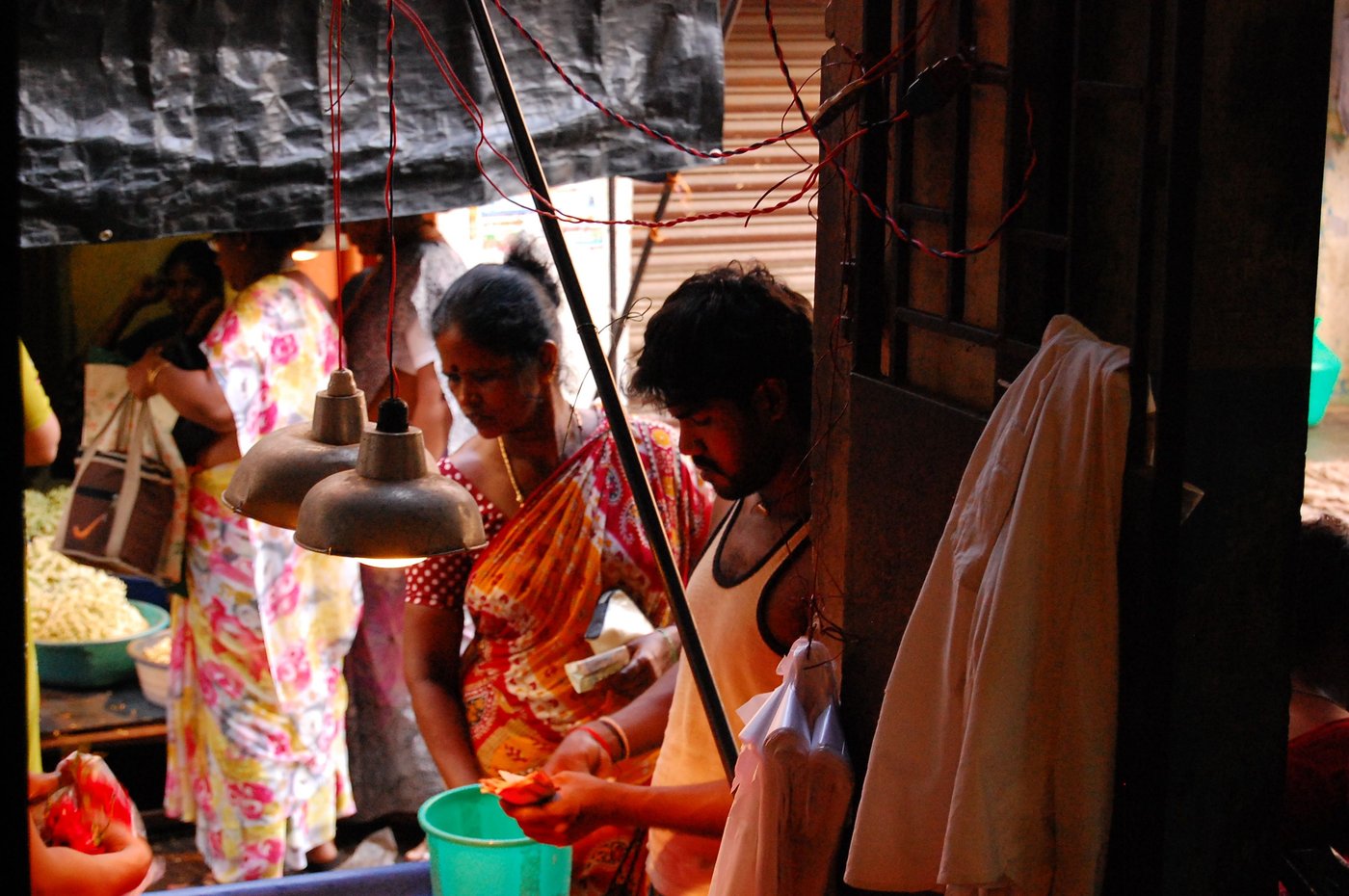 PHOTO • Aparna Karthikeyan
Counting cash, to the right, is K. Ramachandran. He's from Chonganchattipatti in Dindigul district. An agricultural labourer back in his village, Ramachandran came to Chennai in 2003 in search of a better livelihood. His parents are still employed in the farming sector back home. Like him, most of his village has migrated in search of work; only those who are 40 or 50 years old remain there. The young have left, opting for work in Tiruppur, Coimbatore or Chennai. And so in a village of 1,000 people, today, Ramachandran believes, less than half that number live. And among them, very few men his age.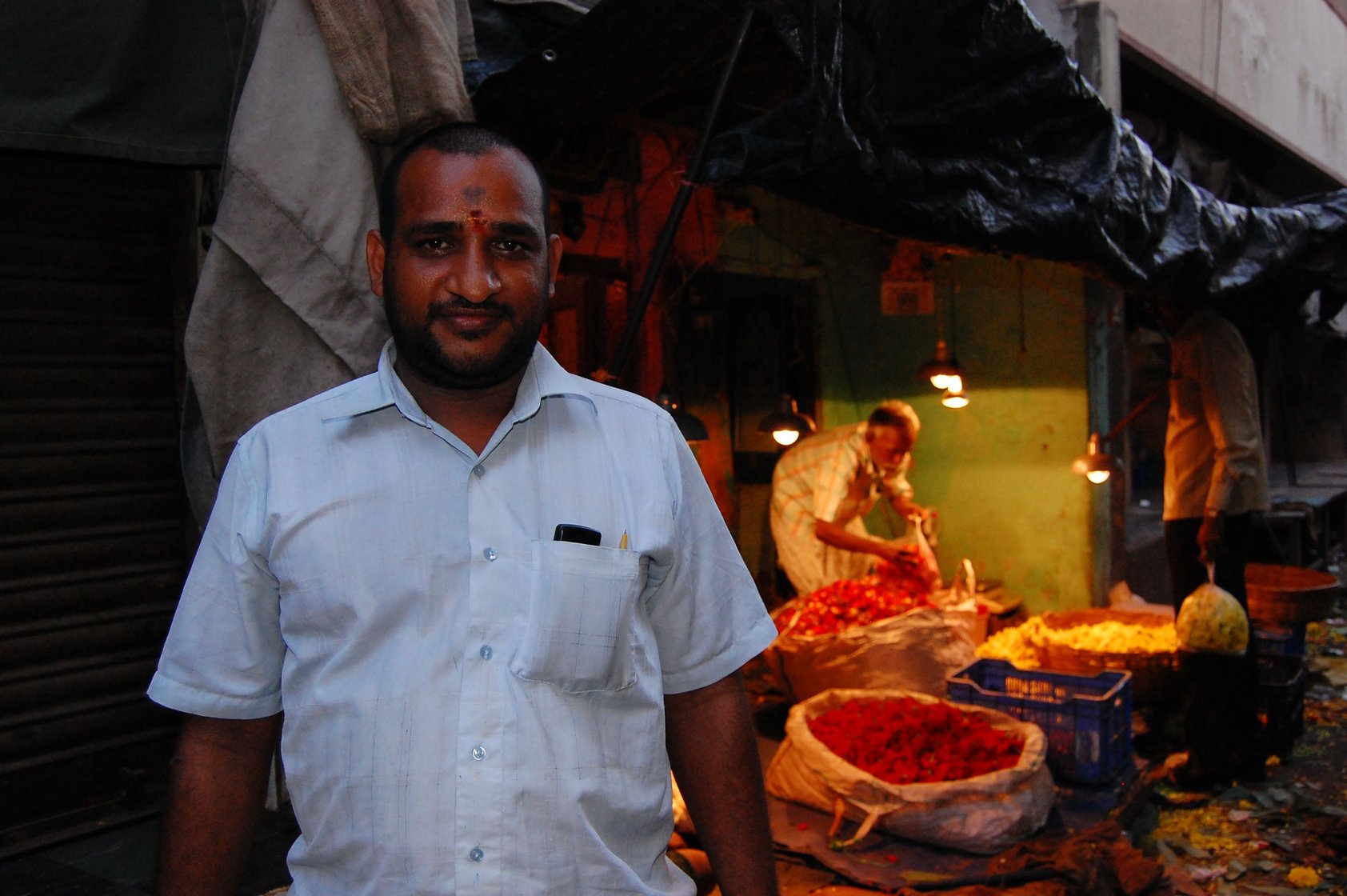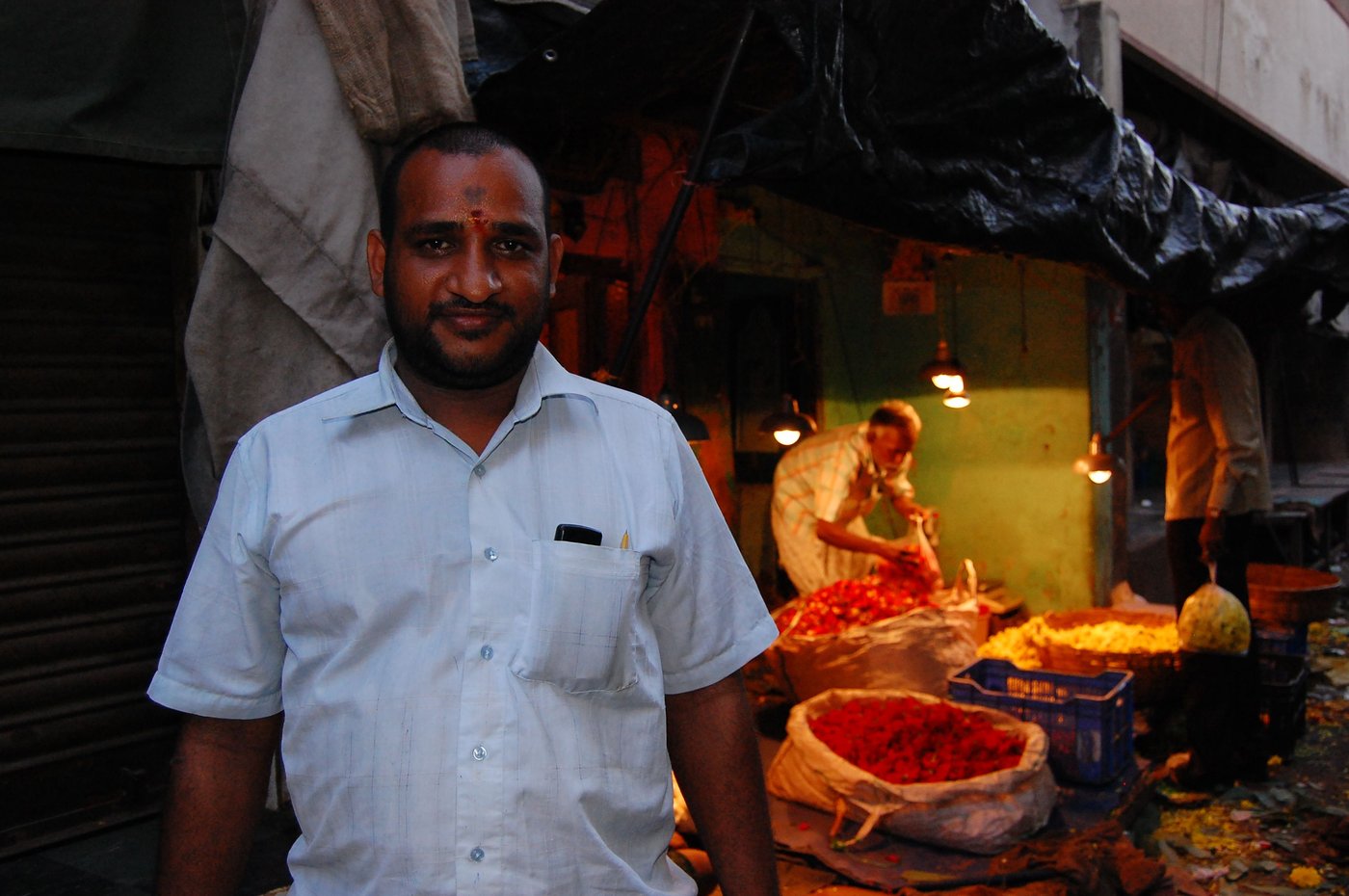 PHOTO • Aparna Karthikeyan
A. Muthuraj is from Pachaimalayankottai, Dindigul district, where land that sold for Rs.30,000 a cent five years ago, now costs a dizzying Rs.1 lakh. The reason? It lies near a crossroad connecting major towns, and those who live there can commute to any one of those towns daily. Because of this, agriculture now has no takers, there are too few people to work the fields. Muthuraj's mother is among the few who still farms (they own two acres of land) and she grows oleander flowers, along with hired help. Water though is scarcer than help. With the 800-feet bore fetching up little or no water, she now buys it by the tanker (Rs. 700 a load) to irrigate her fields, twice a week. The situation should improve with the rains, but life was always difficult in the village, and when his relatives asked him to move to Chennai to seek employment, 18 years ago, Muthuraj upped and moved.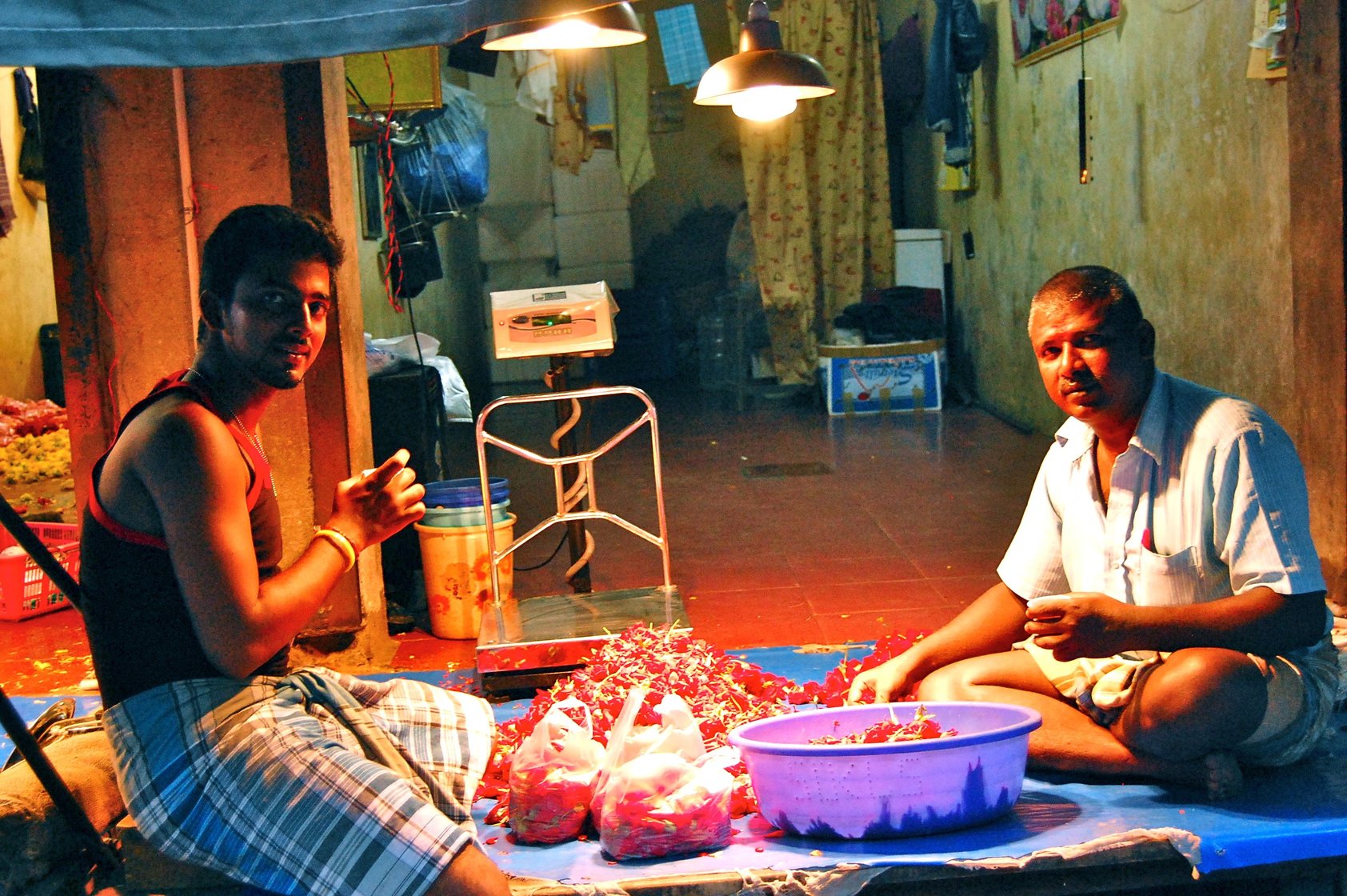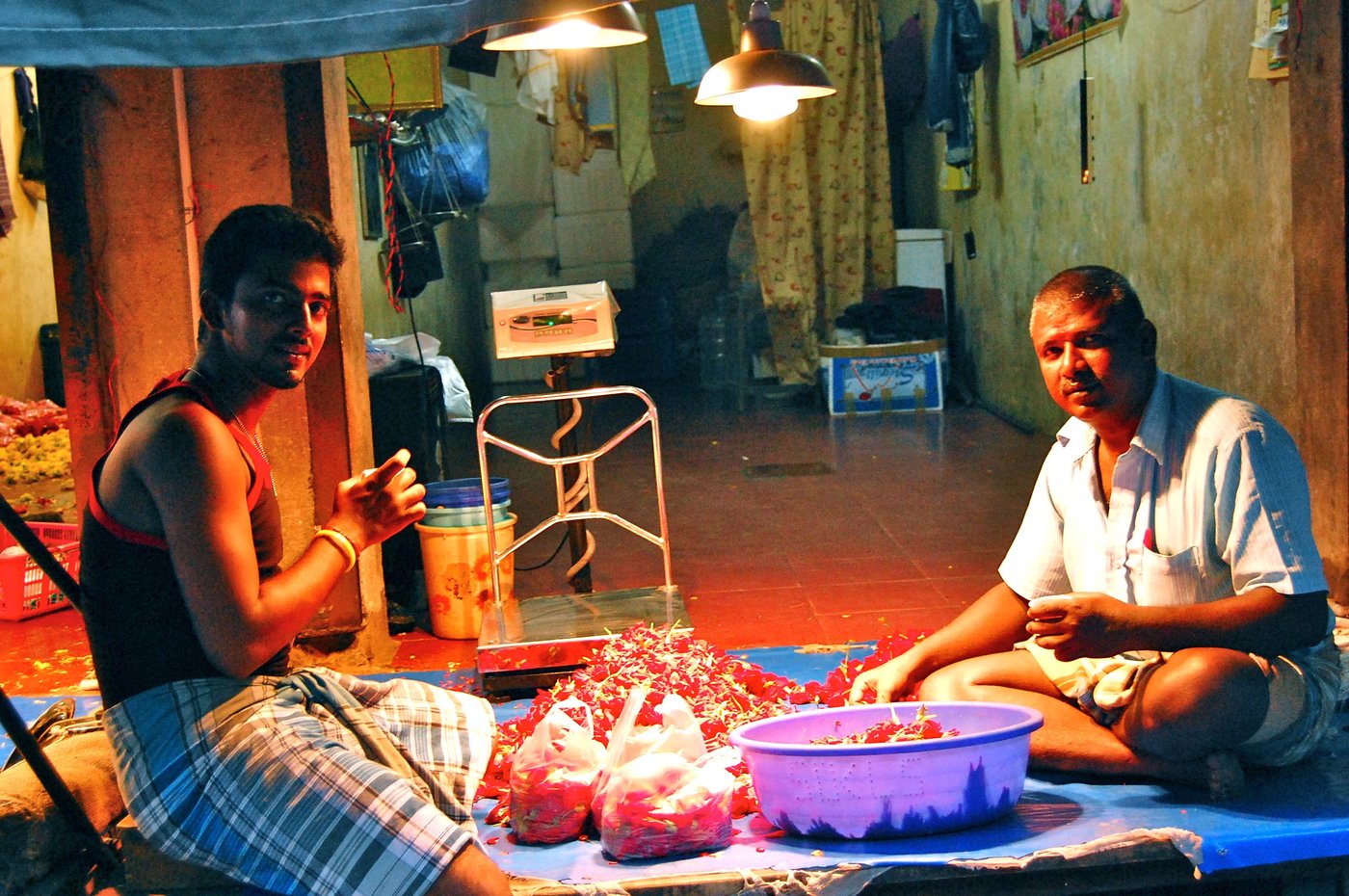 PHOTO • Aparna Karthikeyan
S. Parakramapandian's (left) grandfather had big dreams for him –  he wanted him to become a policeman, and so named him after a king of Madurai. He thought it would look grand on a badge, pinned to his chest. Instead, 'Parak' (as everybody here calls him, and which in the local dialect means dreamer, and not in a nice way) never got through school, and now sells flowers. From Pallapatti village, in Dindigul district, Parakramapandian came to Chennai as a 14-year-old. Initially, he worked in Koyambedu, and later, tried to set up a shop, a venture that left him in debt (principal plus interest) of Rs.2.5 lakhs. He sold some land and paid back Rs.1.5 lakhs, but he's up before dawn everyday– working until sunset, trying to make enough to repay the rest.