It takes many days to make a block of wood sing. And it takes exceptionally talented craftsmen to do it. The four families who still make the nadaswaram by hand in Narasingapettai (a village near Kumbakonam, Tamil Nadu) are so skilled that they almost make it look simple. In their backyards, the raw material is stacked like lumber. In the workshops next to their houses, the wood is cut, shaped, filed and drilled, with a precision that comes with practise. Many nadaswaram players — some of them legendary musicians — have waited in these workshops for days for an instrument. They have gone on to win awards and earn tens of thousands of rupees. But the makers of the instrument earn a profit of Rs. 1,000 a piece, an additional Rs. 500 if they're lucky.
Yet, every morning, at 10 a.m., N. R. Selvaraj, a 53-year-old fourth-generation nadaswaram maker, comes to his small workshop. Thin and wiry, like his two assistants, he fetches iron files — some over two feet long — from the pooja room. Deftly mounting a cylindrical block of wood on the ' pattarai ' (wooden lathe), Selvaraj tells me about his village's long association with the wind instrument, without which no Tamilian wedding or temple procession is ever complete.
"The nadaswaram is a ' mangala vaadhiyam ' [auspicious instrument]. It originated in this area, in a village near Mayavaram. My great-grandfather, Govindasamy Achari, went there and learnt the craft." Speaking above the whine of the hand-turned lathe, Selvaraj explains that although his great-grandfather introduced a new vocation to the village, it was his father who gave the world a new instrument. "In 1955, my father, Ranganathan Achari, experimented, made changes to the original instrument, and came up with one where all the seven swara spoke."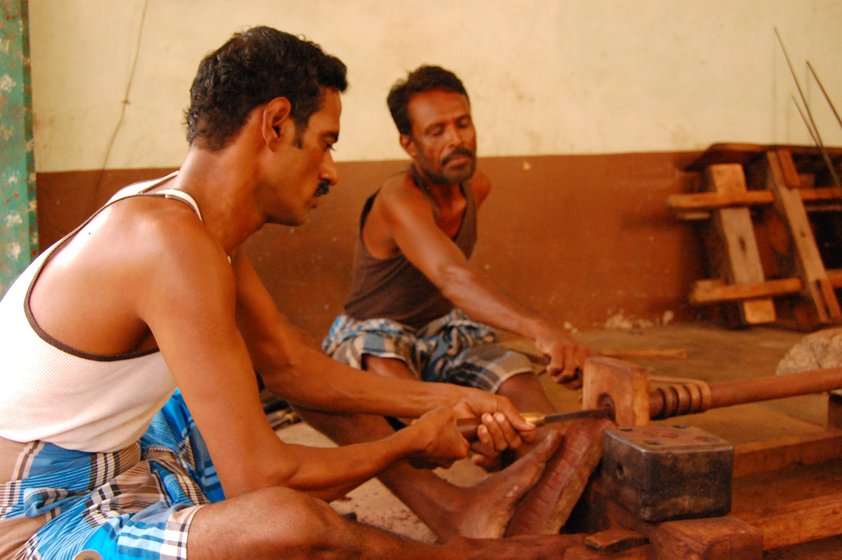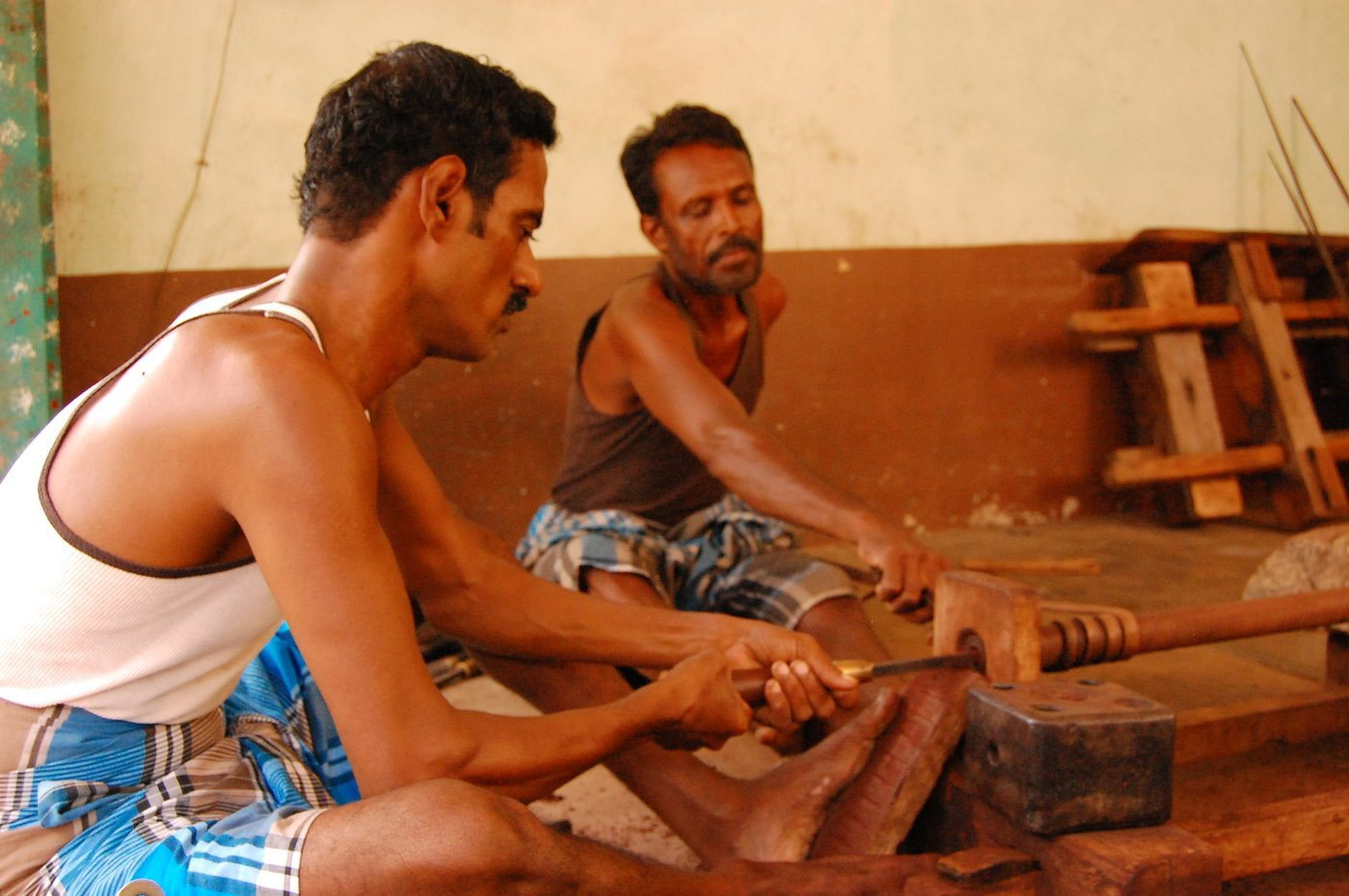 PHOTO • Aparna Karthikeyan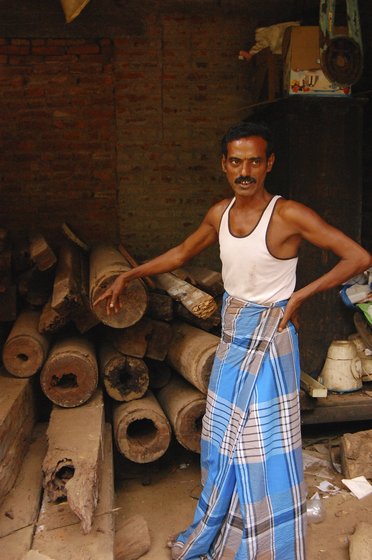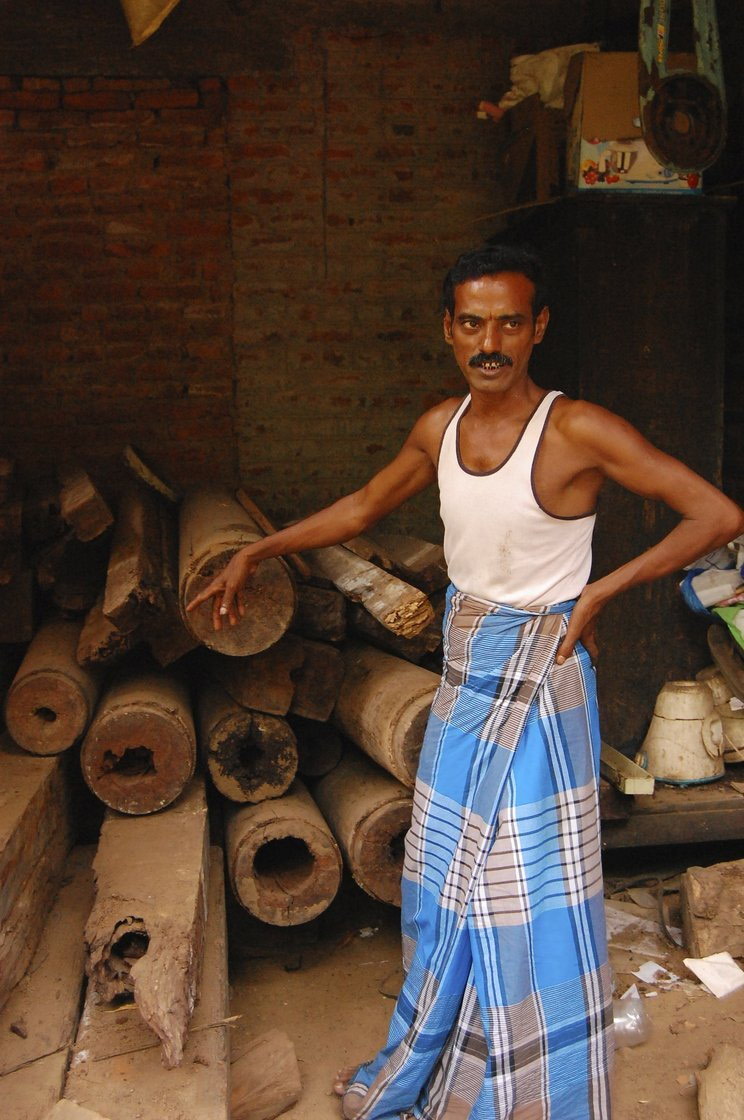 PHOTO • Aparna Karthikeyan
Traditionally, nadaswarams are made with aacha maram (Hardwickia binate, Indian blackwood). "But you can't use fresh wood; it has to be at least 75-100 years old. Young wood will bend and bow. All this wood was once lintels and pillars of old houses." He points to the pile in his backyard. "But we face trouble transporting the wood. We're stopped at check-posts and asked for a bill, but which seller will give me a bill for old wood?" Even worse, they're accused of smuggling sandalwood.
Their worries don't end with procuring the wood. "You need three persons to make each piece. After deducting all the costs — wood, labour — we are left with Rs. 1000-1500 per nadaswaram ," rues Selvaraj.
"The players buy an instrument for Rs. 5,000. They can earn lakhs from it. But when they come back, years later, to buy another, they ask for a discount!" says Sakthivel Achari, Selvaraj's uncle, who makes nadaswarams down the street. Sakthivel is also caustic about the government's continued indifference. Why, he demands, are all awards and recognitions reserved for the players, while craftsmen from the village where the pari nadaswaram was first made (by Ranganathan Achari) languish unrecognised?
There is, however, one laminated handwritten letter that richly commends Ranganathan Achari's contribution to music. Selvaraj locks it away. The writer was the legendary nagaswaram vidwan T. N. Rajarathinam Pillai.
Over lunch — cooked on a mud stove, using wood chips and scraps from the workshop — Selvaraj's elder son Satish tells me about his love for automobiles. "People have pictures of gods or their parents on their mobile phone screen. I have a van!" When I first met him, over a year ago, Satish was firm about driving a tourist van. But he's now come around to the idea (convinced and coerced by his uncles, his sister and mother) of joining the family's occupation. "But I will continue my tourism business and also farm on the side."
Satish will need to do all of that. So will his younger brother, Prakash, now studying to be an engineer. The income from making an instrument full-time may no longer sustain a family. The prestige of carrying forward the family name won't pay the bills. And it will definitely not pay for a load of wood.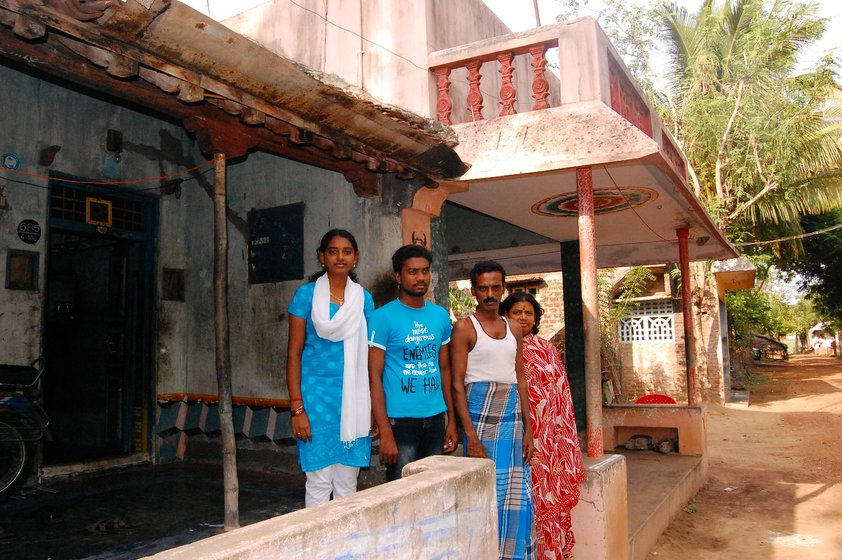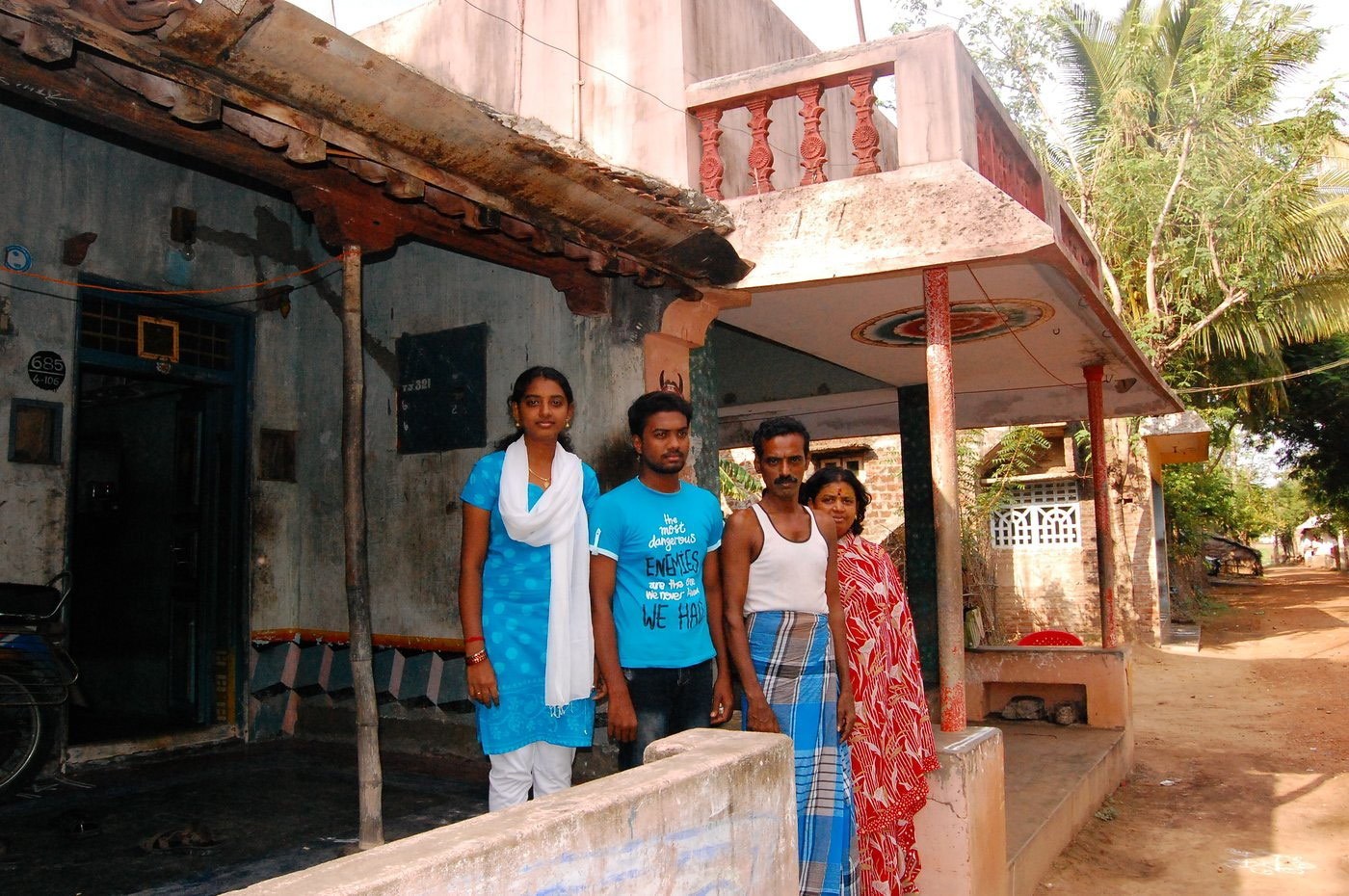 PHOTO • Aparna Karthikeyan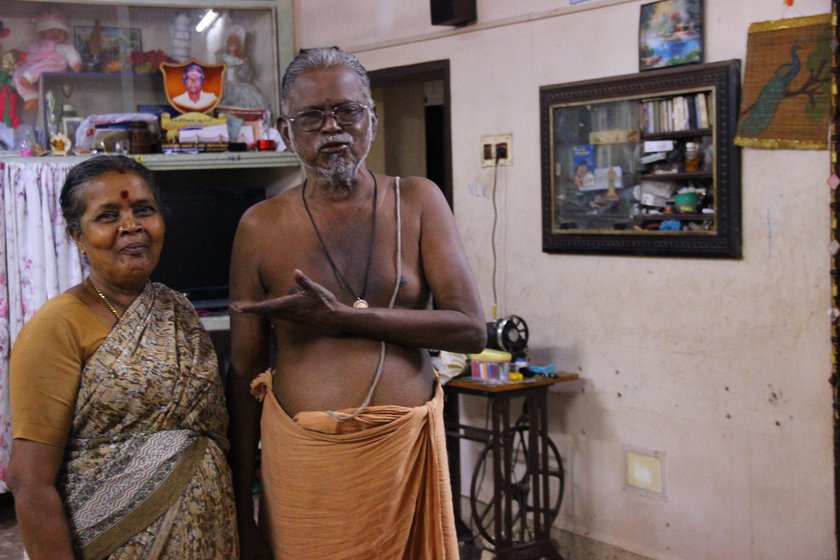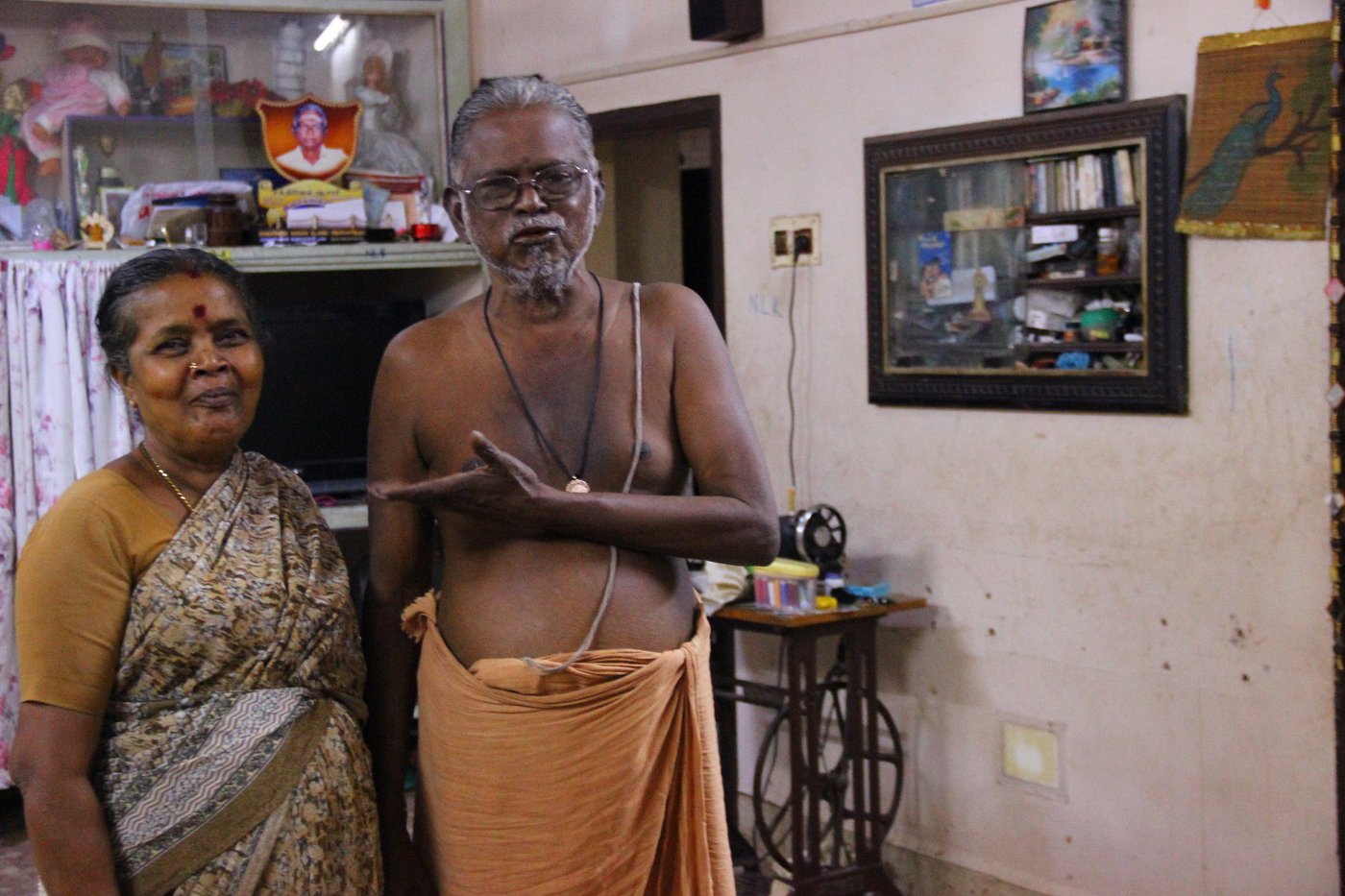 PHOTO • Aparna Karthikeyan
The succession dilemma also plays out in Sakthivel's family. His grandson Sabari, who's keen on academics, is the only heir. Sakthivel's son Senthilkumar, who's made nadaswarams since he was 15, believes Sabari will "use CNC technology, he'll modernise it." He shows me the modern touches he's put in around the house — a revamped cowshed, a generator in the backyard and, in the workshop, a lathe turned by a one-HP motor. "Nobody — including my father — thought this was possible. But it works beautifully." And it's especially handy, given how hard it is to find labourers. "We wait for them to arrive with folded hands!" Sakthivel quips.
But it will take more than willing labourers and motorised lathes to attract a younger generation to keep this great craft alive. "The four families who continue in this trade should be given awards," Selvaraj says, adding that wood at fair prices should be made available and older craftsmen should get pensions. Fitting the anusu (the flared lower part of the instrument) to a new nadaswaram , Selvaraj stands up and respectfully hands over the instrument to the waiting musician. While the player, Muruganandham, coaxes complex tunes from the new — and initially reluctant — nadaswaram , Selvaraj tells me that there's now talk of a GI (Geographical Indication) for 'Narasingapettai nadaswarams '.
"Some officials came here and spoke to us," Selvaraj says. "I'm told the GI is like a trademark, but I don't know how it will benefit us." The others don't have much clarity either, but they're confident they can ply their trade with or without its endorsement. Still, every morning, they wake up with worries: will they find some acha maram , will their sons sit down and learn from them, will the government recognise their contribution to music.
This article was originally published in The Hindu . It is part of the series 'Vanishing Livelihoods of Rural Tamil Nadu' and is supported by a NFI National Media Award 2015.