It is possible to travel across Ladakh because of a network of high-altitude roads in this immense region, most of them projects of the Border Roads Organisation. Many of the labourers who build these long mountain roads are migrants from Bihar, Chhattisgarh and Jharkhand. They come here from May to mid-October every year, ensuring ever-more connectivity for the military to transport supplies, for tourists, and for the people of Ladakh.
I went to Chilling, around 55 kilometres from Leh city, a few weeks ago. The under-construction Leh-Padum highway, which will provide year-long access to the Zanskar Valley when the snow-bound Pensi La pass is closed for six months during winter, passes through Chilling. I planned to stay with the labourers in their tents for a few nights.
The 11 by 8.5 feet canvas tents are overcrowded, home to 6-7 men for six months. They sleep on bare rugs on the cold ground, their bags, utensils and other items taking up space too. The tents are usually pitched 1-2 kilometres from the work sites, and are re-pitched as the workers move along the road construction route.
I was unable to manage more than one night in a tent. The wind, dust and cold – it can drop to zero degrees Celsius at night even in the summer – inside the tent is nearly unbearable.
So I kept visiting them at various other work sites in Ladakh (not just at the under-construction highway) during the day. Daytime is difficult too. The summer temperatures can rise to 35 degrees Celsius and the direct mountain sunlight is harsh. The Ladakh region is spread across altitudes ranging from 11,000 to 18,000 feet. The air is thin. The strenuous labour of building roads in this low-oxygen terrain can be extremely difficult for someone from the plains – and even for locals. The work includes digging the soil, and carrying heavy loads of mud and stones. The men work for around 10 hours a day, six days a week, for a daily wage of Rs. 350 to Rs. 600, depending on the task and level of experience.
A group of  workers from Bihar and Chhattisgarh near Chumathang village, on the bank of the Indus river, told me, "We don't have enough safety gear [only a few wear helmets, boots and goggles]. The Indian army has provided some warm clothing for the nights. There's a scarcity for drinking water too at the work site."
I met Bhakat Ram Surji, around 50, near Chushul village, working to build a small bridge across the Indus. He is from Jharkhand, and had been in Ladakh for five months. He has been coming here for four years, but, he says, "I dislike working here. The wage is low and the work is difficult. Some road work is so risky that I don't know if I will see sunrise the next day. I keep thinking I won't be back again next year. But I come back. I have to because at home there's nothing I can do consistently for six months".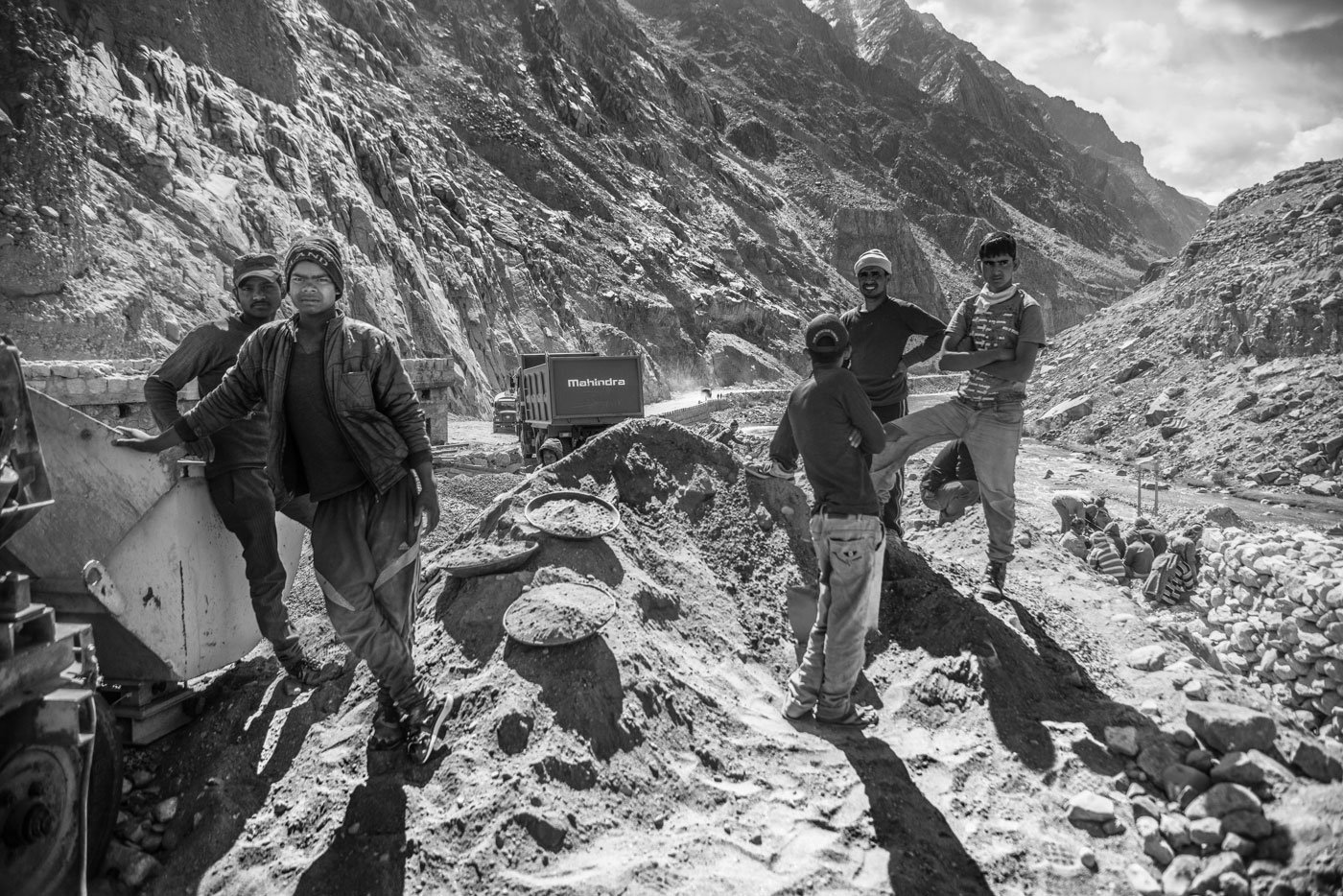 PHOTO • Ritayan Mukherjee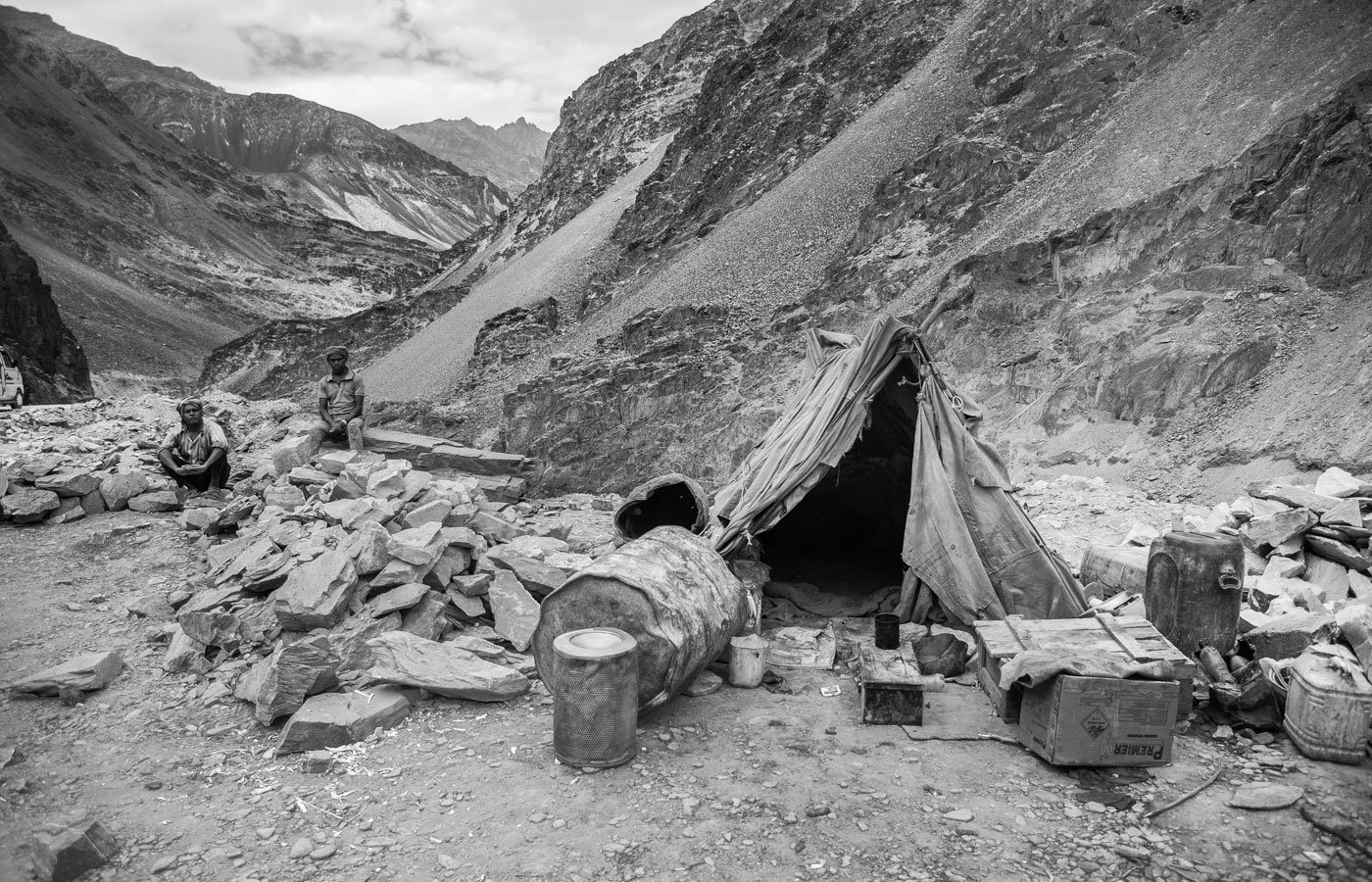 PHOTO • Ritayan Mukherjee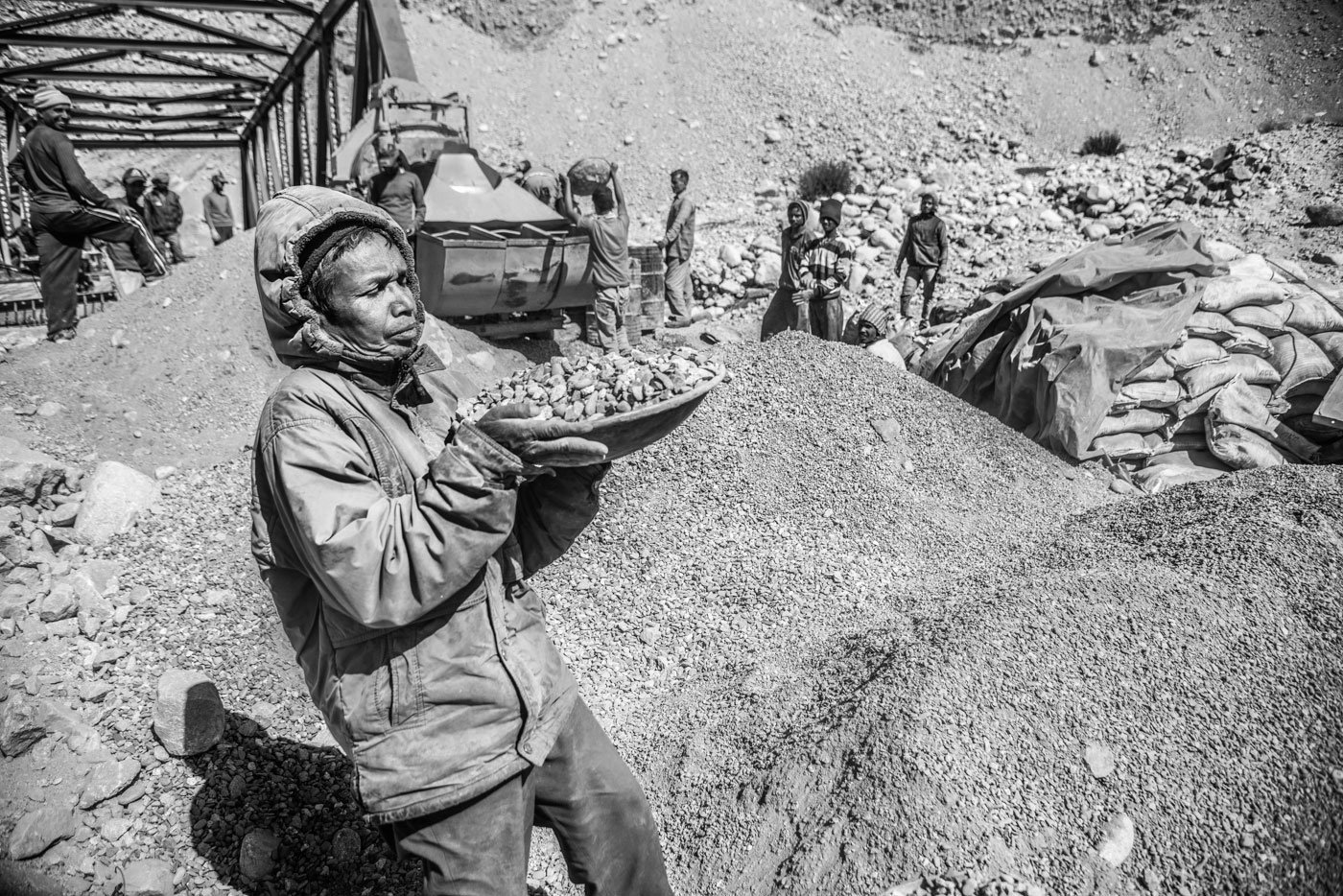 PHOTO • Ritayan Mukherjee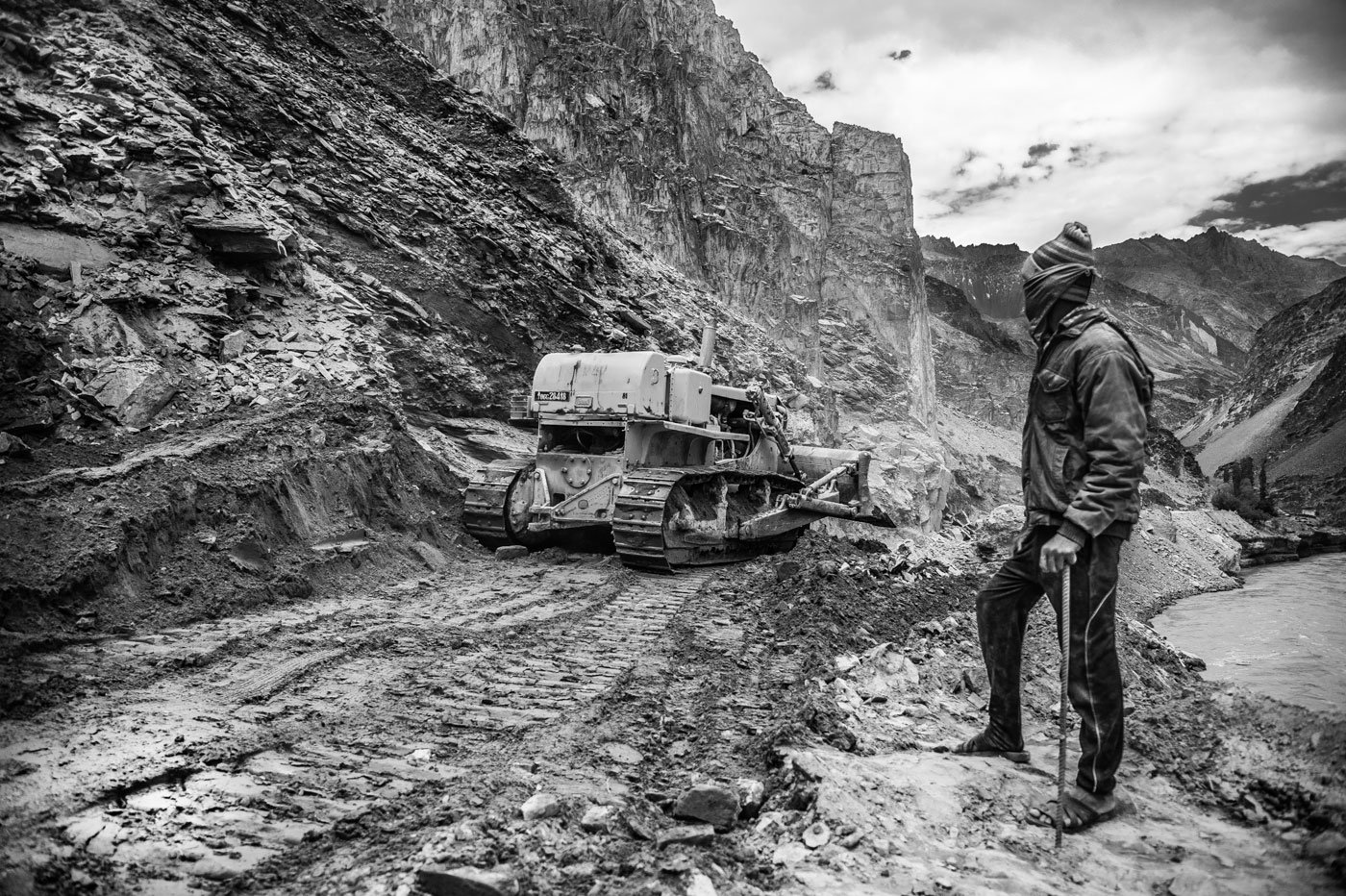 PHOTO • Ritayan Mukherjee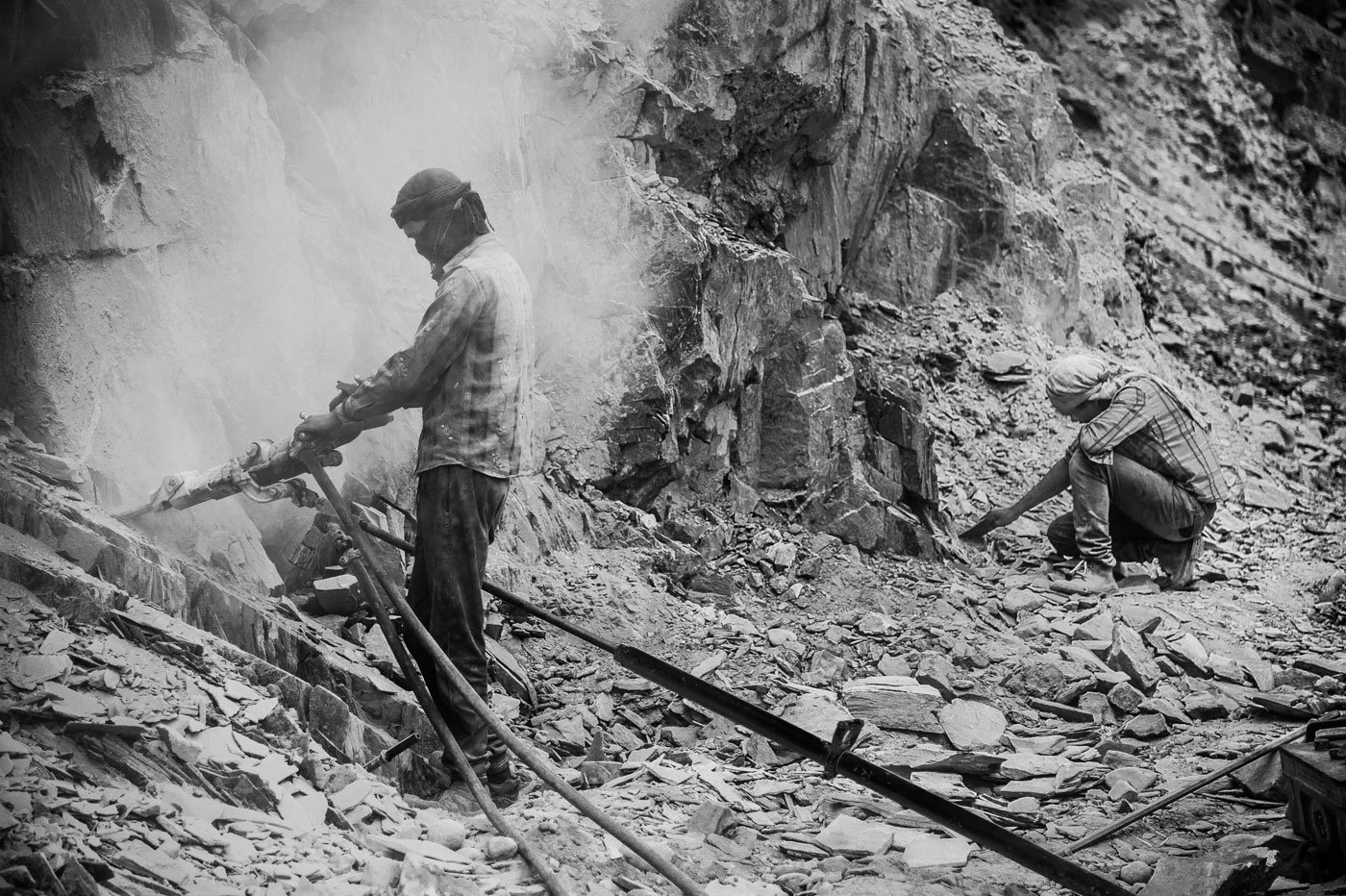 PHOTO • Ritayan Mukherjee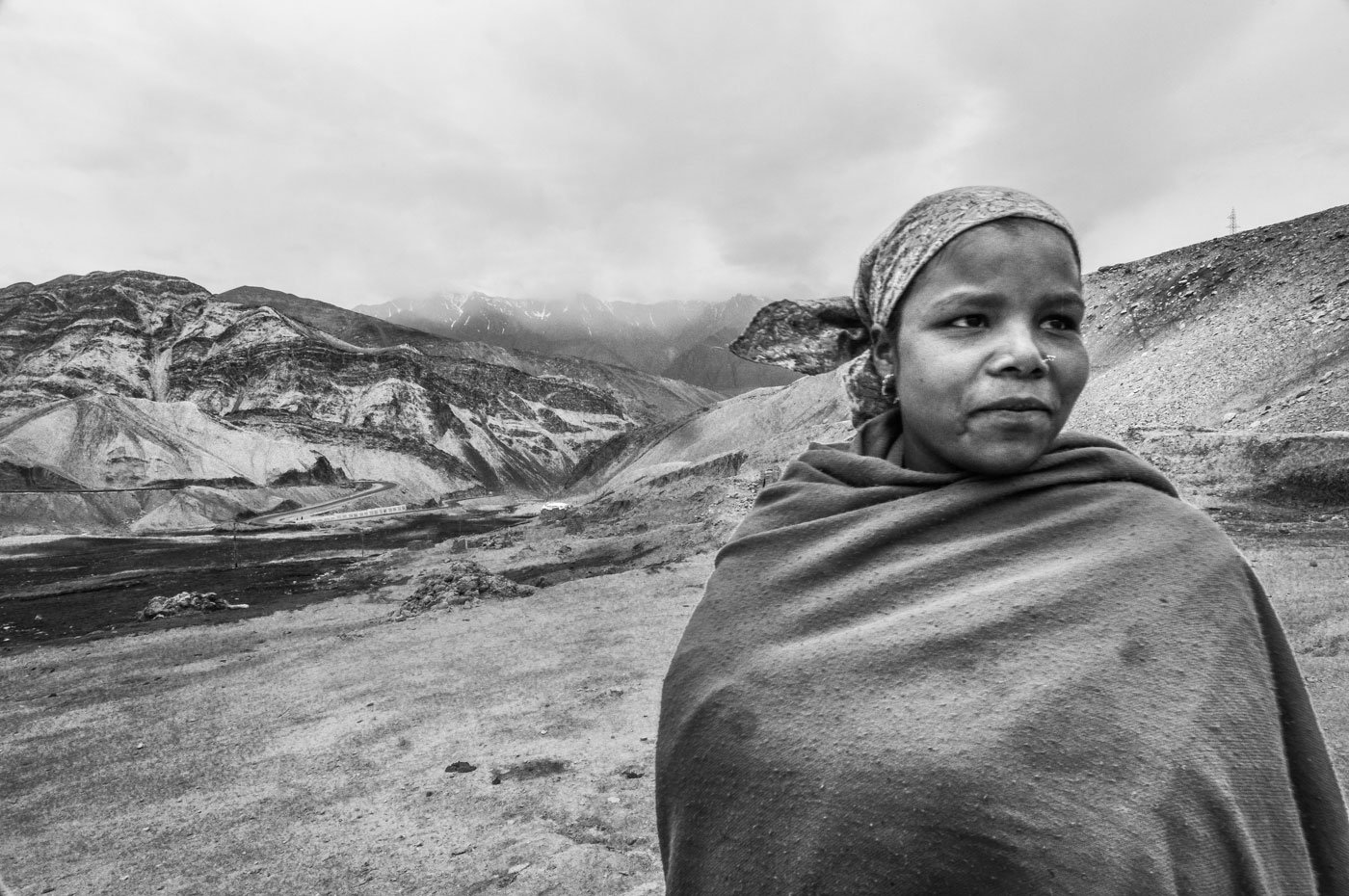 PHOTO • Ritayan Mukherjee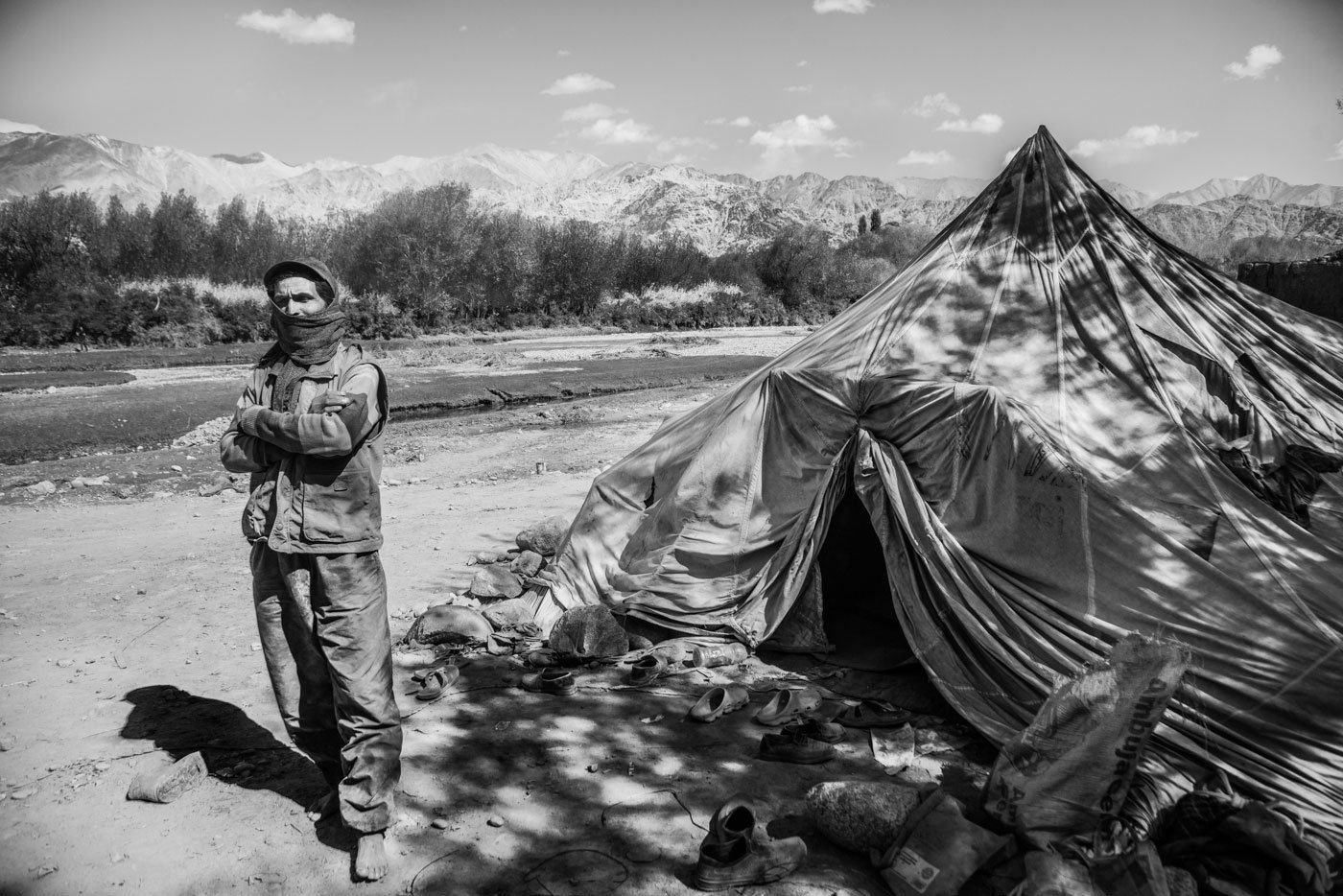 PHOTO • Ritayan Mukherjee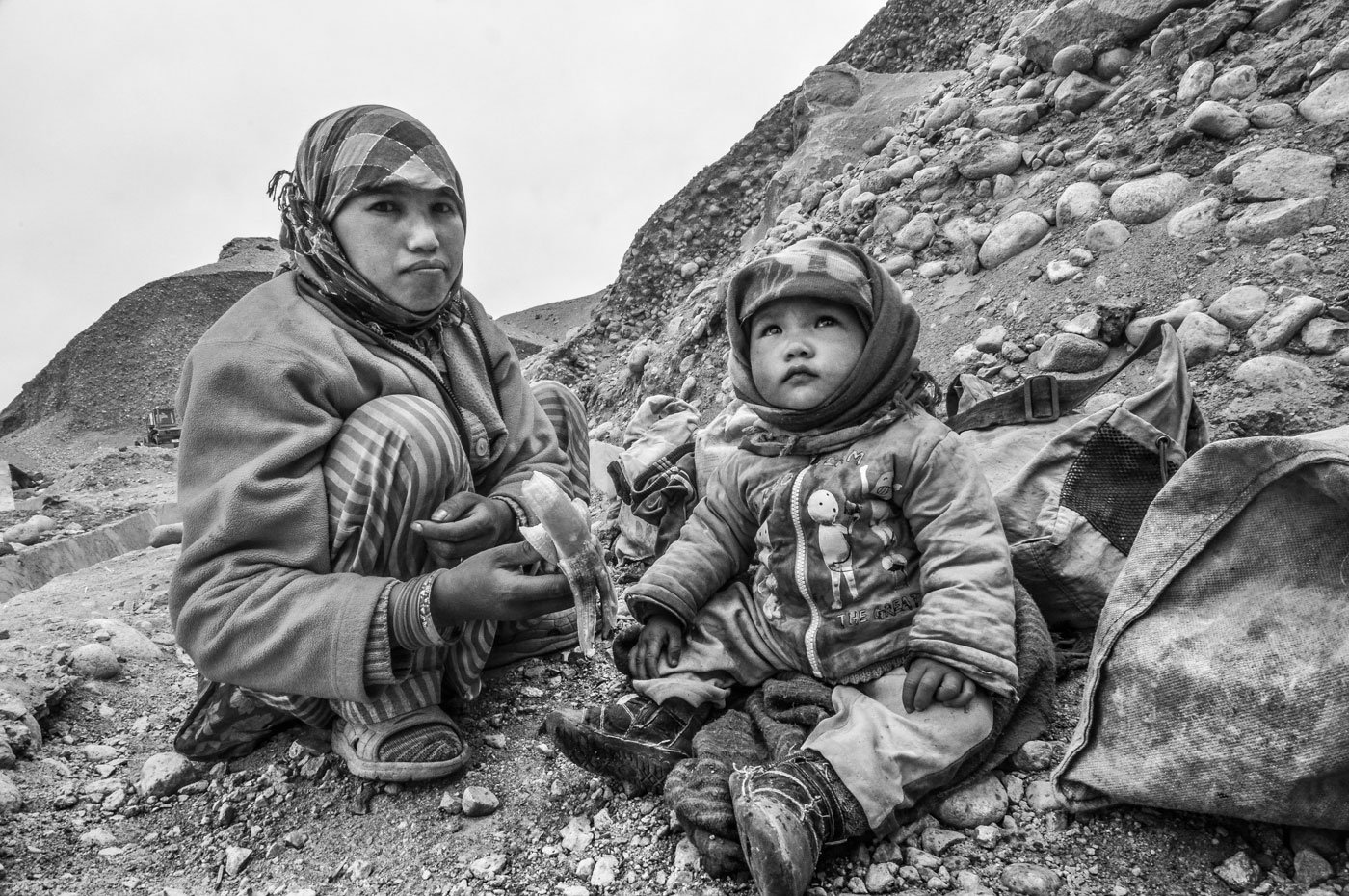 PHOTO • Ritayan Mukherjee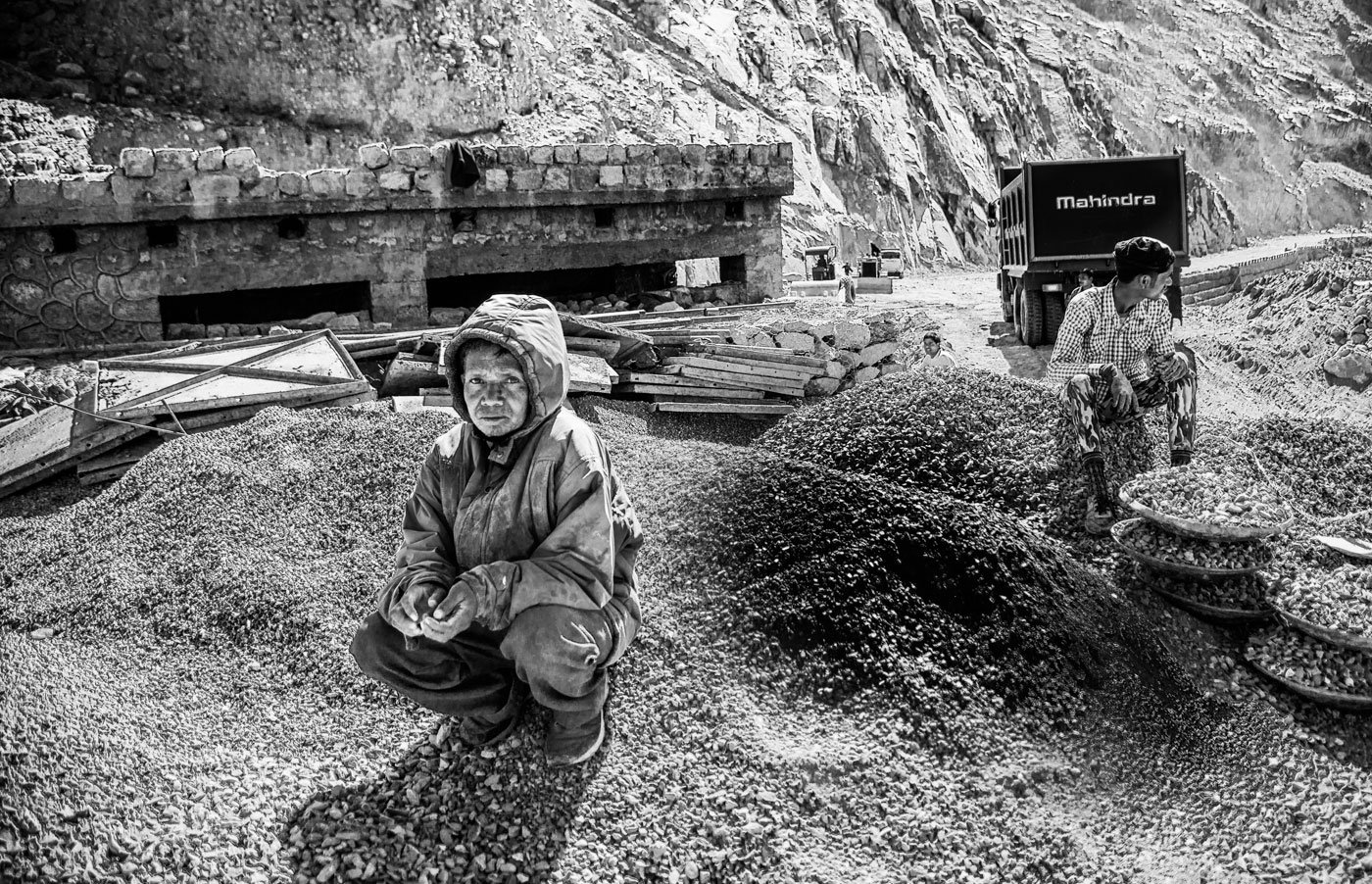 PHOTO • Ritayan Mukherjee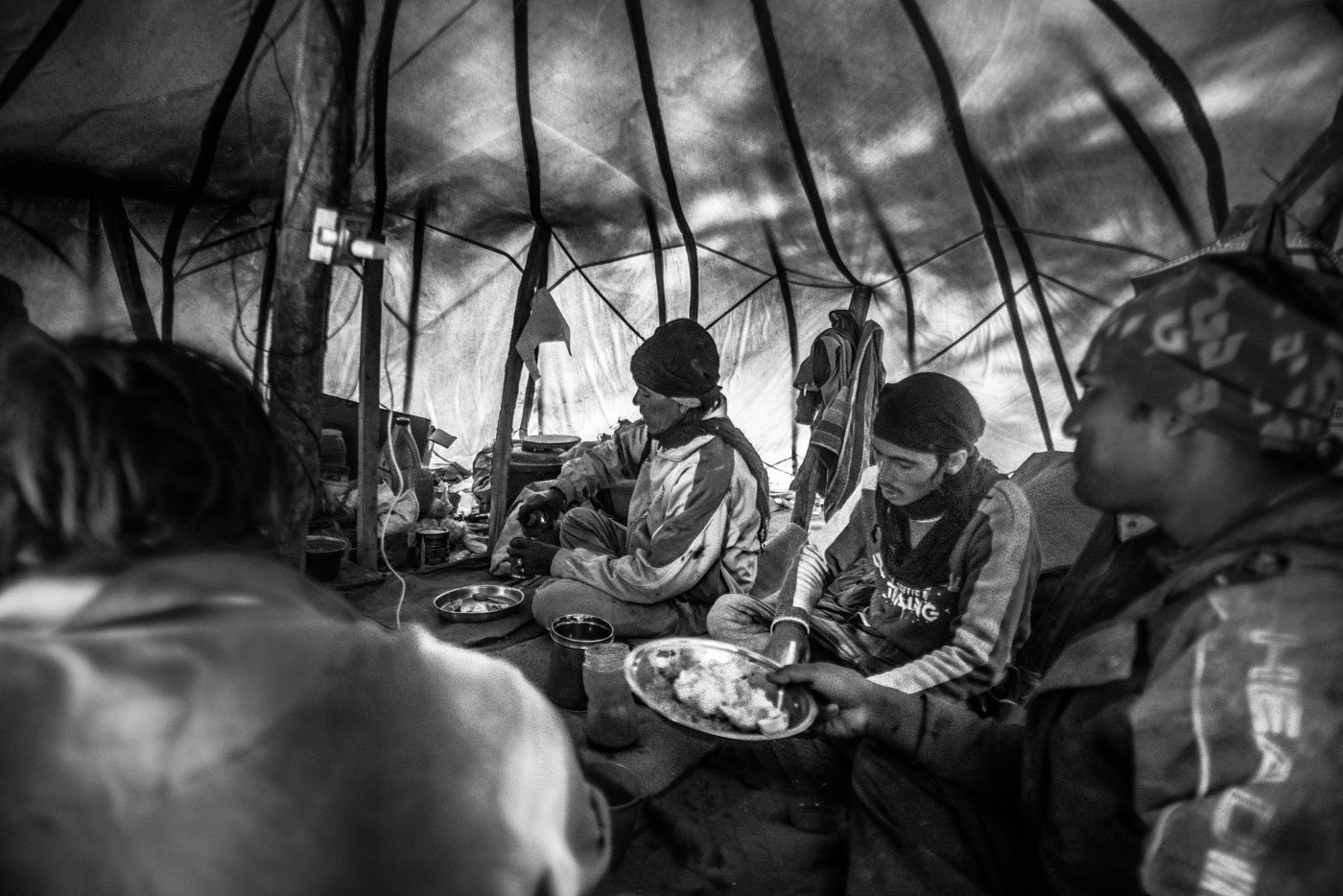 PHOTO • Ritayan Mukherjee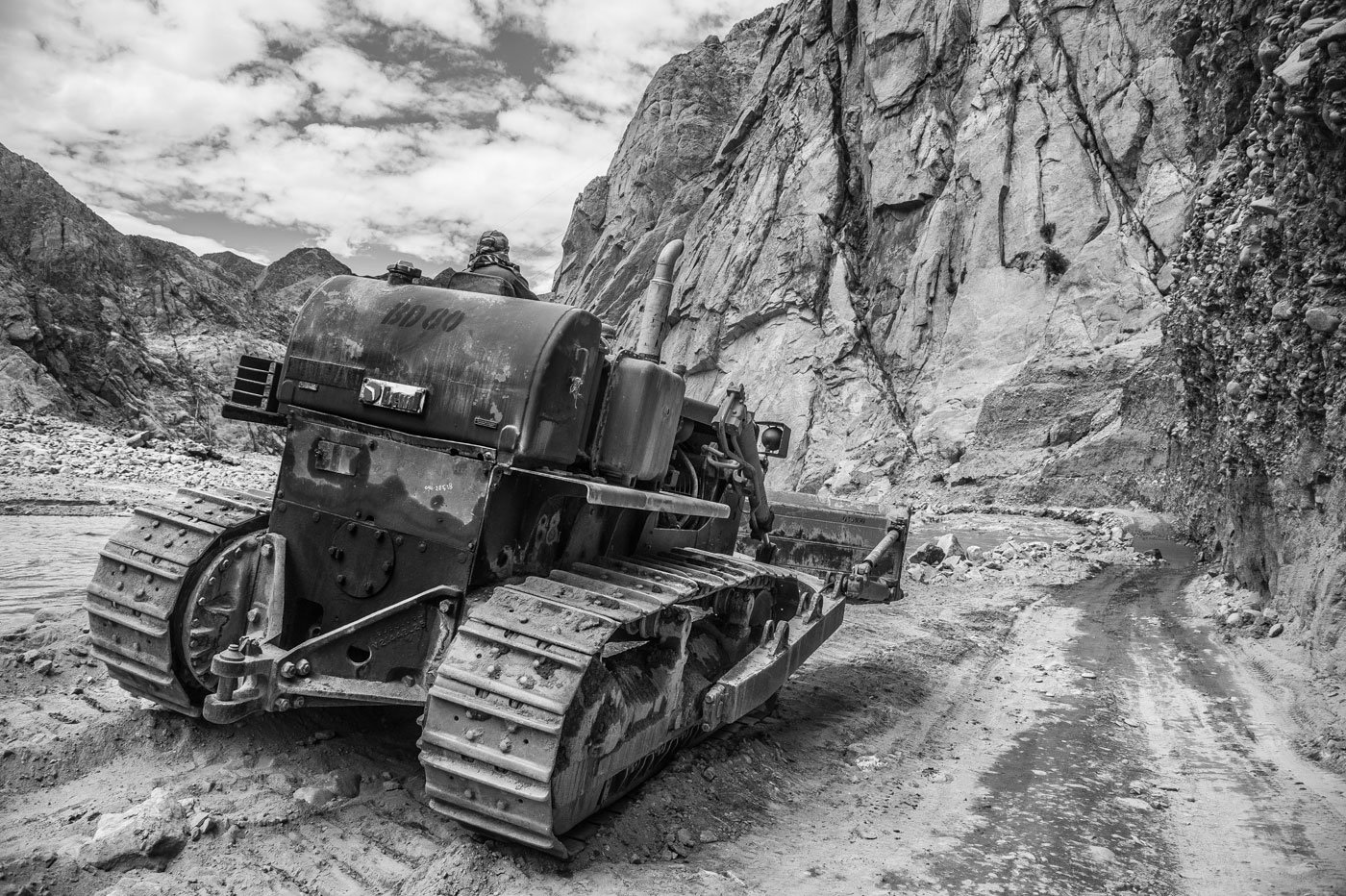 PHOTO • Ritayan Mukherjee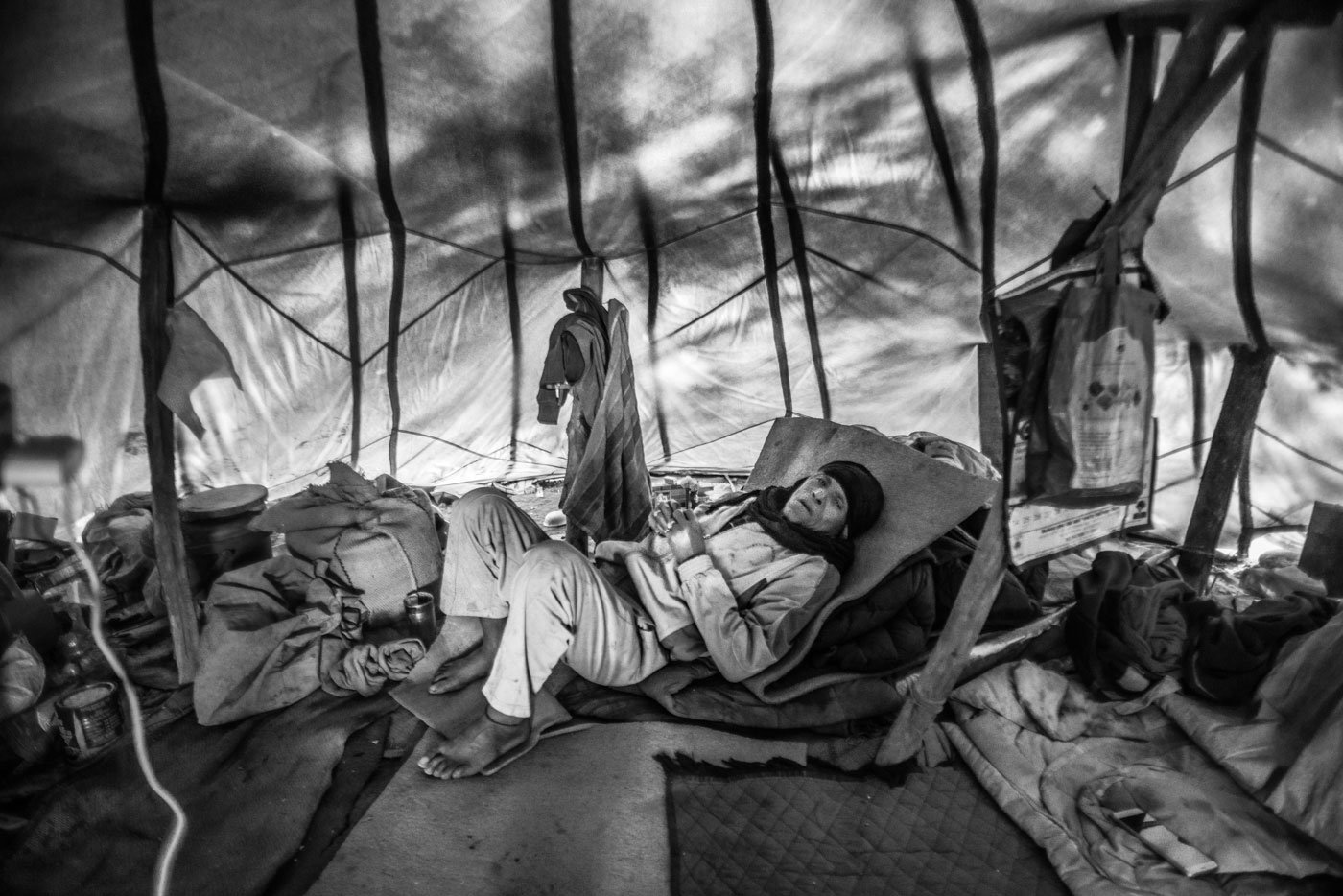 PHOTO • Ritayan Mukherjee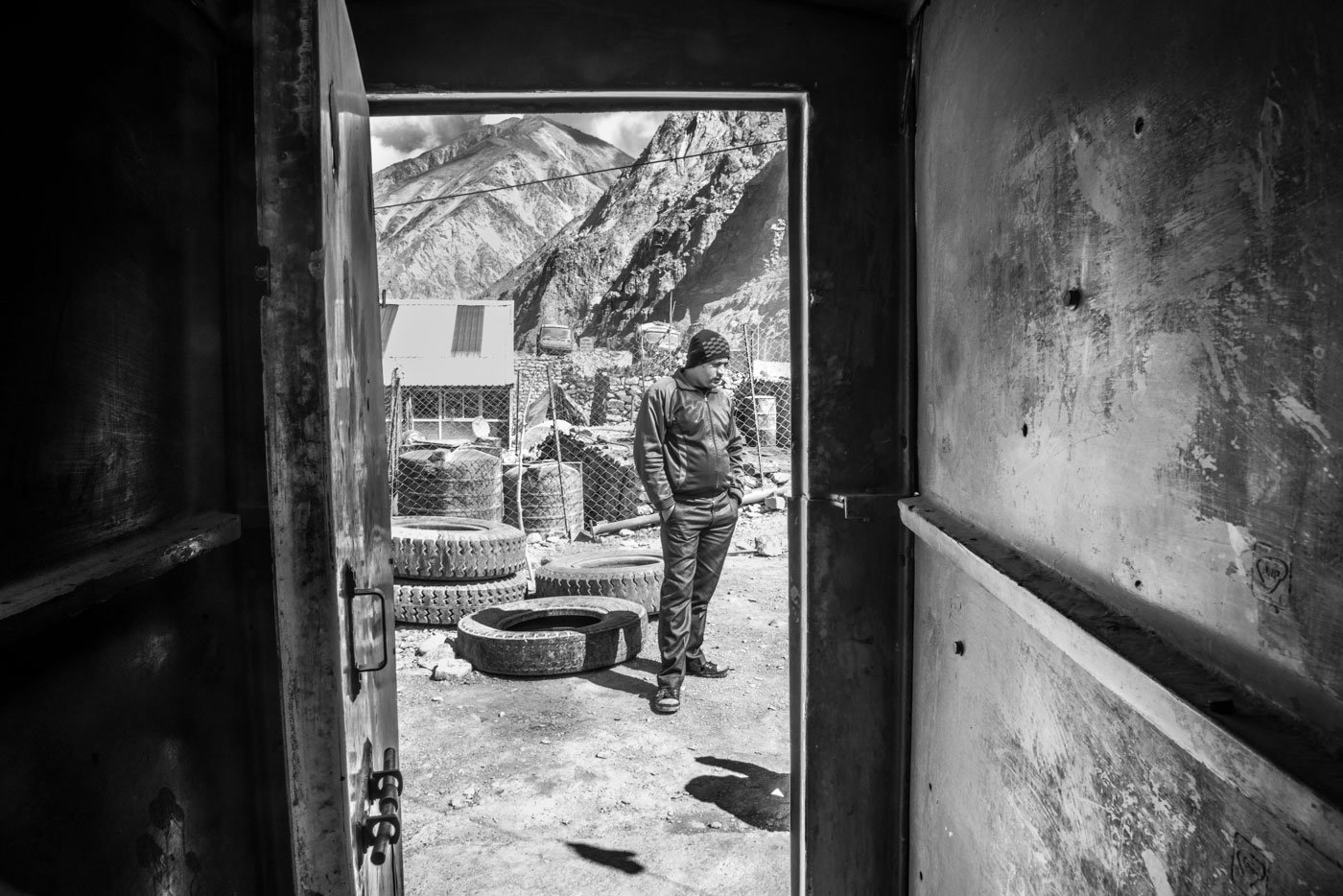 PHOTO • Ritayan Mukherjee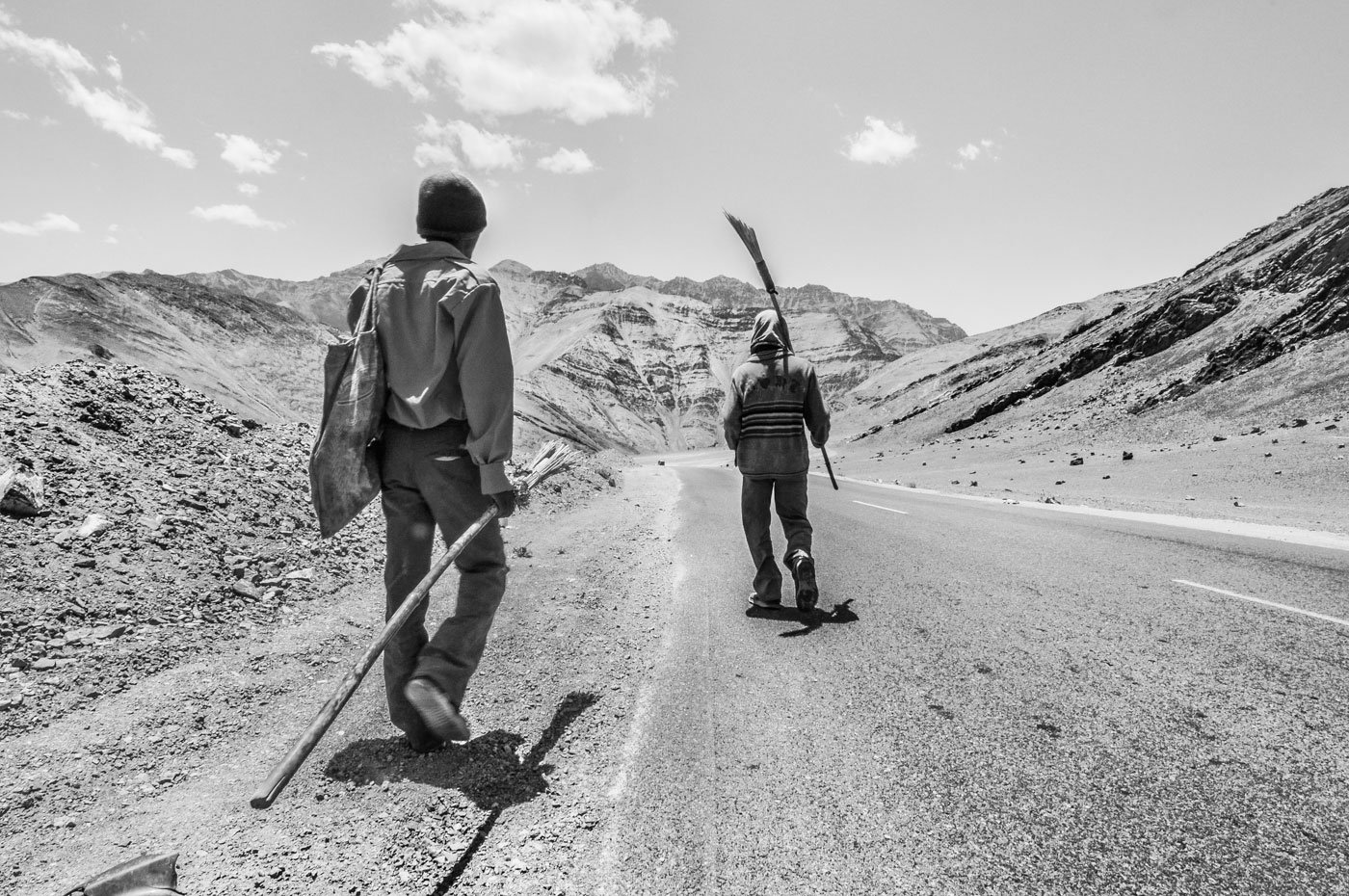 PHOTO • Ritayan Mukherjee