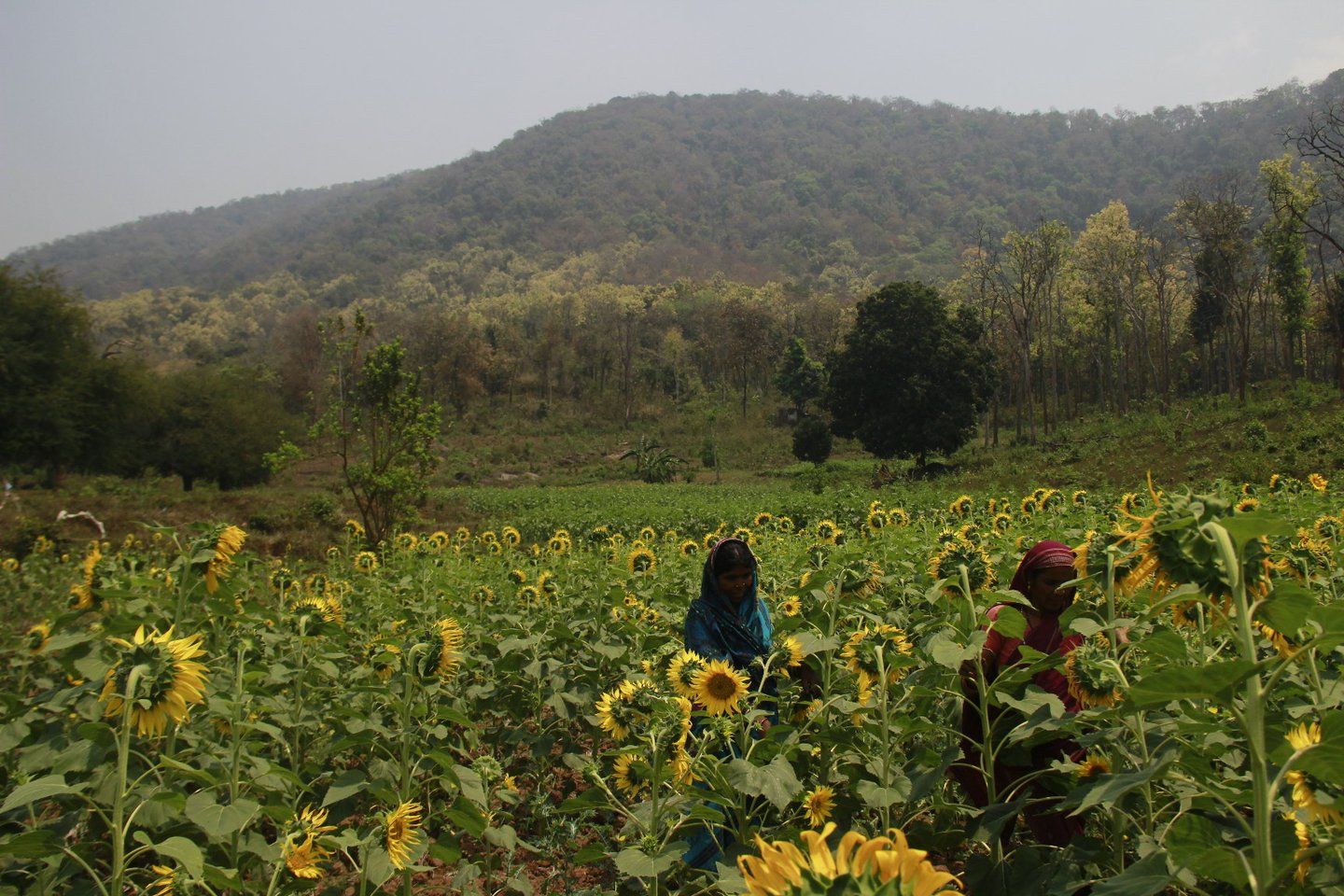 PHOTO • Chitrangada Choudhury
In the thick forests of western Orissa's Niyamgiri, should a mountain be mined is a more straightforward—and relevant—question for local residents than who should rule India, come May 2014.
Last year, over the monsoon days of July and August, in 12 Supreme Court-mandated gram sabhas, hardscrabble forest dwellers of the Gouda and Kondh communities here unanimously rejected a plan to dig up the flat-topped mountain range for a bauxite mine. The 7 square kilometre mine was to feed 72 million tonnes of ore to a refinery down in the town of Lanjigarh. The refinery was commissioned in 2007 by Vedanta Aluminium Ltd, which had plans to expand production from 1 to 6 million tonnes of aluminium per year, by mining Niyamgiri and then moving on to other bauxite-rich mountain tops within a 60 kilometre radius.
On a recent morning, in Ijirupa, one of the hamlets where the gram sabha rejected the mining Niyamgiri, there was no sign that a national election, said to be one of India's most important, was merely days away. No candidate posters were slapped on the walls of the clutch of reddish-brown mud homes, and no primetime television shouting matches ran each night in this village without electricity, drinking water or a pucca road.
Ijurupa resident Parvati Gouda took a break from harvesting the sickly-sweet smelling, pale yellow mahua fruit carpeting the ground, to say she was unaware of the 15 candidates contesting for her parliamentary constituency - a vast rural terrain of mountains, forests and over 4000 villages and hamlets spread across the districts of Kalahandi and Nuaparha.
"What I will say is that we do not want Vedanta to take our mountain from us," she said. Gouda's family cultivated cotton, sunflower, rice and vegetables on their mountainside farm, perennial streams irrigating their crop in the absence of any other water source. Forest produce augmented food and income, while closely-held religious beliefs and practices revolved around nature. The dependence on ecology ran deep.
Higher up the mountains in Phuldumer, entirely inhabited by the reticent Dongariya Kondh tribes, questions about elections evoked nonchalance and those about Vedanta, rage. "Who should one vote for – hatha na shankha na hathi (the hand or the conch shell or elephant – Congress, Biju Janata Dal and Bahujan Samaj party symbols respectively)," asked one young man in Kui, axe resting on his right shoulder, while the beats of village drums for a prayer wafted through the air. "Who is against Vedanta?" No candidates had walked up here yet to canvass for votes. Along the kutcha roads leading to this hamlet, three buildings built by Vedanta as CSR outreach stood broken and abandoned, apparently attacked with axes by angry villagers.
Down below, in Lanjigarh, an occasional campaign jeep rode the streets, fitted with loudspeakers playing songs that emphasized symbols rather than candidates, in a reference to the absence of formal literacy among rural voters. At the Lanjigarh police station, opposite CRPF barracks and a short distance from the refinery, languid policemen took a break from watching news to show charts listing the polling areas in the mountains as HS, shorthand for Highly Sensitive, or Naxal-affected. Of the 24 completely inaccessible booths in the Kalahandi constituency, 22 fell in the Lanjigarh segment.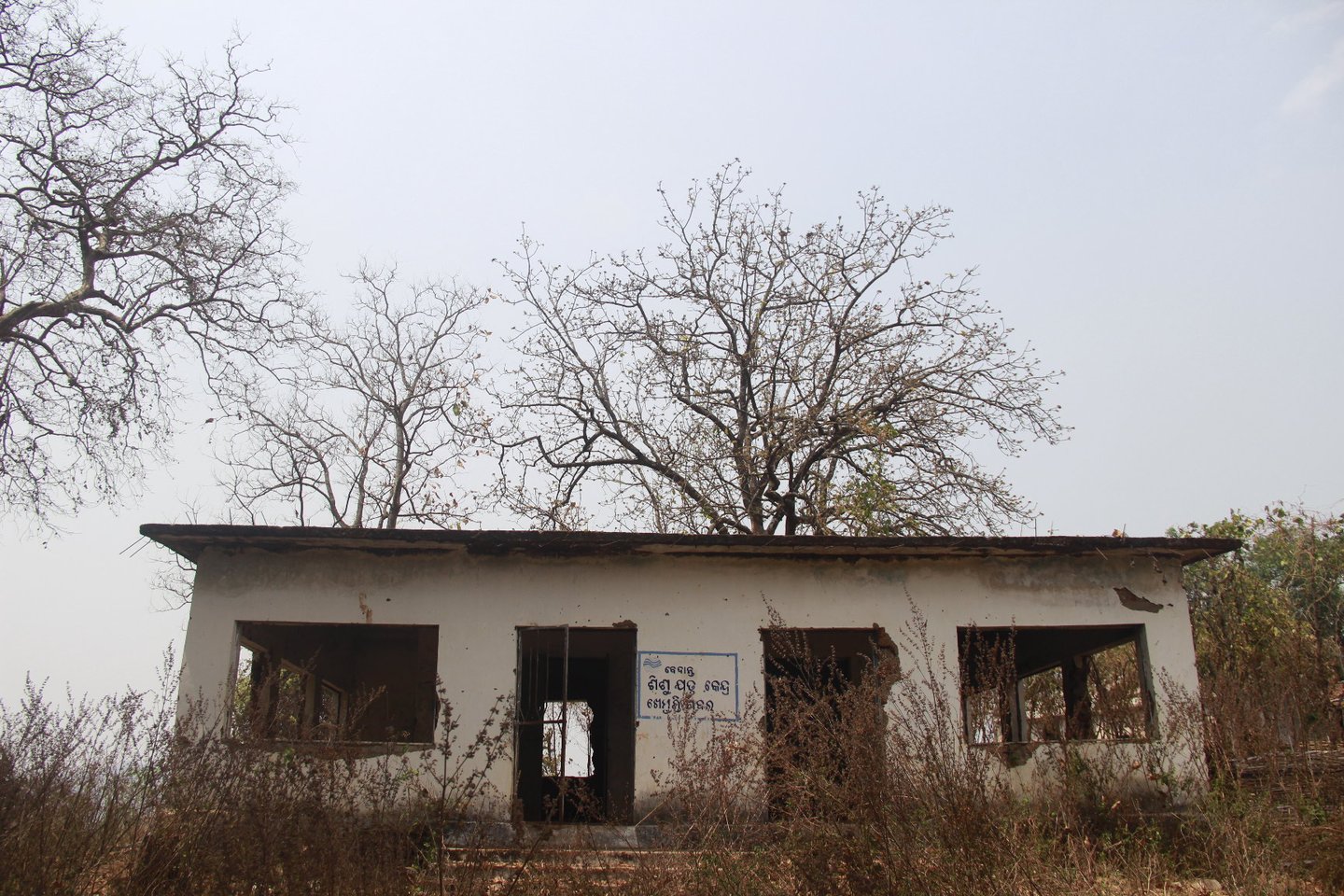 PHOTO • Chitrangada Choudhury

The gram sabhas of Niyamgiri in some ways marked India's first environmental referendum, and pointed to the chipping away of prior hierarchies and emergence of new sites of formal power. Views expressed by the villagers in the gram sabhas eventually led the Ministry of Environment and Forests this January to disallow the bauxite mine. The rejection threw into sharp relief a broader conflict playing across several resource-endowed areas of the country, including Orissa.
New laws passed during the decade-long UPA regime like the Forest Rights Act (under which the Supreme Court ordered the gram sabhas), the Right to Information Act are legally empowering local communities to raise questions and voice opinions, making decision-making more democratic and participatory, but also messier and unpredictable. Greater scrutiny of corporate actions by non-state actors is also making it less easy to run roughshod over local communities and unilaterally annex the resources they depend on.
Simultaneously, governments and companies are increasingly seeking to bring mineral-rich areas under their control as part of larger economic plans. Some resources, such as coal, are essential to meet India's growing industrial and consumer power demand. Others, like iron ore, have presented an illegal and quick route to wealth and power through profitable raw exports, as pointed out by the Shah Commission's findings on Orissa, Karnataka and Goa.
Conflicts had become inevitable with growing demand, Kalahandhi's sitting MP and Congress candidate Bhaktacharan Das opined. "But gram sabhas are going to arrest the attention of government and industry."
In a speech in the Lok Sabha in 1996, Das, a former Railways Minister in the Chandrashekhar government had strongly advocated for an aluminium plant in Kalahandi. He now said he opposes mining in Niyamgiri, and backs agro-based industries instead, "which can add value to the district's 6000 crore rupees worth of annual agricultural produce." Das, who brought Rahul Gandhi to visit areas in Niyamgiri like Ijirupa in 2008, defended his altered stance: "I never said industrialization should be blind and brutal. When I made the speech, I was concerned about poverty reduction. When I saw the spontaneous protests of the tribes and visited those forests, I realised mining cannot take place at their cost."
It is not just remote subsistence forest economies which are mounting a challenge to big-ticket industrialization in India's most mined state, which holds close to 60% of the country's bauxite, a third of its iron ore and a fourth of its coal. Prosperous settled agrarian villages are not keen to alter their lives for mining either, as evident in the state's coastal edge where protests are underway since eight years in villages to be acquired for a steel plant by Pohang Steel Company or POSCO. The proposal represents the country's biggest Foreign Direct Investment deal, and has been strongly backed by the Prime Minister.
Last week, further west, in coal-rich Angul district's Chhendipada block, 9 villages collectively decided they would boycott the elections on April 10. The tactic, they said, was a way of drawing attention to their demand that gram sabhas under the new Land Acquisition law should be held in their area where they can formally express opposition to acquisition of their lands for a coal mine. The new law, taking effect from 1 January 2014, introduces the consent provision for landowners.
In Ministry of Coal documents, the 9 villages with over 2500 residents are depicted as the rectangular-shaped Machhakata Coal Block. The block is to be mined by the Gujarat-based industrial house of Adani, and meant to generate power for residents of Maharashtra and Gujarat. In a sleek online presentation from 2012, Adani's plans show production in Machhakata to begin last year, as part of the company's wider plans to increase coal mining and trading from 36 million tonnes per annum in 2012 to 300 million tonnes per annum in 2020.
Chhendipada's farmers have had other ideas. Over the last three years, roadblocks and protests by residents, often turning violent, have ensured that the administration is unable to hold the public hearing as part of the environmental clearance procedure for the mine.
In sharp contrast with the Kondhs of Niyamgiri, of whom few had accessed school education or were interested in the nuances of law and the contending arms of government, Bagdia's college-educated residents closely followed shifts in policy. They surfed the internet, filed Right to Information requests, moved courts and tracked which party was saying what. "The new Land Acquisition law has been passed, but why is our local Congress MP not supporting it?" asked Bagdia resident and engineering lecturer Satyabrata Pradhan in an interview on a recent afternoon, explaining why the 9 villages including his would boycott the April elections. "Let the gram sabha consent provision of the new law be applied to us – if seventy per cent of the residents say yes to the mine, we are ready to be displaced."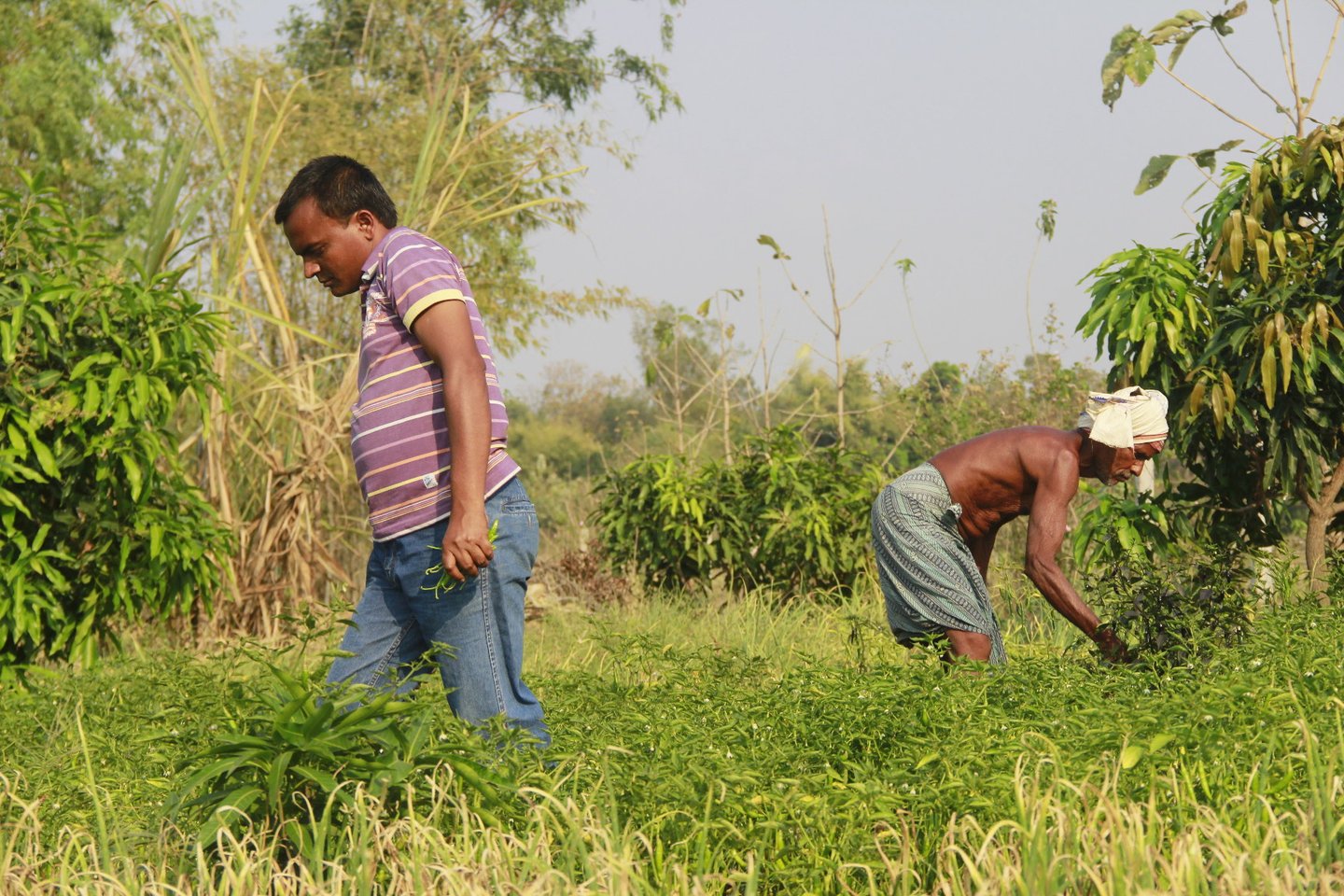 PHOTO • Chitrangada Choudhury
Bagdia consists of paddy and vegetable farms, and large mango and cashew orchards, with elephant herds frequently dropping in from the adjoining Kosala Reserve Forest. This afternoon, residents sat in neat lines outside a village temple for a community feast, eating rice, dal-with-vegetables or dalma and tomato chutney from leaf plates. With their pucca houses and two and four-wheelers, the protesting farmers were akin to a rural middle class, expressing as much contempt for subsidies to the poor, as for politicians across parties and industrialists, who they saw as striking private deals and helping each other grow rich ("Why does Modi use Adani's jet?", asked one local, referring to a media report).
"We are far from the era of Hirakud (the large dam in western Orissa built in the wake of independence), when farmers would be told to make a sacrifice for the nation and be evicted," said Jagadish Pradhan, Kalahandi native and former member of the National Commission for Farmers, referring to the altering grounds of aspirations and rights in rural Orissa. "There is a realisation now that mining does not even create the kind of jobs and prosperity it promises to locals."
Figures from the state's Economic Survey of 2012-13 support Pradhan's argument: the value of minerals produced in the state increased over ten-fold from 2776 crore rupees in 2001-2 to 30,204 crore rupees in 2011-12. The sector's employment in the corresponding period fell marginally from 52,937 to 48,239 jobs, reflecting increased mechanisation, according to the report.
"Give us alternative land if you want to take our land, and we will leave," said Bagdia resident Sujit Garnayak, a 34 year-old farmer. "Why should we give up what will always sustain us for a temporary job in a coal mine?"
Creating jobs is the biggest task before the government, argued Xavier Institute of Management professor, and a former State Planning board member, Banikanta Mishra. He said that over the past decade, the state government had overly relied on mining for quick royalty revenues to the exchequer, while side-stepping the more difficult and intensive task of creating a model of growth with a broader and more sustainable base. If Naveen Patnaik returned to power in May for his fourth term as Chief Minister, Mishra said, "I would hope he focuses much more on jobs and incomes particularly related to agriculture and rural skills, rather than that one big mining project, which makes headlines."
"A well in our village – that way we could harvest a larger produce," said Ijurupa's Parvati Gouda, when asked what she desires from her elected representative. "Two tins of sunflower oil would become four tins then."
A version of this appeared in Mint newspaper on 8 April 2014 and can be accessed here