It's A Steal

- In 1970, the Gandhamardan Block-B mining lease was awarded to Odisha Mining Corporation (OMC).
- In 2013 the Shah Commission pointed out various illegalities in the mine, including mining over 1.2 million tonnes of ore from 2000 to 2006, without the required forest clearance. Two forest offence cases are ongoing in the Keonjhar district court.
- In January 2015, the state government, on behalf of OMC, applied for forest clearance to expand annual production to a whopping 9.2 million tonnes of ore over 1,590 hectares. This area includes over 1,400 hectares of forest spread across seven Adivasi villages.
- OMC estimates the annual sale value of the ore to be Rs. 2,416 crores. It proposes to mine this area over the next 33 years for a total of 300 million tonnes of ore.
- The Ministry of Environment and Forests is currently considering the forest clearance proposal.
Source: The Justice M.B. Shah Commission Enquiry Into Illegal Mining report; forest clearance submission for Gandhamardan Block-B
"I sign like this. In Oriya. I have never studied English in my life. How would I sign in English?" asks a bewildered Gopinath Naik, getting off his bicycle in Urumunda village.

Naik, a member of his village's Forest Rights Committee, has just seen an English signature, claiming to be his, as certifying a gram sabha (village assembly) resolution, claiming to be his village's.
The resolution records the consent of Urumunda's villagers to handing over 853 hectares of forestland to the Odisha Mining Corporation (OMC). It is one among seven identical gram sabha resolutions submitted to the Ministry of Environment, Forests and Climate Change (MoEFCC) in January 2015, as part of a forest clearance application by the Odisha state government and OMC.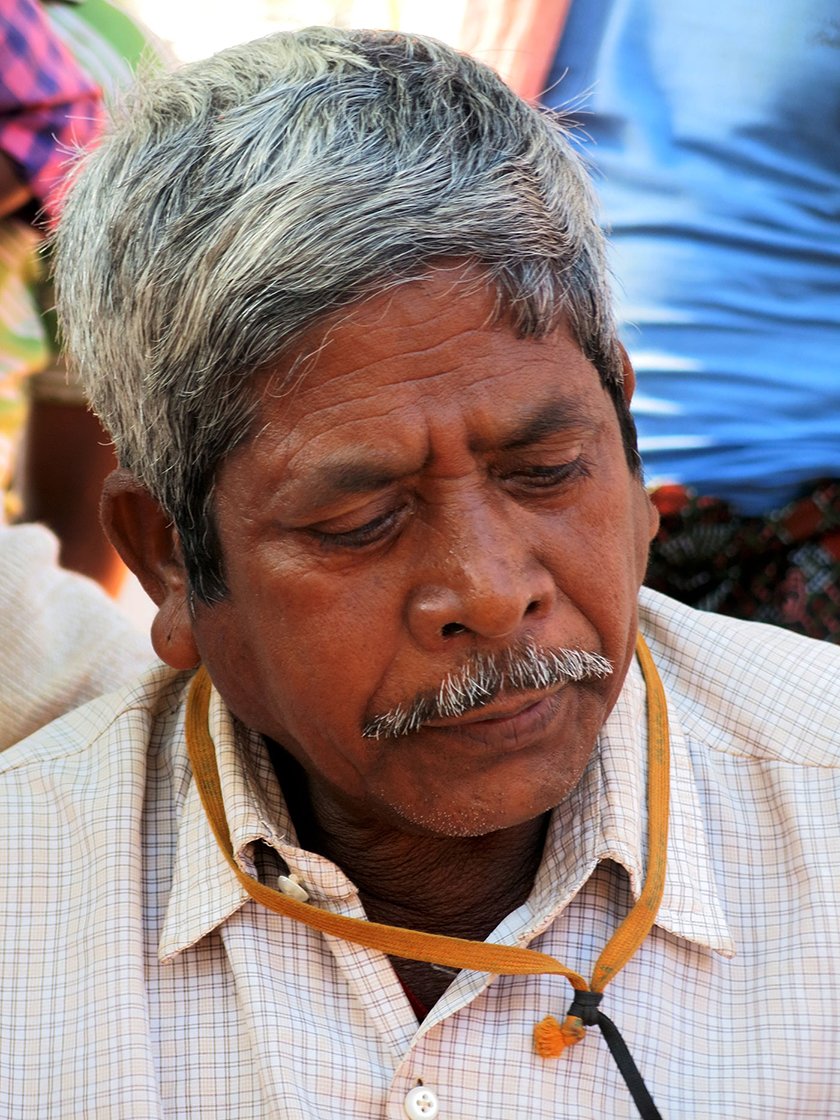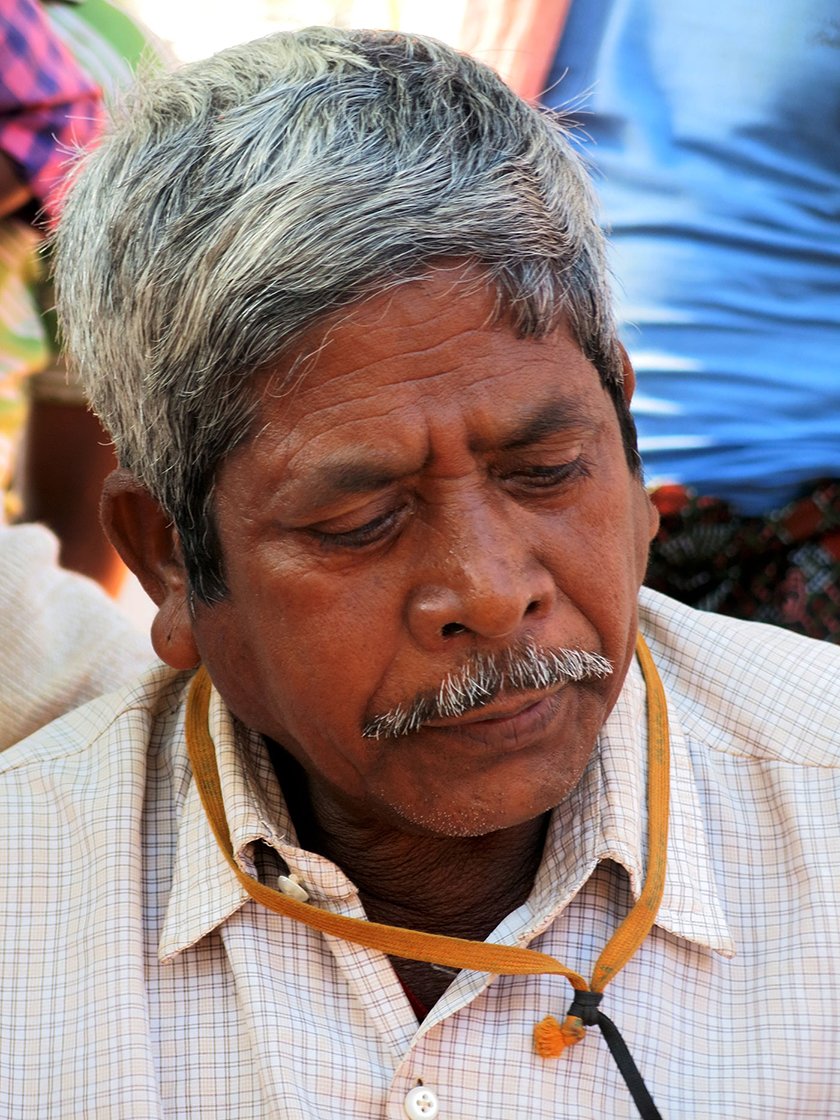 PHOTO • Chitrangada Choudhury
OMC, which calls itself "India's largest public sector mining company," is seeking the clearance in order to turn 1,590 hectares of land, including 1,409 hectares of forest (that is an area equivalent to about 45 Lodi Gardens), in and around seven villages including Urumunda, into a 300 million-tonne iron ore mine, the 'Gandhamardan-B Iron Ore Mine'.

OMC proposes to run the mine for 33 years; its project documents put the annual sale value of 9.2 million tonnes of iron ore to be mined each year at Rs. 2,416 crores. The cumulative value of the ore in the forest then would be over Rs. 79,000 crores.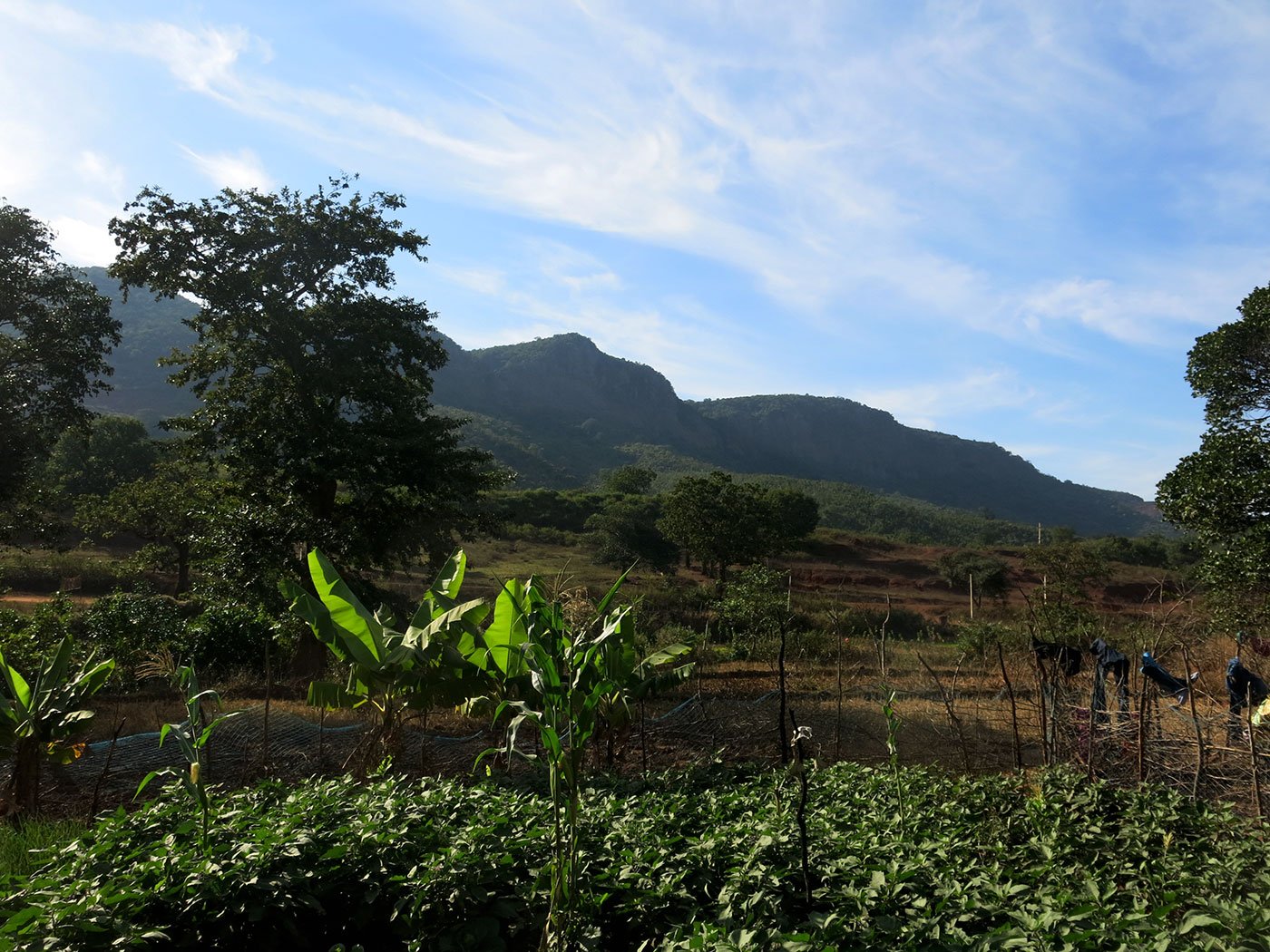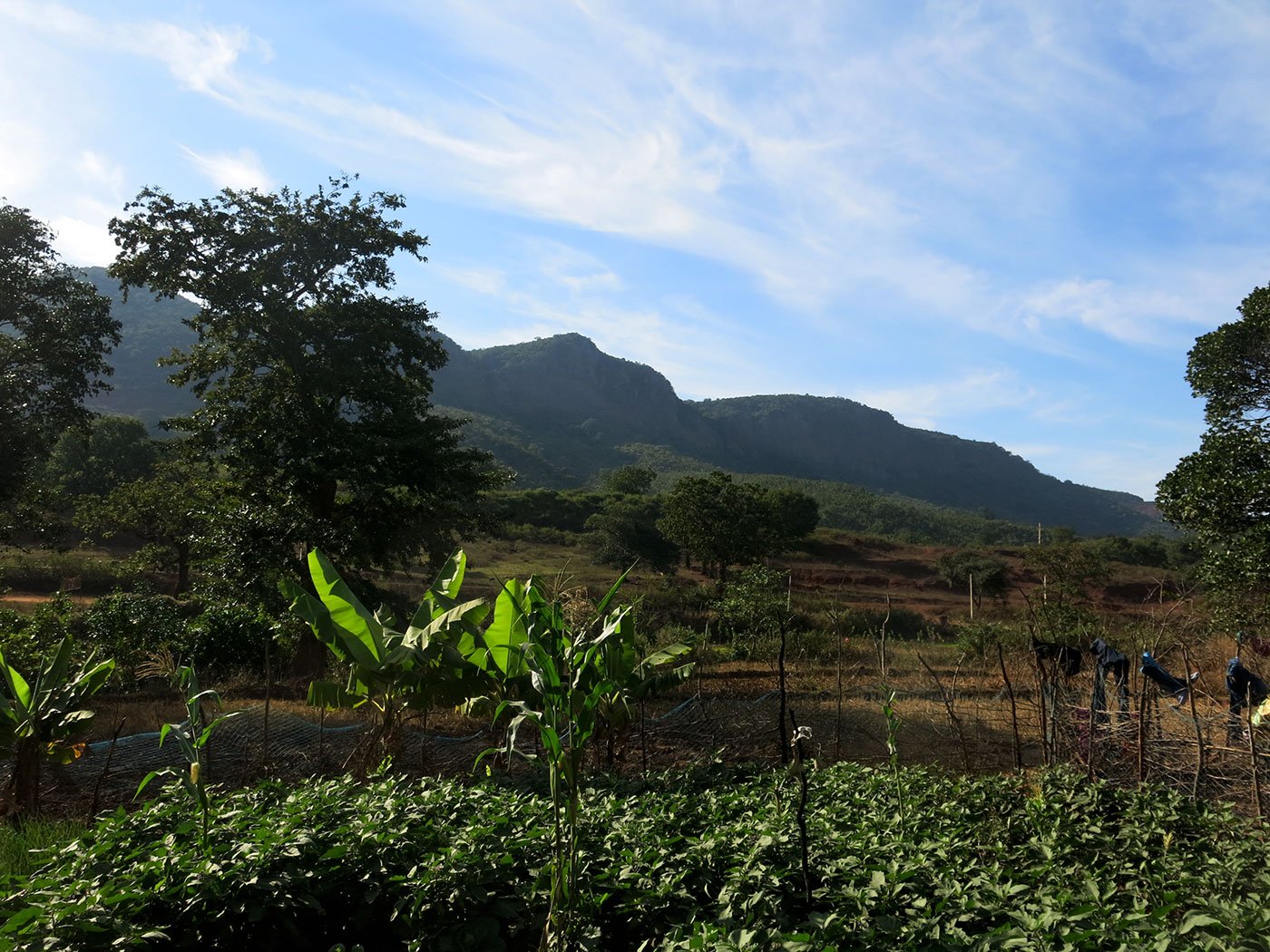 PHOTO • Chitrangada Choudhury
We are over 250 kilometres north of Odisha's capital of Bhubaneshwar, in Keonjhar district's Gandhamardan mountains.  It is a striking landscape of Adivasi Munda and Bhuiyan villages, deciduous forests, and mountainside farms of corn, millet and sesame, irrigated by natural streams. Wildlife, including elephant herds, roam parts of the forest, according to villagers, and official forest department documents.

A third of India's hematite iron ore reserves also lie here.
From 2005-2012,  fuelled by a commodity boom, especially lucrative exports to China, Keonjhar and the adjoining district of Sundergarh witnessed a frenzied scramble to dig up the mountains and forests to get to the ore. The widespread crushing of laws, and attendant abuses against local Adivasi communities, created "super-normal profits" for a sliver of economic and political elites, according to the Shah Commission of Enquiry into Illegal Mining (headed by former Supreme Court judge M. B. Shah), which investigated these areas from 2011-13.
In 2013, faced with growing questions, Odisha's Naveen Patnaik-led government belatedly issued recovery notices to mining companies for  Rs. 59,203 crores of illegally mined ore. By way of perspective, that is about a fourth of the state's annual GDP. Miners have not paid a rupee of this until date.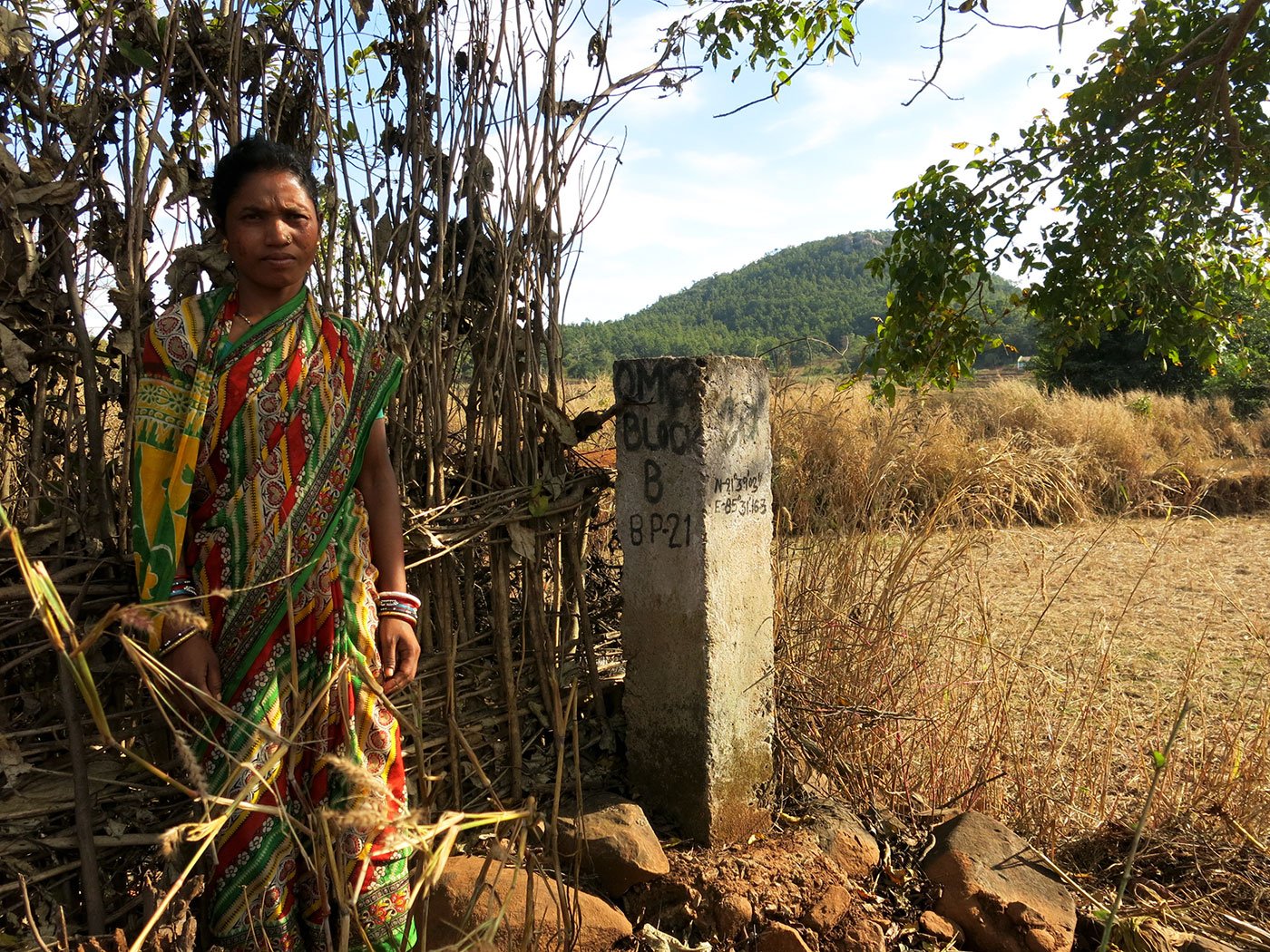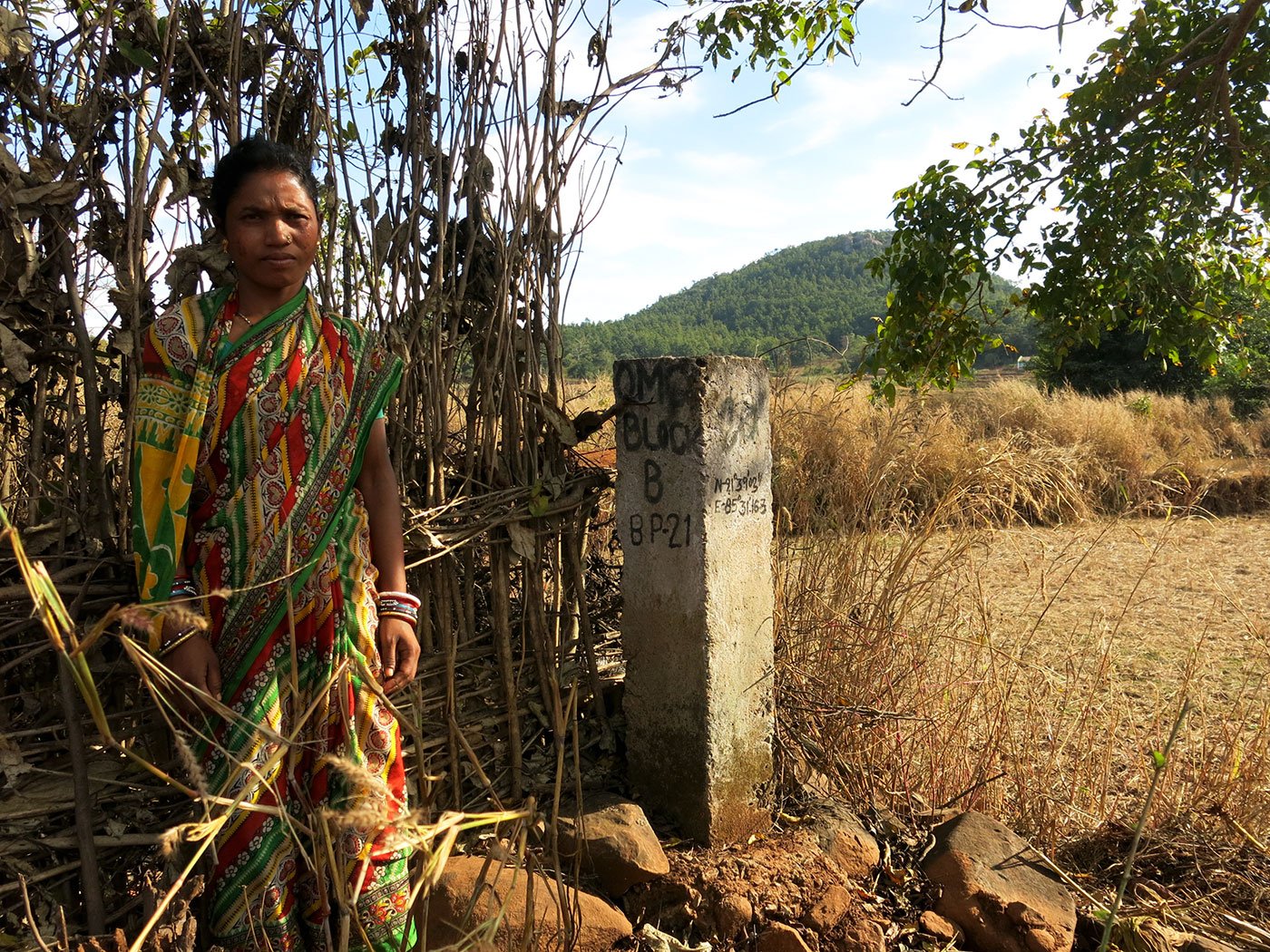 PHOTO • Chitrangada Choudhury
The illegalities that spawned Odisha's largest corruption scam were so pervasive that they had led the Shah Commission to darkly conclude in its 2013 report, "There is no rule of law, but law is what the mighty mining lessees decide, with the connivance of the concerned department."

But it is 2016 now, and to the Adivasis, it seems they mattered little earlier; they matter little now.
In Urumunda, besides Naik, whose name features thrice on the resolution, several villagers point out fake signatures and repeated names. Villager Baidyanath Sahoo finds his name thrice and says mockingly, "They have sold me three times over."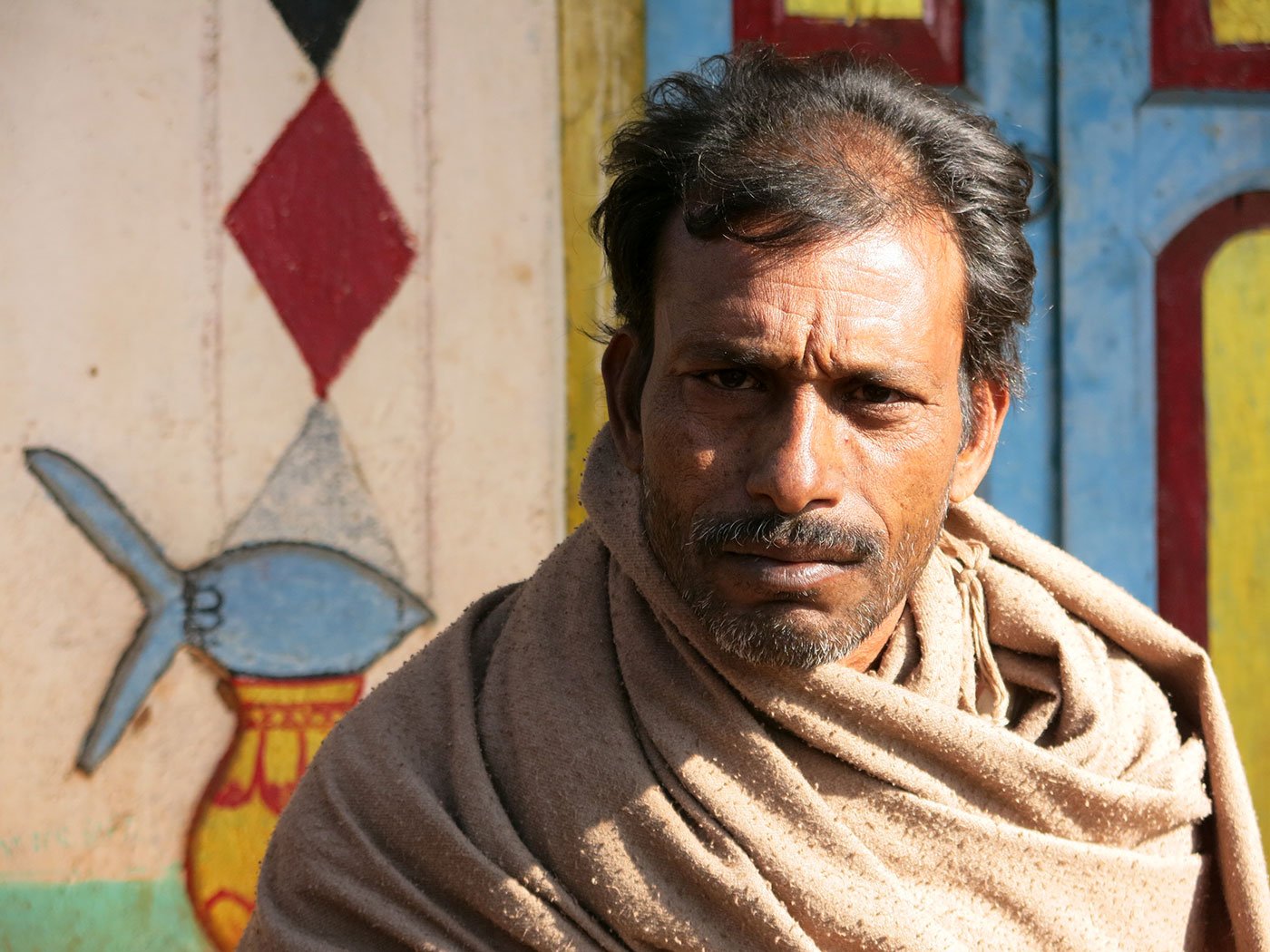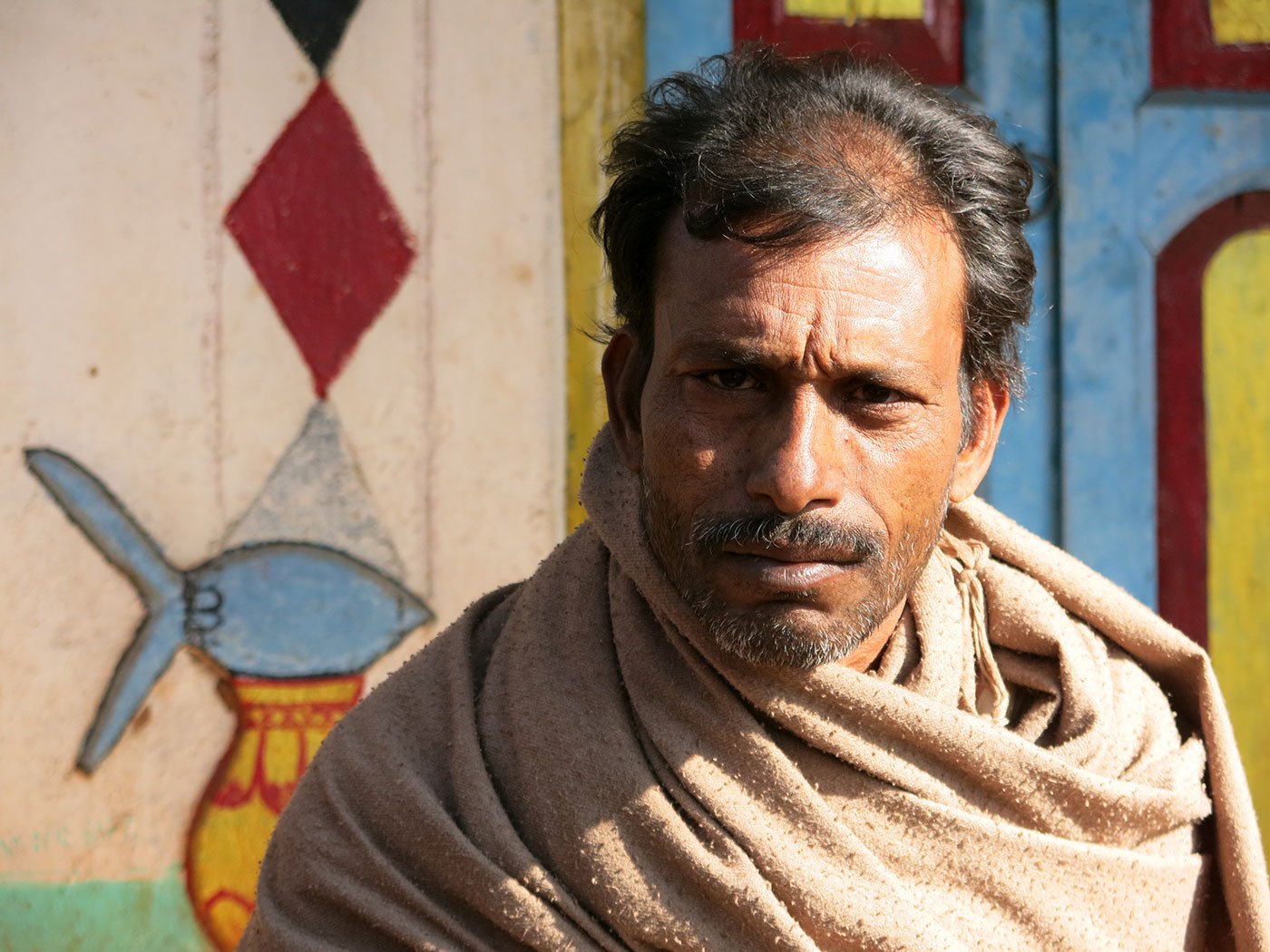 PHOTO • Chitrangada Choudhury
According to the forest clearance submission made for the mine to the Environment Ministry, the gram sabhas for Urumunda and six other villages in the Gandhamardan forest – Uppar Jagara, Donla, Ambadahara, Nitigotha, Uppar Kainsari and Ichinda – were convened in November and December 2011. In village after village, when I show copies of these resolutions – with over 2,000 purported signatures and thumbprints – villagers say they had neither held such meetings, nor passed such resolutions.

In Nitigotha, panchayat samiti member Shakuntala Dehury lets out a volley of abuse on reading a copy of the resolution claiming to be her village's. It depicts, in language identical to that of the remaining six villages' resolutions, Nitigotha's residents as holding a meeting, in which they say they are not using the forests for cultivation, house-building or any livelihood, and have no individual or community claims to it. Each resolution then has the villagers say that the opening of the mine will give them livelihood, and that they request the government to implement the forest diversion proposal.
As the petite Shakuntala reads out the resolution, the text amuses, then enrages villagers gathered around her. "Please bring the haraamzaada officer before me who has written this absurd and false resolution," the young woman says angrily.
Nitigotha and Ambadahara, like other villages in the area, and an estimated 15,000 villages across Odisha, have a long tradition of community protection of forests, which Environment Minister Prakash Javdekar might consider studying first-hand. For example here, villagers have drawn up a roster, which puts five villagers on duty each day of the week, to patrol the village's section of forest, and ensure no trees are cut, and no timber is smuggled.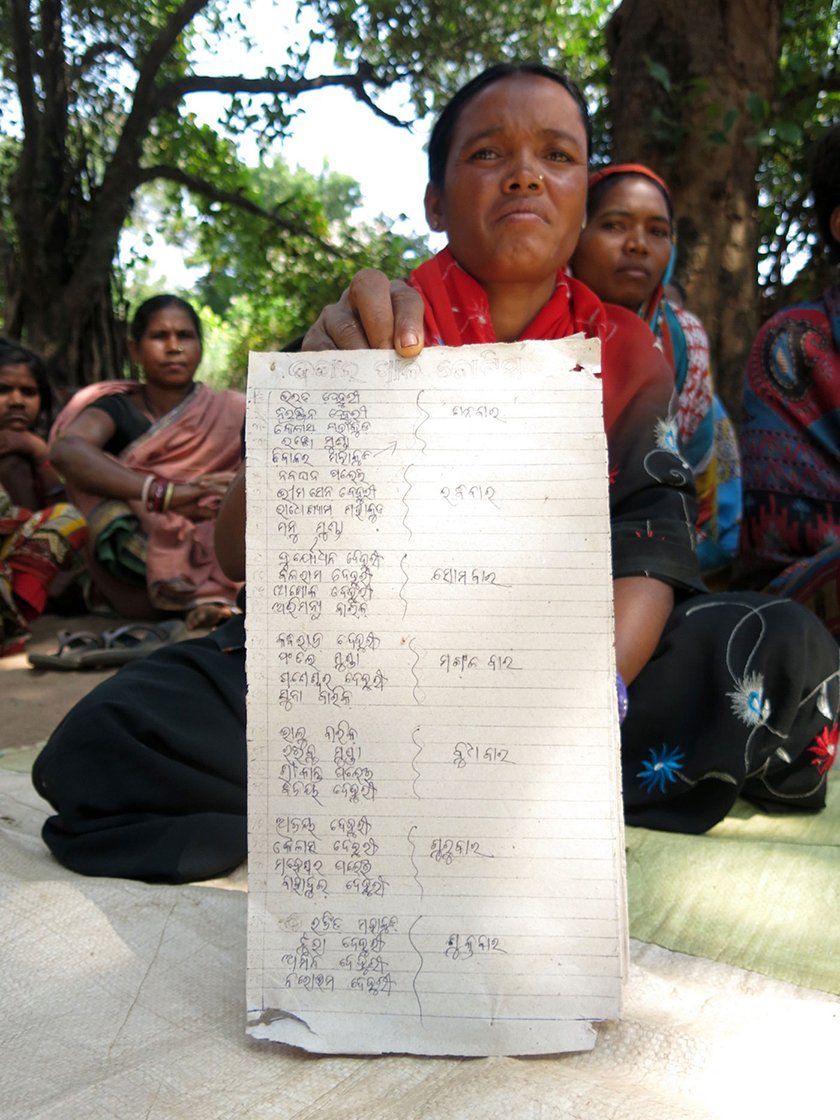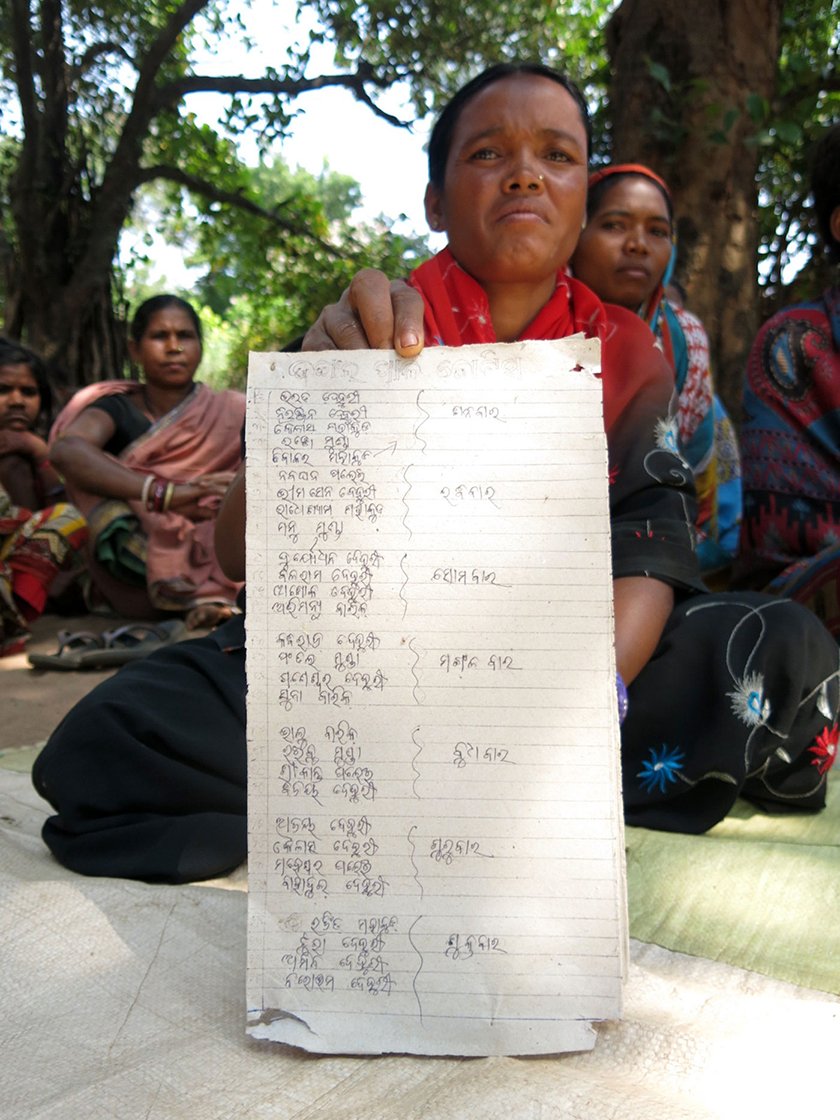 PHOTO • Chitrangada Choudhury
"We are protecting the forest. The forest nourishes us," says Kaviraj Dehury, among the villagers on duty the day I visit. "How would we ever sit in a gram sabha and say we have no claim to the forest, and that we request the government to give it to OMC?" he asks, pointing out multiple errors in the resolution claiming the village's consent.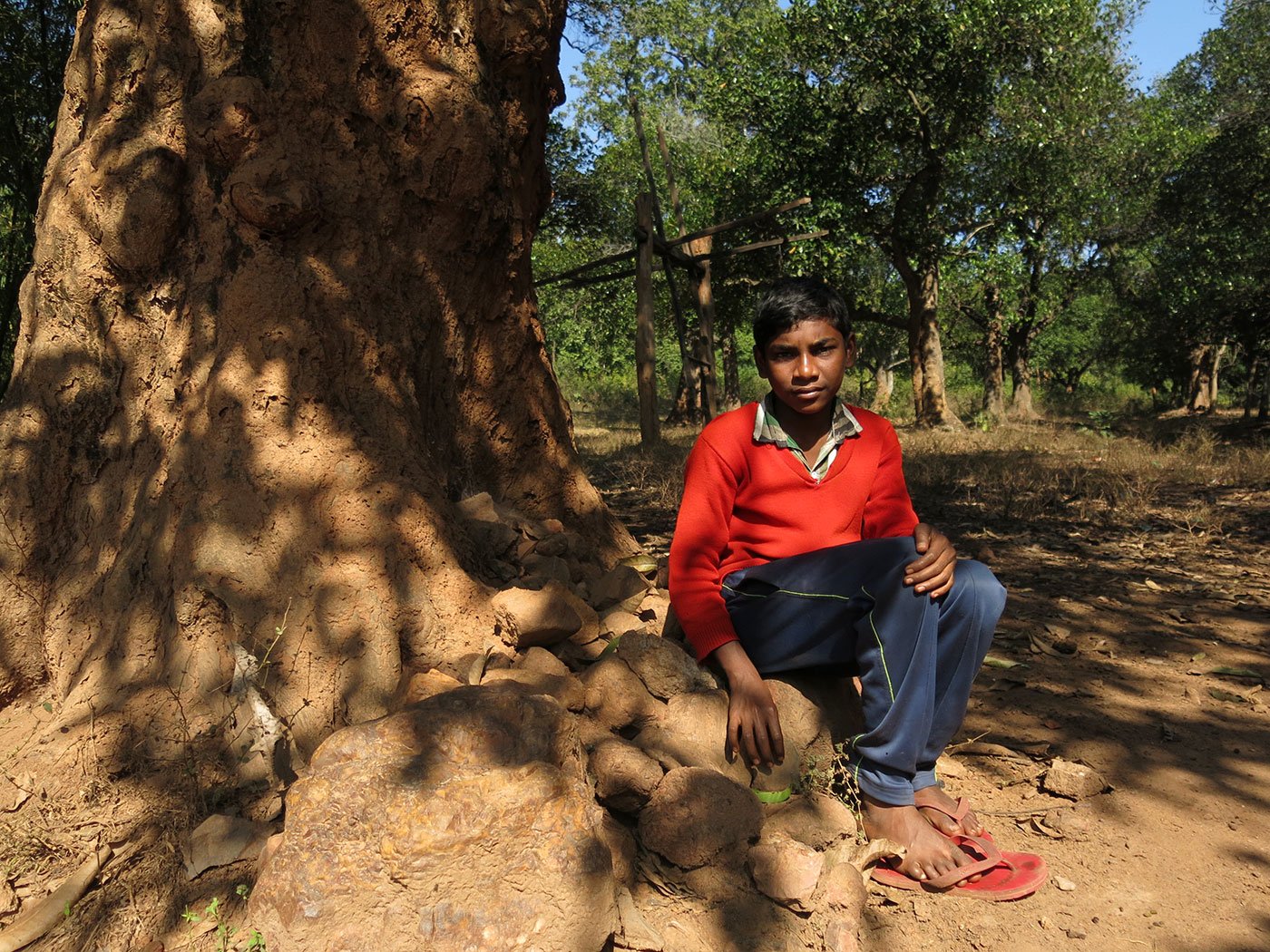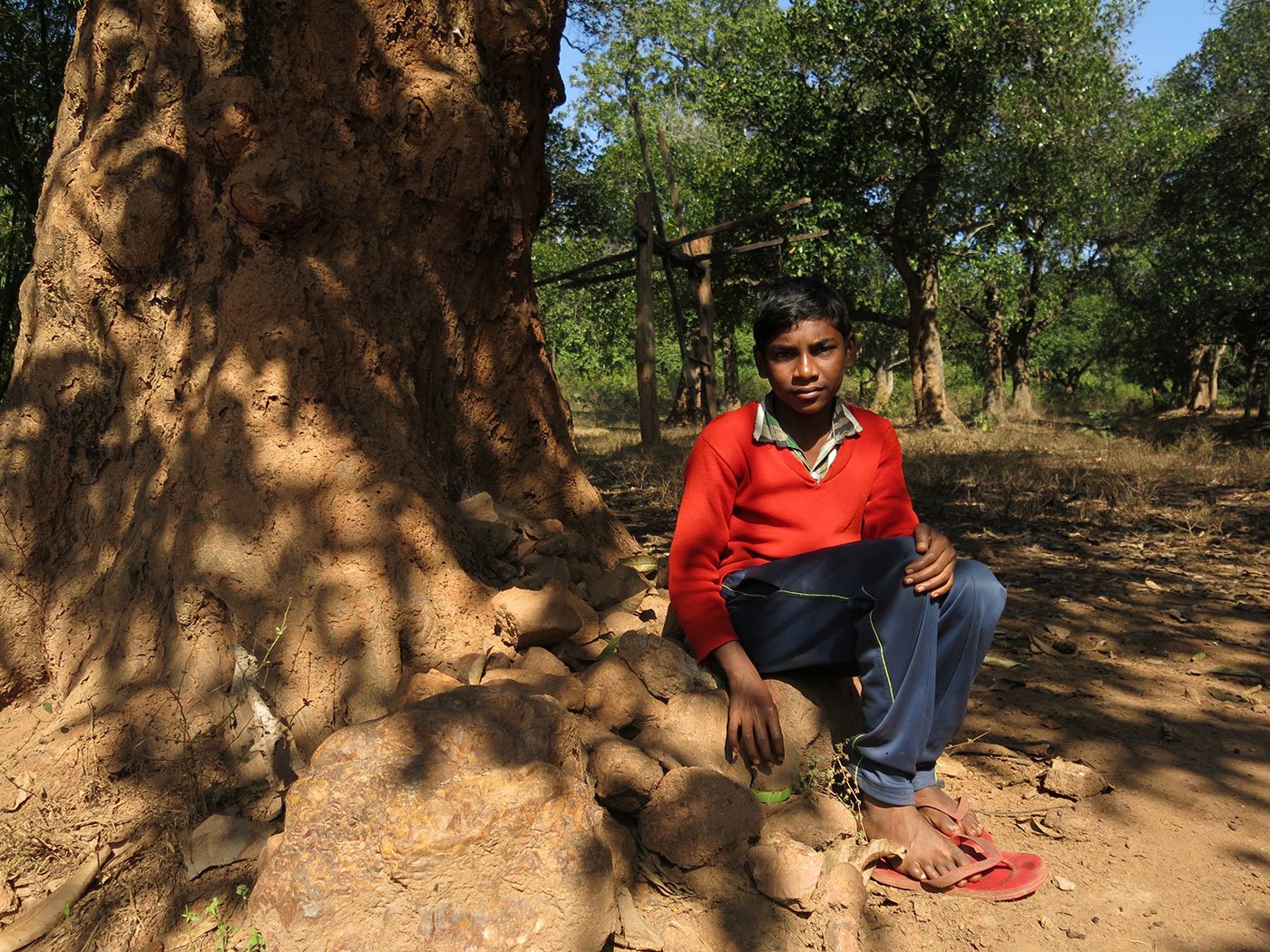 PHOTO • Chitrangada Choudhury
In Uppar Jagara, there are murmurs of 'forgery' 'forgery' as villagers mill around a copy of the resolution claiming to be their village's. Gobinda Munda is shocked to see his name feature twice, both times with different and fake signatures. "This is how I actually sign," he says, writing his signature.

As the crowd reads the list of names on the resolution claiming to be their village's, they discover over half of the names appended to the resolution are not people from their village. Khageshwar Purti chips in, "OMC mining has spoilt our farms, sapped our streams. We have made many complaints to district authorities but who listens to us? If we held a gram sabha to discuss their proposal, would we ever come up with such an absurd resolution?"

PHOTO • Chitrangada Choudhury
In Ambadahara, former sarpanch Gopal Munda shakes his head on seeing his name on four resolutions, one for each of the four villages that fall under him. Each resolution states that the meeting happened under his "presidency." "Who is lying in my name like this? Take me to a court in Bhubaneshwar or Delhi, and I will hold my head high and say I have called no such meetings in our villages," the burly Munda says. "Because of these forests and mountains, we have our water, our crops. They are taking our wealth and becoming big people, while we languish", say people around him angrily.

In Donla, a weary Masuri Behra says, "Why do they kick us in the stomach like this? We already have so little." Villagers here ask, "When did such a meeting with so many people ever take place? Would we not know if it had?"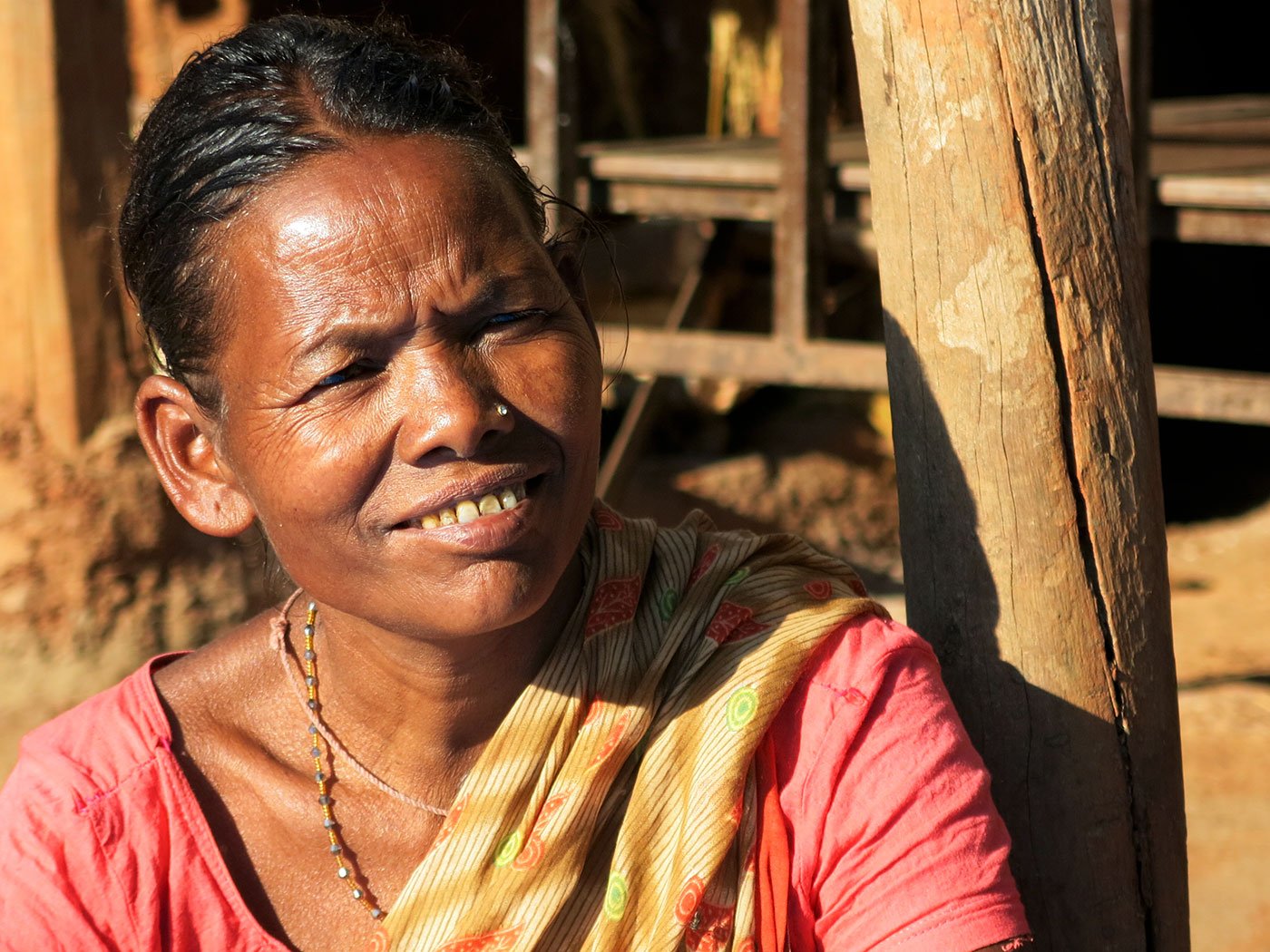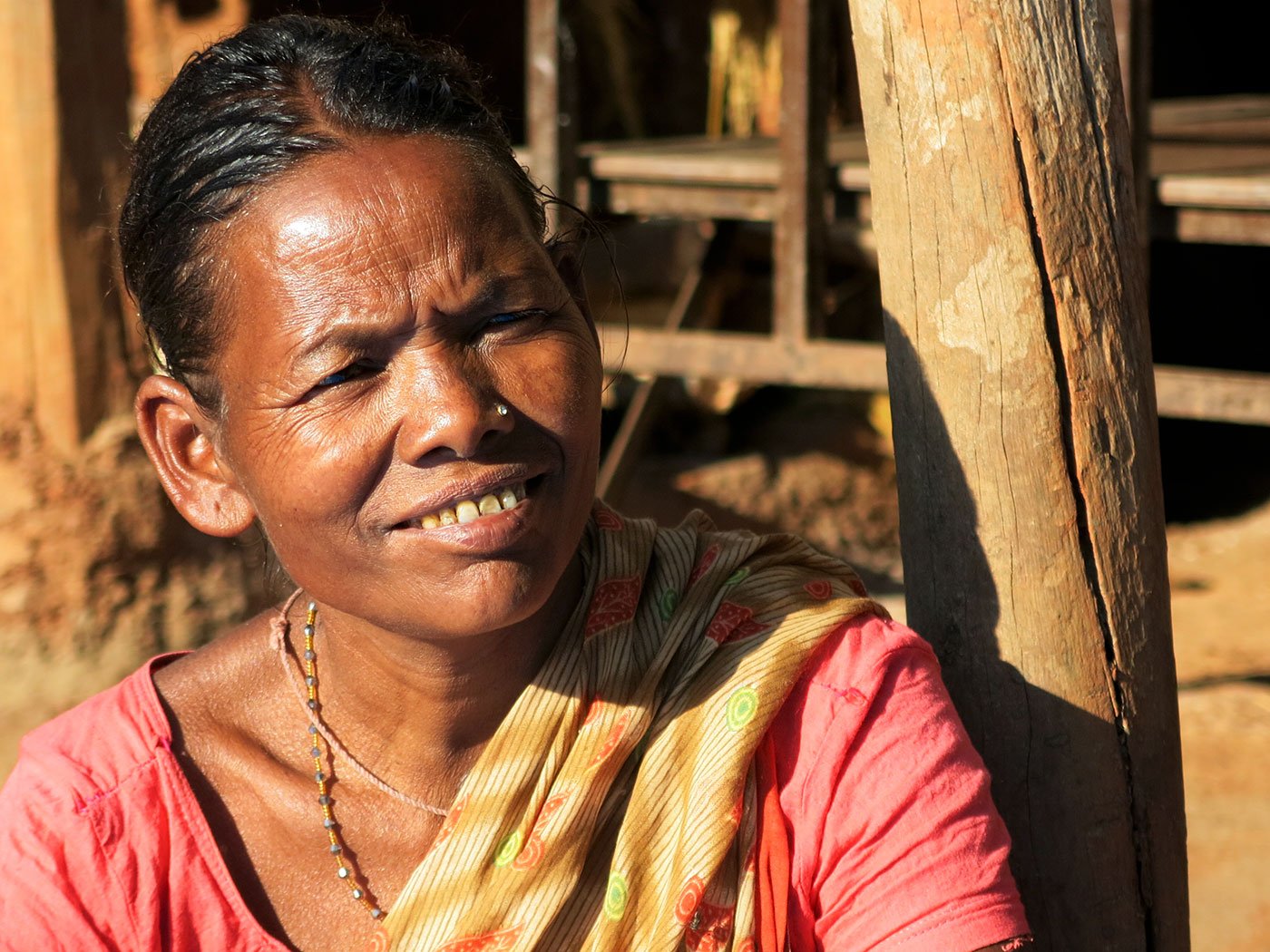 PHOTO • Chitrangada Choudhury
Accounts of villagers aside, the fact that each resolution from seven individual meetings reads exactly the same suggests foul play. The English translations of these Oriya resolutions are also identical to the last word – a fact that seems to have led to no questions in the mind of the Forest Advisory Committee (FAC), when it discussed OMC's forest clearance proposal in its September 2015 meeting.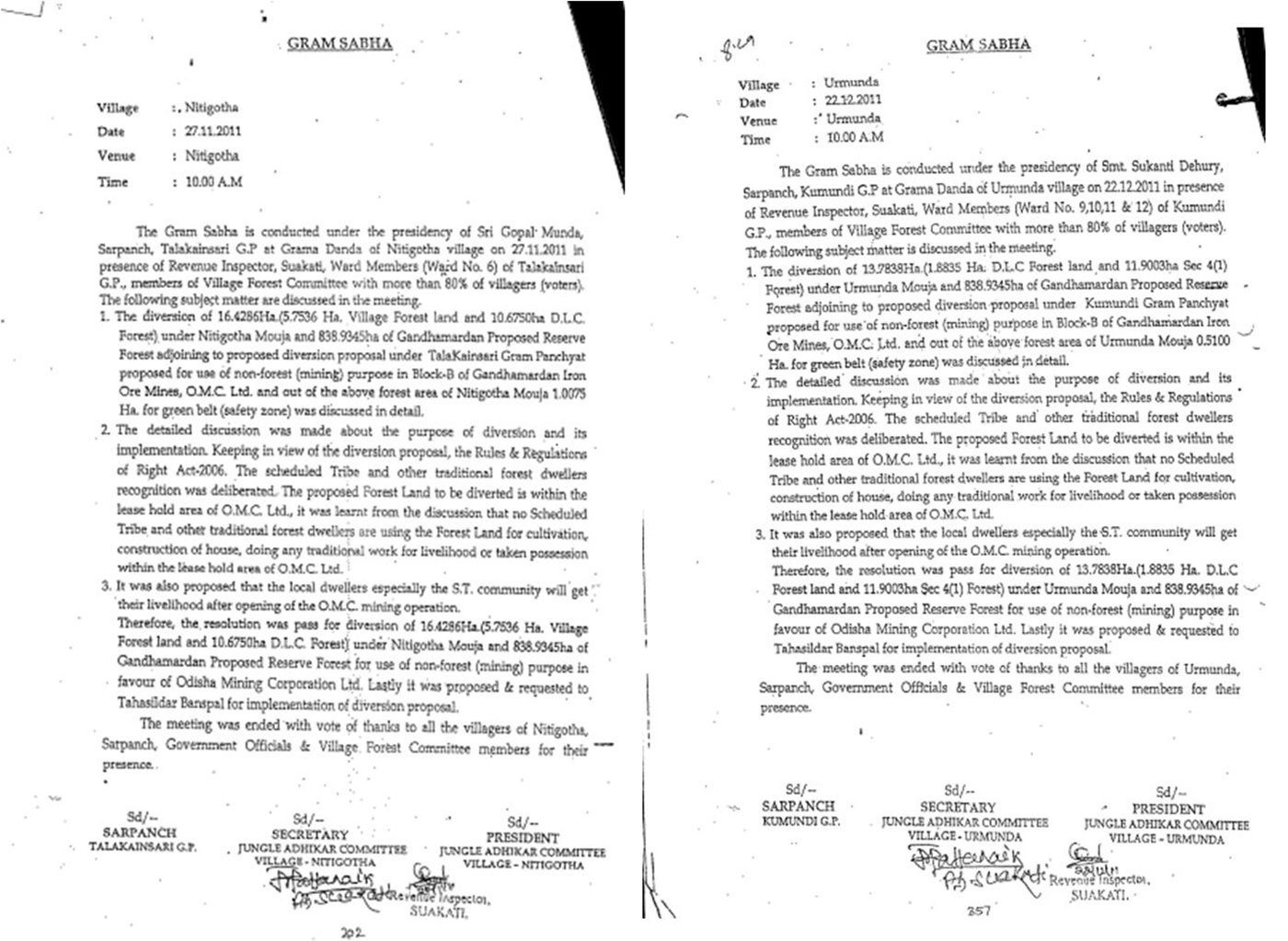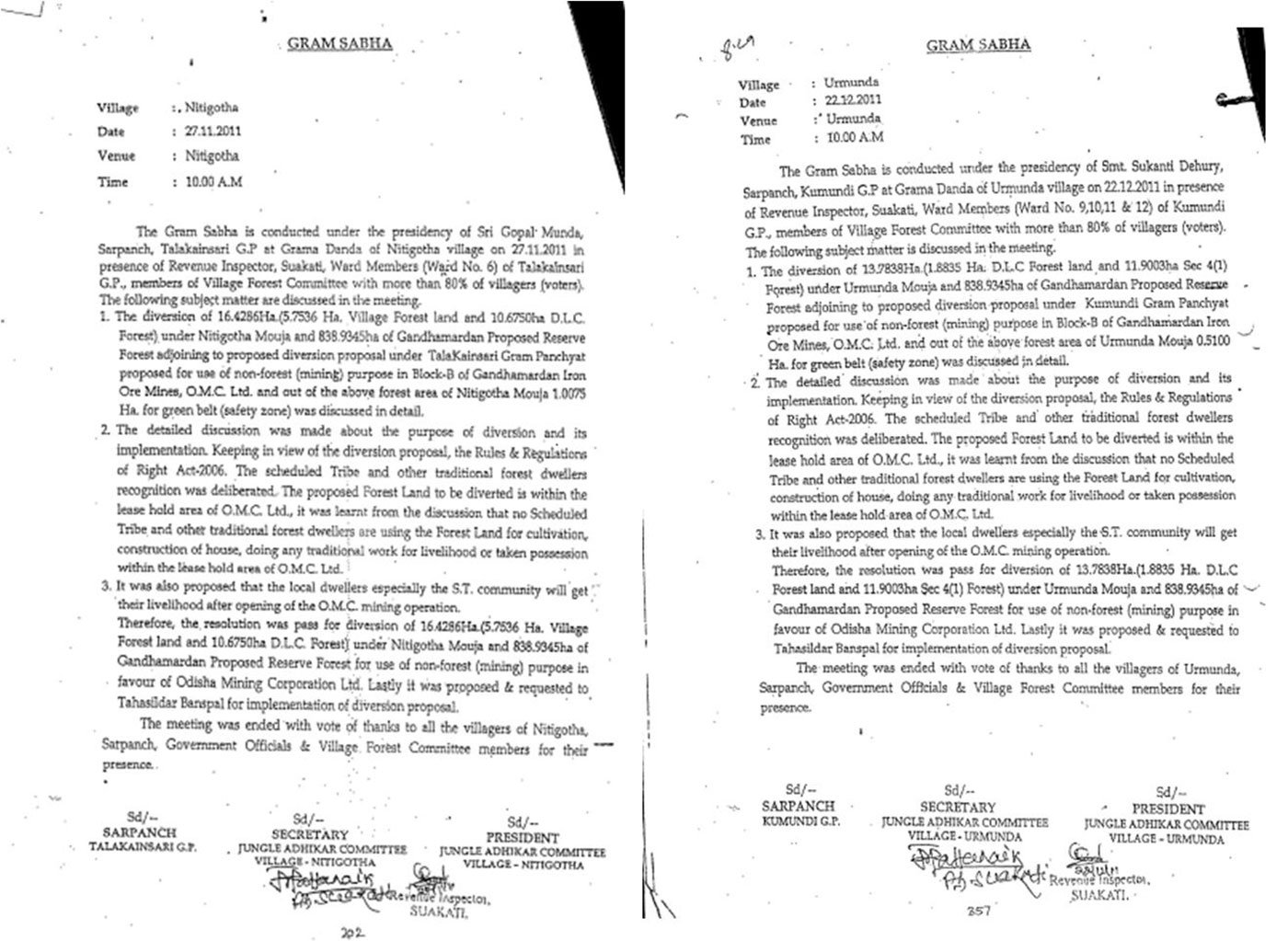 PHOTO • Chitrangada Choudhury
A FAC member told me requesting anonymity, "There is so much pressure in this regime to give clearance (to mines). Earlier there was some scope to look at these things, and ask questions. But now there is no time for this, nor are we expected to."

********
The larger question: why swindle villagers like this? Under the Forest Rights Act (FRA), a landmark law for India's estimated 150 million forest dwellers , the consent of over 50% of a village's adult population is mandatory for 'diverting' (official speak for cutting down) their customary forest for 'non-forest' uses. For example, in this case, OMC wants to take over a 1,409-hectare stretch of forest, and mine it for 300 million tonnes of iron ore.
Enacted in 2006, FRA was a belated legislation providing recognition for the millions of Indians who have traditionally lived in or near forests, but have had no legal right to their homes, lands and livelihoods. The law aimed to rectify the "historic injustice" of colonial-era legislation that turned forest dwelling communities into encroachers on their own lands.
Under FRA, industrial takeover can take place only after the rights of the villagers over the forests that they have traditionally used has been recognised. This is done by awarding individual forest land titles for families (in the name of the man and the woman), and a community title in the village's name.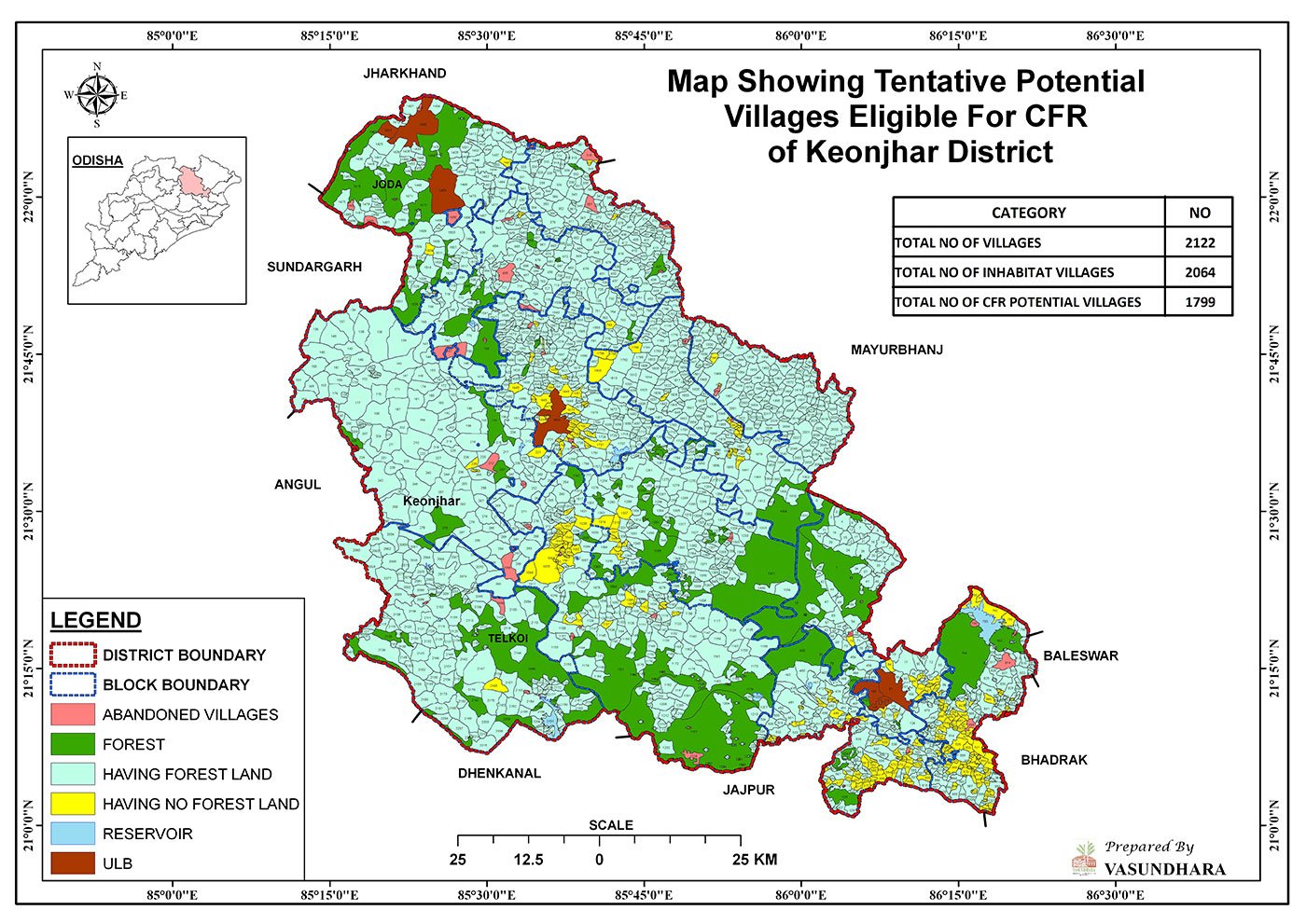 This is vital since it gives the locals a say in decision-making around the proposed destruction of forests they have traditionally used. It also makes locals eligible for compensation, if they decide to give such areas to industry.

Without such recognition, locals are further excluded from any share in the lucrative monetisation of their resource. For example, OMC puts the sale value of ore it mines to be over Rs. 2,000 crores each year, and close to Rs 79,000 crores over the mine's proposed life. "But what do local tribals gain from this arrangement?" a senior forest officer asks me.
A January 2016 amendment to the Scheduled Castes and Scheduled Tribes (Prevention of Atrocities) Act strengthens the FRA law, by making the denial of forest rights a punishable offence.
But in these seven villages, several people who have filed for forest rights titles have not got them. The few who have, were awarded titles for patches of land (25 to 80 decimals) received far less than what they had claimed. Further, the district administration has not awarded any title in two of the villages, Donla and Uppar Kainsari. An official involved with the fieldwork processing of FRA claims in Keonjhar tells me, requesting anonymity, "My seniors have told me that the forest area in Donla village is to go to OMC for mining. So we should just ignore the villagers' claims."
In a further illegality, none of the seven villages have got community titles so far. This even though they have community forests within their customary boundaries, use minor forest produce such as firewood, and also have 'forest resource rights' as defined by the law, through the community  forest protection traditions they practice.
Keonjhar's then district collector Bishnu Sahu did not record the reasons why community claims were not been awarded here, even though the FRA law requires this . Instead, a January 19, 2013 certificate from him, prepared in support of handing over the forest to OMC for the mine, falsely states that all forest rights have been settled in the seven villages.
When I contact S. C. Mahapatra, the Forest and Environment Secretary in the Odisha state government, whose department submitted the forest clearance application on behalf of OMC to the Environment Ministry , he says, "I don't know anything about this", and promptly hangs up. He does not answer my subsequent calls.
********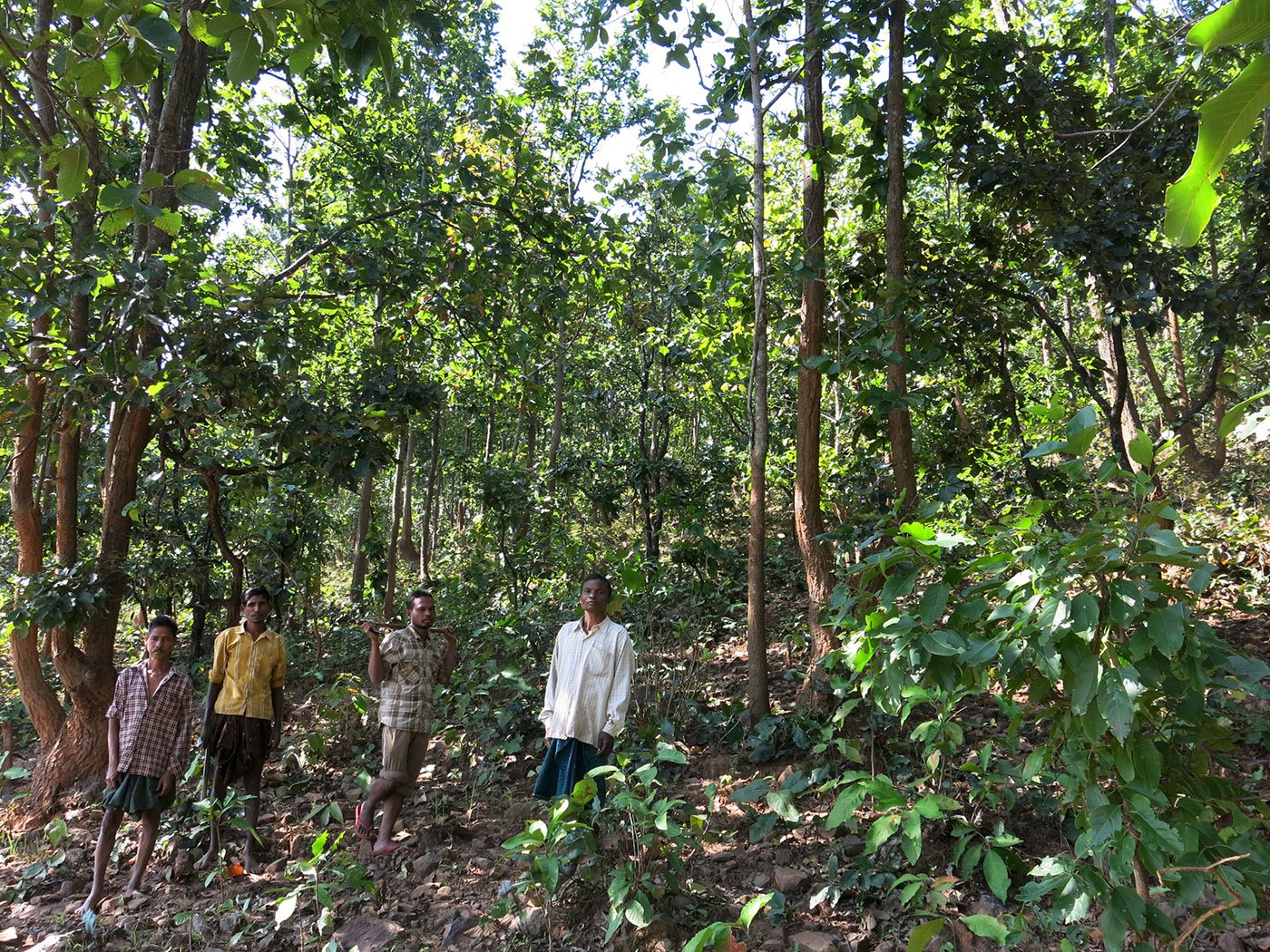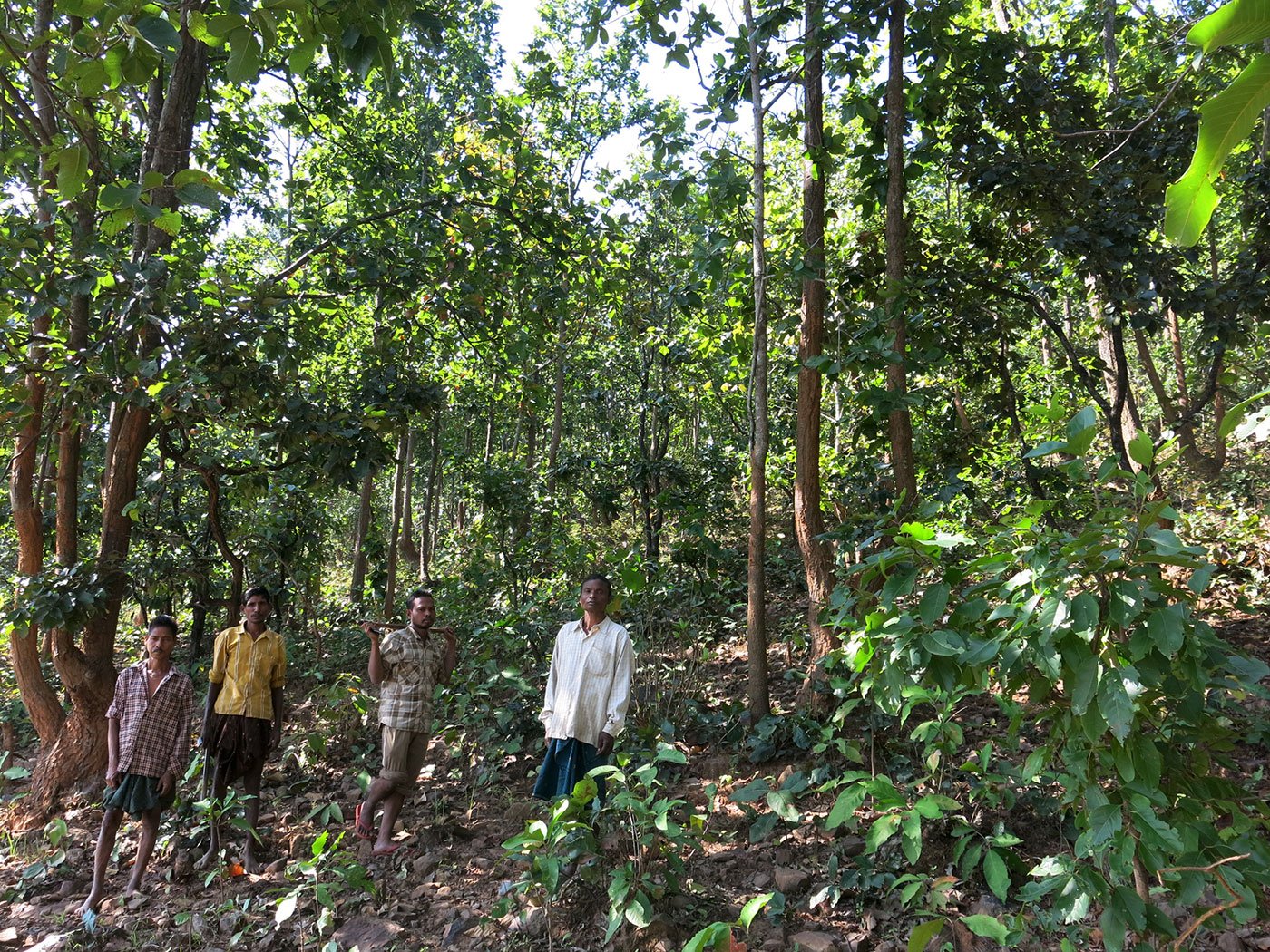 PHOTO • Chitrangada Choudhury
In early November 2015, when they came to know of the fraudulent resolutions submitted in their name, two of the seven villages, Nitigotha and Ambadahara, sent letters to the environment and tribal affairs ministries, pointing out the illegalities. They also wrote to the Odisha governor, who has a special responsibility under the Constitution of safeguarding the rights of communities in Adivasi areas. Over three months on, none of these authorities has responded to them.

It gets worse. From December 28 to 30, 2015, a three-member team from the Environment Ministry's Forest Advisory Committee visited Keonjhar for a site inspection of the proposed mine. Their terms of reference included looking at the implementation of FRA in OMC's proposed mine area.
On December 29, I meet the team's head and additional director general, MoEFCC, Anil Kumar, at the Keonjhar hotel where the team was staying. He insisted I speak to him in the presence of OMC officials, with whom he was having breakfast. Kumar refuses to answer any of my questions about the visit, or how the team intended to examine the implementation of FRA, saying, "The FAC's work is confidential."
When pressed about how the committee intended to investigate the villages' complaints about the alleged forgeries, and if the members would visit the villages, Kumar instead tells me to inform him about the violations in an email.
Days earlier, Finance Minister Arun Jaitley, listing his government's achievements to a newspaper, had said, "Environmental clearances are being granted as a rule."
On December 30, after three days in the district, the FAC team left Keonjhar, without visiting any of the seven villages, or speaking to any of the villagers.
The 'site inspection' was complete.
A shorter version of this story also appeared in Outlook magazine