The pot hangs just under the roof.
I am certain it is crammed with medicinal herbs, religious articles, or perhaps rice. I hope Rajam Giri, the young woman making dosas in the open courtyard, will tell me about it.  But in front of G. Siddaiah – her father-in-law – she is respectfully silent.
Rajam lives in Usimalai village, in the beautiful Bargur hills of Tamil Nadu's Erode district. She is from a family of pastoralists. They rear the elegant red and white Bargur cattle – named after the hills –  one of Tamil Nadu's five native breeds. Every morning, the men take the cattle to graze in the forests. I am in Bargur precisely to look at their livestock, on a writing assignment that covers native breeds. When I come across Rajam, only the women, children and elderly men are at home.

And that pot hanging just under the roof.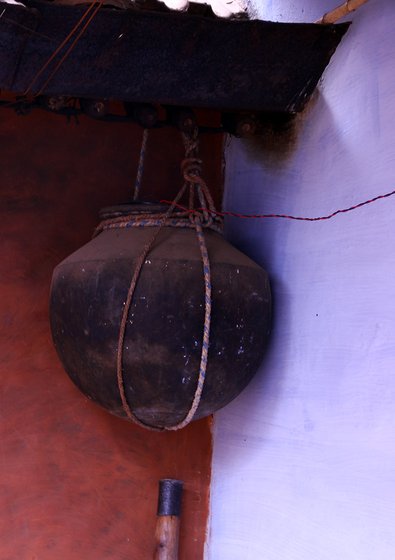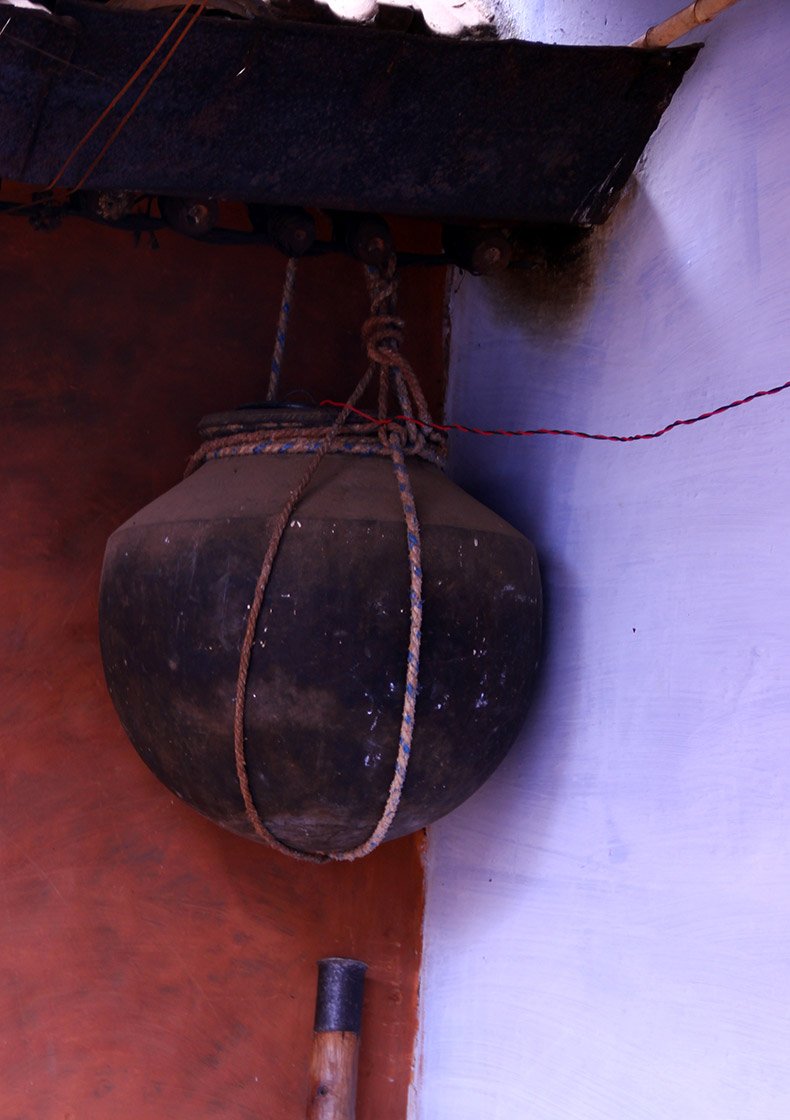 PHOTO • Aparna Karthikeyan
Siddaiah and C. Kenjen are seated on a jute cot. Siddaiah tells me he is 50 years old, but is promptly contradicted by his friend. "You're 60, not 50," says Kenjen. Mainstream measurements of age matter little to old pastoralists. But both men appear to be in their 60s. Each wears a silver lingam pendant around their necks – a sign that they are members of the Lingayat community. Interestingly, the Lingayats of Bargur are cattle breeders, yet do not consume milk. They are also vegetarians. "Milk is only given to the very young and old," points out E.N. Sivasenapathy, president of the Bargur Hill Cattle Breeders' Association, who took me to Usimalai.

A stickler for tradition, Rajam's father-in-law tells me apologetically that outsiders are never served food on Mondays. I'm not permitted to enter the inside of their house either – on any day. My presence there would be considered polluting.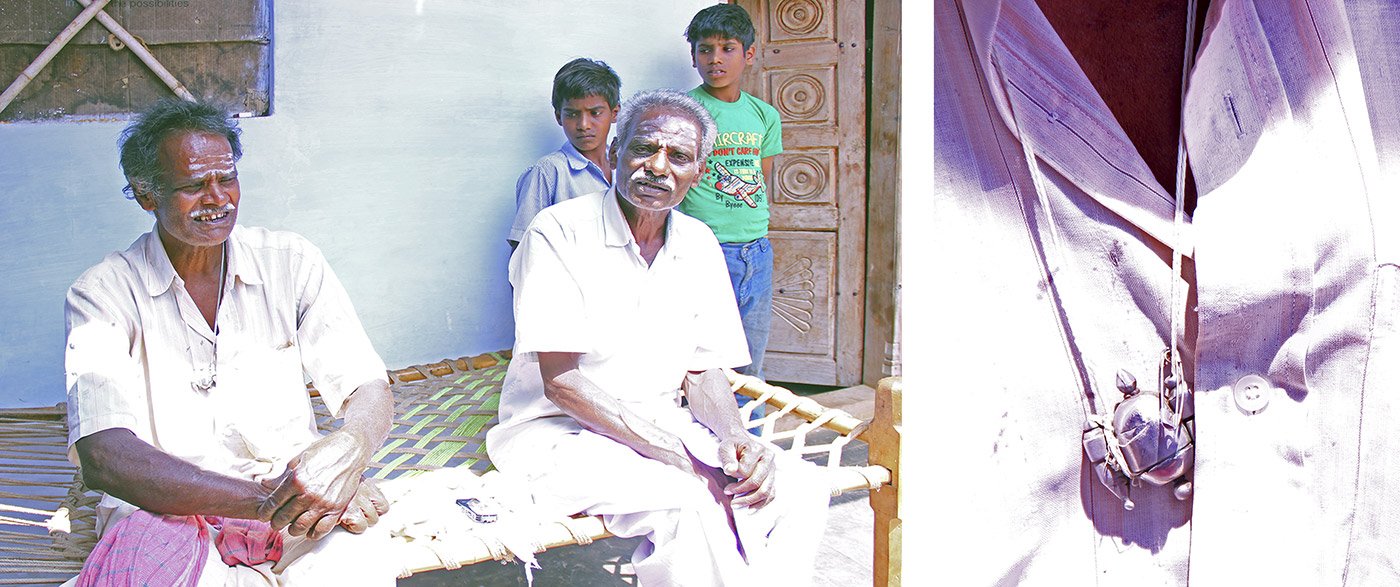 PHOTO • Aparna Karthikeyan
But, he explains, I am lucky – the wood stove is in the courtyard. And so, I'm allowed a cup of tea. The stove is simple and efficient – three stones are placed in a triangle, firewood is laid below, the vessel positioned above. Rajam blows on the embers with an iron pipe. The wood shimmers and flames leap up. When the water boils in the aluminium pot, she tosses in the tea leaves and sugar and serves us a sweet varatu (black) tea.

Everything about Rajam's house is old-fashioned. The walls are made of mud and colour-washed red and blue. One room is given over to the young calves. In the courtyard, around the stove, there is a stout grinding stone to make dosa batter, a lean but heavy pestle, and cane strips to weave baskets.

PHOTO • Aparna Karthikeyan
And then there is the pot that hangs just beneath the roof.
When I ask Rajam about it again, she giggles. She goes into the house and switches on some kind of music system.
"That's a speaker in the pot," she tells me. "For music."
A Tamil film song blares out, the sound reverberating against – and amplified by – the walls of the mud pot.
A small crowd of children gathers around, talking at once and answering some of my questions. One of them is Rajam's niece. She tells me that it is her chithappa (uncle in Tamil), a brother-in-law of Rajam, who fixed the speaker in the pot.
"Do you like to dance?" I ask the niece. She nods, but is soon shy, and does not volunteer either her name or that of her favourite song.
When I ask Rajam about it again, she giggles. She goes into the house and switches on some kind of music system. 'That's a speaker in the pot', she tells me...
Rajam returns to tending to her house. She goes to the backyard to fetch firewood. I follow her. Alone, she is surprisingly chatty. She speaks of her routine – the hard work, from five in the morning till nine in the night; of fetching firewood and grinding batter; of delivering one child at home, another in the hospital. "Both mine are girls; this one is Lalitha, the other one is Jyothika."
It is Rajam's turn to shoot questions at me. "How many children do you have, where do you live?" Then, she asks, mischievously: "where is your thali [gold mangalsutra ]?' I tell her I don't wear gold. "Look at mine!' she says, and with her left thumb holds out her chain. It is strung together with small black and gold beads. It has pendants of red, black and gold, and four safety pins. "You have gold, but you don't wear it?" Rajam asks, as I take her photograph. And she laughs and laughs in the backyard of her house in the beautiful hills of Bargur…

A more musical sound than that emanating from the pot hung just under the roof.