When you get down at Tarapith rail station of Birbhum district in West Bengal and take the Grand Trunk road, the dust is everywhere. Giant trucks loaded with stone chips choke the road, trailing clouds of dust and smoke. You cannot see anything through the dust, and have to cover your face with cloth to avoid the dust particles sneaking into your nose, eyes and mouth.
We are headed to the Adivasi village of Garia in the Mallarpur stone belt of Birbhum. There, an NGO named Uthnau gives primary education to the children of Adivasis in their mother tongue. I want to talk to labourers who work in the stone quarries and crushers in the region.
At Garia I meet Ghasiram Hembrom, a social worker with the Bharat Jakat Majhi Mandua, an association of Santal village and regional heads. He is to be my guide. On the way to Lipidi village, we come across an old woman, walking alone. Dark-skinned, with curly grey hair, bare feet, and no front teeth, she has on an old red shawl over a white saree. She lives alone, on the border with Jharkhand. Her sons and husband had left her, she says, after giving her ancestral land to a quarry owner for a few rupees. Now she stands to lose her home too. The wide-open mouth of the quarry is expanding; any day, it will swallow her hut. To survive, she works at a stone crusher, unloading boulders from trucks and hammering them into pieces.
Ghasiram is helping to organise people against the stone quarry industries. He asks the woman to tell her sons to move against the quarry owners. But a deserted woman can't dictate to others; she walks on.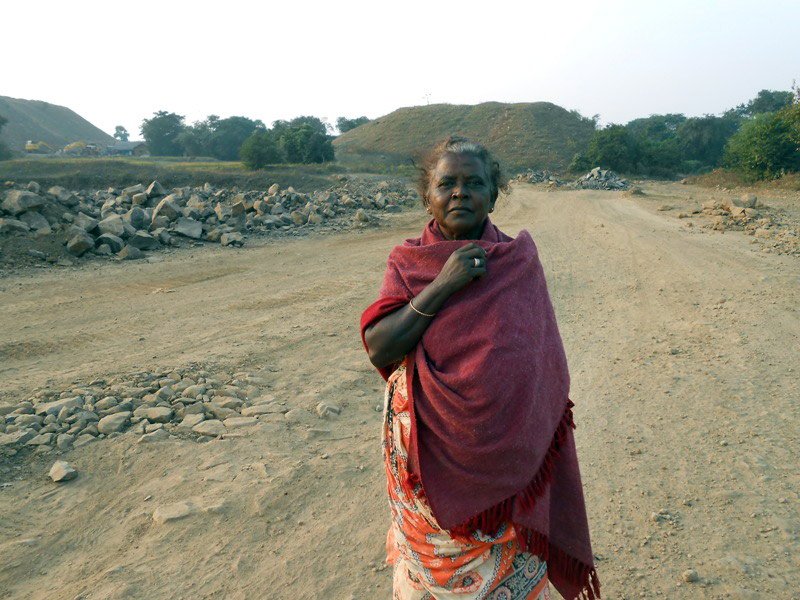 PHOTO • Manabi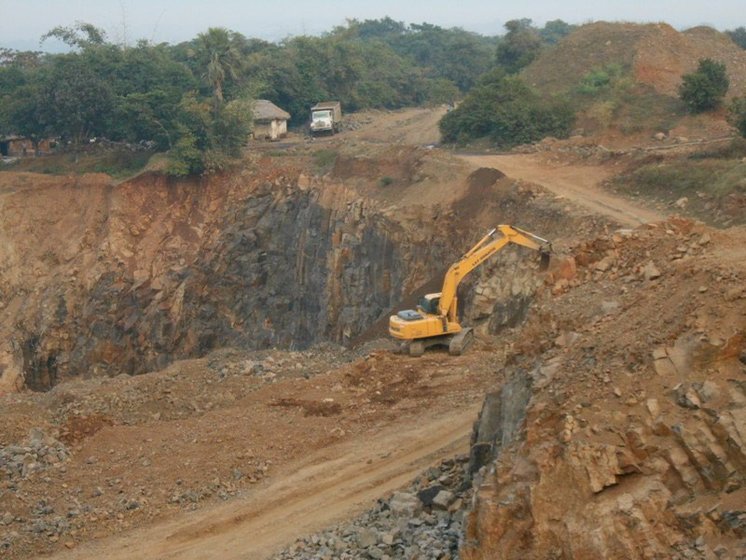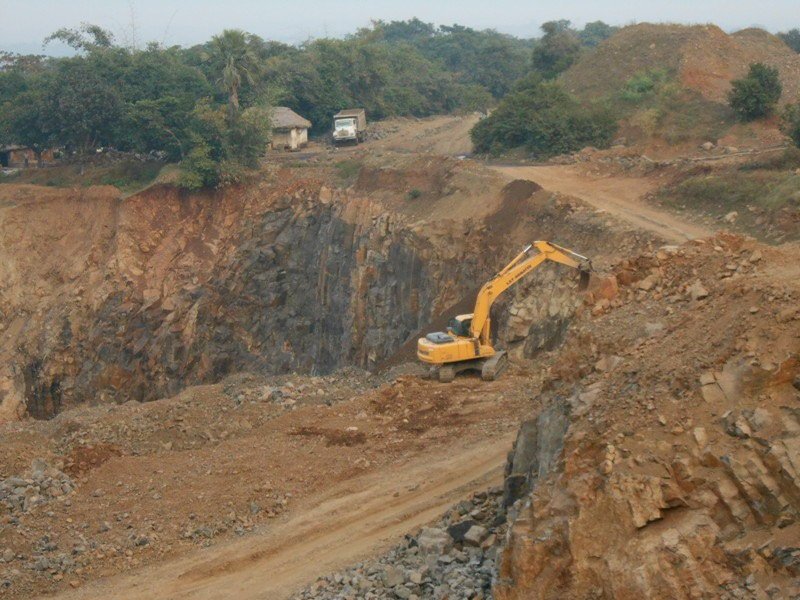 PHOTO • Manabi
In 2010, Birbhum's Nalhati and Mahammadbazar blocks were shaken by an Adivasi uprising, demanding that the quarries and crushers shut down. The Birbhum Adivasi Gaota, an organisation to which Ghasiram once belonged, started the movement. It demanded that all the quarries and crushers be closed until the owners could prove that they were obeying all the laws on land, environment, pollution, mines safety, and labour. Since most of the operations were illegal, hundreds of quarries and crushers had to shut down for months.

Soon after, Ghasiram and others discovered that their own friends, some of the movement's leaders, were secretly taking bribes from the crusher and quarry owners. One by one they were allowing the operations to restart. After discovering this betrayal, it took a year or more for the Santal villagers to reorganise under the Bharat Jakat Majhi Mandua. They cast aside these corrupted leaders, who were declared to be infidels or outcasts. Still, the damage was done: the movement had fallen apart and the unity of the community was disrupted. Now these corrupted leaders, who have close ties with the quarry owners, do not allow those who remained honest to work at the quarries.

Among those who cannot work for this reason is Chotu Munda. He took me to his home. The sight stunned me. A small hut was hanging over the edge of the quarry beside it. The quarry fell away to a depth of at least 500 feet. "In monsoon it is very dangerous," said Chotu. "The road becomes slippery, there are landslides. God knows how I live here with an entire family. The raindrops fall into the quarry from the thatch of the home." I was afraid to step into the room, even of walking down the sloping road toward it, lest I slide into the quarry.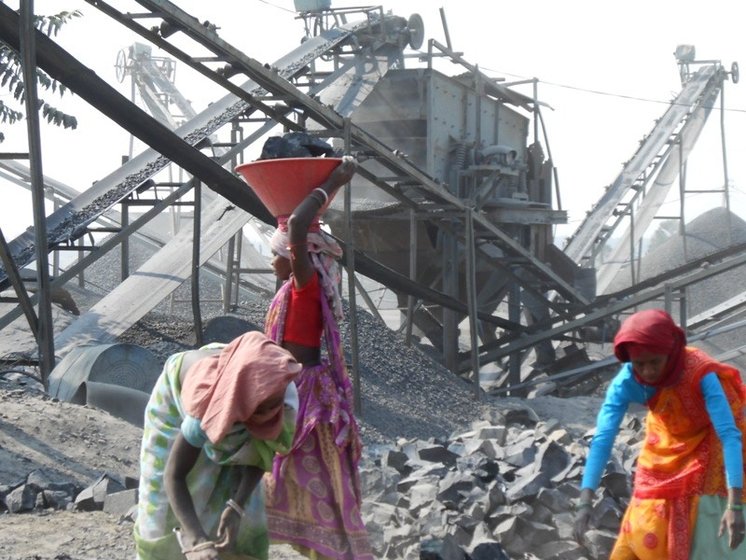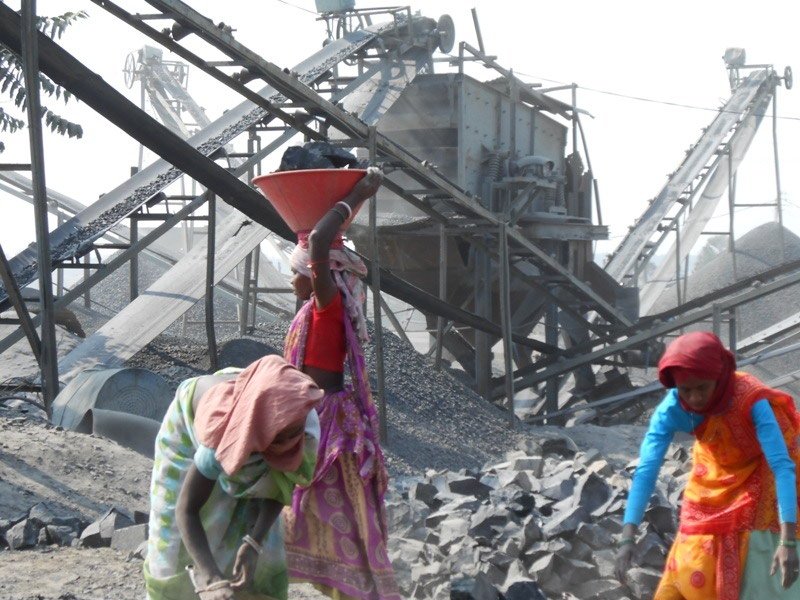 PHOTO • Manabi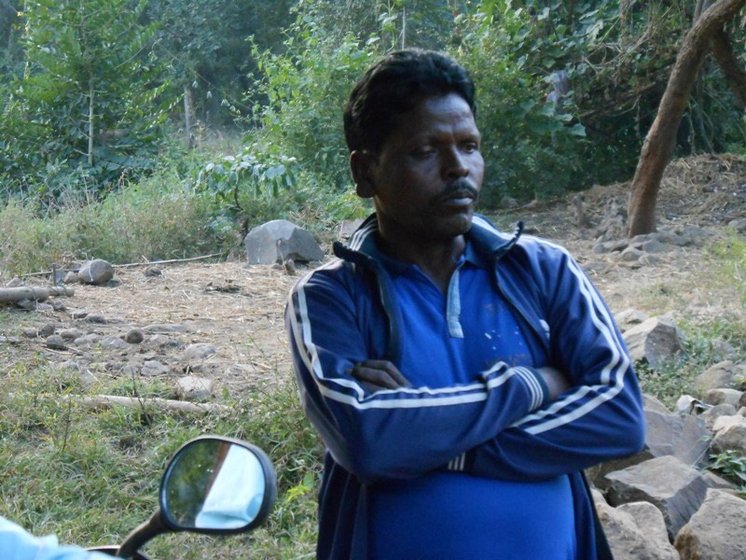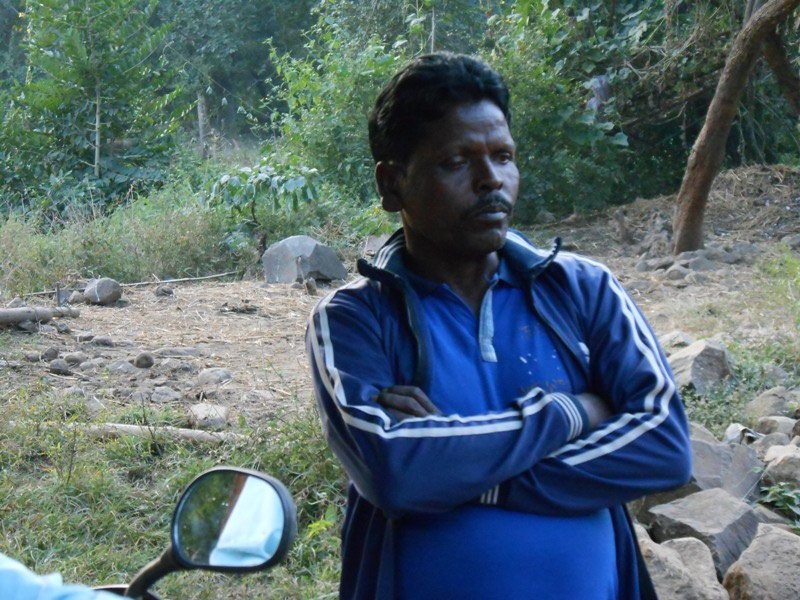 PHOTO • Manabi
Chotu had sold his land to a stone quarry owner for Rs. 3 lakhs. "We villagers did not want to give our land," he explains. "But the president of the stone quarry owners' organisation, Nazir Hussain Mallick, told us if we did not give the land, they would not let electricity go to our villages. We were compelled." According to the law, one cannot transfer Adivasi land to a non-tribal, but Chotu did not know the law. "They brought me some papers and asked me to sign," he says. "I gave a thumb impression, and they gave me the money."

Things got worse. With stones from the quarry's explosions falling on his remaining field, it became difficult to cultivate. The water table fell too, so he could not water the crops. Now the quarry is stretching its maw wider. Any day, Chotu's tiny home will also be in its belly.
The situation in Dholkata is even worse. I enter the village with Ghasiram only to discover the last remaining hut there. I ask innocently, "You mean, it is a village, with no villagers?" Ghasiram smiles and says, "Yes, it was a village. But now it's a quarry. The village is no more. Only one widow survived. Her son was killed. The rest of the people went to Jharkhand to work for stone crusher and quarries."
Back in Garia that evening, a boy named Buddha takes us home to meet his mother, a stone crusher worker. Monkhusi Lohar, having bathed after a long day's work, comes in wearing a fresh saree, with a torn but matching blouse. She is tall, dark and beautiful. She gives us tea in an earthen cup.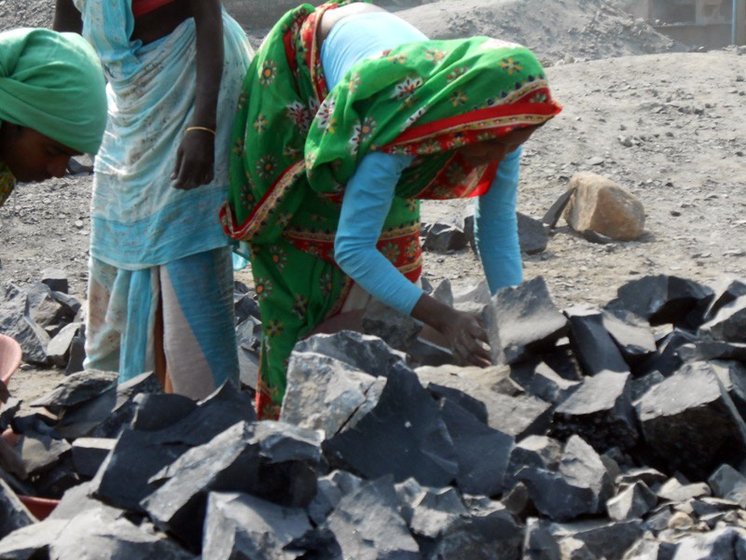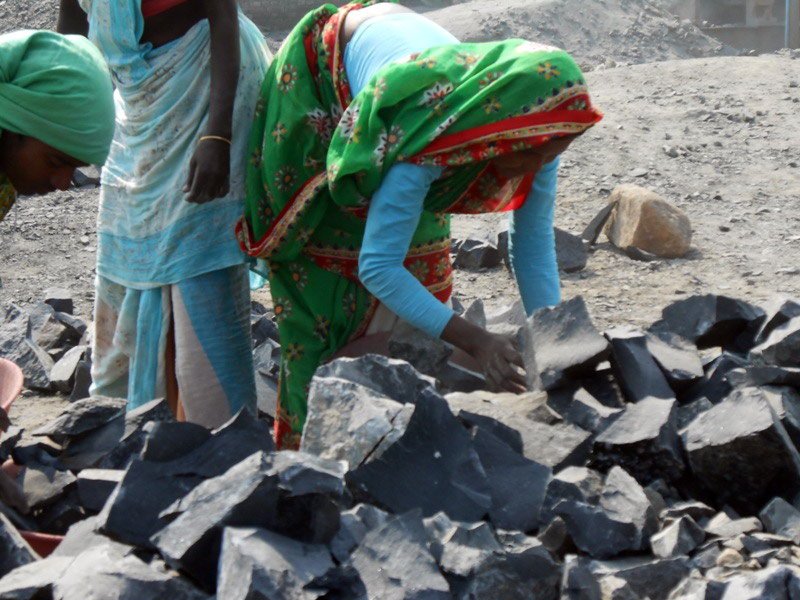 PHOTO • Manabi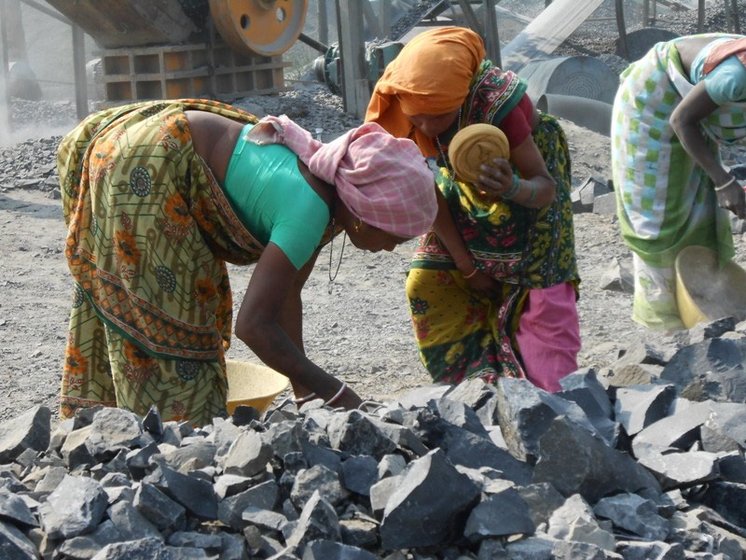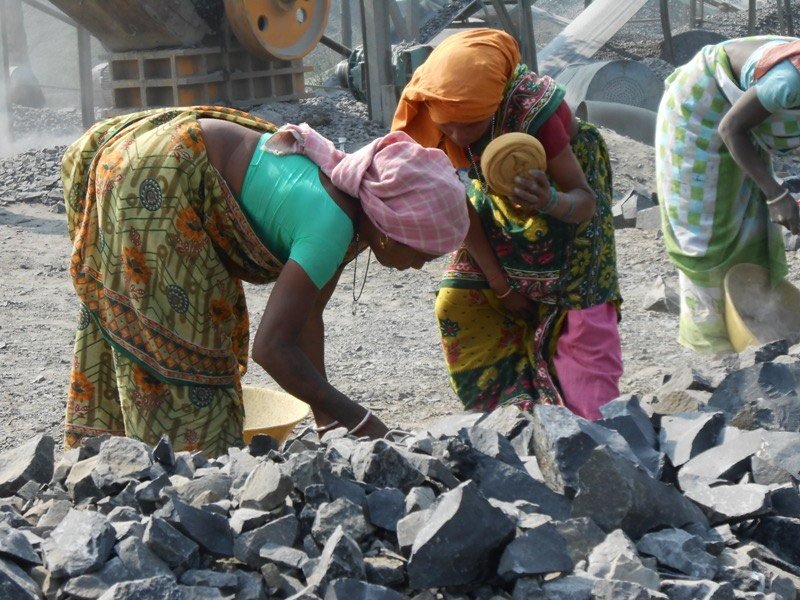 PHOTO • Manabi
"I went to the crusher at 5 in the morning," she says. "We have to load and unload stones. We have to break the big chunks of stone into pieces. That is then crushed into stone chips. It gives us 200 rupees a day. You have to fulfill the target. If you can't, you will be paid less, and if you exceed, you will be given incentives." Accidents happen very often. No ambulance, no doctor. "If doctors were their responsibility, they would cut our wage. Money is important. We can't sacrifice money for little heath problems. We can manage injuries on our own. But we can't run the family without money."
I ask if they have masks or gloves. Monkhusi laughs. "See, they had given us masks. But one cannot work wearing a mask under this sun. Masks are suffocating, we can't breathe with one on. It's nauseating too."
One of the crusher owners told me, "Madam, these workers are too ignorant. We had given everyone a mask, but they would not wear that!" According to Uthnau, several workers from Panchami, Mahammadbazar and Talbandh area have succumbed to silicosis, caused by exposure to stone dust. The government claims they died of tuberculosis. There are no facilities for pregnant women either. No crèche, no ambulance, no check up. Three months ago, a woman delivered a baby in the plant premises.
Monkhusi has borne two sons only to have to run away from her brutal husband to her original home of Garia. Now she brings up her boys and runs her parental family with her blood and flesh, to compensate for living there. She pauses for a bit, and then rushes to a tin trunk at the back of the room, perhaps her only private space in life, to fetch a tiny silver case. "When I got married, my father gave it to me," she says. "It is a kajal-dani (kohl-case) that every woman in our community is gifted upon marriage." She touches the case tenderly. "My father can make this for you too, for your wedding," she chuckles. The room bursts into laughter.
Monkhusi's health is failing, and she does not know how long she can continue to work at the crusher. Still she has no choice, because there is now very little agriculture in the region. "Can't you see the land," she says. "It looks as if it had been raped for years, a woman's body carrying scars of torture."