Lokkhikanto Mahato has a clear, resonant voice for a singer aged 97. A handsome man of impressive bearing, his visage at once reminds you of Rabindranath Tagore.
When we met Lokkhi in March 2022, he was seated beside his dearest friend, Thelu Mahato on a charpoy in a one-room dilapidated kuccha home in Pirra village of West Bengal.
Thelu was 103 years old then. He passed away in 2023. Read: The well that Thelu Mahato built
Thelu dadu (grandfather) was one of the region's last freedom fighters. Eighty years ago, he had marched on a police station in Puruliya (also spelt as Purulia) district. The year was 1942 and his act of rebellion was part of the local chapter of the Quit India Movement.
The younger Lokkhi was not part of the events at the police station as he was probably just a little under the age limit of 17 set by the leaders of the agitation for participation in the gherao.
Neither Thelu nor Lokkhi conform to stereotypes of a freedom fighter. Certainly not those created by state and elite society. Nor are they unidimensional people who just made up the numbers at protests. Both speak knowledgeably on their subjects: Thelu on farming and the region's history, and Lokkhi on music and culture.
Lokkhi participated in the cultural side of the resistance. He was part of troupes that performed on tribal instruments such as dhamsa (a large kettle drum) and madol (a hand drum). These were commonly used by Santhals, Kurmis, Birhors and other Adivasi groups. His troupes also sang what at one level seemed to be innocuous folk songs. In the context of that time, however, these songs took on a different meaning.
"We also used to shout, 'Vande Mataram' now and then," says Lokkhi, speaking on how the drum-beating messengers and singers also spread the message of rebellion against British rule. They had no real affinity for the cry or the song, "but it angered the British,' he recalls, smiling.
Both have been denied freedom fighter's pensions. And have long ago given up on trying to get them. Thelu lives on a 1,000-rupee old-age pension. Lokkhi received his old-age pension for all of one month. Then it mysteriously stopped.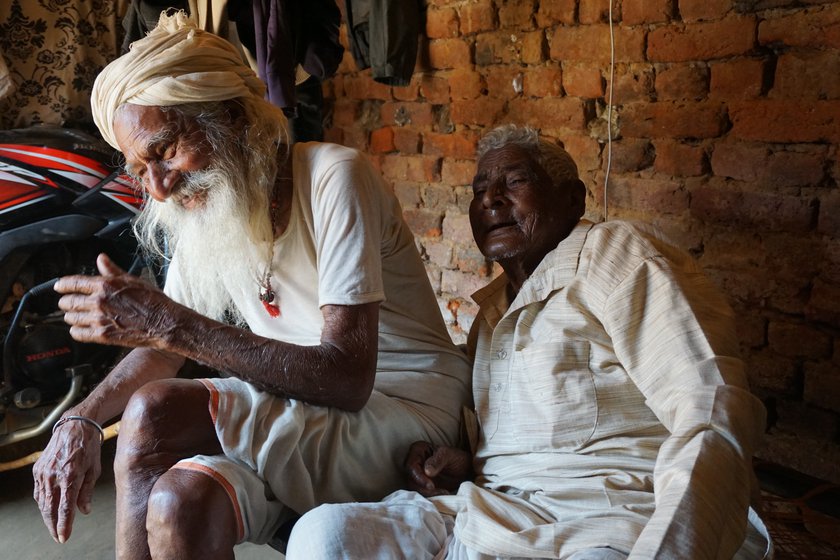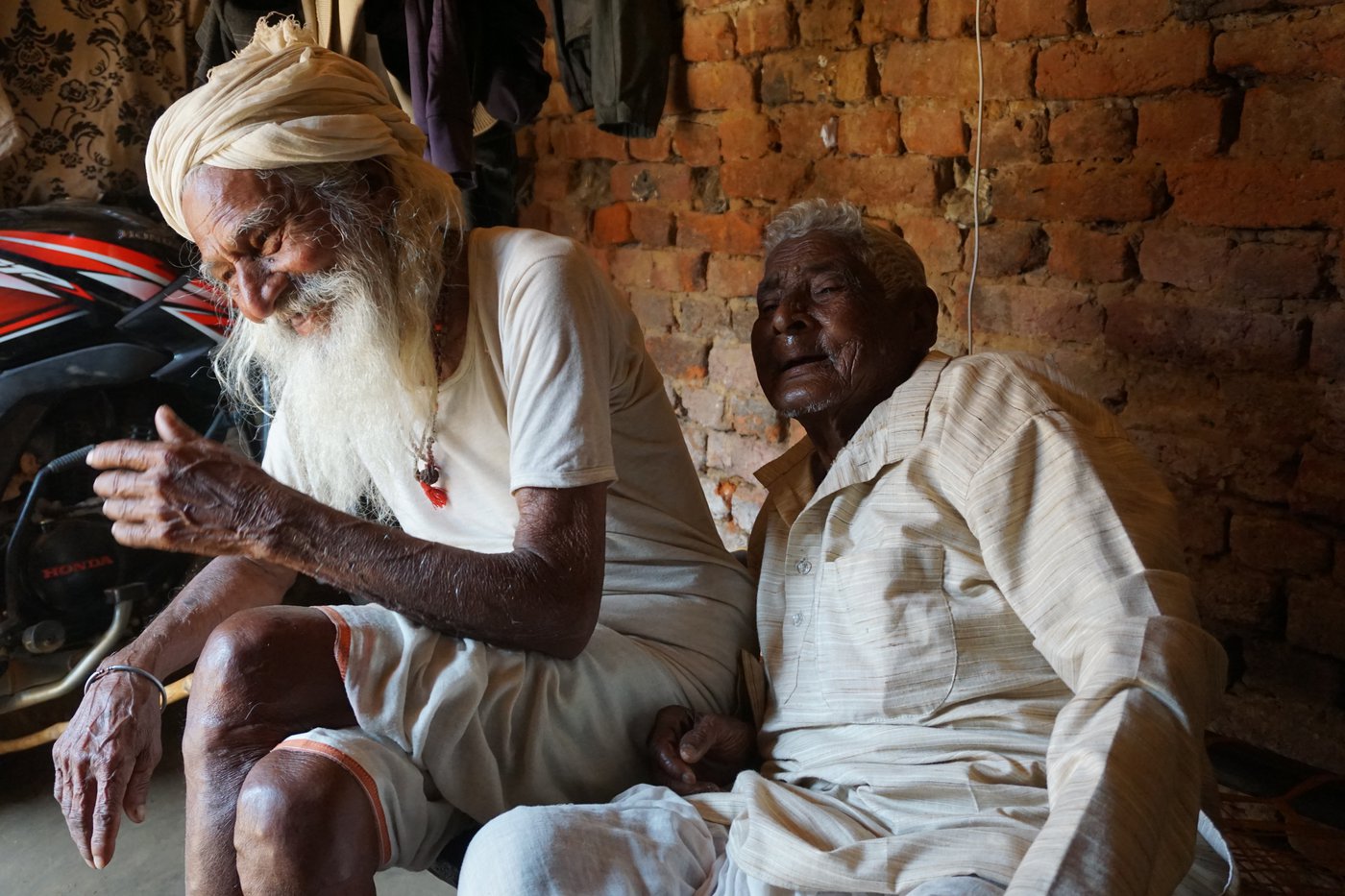 PHOTO • Smita Khator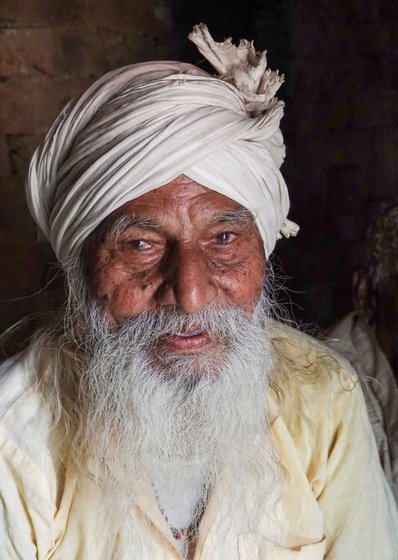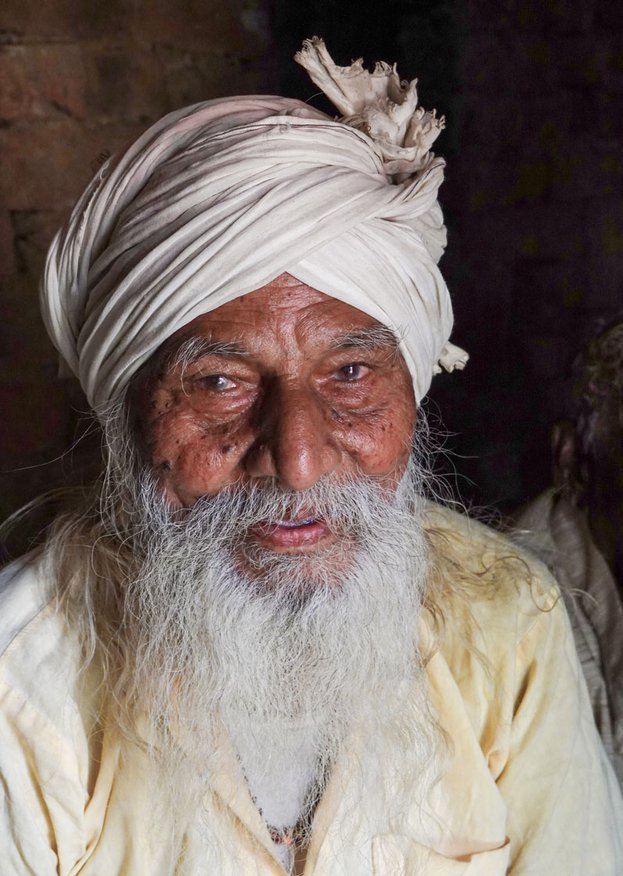 PHOTO • P. Sainath
People from diverse backgrounds came forward to end British rule, including young men like Thelu and Lokkhi – Leftist by persuasion and Gandhian by personality. They belong to the Kurmi community, among the earliest to rise against the East India Company.

Lokkhi sings for us a Tusu gaan, linked to the Tusu or harvest festival of the Kurmi community. Tusu is more of a secular festival, not a religious one. These were songs once sung only by unmarried girls, but which developed a following beyond that group. In the songs Lokkhi sings, Tusu is seen as a young female spirit. The second song seems to mark the end of the festival.
টুসু নাকি দক্ষিণ যাবে
খিদা লাগলে খাবে কি?
আনো টুসুর গায়ের গামছা
ঘিয়ের মিঠাই বেঁধে দি।
তোদের ঘরে টুসু ছিল
তেই করি আনাগোনা,
এইবার টুসু চলে গেল
করবি গো দুয়ার মানা।
I hear Tusu is going south
What is she going to eat if hungry?
Bring me Tusu's gamcha *
I will pack some sweets made of ghee.
I used to visit your home
As Tusu was residing there
Now that Tusu is gone
I have no business at your home.

*A thin, coarse cotton cloth, traditionally used as a towel, a scarf or even a turban. The gamcha is also a saratorial garment with adaptive qualities.
Cover photo and English translation of Tusu songs by Smita Khator