"We treat our horses like family members. I become their doctor and buy medicines for them from Mumbai when needed. I inject the animals with those when they are unwell. I bathe them and keep them clean."  Manoj Kasunde loves his horses, and is one of several licensed owners who earn a living by ferrying tourists on horseback – the handlers or keepers themselves walk alongside – up and down the slopes of Matheran.

The Kasundes of the world are invisible people – we rarely get to know much about them. Perhaps because we don't ask.  There are as many as 460 horses working in this popular hill station in Maharashtra's Raigad district, around 90 kilometres south of Mumbai. Their keepers (not all are owners) tell us they have to "walk 20-25 kilometres uphill each day." Makes you wonder which is the beast of burden, horse or keeper – or both.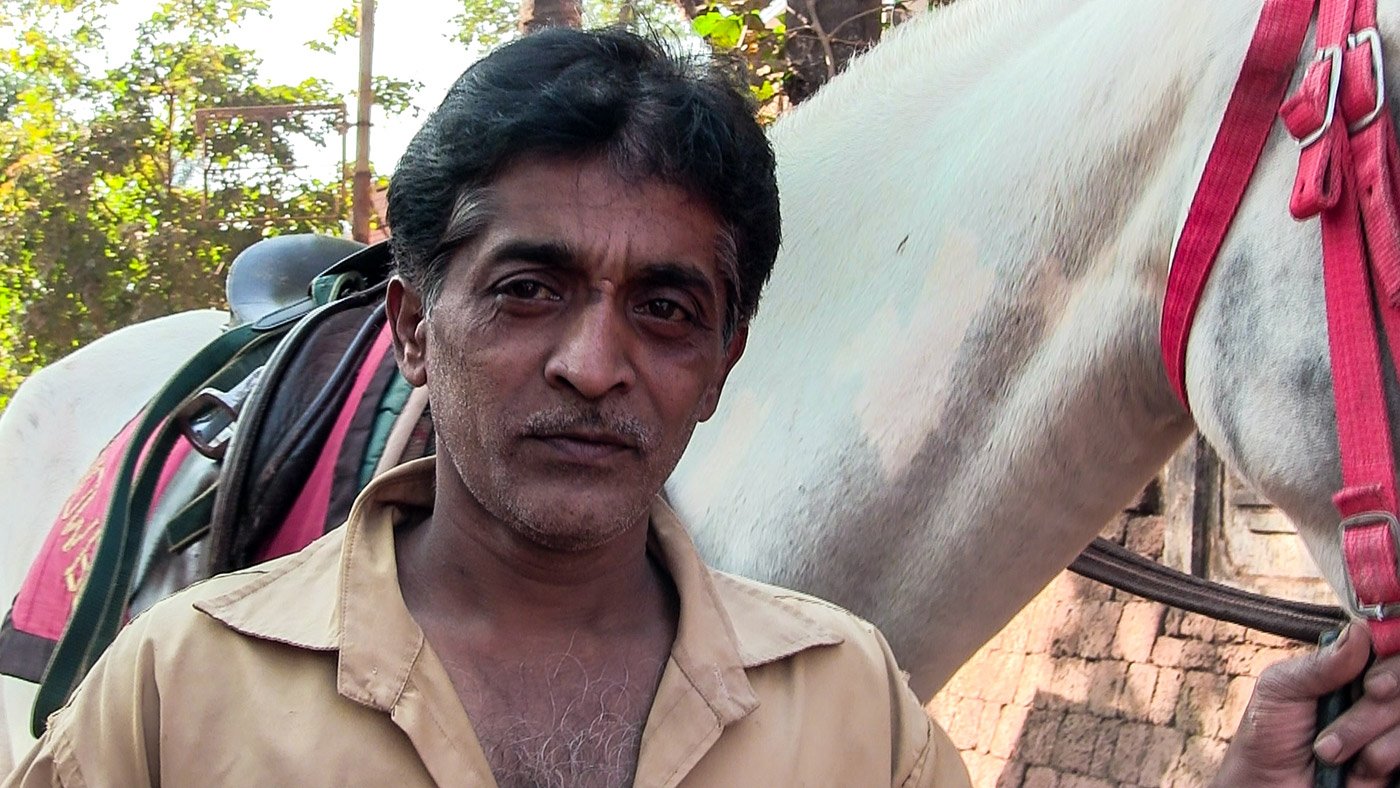 PHOTO • Sinchita Maji
Vehicles are banned in the heart of the hill station – and it is three kilometres from Dasturi, the point till which vehicles are allowed, to the main market of Matheran. A 'toy train' (a narrow gauge rail track) ran between Neral, the closest station around 11 kilometres away, and the market. But that service was suspended in May 2016 after two derailments. So you either trek, or make it on hand-drawn rickshaws or horseback from Dasturi.  That accounts for the army of horses, keepers, rickshaws and porters operating here.
Shivaji Kokare's horses, Raja, Jaipal and Chetak, have their own identity cards – their photos are on their owner's licence.  The local police issue these licences to the horse owners. On the reverse of the card is the photograph of their registered horse. An owner who has three horses has photographs of three horses on his license.
"It's our family business," Kokare says. "Raja, Jaipal and Chetak are owned by my brother Ganesh, who lives in Matheran."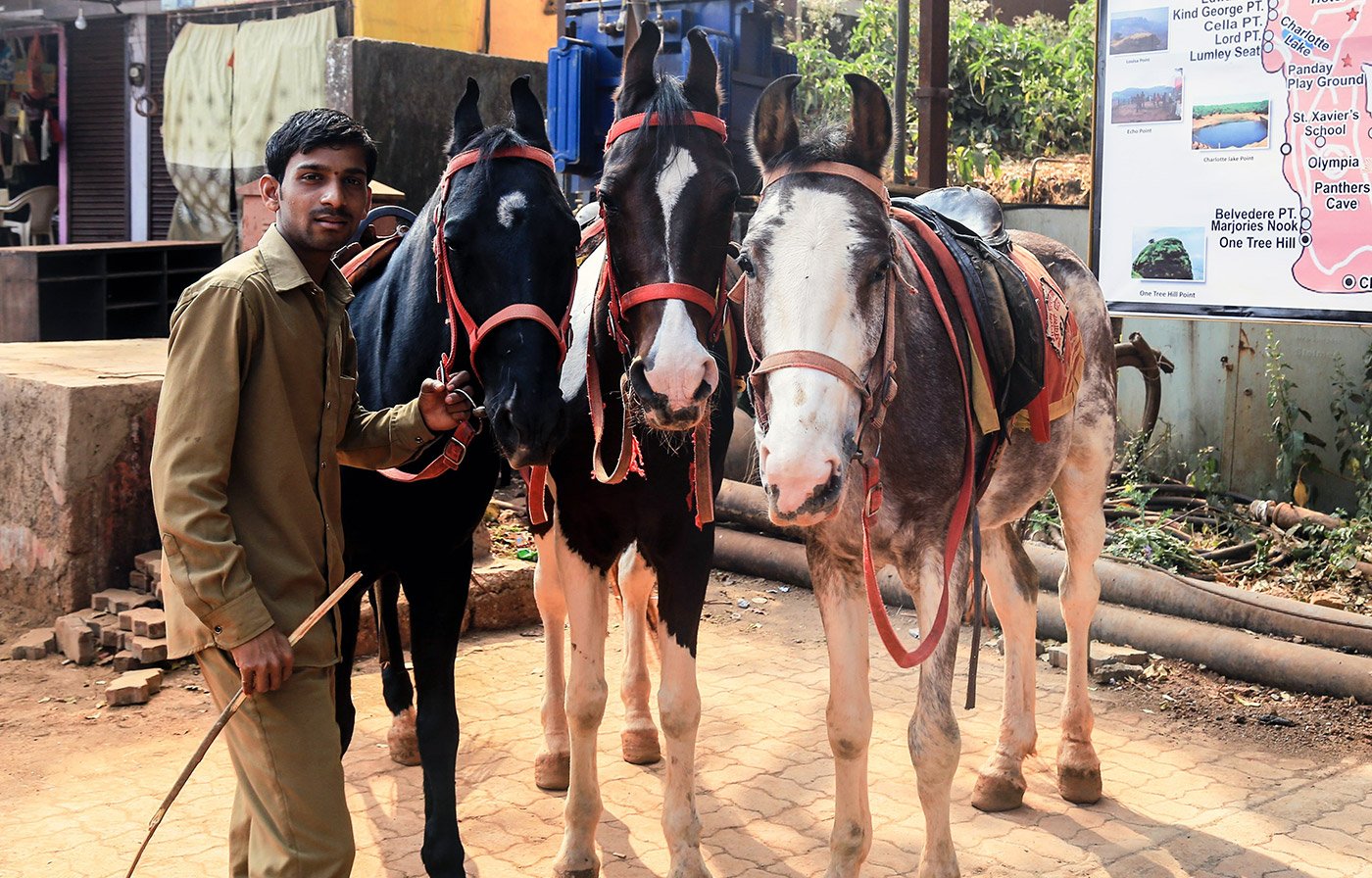 Kokare, in his 20s, himself journeys nearly every day from Dhangarwada in Neral to the Dasturi parking area to offer horse rides to tourists. He has been doing this for nearly five years, he says.  Kokare takes one or all – depending on the number of customers – of his brother's horses up and down the slopes. Sometimes he "runs uphill with the horses" carrying tourists to different locations, and spends his days in the dusty soil of the hill station, which turns muddy in the monsoon.
Kokare usually sells 3 to 4 trips a day during the peak season or on weekends. On weekdays there are fewer rides. There is a rate chart at Dasturi, and the cost of a horse ride varies according to distance, duration and number of stops. On good days, a single horse can bring in Rs. 1,500, sometimes even more. But that's divided between owner, keeper and the maintenance of the horse.
At 46, Manoj Kasunde has spent 30 years with horses. He owns two – SnowBoy, who is white, and Fluffy, who is brown. Fully white or black horses are expensive, and "cost around Rs. 1-1.2 lakhs each," he says. Kasunde earns around Rs. 1,000 a day from each horse. But whenever either SnowBoy or Fluffy are sick and cannot work, he has to spend between Rs. 5,000 to 15,000 on their treatment and recovery. And the maintenance cost is around Rs. 12,000 to Rs. 15,000 a month for both his horses.
Kasunde's day starts early at Matheran's Panchvati Nagar, a hamlet of 40-50 houses, where he lives with his wife Manisha, parents, a daughter who is 21 and has just completed school, and a son who is 19 and in Class 12. By 7 a.m., he brings SnowBoy and Fluffy to the main market after feeding them grass and bajra roti or wheat fibre. At 7 p.m., he takes the horses back to their stable. "In the evening they eat rotis or biscuits or carrots, and then go to sleep."
The horse keepers buy provisions for their animals at Matheran's Sunday market, where local Adivasis sell various food items, including grass collected from the nearby hills. Shopkeepers from Neral also send up horse feed for sale.
"Matheran was much more beautiful 15 years ago," Kasunde says. "In those days, horses earned us as little as Rs. 100 per trip, but it was better."
The check-out time in the hotels in Matheran varies from 9 a.m. to noon. It partly determines the schedules of the horse keepers as well as the headload porters and rickshaw pullers. Well before the check-out time, they gather at the gates of the hotels looking for customers returning to Dasturi.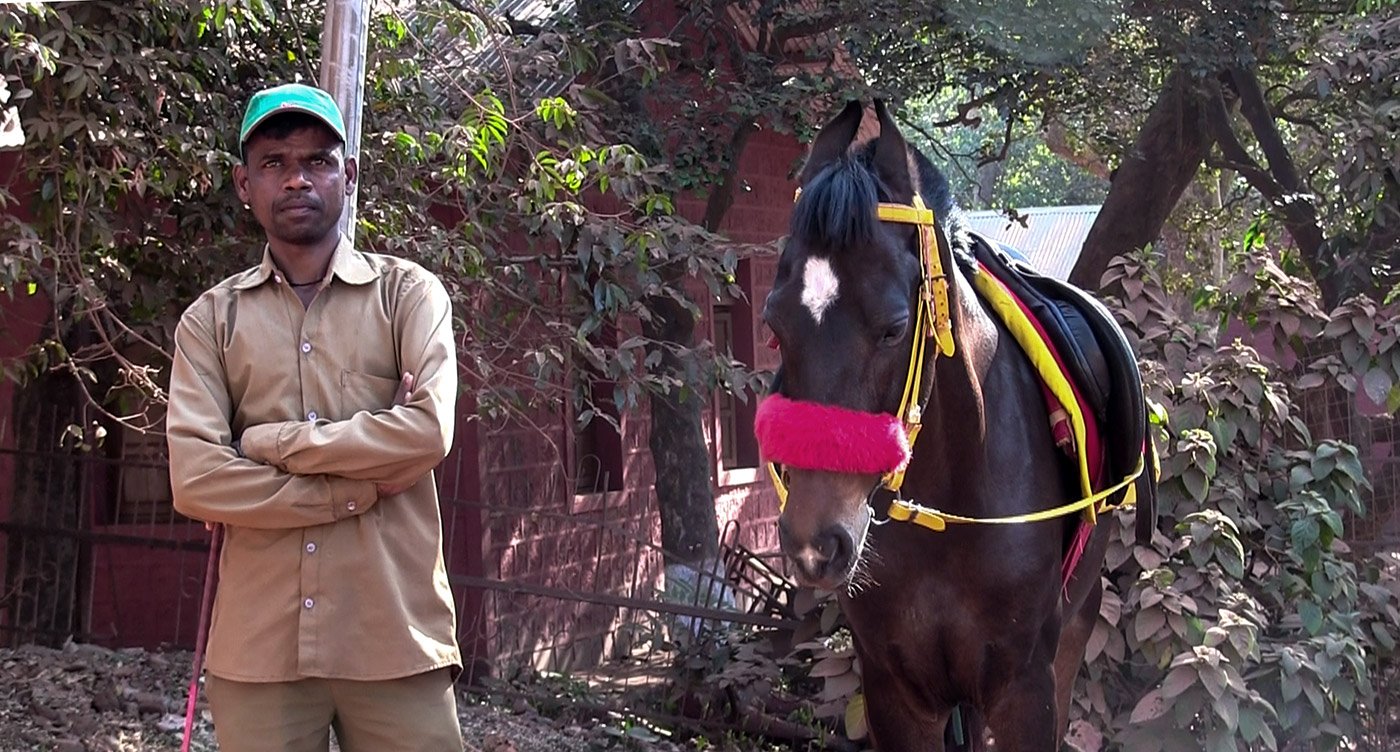 Among them is Shantaram Kawle, 38, a horse keeper from Kalakarai village in Pune district, and his horse Raja. Kawle wakes up at 3.30 a.m. to feed Raja. If he has an early booking, he reaches the hotel by 5 a.m. Otherwise, he and Raja are at the market by 7 a.m. Then it's a 12-hour workday for both. "No one earns money sitting idly at home," he says. "If you go out, you will get business."