"How is it possible to be a full-time farmer and make enough money?" asks C. Jeyabal. "See those men?" he points to a group under a banyan tree as we walk through his paddy fields in Tamil Nadu. "None of them can live off agriculture alone. One drives tractors, the other ferries construction materials on lorries, the third runs a bakery. And I work as a swimming instructor at a hotel in Madurai city, 25 kilometres from here."
Jeyabal's farm in Nadumudalaikulam village of Madurai district is modest. He owns 1.5 acres, inherited from his father Chinnathevar, 75, and leases in two more. He harvests paddy thrice a year – a crop that's always demanding and occasionally rewarding. He ploughs in Rs. 20,000 per acre but reaps little by way of profit. And for that, Jeyabal and his wife together toil at least 12 hours daily. Their takings work out to a paltry Rs. 9.25 per person, per hour, per acre. "Why should my sons want to do this work?" he asks.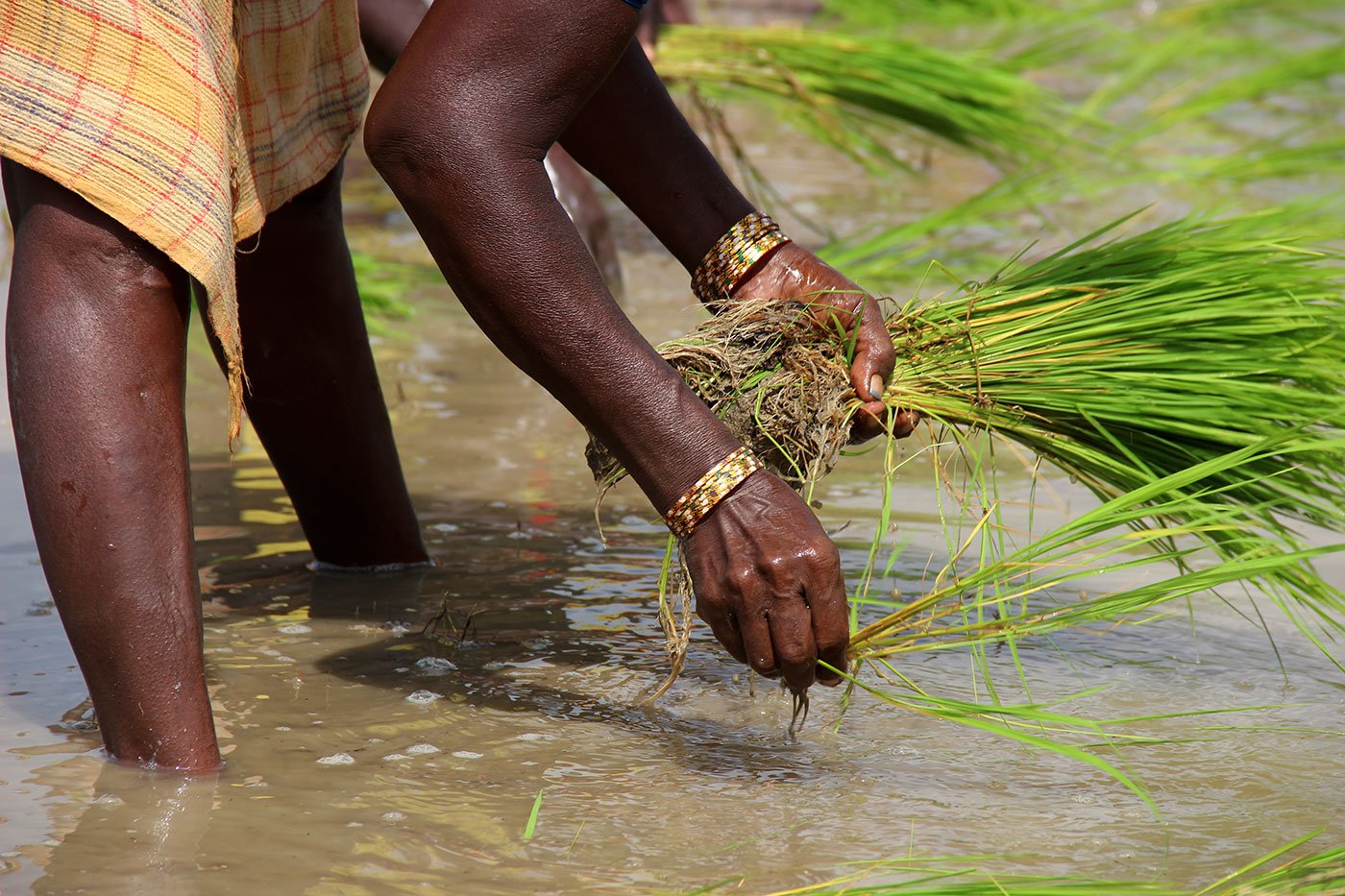 PHOTO • Aparna Karthikeyan
Farming is no longer a popular career in Tamil Nadu. The 2011 Census records a fall of 8.7 lakh full-time cultivators between 2001 and 2011. Many have migrated or lost their land due to debt. Where have they gone? The Census gives us one answer: the number of agricultural labourers in the state shows a rise of 9.7 lakh in the same decade.
Jeyabal, however, loves farming. The earth. His fields. The 36-year-old is very proud of his village and the 5,000 acres of cultivated land around it. He walks quickly, his bare feet landing lightly on the varappu (raised bund or border) between the paddy fields. I struggle to keep up, slip on wet bunds and nearly fall. The women look up and laugh. It's only 11.00 a.m., but they have been slogging for six hours – the first three at home and the rest here plucking out weeds.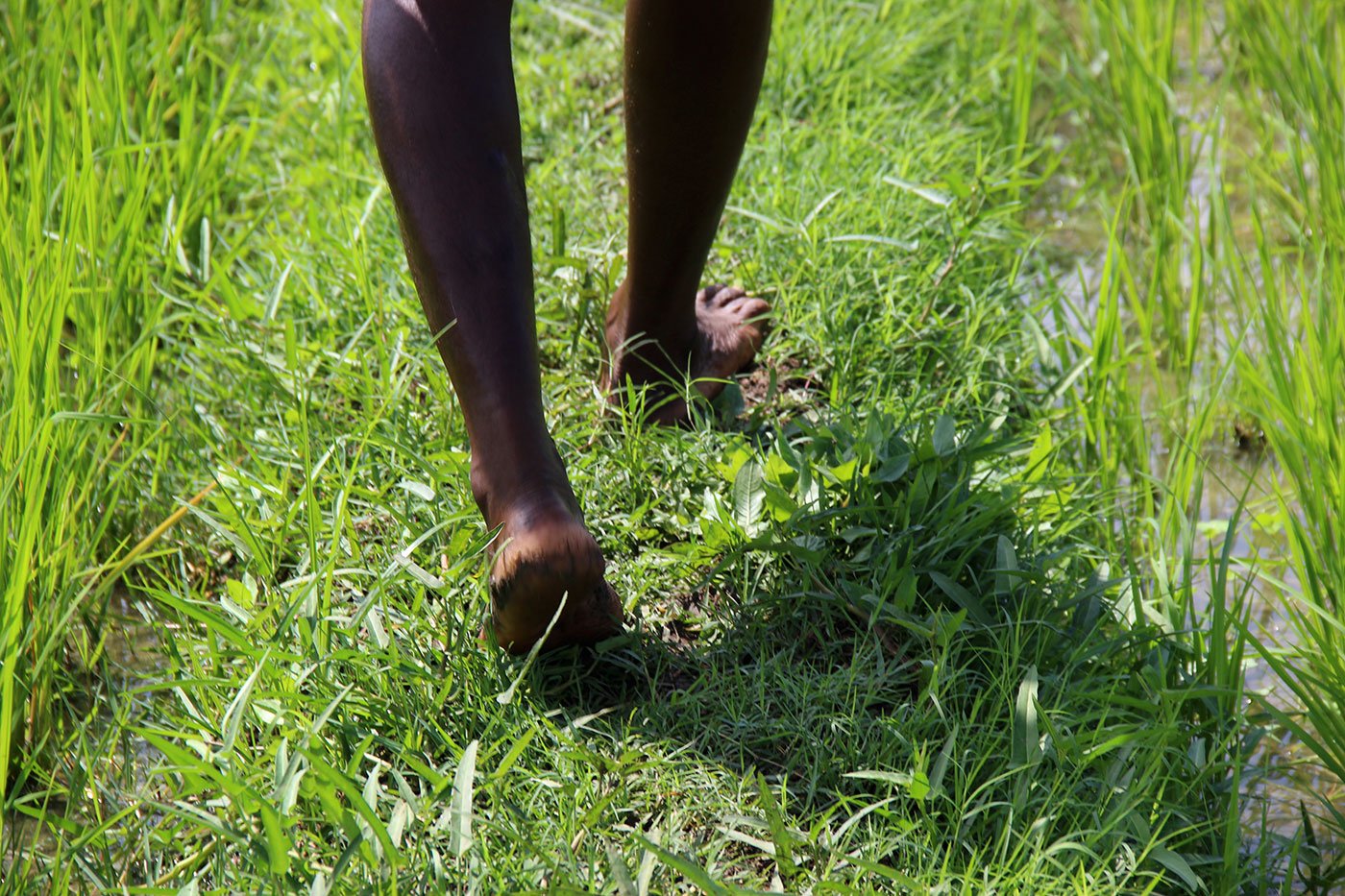 PHOTO • Aparna Karthikeyan
The landscape is the stuff of Tamil film songs. Unseasonal December rains have greened the hills and filled the ponds. Egrets perch on trees like white flowers. The women stand in a row – their noses by their knees, ankles deep in slush – and press short green shoots into the giving earth. They move swiftly and gracefully through the squelching soil, not stopping even once to stretch their backs.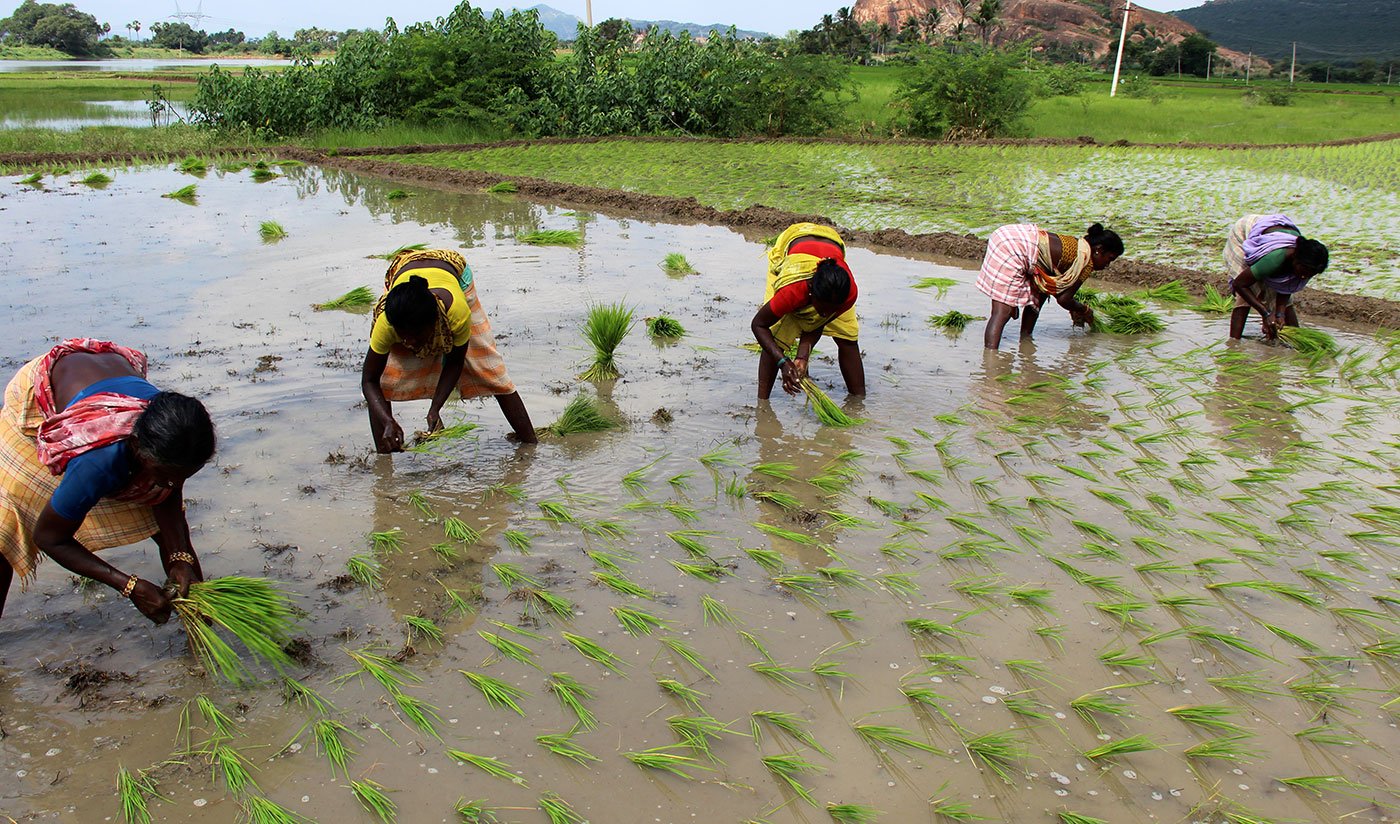 PHOTO • Aparna Karthikeyan
Hard work isn't enough. "You need to try new varieties, take some risks. Four years ago, I gambled, planting the small-grained 'Akshaya' rice. I harvested 35 bags per acre, which sold at Rs.1,500 each. But," he laughs, "once I began growing it in my village, so did everybody else. Of course, the rates fell." Jeyabal is hopeful of a good price again this year. An unusually heavy monsoon has seen crop loss across the state, pushing up paddy prices.
On the way back to his house, Jeyabal talks about rain, water, sun, soil, cows and the kamma (pond). His food and fortunes are ruled by the elements, his crop varieties mostly decided by the shop in Chekkanurani town, nine kilometres away, from where he buys seed and fertilisers. His daily routine in the village – weeding, irrigating, spraying, grazing – takes up much of his day. When he's not on swimming pool duty, that is.
For nine hours daily, six days a week, Jeyabal inhabits a different world inside a chic Madurai hotel. "Every morning, I farm for an hour or two. If I'm on the early shift at the hotel (8 a.m. to 5 p.m.), I get on my bike and go straight from the field into town. Where's the time for breakfast?" Once there, Jeyabal changes into his work trousers and shirt, stands beside the elegant swimming pool, and assists guests. He chats about Madurai with foreigners in the English he's picked up on the job. He likes this work, and the Rs. 10,000 a month it brings in, helps. It is also his only connect with sports now. A decade ago, that was everything.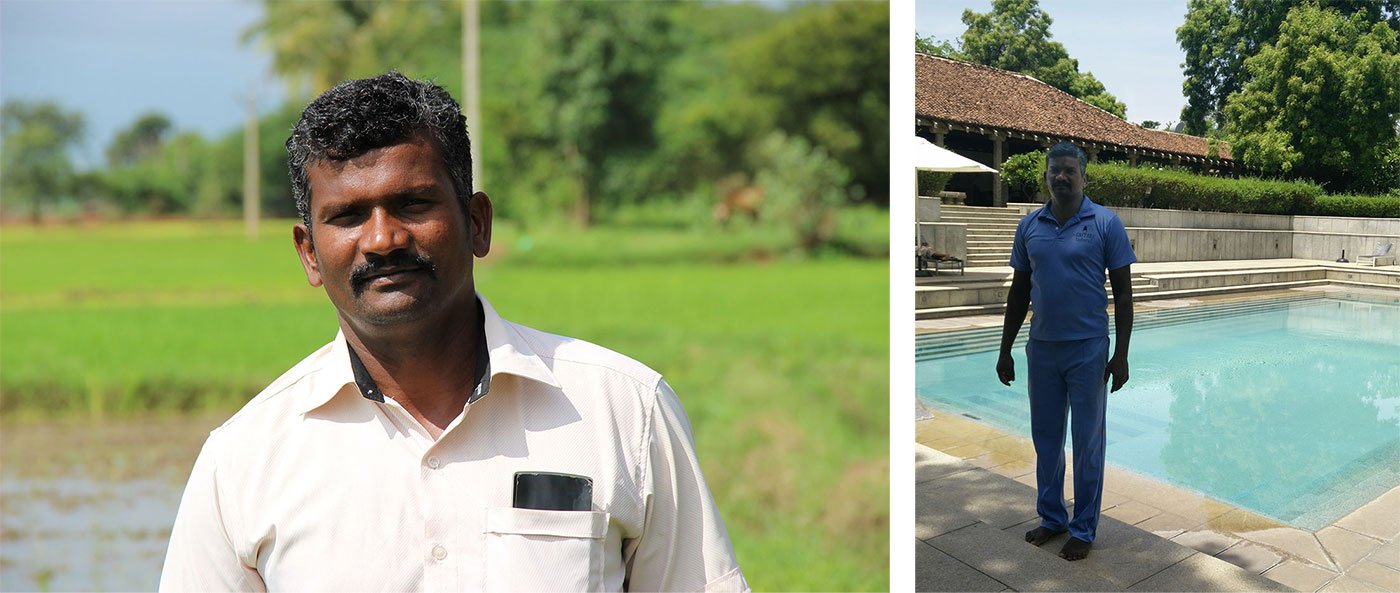 PHOTO • Aparna Karthikeyan
The Madurai region is famous for its jallikattu (bull-taming sport). Jeyabal was a champ. He also won at kabaddi matches, discus and shotput competitions. At their home, his wife Podhumani fetches a pile of his certificates from a bureau. The front room of the house is large and rectangular, divvied up into cooking and living spaces by a short, whitewashed mud wall. Clothes, bags and fodder line the attic. On the walls are their wedding photographs from 2002.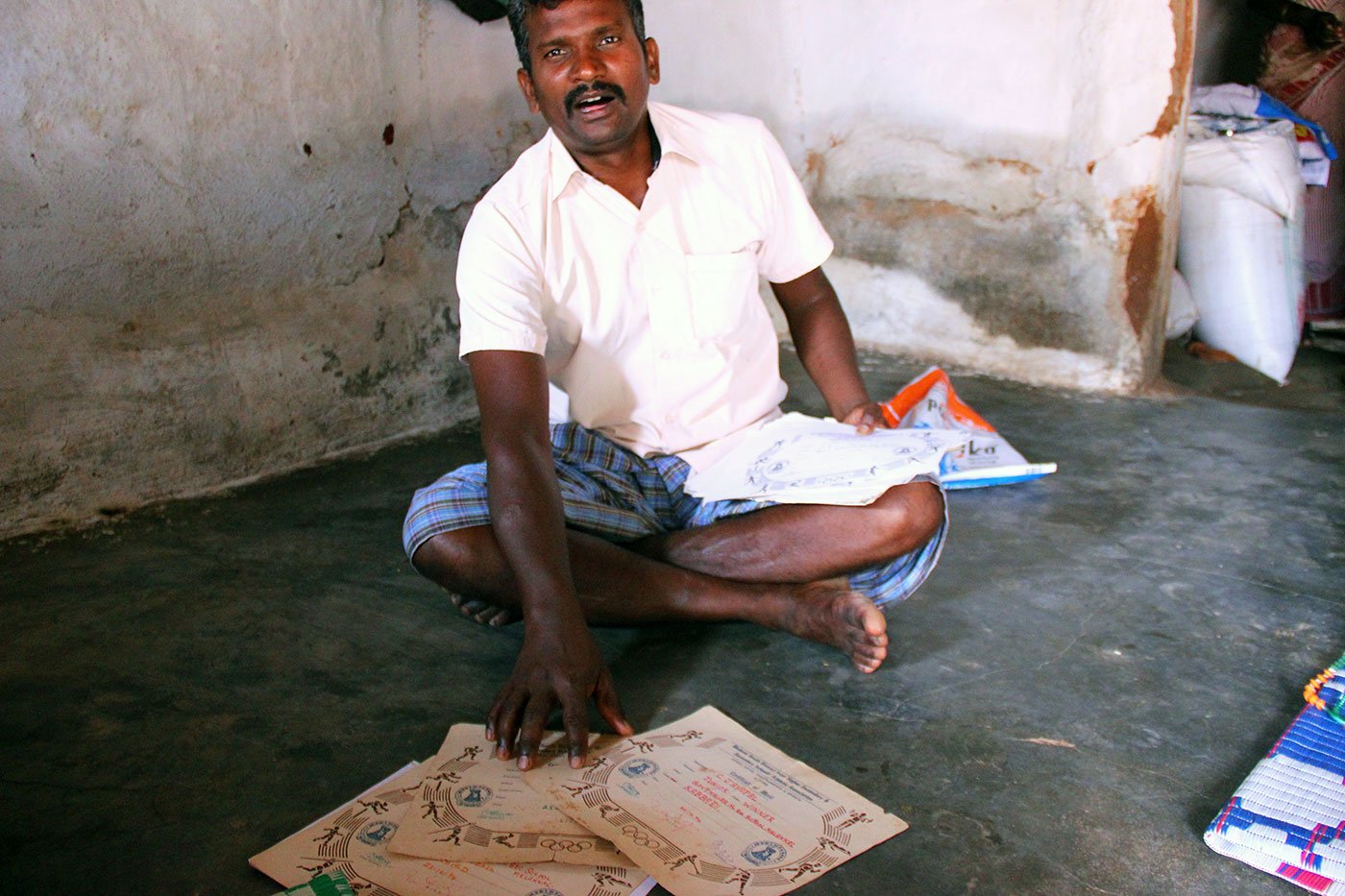 PHOTO • Aparna Karthikeyan
Jeyabal lists his sports prizes. "Gold coin, kuthuvilakku (traditional lamp), TV, cycle, even that grinder you are leaning on, I won everything." But monsoon failure between 2003 and 2007 meant "there was no food, no money. I had a wife and two young sons. I turned to coolie work. Then in 2008 I went back to doing what my family always did: farming." The same year, he started working at the hotel. Both, he points out, are full-time jobs. "It is just not possible to make do with one income."
As a man, Jeyabal gets hard cash for his labour. Podhumani earns less from longer working hours. Like most women in the village – including Jeyabal's 70-year-old mother Kannammal – she works many shifts every day. The first at home from 5 a.m. The second, from 8 a.m. to 3 p.m. in the field. Next, after a late lunch, she collects grass for the livestock, firewood for the stoves. She mucks out the cowshed, milks the cattle and puts the goats out to graze. Then it's back to work in the kitchen. "If not for her," says Jeyabal fondly, "I can't keep up with two jobs. And we cannot run our house."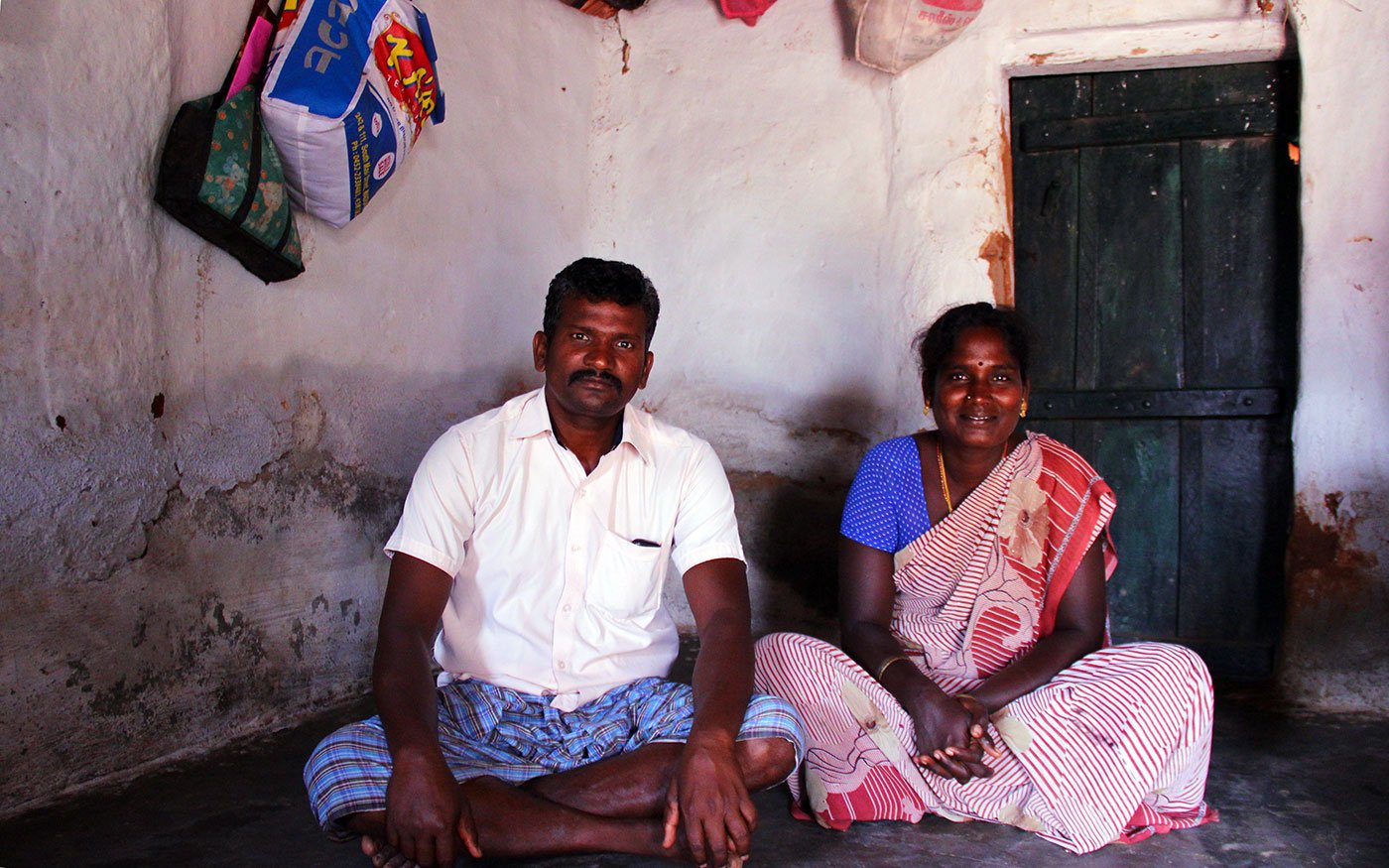 PHOTO • Aparna Karthikeyan
There are few paid work opportunities for women in Nadumudalaikulam. Adults among the village's 1,500 residents are mainly in agriculture. But the kids have other ideas. They want to study and work. They are put off by their parents' hard lives and poor incomes. Agricultural labour fetches just Rs.100 a day. You can earn Rs. 140 working on the Mahatma Gandhi National Rural Employment scheme. But the latter is hard to come by and often badly timed. "They allocate work during planting and harvesting seasons. There aren't enough workers then. We have to lure labourers with higher rates, or by throwing in a meal of tea and vadai (savoury snack)," grumbles Jeyabal.
"It is very easy to get into debt," Jeyabal tells me on a two-wheeler ride around his village. One failed harvest, and the money sunk in is lost. There's the rent on the leased land, besides daily and unforeseen expenses. "In my father's time, the men were stronger and more skilled. They even built bunds themselves. But my generation is losing vital knowledge. Now, we only know how to break them to regulate water levels. We pay others to ready our fields." He predicts it will only get worse in coming decades.
"I became a farmer as I'm not educated; I did not complete 12th standard. My options were limited. But my sons Hamsavardan, 13, and Akash, 11, want an education and office jobs. They tell me: if you want money, we'll earn it from Madurai. They don't want this life," he says, waving his hand at the acres and acres of green paddy fields of Nadumudalaikulam.

This article is part of a series titled 'Vanishing Livelihoods of Rural Tamil Nadu'. It was supported by the author's National Foundation for India Media Award, 2015.